Thank you to Mia Wines for sponsoring this post. All opinions expressed are my own.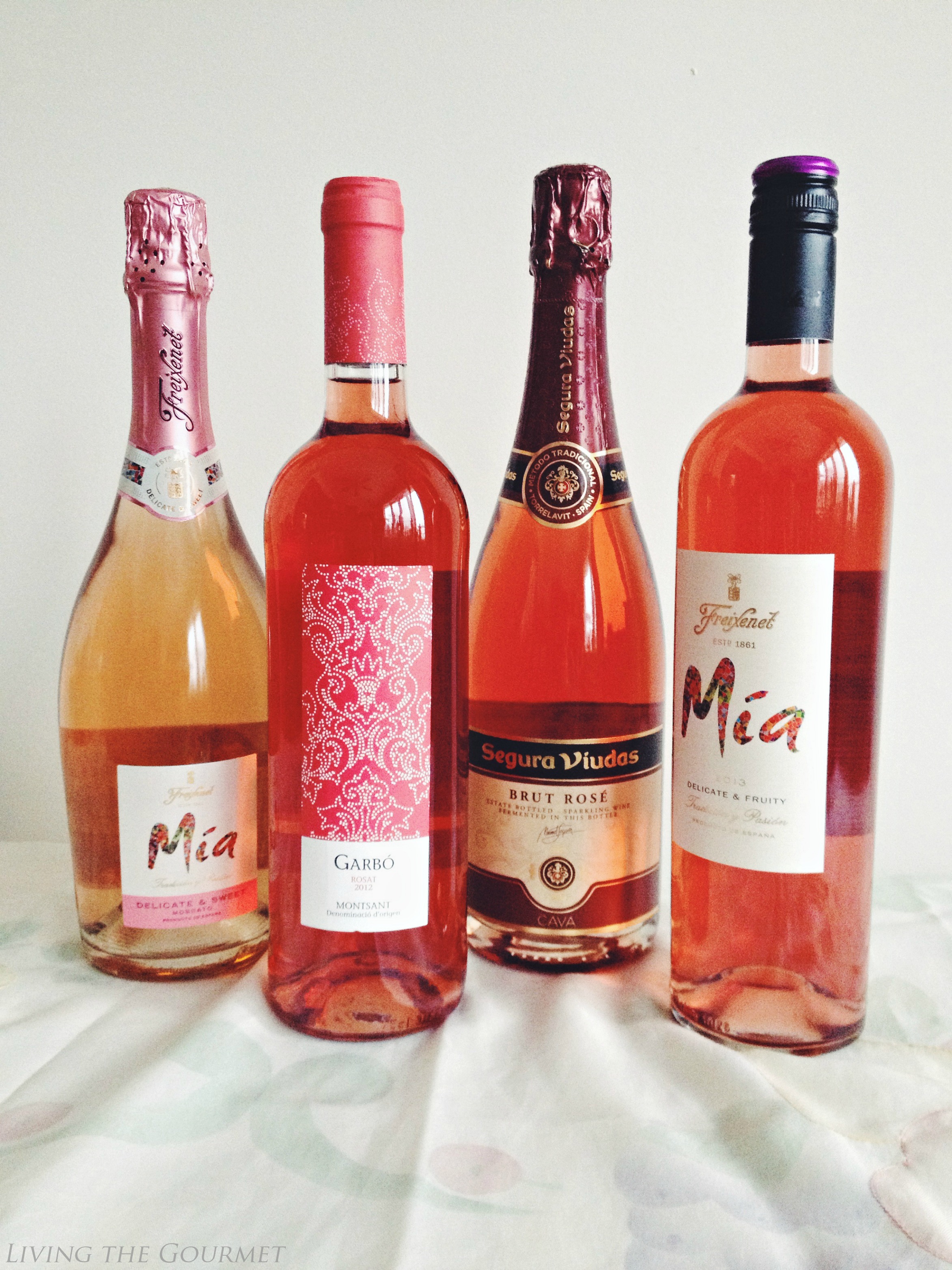 Few trends ever make for truly good products. Some of you may be familiar with the on again off again vodka craze of several years ago, which peeked with pink vodka served in a glass assault rifles – how I wish I was making that up. Similarly, the truffle oil craze finally came full circle in the form of perfumed (yes perfumed) olive oil meant to resemble a truffle infused product.
Thus, I will admit to my hesitance to approach the growing Rosé trend with anything short of a ten-foot pole's worth of suspicion. However, having had the pleasure of sampling traditional Spanish cava from Segura Viudas in the past – which I highly recommend for any occasion – I decided to set aside my skepticism, and treat the Rosé as if I had only just heard of it.
While the delicate texture and sweet notes of any good Rosé lend themselves to a tropic or warm Mediterranean feel, the weather here is currently anything but – in fact it's downright frigid. Thankfully, many of the items suggested for pairing lend themselves quite well to a wintery palette, such as duck for the Garbo, salmon or grilled tuna for the Brute, and blue cheese for the Mia Moscato.
However, I decided to take a cue from my previous experience with cava from Segura Viudas, and pair the Rosé with something slightly more traditional given the estate's rich Spanish heritage, and nearly thousand year history.
We prepared stuffed poblano peppers to pair with the sweet Mia Rosé cava. Poblanos, unlike their fiery habenaro counterparts, are a milder pepper, taking a place somewhere between standard Bell Peppers and the middle-heated New Mexico green chili pepper. To offset the sweetness of the Rosé, we stuffed the poblanos with a rustic, almost earthy combination of garlic, black pepper, feta, red onion, capers, oil and lemon.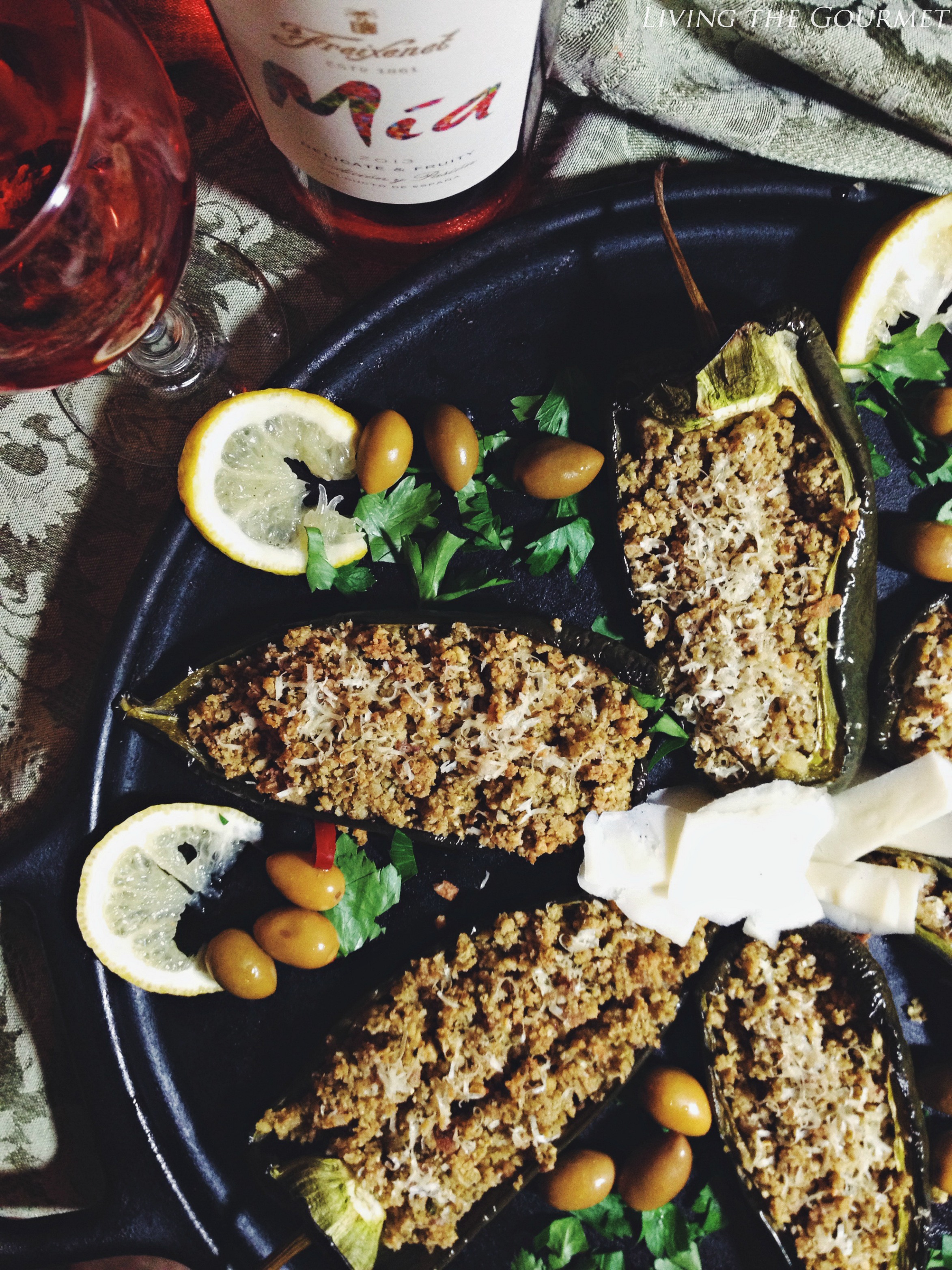 It was a pairing of almost perfect contrast, with the Mia Rosé's delicate floral notes of raspberry and strawberry refreshing and cleansing the pallet, while the poblanos provided a grounding to the experience.
Sampling the rest of the wines was an intensely pleasant and surprisingly diverse experience.
The Brut Rosé is an exceptionally drinkable cava, with a very fine, consistent, but also very abundant mousse. It features bright fruit aromas, with subtle but discernable hints of strawberry. Anointing the pallet with cherry fruit and light acidity, the Brute Rosé is refreshing, with a soft finish.
From the striking pink label through to its bold pink hue, the Mia Moscato Rosé is a simply 'beautiful' wine, and fortunately is as pleasing to the palette as it is to the eye. Sampling the wine, one is instantly greeted with tropical aromas and floral notes. A blush sparkler, abundant and elegant bubbles carry this cava's natural sweetness to a delicate finish.
The Garbo Rosé is an instant classic, with a nose rich in red fruits, such as strawberries and raspberries, in addition to more tropical notes such as pineapple and grapefruit. The backdrop brings more herbal tones, and leaves the pallet fresh and clean.
Overall, I was very pleased with the Rosé selection from Segura Viudas.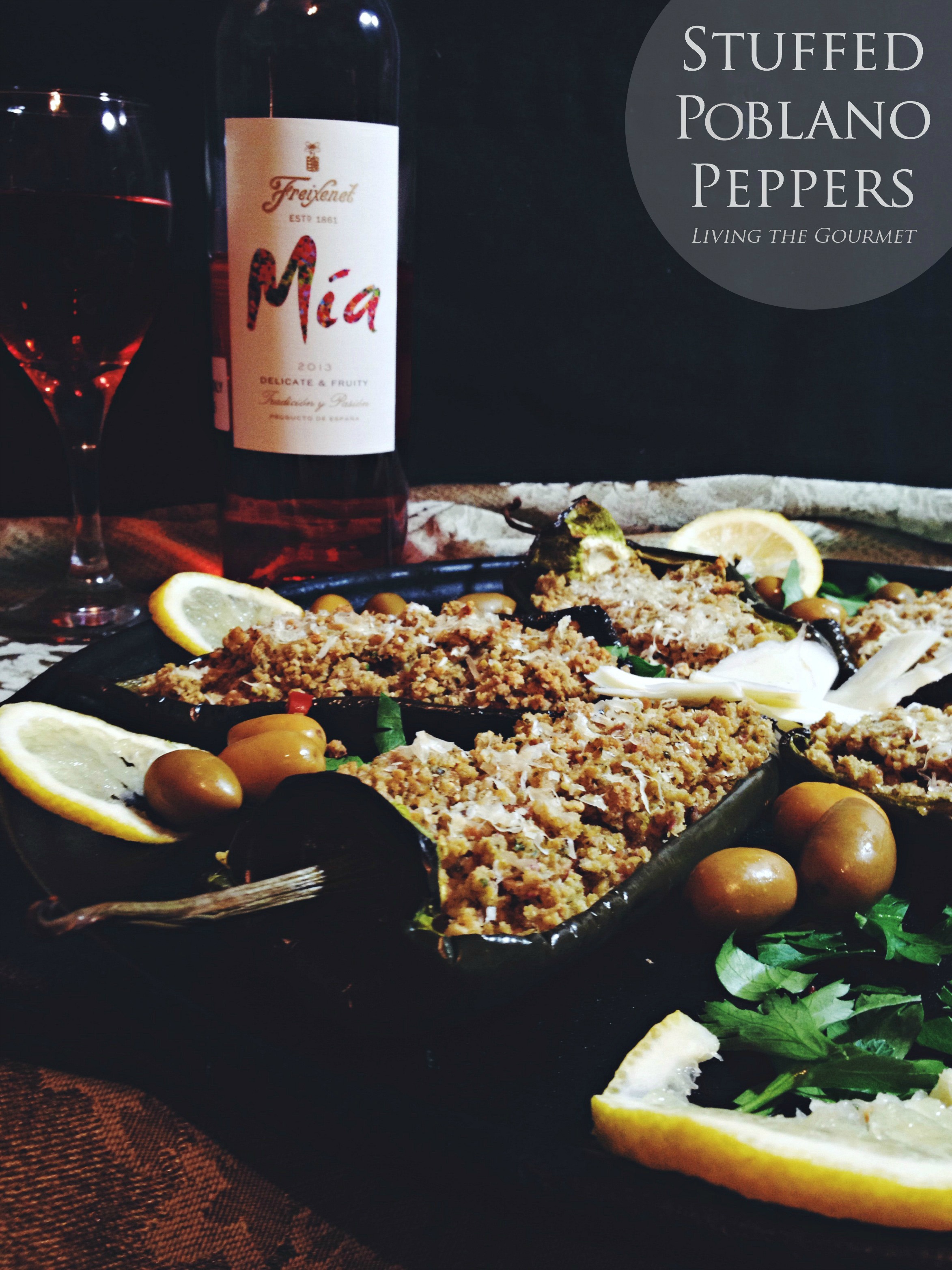 Print
Stuffed Pablano Peppers with Mia Rosé
Author:
Prep Time:

5 minutes

Cook Time:

35 minutes

Total Time:

40 minutes

Category:

Appetizer
4

–

5

Poblano peppers – halved
For the Stuffing:
4

–

5

slices of sliced rustic bread – toasted and buttered

4

–

5

ounces

of feta cheese

1/4 tsp

. black pepper

1/2

red onion

3

cloves of garlic

1/2

cup

of fresh Italian parsley
Juice of

1/2

lemon

1 1/2 tsp

. capers plus tsp. caper juice

3

tbs. Olive oil – plus some for drizzling
Romano or Parmesan cheese for grating
Instructions
Place the bread in a food processor and process into crumbs; add the onion, garlic, capers, plus caper juice, parsley, lemon juice, black pepper and olive oil and give a few good chops.
Preheat the Oven 350 degrees.
Place sliced peppers on a baking sheet and bake for 12 – 15 minutes, unstuffed. Remove from the oven and fill with the stuffing mixture. Grate Romano or Parmesan cheese over each filled pepper and drizzle with olive oil.
Place back in the oven and bake 20 – 25 minutes.
Serve with shavings of Parmesan or Romano cheese, olives and a slight squeeze of lemon.
Recipe Card powered by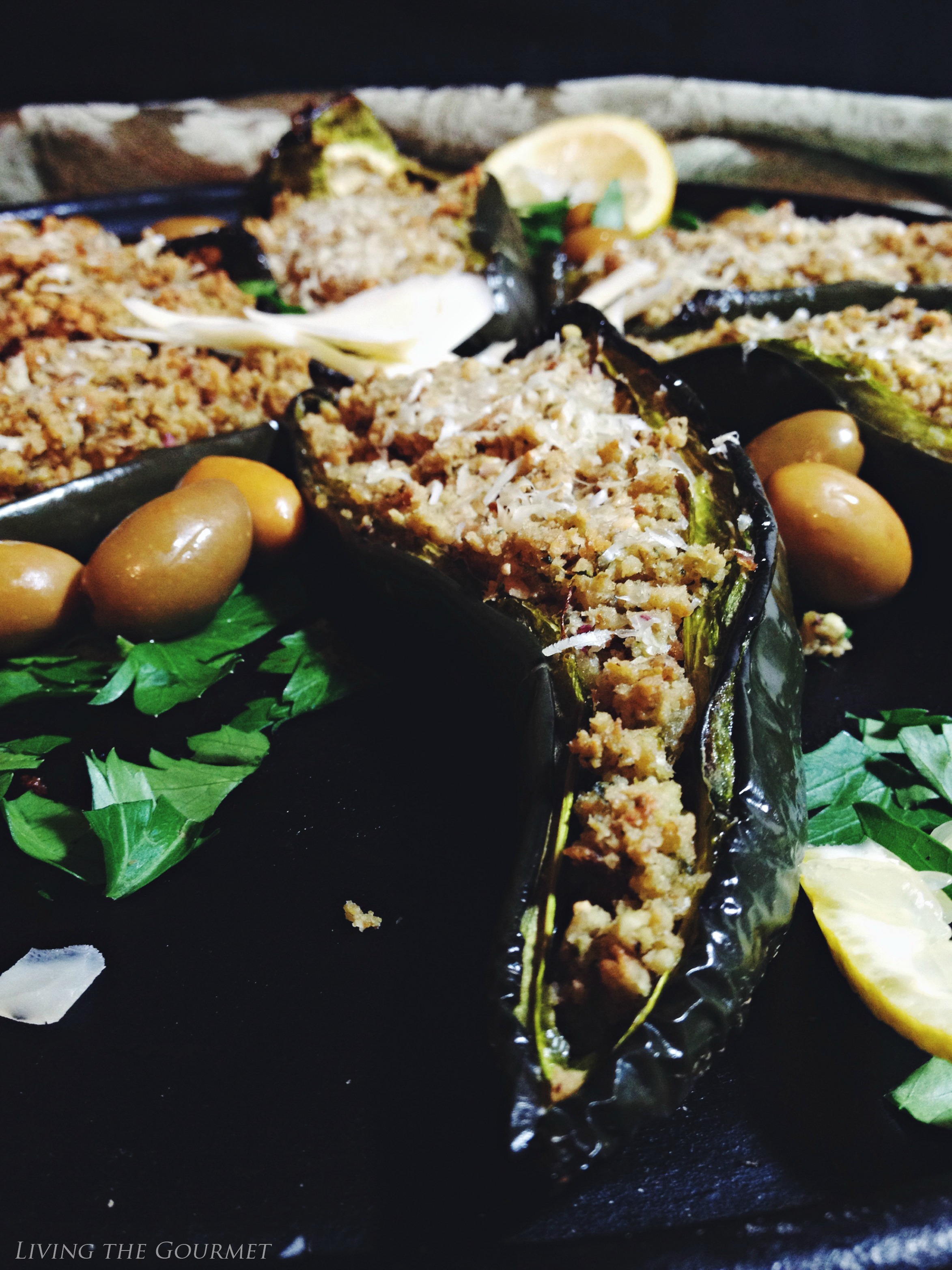 Enjoy with Love.
Forward by Michael Pappas
Recipe developed by Catherine Pappas
This message is intended for persons 21+. Please enjoy responsibly.
0