This shop has been compensated by Collective Bias, Inc. and its advertiser. All opinions are mine alone. #CrispyIsBack #CollectiveBias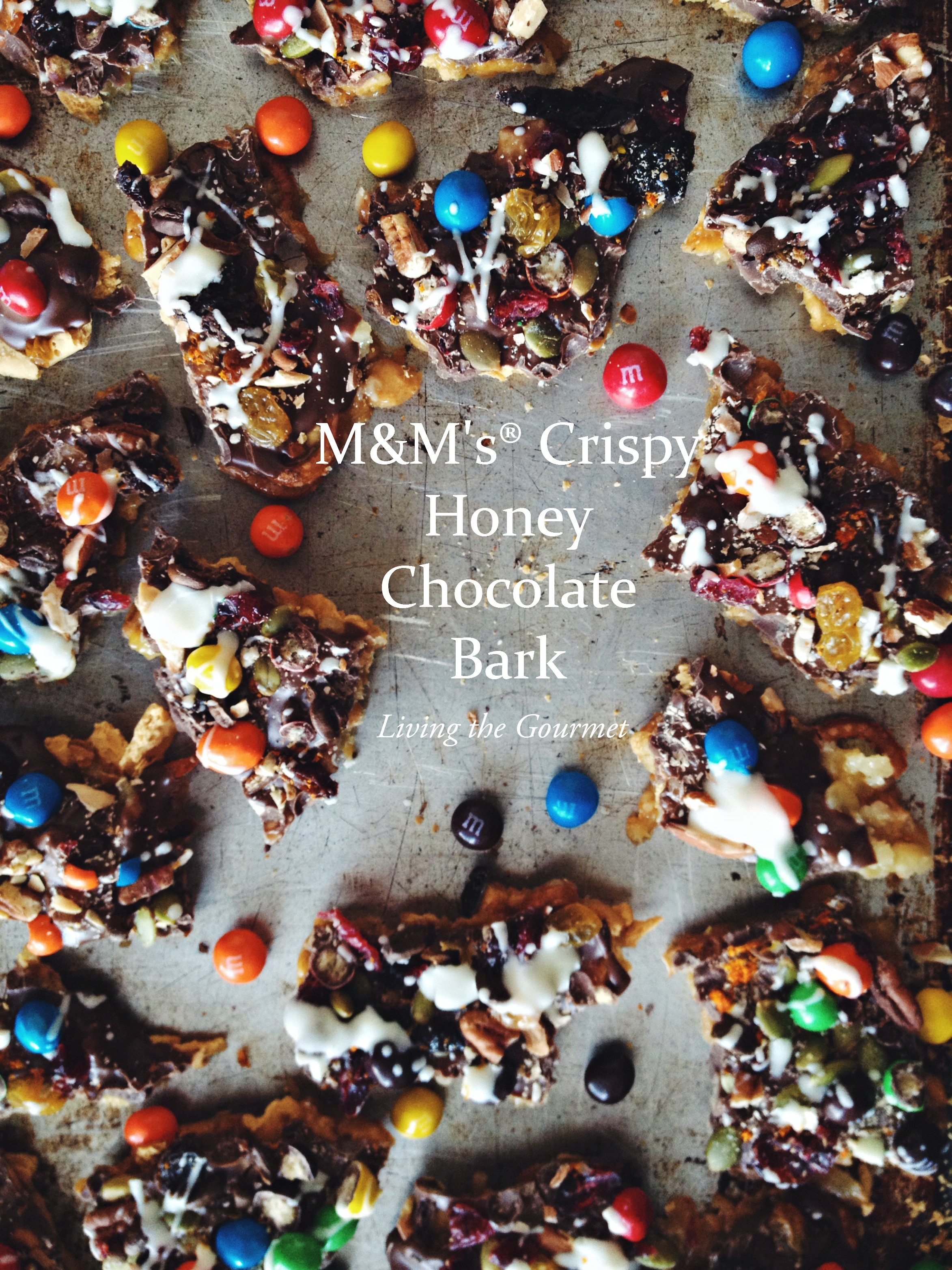 While March snow can easily lull the soul, the agenda for the month is a busy one at Living the Gourmet, both behind the scenes and on the site. The start of a long list of birthdays keeps us busy with the family, while the start of spring and the opening of a new holiday season demands new menu planning for the site.
Before kicking off spring, however, I simply had to do one more winter friendly recipe, or least something that was cross-seasonal just to see off this final layer of snow and ice. However, it also had to be useable as a party snack or as a dessert compliment, given an upcoming birthday later this week. After tossing around a few ideas, we decided on a chocolate bark.
Once we had planned out the list of ingredients, it was off for a quick supply run to Walmart. While perusing the candy shelves, I noticed a new style of M&M's®, the M&M's® Crispy – a crunchy variety of the regular M&M's®. Aside from the standard nine-ounce bags, there were also individual snack size bags at only 180 calories per serving. These would go great in the bark, and would be perfect for the upcoming birthdays.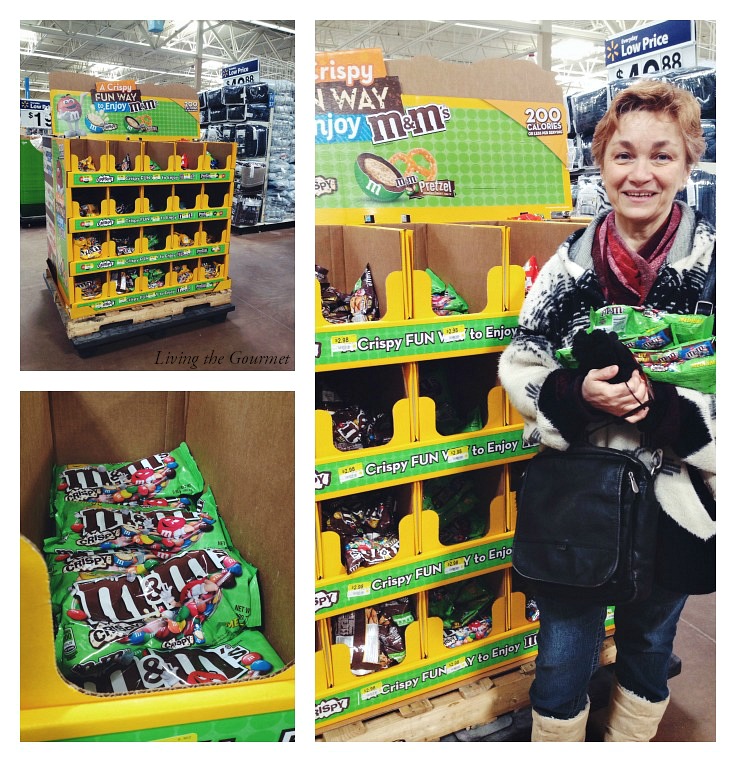 Making a bark can be a balancing act, you need a bit of crunch, a bit of 'soft,' and just the right balance of saltiness, rustic tones, and sweetness. To achieve this balance, I came up with a mix of dried cranberries and golden raisins for the soft; almonds and coffee beans for the rustic notes; and pepitas and pretzels for the salt. M&M's® and milk chocolate would provide a resounding emphasis for the sweet portion of the equation, while the M&M's® Crispy would serve as another layer of crunch, while also adding sweetness.
With the addition of white chocolate, honey, and a baked cracker bed, the bark is complete, a sweet and savory treat that can sooth away the winter chills, or just as easily make you the star of your next party.
Since #CrispyIsBack I ended up with a delicious bark, and it was just what I needed in this frigid weather. With Spring just a snowfall away, what's on your March agenda? How will you be kicking off Spring?
See more great M&M's® Crispy recipe and party ideas on the M&M's® Crispy social hub.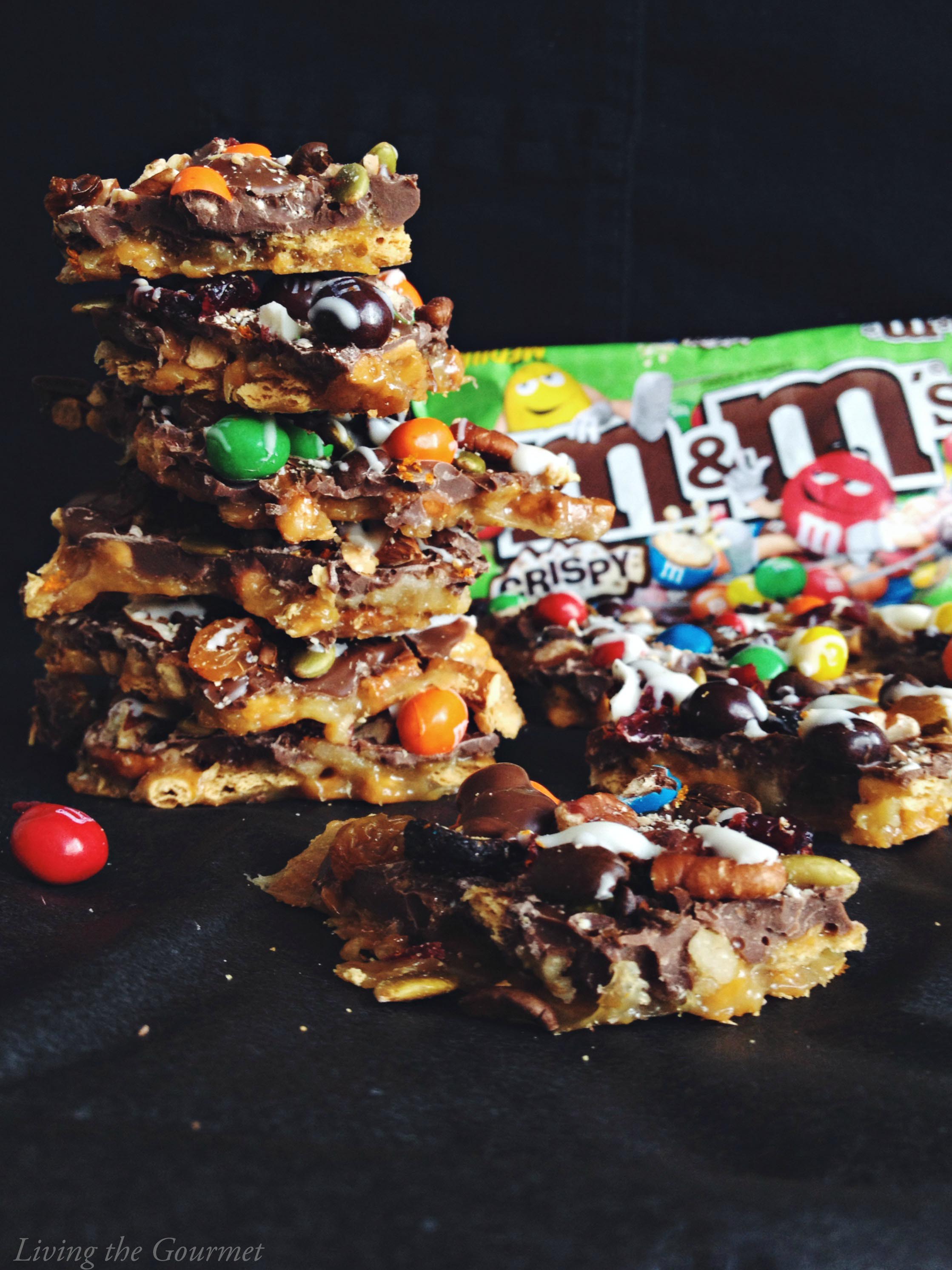 M&M's® Crispy Honey Chocolate Bark
Adapted from Bon Appetit
Ingredients:
2 cups coarsely crushed saltine crackers
1 cup coarsely crushed pretzels
8 tablespoons (1 stick) butter, cubed
1 cup sugar
1/2 cup honey
1 teaspoon baking soda
2 cups melting chocolate
1 cup white chocolate
Toppings:
1/4 cup golden raisins, chopped
1/4 cup dried prunes, chopped
1/4 cup craisins, chopped
1/4 cup pecans, chopped
1/4 cup almonds, chopped
1/4 cup pepitas
1/4 cup coffee beans, chopped
Zest of 1 orange
1/2 cup M&M's® Crispy Snacks, coarsely chopped and whole
Steps 1-6:
Preheat oven to 350 degrees F.
Lay coarsely chopped crackers and pretzels out on a parchment lined baking sheet, and bake until golden, about 10 minutes.
In a small saucepan, cook down sugar just until lightly golden. Add butter and honey. Stir until a the mixture turns to thick, golden consistency. Add 1 teaspoon of baking soda, and remove the saucepan from the heat and stir vigorously. The mixture will now start to foam.
**NOTE: if there are clumps of sugar in your mixture, do not be alarmed – it will be like toffee and only add to the bark!
Pour the candy syrup over the crackers and pretzels. Allow the mixture to cool completely.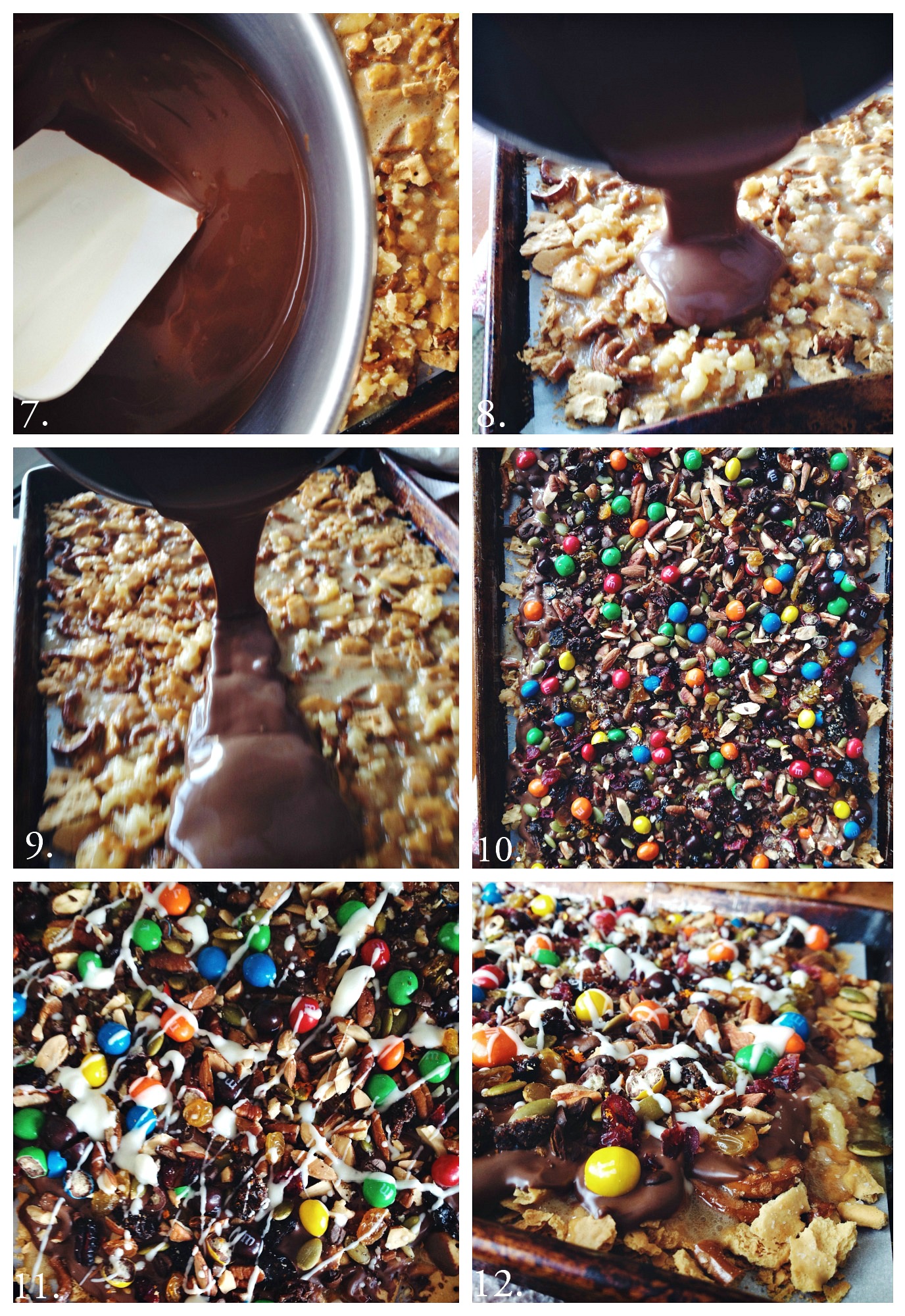 Steps 7 -12:
Melt your chocolate and pour directly onto the cooled crackers. With a rubber spatula, evenly spread the chocolate out until it completely covers the crackers.
Immediately add your desired toppings.
Melt white chocolate and drizzle over the bark. Place in the refrigerator for several hours until the chocolate has set and hardened.
Once the bark has set, break bark into pieces. Serve and enjoy!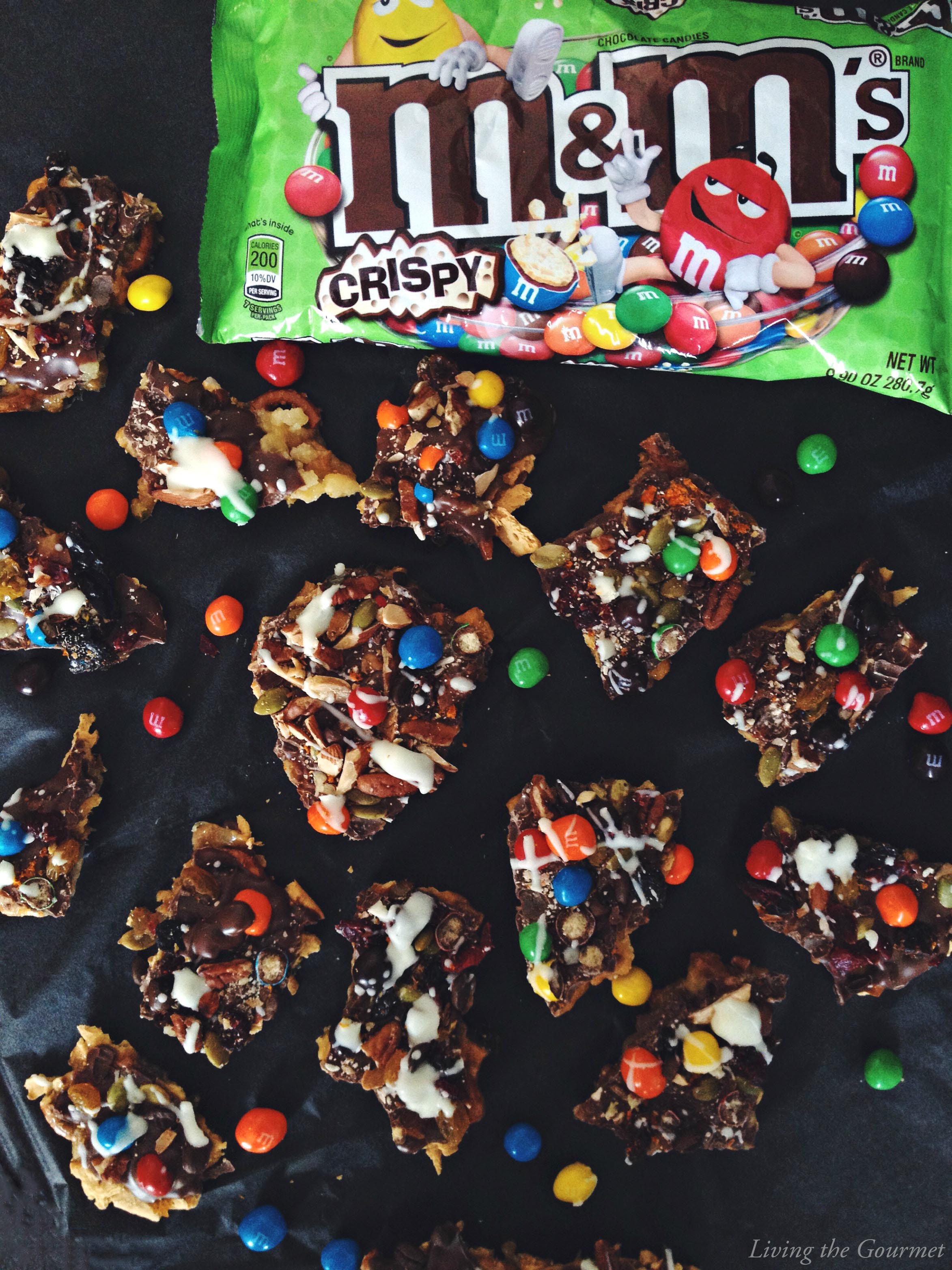 Enjoy with Love,
Catherine
xo
0