"I Scream Sandwich: Inspired Recipes for the Ultimate Frozen Treat," is the latest entry from Jennie Schacht, culinary writer and consultant, author of Farmer's Market Desserts, and co-author of several cookbooks.
In her most recent work, Ms. Schacht covers but a single item from among culinary world's guilty pleasures.  From Dolce de Leche on Brown Butter Blondies to Pina Colada Sorbet on Macadamia Cookies, she does so in unabashed decadence, guiltless in her varied and fresh takes on what was once an achingly familiar treat.
The books introduction and opening chapter are devoted to a brief history of the dessert, and to "Sandwich Secrets."  The entire affair kicks off with a brief musing on the treat, in bold, golden lettering, "More reassuring than a cupcake.  More enticing than a petite French macaroon;  more retro than a whoppie pie.  It's that childhood favorite whose allure never fades, even into adulthood — the ice cream sandwich, pure delight in portable packaging."  The brief bit sets the tone for what is to come, and assuredly does not over promise.
This musing, followed by a short history on the delight, leads into a chapter entitled "Essential Equipment," which outlines a variety of 'gear' that will be needed on site for your sandwich assembly, and also serves to explain that the 'sandwich building' is not as difficult as one might imagine.  However, most of the items outlined, such as baking sheets, graters, an electric mixer, and parchment paper among a variety of other items, are likely already must haves for any serious at-home cook.  What might not be standard-fare for most at-homers are the Building Block Recipes, including Inverted Sugar Syrup, Strained Yogurt, and Crème Fraiche.
After completing the check list of Essential Gear, what follows is an entire chapter of ice cream sandwich 'classics,' opening with the item that forms the very foundation for the entire book – simple vanilla ice cream sandwiched between two chocolate chip cookies.  The chapter then ranges from items such as Key Lime Pie – lime flavored ice cream on sugar cookies – to Bella Nutella, chocolate-hazelnut flavored ice cream between two hazelnut sandies.  The 'Classics' chapter also features what was instantly my favorite item in the book, New York Cheesecake, a sandwich featuring cheery cheesecake ice cream on shortcrust cookies.  Then again, I'm brutally biased….towards cherries. The 'Classics' chapter will likely be the book's most utilized collection recipes due to its slant towards rewarding simplicity, and it's party-friendly selection.
While the "Classics" chapter remains vaguely familiar in its take on the sandwich, the following chapter is where true 'spins' on the treat begin.  Entitled "Farm Fresh," the fourth chapter focuses not only utilizing fresh ingredients, but on extracting crisp or 'fresh' flavors from how the ingredients are combined.  The chapter contains such items as Peachy-Keen, peaches and cream ice cream on oatmeal cookies, and Pina Colada sorbet on macadamia cookies.  If the ice cream sandwich had remained familiar through "Classics," chapter four's "Farm Fresh" is the point of departure.
We are then treated to "World View," which is easily the star chapter of the book.  It is here that Ms. Schact's creativity and craft truly begin to shine through on the subject matter.  For example, Vietnamese Breakfast immediately caught my eye with its name alone.  The sandwich is made from Vietnamese coffee ice cream layered between Parisian cocoa macaroons.  If the aforementioned isn't proof enough, then may I treat the reader to the My Thai, assembled from Kaffir Lime and Lemongrass sorbet on Five-Spice cookies.  This chapter also demonstrates that whereas the Ice Cream Sandwich had long entered the realm of 'kiddie-fare,' Jennie Schact, true to form, not only proves this assumption wrong, but in fact turns it on its head.
Covering all fronts, chapter seven is a brief selection of sandwiches for various holidays.  While ice cream sandwiches likely aren't a go-to dessert for most holiday fare, treats such as the Auld Lang Syne, a Champagne-Caramel Swirl on vanilla cookies in a black and white tuxedo, are difficult to resist.  Even if it is more likely to be sampled on any occasion other than Cinco De Mayo in favor of a more traditional dessert, the likewise named 'Cinco De Mayo' sandwich, featuring spicy Mexican chocolate ice cream on cinnamon macaroons, simply begs to be assembled…and then eaten.
Finally, in a proper 'culinary tour de force,' Ms. Schact's eighth and last chapter on the ice cream sandwich is astutely entitled "Extra Credit." The chapter eight runs a final gamut on ever more creative takes on the ice cream sandwich, but in the form of accompaniments and decorations, such as recipes for Dulce de Leche, raspberry ribbons, salty caramel swirls, ginger crumbles, and vanilla-scented marshmallows among others.
All told, I Scream Sandwich not only offers new insights on a dessert item that can be easy to overlook – if not intentionally overlooked – but new takes on ice cream preparation as a whole.  Whether you're looking to prepare ice cream sandwiches for your next party, or are simply looking for recipes or techniques in preparing ice cream bar the sandwich, I Scream Sandwich is a must have for your bookshelf.
Print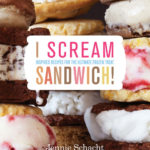 Vanilla Ice Cream with Snickerdoodle
---
Author:

Total Time:

22 minutes

Yield:

6

-

8

1

x
For the Vanilla Ice Cream:
2 cups

(

480

ml) whole milk

1/3 cup

(

67 g

) granulated sugar

2 tablespoons

inverted sugar syrup (page 27), golden syrup, or light agave nectar

2 tablespoons

tapioca starch

1/4 teaspoon

kosher salt

1 cup

(

240

ml) heavy cream

1/2 teaspoon

pure vanilla extract
For the Snickerdoodle Cookies:
1 1/3 cups

(

175 g

) all-purpose flour

1 teaspoon

baking powder

1/2 teaspoon

kosher salt

2 tablespoons

plus 2/3 cup (

160 g

) granulated sugar

1 teaspoon

ground cinnamon

1/2 cup

(1 stick /

113 g

) unsalted butter, softened

1

large egg, at room temperature
---
Instructions
For the Vanilla Ice Cream:
Whisk 1/2 cup (120 ml) of the milk with sugar syrup, tapioca, and salt in a medium saucepan until no lumps remains. Stir in the remaining 1 1/2 cups (360 ml) milk and the cream. Heat in the mixture over the medium-high heat, stirring with a heatproof spatula, until it begins to steam and slightly bubble at the edges. Adjust to a simmer and cook, stirring constantly, until the mixture thickens to a consistency of a cream sauce, about 3 minutes longer; do not fully boil.
Transfer the mixture to a meal bowl set over a larger bowl of ice and water. Stir occasionally until the mixture is cool, taking care not to slosh water into the bowl. Stir in the vanilla, then cover and refrigerate until very cold, at least 2 hours. Transfer the bowl to the freezer for the last half hour before spinning it.
Freeze the mixture in an ice cream maker according to the manufacturer's directions. Transfer the ice cream to a cvhilled container, cover and freeze until firm but still spreadable about 4 hours.
For the Snickerdoodle Cookies:
Preheat the oven to 350F (175C) with a rack in the center of the over. Line a baking sheet with parchment paper or a silicone baking mat.
Whisk together the flour, baking powder and salt in a small bowl. Mix 2 tablespoons of the sugar with the cinnamon in a wide shallow bowl. Set the bowls aside.
Mix in the butter with the remaining 2/3 cup (134 g) sugar in a medium bowl using a wooden spoon until creamy. (Alternatively, use a handheld electric mixer or a stand mixer with the paddle attachment.) Add the egg until well mixed. Stir in the flour mixture just until no white streaks remain.
Spoon or scoop the dough by the tablespoonful to make 24 cookies, spacing them evenly on the baking sheet. Roll each scoop into a ball between your palms, then toss them in the sugar-cinnamon mixture 3 or 4 at a time to lightly coat them, returning them to the sheet as you go.
Press the cookies with the bottom of a drinking glass to flatten them to about 2 inches (5 cm) in diameter – they will spread further as they bake. (Moisten the glass bottom or spray with a nonstick pan spray if the dough sticks.)
Bake until the cookies are nearly firm to the touch but still a bit soft, about 12 minutes rotating the pan front to back halfway through baking.
Let the cookies cool in the pan for 5 minutes then transfer them on their liner to a wire rack to cool completely.
Prep Time:

10 minutes

Cook Time:

12 minutes

Category:

Dessert
Recipe Card powered by
This book was a delicious pleasure to review.
Enjoy with Love,
Catherine
xo
**I was given this product for review.  I was not financially compensated for this post. All opinions expressed are my own.
0