Caponata is easily one of my favorite eggplant recipes. It is a blissfully versatile dish, one that gracefully doubles as both a zesty appetizer and side dish, while also serving as a hearty pasta topping or even a hearty main course when served alongside something like sausages and crusty bread. It's like having a culinary ace up your sleeve, ready to dazzle guests and family alike in different ways on different occasions.
Today we're exploring all the ins and outs of this delightful, easy recipe whose hallmark is remarkable adaptability – Sicilian Caponata.
Picture this: a bubbling sauce of tender roasted eggplant, fresh tomatoes, a medley of fresh vegetables, the subtle bite of sweet onions, the bright notes of fresh herbs, and the rich allure of garlic, with each note harmoniously melding into a masterpiece that has graced Sicilian tables for generations. Though often overlooked as merely the Sicilian version of ratatouille, caponata is so much more than that, and what we're really talking about isn't so much the traditional dish, but rather embracing caponata's versatility and using it to transform your meals in new and exciting ways.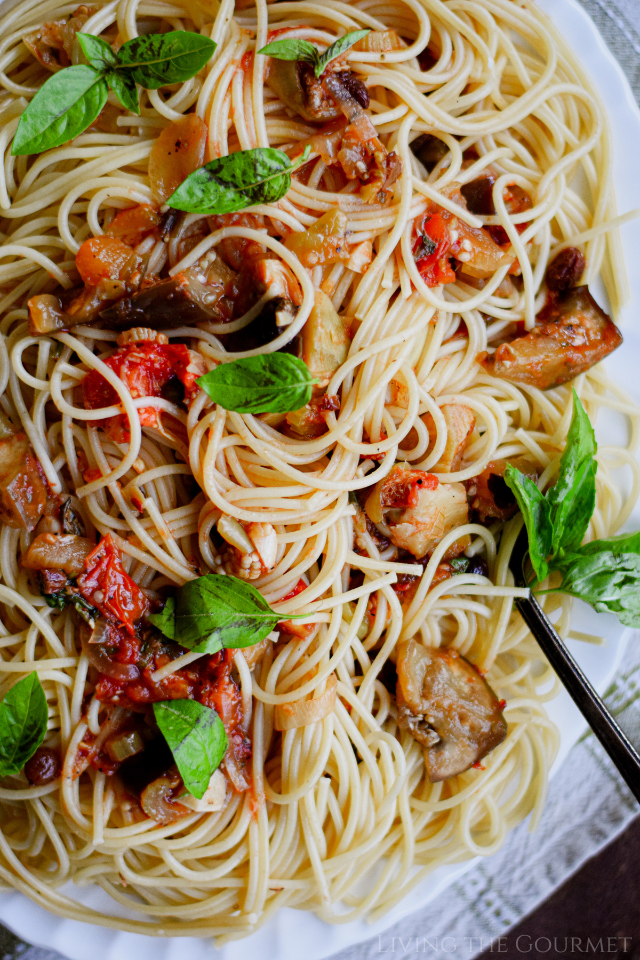 VIDEOS YOU MAY ALSO LIKE
Sicilian Caponata, rooted in the sun-soaked traditions of Southern Italy, is like a timeless melody with countless remixes. It's believed to have originated as a salad dish, a way to savor the bounty of summer vegetables. Yet, over time, it has evolved, embracing new ingredients and techniques, becoming a beloved mainstay in Italian cuisine. While its origins might be humble, the impact of this classic Sicilian appetizer is truly grand.
The heart of Caponata lies in its sweet and sour profile, often attributed to the clever use of sugar and vinegar, which playfully dance alongside the savory notes of tomatoes and garlic. Traditionally, it's simmered to perfection in a large skillet over medium heat, creating a tomato sauce with a delightful depth of flavor that you won't soon forget.
So, how can you bring this traditional Sicilian dish into your own culinary repertoire? The beauty of Caponata is its adaptability. For those enjoying it for the first time, serve it as an appetizer, letting the flavors tantalize your taste buds before the main course. But don't let it stop there; Sicilian Caponata can also play the lead role as a main dish, accompanying your favorite protein or pasta, making for a memorable meal that lingers on your palate, enticing you to enjoy it again the next day.
In the pages that follow, we'll guide you through crafting this timeless classic. We'll start with the original recipe, then explore some key variations and different ways to enjoy it, as well as prep and cooking tips. I'll also be providing you with an ingredient checklist to ensure that you have everything you need to make this delicious Italian eggplant recipe.
Now, without further delay, let's make some homemade caponata.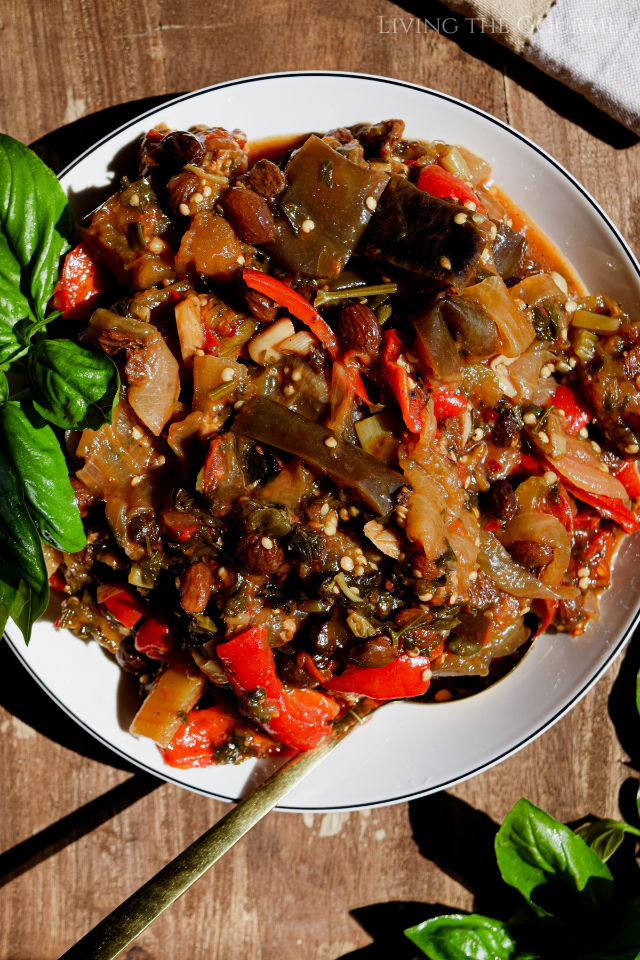 Ingredient Checklist – Everything You'll Need
1 large eggplant – diced with or without skin

Note: You can leave the skin on for added texture, or remove it for a smoother consistency.

1 sweet onion - sliced

Tip: Use Vidalia or red onions for a slightly sweeter flavor.

8 – 10 cloves of garlic – crushed and chopped

Use fresh garlic for the best flavor.

2 stalks of celery – diced

Chopped celery is a key ingredient.
Make sure to remove any tough strings from the celery.

3 – 5 scallions – chopped

Scallions add a mild onion flavor; adjust the quantity to taste.

5 – 6 vine ripe tomatoes – diced

Choose ripe tomatoes for the best flavor.

6 – 8 long sweet peppers banana peppers – seeds removed and chopped

You can adjust the number of peppers based on your preferred level of spiciness.

2 tbsp. capers

½ cup of marinated artichoke hearts
Tip: You can use plain or marinated artichoke hearts depending on your preference.

2 tsp. sugar

Adjust the sugar quantity to balance the acidity of the tomatoes.
Consider adding in a teaspoon of brown sugar for an earthier, warmer taste.

2 tsp. salt

Use salt to taste; you can always add more later if needed.
Kosher salt or sea salt are fine if you prefer, but regular table salt is all you need.

1 tsp. red pepper flakes

Adjust for your desired level of spiciness.

1 tsp. coarse ground black pepper

Freshly ground pepper is recommended for the best flavor.

1 tsp. dried oregano

Use dried oregano for convenience, or fresh if available.

2 tbsp. honey

Adjust the honey to balance the sweetness of the dish.

¼ cup raisins – chopped

Raisins add a touch of sweetness and texture.

3 – 4 tbsp. fresh parsley – chopped

Fresh parsley enhances the flavor and appearance of the dish.

3 – 4 tbsp. fresh grated Romano or Parmesan cheese

Choose your preferred cheese for a savory finish.

Handful of fresh basil

Fresh basil adds a fragrant, herbal note to the caponata.

2 – 3 tbsp. extra virgin olive oil

Use extra-virgin olive oil for the best flavor.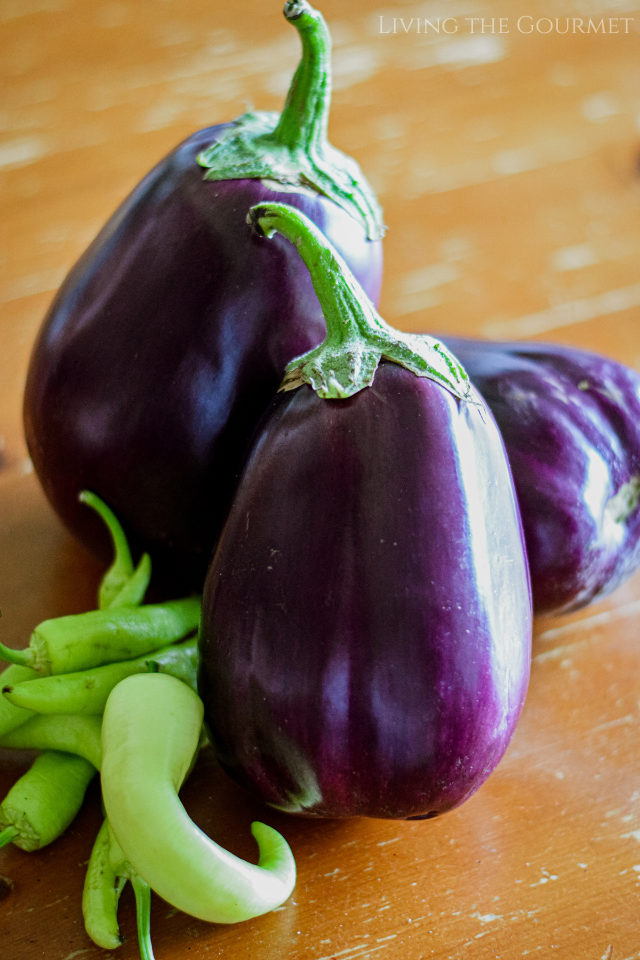 Optional serving suggestions:
Fresh ricotta cheese – whipped with a teaspoon of sugar and fresh ground black pepper
Whipped ricotta adds creaminess and contrasts with the savory caponata.
While I'm using whipped ricotta, any creamy cheese that melts evenly can be used. This is purely preference.
Anchovies in olive oil - for those who enjoy a briny, umami kick.
Your choice of pasta to toss with the caponata with
Cook the pasta according to package instructions and toss with caponata for a hearty meal.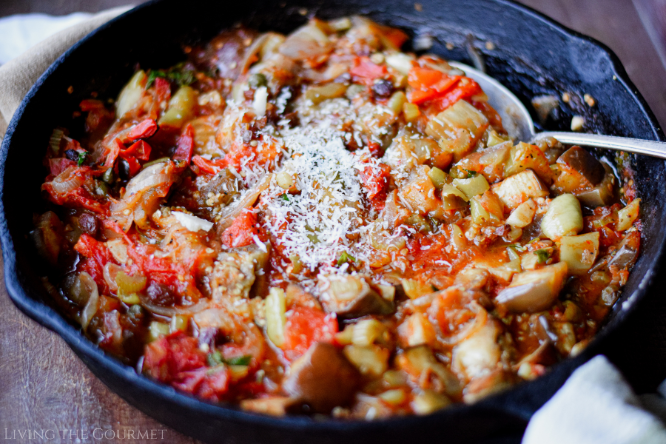 Mastering Caponata: Tips for Cooking and Flavoring
Sicilian Caponata can be a delightful addition to your culinary repertoire. To ensure your caponata turns out perfectly, consider these tips to avoid common pitfalls:
Embrace Room Temperature Ingredients:
Begin with ingredients at room temperature, especially the eggplant. This prevents the eggplant from absorbing excess oil during cooking and ensures even browning. You want the eggplant cubes to be a golden brown color.
Perfectly Cooked Eggplant:
When sautéing the diced eggplant, do it in batches, allowing each piece enough space to brown evenly. Aim for a golden hue, which usually takes about 5-7 minutes per batch over medium-high heat.
The Sweet and Tangy Balance:
Achieving the ideal sweet and tangy balance is key to caponata's flavor. Gradually add small amounts of sugar and balsamic vinegar, tasting as you go, until you strike the perfect chord of flavors.
Fresh Basil Abundance:
Fresh basil is a star player in caponata's flavor profile. Don't hold back; add lots of fresh basil towards the end of the cooking process to infuse the dish with its aromatic freshness.
The Allure of Golden Raisins:
Golden raisins contribute both sweetness and delightful texture to caponata. Include them for a contrast in flavors and a pleasant chewiness.
Nutty Crunch with Pine Nuts:
For an extra layer of buttery flavor and a satisfying crunch, consider adding pine nuts. Toast them lightly before incorporating them into your caponata.
The Role of Green Olives:
Green olives provide a savory, briny note to your caponata. Remember to pit them before adding, and feel free to adjust the quantity based on your preference for that distinctive olive flavor.
Tomato Paste for Depth:
Tomato paste adds depth and richness to your caponata's tomato sauce, as well as brightening the color. Use it sparingly, however, as a little goes a long way.
Watch Out for Overcooking:
Caponata should maintain a chunky texture, so be cautious not to overcook it. After adding basil, parsley, and grated cheese, simmer for a few more minutes until the flavors meld and the caponata thickens.
Balance Sour Flavors:
Taste your caponata as it cooks to manage the sour flavors from the vinegar and green olives. You can adjust the sweetness or acidity with sugar or vinegar accordingly.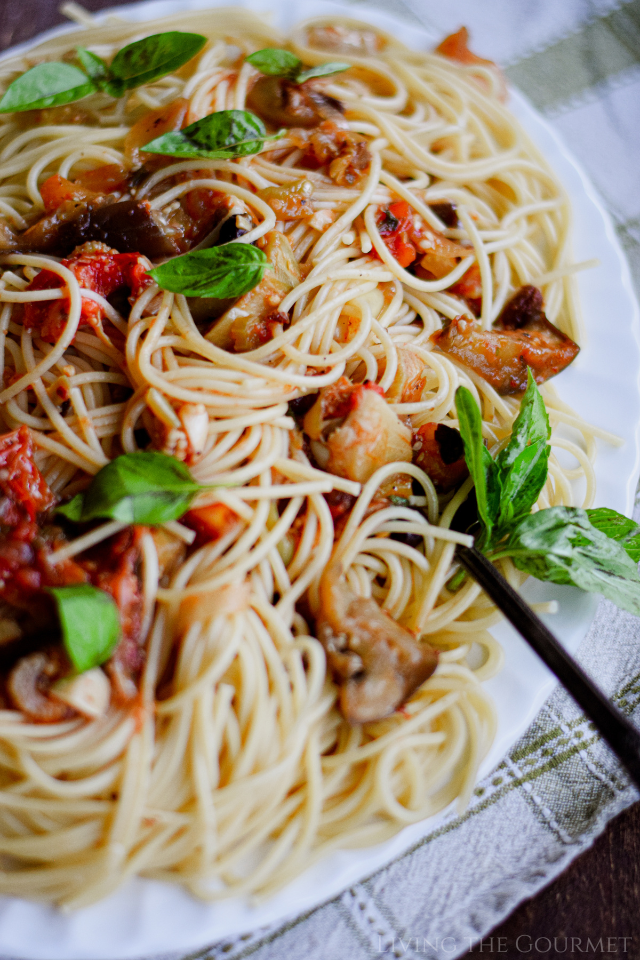 Variations and Additions to Elevate Your Caponata
While the traditional Sicilian caponata is a culinary masterpiece, there's room to add your personal touch and experiment with flavors. Here are some variations and additions to infuse even more Italian flavor into your caponata:
Plum Tomatoes:
Swap in plum tomatoes to intensify the tomato flavor. Plum tomatoes tend to be less watery, making them perfect for caponata.
Yellow Onions:
If you prefer a bit more 'oniony bite' consider swapping in yellow onions in place of the sweet onions.
Red Bell Peppers:
While green bell peppers are traditional, red bell peppers add a sweeter, fruitier note to your caponata. Mix and match colors for a visually appealing dish.
Vinegar Variations:
Experiment with different vinegars to achieve a unique tanginess. Personally, I prefer red wine vinegar in my caponata, but experiment to find your own perfect balance.
Spicy Red Peppers or Chilis:
If you prefer a spicier kick, consider dicing in spicy red peppers or chilis.
Black Olives:
For an extra dimension of saltiness and a hint of bitterness, add chopped black olives. Kalamata olives, with their robust flavor, are an excellent choice.
Grocery Store Finds:
Browse your local grocery stores for specialty olives, like Castelvetrano or Gaeta olives, to introduce unique flavors and textures to your caponata.
Salty Capers:
Capers are an essential ingredient in caponata, but you can experiment with different types like salt-packed capers for a more intense salty kick.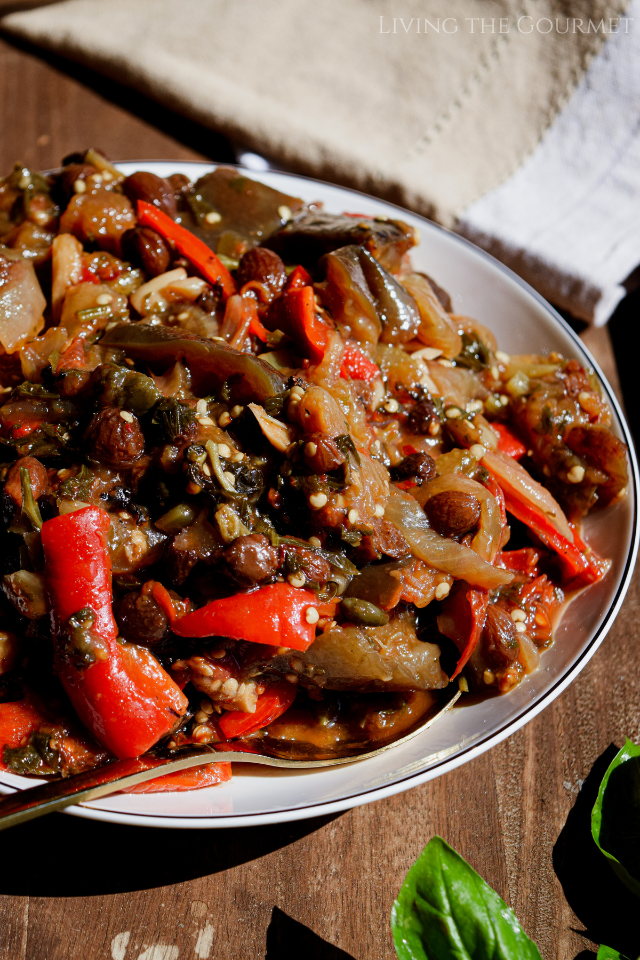 These variations and additions allow you to tailor your caponata to your taste preferences and explore new dimensions of this classic Italian dish. Whether you opt for sweeter bell peppers, unique olives, or a combination of vinegars, these tweaks will undoubtedly bring an exciting twist to your caponata, while still honoring its Italian heritage.
Shop this Post
Print
Easy Sicilian Eggplant Caponata
---
Author:

Total Time:

2 hours 15 minutes

Yield:

6

servings

1

x
1

large eggplant, diced with or without skin

1

sweet onion, sliced

8

-

10

cloves of garlic, crushed and chopped

2

stalks of celery, diced

3

-

5

scallions, chopped

5

-

6

vine ripe tomatoes, diced

6

-

8

long sweet peppers banana peppers, seeds removed and chopped

2

tbs. capers

1/2

cup

of marinated artichoke hearts

2 tsp

. sugar

2 tsp

. salt

1 tsp

. red pepper flakes

1 tsp

. coarse ground black pepper

1 tsp

. dried oregano

2

tbs. honey

1/4

cup

raisins, chopped

3

-

4

tbs. fresh parsley, chopped

3

-

4

tbs. fresh grated Romano or Parmesan cheese
Handful of fresh basil

2

-

3

tbs. olive oil
Optional serving suggestions:
Whipped ricotta (recipe below)
Anchovies in olive oil
Your choice of pasta
Whipped Ricotta:
1

pint

of ricotta
Fresh grated Romano cheese or Parmesan cheese

1 tsp

. of sugar
Fresh ground black pepper
---
Instructions
Heat a large cast iron frying pan and place the sliced onion, garlic in the dry pan.  Allow a slight char to be achieved on the onion and toss.
Add the eggplant and toss.  Drizzle with a tablespoon of olive oil and toss.
Add the tomato, scallions, peppers, celery and the sugar and salt and toss.
Allow the tomato to soften and cook down.
Add the rest of the spices and the capers and artichokes and continue to simmer on a gentle heat.
Add the raisins and honey and toss.
Add the fresh basil, parsley, grated cheese and a drizzle of olive oil and continue to simmer on a gentle heat.
Taste for seasonings.
Continue to simmer on a gentle heat, uncovered, until the eggplant and tomatoes have cooked down and the caponata has thickened.  This will take time, about 1½ hours or a bit more.
Serve tossed with pasta and topped with whipped ricotta topped with an anchovy and fresh grated cheese.
For the Whipped Ricotta: Place the ricotta in a bowl with a teaspoon of sugar, fresh grated black pepper and fresh grated cheese and using egg beaters whip the ricotta until smooth.
Notes
Serving Suggestions: 
Serve tossed with your favorite pasta as shown within post.
Alternatively you can serve as is with crusty bread or even over a grain salad.
Prep Time:

15 minutes

Cook Time:

2 hours

Category:

Vegetarian
Keywords: caponata, vegetarian, eggplant, italian
Recipe Card powered by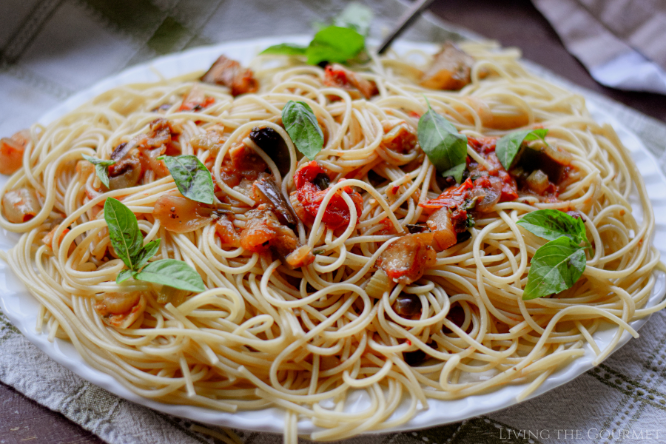 And those are our Sicilian Caponata. If you enjoyed today's post, be sure to like, share, and subscribe, it helps us more than you can know.
As always, if you have any questions or suggestions, be sure to let us know in the comments below. We always love hearing from you.
As always, be sure to follow us on Newsbreak and MSN for even more great recipes and articles. Happy Cooking!
1