Are you ready to elevate your dishes with a quick burst of sweet and spicy flare? If so, then look no further, because we have a game-changing recipe for you. Our Sweet and Spicy Chili Sauce is here to transform your culinary creations into something truly extraordinary. This sauce is not only incredibly easy to put together, but it also brings a tantalizing blend of sweet, savory, and spicy notes, with lots of chili flavor, that will leave your taste buds dancing.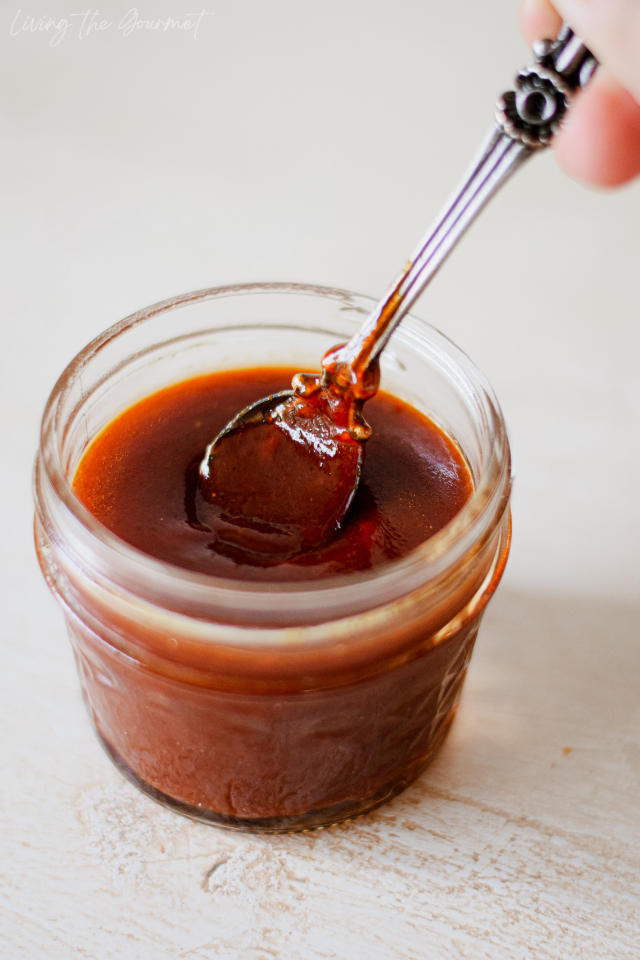 Preparing this Sweet and Spicy Chili Sauce is a breeze. With just a few simple ingredients, and virtually no prep time, you'll have a sauce that's ready to take your meals to the next level. But the best part is just how versatile this sauce is. A true 'culinary chameleon,' this sauce effortlessly adapts to a wide range of dishes. Use it as a dipping sauce for your favorite appetizers, slather it onto grilled meats and vegetables, or drizzle it over stir-fries to infuse them with a spicy kick. Whether its grilled tofu, raw veggies, or seared steaks, this sauce pairs deliciously. The possibilities are truly endless. Get creative and let your imagination run wild.
What's more, this sauce is make-ahead friendly nature. Prepare a batch in advance and keep it handy in your refrigerator. It will be your secret weapon for adding that wow factor to your meals whenever you need it. Whether you're planning a quick weeknight dinner or hosting a gathering, having this sauce at the ready will save you time and guarantee a delectable dining experience.
So, what are you waiting for? Read on for tips, tricks, and substitutions for each ingredient, and pairing suggestions. Now, let's get saucy!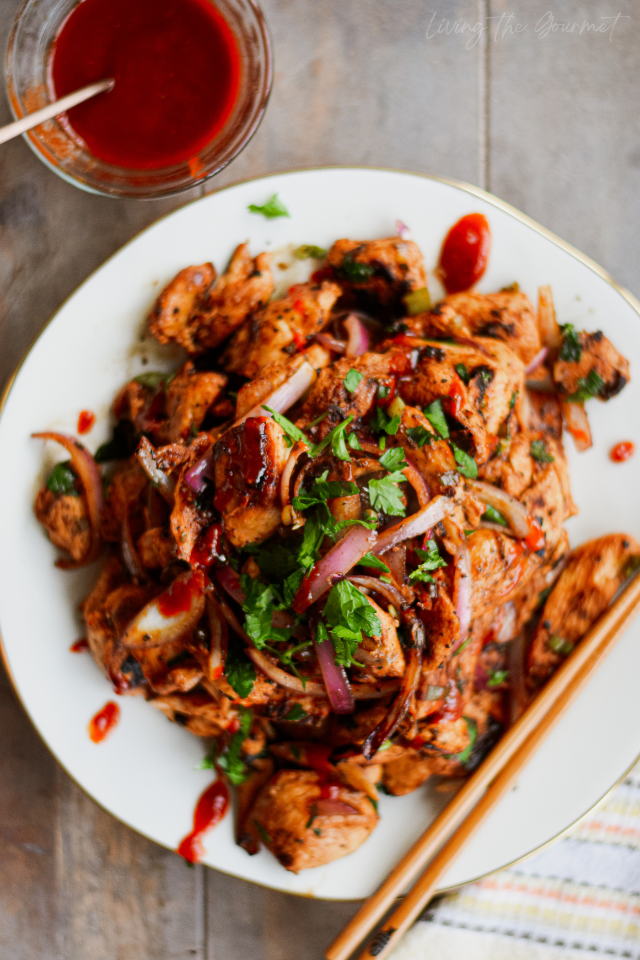 Ingredient Checklist – Notes, Tips, Tricks, and Substitutions
Duck Sauce:

Notes: Duck sauce is a sweet and tangy condiment commonly used in Chinese cuisine. It adds a delightful sweetness to the sauce.
Tips: The thickness and sweetness of duck varies considerably by brand, so be sure to experiment to find one that you like.
Tricks: Adjust the amount of duck sauce based on your desired level of sweetness. Add more for a sweeter sauce or reduce it if you prefer a spicier kick.
Substitution: Apricot preserves are the way to go if you need to substitute the duck sauce.
Soy Sauce:

Notes: Yes, low sodium soy sauce works just fine in this recipe.
Tips: While you may not think it, soy sauce is a 'very' finnicky ingredient, and that means quality matters. When selecting soy sauce, look for brands that use traditional methods and natural ingredients. This is especially true in recipes where the soy sauce is being consumed raw. Thus, you might consider using high-quality, pricier soy sauce for dipping or raw recipes, and a slightly 'lesser' soy sauce for cooked recipes.
Tricks: Experiment with different types of soy sauce, such as light soy sauce for a milder flavor or dark soy sauce for a deeper and more intense taste.
Substitution: As in most recipes, Tamari and Teriyaki are the two best substitutes for soy sauce.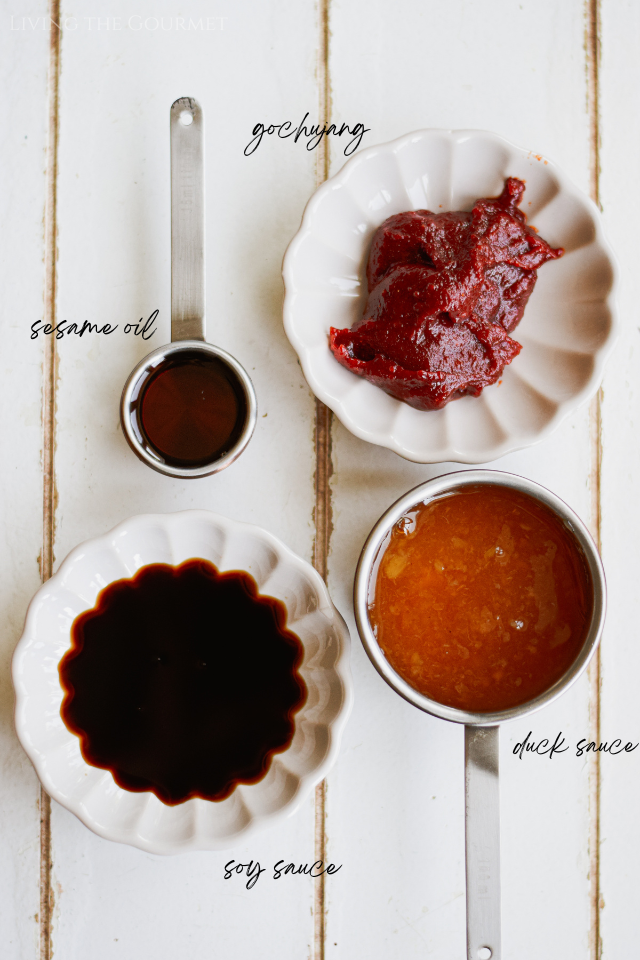 Gochujang:

Notes: Gochujang is a Korean chili paste made from fermented soybeans, red chili peppers, and glutinous rice. It contributes a spicy and slightly sweet flavor to the sauce, with 'lots' of smoky chili-flavor.
Tips: Gochujang's flavor, heat, and consistency can vary (wildly) by brand. However, quality gochujang should be an almost even mix of heat, sweetness, and smoky chili flavor. With that in mind, I suggest experimenting with different brands to find one that you like.
Substitution: If you don't have gochujang, you can substitute it with Sriracha or another chili paste of your choice. However, keep in mind that the flavor profile will be quite different. Also, given how thick gochujang is in comparison to most chili pastes – such as sambal, the consistency of the recipe is likely to change.
Sesame Oil:

Notes: Fragrant and flavorful, sesame oil adds distinct 'nutty' notes to the sauce.
Tips: Use toasted sesame oil for a more pronounced flavor. A little goes a long way, so use it sparingly to avoid overpowering the other ingredients.
Substitution: If you don't have sesame oil, you can substitute it with a neutral oil like vegetable or canola oil. However, you will miss out on the unique nutty flavor that sesame oil brings.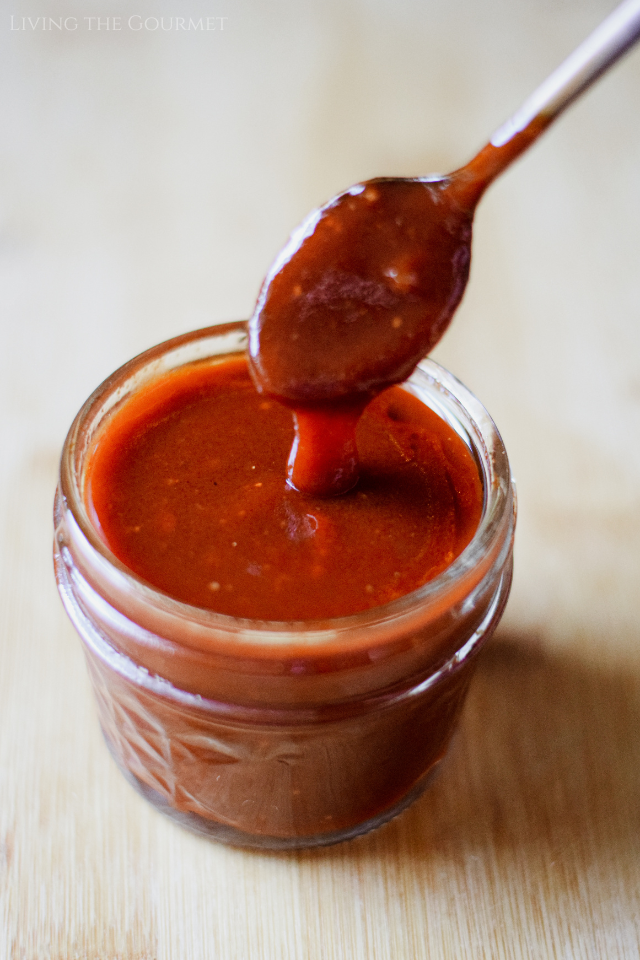 Variations: Making the Sauce Your Own
Adjust the spiciness: If you prefer a milder sauce, reduce the amount of gochujang or add a dollop of plain yogurt or sour cream to temper the heat.
Add acidity: Generally speaking, acidity helps balance flavors in a similar manor to salt, but it especially helps hide bitterness, while highlighting and brightening other flavors. For me personally, the soy sauce was enough acid. However, if you might consider adding a touch more acidity to suit your palate. To do this, I'd suggest adding a splash of rice wine vinegar, or perhaps a twist of fresh lemon or lime juice if you prefer.
Consistency adjustments: If you prefer a thinner consistency, it's as simple as adding a teaspoon or two of water.
Seeds: A dusting of sesame seeds would add a nice bit of contrast and flavor.
Pop of Color: If you want to add a pop of color, consider adding in some thinly sliced scallions.
Remember, these are just as few tips meant to inspire your creativity. Feel free to adapt and personalize the recipe to suit your taste preferences and dietary needs.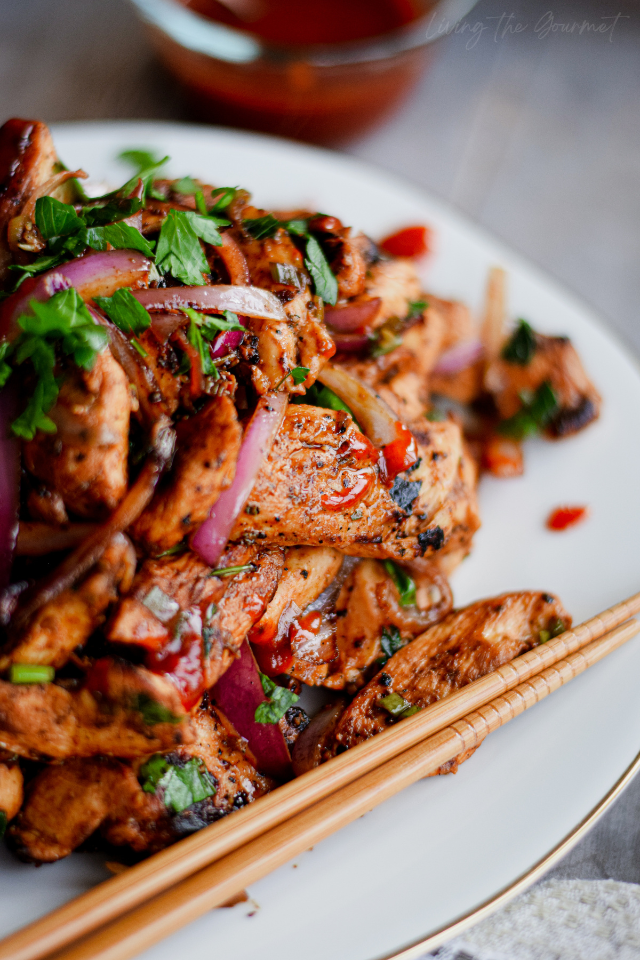 Uses for Sweet and Spicy Chili Sauce:
Glaze for Grilled Meats: Brush the sauce on to grilled chicken, pork, or beef during the last few minutes of cooking for a glossy, flavorful glaze that will leave you craving more. Think barbecue-style chicken, or ribs.
Stir-Fry: Add a burst of flavor to your stir-fried vegetables or noodles by tossing them with a generous drizzle of this spicy sauce. It infuses every ingredient with a delightful kick, taking your stir-fry game to the next level.
Dipping Delight: Serve this sauce as a dip alongside spring rolls, dumplings, or crispy fried appetizers. Its bold flavors and fiery heat will complement the crispy exterior and add an addictive element to your favorite bites.
Marinade: Marinate your choice of protein, such as chicken, tofu, or shrimp, in this sauce for at least 30 minutes (or longer for a more intense flavor). Then grill, bake, or sauté for a succulent and tantalizing meal.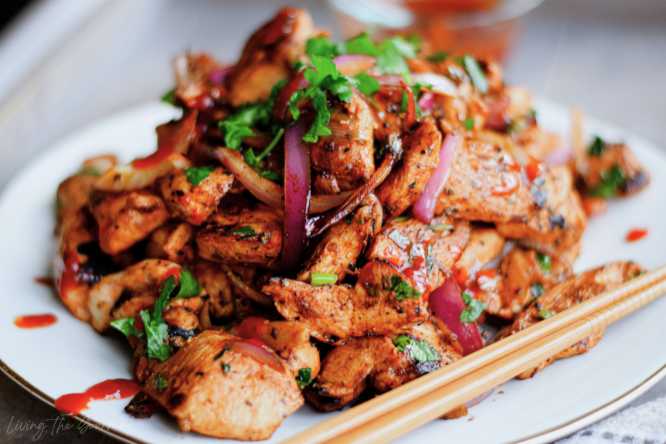 Print
Sweet and Spicy Chili Sauce
---
Author:

Total Time:

35 minutes

Yield:

4

servings

1

x
2

-

2 1/2

lbs

. of boneless chicken breast - cubed

1/2

large red onion - sliced

4

-

5

scallions - chopped

3

-

4

tbs. of fresh parsley - chopped fine

1

tbs. vegetable oil

1 tsp

. ground black pepper

1 tsp

. dried oregano - crushed in your hand
Gochujang marinade
Gochujang Marinade and Dipping Sauce
4

tbs. duck Sauce

1

tbs. soy sauce

2

tbs. gochujang, Korean Chili Paste

2 tsp

sesame oil
---
Instructions
Combine the duck sauce, soy sauce, gochujang sauce and sesame oil in a bowl and mix.
Place this over the chicken cubes and let marinade for at least 30 minutes to overnight.
Heat a large cast iron frying pan.
Place a tablespoon of the vegetable oil in the heated pan.
Place the marinated chicken in the pan.  Do Not Overcrowd the pan.
Let the chicken cook on one side for about 3 minutes or until a nice golden color appears and a slight char.
Turn over and cook for about another 3 - 4 minutes on the other side.  The cooking time depends on the thickness that you cubed your chicken.  The juices of the chicken should run clear when the chicken is done.
Place the cooked chicken in a bowl.
Place the sliced onion and chopped scallions in the pan with a tsp. of vegetable oil and toss until the onion is softened.
Toss the sliced onion, scallions and chopped parsley, black pepper and crushed oregano with the chicken and toss.
Make a second batch of this sauce to dip the cooked chicken in.
Serve with rice or noodles or over salad.
Prep Time:

15 minutes

Cook Time:

20 minutes
Keywords: chicken, spicy, gochujang, asian cuisine
Recipe Card powered by
And that's our Sweet and Spicy Chili Sauce. If you enjoyed this recipe, let us know in the comments below, we love hearing from you!
As always, be sure to like, share, and subscribe so that you never miss a post. Happy Cooking!
0