This post has been sponsored by Andria's Food Group. All opinions expressed are my own.
When it comes to creating the perfect burger, we believe that simplicity and quality ingredients reign supreme. Our Andria's Steak Sauce Burgers combine the robustness of grilled ground beef, the tangy richness of Andria's Steak Sauce, and the irresistible charred goodness that can only be achieved on a hot cast iron pan. Each bite is a harmonious symphony of juicy meat, smoky goodness, and a touch of zesty steak sauce that helps elevate the entire experience.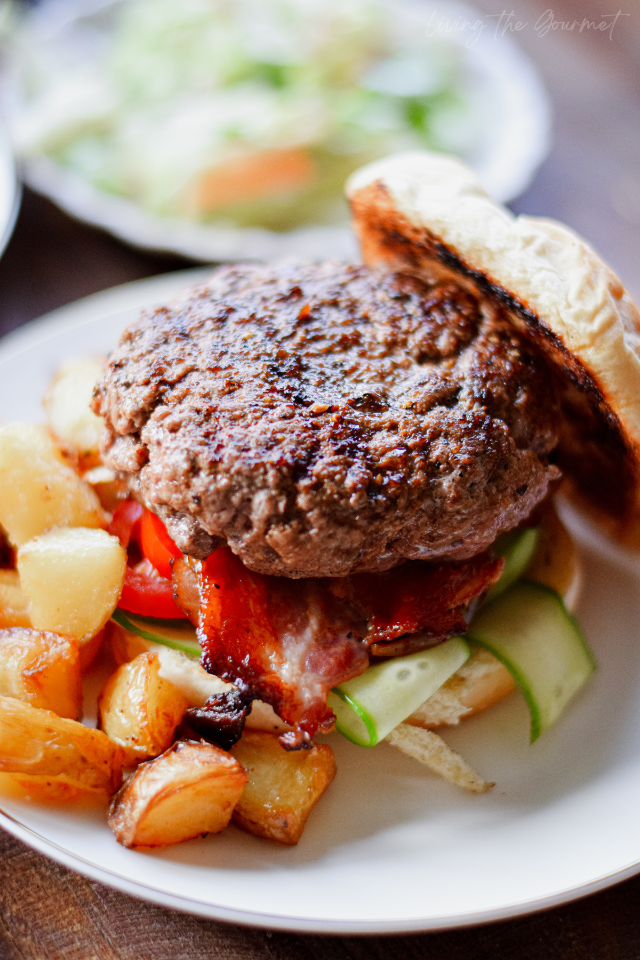 With their fresh-from-the-grill taste and meaty aroma, these burgers are a staple of grilling season. To complement the burgers, we invite you to experiment with a wide variety of pairing options and toppings that will help turn these burgers into a true culinary adventure. Imagine a generous spread of toppings, starting with a bed of fresh, crisp lettuce that provides a refreshing crunch. Add thin ribbons of cucumber, lending a subtle coolness that perfectly balances the savory notes of the patty, and contrasts beautifully with crisped bacon brushed with Andria's Barbecue Sauce.
For a truly indulgent experience, don't forget our delightful sweet onions, caramelized to golden perfection and tossed in Andria's Steak Sauce. These onions add a touch of sweetness and a hint of savory umami, transforming your burger into a symphony of flavors. Continue the medley with thinly sliced tomatoes, offering a burst of juiciness, and luscious, creamy avocado, adding a velvety texture to every bite.
While the burgers are undoubtedly the star of the show, every superstar deserves a supporting cast. Consider serving them alongside grilled vegetables, showcasing the vibrant colors and natural sweetness of seasonal produce. You might also consider indulging in crispy sweet potato fries or a refreshing side salad with a tangy vinaigrette to complete the ensemble.
So, ignite your grills or heat up your cast iron pans, and let's get cooking!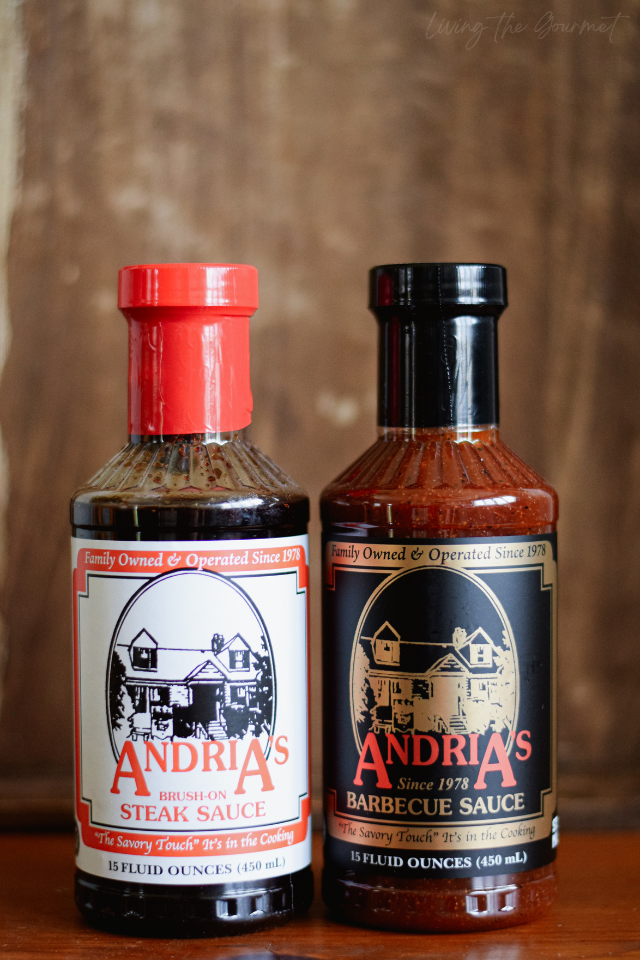 Ingredient Checklist
Ground Beef:

Choose 80-20 lean-to-fat ratio for juicy and flavorful burgers.
Substitutions: This recipe works with all of the usual chop meat substitutes including ground turkey, ground chicken, or your preferred plant-based ground meat alternatives.

Salt:

Table salt works fine, but I'd suggest sea salt for best results.
Get Fancy: For a gourmet twist, consider using something like Pink Himalayan or Black Hawaiian Salt as a finishing salt.

Black Pepper:

Brings aroma and depth of flavor to the beef.
Tip: I strongly recommend fresh ground pepper for best results.

Andria's Steak Sauce:

The star ingredient that infuses the burgers with its tangy, savory flavors. Combining ingredients such as onions and parsnips, along with turnips, carrots, and parsley, this sauce is pungent, pleasantly thick, and just a tad sweet. Though most at home on things like beef roasts, burgers, or steaks, it also tastes great on fattier fishes such as salmon or shark. Grab a bottle, I promise you won't be disappointed.

Vegetable Oil or Butter:

If you use oil, use a flavor neutral oil. Butter, by contrast, will add a nice bit of richness.

Burger Buns:

Choose your preferred type based on personal preference and desired texture. See the notes below for ideas on buns.

Sweet Onions:

For subtle sweetness and fresh aromatics without 'oniony bite.' That said, any onion will work in this recipe.

Lettuce:

Adds freshness and crunch to the burger.
Substitutions: Baby spinach, arugula, or mixed salad greens for a variation in texture and flavor.

Cucumber:

Sliced thinly, it offers a refreshing and crisp element to the burger.
Substitutions: Pickles or pickled cucumbers for a tangier twist.

Tomato:

Provides juiciness, a pop of color, and a bright burst of flavor.
Substitutions: To mix things up, consider roasted tomatoes, or sun-dried tomatoes for a savory twist.

Avocado:

Adds a creamy and buttery texture to the burger.

Andria's Barbecue Sauce:

For brushing the bacon. This delicious sauce strikes the perfect balance between savory and smoky, while boasting a luxuriously subtle sweetness. Andria's Barbecue Sauce is the ultimate companion for all your grilling endeavors, whether you're firing up the barbecue or expertly searing indoors. It pairs flawlessly with an array of grilling favorites, from succulent roasts and sizzling steaks to juicy burgers, flavorful sausages, and tender chops. Its versatility extends even to heartier seafood choices, such as the robust flavors of shark or the delicate elegance of salmon.

Bacon.

Adds a crispy, smoky, and savory touch to the burgers.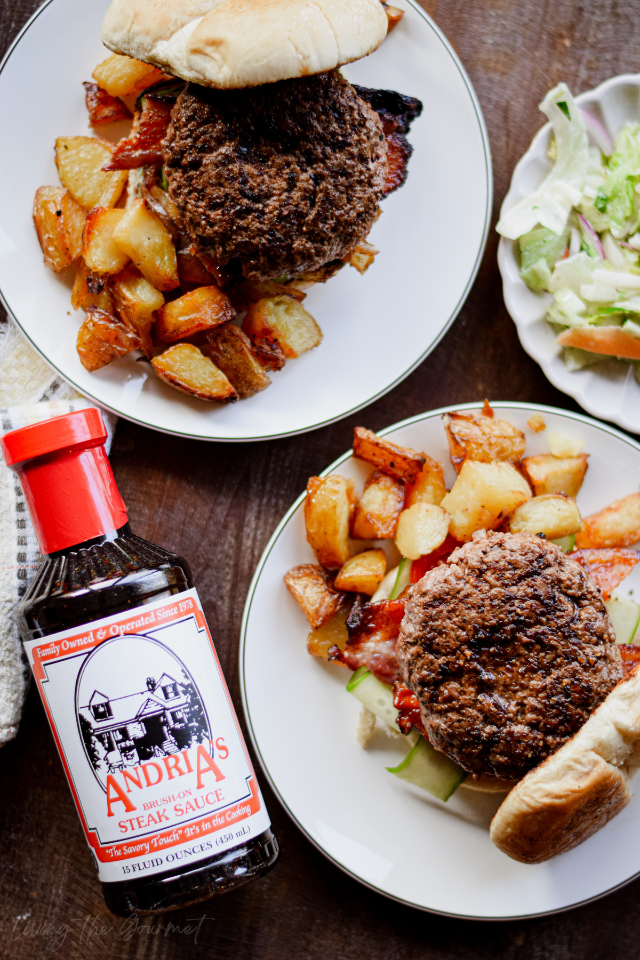 Quality Chop Meat – Seven Tips for Getting the Good Stuff
When it comes to cooking with chop meat, whether for grilling burgers, prepping a meat loaf, or making patty melts, selecting high-quality meat is essential to ensuring a delicious end result. And chop meat is one product where you really 'will' taste a difference.
Thankfully, selecting quality chop meat is 'not' difficult. Follow these seven super-simple tips to choose the best chop meat for your culinary creations:
Freshness First: This may sound like I'm stating the obvious, but freshness is king when it comes to chop meat. Basically, this comes down to looking for chop meat that hasn't been sitting on the shelf for too long. Start by checking the packaging or asking the butcher. Inquire as to the "sell-by" or "use-by" date. From there, check the meat itself. This means choosing meat with a bright red color. Brown, discolored meat is an indication that the meat has begun to oxidize and decay.
Fat Content: I'm going to be blunt – fat is flavor. Full stop. If you want juicy, flavorful burgers, you need fat. End of story. For burgers, especially, you want chop meat that's in excess of 20% fat. That means choosing meat labeled as "80/20" (80% lean meat and 20% fat). Sure, you 'can' use leaner options, such as "90/10" or even "93/7" but be prepared for dry burgers that taste of 'nothing.'
Check for Marbling: No, this is 'not' the same as fat. Marbling refers to the intramuscular fat and connective tissue found in meat, which adds flavor and tenderness. Look for chop meat with visible marbling, as it indicates a higher quality product overall, resulting in better taste. More marbling means the meat has been processed less – which is always a good thing (up to a point, but that's a whole separate article). The marbling should be evenly distributed throughout the meat, rather than concentrated in one area.
Consider the Source: If possible, choose chop meat from trusted sources, such as local farmers or reputable suppliers. This allows you to have more control over the quality and source of the meat, ensuring it comes from well-raised and ethically treated animals.
Single Cuts are a Cut Above: For more consistent results, consider choosing chop meat that comes from a single cut of meat, such as chuck, sirloin, or brisket. These cuts tend to have a good balance of meat and fat, resulting in a tasty and juicy end product.
Request Grinding on Site: I know this sounds like I'm asking you be a pain to your local butcher, but if it's available ask them to grind the meat for you on-site. This ensures that the chop meat is freshly ground and minimizes the risk of cross-contamination. Grinding the meat just before purchase helps maintain its quality and reduces the chance of bacterial growth.
Look for Minimally Handled Meat: Meat that has been excessively handled or overly processed can affect its texture and taste. Choose chop meat that appears freshly ground with minimal manipulation, as this preserves its natural integrity. Granted, this can be 'very' hard to determine, and plays into to selecting meat from trusted sources.
And remember, proper handling and storage of chop meat are also crucial to maintain its quality and safety. Ensure that the meat is refrigerated or frozen promptly, and follow recommended storage guidelines to prevent bacterial growth and maintain freshness.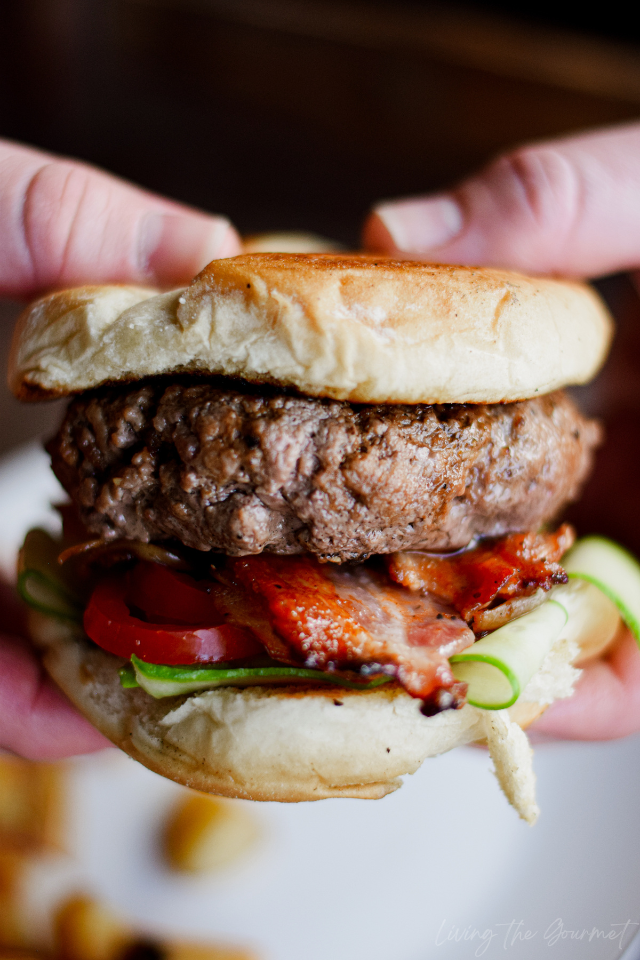 Mix and Match Toppings – Making The Burger Your Own
Mix Up The Cheese:

Blue Cheese: The tangy and creamy qualities of blue cheese creates a fantastic contrast to the savory richness of Andria's Steak Sauce. Crumble a generous amount over the patty, allowing it to melt and mingle with the sauce for a burst of bold flavors.
Smoked Gouda: The smoky and nutty notes of smoked gouda add depth to your burger. Melt a slice on top of the patty, enhancing the smokiness and creating a luscious, gooey layer.
Pickled Vegetables:

Pickled Jalapeños: For a spicy kick, top your burger with pickled jalapeños. Their tangy heat provides a vibrant and zesty bite to the flavor profile.
Pickled Red Onions: Add a pop of color and tangy sweetness to your burger by incorporating pickled red onions. The acidity of the onions balances the richness of the sauce, while their vibrant hue adds visual appeal.
Spicy Aioli or Quick Chipotle Sauce:

Quick Sriracha Aioli: Combine mayonnaise with a touch of sriracha sauce, salt, and lemon juice to create a creamy and spicy aioli. The heat from the sriracha complements the savory flavors of the burger, adding an extra layer of complexity.
Easy Chipotle Mayo: Blend chipotle peppers in adobo sauce with mayonnaise to create a smoky and mildly spicy condiment. The smokiness harmonizes with the charred flavors of the patty, while the heat level can be adjusted to your preference.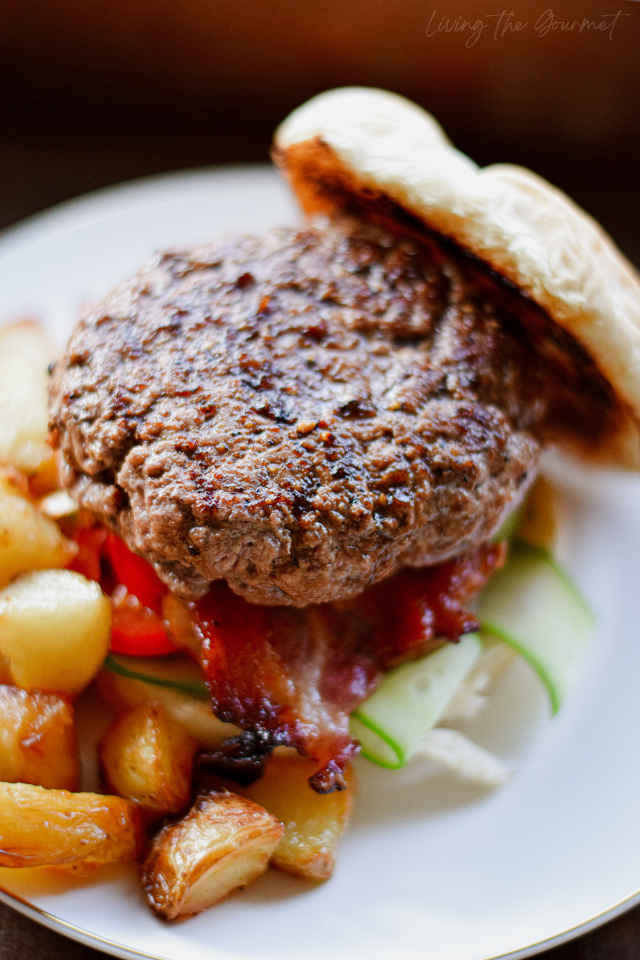 Print
Steakhouse Burgers
---
Author:

Total Time:

35 minutes

Yield:

4

-

6

servings

1

x
For the Burgers: 
2

lbs

. 80/20 ground beef 3/4 - 1 inch thickness - with thumb print indented in the center of the formed burger
Salt
Fresh ground black pepper

2

tbs. Andria's Steak Sauce

2 tsp

. vegetable oil or butter
For the Bacon:
For the Caramelize Onions:
Additional Toppings:
Burger bun of your choice
Fresh lettuce
Cucumber, ribboned
Tomato, sliced thin
Avocado, sliced thin
---
Instructions
For the Bacon:
Preheat Oven 400 degrees F:
Line a sheet pan with parchment paper and place the bacon slices on the paper.
Brush each slice with Andria's Barbecue Sauce.
Cook the bacon for 10 - 12 minutes, or until a desired crispness is achieved.  Set aside.
For the Caramelized Onions:
Heat a large frying pan.
Place the sliced onions in the hot pan, and sprinkle with the sugar and salt.  Let the onions get a beautiful golden color.
Add the steak sauce and toss. Set aside.
For the Burgers:
Heat a large cast iron frying pan until it is very hot.
Form the ground beef in to 6 oz. burgers with a thumb print in the center.
Sprinkle each burger with salt and fresh ground black pepper.
Place the burgers in the hot cast iron frying pan and add 1 tbs. of oil.
Brush each burger with the steak sauce.
Let the burgers cook for three minutes, until a nice char is formed on one side.
Turn the burgers over and brush again with the steak sauce.
Cook for another 3 to 4 minutes, or until the desired doneness is achieved.
Assemble Your Burger:
Toast your desired burger bun.  I like to spread a little mayonnaise on each but for a nice golden toast.
Layer your desired toppings for each burger.
Serve and enjoy!
Notes
The more firm the burger feels, the more well done it is.
Do NOT slice into the burger and turn the burger only once.
Prep Time:

15 minutes

Cook Time:

20 minutes
Keywords: burgers, hamburgers, steakhouse, barbecue sauce
Recipe Card powered by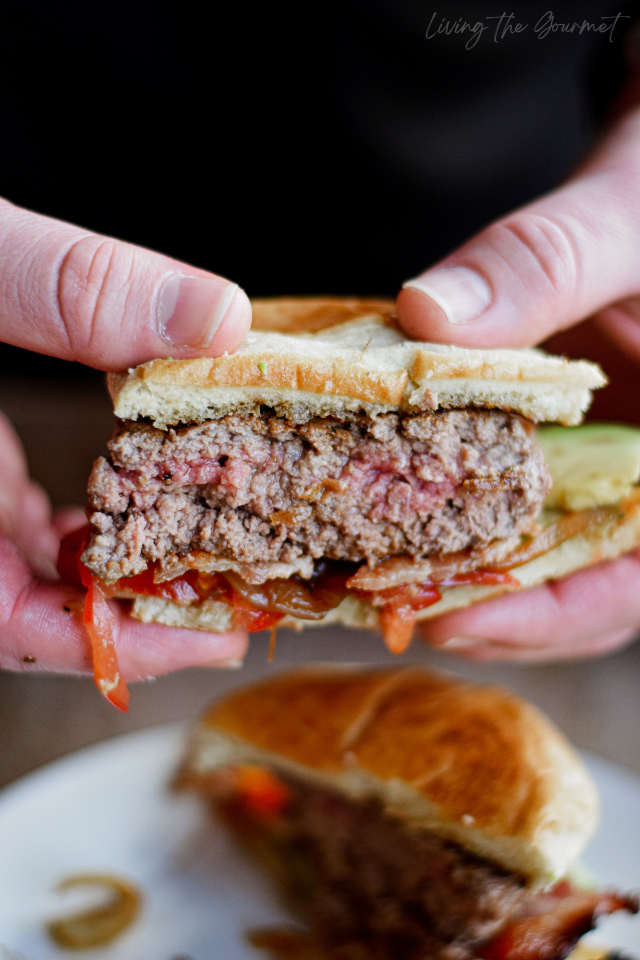 And those are our recipe for Andria's Steak Sauce Burgers. If you enjoyed this recipe, or have any suggestions for this or future content let us know in the comments below, we love hearing from you.
Also, be sure to check out Andria's Steakhouse, and try their delicious line of sauces. While we featured their Brush On Steak Sauce and BBQ Sauce here today, they also have a Salad Dressing. You'll love all of them, I promise. Happy Cooking!
0