The weather is warming up, which means it's time to start enjoying light and fresh meals that are perfect for picnics, potlucks, and lazy days in the sun. This pasta and quinoa salad is an excellent choice for any of those occasions. It's quick and easy to make, and it couldn't be easier to adjust to suit any palate. This dish is a great way to use up pantry staples and fresh produce, making it as budget-friendly as it is delicious.
The combination of nutty quinoa, chickpeas, and tangy lemon vinaigrette dressing creates a satisfying meal that will leave you feeling energized and satisfied. Tossed with bow tie pasta, chopped scallions, and fresh Italian parsley, this salad is bursting with flavor and texture. Best of all, it's easy to make and perfect as a side dish or a light main meal. Whether you're having a barbecue or looking for a quick and tasty lunch, this pasta and quinoa salad is sure to be a crowd-pleaser.
As a nice bonus, this recipe pairs deliciously with a wide range of meals. Grilled chicken or fish are great options for a complete meal. Roasted vegetables, garlic bread, or crostini are also great sides to enjoy with this salad. For a refreshing finish, a fresh fruit salad or some iced tea or lemonade would be perfect. Seriously, if that doesn't scream "Summer!" I'm not sure what does.
However, the best of part of this recipe is just how easy and quick it is to prepare. The pasta and quinoa can be cooked simultaneously, and the dressing can be whipped up in mere minutes. This dish can be made ahead and stored in the refrigerator, making it perfect for busy days.
Read on for an ingredient checklist, some variations to help make this salad your own, and a few delicious pairing suggestions.
Now, without further introduction, let's get cooking.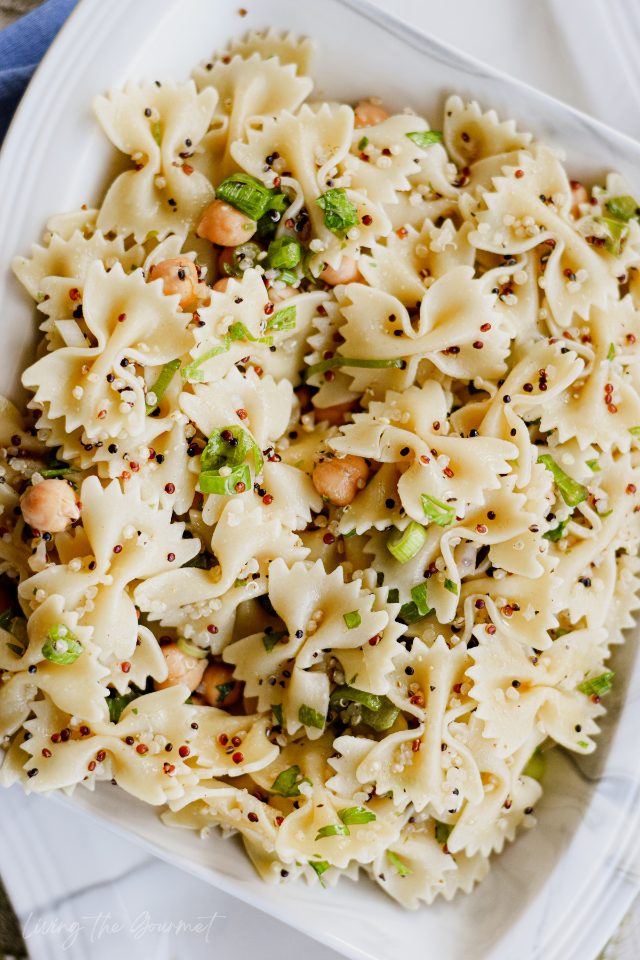 Ingredient Checklist – What You'll Need
Your favorite pasta: I used bow ties, but any pasta noodle will work.
Scallions: For a dash of color and 'oniony flavor' without 'oniony bite.' Make sure to chop them thin. Use a scissor to make the process quick and easy.
Italian Parsley, Fresh: For a dash of color, and bright herbal flavor. Be sure to rinse, destem, and then chop it up as finely as you can manage.
Quinoa: Forms the base of the recipe along with the pasta. I'm using plain boil-in-bag quinoa, but the quinoa of your choice will work just fine.
Chickpeas: For texture and buttery flavor. However, the beans of your choice will likely work just fine, such as black beans or kidney beans.
Lemon Juice: I strongly recommend using fresh lemon juice for this recipe, as it has a brighter, more lively flavor.
Olive oil: As we'll be eating the olive oil raw, I do suggest a decent quality extra virgin olive oil.
Salt: Plain table salt is all you need, though feel free to 'get fancy' with the gourmet salt of your choice.
Black pepper: I recommend using freshly ground black pepper. For best results, crush it in a mortar and pestle.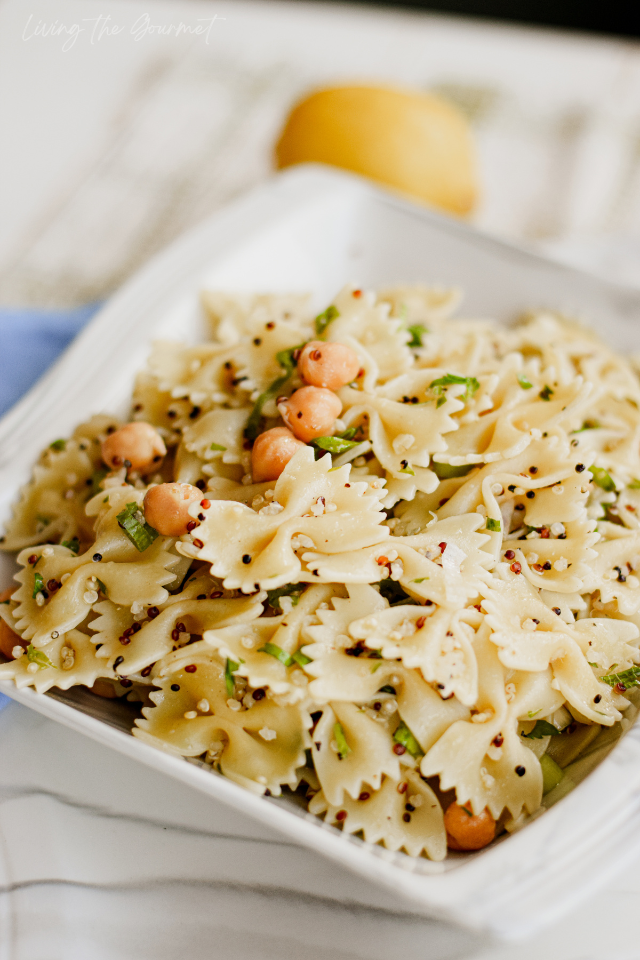 Recipe Variations – Making the Recipe Your Own
Here are some super simple variations to help make this recipe your own.
Add vegetables: You can add diced tomatoes, cucumber, bell pepper, or carrots to this salad for more flavor and texture. For added flare, consider blistering the tomatoes or grilling the peppers first.
Add cheese: Feta, goat cheese, or marinated mozzarella would be a great addition to this salad.
Bring the Meats! Or the Tofu…: Grilled chicken, shrimp, or tofu would make this salad a complete meal, while also adding an extra layer of texture contrast.
Change the dressing: You can use balsamic vinegar, honey mustard, or tahini dressing instead of the lemon vinaigrette, which is likely the easiest way to change up this recipe's flavor profile.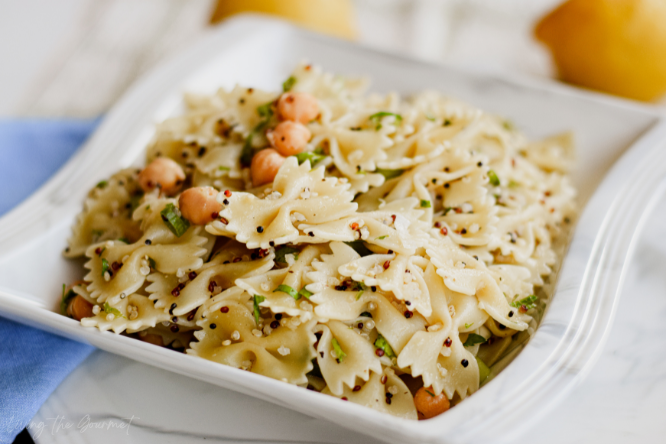 Pairing Suggestions
White Wine. A light-bodied white wine would pair well with this pasta and quinoa salad. Specifically, a Sauvignon Blanc or Pinot Grigio would be a great choice. The bright and citrusy notes in these wines complement the tangy lemon vinaigrette dressing in the salad. The light body of the wine won't overpower the flavors in the dish and will help balance the richness of the pasta and quinoa.
Fish and Chips: For a bit of contrast, consider pairing today's salad with a classic summer favorite; Fish and Chips. This particular fish and chips cooks up with a deliciously crisp coating, and a moist and tender interior. We use a dark beer for the batter, which gives the coating a rich 'hops' flavor, adding a nice bit of complexity and depth to this tried-and-true classic.
Light Meat Dishes. Consider something like my Wanja-Jeon (Korean beef patties). Wanja-jeon cook up with a crisp exterior, and a moist, tender interior, providing a lovely contrast of texture. The prep process couldn't be easier. The ingredients are simply mixed together in a batter and then pan-fried until golden and crispy.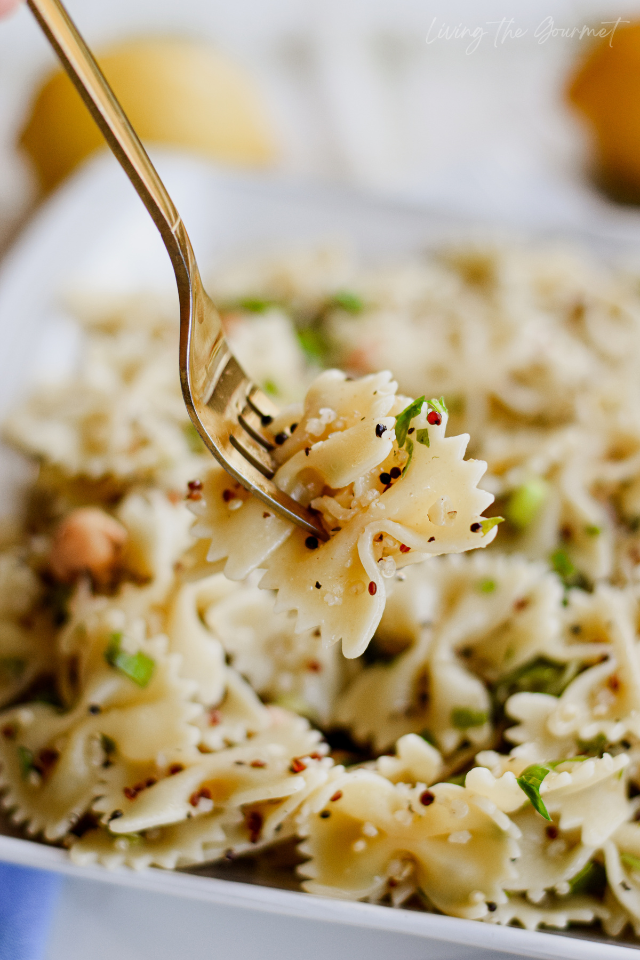 Print
Quinoa Pasta Salad
Author:
Prep Time:

5 minutes

Cook Time:

15 minutes

Total Time:

20 minutes

Yield:

4

servings

1

x
1

lb

. of your favorite pasta, I used bow ties

5

-

6

scallions, chopped

1/4

cup

of fresh Italian parsley, chopped fine

1

boil in the bag quinoa

19 oz

. can of chick peas - drained
About

2

tbs. fresh lemon juice

4

tbs. olive oil

1 tsp

. salt

1 tsp

. fresh ground black pepper
Instructions
Chop the scallions and parsley and place in a large bowl.
Cook the pasta as directed, drain and toss with the scallions and parsley.
Cook the quinoa as directed, drain and toss with the pasta, scallions and parsley.
Combine the lemon juice, olive oil, salt and pepper and stir; add to the pasta and quinoa and toss.
Taste for seasoning.
Refrigerate until ready to serve.
Keywords: quina, pasta, salad, healthy
Recipe Card powered by
And that's my Pasta and Quinoa Salad. If you enjoyed today's recipe, be sure to like, share, and subscribe, so that you never miss recipe.
If you tried today's recipe, or any of the variations, let me know in the comments below. We always love hearing from you. Happy Cooking!
0