Potato and leek soup is one of the most classic comfort foods out there. It's creamy and savory, hearty and comforting - everything you want in a soup on a cold winter night. It's also incredibly easy to make and can be enjoyed as a light lunch, hearty dinner, or a side dish to almost any meal.
This creamy potato and leek soup recipe is simple, flavorful, and will leave you feeling satisfied. The ingredients are straightforward and the dish comes together in no time. The combination of potatoes and cream, combined with leeks, garlic and herbs, make this soup the perfect balance of savory and creamy. It's the perfect soup to cozy up to on a cold winter's day or to enjoy as an easy weeknight dinner.
Once you have the ingredients ready, this creamy potato and leek soup comes together quickly and easily. The result is a flavorful and comforting soup that is sure to become a family favorite. So grab your ingredients, and let's get cooking!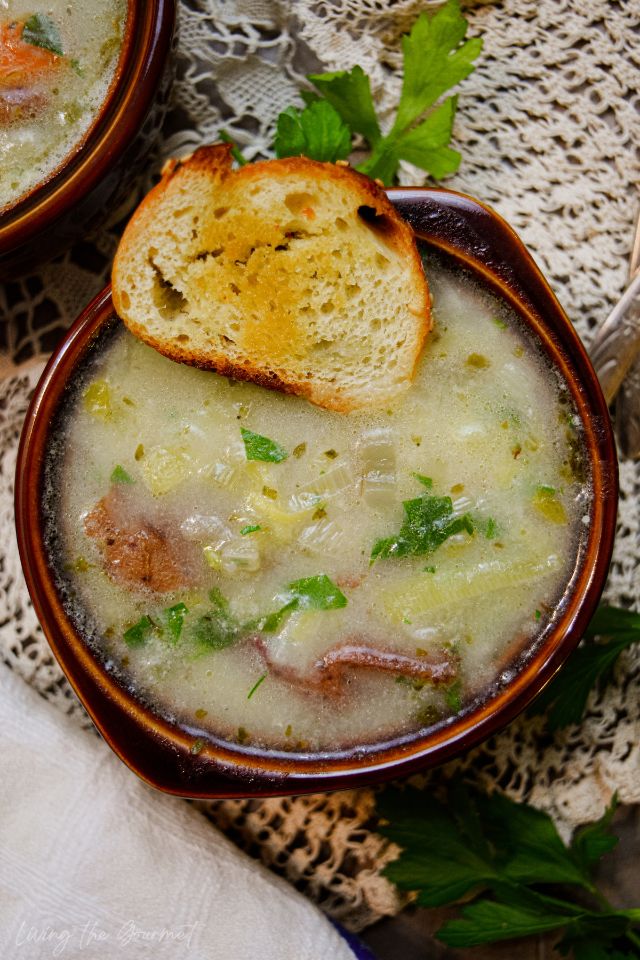 Ingredient Checklist
Large Red Potatoes. The potatoes are working to thicken the soup, while also acting as the soup's base. Keeping the skin on the potatoes will help to add a 'rustic' and 'earthy' flavor to the soup.
Leeks. A mild onion-like vegetable, leeks are a great way to add color and 'oniony sweetness' to a recipe. They should be cleaned and the dark ends should be removed before slicing them into the soup.
Garlic. For pungency, aroma, and savory depth. Today's soup is one instance where you'll want to chop the garlic as finely as you can manage.
Fresh Italian Parsley. This adds color and 'herbal flavor' to the soup. Be sure to remove the stems before chopping.
Butter. Simply put "Fat is flavor." The butter works not only to add texture to the soup, but also a background 'buttery' flavor that melds deliciously with the potatoes.
Carrots. Aside from being a hardy root vegetable with an instantly familiar flavor, they also add a subtle sweetness to the soup. Peel, rinse, and dice before adding to the soup.
Celery. Not a whole lot to say here. Celery brings a fibrous texture, vegetal flavor, and some nice color contrast to the soup. Be sure to slice it as thinly as possible before adding it to the soup.
All-Purpose Seasoning. I'm using Vegeta All-Purpose seasoning and soup mix. This is my all-purpose seasoning of choice, and also doubles as a decent stock base.
Salt. Plain table salt is all you need, or your Sea Salt of choice if you're feeling fancy. Salt helps bring out the flavors of the other ingredients in the soup.
Black Pepper. Plain ground pepper. If you 'really' want to get fancy, start with whole peppercorns, and grind those in a mortar and pestle. The difference in aroma and flavor is quite significant.
Dried Oregano. Pro-tip time. Always opt for dried oregano over fresh, unless a recipe explicitly says to use fresh oregano.
Olive Oil. As always, I suggest a decent quality extra virgin olive oil.
Water. The liquid of the soup. Note a whole lot to say here.
Whole Milk. I strongly suggest using whole milk, as it works to thicken the soup, while also bringing a nice touch of sweetness and 'fatty flavor.'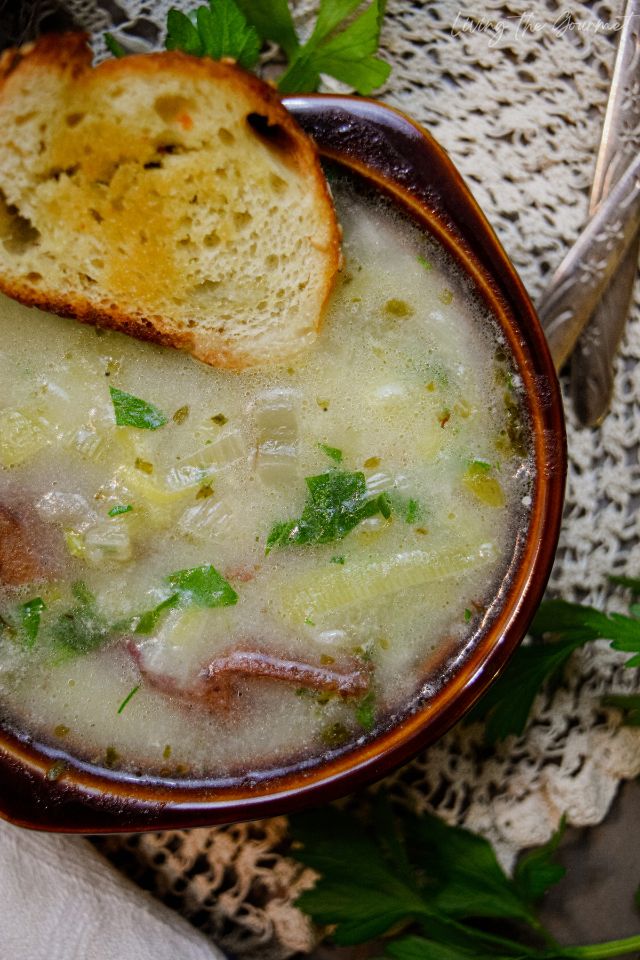 Pairing Suggestions
Wine: A dry, light-bodied white wine such as a Sauvignon Blanc or Pinot Grigio would pair well with this leak and potato soup. The light acidity of the wine will cut through the richness of the soup, while its notes of citrus and green apple will provide a nice contrast to the soup's savory flavors.
Crusty French Bread: A classic French bread would pair perfectly with a hearty bowl of leak and potato soup.
Caesar Salad: A light and refreshing Caesar salad is the perfect accompaniment to a bowl of leak and potato soup. The crisp lettuce and tangy dressing help to balance out the rich soup.
Grilled Cheese Sandwich: A rich grilled cheese sandwich is a classic pairing for leak and potato soup. The combination of melted cheese, crunchy bread, and savory soup is a guaranteed crowd pleaser.
Bacon Bits: Sprinkling crunchy bacon bits on top of your leak and potato soup adds a delicious smoky flavor and texture to the soup.
Garlic Toast: A crunchy piece of garlic toast is the perfect companion to a bowl of leak and potato soup. The garlic and crunchy texture of the toast provide a great contrast to the soft and creamy soup.
Print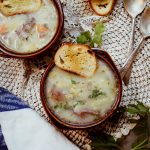 Potato Leek Soup
---
Author:

Total Time:

40 minutes
4

-

5

large red potatoes - with skin

3

leeks - cleaned - dark ends removed and sliced thin

4

-

5

cloves of garlic - chopped

1

bunch of fresh Italian parsley - stems removed and chopped

1/2

stick of butter (

4

tbs.)

2

carrots - diced

4

stalks celery - sliced thin

2 1/2

tbs. Vegeta All purpose seasoning and soup mix

2 1/2

tbs. salt

1 tsp

. black pepper

1 1/2 tsp

. dried oregano

2

tbs. olive oil

5

-

6

cups

of water

2

cups

milk
Crostini or Homemade Croutons for serving
Crisp bacon slices for topping the soup
---
Instructions
Boil the potatoes until fork tender; drain and set aside.
Heat a large soup pot with the olive oil and butter. Add the sliced leeks, carrots, celery and garlic and gently sauté until the leeks cook down a bit.
Add the potatoes and gently mash down with a potato masher.
Add the water and the Vegeta seasoning, salt, black pepper and dried oregano and gently simmer on a low heat for about 20 – 25 minutes or so.
Add the milk and the chopped parsley and simmer on a low heat for another 10 – 12 minutes or so.
Taste for seasoning to see if you need more salt or not.
Serve with fresh Croutons or Crostini and crumbled crisp bacon.
Prep Time:

10 minutes

Cook Time:

30 minutes
Recipe Card powered by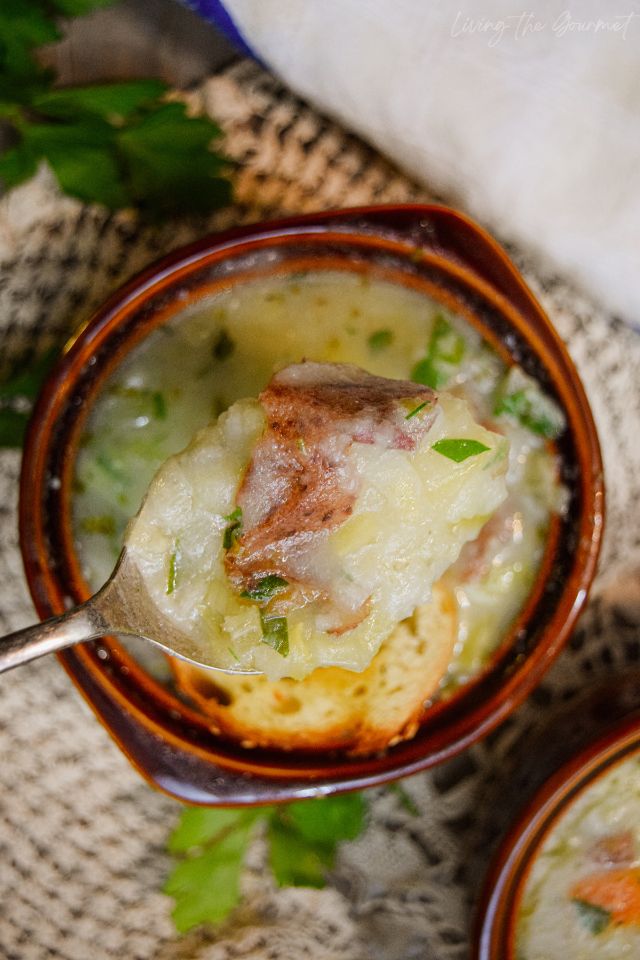 We hope you enjoyed learning how to make this warming, delicious Potato and Leek Soup. Whether you're looking for a cozy meal on a cold winter night or a light lunch on a summer afternoon, this soup is sure to hit the spot. Try experimenting with different herbs and spices to make the recipe uniquely yours, or try adding in chop meat or sausages to the mix.
If you made our recipe, or have suggestions for future content, be sure to let us know in the comments below. We love hearing from you! Enjoy!
As an Amazon Associate I earn a small commission from any purchases made through the affiliate links within this post. For more information on this please see our disclosure policy. Thank you!
1