Today we're preparing deliciously moist, yet wonderfully crisp, panko fried chicken, which we'll be pairing with a ginger and red pepper Tonkatsu sauce. The combination is sweet-yet-spicy, and decadently satisfying. As a nice bonus, the tonkatsu sauce couldn't simpler to put together, making today's recipe accessible for home chefs of all skill levels.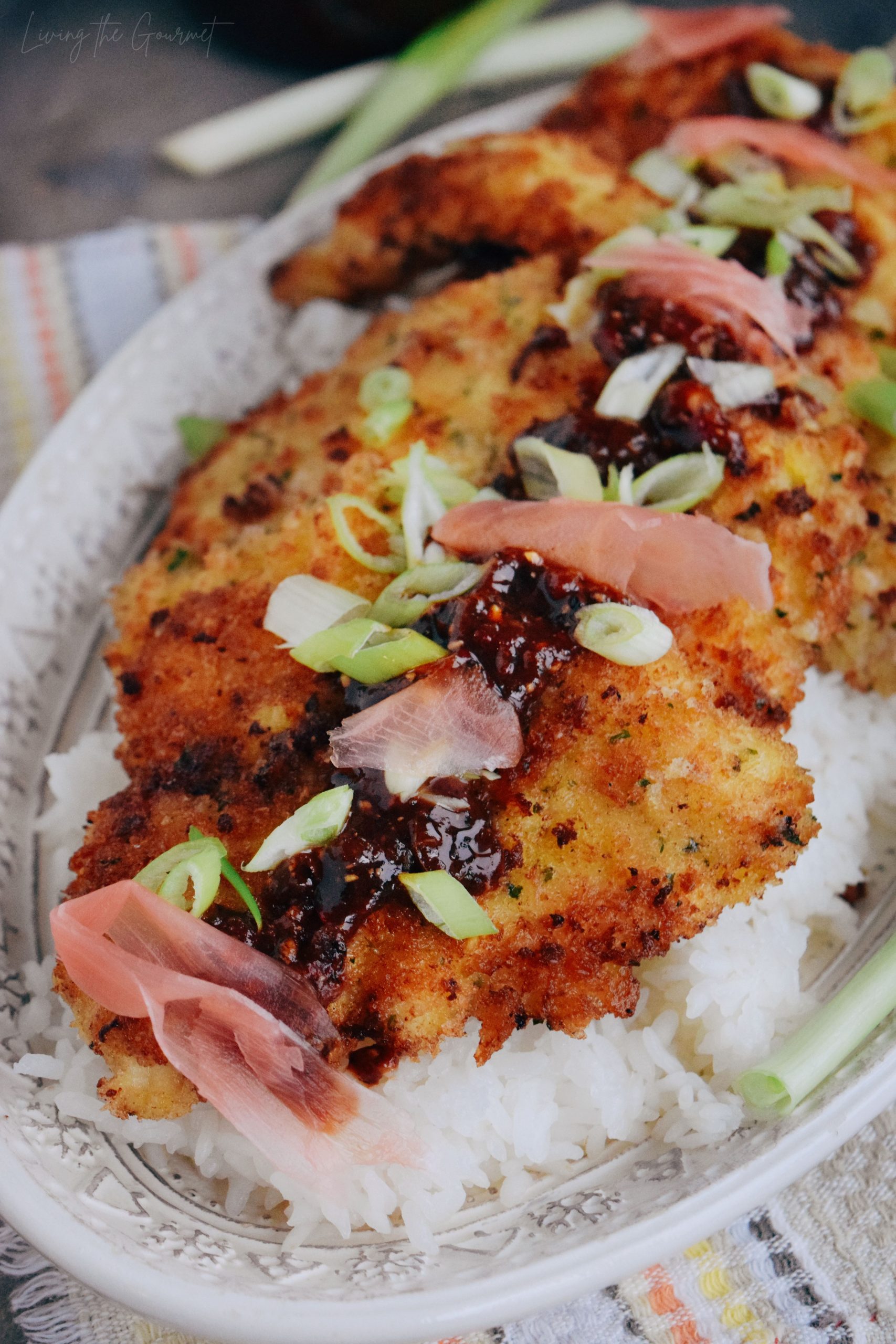 Why To Try Today's Tonkatsu
1) Super Easy to Make. With no complicated prep or cooking techniques involved, making Tonkatsu is simply a matter of combining and then mixing the listed ingredients. As such, it couldn't be easier to make.
2) Get as 'Fancy' as You Like. With that said, there 'are' ways of fancying it up, such as by combining and simmering the ingredients in melted butter, or stirring in the melted butter, or thickening the sauce, or adding in various spices, leaving plenty of room for 'veteran' home chefs to complicate matters to their hearts delight.
3) Goes Great on Everything. From eggs to burgers to steak to fried pork chops, this is one sauce that really does go great on just about everything.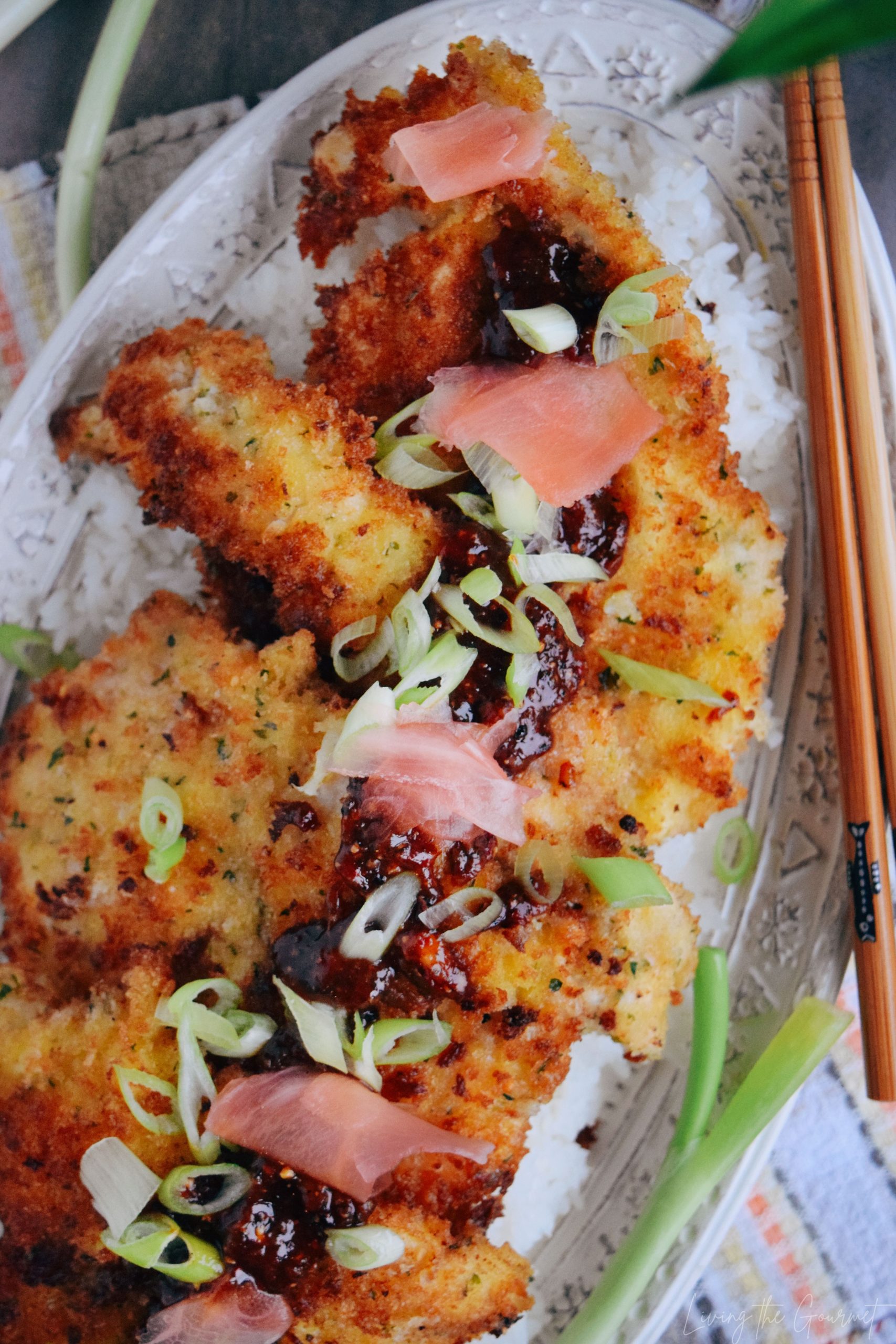 Ingredients Notes, Tips, and Substitutions
1) What 'is' Tonkatsu, Donkatsu, and Donkkaseu? The honest answer to this is "It depends on who you ask." First up, 'Tonkatsu' is a Japanese dish combining fried pork cutlets and a barbecue sauce. However, the word 'tonkatsu' is also regularly used to refer to the sauce on its own – or to the cutlets on their own. With that cleared up (sort of), both 'donkatsu' and 'donkkaseu' are Korean words for the same combination of fried cutlet and barbecue sauce, or, once again, to the sauce itself, or to the cutlets themselves. Today, we're opting for the second definition – that being the sauce itself. For this particular sauce, there is no 'one' recipe (believe me, I looked, and looked, and looked). What I found was that the simplest recipes for this sauce generally consist of just four ingredients, those being Worcestershire sauce, soy sauce, ketchup, and mustard. More complex recipes tend to leave out the Worcestershire in favor of some combination of mirin, oyster sauce, and brown sugar. The most complex recipes toss in a veritable laundry list of seasonings ranging from MSG (no thanks), to powdered garlic, onion, ginger, mustard, mustard seed, and so on. The 'fanciest' of these recipes call for melted butter and assorted thickening agents (such as corn starch slurries). With all of that out of the way, I'm quite happy with how 'my' take on this difficult-to-nail-down sauce came out. It's just thick enough for my taste, and has a nice mix of sweet, spicy, and umami flavors. With that said, feel free to mix and match to your heart's content, because there really is no 'one way' or 'right way' to make this sauce.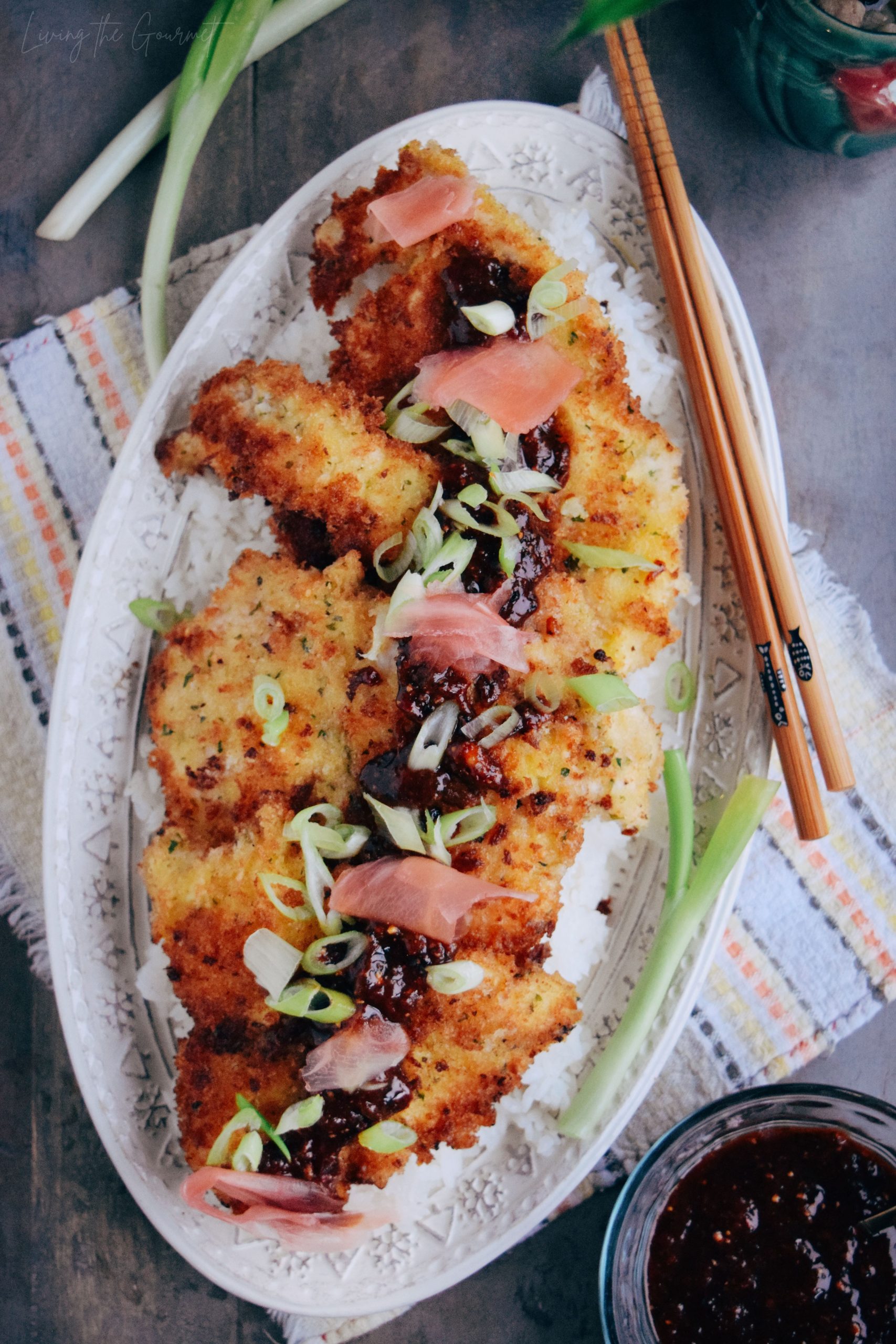 2) Panko vs Breadcrumbs. I'll admit that I remember a time when Panko, here in the West, was only available in specialty stores and 'ethnic markets.' Today, by contrast, panko breadcrumbs are available in any decently stocked supermarket. However, despite their availability, most people still have at least two questions regarding these little gems. First, 'what' are they? And are they 'really' any different from 'non-Panko' breadcrumbs? First off, Panko is produced solely from crustless white bread, which is processed into flakes and 'then' dried. This process, generally, results in a dryer and flakier consistency than 'non-Panko' breadcrumbs, which in turn producers a 'lighter yet crunchier' consistency for the food it's used to coat. By contrast, 'non-Panko' breadcrumbs can be made from any sort of bread – though higher end "Italian Breadcrumbs" will be made from Italian loaves. They also are typically ground into finer, more uniform crumbs, and due to the various oils that are used to prepare them, they tend to be 'less dry' than their Panko counterparts.
Substitution: If you don't have panko on hand, regular breadcrumbs will work just fine for today's chicken.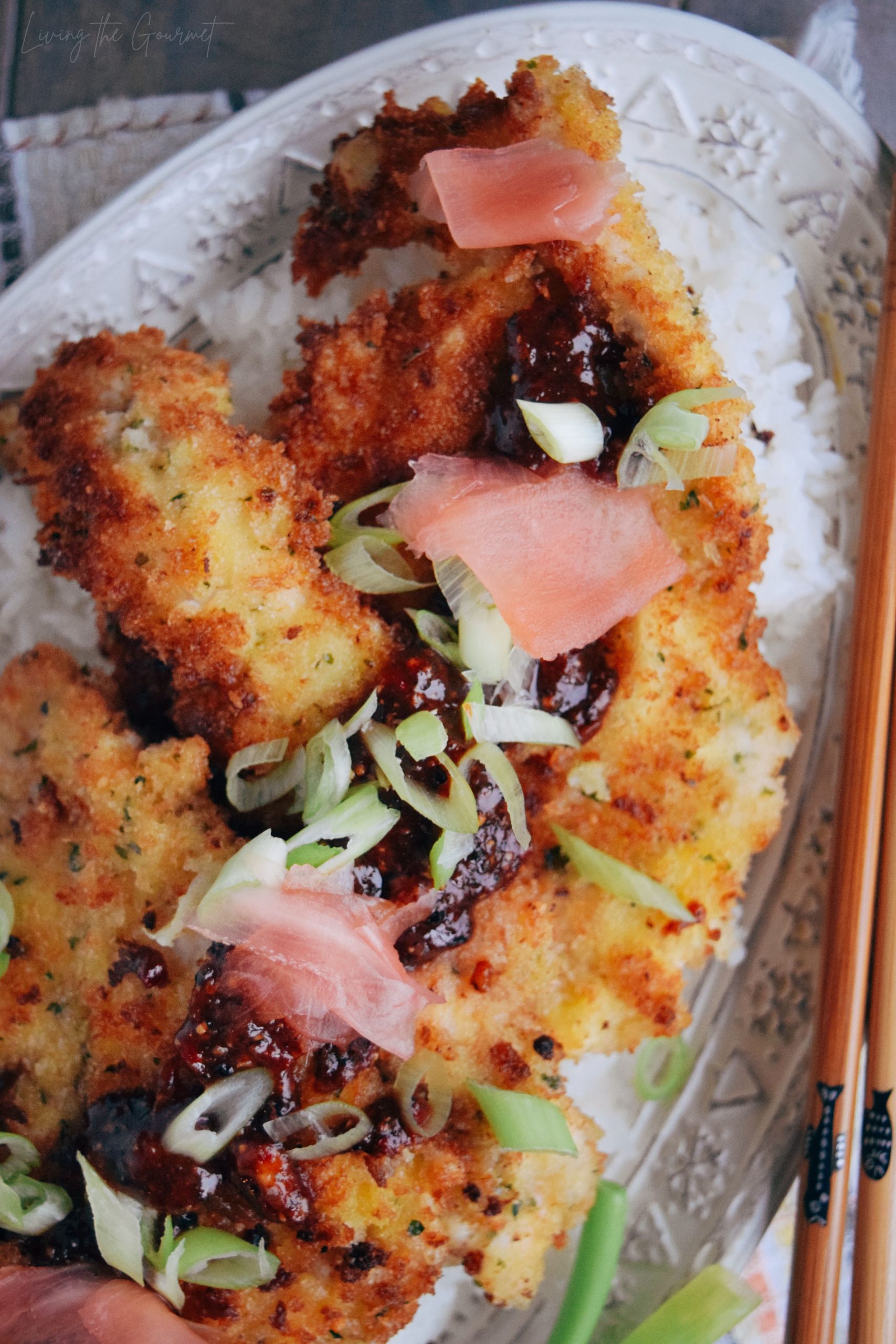 3) The Honey – This time, use the good stuff (or don't). I've written several times that store brand honey is perfectly fine for 'most' kitchen applications, especially in 'cooked' applications. In fact, I can't really think of an instance where a 'cooked' recipe would benefit from gourmet, raw honey. I say this because the qualities that separate gourmet or quality raw honey from 'standard' store brand are very nuanced, often coming down to delicate texture differences which are wholly destroyed during the cooking process, while any minor flavor differences will almost certainly be masked or overpowered by other ingredients. However, raw or gourmet honey is at home in things like salad dressings, dips, and delicate baked goods, where its nuanced flavors and delicate texture can really shine through, and that includes today's recipe. So, 'if' you have the good stuff, this is one recipe that will definitely benefit from it.
Substitution: Store brand, 'regular' honey will still work just fine in today's recipe. So, if you want to save a few bucks, don't worry about it, generic honey will work perfectly fine in today's sauce.
4) Ginger – Fresh is a 'must.' Ginger is described as everything from 'punchy' and 'spicy,' to 'peppery' and 'citrusy,' or as 'garlic with a hint of citrus,' and even 'soapy.' If ginger is hard to describe, it's purely because of how unique the root is, despite it appearing as a staple ingredient in cuisines across the globe. Powdered ginger can be substituted for fresh, but fresh often 'cannot' substitute for powdered – as in cakes or cookies. Today, however, sorry to say, the Tonkatsu just isn't the same without using fresh, since the 'zest' and 'bite' that typifies fresh ginger is a key part of the flavor profile, and is almost completely absent in powdered.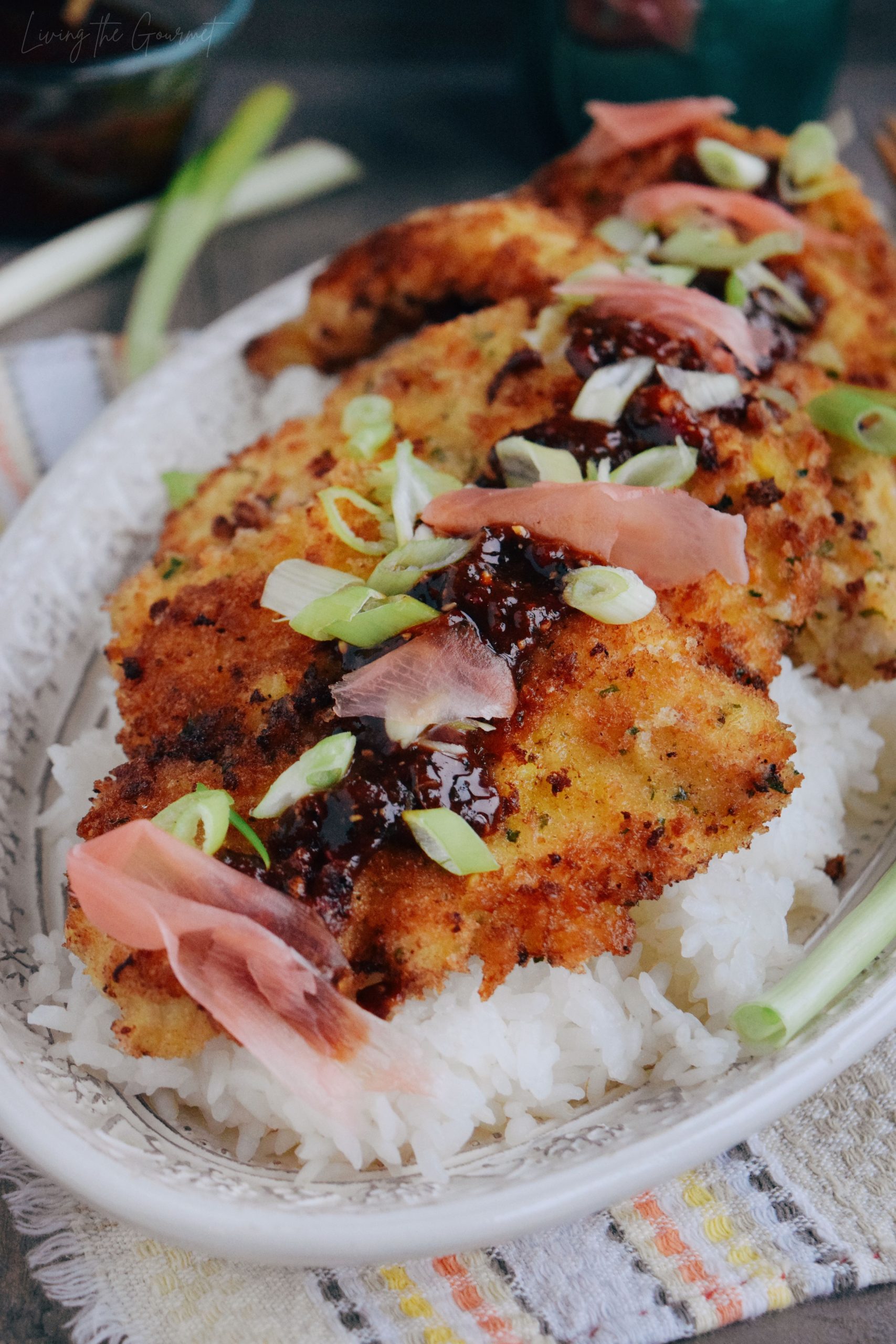 More Fried Delights
1) Homemade Onion Rings. Onion rings and today's panko fried chicken? Yes please. I prepare my onion rings with just a hint of spice, and a thick, dense batter that crisps up beautifully during frying.
2) Fried Tofu Bites. Moist, fluffy tofu bites fried to crisped perfection, while maintaining a decadently moist and airy interior. I paired these with a chili-honey dipping sauce, and platted them over sauteed veggies and rice.
3) Cajun Fried Chicken. This Cajun-style fried chicken features a substantial, crispy crust that bursting with flavor. Pleasantly spicy, and unabashedly decadent, this is one of my favorite fried chicken recipes.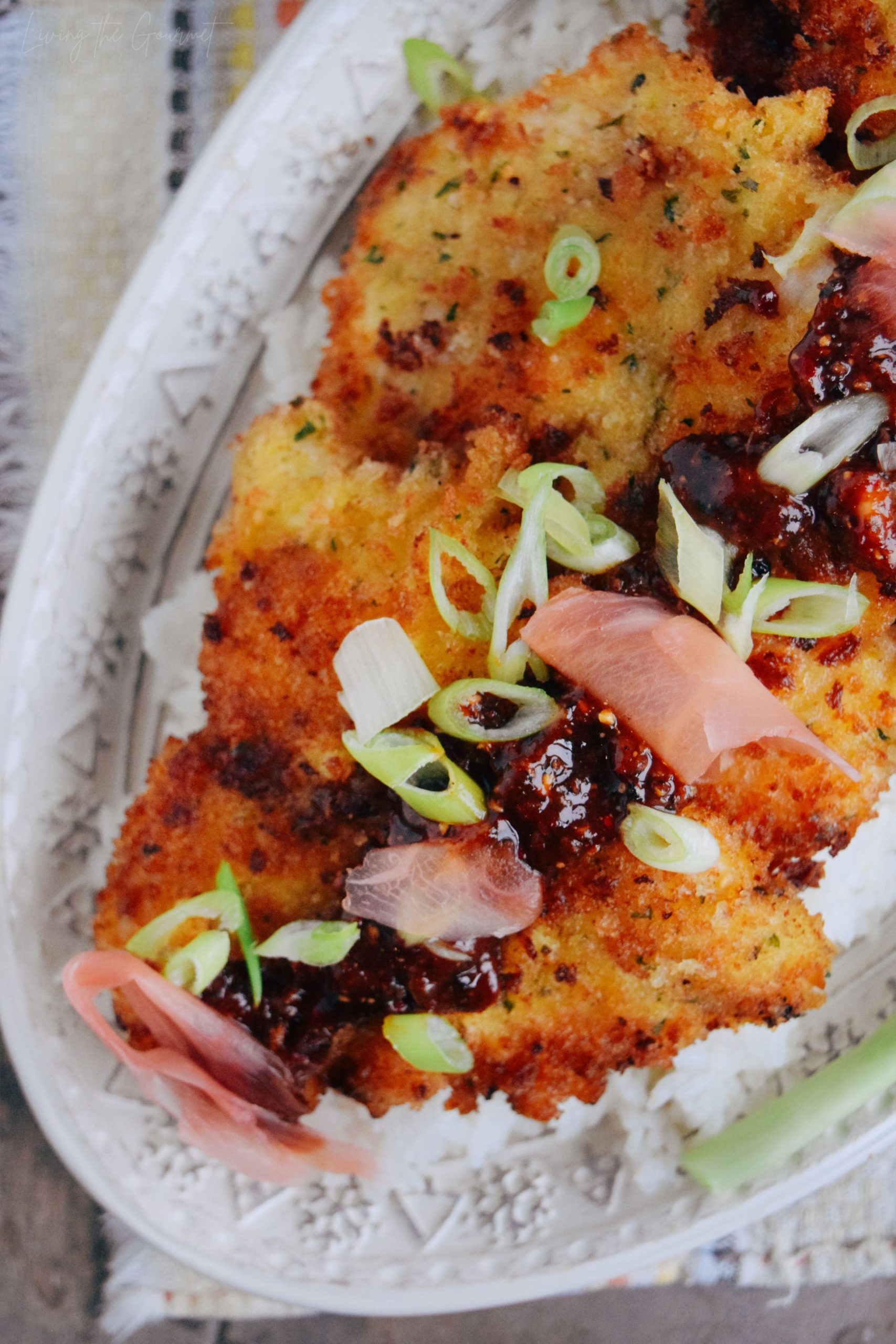 Print
Tonkatsu Chicken
---
Author:

Total Time:

40 minutes

Yield:

6

servings

1

x
1 1/2

lbs. of chicken cutlets - sliced thin

3

eggs - beaten with a splash of water

1

cup

flour

2 1/2

cups

panko
Vegetable oil for frying
Scallions - for garnish
Sushi ginger
For the Korean Tonkatsu Sauce:
3 tsp

. peppercorns - crushed in a mortar and pestle

1 tsp

. Korean Red Gochugaru flakes

1 tsp

. sugar

1

inch piece of fresh ginger - grated

4

-

5

cloves of fresh garlic - grated

1

tbs. Gochujang Korean chili sauce

1

tbs. balsamic vinegar

4

tbs. ketchup

2

tbs. soy sauce

1

tbs. honey
---
Instructions
Set up three stations: a shallow bowl with flour, a shallow bowl with the egg-wash and finally one with the panko crumbs.
Dredge the cutlet first in the flour, then the egg-wash and finally in the panko.
Heat a large cast iron frying pan with about ½ inch of oil.
Set the prepared cutlets in the hot oil and allow a nice golden color to appear on one side, then carefully turn over and finish cooking on the other side.  This should take about 2 – 3 minutes per side depending on how thick the cutlets are sliced.  The juices should run clear when the cutlet is done.
Lay the cutlet on a platter prepared with a paper towel to absorb any excess oil.
For the Korean Tonkatsu Sauce:
Combine all of the ingredients for the Tonkatsu Sauce in a medium bowl and stir.
Spoon over the cutlets when ready to serve.
Refrigerate the leftover sauce.
Prep Time:

15 minutes

Cook Time:

25 minutes

Category:

Main Dish

Cuisine:

Asian
Keywords: chicken, korean, spicy, Tonkatsu
Recipe Card powered by
0