Today we're preparing Panko Crusted Tofu Bites, which we'll be frying to crisped perfection, while maintaining a decadently moist and airy interior. We'll be pairing these fried tofu bites with a chili-honey dipping sauce, and platting them over sauteed veggies and rice.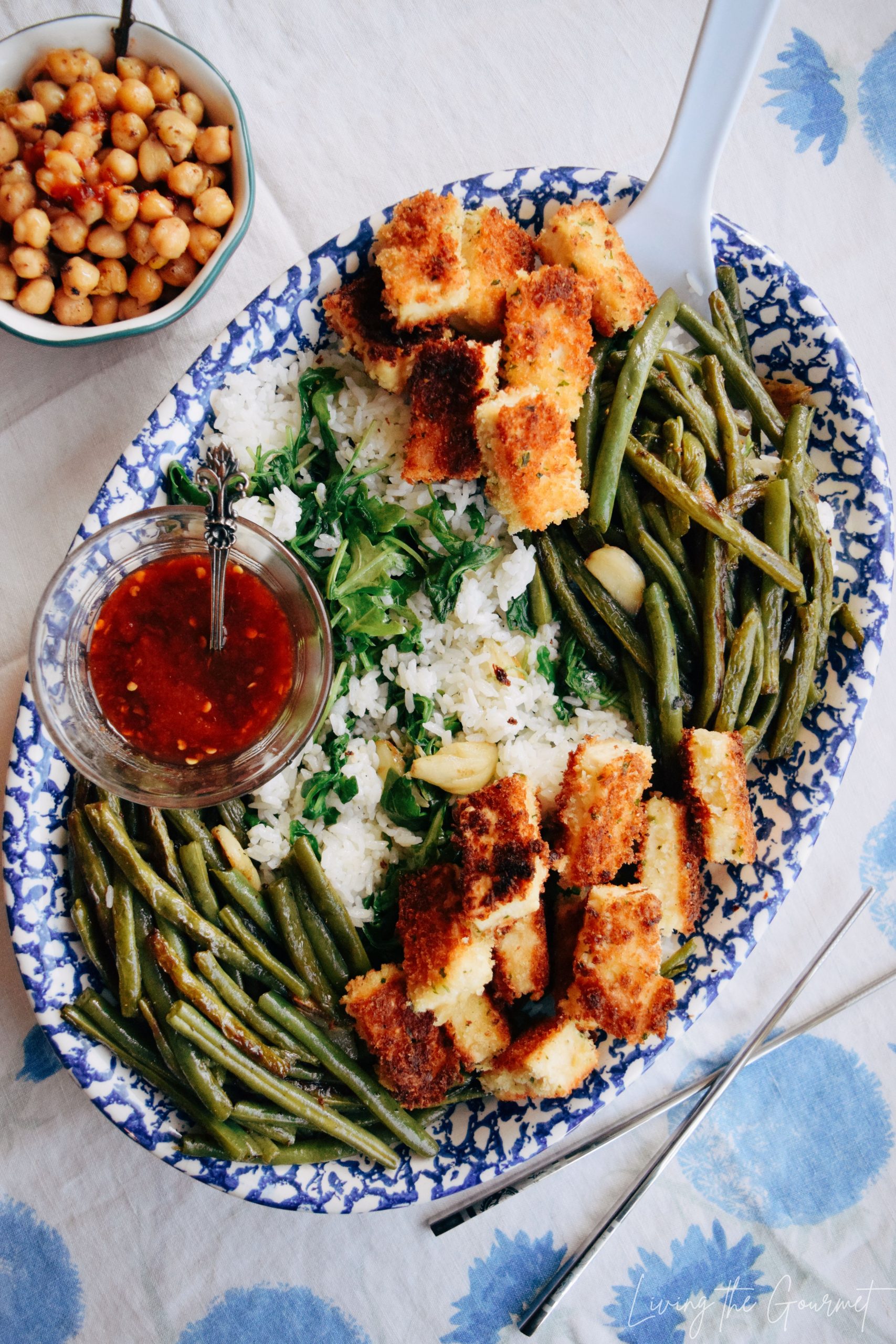 Why To Try Today's Recipe
1) Meatless Satisfaction. One of the big 'problems' with many meatless meal ideas is that they tend to be low on the 'satisfaction' side. Today's tofu bites leave you 'feeling like you eaten,' while being meatless from start to finish.
2) It keeps. Today's recipe keeps in the fridge for a couple of days, and heats up nicely. Just heat up a pan with some olive oil, toss the tofu and rice for about five minutes, and you're good to go.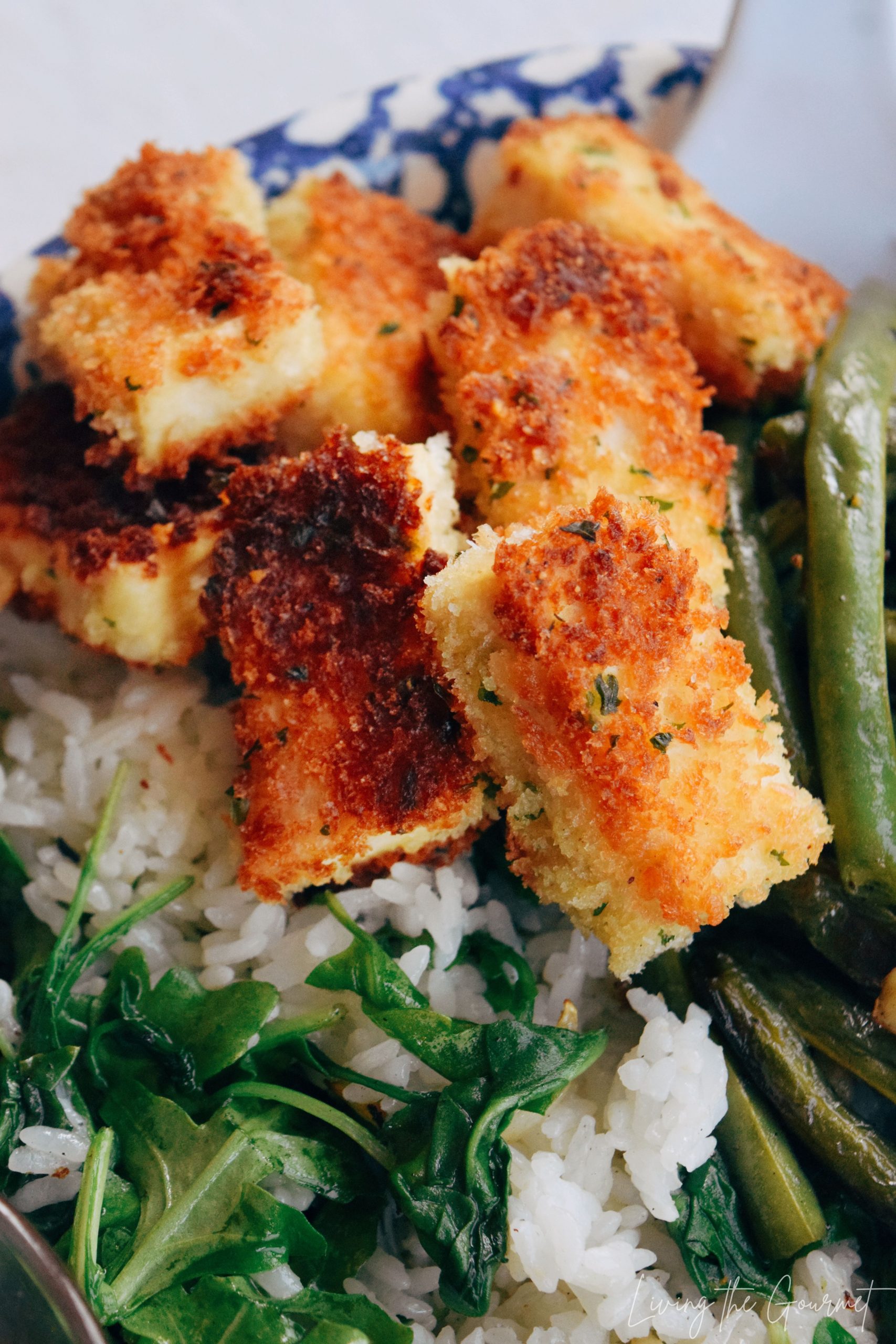 Ingredient Notes, Tips, and Substitutions
1) Panko vs Breadcrumbs. Here in the West, Panko has come a long way over the last two to three decades from being confined to specialty stores and 'ethnic markets,' to now being displayed in great quantity in any decently stocked supermarket. We're all familiar with the 'light yet crunchy' coating that Panko produces, and the generally 'substantial' crust that these breadcrumbs give to all manner of fried foods. However, 'what' are they? And are they 'really' any different from 'non-Panko' breadcrumbs? To start, Panko is produced solely from crustless white bread, which is processed into flakes and 'then' dried. This process, generally, results in a dryer and flakier consistency than 'non-Panko' breadcrumbs, which in turn producers a 'lighter yet crunchier' consistency for the food it's used to coat. By contrast, 'non-Panko' breadcrumbs can be made from any sort of bread – though higher end "Italian Breadcrumbs" will be made from Italian loaves. They are also typically ground into finer, more uniform crumbs, and due to the various oils that are used to prepare them, they tend to be 'less dry' than their Panko counterparts.
Differences in Using Panko vs 'Regular' Breadcrumbs. Generally, Panko is for breading and topping, but only in instances where you want a 'substantial' crunch and texturing, and where the 'uniformity' of that crunch and texture is 'not' important. By contrast, 'non-Panko' breadcrumbs work excellently in 'every other instance,' including in things like stuffing, binding meatloaf or burgers, and – naturally – as breading, where you might not want the substantial crunch and texturing that Panko provides.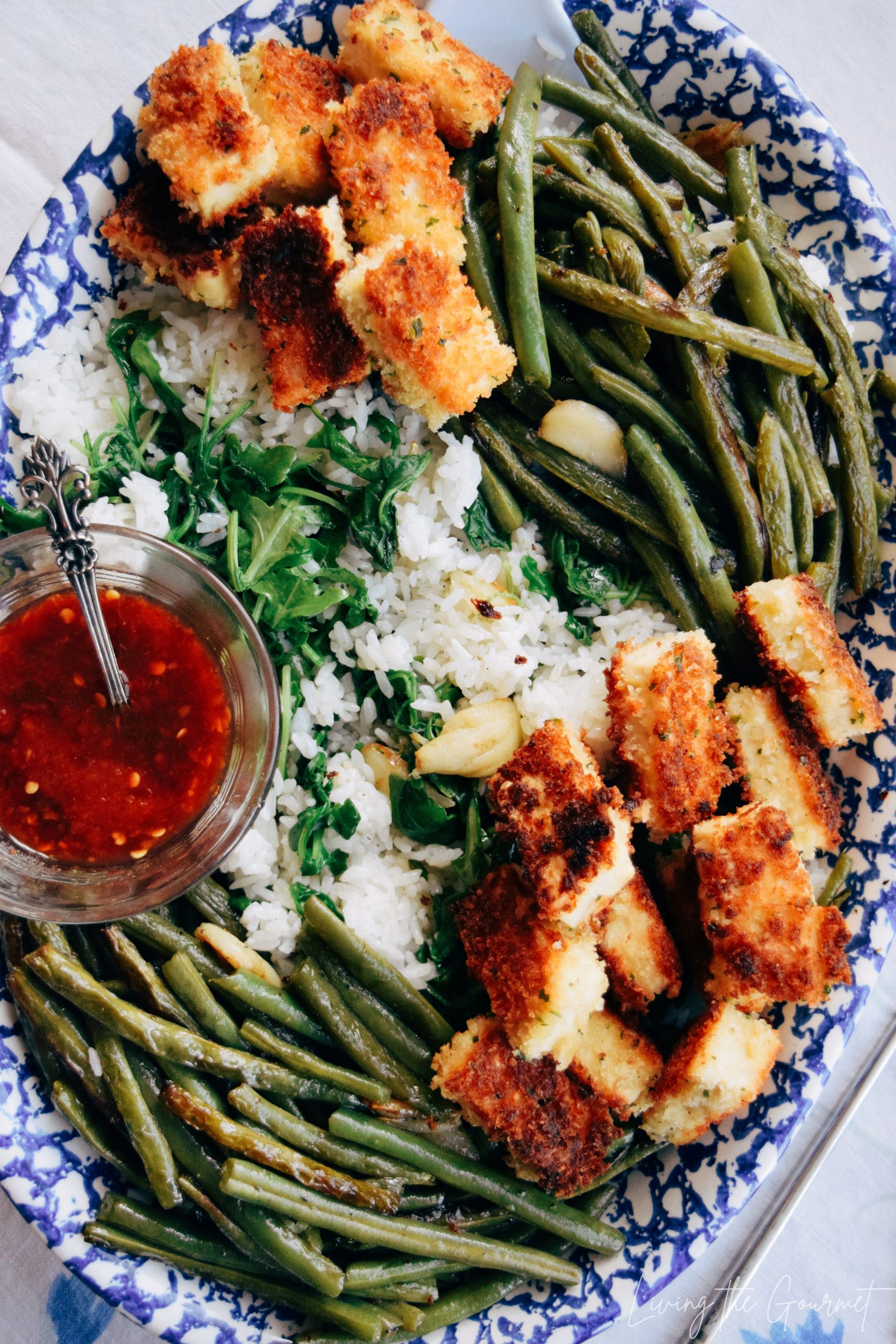 Substitution: Regular breadcrumbs will work just fine in today's recipe if that's all you have on hand, or if you simply prefer regular breadcrumbs.
2) The Vinegar. We're using rice vinegar, since it's milder and sweeter than other types of vinegar, particularly wine vinegars. However, apple cider vinegar will also work just fine, as the faint apple notes play quite well with the chili paste. You'll want to steer clear of red wine vinegar, white wine vinegar, or 'champagne vinegar' for today's dipping sauce, as these will simply be overpowering, and much too acidic.
3) The Tofu. I went over my word count a bit on this one, so see the brief primer below.
The Basics of Tofu – A Primer
1) What is Tofu, really? Tofu is simply condensed soybean curd. Since soybeans are virtually tasteless, tofu is considered one of the most 'flavor neutral' foods available. For this reason, tofu is a great 'carrier' of flavors, since when cooking with tofu you needn't account for the taste of the tofu itself in the recipe, and can instead rely on the tofu to simply 'carry' or 'take on' the flavors that it is being prepared with – such as today's dipping sauce.
2) Be Health-Minded in Selecting Your Tofu. It's easy to think that you're 'being healthy' simply by virtue of opting for tofu. Sadly, this is not the case as not all tofu is created, or sourced, equally. Today, most of the world's soybeans are grown in the US, and well over ninety-percent (!) of those soybeans are produced using GMO methods. As such, when buying tofu, you do need to pay attention to the label – as with anything else.
2) Can I freeze it? Yes, tofu can keep for up to three months in the freezer. If you purchase tofu packed in water, 'do' drain the water first, then wrap the tofu in plastic, or place it in an airtight container or freezer bag before freezing. Do remember, however, that frozen tofu becomes 'firmer' after freezing. It will also be somewhat 'dryer,' and may lose its signature 'spongy' texture.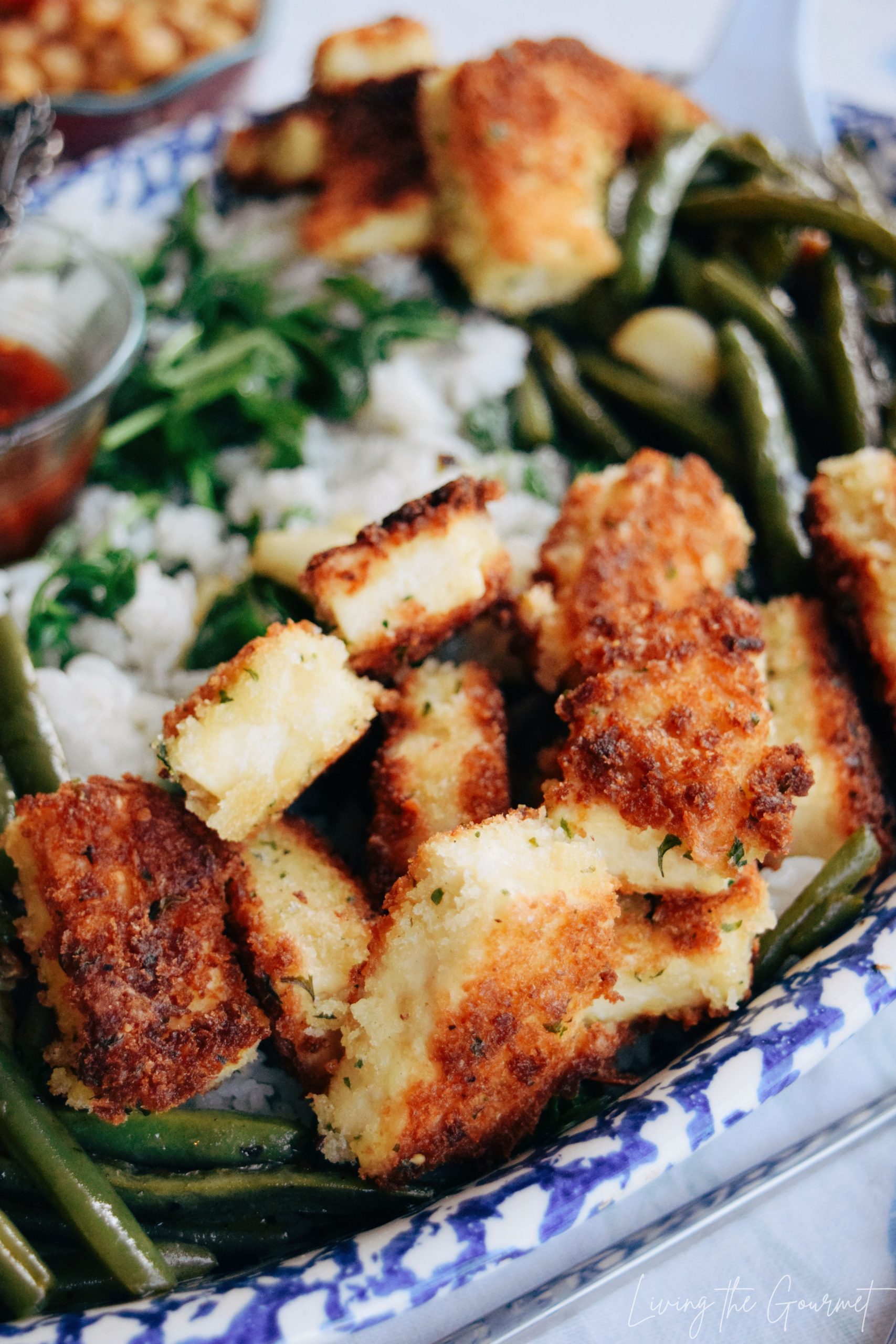 3) Preparing Water Packed Tofu. As I explain below, you need to 'press' the tofu between two sheets of paper towels if using water-packed tofu. I do this by wrapping my tofu in a paper towel, and then placing it on a tray beneath a small cast iron pan. This drains the tofu of water, and as a result if you skip this part, the tofu will instead drain all of its excess water during cooking, and possibly break apart in the process. Not fun.
4) Types of Tofu. Tofu comes in several varieties, with the most popular and widely available being extra firm, firm, and silken, in addition to super firm and regular. Some outlets and producers have their own labeled varieties, but most fall roughly into those categories, or are variations thereof. Super firm is the densest form of tofu, and as such is also the least absorbent, meaning it's primarily used either to prepare dried tofu, or in roasted and deep-fried dishes. Generally speaking, super firm tofu is only rarely commercially available, except via specialty outlets. On the opposite end of the popularity spectrum is 'extra firm' tofu, one notch down in firmness from 'super firm.' When you encounter cooked, pan-fried, or marinated tofu of any kind, you're almost always encountering 'extra firm' tofu. Firm tofu is the next most popular variety, being great for marinating and then eating 'raw' in sandwiches, wraps, or as the 'meat' in lightly cooked stir-fry or light soups. Silken tofu, as the name implies, has a silky and moist texture, usually such that it defies being handled without falling to pieces. For this reason, it's used for preparing things like smoothies, dips, or as a replacement for cheese in various recipes, in particular cream cheese and ricotta.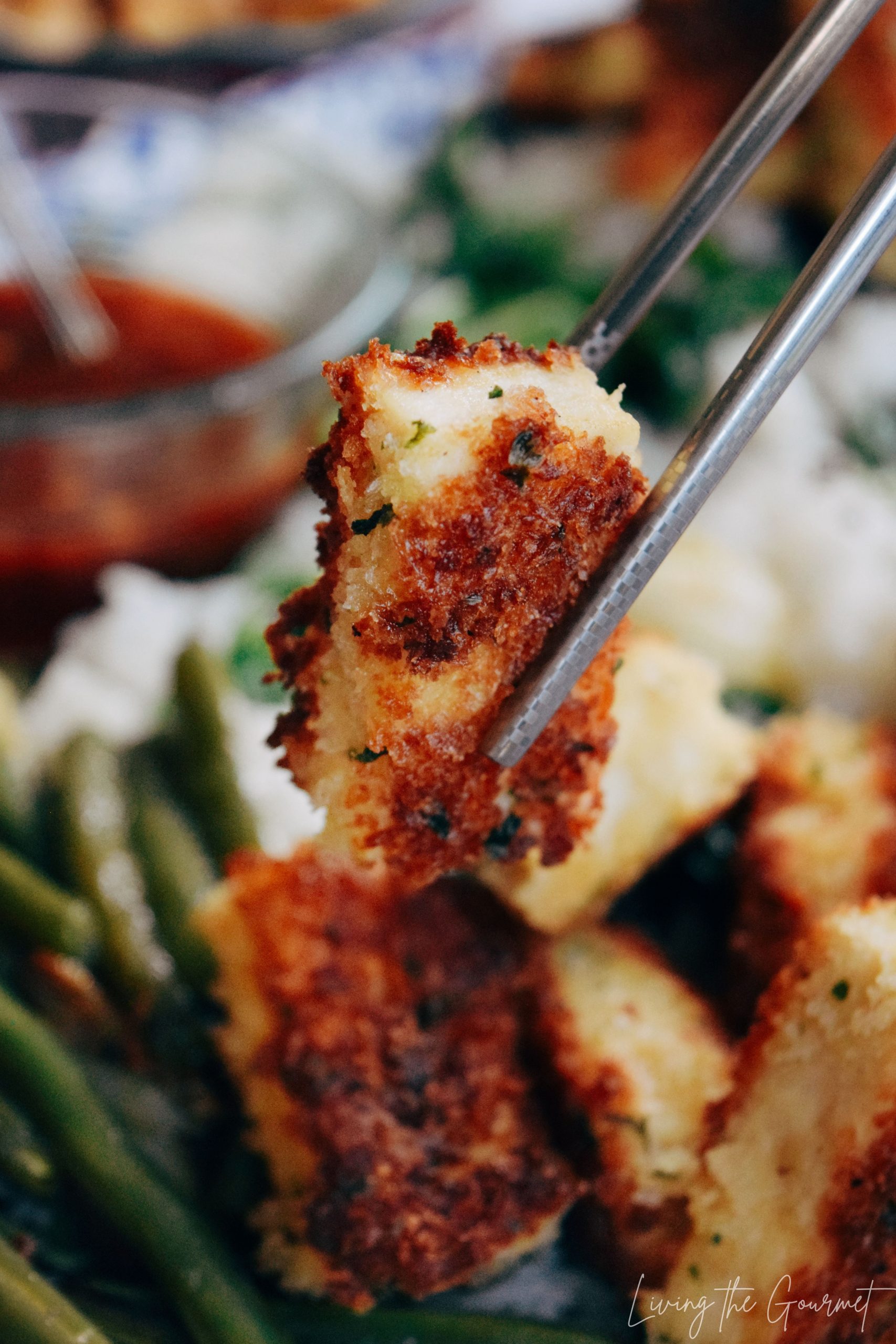 5) Protein Content. Tofu has been recognized as a valuable source of protein for some two thousand years. In fact, tofu was spread across Asia from China chiefly by traveling Buddhist monks who favored it as a staple protein in their wholly vegetarian diets. Roughly eight percent of tofu's total mass is protein, alongside high levels of folate, vitamin K, and assorted minerals, making it a nutrient dense food, and at less two-hundred calories per cup.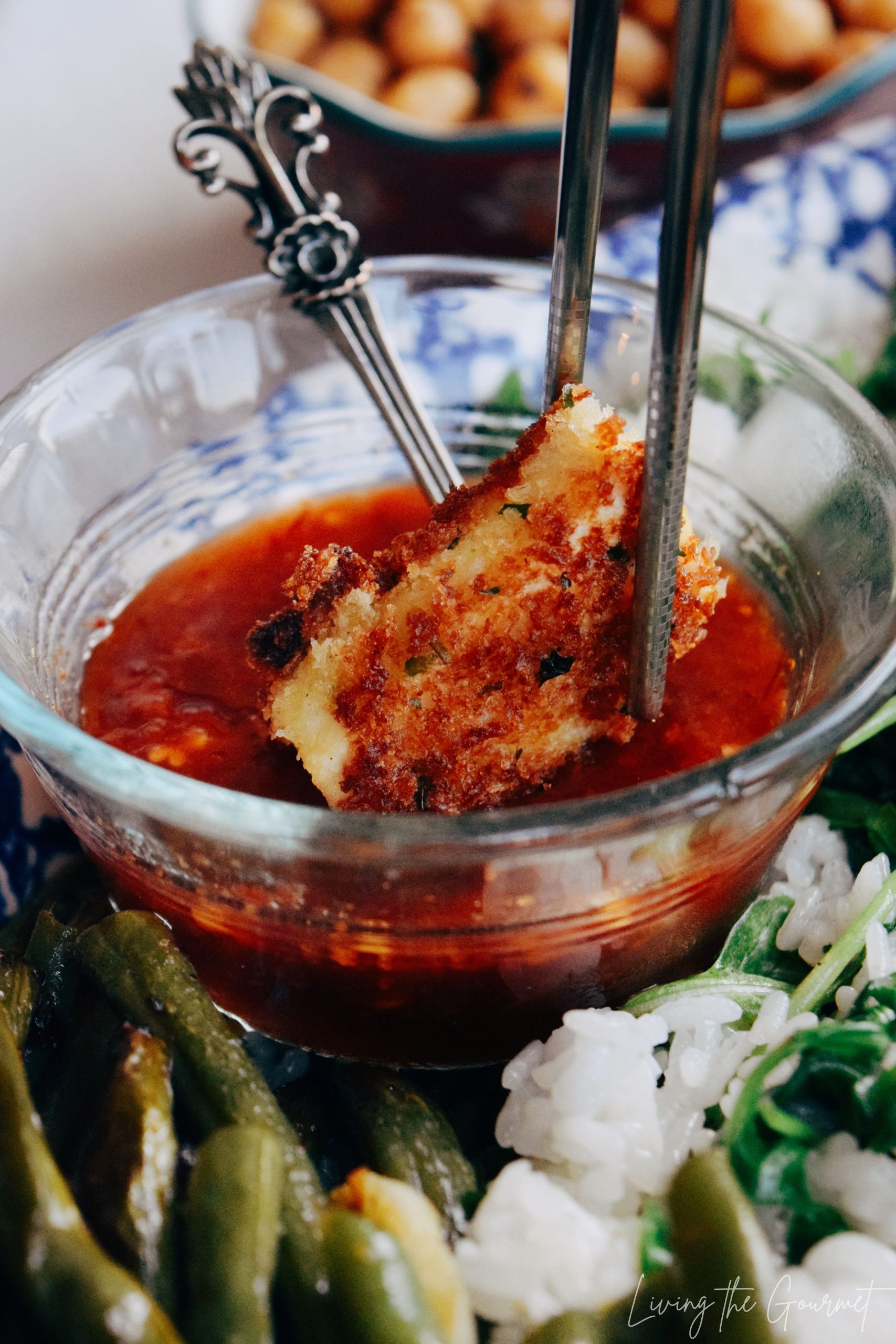 Print
Panko Crusted Tofu Bites
---
Author:

Total Time:

50 minutes

Yield:

6

servings

1

x
For the Tofu:
16 oz

. block of firm tofu

Flour for dredging

Egg wash

Panko bread crumbs

Vegetable oil for frying

Olive oil for sautéing
For the Veggies & Rice:
2

lbs. of fresh string beans

5 oz

. container of fresh Arugula

3 cups

of uncooked short grain rice

8

-

10

cloves of garlic - crushed

Salt

2

cups

short grain rice
For the Dipping Sauce:
3

tbs. red chili paste

1

tbs. apple cider vinegar or rice wine vinegar

1

tbs. honey
---
Instructions
For the Tofu:
Place the tofu on a plate over doubled piece of paper towel.  Place another doubled paper towel on top of the tofu and place a heavy plate on top.  This is done to extract the excess water from the tofu.  Let the tofu sit like this for about 30 – 40 minutes.

Slice the drained tofu into desired size.

Set up three shallow bowls one with flour, one with the egg wash and finally one with the panko crumbs.

Dredge each piece first in the flour, then the egg wash and finally in the panko crumbs.

Heat a large cast iron frying pan with 3 – 4 tbs. of cooking oil.

Place the prepared tofu in the pan and allow one side to get nice and golden, then turn over and allow the other side to get nice and golden.  This should take 3 – 4 minutes per side.

Place the cooked tofu on a platter prepared with paper towels to absorb and excess oil.
For the Veggies & Rice:
Cook the rice in a rice cooker or as directed.

Remove the tips from the string beans.

Steam the string beans to a desired tenderness.  They should still have some nice green color.  Do not overcook them.

Heat the pan that you cooked the tofu in.  Add a one tbs. of the olive oil to the pan and place 4 – 5 crushed garlic in the pan.

Add the steamed string beans and sauté until the string beans get a nice char.  Dust with salt remove and set aside.

Heat the pan that you cooked the string beans in add 4 – 5 cloves of crushed garlic and a tbs. of olive oil.

Allow the garlic to get a slight golden color.  Turn the heat off and add the arugula, a dusting of salt and toss with the garlic.

Toss the arugula and garlic with the rice.
For the Dipping Sauce:
Combine the ingredients for the dipping sauce in a small bowl and stir. 




Taste for desired heat and sweetness.
Prep Time:

10 minutes

Cook Time:

40 minutes

Category:

Vegetarian

Cuisine:

Asian
Nutrition
Serving Size:
Calories:

971

Sugar:

4.2 g

Sodium:

1021.2 mg

Fat:

11.1 g

Carbohydrates:

183.8 g

Protein:

31 g

Cholesterol:

31 mg
Keywords: tofu, vegetarian, rice, vegetables
Recipe Card powered by
2