This post has been sponsored by Partanna- United Olive Oil. All opinions expressed are my own.
This super-simple dipping oil is infused with oven-roasted garlic which we will then be pairing with crusty artisanal bread. This dipping oil couldn't be simpler to put together, and would be well at home alongside a lush antipasto or charcuterie board.
Today's recipe is made possible by new friends over at Partanna, producers of delicious, top-quality olive oil since 1916, but more on them below.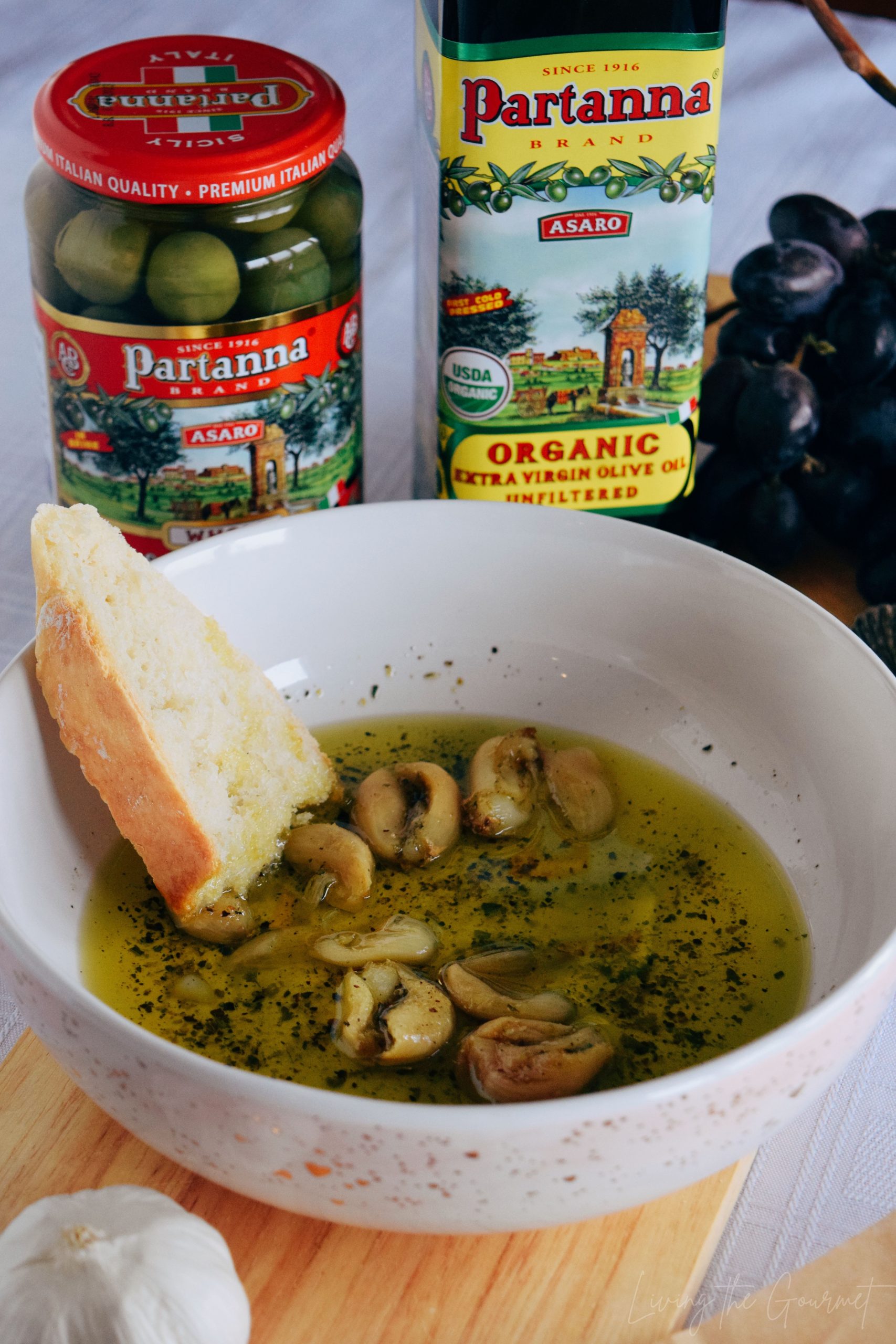 The Olive Oil
1) Filtered vs Unfiltered, what's the difference? Shelf life, taste, and appearance. That's it, you can move on. Only read further if you want gratuitous details.
Still reading? All right, here's the longwinded version. To start off, filtering olive oil removes olive particles, sediment, and excess water from the oil. The filtration process does 'not' damage, thin, or dilute the oil in any way, except to slightly reduce the polyphenol count (via the removal of olive particles, which contain trace amounts of polyphenols). On the contrary, filtered olive oil is markedly stabler than its unfiltered counterpart, due largely to the removal of excess water, and as such has a naturally longer shelf life (due to this increased stability). For reference, unfiltered olive oil can sit in your pantry for about three months, whereas filtered oil can last between eighteen to twenty-four months. Granted, no bottle of olive oil has 'ever' gone unconsumed in my home for that long. So, if you're like me, the shelf life is a none issue.
But what about taste and appearance? In terms appearance, unfiltered olive oil is cloudy and opaque, whereas filtered olive oil features a smooth green-gold coloration. The cloudiness in unfiltered olive oil is due primarily to remnant water, with olive particles and sediment being secondary. These qualities are considered eye-appealing by many gourmets and enthusiasts, myself included, making unfiltered olive oil ideal for dipping, drizzling, or as dressing. Some gourmets say that unfiltered olive oil has a 'fruiter' or 'brighter' taste, due to the remnant olive particles and sediment (we're talking about fruit sediment, mind you). However, what if I told you that humans only consume two things that are 'more' flavor-complex than olive oil? Those two things being coffee and wine. From climate and geography, to the makeup of the soil, to the species of the olive, to the olive oil makers and their method of production, to the packaging itself, olive oil is a shockingly complex product, whose flavor is influenced at every stage of production – something that's lost on most consumers (outside of the Mediterranean basin). And that's why making sure you're purchasing top quality olive oil is so very important – regardless of whether it's filtered or not. Which brings us to our next point…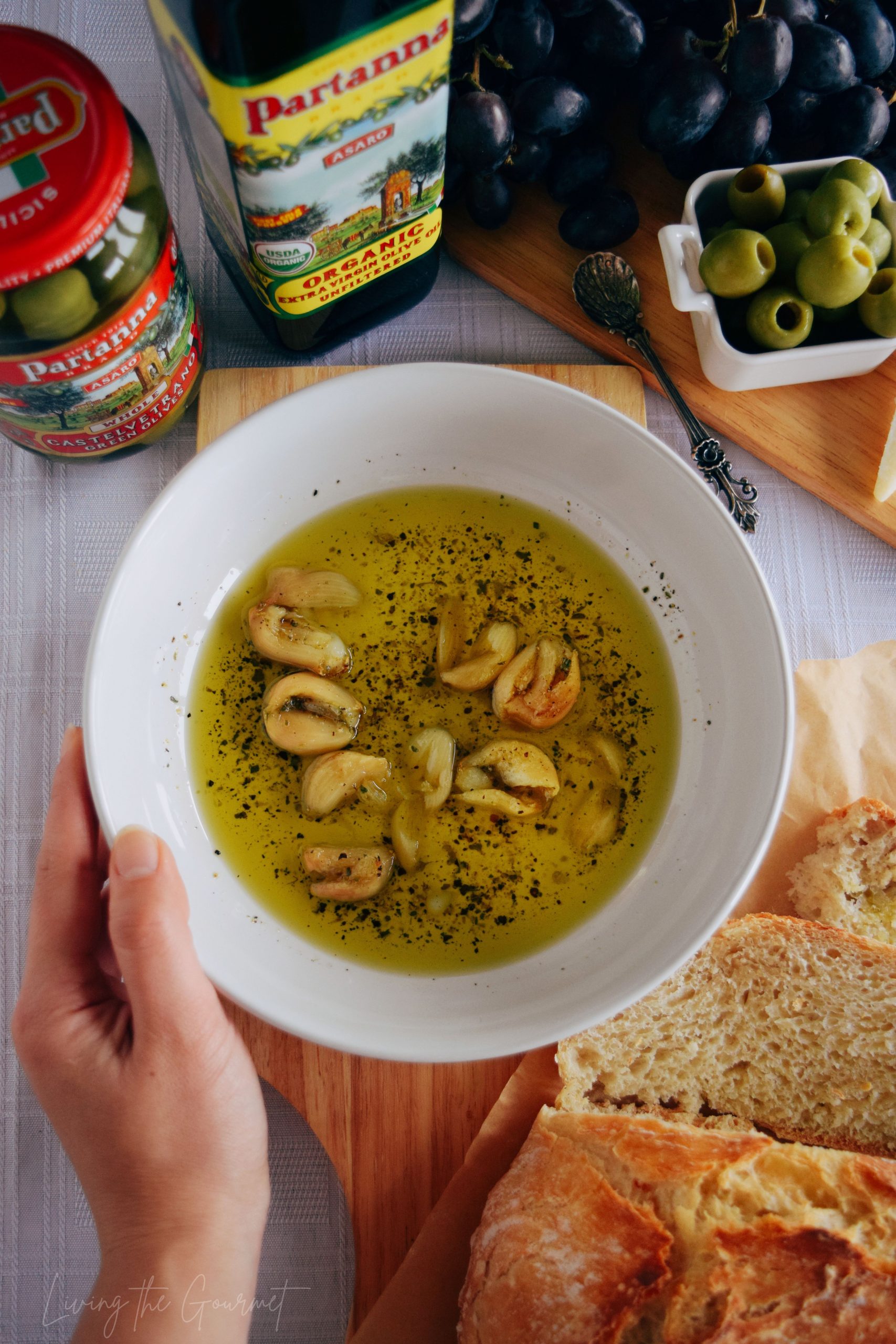 2) Top Quality Olive Oil is a Must. In today's recipe, the oil is front and center. It's most of what you taste, and is virtually all of the recipe's texture. Naturally, this means you want a top-quality oil, one that's both well textured and delicious. Partanna's Organic Unfiltered Extra Virgin Olive Oil fits that description perfectly. This premium olive oil is 100% Sicilian and Extra Virgin, in addition to being USDA Organic, Non-GMO Project Verified, and traceable down to the lot where the olives were grown. The oil is cold pressed within eight hours of harvesting, and bottled immediately. Partanna olive oil is produced by the Asaro family, a fourth-generation business based in Sicily's Belice Valley. Some regard Sicilian olives as 'fruiter,' and this does come through in the oil, which pairs deliciously with the roasted garlic, making for a deep, flavorful dipping oil. As you may have noticed, we've plated today's dipping oil with Partanna olives, which are of the same, premium quality as their oil. Likewise, these olives are also Non-GMO Project Verified and certified organic. Toss these olives with a salad, or plate them with a nice antipasto, and you won't be disappointed, I promise. I myself certainly wasn't.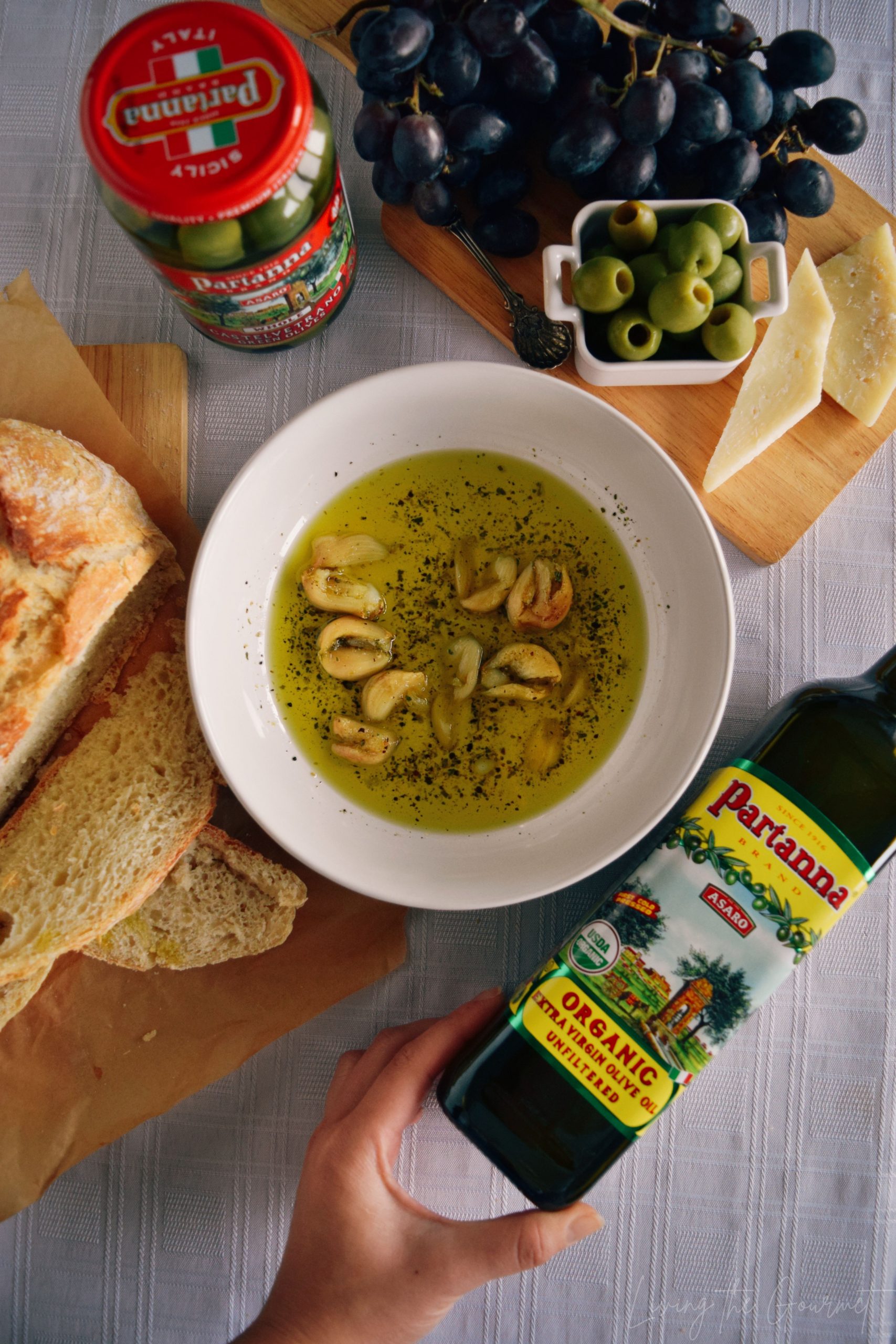 Roasted Garlic – Uses and Tips
Suggested Uses:
1) Garlic Butter. This is really simple to do, but also really delicious. Take about half a bulb of roasted garlic, pop the cloves out of their shells, and smash them in a bowl with about three tablespoons of butter, followed by about a teaspoon each of oregano, chili powder, paprika, salt, and pepper. Mix that together until the butter, herbs, and garlic are well incorporated. You want to do this while the garlic is still quite hot so that the butter becomes soft.
2) Crushed into Oil. Crushing garlic, whether roasted, grilled, or raw, releases a medley of flavorful juices. However, a tip here is to crush the garlic 'after' dropping it into the oil, so that you don't lose any of those juices to your cutting board. This applies to dressings, marinades, salsa, and even sauces.
3) Used in Sauces, Stews, etc. In red sauces, stews, and most soups, I almost always 'at least' pan grill my garlic. This is especially true in red sauces where the acidity of the sauce melds beautifully with 'roasted garlic' flavor. Rule of Thumb: In heavy, acidic recipes, use roasted garlic. In fresh, bright recipes, raw or lightly roasted garlic is preferable.
Prep Tips:
1) In the Oven, or In a Pan? Both ways work fine. If pan grilling, be sure that that the pan is 'very' hot before you begin roasting the garlic. I usually leave the garlic bulb whole for this. The benefit of pan grilling is purely that you don't have to turn on the oven. By contrast, oven roasting garlic ensures a more even and thorough roasting. Oven roasting garlic can be done with or without tin foil, though the foil helps to further ensure an even roast.
2) Soft vs Hard Grilling. The longer you grill (or oven roast) garlic, the softer and 'sweeter' it becomes. This is great for things like oil or garlic butter, where the softer the garlic is, the easier and more fully it becomes incorporated into either the oil or butter. However, if grilling garlic for something like a salsa, you want it to remain crisp, and you don't want to lose that garlicky 'bite.' As such, if using garlic for salsa, relish, or a chimichurri, only grill it until you've partially blackened the outer skin. This will allow the garlic to remain crisp and to retain its 'bite,' while still getting some of that roasted goodness.
3) Let the garlic cool – usually. This might sound like I'm stating the obvious, but after watching my son redden his fingers de-skinning freshly grilled garlic, I guess this bears saying – let it cool! There's no need to de-skin the garlic the instant it's off the pan. Let it cool. However, if you're mixing the garlic with butter, unfortunately you're going to need to work with it while it's still hot enough to sufficiently soften the butter.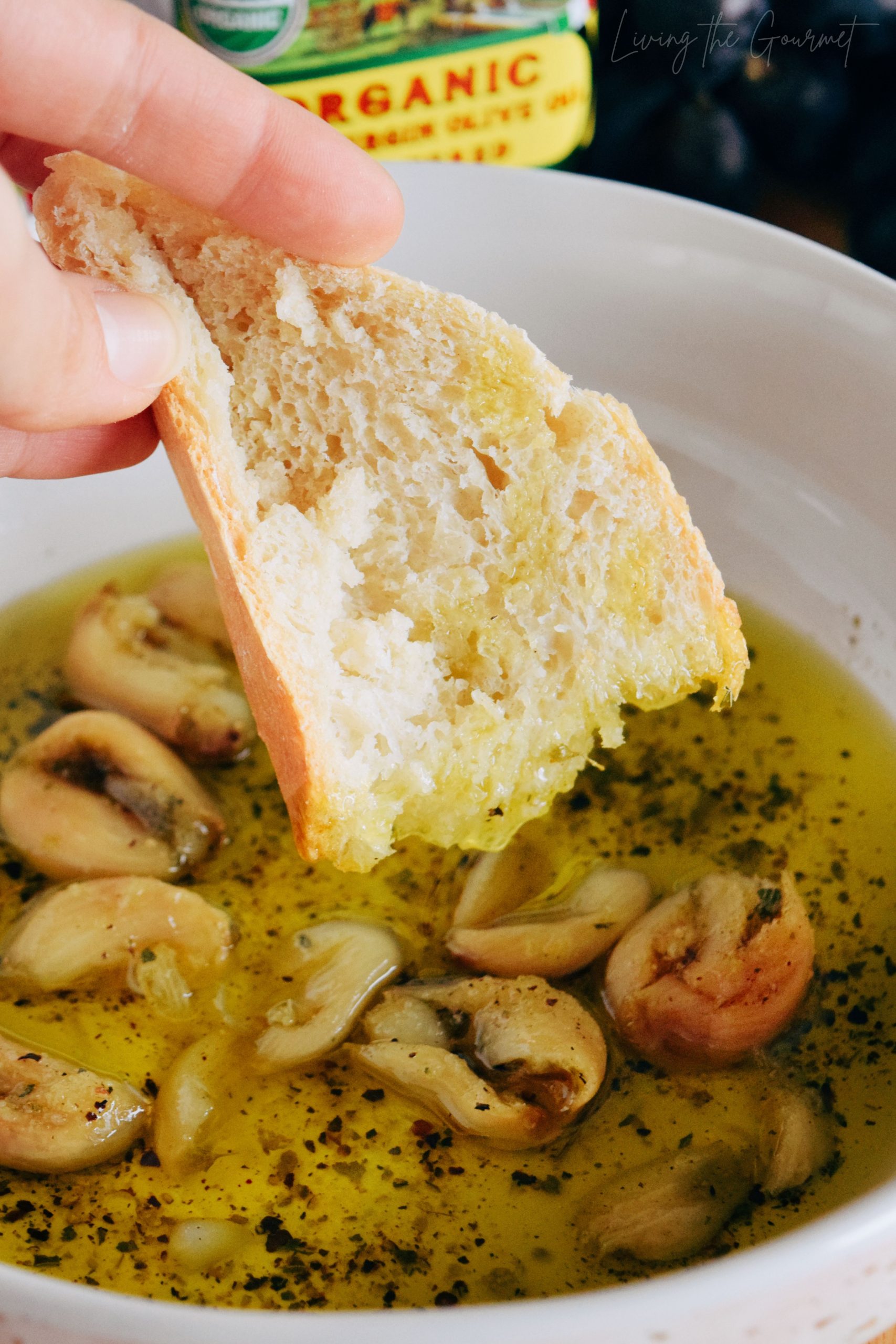 Print
Unfiltered Infused Olive Oil
Author:
Prep Time:

5 minutes

Cook Time:

35 minutes

Total Time:

40 minutes

Yield:

4

1

x
Category:

Appetizer

Cuisine:

Italian
1

cup

Partanna Organic Extra Virgin Olive Oil Unfiltered

5

–

6

cloves roasted garlic

1/2 teaspoon

fresh ground black pepper

1/2 teaspoon

sea salt

1/2 teaspoon

dried oregano
Instructions
Preheat oven to 400 degrees F.
Wrap a bulb of garlic in foil and roast for about 35 minutes.
Let cool for about 15 minutes then carefully peel back the skin of the cloves.
In your desired serving bowl, add garlic cloves and gently crush with a knife or back of a fork. Pure the unfiltered olive oil over the crushed garlic and season with salt, pepper, and oregano. Stir gently and serve alongside crusty bread.
Keywords: infused oil, olive oil, unfiltered, extra virgin olive oil
Recipe Card powered by
1