Today we're preparing thin-sliced Korean pork, prepared with a gochujang marinade that's equal parts sweet, spicy, and smoky. Today's pork is perfect as the meat for tacos, or rolled in flatbreads, or served plated over greens or rice.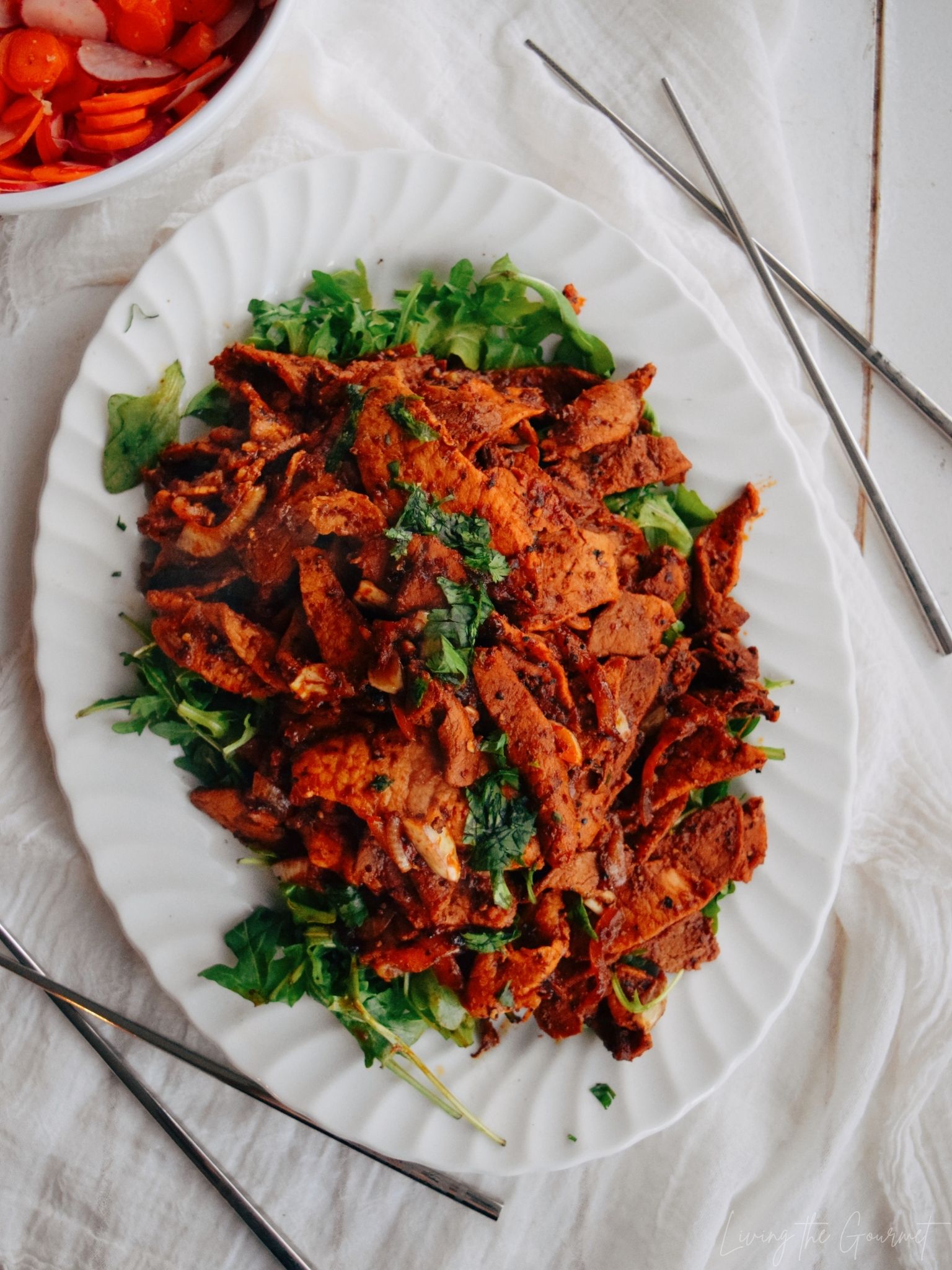 Why to Try Today's Spicy Pork Strips
1) The Marinade. The marinade for today's pork strips are pleasantly spicy, just a touch sweet, and deliciously smoky. As a nice bonus, this marinade would work equally well with chicken or beef, or as a glaze for things like burgers or ribs.
2) Plated or Wrapped. Today's pork strips would work excellently either wrapped in a flatbread with warmed greens, or layered into a taco with cheese, onions, and lettuce. Conversely, you could do as we're doing today, and simply serve it plated.
3) It Keeps. Today's pork strips will likely taste even better a day or two after they've been 'setting' in the marinade, and heat up quite nicely. However, to be aware that they 'will' get noticeably spicier as they marinate.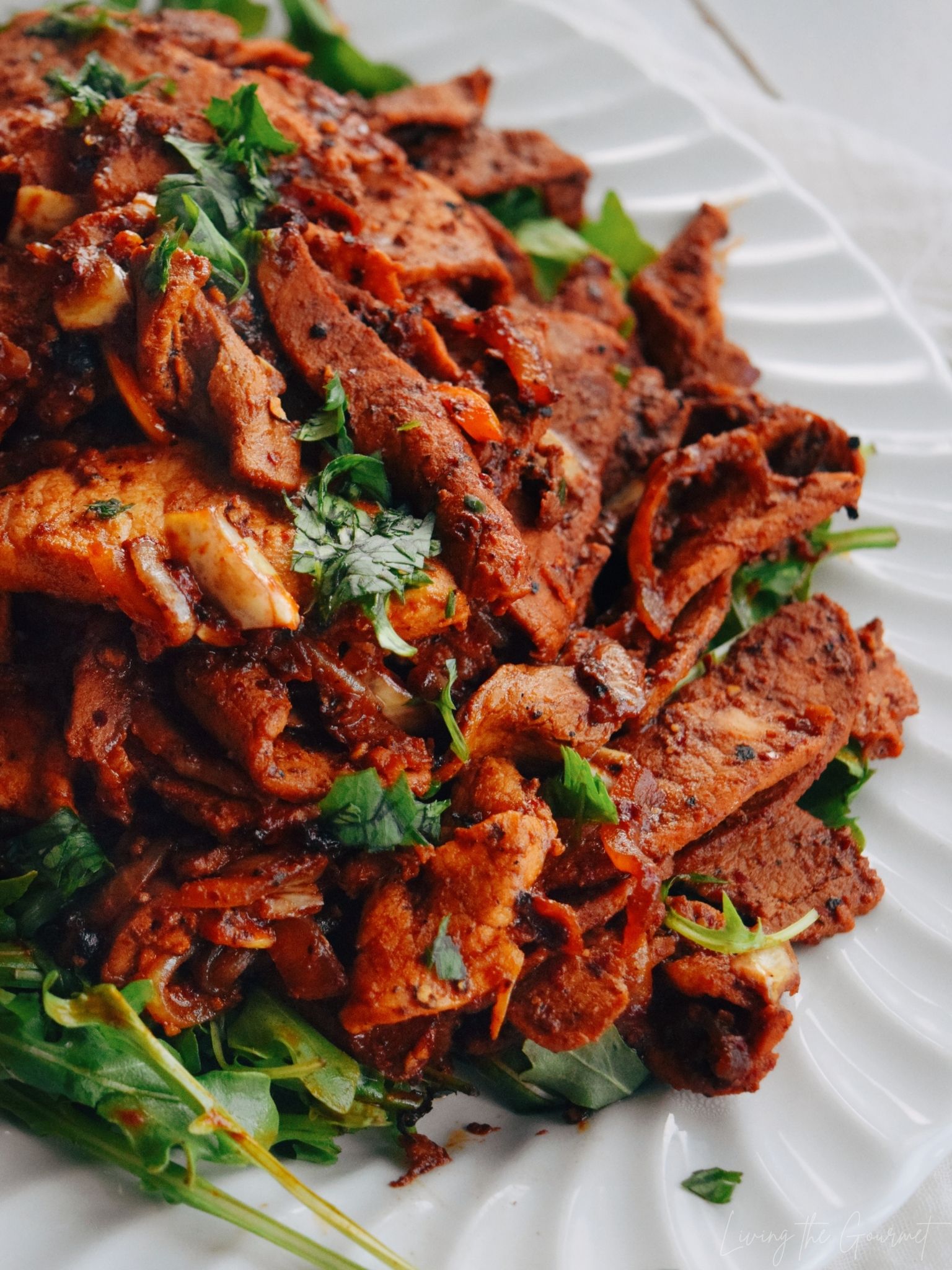 Ingredient Notes, Tips, and Substitutions
1) Gochujang. What is it? Gochujang is Korean chili paste, and is unique in that despite being moderately spicy, it retains definite 'chili sweetness,' carried on lush savory (or smoky) notes. Like 'most' commercially available chili pastes, gochujang is very versatile, being great for adding spice to everything from sauces to dips to marinades. For that reason, chili paste has been a 'forever staple' in my pantry for almost three decades now. I became acquainted with bottled chili paste back in the early-1990s via a local Korean market, which stocked a single variety of Indonesian-style chili paste; 'sambal,' which has a watery consistency and is more of an 'ingredient' as opposed to being a 'sauce' or 'condiment.' Gochujang is also quite thick, having roughly the consistency of brown mustard, as compared to the somewhat 'watery' consistency I had become accustomed to in the 'oelek' variety of sambal. A cursory look at the primary ingredients in gochujang is enough to 'decode' its pleasantly complex flavor profile. Those primary ingredients include glutinous rice (the source of its thickness), meju powder (fermented soybeans), Korean Red Chilies, and salt. The sauce's sweetness comes largely from the glutinous rice, but is added to via the choice in chilies, since Korean peppers have a decided sweetness lurking beneath their heat. Naturally, the meju and glutinous rice give the paste its consistency, while the smoky notes come courtesy of the peppers and meju.
2) Crushed whole Peppercorns vs Cracked Pepper vs Ground Pepper. Crushed whole peppercorns are what we're using today because we want the full aroma of the pepper, as well as the 'bright' and 'fresh' notes associated with the whole peppercorns. Seriously, bite into one of these, then compare it to cracked or ground pepper, and you'll instantly see what I mean. The cracked and ground pepper is almost 'stale' tasting by comparison, and has very little aroma.
Substitution: If you don't have whole peppercorns, or simply don't feel like grinding them down, pre-ground pepper will substitute just fine. According to Food52 one teaspoon of peppercorns equates to about a teaspoon and a half of ground pepper. For reference, The Spice House gives a slightly different measurement, where they state that eight peppercorns equate to about one quarter of a teaspoon of ground pepper. As there are roughly 65 peppercorns in a teaspoon (yes, I counted), this would equate to about two teaspoons. Thus, use 'about' one and half to two teaspoons of ground pepper.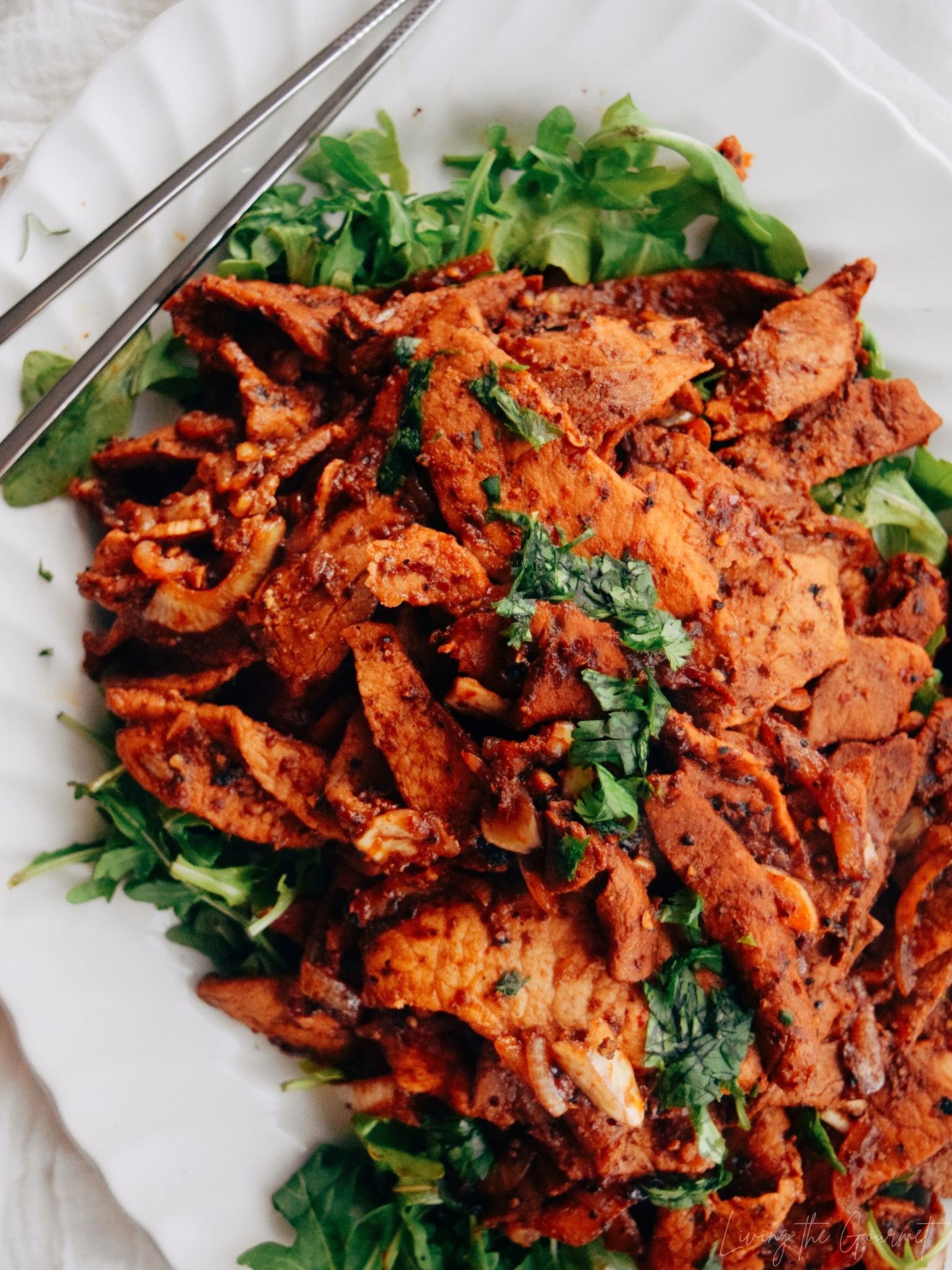 More Korean Favorites
1) Korean Beef Burgers. Beef burgers mixed and then fried with a cayenne and gochujang-based glaze. This glaze is added at each stage of the burger's preparation, the mixing, frying, and then again when the burger is finally being assembled on homemade buns. The end result is a decadently juicy burger, that spicy with just a hint of sweetness, alongside layers of 'chili flavor' and umami notes.
2) Korean Pork Tacos. I love Korean pork, and I love tacos. And yes, I now love Korean Pork Tacos. The pork is soaked in a pear and gochujang marinade, with lots of fresh ginger and garlic. We grill the pork, and then pile it onto our homemade wheat tortillas with sliced jalapeno, tomatoes, red onion, and lettuce.
3) Bulgogi Eggrolls. These sweet and spicy Korean Beef (Bulgogi) Eggrolls feature beef marinated in fresh ginger, lots of garlic, fresh chili paste, brown sugar, and soy sauce. This creates a delicious combination of sweet and spicy set against a savory umami background. Wrapped in crisped fried eggroll wrappers, these are perfect for your next gameday spread.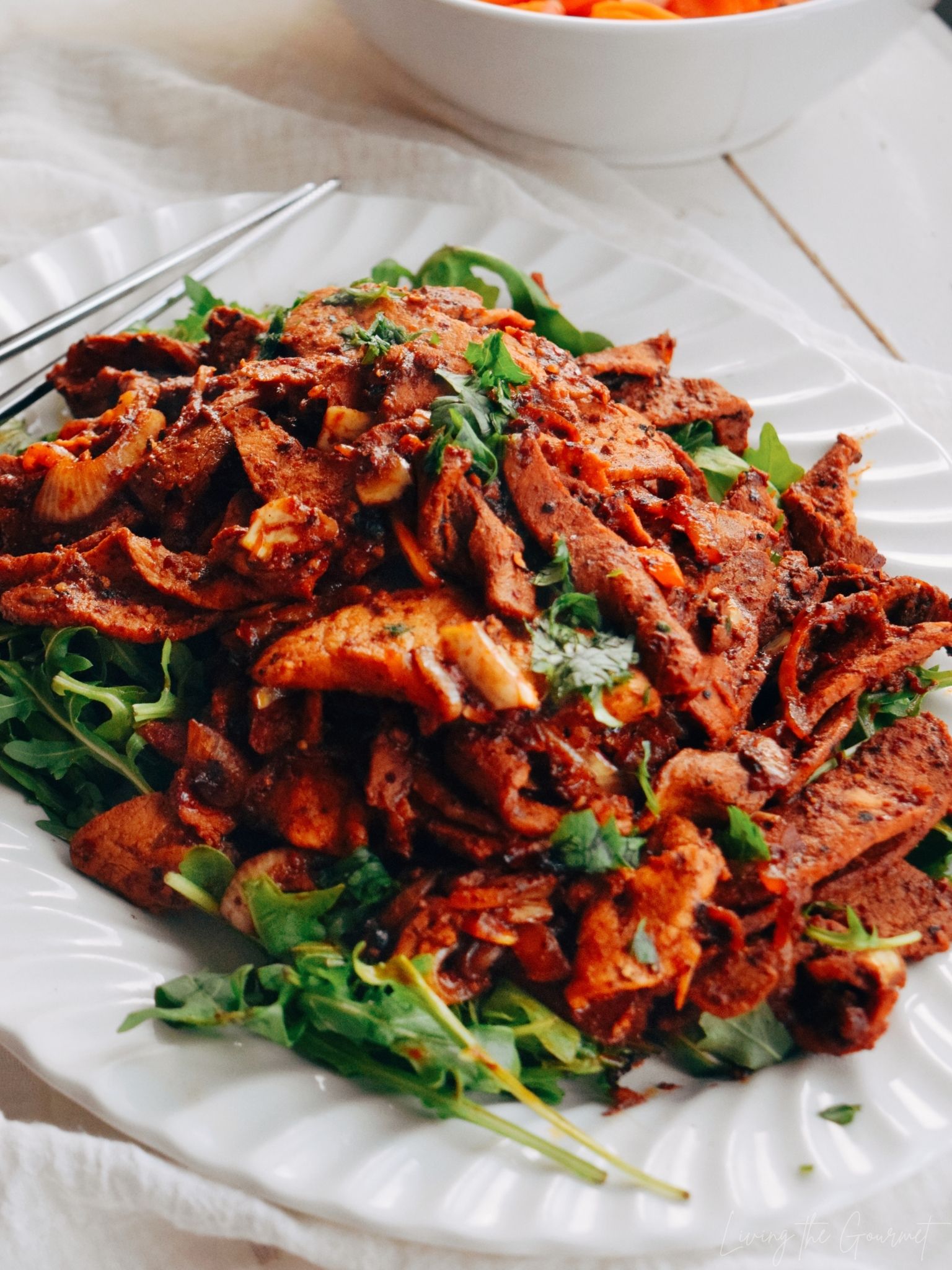 Print
Spicy Korean Pork
Author:
Prep Time:

10 minutes

Cook Time:

20 minutes

Total Time:

30 minutes

Yield:

4

servings

1

x
Category:

Main Dish

Cuisine:

Asian
2 1/2

lbs. boneless pork rib end – sliced very thin
Your favorite salad leaves – I used arugula. It is tradition though to used whole lettuce leaves.
For the Marinade:
1

sweet onion – sliced very thin

1

tbs. Gochugaru (Korean red pepper flakes)

1/2

cup

soy sauce

3

tbs. Gochujang

1 1/2

tbs. honey

2

tsps. black pepper corns – crushed in a mortar and pestle

1

tbs. sesame oil
Instructions
Prepare all of the ingredients for the marinade in a medium sized bowl and toss.
Slice the pork into thin slices.  Tip:  It is easier to slice the pork if it is slightly frozen.
Place the pork into the marinade and toss.  Cover and place in the refrigerator for at least one hour or up to overnight.
Heat a large cast iron frying pan.  Place a few slices of pork in the hot pan and cook.  The cooking time will depend on the thickness of the pork slices.  Cook until slightly charred and cooked through, this should take 3 – 5 minutes, again depending on the thickness of the pork.
Serve with your favorite salad greens and rice if desired.
Keywords: Korean, spicy, pork
Recipe Card powered by
1