Today we're preparing a Spinach Lasagna, which is a "Slightly Hellenic" twist on the beloved Italian favorite. Today's lasagna features crumbled feta, ricotta, and spinach, and plenty of mozzarella. Seasoned with fresh lemon zest and nutmeg, and just a splash of white wine, today's lasagna boasts a pleasantly layered, lusciously complex flavor profile, while still retaining that luscious 'lasagna approachability' that makes it one of our favorite comfort foods.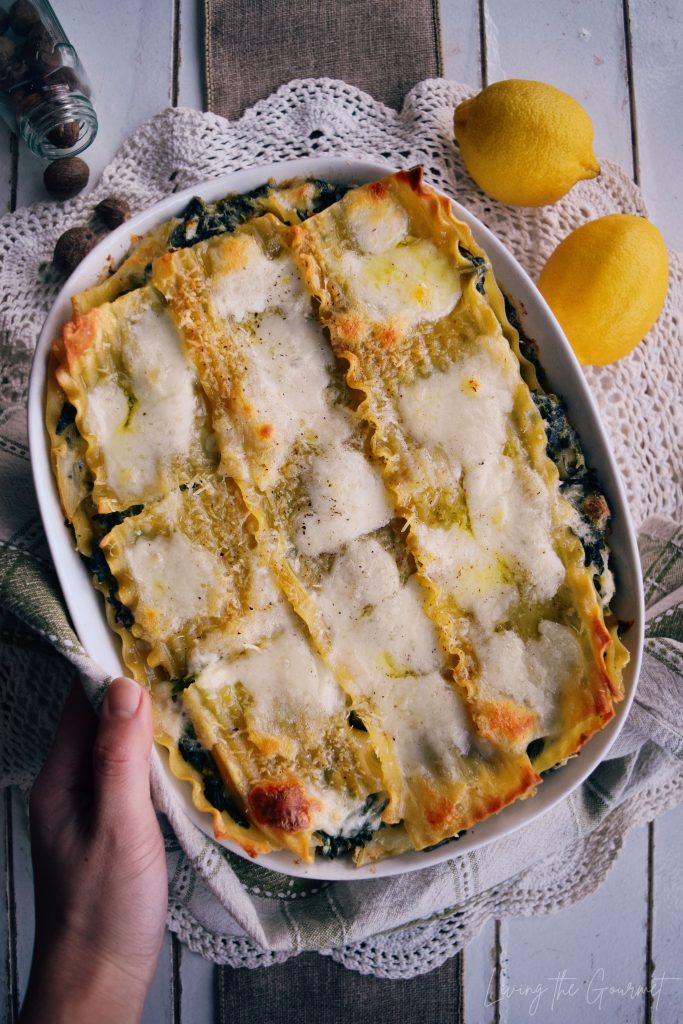 Ingredient Notes, Tips, and Substitutions
1) Red Pepper Flakes – What 'is' this stuff anyway? Inside 'any' pizza parlor across the USA, as well as 'most' Italian restaurants, and 'many' Spanish restaurants, you've likely noticed that there are 'little round jars' with a shaker top containing 'red pepper flakes.' But 'what' are red pepper flakes? Are they the same as 'chile flakes? And what pepper produces these 'red flakes?' And are these 'red flakes' the seeds or the dried 'flakes' of pepper's flesh? The simple answer to that last question is 'both.' Red pepper flakes are seeds as well as the dried 'flakes' of peppers, peppers from the 'capiscum cannum' family. This particular family of peppers includes such familiar pepper varieties as jalapenos, bell, fresno, Anaheim, and cayenne. Mostly, however, and this is true across all brands of red pepper flakes, most of what's in the bottle is cayenne, with a minority being a mix of the rest – except bell, since those aren't hot. Unlike 'chile flakes,' which are made from a single variety of pepper, and used to add the flavor of that singular pepper to whatever they're being sprinkled on, 'red pepper flakes' are used solely to add heat. And that's about it. Red pepper flakes are primarily dried cayenne peppers, but with a mix of other hot peppers thrown in, taken generally from capsicum cannum family of peppers.
Substitution: An equal amount of your favorite chili flakes, or roughly a quarter as much cayenne powder.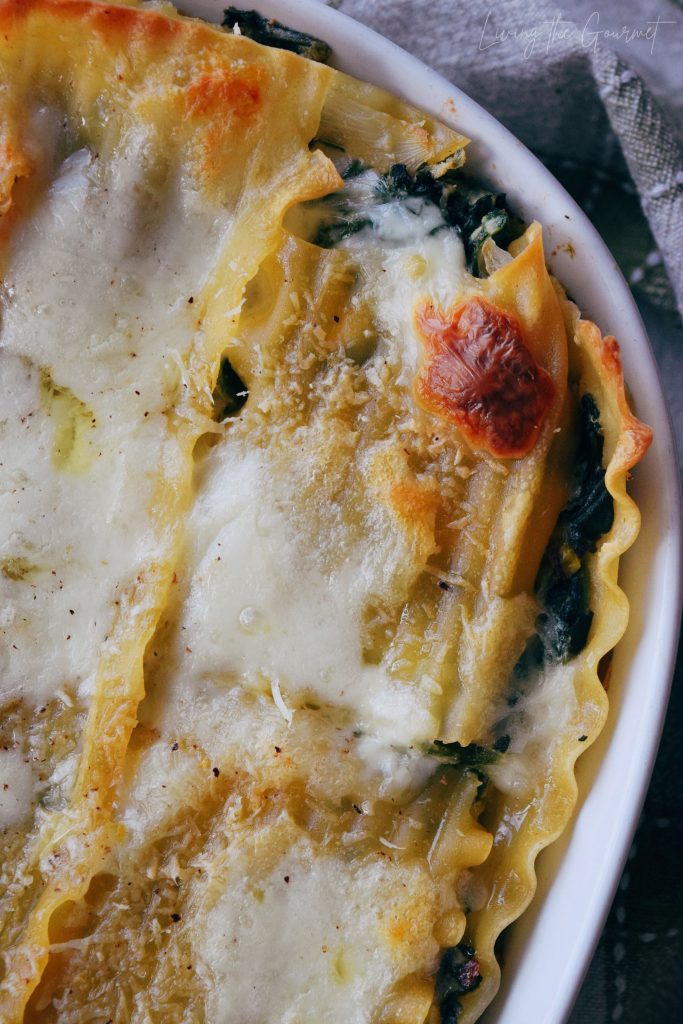 2) Ricotta. One of the oldest cheeses in the world, ricotta has been produced in Italy since around 2500 BC. While we tend to think of ricotta purely as that creamy cheese that melts beautifully in things like stuffed shells and lasagna, ricotta also comes in smoked, aged, salted, and baked varieties. Produced from whey, ricotta is made from a variety of milks, including from sheep, goats, and Italian water buffalos. However, in the US, ricotta is produced almost exclusively from cow's milk. This naturally results in Italian ricotta being both naturally sweeter and somewhat less moist than its American counterpart.
3) The Truth about Feta Cheese. Every psychology and philosophy student is likely familiar with some variation of the question "Take a hammer, now imagine you replace the handle, and then at a later date you also replace the head. Do you still have the same hammer you started out with?" The question essentially asks "When does A stop being A?" or "At what point does a thing change so much that it is no longer what it originally was?" The EU actually has some regulations about precisely when 'feta' stops being 'feta,' and these rules are naturally based on the traditional, Greek understanding of this loveably salty, pleasantly acidic cheese. In short, a milk product is 'not' feta unless it is made from sheep's milk, or from a mixture of sheep and goat milk, in which mixture the goat milk amounts to no more than 30% of the total product. Why 30%? I have no clue. Also, the cheese needs to be brined and possess a sky-high sodium content. Moisture should be no more than 56%, with a minimum fat content of 43% in the dry solid matter of the cheese, while the product's ph should be stabilized between 4.4 and 4.6 [LINK http://www.fetamania.gr/english-html/feta.htm ] . Thus, low-fat, low-sodium 'feta' does not actually exist, nor does cow's milk feta for that matter. Sadly, this excludes almost everything labeled 'feta' in the USA, Canada, and Northern Europe, whose producers have (perhaps understandably) chased after the 'taste' of feta, rather than feta's traditional formula. However, since these producers are not bound by EU law (why would they be?) they are free to label whatever milk product they want as 'feta.'
What does that Mean for Today's Recipe? Honestly, not a lot, since the 'taste' of feta is all we're really looking for – and so whatever your favorite brand of feta happens to be, will work just fine.
4) Anchovies. One of the ultimate 'love it or hate it' ingredients, for which I am firmly in the 'love it' camp. However, why is that we see anchovies added so often to recipes that otherwise really have nothing to do with 'fish?' Anchovies, for example, find their way into 'meatless' garlic and oil sauces, otherwise 'fish-less' red sauces, steak sauces, salads, salad dressings, a variety of egg recipes, and a shocking number of roasted lamb recipes, especially those heavy on herbs and potatoes. The answer is 'salty umami' or 'brine-flavor.' Much like capers – for whom anchovies are a substitute, but curiously 'not' vice versa – anchovies are beloved largely for the sharp salty 'pep' or 'kick' that they bring to a recipe, and the vague background 'meaty' flavor that their presence bestows to the recipe. Since anchovies dissolve entirely on cooking – both flesh and bones – their flavor melds uniformly throughout the recipe to which they're added, and when this happens much of their 'fishiness' evaporates, meaning that they instead add a delicious background of meaty umami that isn't immediately or noticeably fishy.
Substitution: If you absolutely cannot tolerate anchovies, simply leave them out.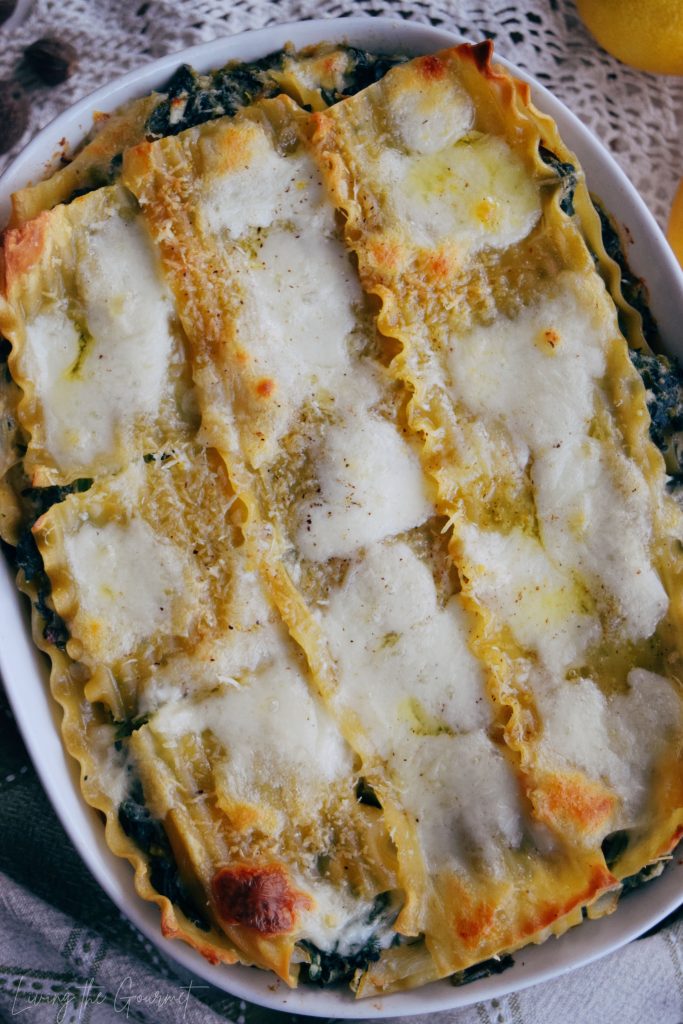 Pasta Pointers – Build a Better Lasagna
1) Undercook your pasta. You want 'firm' lasagna noodles for today's recipe. If you overcook, or even 'fully' cook, the noodles prior to stuffing or rolling them, they will become mushy, unappealing, unappetizing messes. Instead, you want decidedly undercooked pasta, because the pasta will continue cooking in the oven, and then will continue cook 'after' it's been taking out of the oven, as the heated stuffing cools inside of them. Are you seeing why we want 'firm,' 'undercooked' noodles?
2) No seriously – undercook it. If you don't believe me, a 2017 article in Bon Apetit confirms that Al Dente is 'functionally' overcooked…usually. The article makes the point that you almost always finish your pasta by tossing it in some sort of cooked sauce, be it red sauce, garlic and oil, or – as we're doing today – stuffing and then baking it. As a result, the pasta is going from boiling water to an almost equally hot sauce (or an even hotter oven). Naturally, the pasta will continue cooking – cooking it 'beyond' the point of al dente to something 'softer' and less palatable. Thus, if you want truly cooked-to-perfection pasta, you want prepare it "Molto Al Dente," which translates roughly as 'undercooked,' with the idea being that the pasta will continue cooking for a minute or two (or three) as you toss it in the sauce and then prepare to eat it. Of course, if you're not drenching your pasta in freshly cooked sauce, or coating it in heated oil, then feel free to cook it to the point of Al Dente.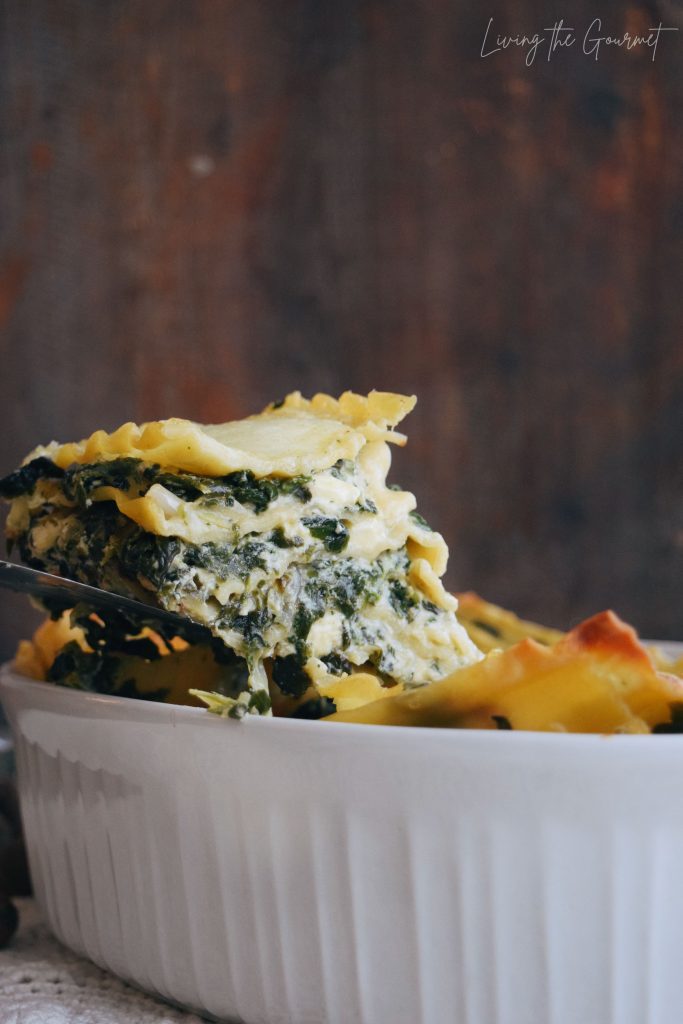 3) Salt the Water – A Lot. Pasta water should "Taste like the sea," according to a 2014 article from Food52, where Catherine Lamb explains that one and half tablespoons of salt is the 'minimum' advised per pound of pasta. As a rule, I tend to put two. With that said, I'm not going to expand too much on this point, as the linked article does an exceptional job of that for any who might be interested as to why. In short, salted water adds savory-ness to your pasta, dilutes its starchy qualities, and covers up any potential imperfections – which are present even in the highest quality brands you can buy. The end result is a better tasting, more palatable pasta.
4) Rinsing Pasta Damages It. Rinsing cooked pasta damages it – end of story. I'm not sure where, when, or how this idea came about, but it's a painfully common ritual to rinse pasta under lukewarm-to-cold water in strainers after removing it from the boiling water. I'm honestly not sure what this is meant to achieve aside from artificially cooling it down, or trying to 'unstick' the pasta from itself. The problem is, you can let the pasta cool by just leaving it alone, and the reason the pasta is sticking together is due to 'surface starch,' the same starch that serves to help sauce 'stick' to the pasta, and to give the pasta a slightly more 'textured' quality. In other words, when you rinse off pasta after cooking, you're rinsing away added quality. Stop this, don't do it, it's silly. End of story.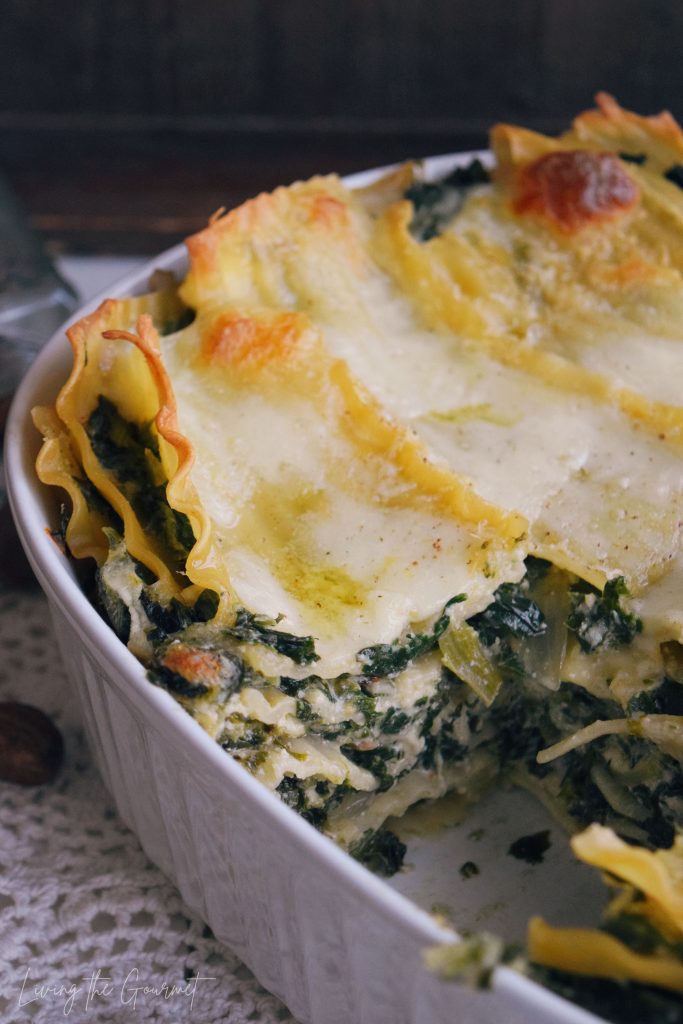 If You Enjoyed Today's Lasagna, Be Sure to Try
1) Sweet Mediterranean Lasagna. This lasagna is a bit more colorful by design, featuring fresh baby spinach, a touch of sweetness from raisins and cinnamon, and 'Mediterranean' flavors such as capers, oregano, and lots of fresh garlic.
2) Ravioli. My favorite twist on a beloved classic, these homemade ravioli are blissfully simple to prepare, but the real draw here is the delicious mix of asiago, ricotta, mozzarella, and romano, coupled with a fresh red sauce, plenty of garlic, and fresh spinach.
3) Breadsticks. At the risk of being old fashioned, I'm going to suggest breadsticks to pair with today's eggplant, and these are much easier to prepare than you might think. Paired with some olive oil for dipping, or even some herbed butter or black coffee, these are super versatile and keep great. As a nice bonus, they never fail to impress the guests.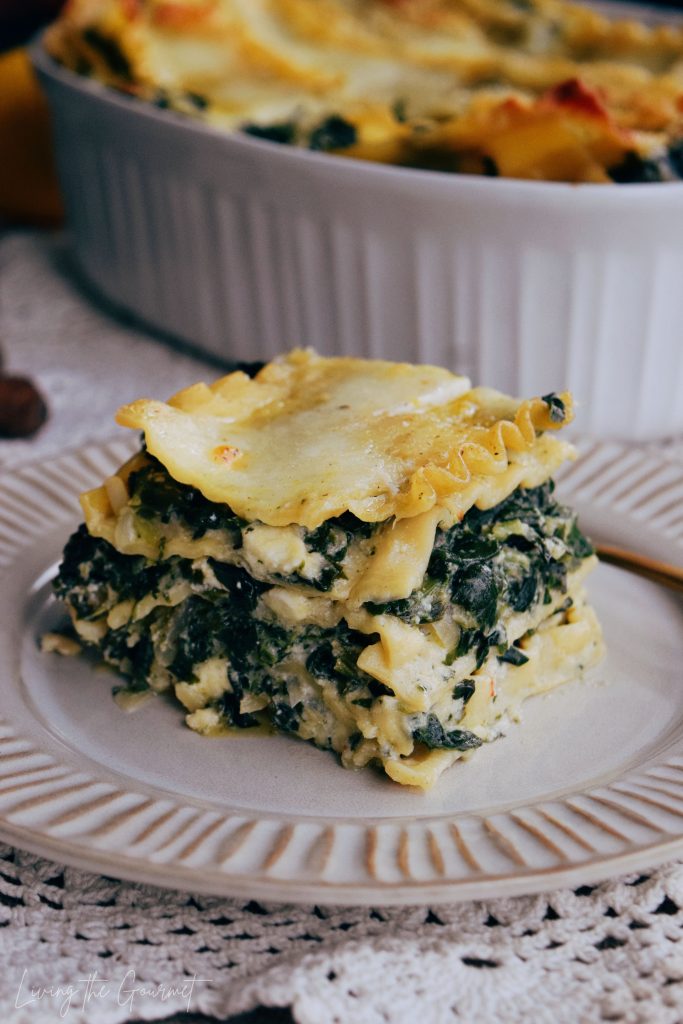 Print
Spinach & Feta Lasagna
---
Author:

Total Time:

45 minutes

Yield:

6

-

10

servings

1

x
24 oz

. of frozen chopped spinach

1

head of garlic - crushed

2

medium sweet onions - sliced

About a tsp. fresh grated lemon zest

About a

1/2

tsp. of grated nutmeg

15 oz

. ricotta

2 cups

of shredded mozzarella

8 oz

. feta cheese - crumbled

1/2 cup

of fresh grated Parmesan or Romano cheese

2 oz

. can of anchovies - in olive oil

1/2 tsp

. red pepper flakes

1/4 cup

of white wine

2

tbs. butter

Olive oil

1

lb. of lasagna noodles - prepared as directed
---
Instructions
Preheat Oven 350 degrees F.
Prepare the lasagna noodles as directed and set side while preparing the filling.
Heat a large cast iron frying pan.
Allow the frozen spinach to defrost. If you did not defrost the spinach, place the frozen spinach in a heated cast iron pan and let the water absorb as the spinach melts. Then add the onions, garlic, red pepper flakes and anchovies with the olive oil and toss. Allow the onions to become translucent and get a slight golden edge and the garlic is fragrant.
The anchovies will almost melt into the onions and garlic.
Add the spinach, grated lemon zest, grated nutmeg, white wine and butter and toss.
Turn the heat on the frying pan off.
Add the ricotta cheese, mozzarella cheese, feta cheese and grated Parmesan cheese or Romano cheese and toss.
Butter a casserole dish.
Layer the bottom with the lasagna noodles to fit the pan and top with the spinach and ricotta cheese.
Repeat the layering until the noodles and filling are used.
Finish the top layer with noodles and top with mozzarella cheese a drizzle of olive oil and a dash of nutmeg.
Place the lasagna in the oven for 30 – 35 minutes.
Allow the lasagna to rest about 10 – 12 minutes before serving.
Prep Time:

15 minutes

Cook Time:

30 minutes

Category:

Main Dish

Cuisine:

Mediterranean
Keywords: Lasagna, spinach, feta
Recipe Card powered by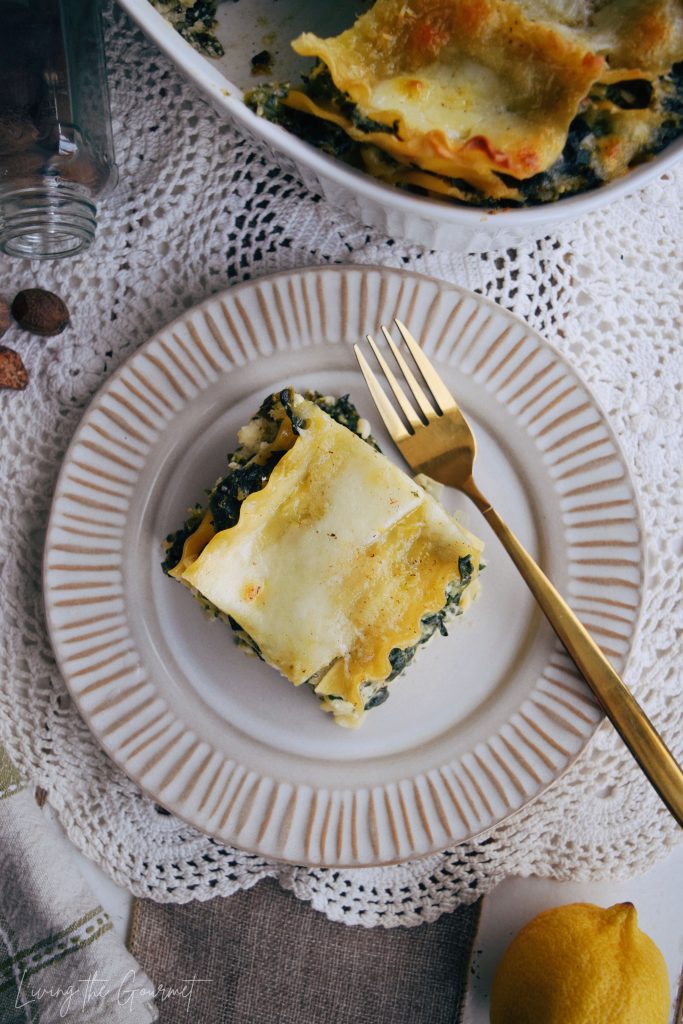 1