Today we're preparing a batch of homemade three-cheese ravioli, stuffed with a sweet and savory mix of ricotta, feta, and parmesan, along with cinnamon and nutmeg. We'll be serving them with a white wine and butter sauce, prepared with roasted pignoli nuts, raisins, and garlic.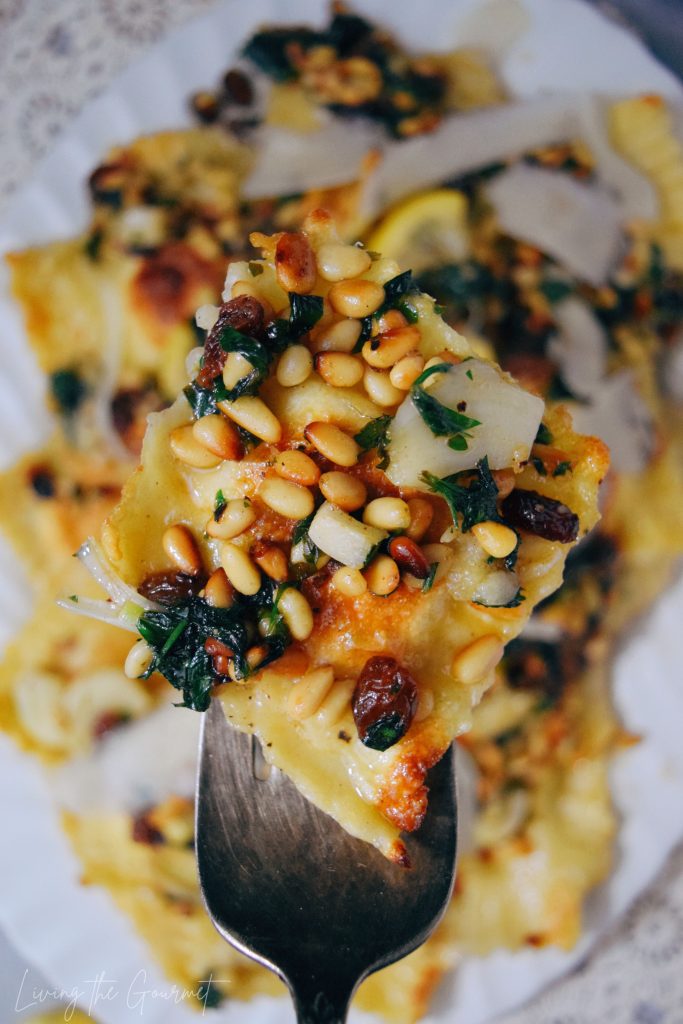 Homemade Ravioli. The "Dos, Don'ts, and Pairings."
1) No Ravioli Cutter Needed – Sort Of. From the pictures, you can see that I'm using a cutter with frilled edges. However, the 'standard' way to cut ravioli in the absence of a ravioli cutter, is to begin by dividing the dough in half – as directed below. Then lay out the first sheet of dough on a flat surface, rolled out as thinly as possible. Then evenly space your dollops of filling along the dough, and then lay the second portion of the dough over the first, pressing the dough down around each mound of filling. Follow this up by using either a pastry cutter, pizza cutter, or knife, to cut the ravioli. Seal the edges as directed below. Conversely, if you aren't against round ravioli, you can simply use a sturdy glass or jar to cut out round raviolis in the same way you would with a ravioli cutter or cookie cutter.
2) Boiled or Baked? This is purely preference, but we're boiling ours today. Personally, I'm of the opinion that freshly prepared ravioli is best prepared boiled, and then crisped in a frying pan – as we're doing today. However, baking is an option for those short on time. To do this, simply lay the ravioli out on a baking sheet, and then bake in the oven at three-fifty for about ten minutes, turning them over midway through.
3) Don't Over-Flour. When rolling out the ravioli it is 'very' tempting to flour your rolling pin, surface, and even the dough itself to your heart's content in order to prevent sticking. Do not do this. Flour only enough to prevent the dough from sticking to the rolling pin and surface, erring on the side of allowing the dough to remain 'annoyingly sticky,' but not sticky enough that the dough rips or tears. If you flour the dough too much, the dough will become dry and rubbery, resulting in an equally dry and rubbery ravioli. Not fun.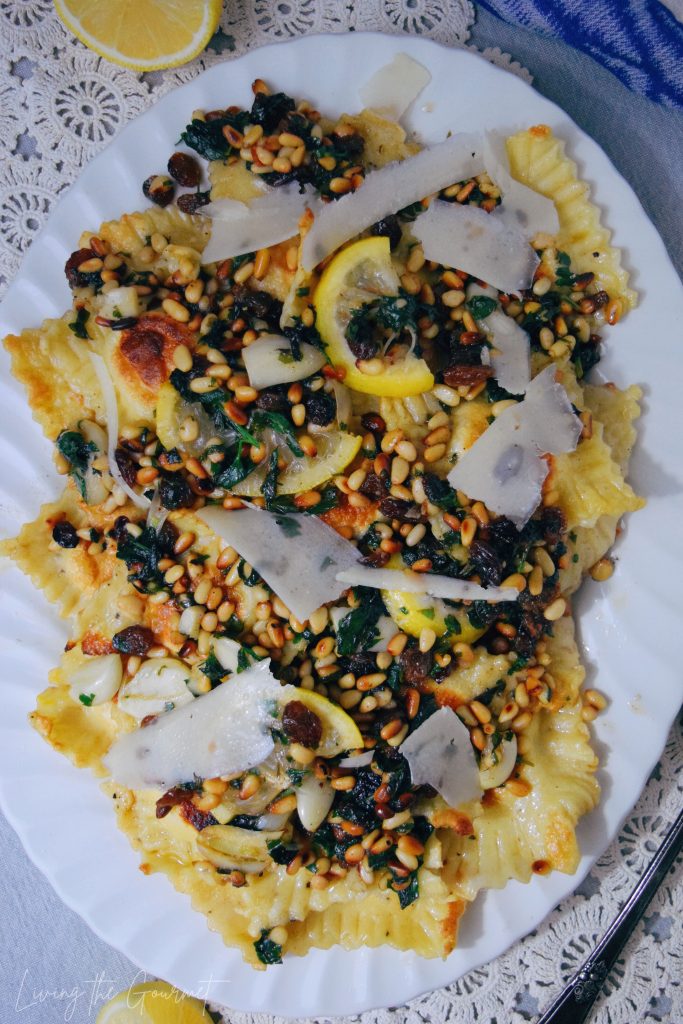 4) The Filling. If experimenting with filling, be sure that the filling is neither too wet, nor too dry. An overly wet filling will seep through the ravioli during cooking, while an overly dry filling with become 'hard,' ruining the texture balance and possibly poking through the dough. Again, not fun.
5) Pairings. On the lighter side of the spectrum, consider herbed butter and wine sauces such as my rosemary-butter sauce, or my brown butter and herbs sauce. On the heavier end of the spectrum, to change things up consider a spicy seafood marinara , or a rich alla vodka.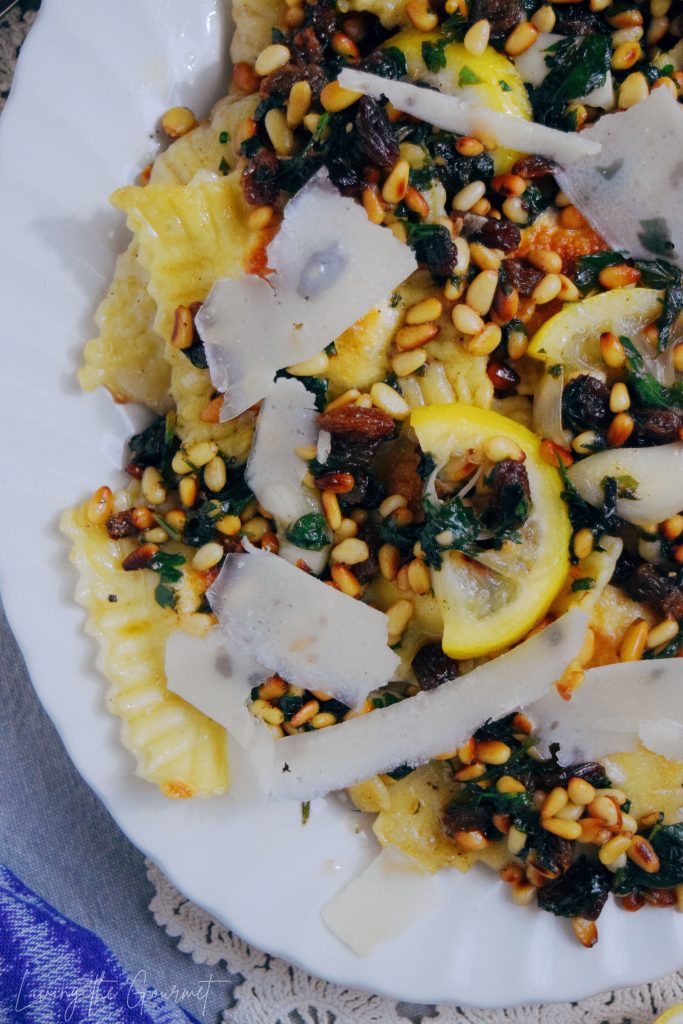 Ingredient Notes, Tips, and Substitutions
1) Pignoli Nuts – What are they? Is there a replacement? Pinoli, Pignolias, or piñón, are simply pine nuts. They are valued for their small size, tender or even 'buttery' texture when cooked, and the large amount of oil that they contain – relative to their small size – which seeps out into the food they are being cooked with, thereby spreading their flavor more intensely and evenly than other nuts. As a result, a truly 'good' substitute is hard to find, since very few, if any, other nut carries this precise combination of desirable traits.
Substitution: For today's recipe, I would likely opt for chopped almonds if you want to save on cost, or simply don't have pine nuts on hand.
2) Nutmeg. The spice that 'tastes like Christmas,' nutmeg is beloved for its 'warming' and ever-so-slightly 'sweet' taste. However, in larger quantities nutmeg rapidly becomes sour or even astringent tasting. Since nutmeg is quite strong, this is one spice where 'a little goes a long way.' Useful in everything from baked goods to roasted potatoes, nutmeg also features prominently in various beef and pork spice mixes (in both dry rubs and marinades), as well as in stewed, grilled, and roasted vegetables, as well as in a variety of beverages both warm and cold, alcoholic and non-alcoholic alike. As such, it's safe to say that nutmeg is a blissfully versatile spice that's worth learning how to use.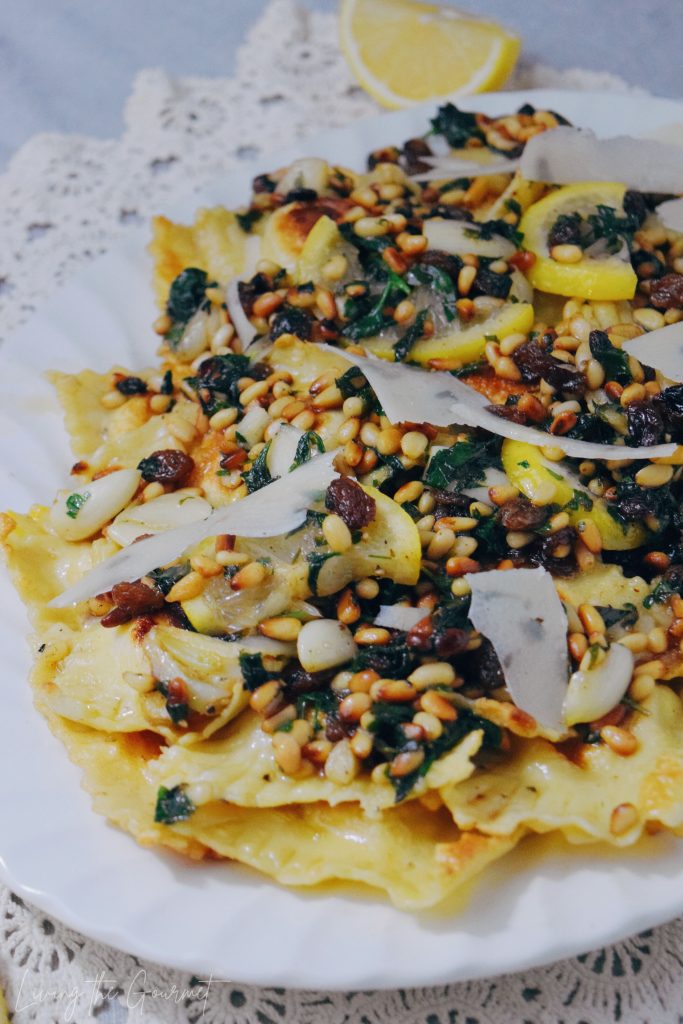 3) The Truth about Feta Cheese. Every psychology and philosophy student is likely familiar with some variation of the question "Take a hammer, now imagine you replace the handle, and then at a later date you also replace the head. Do you still have the same hammer you started out with?" The question essentially asks "When does A stop being A?" or "At what point does a thing change so much that it is no longer what it originally was?" The EU actually has regulations about precisely when 'feta' stops being 'feta,' and these rules are naturally based on the traditional, Greek understanding of this loveably salty, pleasantly acidic cheese. In short, a milk product is 'not' feta unless it is made from sheep's milk, or from a mixture of sheep and goat milk, in which mixture the goat milk amounts to no more than 30% of the total product. Why 30%? I have no clue. Also, the cheese needs to be brined and possess a sky-high sodium content. Moisture should be no more than 56%, with a minimum fat content of 43% in the dry solid matter of the cheese, while the product's ph should be stabilized between 4.4 and 4.6. Thus, low-fat, low-sodium 'feta' does not actually exist, nor does cow's milk feta for that matter. Sadly, this excludes almost everything labeled 'feta' in the USA, Canada, Mexico, and Northern Europe, whose producers have (perhaps understandably) chased after the 'taste' of feta, rather than feta's traditional formula. However, since these producers are not bound EU law (why would they be?) they are free to label whatever milk product they want as 'feta.'
Substitute: In today's recipe, ricotta salada, gouda, goat cheese, or even simply mozzarella would all pair perfectly. Today's is 'not' a fussy recipe.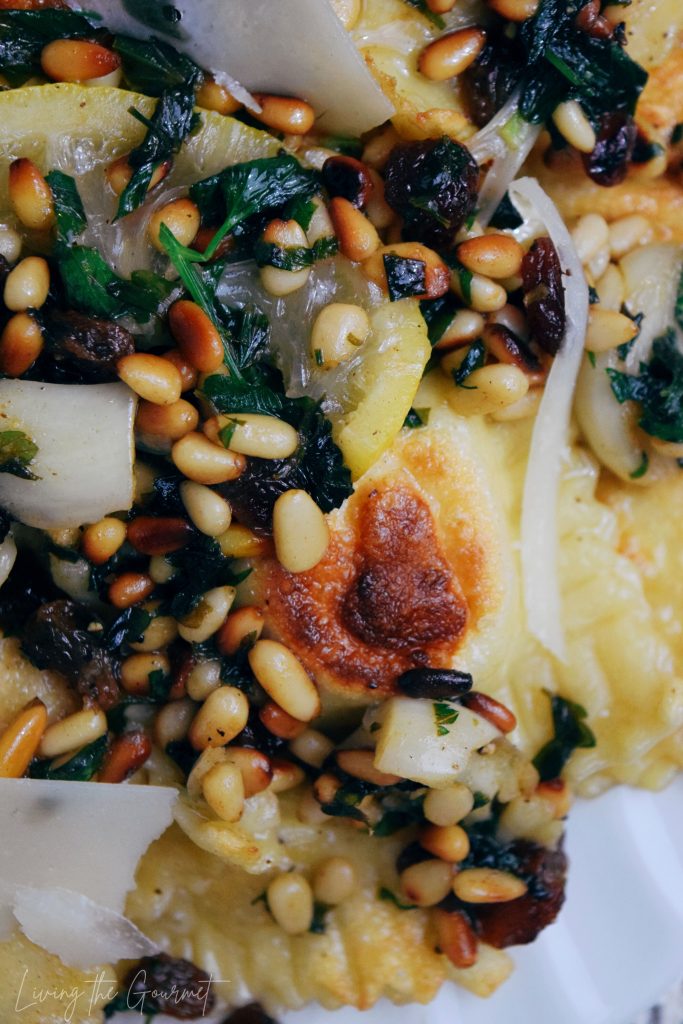 More Pasta Favorites from LTG
1) Spaghetti with Bacon and Toasted Breadcrumbs. Pasta tossed with roasted breadcrumbs, garlic, and olive oil. The addition of wine, bacon, and basil, combine to create a warming yet light and satisfying pasta dish that's perfect year-round, and that couldn't be simpler to make.
2) Alla Vodka. I mentioned this one above, and I'm mentioning it again down here. It's just that good. Creamy, rich, and just a hint spicy, 'alla vodka' is a crowd pleaser like few others, and best of all it takes just minutes to prepare. While I plated this alla vodka sauce over gnocchi, this works just fine over pasta, and that includes today's raviolis.
3) Rosemary Butter Pasta. This recipe is exactly what it sounds like. We start off with a white wine, butter, and rosemary sauce, and toss that with spaghetti, lots of grating cheese, and grated nutmeg. Super simple, yet satisfying and delicious.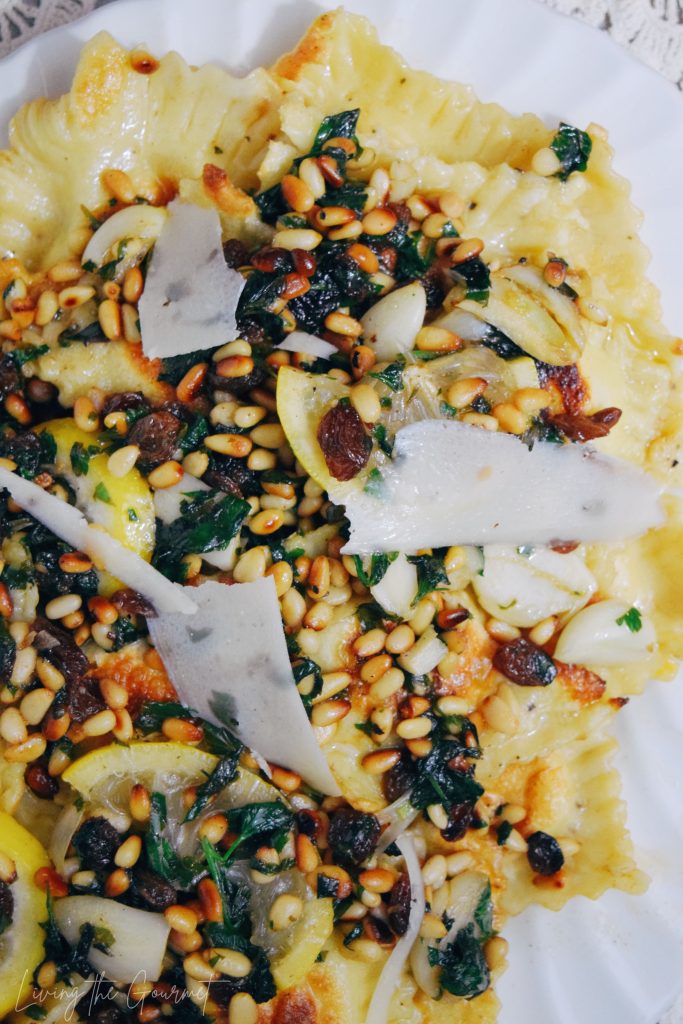 Print
Feta Cheese & Pignoli Ravioli
Author:
Prep Time:

20 minutes

Cook Time:

30 minutes

Total Time:

50 minutes

Yield:

2

dozen ravioli

1

x
Category:

Pasta

Cuisine:

Mediterranean
For the Dough:
2

cups

flour, sifted

3

egg yolks

1/4 tsp

. salt

5

–

6

tbs. of warm water, plus more if needed
For the Filling:
16

oz

. ricotta

8 oz

. block of feta cheese, crumbled

2

egg yolks

2

–

3

tbs. fresh Italian parsley, stems removed and chopped
Dash of fresh nutmeg
Dash of cinnamon

1 tsp

. fresh ground black pepper

1/2

cup

of fresh grated Parmesan or Romano cheese
For the Topping:
1

head of fresh Italian parsley – stems removed and chopped

3/4

cup

pine nuts – gently toasted in a dry pan

4

tbs. butter

2

tbs. olive oil

1/4

cup

white wine

2

lemon slices

6

–

8

garlic cloves – crushed

1

cup

raisins
Fresh ground black pepper
Fresh grated nutmeg
Fresh grated Parmesan or Romano cheese
Instructions
For the Dough:
Sift the flour onto a clean surface.
Make a well in the center and add the salt and the egg yolks and 3 tbs. of the water at a time.
Bring the dough together and adding a tablespoon of water at a time as needed to form a dough.
Knead the dough until a smooth dough is formed. Let the dough rest for 15 – 20 minutes, covered.  In the meantime, prepare the filling.
For the Filling:
Combine the ricotta, parmesan or Romano cheese, egg yolks, fresh parsley, seasonings and feta cheese in a bowl and combine well. Set aside.
For the Topping:
Heat a cast iron frying pan on a medium heat. Add the butter and olive oil.
Add the raisins and garlic and sauté until the garlic is fragrant.
Add the parsley and lemon slices and the white wine and simmer on a gentle heat for a minute or two.
Add a few grates of nutmeg and the fresh ground black pepper.  Set aside until the ravioli are done.
Cooking the Ravioli:
Divide the ravioli dough in half. Roll out one of the halves on slightly floured surface, as thinly as possible.
Use a square cookie cutter (you can also use a ravioli wheel) and cut out the ravioli squares.
Brush the edges of one square with water. Place the filling in the middle of the dough, cover with the other square of dough, and press the edges with a fork to seal it. Repeat this process until you've used up all the dough.
Drop the ravioli into well salted boiling water and simmer for 10 minutes.
Lift the ravioli out of the water with a slotted spoon.
Place the ravioli on a plate prepared with a paper towel to drain any excess water.
Heat a large cast iron frying pan with 2 tbs. of butter and 2 tbs. of olive oil.
Place a few ravioli at a time in the pan and allow each side to get a nice golden color.
Place on a serving platter then top with the Pignoli & White Wine Sauce. Finish the dish off with slices of fresh Parmesan or Romano cheese and fresh ground black pepper.
Keywords: pasta, ravioli, pine nuts, pignoli, feta cheese
Recipe Card powered by
0