Today we're preparing pasta tossed with breadcrumbs roasted in garlic and olive oil. The addition of wine, bacon, and basil, combine to create a warming yet light and satisfying pasta dish that's perfect year-round, and that couldn't be simpler to make.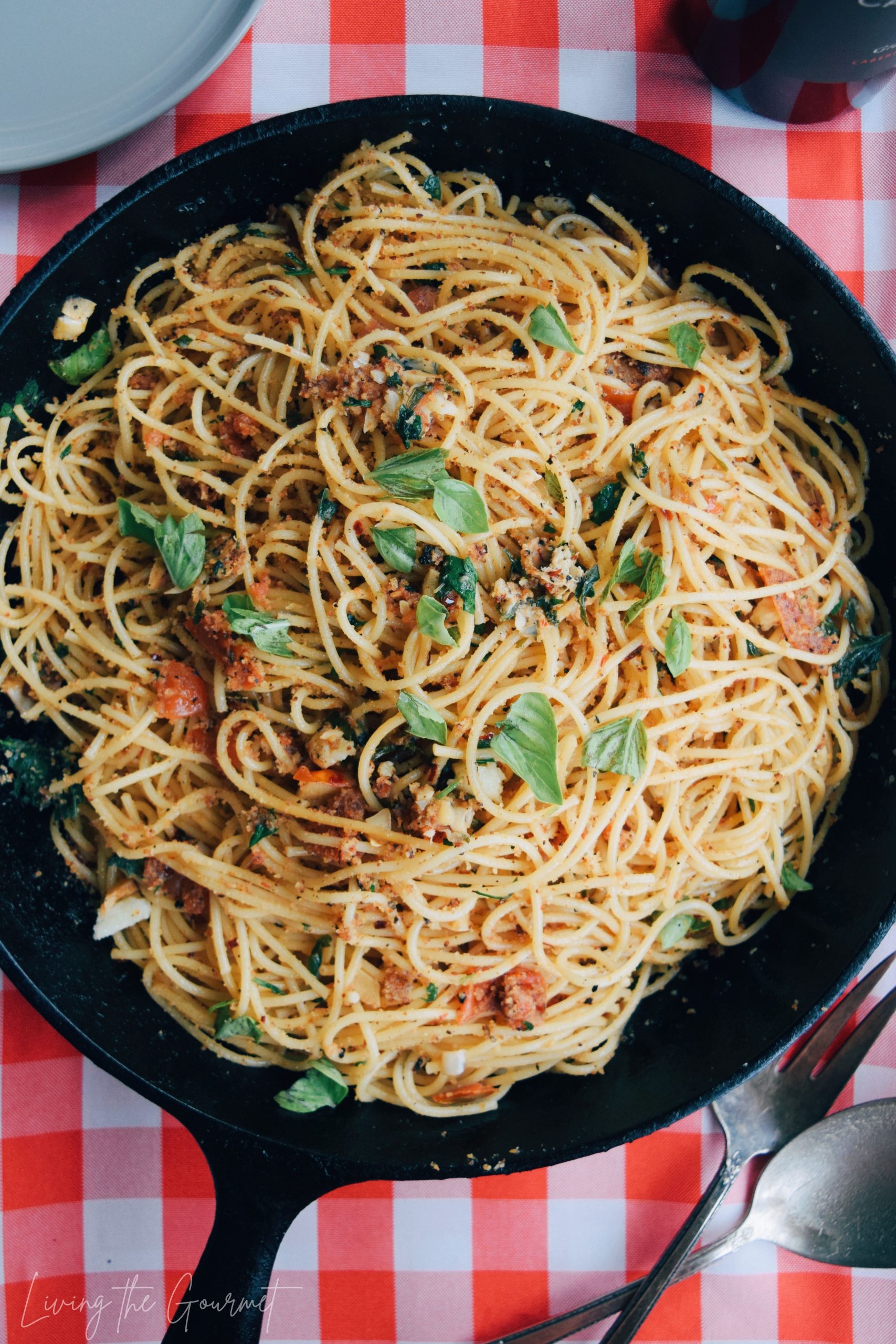 Why To Try Today's Pasta
1) Evergreen Flavor. Today's recipe is light enough to be enjoyed on balmy summer evenings, but is hardy enough to be satisfying on a chilly winter night. The combination of flavors are simultaneously warming and light, making this an evergreen recipe.
2) Simple Gourmet. Despite the medley of flavors, today's recipe is approachable for home chefs of all skill levels, and best of all it doesn't take all night to prepare.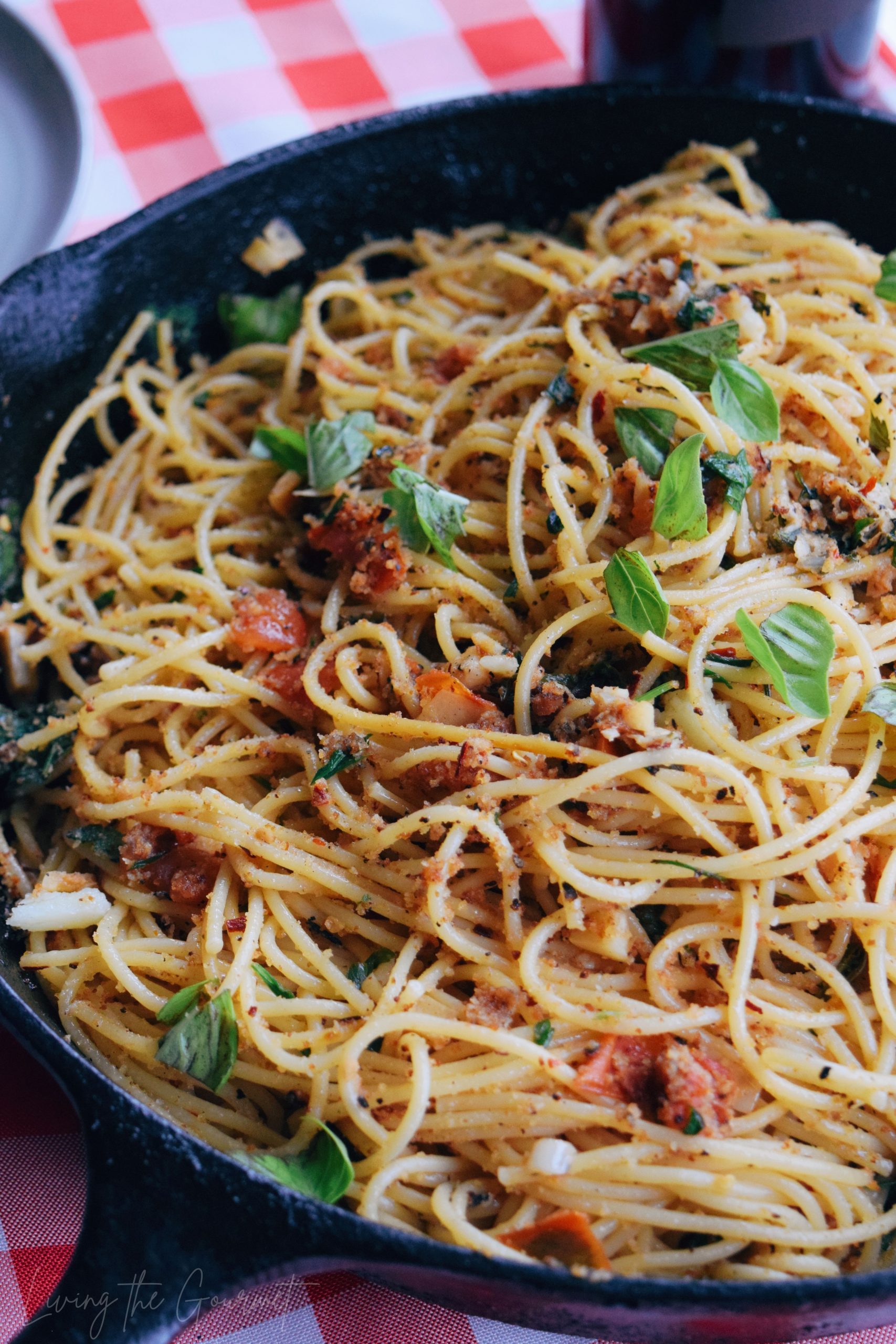 Ingredient Notes, Tips, and Substitutions
1) The Breadcrumbs – Use Plain. These add substance and texture to today's pasta. They also act to provide a vehicle for the flavor of the garlic and olive oil in which we'll be roasting them. This is also a reason why we're using plain breadcrumbs instead of Italian-style breadcrumbs. Italian breadcrumbs are the same as regular breadcrumbs, but are mixed with some combination of dried basil, oregano, and parsley, a copious amount of salt and black pepper – and that's pretty much it, though some brands may include red pepper as well. Oddly, Italian-style breadcrumbs are rarely toasted in olive oil, and even when they are, the olive oil is usually a cheap 'light' olive oil. We don't want any of those added flavors, especially not when we're using our own, decent quality, olive oil. Plain is the way to go.
Substitution: If you only have Italian style breadcrumbs on hand, which are the most common type of breadcrumbs on American store shelves after plain, that's perfectly fine. Use those the same way you would plain except don't add the salt when toasting them.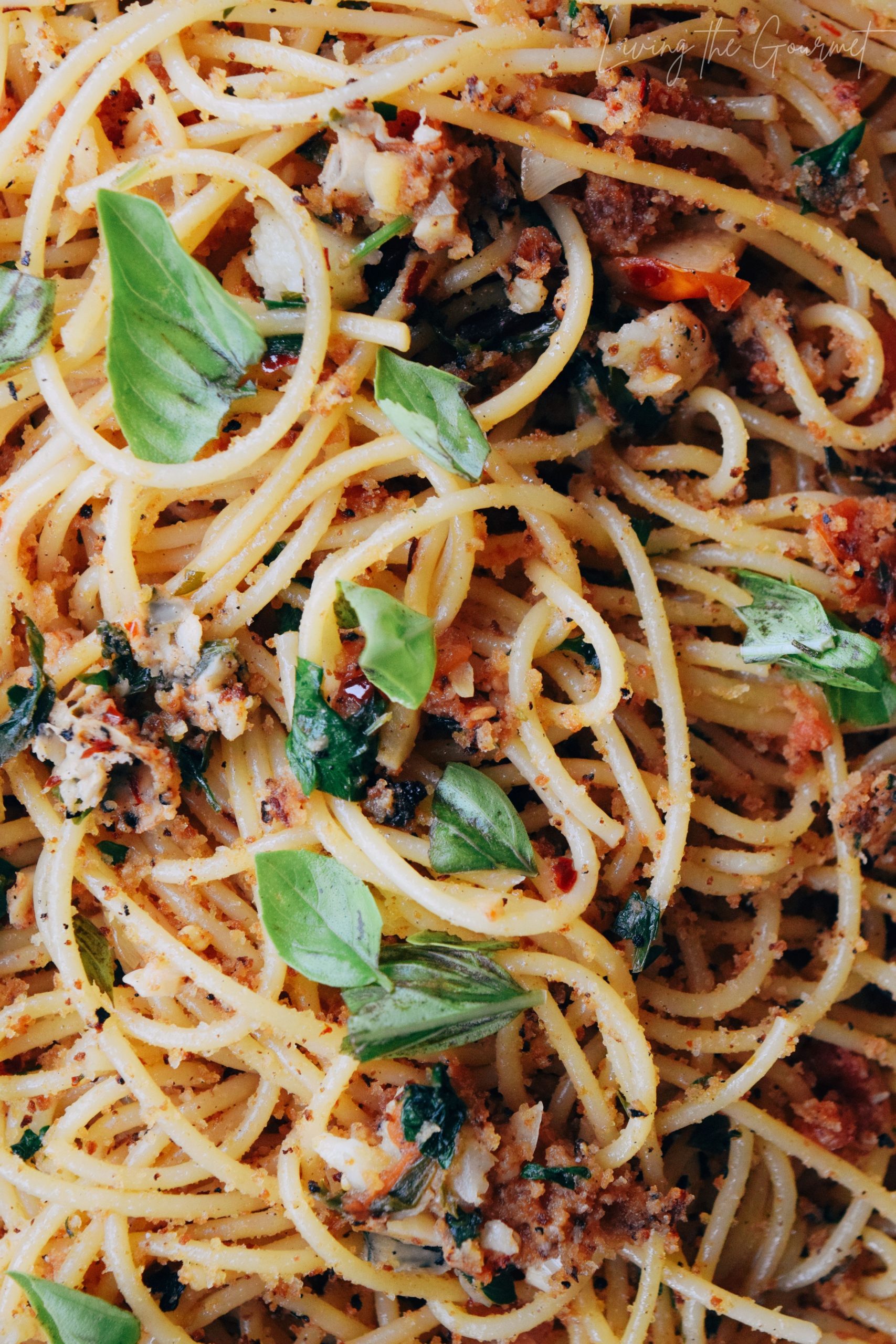 3) Fresh Basil vs Dried – and possible substitutions. As with most herbs, fresh basil and its dried counterpart are 'usually' but not always safe substitutions for one another. I'm using fresh basil today to achieve a 'bright licorice' or 'anise-like' flavor – but both of these flavors are entirely absent in dried basil, where a slightly 'mintier' flavor dominates. Furthermore, fresh basil has powerful aromatics that are reminiscent of a bright summer garden in full bloom, whereas dried basil boasts an earthier, vaguely 'darker' herbal aromatic profile.
Substitutions: Fresh oregano. However, this is not an exact substitution, as oregano has a flavor that's markedly less 'bright,' as well as somewhat more 'herbal,' whereas basil is simply 'fresher' on the palate.
4) Cooking With Wine – A Few Pointers. As a rule, use wine you like, but 'not' quality wine. No, this is not a contradiction. Here's why. Cooking with wine is generally about 'acidity' and 'wine flavor' more than anything else, since you really only get the most 'surface level' flavors of the wine your using, rather than any of its finer notes or nuances. This is why you generally do 'not' cook with quality wine – since the peculiarities that make a wine 'quality' will be lost during the cooking process. Cooking with wine also – usually but not always – takes the place of having to add any further acidity, being itself an acid – think red or white wine vinegar.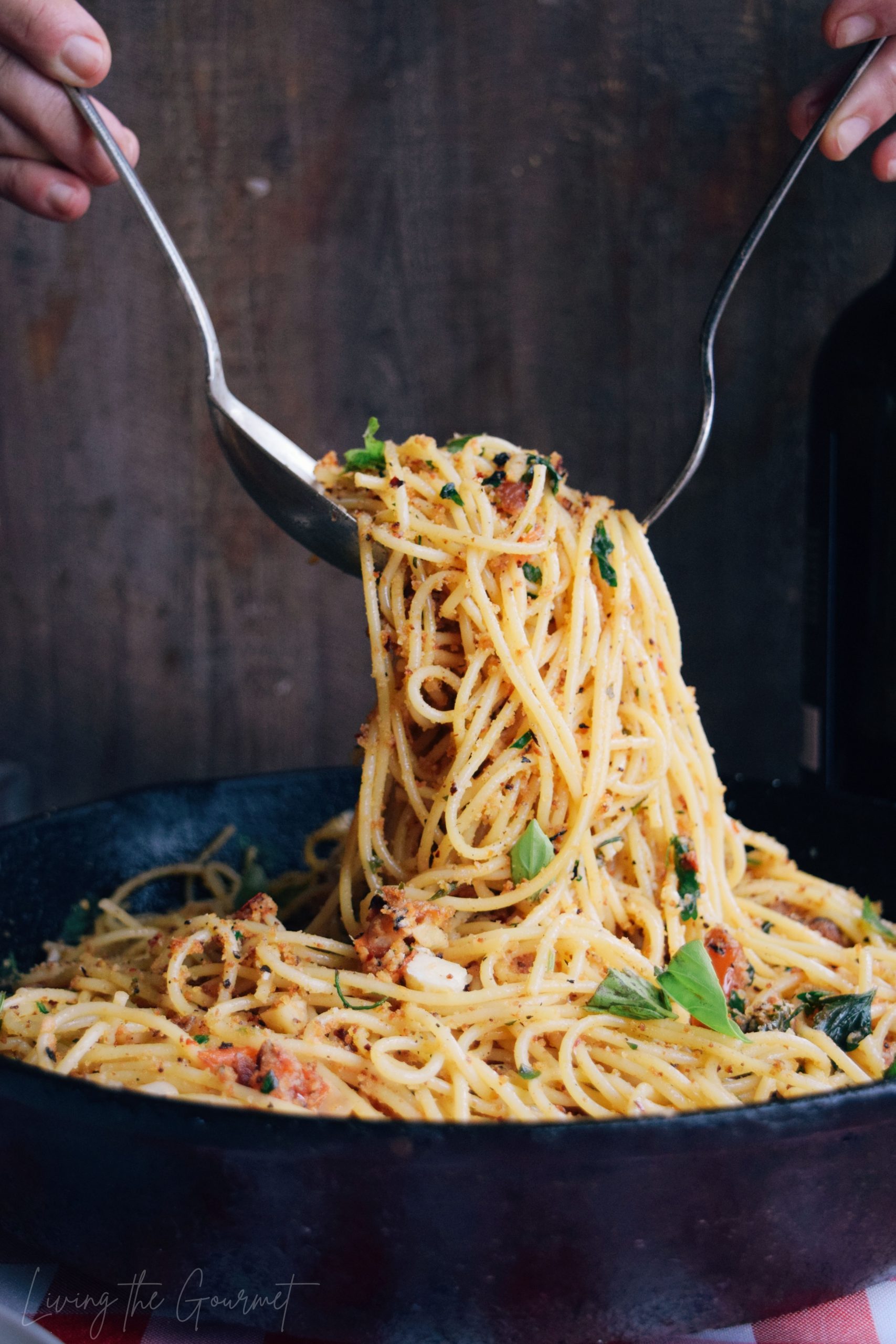 How to Serve Today's Pasta
1) With a Nice Red Wine. Here's a fun little challenge. Head over to my friends at Parcelle, and browse their wines according to today's recipe, and see what they recommend. Yes, they have a tool for that. Think of Parcelle as a modern way to browse for new and delicious wines.
Not only that, but you can browse wines by grape, flavor, price, regions, or even pairings. Having a barbecue and want to pair a wine with what's on the grill? You can do that. Or maybe you're throwing a dinner party and want to serve a wine alongside dessert. Parcelle has the perfect pairing. Looking to browse the wines of Argentine, or a particular region of France or Italy? Yes, you can do that too. Or maybe you're only interested in wines that have flavors of cherry or tropic fruit? Yes, you guessed it, you can do that too.
In addition, Parcelle has daily deals, monthly wine drops, and a nice selection of 'wine gear' and gifts. If you're even remotely interested in wine, Parcelle has something for every palette, budget, and interest imaginable. So, what are you waiting for? Go check them out, you won't be disappointed.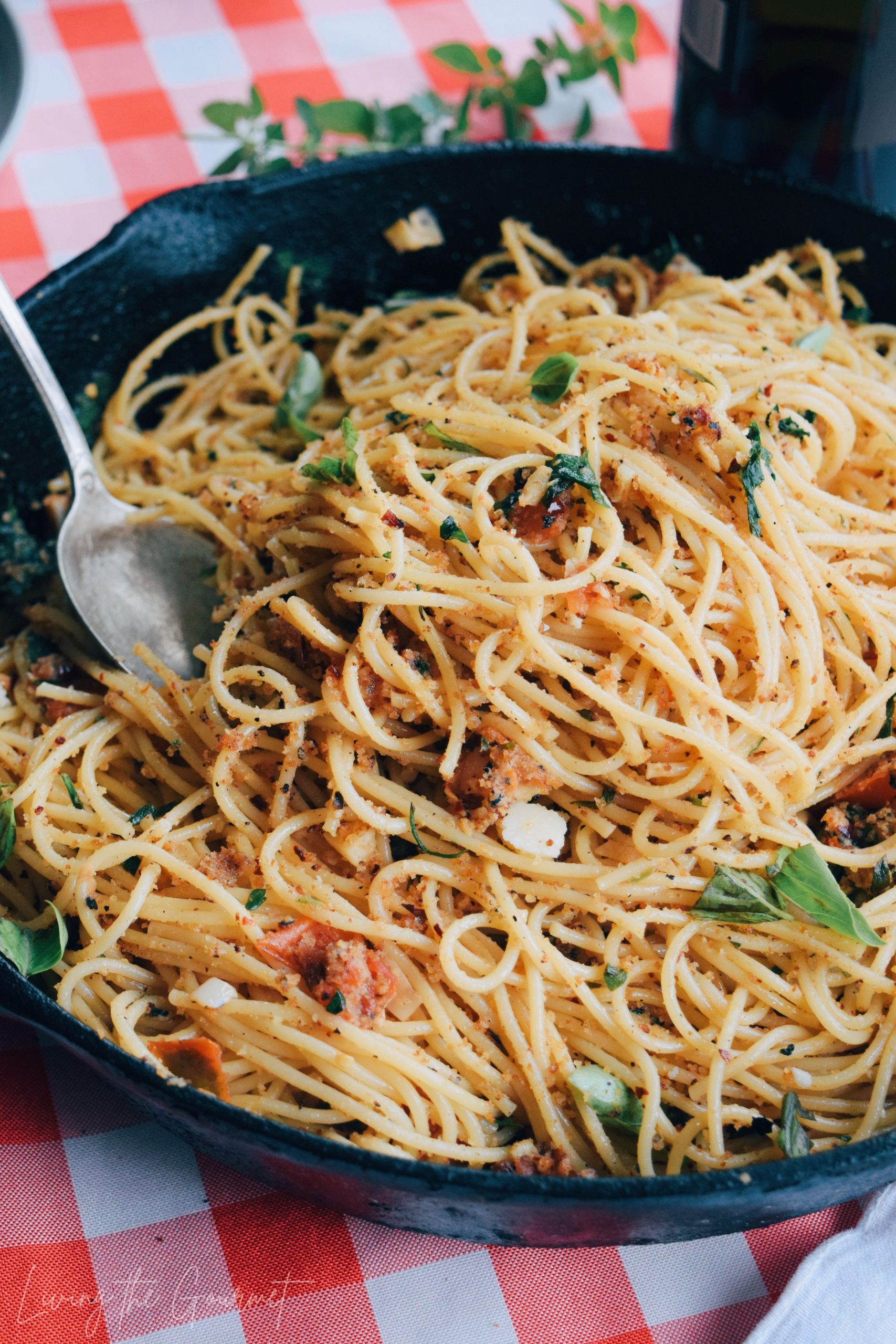 2) With Breadsticks. At the risk of being old fashioned, I'm going to suggest breadsticks to pair with today's pasta, and these are much easier to prepare than you might think. Paired with some olive oil for dipping, or even some herbed butter or black coffee, these are super versatile and keep great. As a nice bonus, they never fail to impress the guests.
3) With Infused Oil. This simple recipe is one of the easiest and most versatile in my repertoire. It's great over pasta, on crostini, as a dip for bread, or with breadsticks, or even for drizzling on pizza. Seriously, try this.
4) Marinated Cheeseboard. This is a great antipasto spread for any time of year, combining marinated cheese, roasted almonds, assorted olives, and shrimp prepared with fresh lemon juice, capers, red pepper, and olive oil.
Print
Spaghetti with Bacon & Toasted Breadcrumbs
Author:
Prep Time:

10 minutes

Cook Time:

15 minutes

Total Time:

25 minutes

Yield:

4

1

x
1 cup

diced tomatoes

1 cup

fresh Italian Parsley – stems removed, loosely packed and a rough chop

Fresh basil leaves – about 1/2 cup loosely packed

1

head of garlic – roughly chopped

1/4

lb. bacon – cooked crispy and chopped

2

tbs. olive oil

4

tbs. butter

1/2 tsp

. red pepper flakes

1 tsp

. sugar

1/2 tsp

. black pepper

1 tsp

. salt

1/4 cup

wine

3

tbs. fresh lemon juice

1/4 cup

fresh parmesan cheese or Romano cheese – grated

1/2 cup

plain bread crumbs

1

lb. of your favorite pasta
Instructions
Prepare the bacon to a nice crisp and set aside.

Heat a large cast iron frying pan.

Add the diced tomatoes to the dry pan.  Sprinkle the tomatoes with the sugar. 

Let the tomatoes cook down.

Add the garlic, butter and olive oil.  Add the salt, black pepper and red pepper flakes to the pan and toss.

Allow the garlic to become fragrant and soften.

Add the wine and the lemon juice and the grated parmesan cheese; continue to cook on a gentle heat for a few minutes then remove from the heat.

Prepare the pasta as directed in salted water.

In a small cast iron frying pan, heat 2 – 3 tbs. of olive oil, 2 – 3 cloves of garlic chopped, 2 tbs. chopped parsley, pinch of salt and a few grinds of black pepper.

Let the bread crumbs cook until a nice golden color is achieved.

Drain the spaghetti and add to the sauce.

Mix the golden bread crumbs into the pasta; add the bacon, extra fresh parsley, fresh ripped basil leaves, small drizzle of olive oil and extra grated cheese.
Recipe Card powered by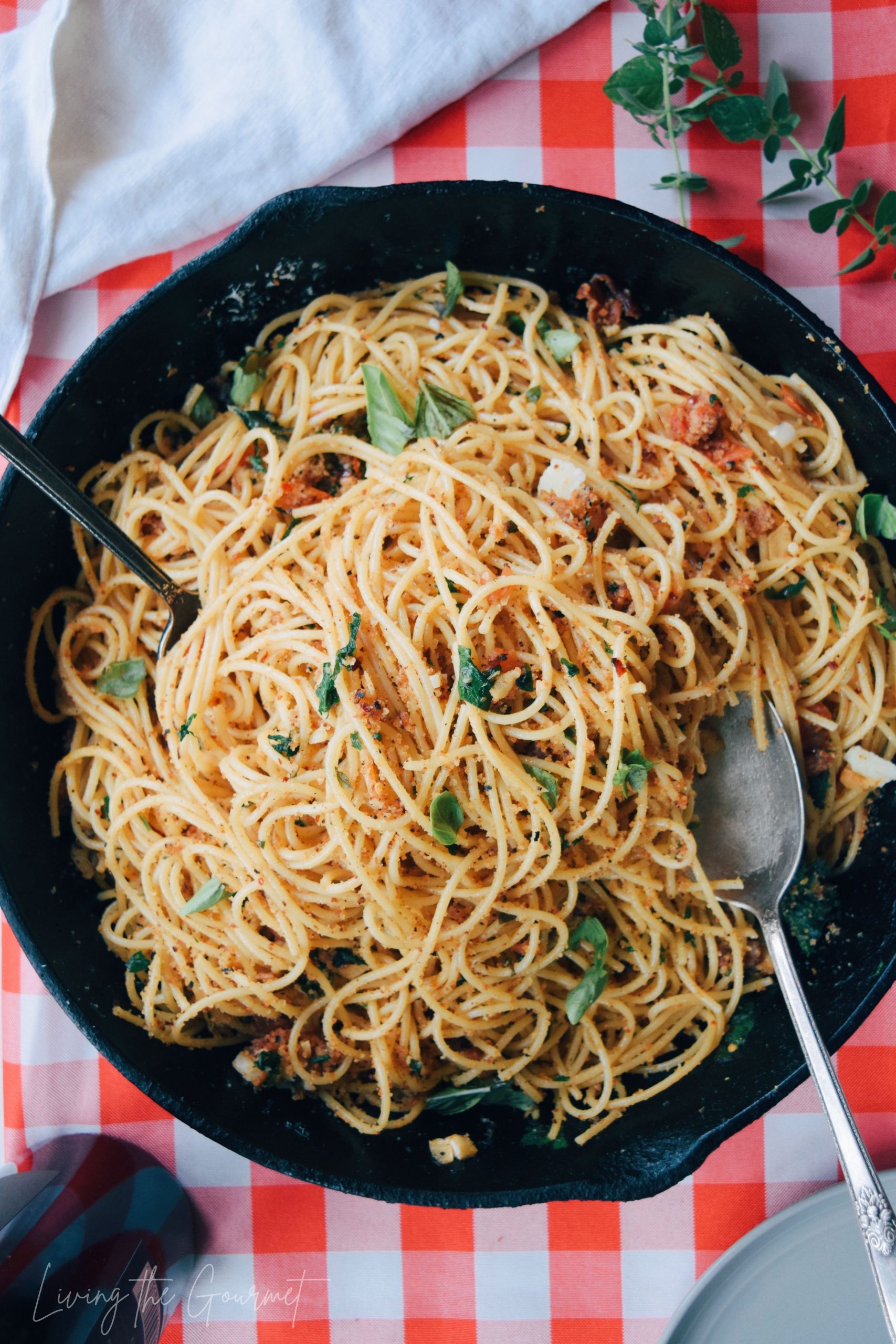 1