Today we're preparing a batch of homemade rosemary potato chips. Savory, crispy, super simple to put together, and always a crowd pleaser, these chips pair great with things like steaks, burgers, or hardy breakfasts, or as a side to a larger antipasto.
Now, let's get frying!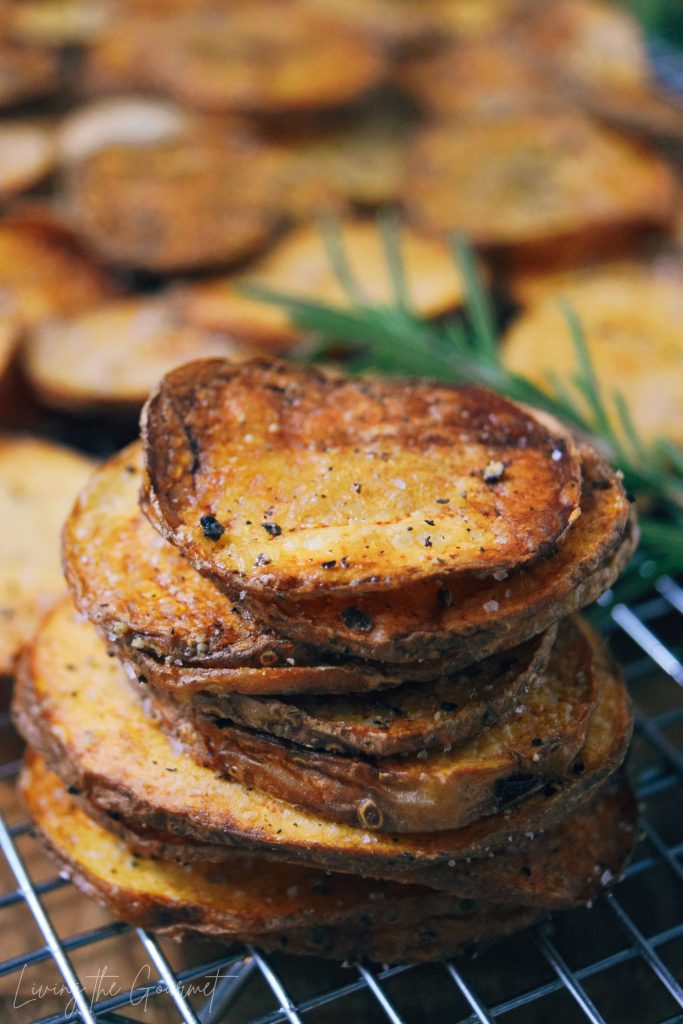 Why To Make Your Own Potato Chips
1) Super simple. Once you've got the hang of pan frying, this recipe really couldn't be simpler to pull off, just slice the potatoes, season, and fry.
2) Ripe for Experimentation. Want spicier fries? Try dusting them with cayenne, or slicing up a few hot peppers into the oil. You can also adjust the crispness by frying a bit longer or shorter. You can also slice them thinner or thicker, if you're so inclined. It really is just that easy.
3) Versatile. As mentioned above, these chips are a delicious pairing to things like steaks or burgers, or as a side to eggs, or as part of an antipasto platter, making this an blissfully versatile recipe.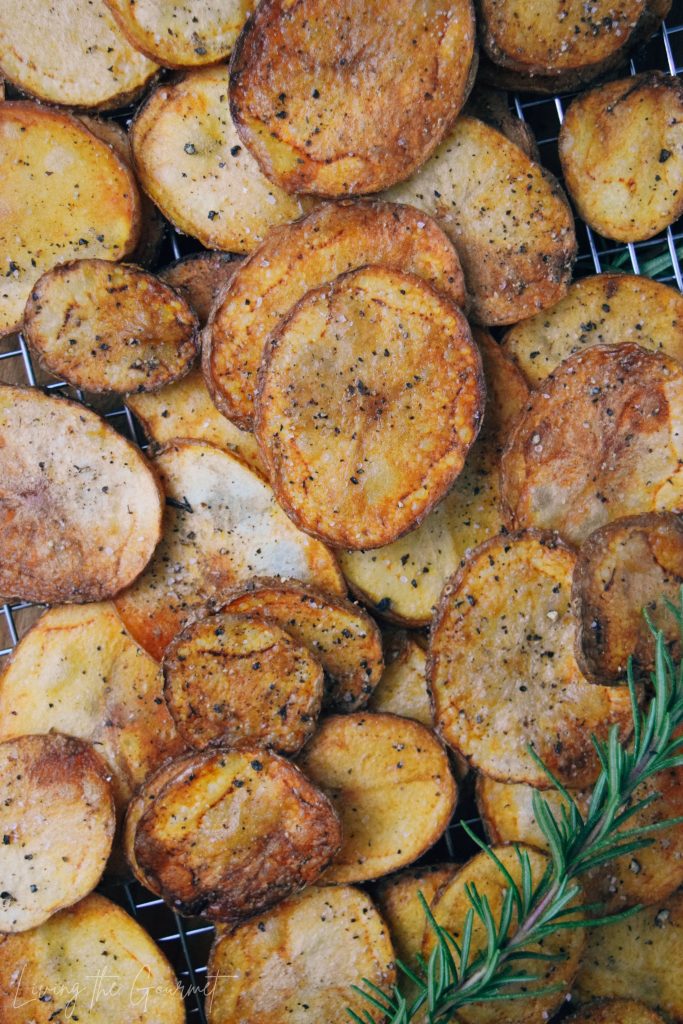 Ingredient Notes and Tips
1) Rosemary. I simply adore the aroma of rosemary, and the way it fills the house. A perennial shrub that grows like a weed throughout the Mediterranean region, rosemary is best described as earthy, astringent, and sharp, qualities that make it ideal for both complementing and breaking through the fattiest of foods, such as lamb, pork, beef, and fatty fishes like shark and salmon – or fried foods such as today's chips. Unlike most other herbs, rosemary maintains virtually all of its aromatics through the drying process, although the flavor profile is, in my opinion, quite muted compared to fresh. I do prefer fresh for this recipe, because we're using it to season the frying oil, as opposed to dusting it over the chips themselves.
2) The Potatoes. For fries, you want medium to high starch potatoes, obvious candidates are Russets and Yukon Gold. Russets are high starch with a mealy texture, making them ideal for baking, mashing, and frying. Meanwhile, Yukon Golds are medium starch potatoes, and are generally considered 'all purpose.' As such, you really can't go wrong with either one for today's fries.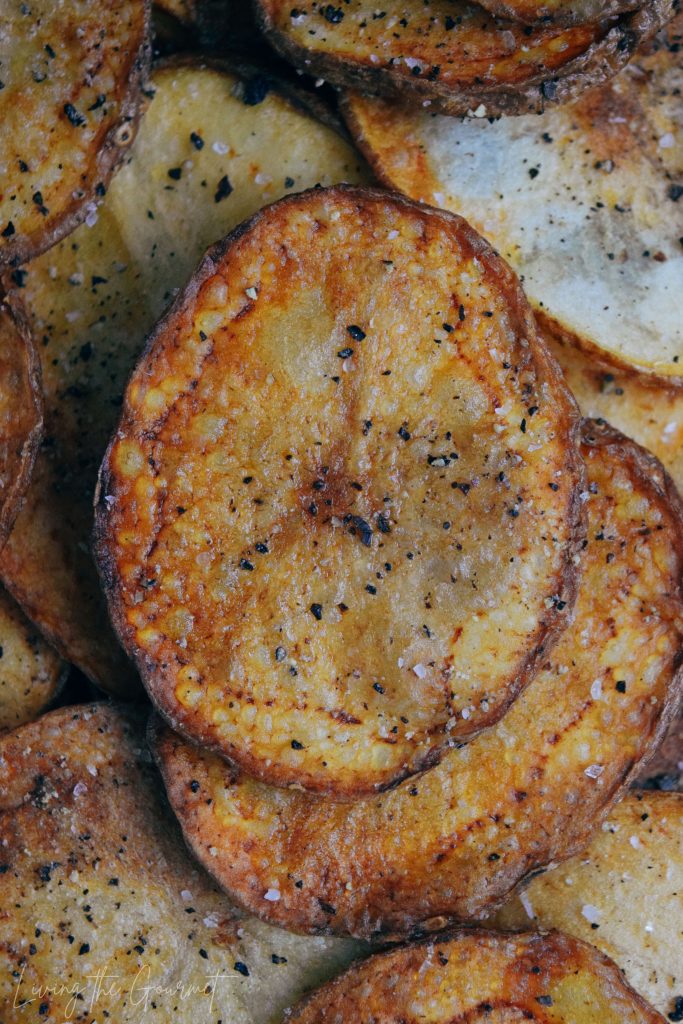 Other Fried Delights from LTG
1) Homemade Onion Rings. Onion rings and today's chips? Yes please. I prepare mine with just a hint of spice, and a thick, dense batter that crisps up beautifully during frying.
2) Crispy Fried Cauliflower Balls. One of my absolute favorite uses for cauliflower. Crisp, crunchy, flavorful, and moist, these are a real treat. If you've got some cauliflower that you aren't sure what to do with, or are simply looking for a new use for cauliflower, these have got you covered.
3) Cajun Fried Chicken. This Cajun-style fried chicken features a substantial, crispy crust that bursting with flavor. Pleasantly spicy, and unabashedly decadent, this is my favorite fried chicken recipe.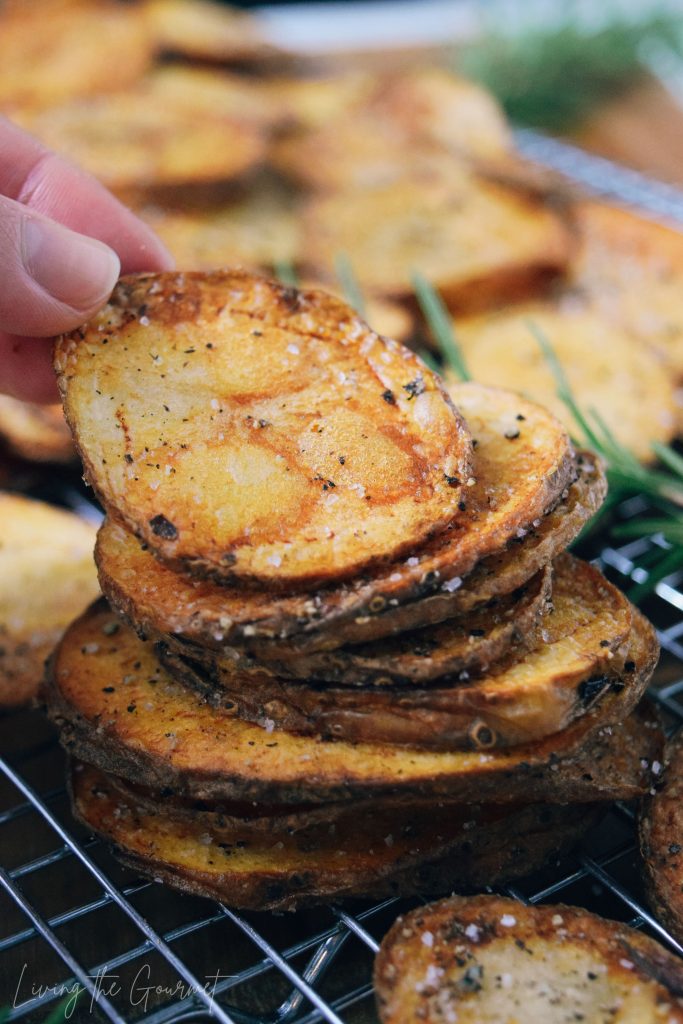 Print
Rosemary Potato Crisps
Author:
Prep Time:

10 minutes

Cook Time:

15 minutes

Total Time:

25 minutes

Yield:

4

1

x
Category:

Side Dish

Cuisine:

American
3

–

4

russet potatoes – skin cleaned and dried
Cooking oil
Fresh rosemary – 3-4 large stems
Sea salt
Fresh ground black pepper
Instructions
Clean the skin of the potato and pat dry.
Slice the potatoes into thin discs and place on paper towels to absorb any moisture.
Heat a large cast iron frying pan with about ¼ – ½ inch of cooking oil.
Add one or two fresh rosemary stems to the heated oil.
Place the discs in the heated infused oil and allow to get a beautiful golden color, carefully turning over once so both sides are golden.  This should take about 3 – 2 minutes per side.
Place on a plate prepared with paper towels and grind fresh sea salt and fresh ground black pepper on the chips.
Serve immediately.
Keywords: side dish, potato chips, potato crisps
Recipe Card powered by
2