This post has been sponsored by Serious Foodie. All opinions expressed are my own.
Today we're preparing 'very' kicked up dinner rolls, which we've 'rolled' with a richly seasoned sweet onion filling. We're putting together today's rolls with a little help from our good friends over at Serious Foodie, whose Asian Fusion Rub takes today's recipe to new levels of deliciousness, but more on them below.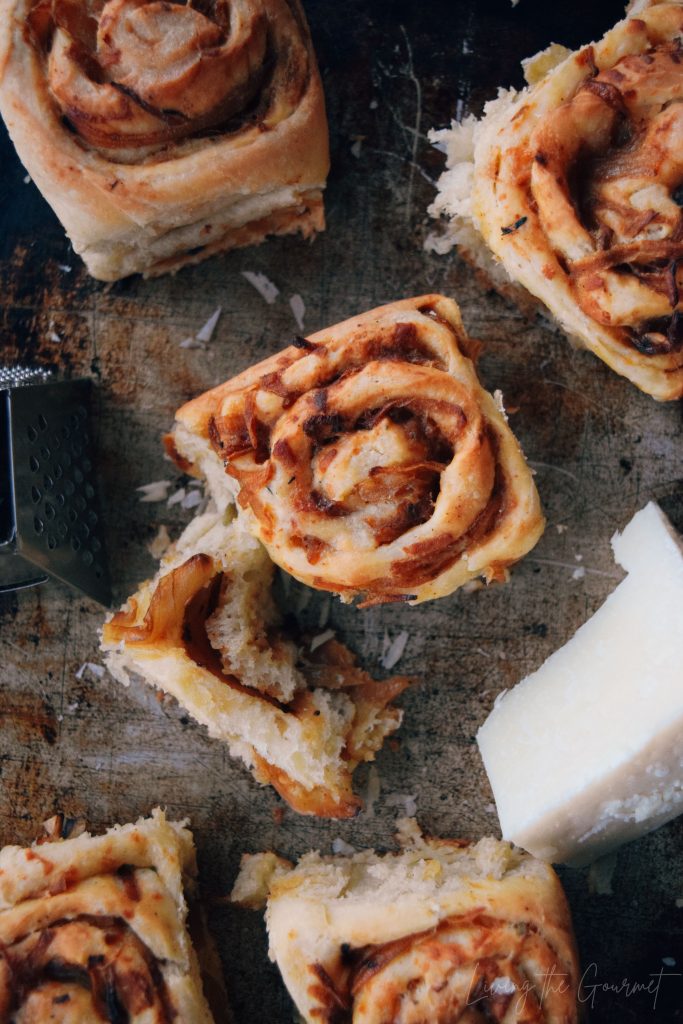 Why You'll Love Today's Dinner Rolls
1) Layers of Flavor. There is 'a lot' going on with today's dinner rolls. We've got the moist, flaky roll itself, swathed around caramelized sweet onions, which are themselves seasoned with fresh garlic, parmesan, and Serious Foodie's Asian Fusion rub. In other words, these things are delicious through and through, and will make a delightful accompaniment for a range dishes from steak to roasted poultry, to hardier meats like lamb and game.
2) Ripe for Experimentation. From seasoning the dough to trying different fillings, such as goat cheese and blistered tomatoes, or crushed herbs, today's rolls are a great starting point for getting creative in the kitchen.
3) They keep. These rolls keep very nicely for several days, and reheat beautifully in the toaster oven.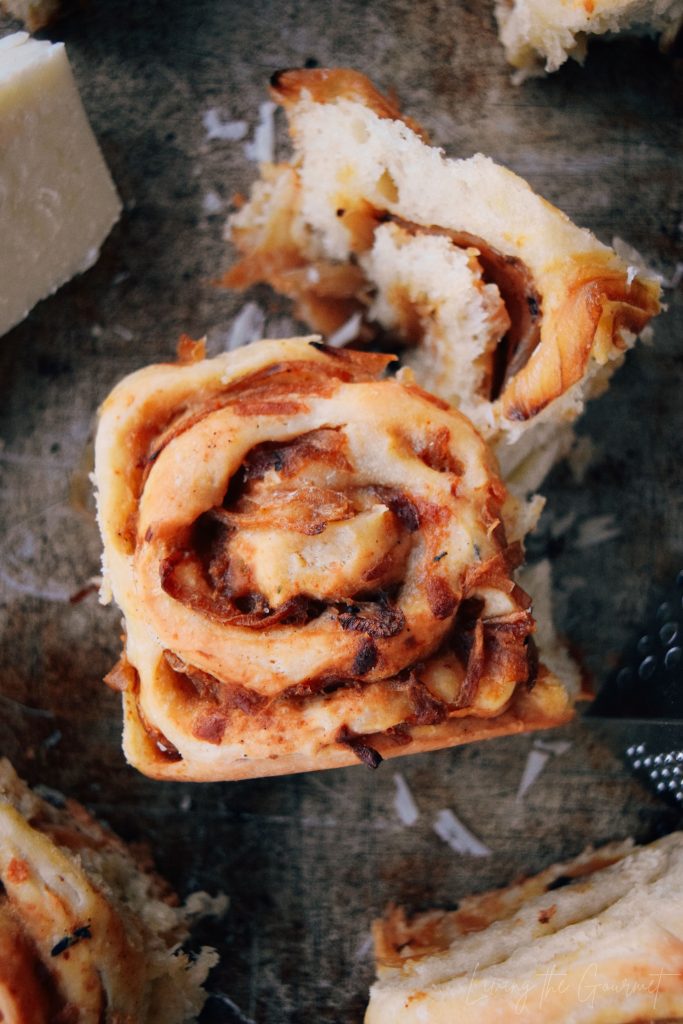 Ingredient Notes and Tips
1) Baking with Yeast. There are a few points to keep in mind when baking with yeast. First off, yeast feeds on sugar, and does so at a set rate. Adding more sugar than is called for will 'not' result in quicker rising dough, or dough that 'rises more.' Second, if you're using dry active yeast, using water that is more than roughly 90 degrees Fahrenheit to proof the yeast will kill it. The ideal temperature for proofing yeast is between 70-80 degrees. Finally, you've probably read that salt counteracts yeast, but this is only true in large quantities. In fact, a total salt content of around 0.5-1 percent of the total dough, will actually help the yeast. If you prefer a saltier bread, you can up the salt share of the dough to a whopping two percent of the dough's total volume without any adverse effects to the yeast. Also, dry yeast packets are generally (though not always) standardized to equate to about two and quarter teaspoons of yeast. As a parting bonus tip, store your yeast in the freezer and it will last considerably longer, since yeast goes dormant at under 50 degrees.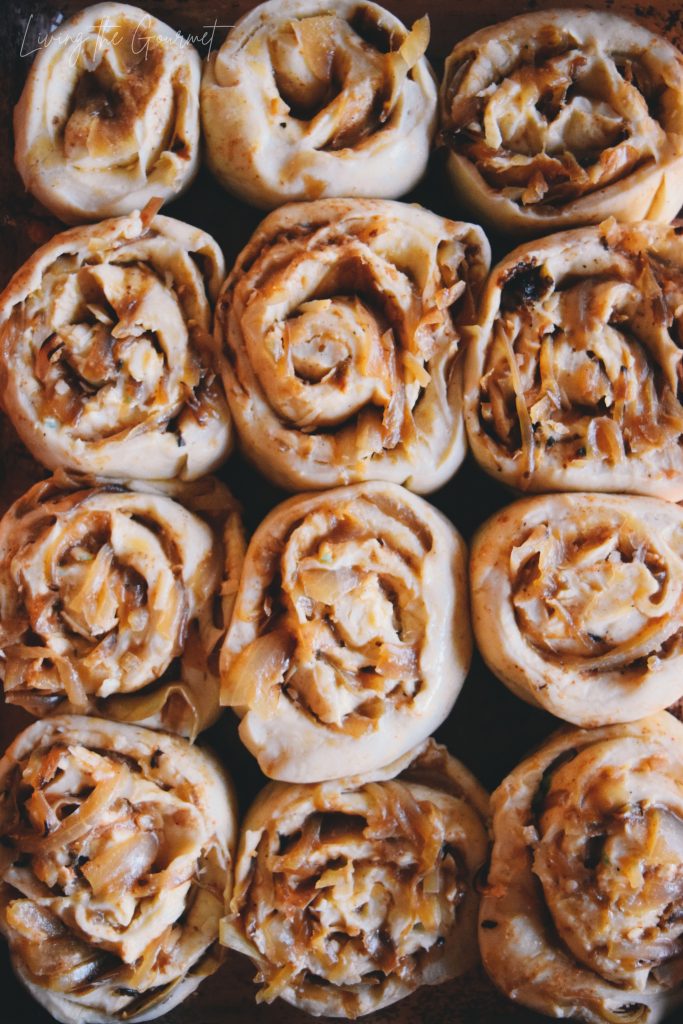 2) Serious Foodie Asian Fusion Rub. If the name sounds familiar, it's because Serious Foodie started out as a popular food and travel blog in 2014. The idea behind starting their own line of rubs and sauces was to encapsulate and share the culinary experiences of their gastronomically-focused travels. And in that regard, I believe they've succeeded. For example, their Asian Fusion Rub is a sweet and spicy mix of paprika and ginger, along with cardamom and coriander, while cumin and Bird's Eye Chili powder round out the flavor profile. The idea behind their products is to create restaurant-quality culinary experiences for home chefs, such as their Sri Lanka Coconut Lime Hot Sauce, a delicious mix of sweet, sour, and spicy, that works beautifully in stir fry. Their Indonesian Sambal Hot Sauce is a blissfully simple combination of chilies, lime juice, and garlic, making it sublimely versatile – the way a good Sambal should be. Their Vietnamese Sweet Chili Hot Sauce is packed with chili and garlic, creating a sauce that's pleasantly tangy and spicy, making it great for beef and pork dishes. Seriously, give Serious Foodie a try, you won't be disappointed, I promise.
3) The Grating Cheese – The Choice is Yours. While all grating cheese is 'more or less' interchangeable, it is 'not' all the same. Starting here in the States, Parmesan is simply American produced Parmigiano Reggiano. Both Parmesan and Parmigiano Reggiano are produced from cow's milk, and both are aged for two or more years, which imparts the cheeses with what many describe as a 'sharp' and 'salty' flavor. However, Parmigiano Reggiano 'must' be produced in Italy due to EU and Italian trademark laws. So, at least in this case, the two grating cheeses are, in fact, basically the same, although Reggiano is considerably pricier, and regarded to be of generally higher quality overall. Pecorino Romano (which includes Locatelli, which is simply a brand of Pecorino Romano), by contrast, is produced from sheep's milk, and is aged for less than a year, giving it a slightly less sharp and considerably less salty flavor. Despite these differences, these three cheeses are often used interchangeably, and once they've been melted over sauce, or baked into something like a lasagna, few if any palates can tell the difference, unless of course these cheeses were used in positively 'silly' amounts.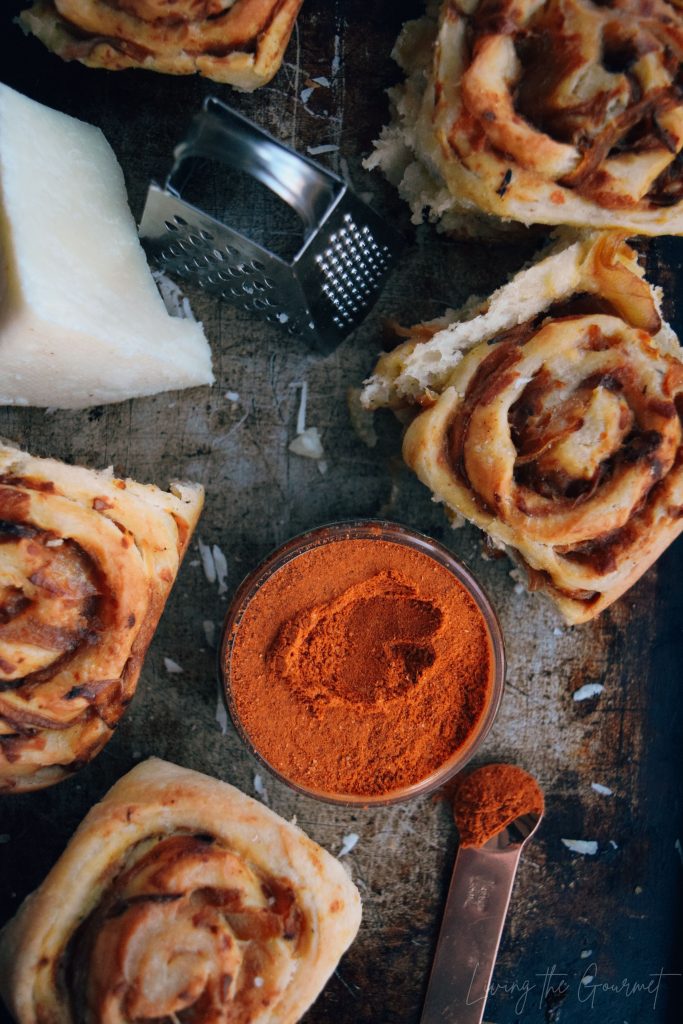 More Baked Delights from Living the Gourmet
1) Best Ever Buttery Flaky Biscuits. Whether its biscuits and gravy, biscuits with fried chicken, or the perfect biscuits for breakfast sandwiches, our Buttery Flaky Biscuits should be your go-to recipe. This is classic comfort food.
2) Homemade Breadsticks. Paired with some olive oil for dipping, or even some herbed butter or black coffee, these are super versatile and keep great. As a nice bonus, they never fail to impress the guests.
3) Flatbreads aka Wheat Tortillas. These are staple in my home. They pair deliciously with almost anything, from the 'wrap' in egg wraps, to the bread for antipastos, to simply dipping in oil, or simply as dinner bread, these are definitely worth learning to make.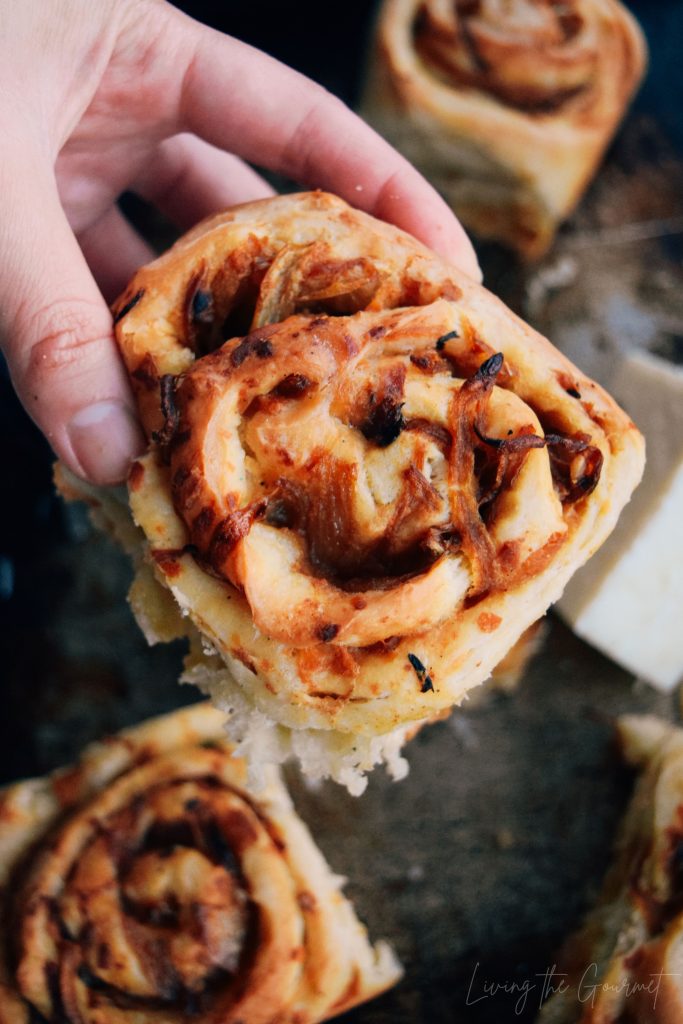 Print
Caramelized Onion & Cheese Rolls
---
Author:

Total Time:

2 hours 45 minutes

Yield:

12

rolls

1

x
For the dough:
1

cup

whole milk

1 teaspoon

sugar

1

envelope active dry yeast (

2 1/4 teaspoons

)

4

cups

AP flour, plus more for dusting

1 teaspoons

baking powder

2 teaspoons

Kosher salt

1

large egg, lightly beaten

6 tablespoons

unsalted butter, melted
Nonstick spray or vegetable oil, for the bowl
For the onion filling:
For the seasoned butter:
---
Instructions
In a small saucepan over a low flame, heat the milk until warm to the touch but not scolding hot.  Promptly remove from the stove and into a small bowl or large mug.  Now proof your yeast by stirring the yeast and sugar into the warmed milk.  Allow to sit and let rise, about 10 minutes.
In the bowl of stand mixer, combine flour, baking powder, and salt.
Add the proofed yeast, beaten egg, and melted butter.  With the dough hook attachment, mix until a smooth but slightly sticky dough forms.  Transfer the dough over to a clean greased bowl.  Cover and allow to rise until doubled in size, about 2 hours.
For the onion filling, in a large cast iron pan over medium-high heat, cook down the sliced onions with sugar until slightly golden.  Add the minced garlic and spices.  Once the onions are completely caramelized, remove from heat and set aside.
In a small bowl, whisk melted butter and spices for the seasoned butter.  Set aside.
Once the dough has doubled in size, punch down and turn out onto a lightly-floured work surface.   Roll to a 16 x 10-inch rectangle. The rolled dough will be about 1/4- to 1/3-inch thick.
Brush the entire dough with the seasoned butter, then spread the caramelized onions evenly over the entire rectangle.  Finally, sprinkled the grated Parmesan all over.
Roll dough up into a tight coil, pressing lightly as you roll to make sure there are no gaps between the dough and the filling.  Cut the log into twelve rolls.  Arrange the rolls neatly into a 9 x 13-inch baking pan.  Cover with clingfilm and then a heavy kitchen towel.  Leave the rolls to rest until they have puffed, about 1 hour.
Preheat oven to 375 degrees F.  Bake the rolls for about 30-35 minutes, until golden and the filling starts to bubble.
Remove from the oven and let cool slightly before serving.  Enjoy!
Prep Time:

15 minutes

Inactive Prep Time:

2 hours

Cook Time:

30 minutes
Keywords: bread, quick bread, pizza rolls, side dish, main dish
Recipe Card powered by
2