This post has been sponsored by our new friends over at Rani Brand Authentic Indian Products, whose line of premium spices will elevate your kitchen game to new heights. All opinions expressed are my own.
Today, we'll be pairing our Tandoori Chicken with a delicious raita, which is a blissfully refreshing yogurt sauce made with masala, red onion, and cucumber, along with a tall stack of homemade naan, which we'll be brushing with melted butter.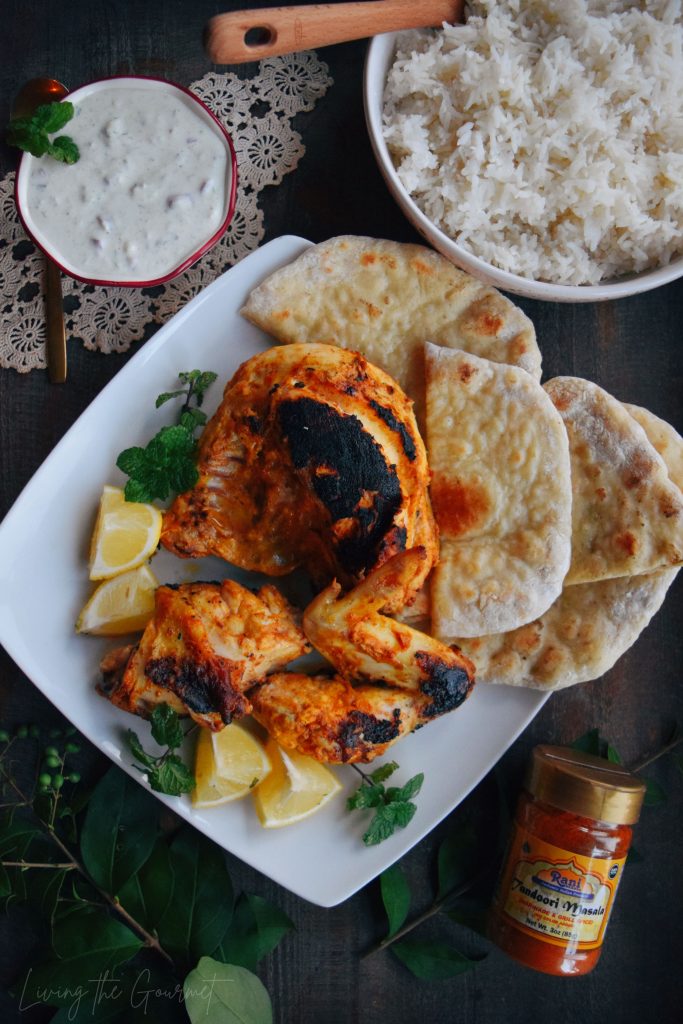 Why to Try Today's Recipes
1) The Naan. I have a post devoted to homemade naan here on Living the Gourmet, and while I won't say that the process of making naan is 'simple' or 'quick,' I will say that it is intensely rewarding, and very much worth the effort. It instantly elevates homemade dinners, being moist and pliable, making it perfect for dipping, wrapping, or even as part of an appetizer spread. Seriously, along with my homemade tortillas, these are one of my staple homemade bread recipes – and today's tandoori chicken simply wouldn't be complete without them.
2) The Raita. For those who are unfamiliar with delicious sauce, think of raita as a slightly more complex (in a good way) tzatziki. Made from a mix of yogurt, lemon juice, and cucumbers, raita is a crisp and refreshing dipping sauce for roasted meats, and as a topping for naan. The addition of red onions and masala give it a much more complex flavor profile, just a bit earthy with a hint of heat.
3) The chicken is super simple to make. Seriously, just combine the ingredients for the marinade in a bowl, then let the chicken marinate for a couple hours before giving it a quick pan fry then finishing it off in the oven. Simple and delicious!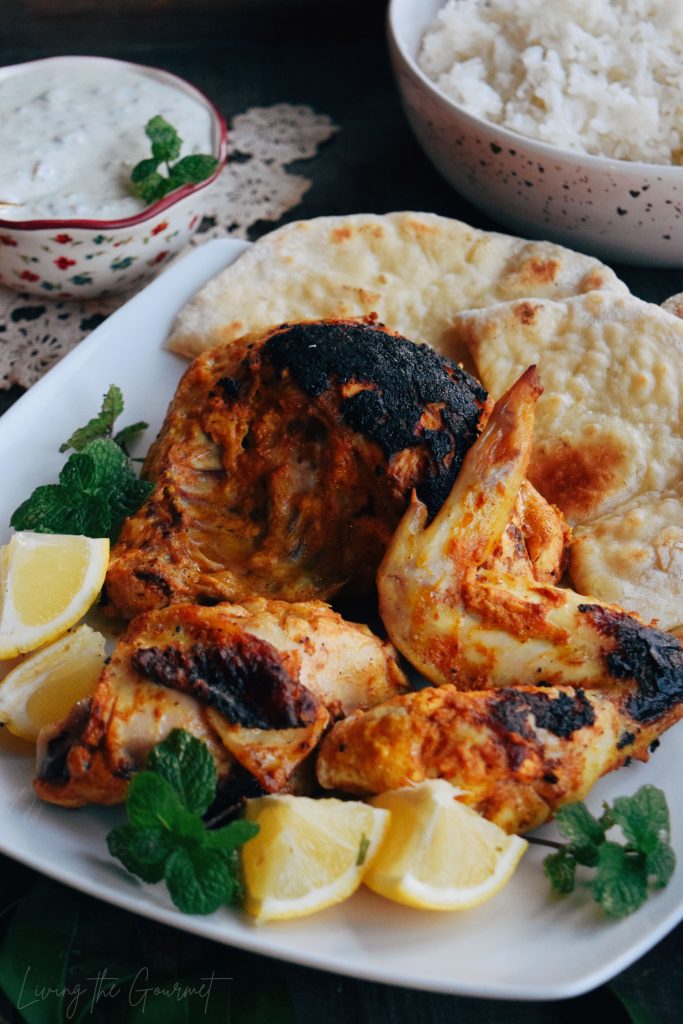 Ingredient Notes and Tips
1) Chili Powder – What is this stuff, really? Chili powder is composed of pulverized dried 'chilis,' which can be almost anything – from anchos to piri-piris, to jalapenos, Indian red chilis, or chile de arbol peppers. In other words, if it's in the genus capsicum it's likely found its way into a chili powder blend. Notice that last word 'blend.' Yes, virtually all chili powders available on the market are 'blends' of not only multiple chilis, but also various spices. This means that the taste of chili powders can vary dramatically from maker to maker, and especially from region to region, since chili powder is a touchstone ingredient of different cuisines from around the world. That said, while some chili powders do pack a 'little' heat, chili powder is 'not' used to bring spice to a recipe. Instead, chili powder is used to bring earthy and rustic flavors, with a 'warming' background notes – and it doesn't take a lot of chili powder to achieve this. Similar to cayenne pepper, a small amount tends to go a long way.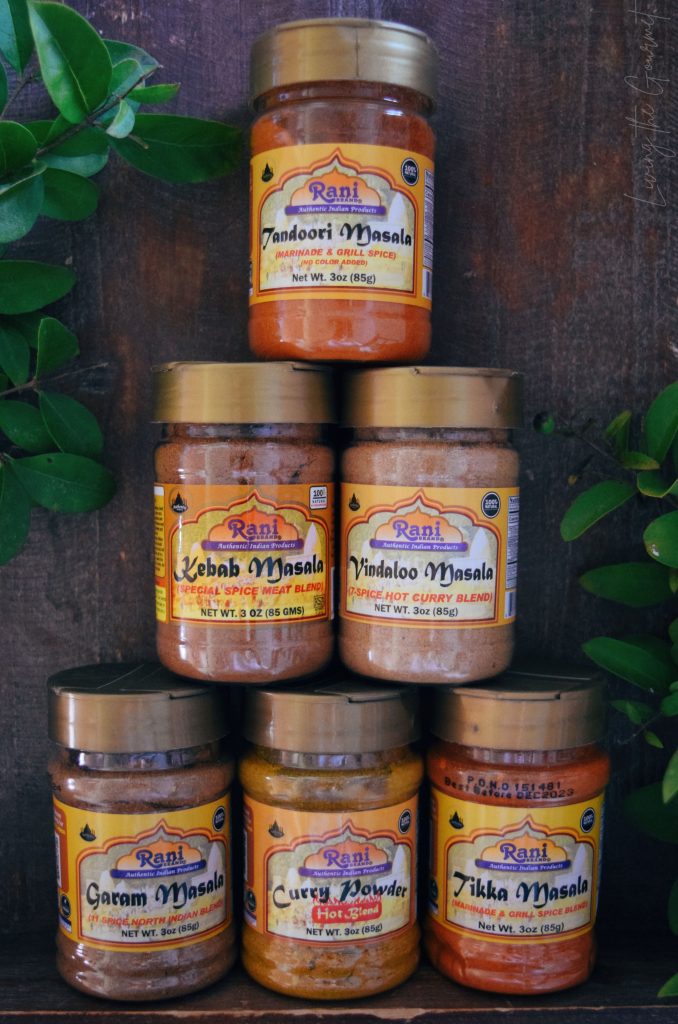 2) Rani Brand. For over 35 years, Rani has been a leading producer of top-quality Indian products. Family owned and operated, Rani should be your go-to brand for staples like curry powder and garam masala, but also for harder to find Indian products such as asafetida. In addition to spices, they have a diverse and varied catalogue, ranging from Indian rice and lentils, to curries, chutneys, and sauces. Seriously, check them out, you won't be disappointed.
3) Rani's Tandoori Masala Seasoning. Their Tandoori Masala, in addition to being perfect for today's oven roasted chicken, is also perfect for barbecuing pork and poultry, or for things like creamy lentil stews. This spice blend features a beautiful fragrant-yet-spicy bouquet, that's rich in earthy essences, with pungent notes of coriander and spicy paprika. It not only tastes fantastic on the chicken, but the aromatics are simply gorgeous.
4) Rani's Vindaloo Masala Seasoning. To season the raita, we're using Rani Brand's Vindaloo Masala. This is a beautifully complex spice blend, reminiscent of the cuisine found in India's southwestern coastal reaches. Those who love spicy curries will especially love this seasoning, which features an intense aromatic profile, rich in coriander and ginger notes, veiled over hints of roasted chilies. While this would make an especially nice companion to simple basmati rice, or mixed into a refreshing dip like today's raita, it also works well as a rub for roasts and poultry.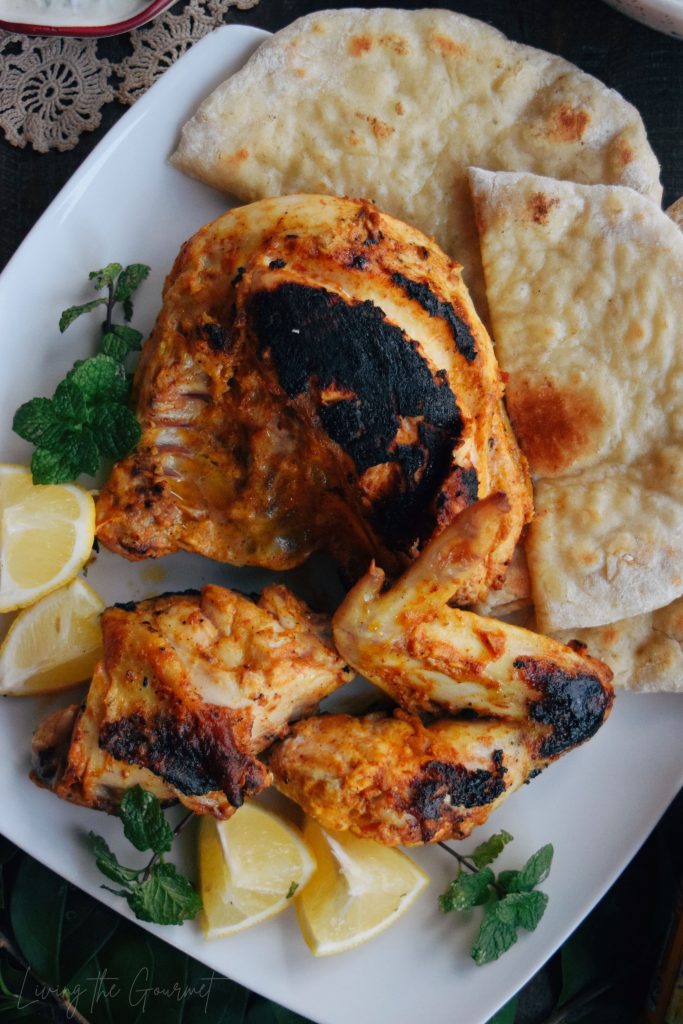 5) Red Onion vs White Onion vs Yellow Onion vs Sweet Onion. Yellow onions are basically the 'workhorse' of the 'onion family.' They are perfectly palatable raw, and cook up quite nicely, they also lack the 'pungency' of other onions, featuring a balanced astringency. This makes them ideal for almost any cooked recipe that call for onions, especially sauces and soups, since they become sweeter the longer they cook. Spanish Onions are a type of yellow onion, but are somewhat sweeter, and pack less of a 'bite.' By contrast, Red Onions are the go-to onion for 'uncooked' recipes, being sweet, crisp, just a touch pungent, and a beautiful shade of 'vegetable red.' This is why they often feature prominently in things like Greek and Sicilian salads, fresh salsas, and the like – such today's raita dipping sauce. Then we have Sweet Onions, which completely forgo 'oniony bite' and astringency in favor of 'actual' sweetness. Seriously, I've bitten into these things like an apple. Since these onions are so delicious raw, they feature prominently in things like garden salads, sandwiches, raw salsas, uncooked relishes, and the like. However, this sweetness comes at the price of perishability, meaning Sweet Onions tend to sour a bit more rapidly than their non-sweet counterparts.
6) The Cucumber. The two types of cucumbers you're likely familiar with are 'Slicing' and 'English' cucumbers. The primary and most obvious difference is the sheer size. English Cucumbers are quite long, and quite slender for their length. By contrast, 'slicing cucumbers' are shorter and 'fatter' – relative to their length. Slicing cucumbers also feature a darker skin, which is also typically quite thick and tough – if a Slicing cucumber's skin is 'not' thick and tough it's likely going bad. Apart from shape and size, English cucumbers are typically sweeter, having smaller and fewer seeds, while slicing cucumbers have a copious amount of large seeds – which contribute to their bitter flavor, which is why you really want to deseed slicing cucumbers before eating them.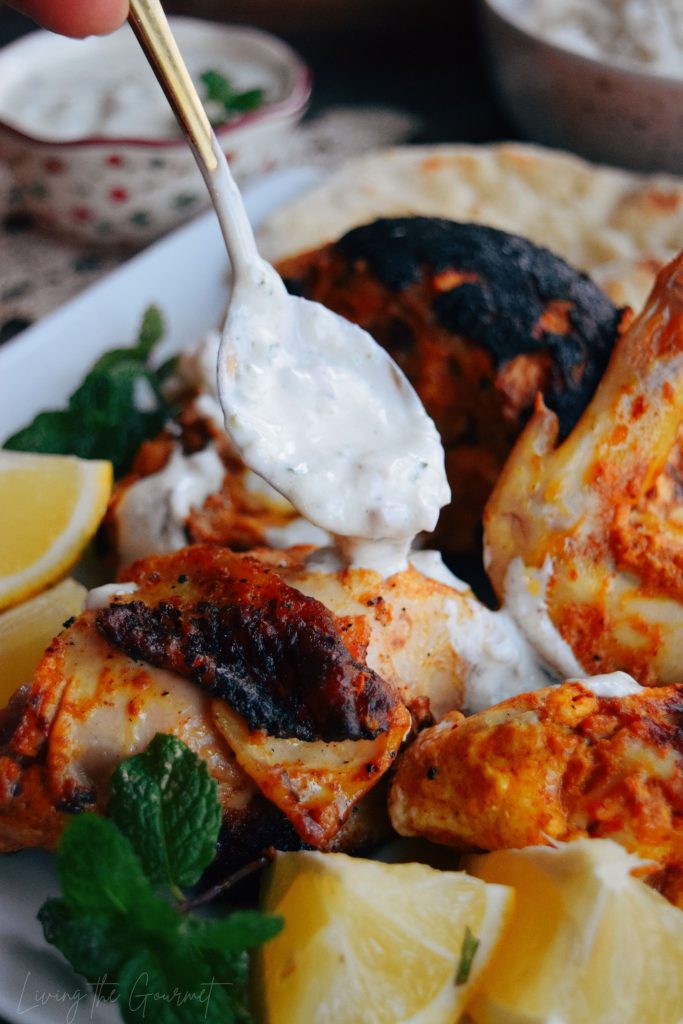 Selecting Quality Chicken – A Brief Primer
If you don't get the chicken right in Tandoori Chicken, there's not much left to get right, so here are a few quick and easy pointers for making sure you pick out the right bird.
1) The Color. Pinker is better. That is, the 'pink hue' beaming through the chicken's skin. As the chicken sits on the shelf, that pink hue will began to fade, which will result in a 'yellowing' texture, and then finally in a 'greying' coloration. Pink is good, yellow is turning, and grey is decay.
2) The Skin. Beyond coloration or hue, the skin contains other important clues as to the quality of the chicken. First and foremost, you want to make sure that the skin is free of blemishes, gashes, bruises, or discoloration. Spines and/or feather fragments, while certainly unpleasant as you'll have to pick them out of the chicken before cooking, actually have no bearing on the quality of the meat below – it simply indicates a less thorough 'cleaning.' Second, if selecting pieces, make sure that the skin doesn't appear 'loose' or 'torn,' as this indicates that the chicken has been poorly handled.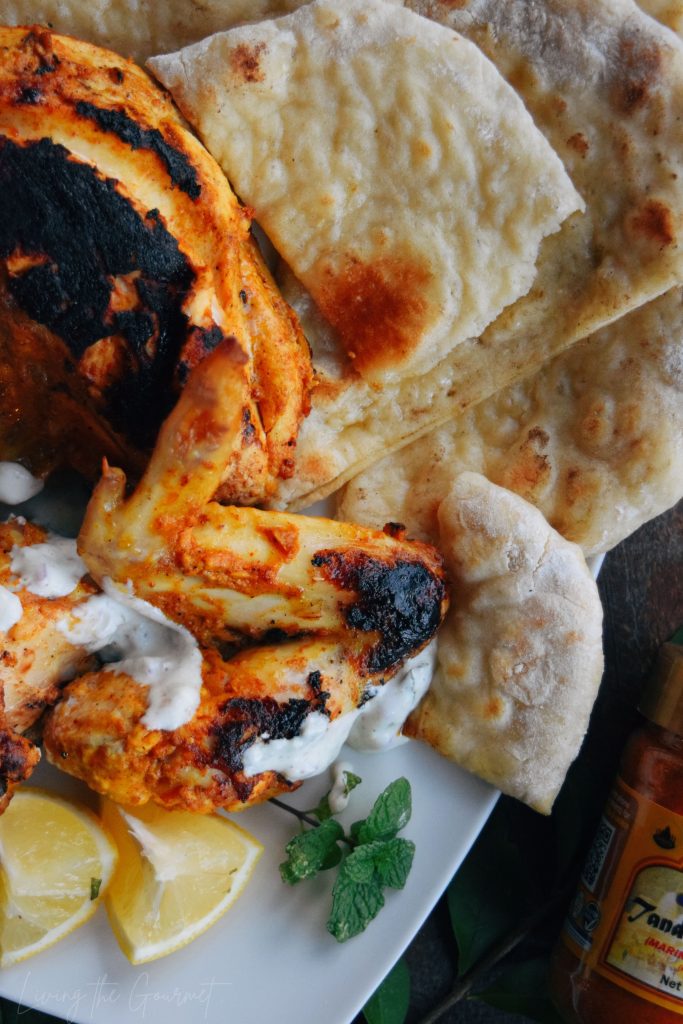 3) The Bone Test. If you're selecting a whole chicken, press on the breast-bone area. You want the breastbone to feel soft or pliable, which is indicative of fresher chicken.
4) Unfrozen. Chicken that's fresh should feel 'malleable' in the hand, as opposed to stiff or ridged.
5) Frozen. Frozen chicken should be absolutely rock solid, and free of any indication of frost or freezer burn.
And that's really it for selecting quality chicken.
Print
Chicken Tandoori
---
Author:

Total Time:

1 hour 10 minutes

Yield:

6

1

x
For the tandoori marinade:
1

½ cups Greek Yogurt

¼

cooking oil
Juice of

1

lemon

5

large cloves garlic, grated

2 teaspoons

red chili powder

Generous pinch of salt and black pepper, to taste

2 tablespoons Rani Chicken Tandoori Masala seasoning

3/4 cup

Greek yogurt

1/3 cup

grated cucumber

Juice of 

½ lemon

2 teaspoons

olive oil

½

small red onion, minced

2

cloves garlic, minced
Salt and black pepper to taste

1 teaspoon

Rani Vindaloo Masala spices
---
Instructions
In a large bowl, combine all the ingredients for the marinade.  Toss the chicken pieces into the marinade, cover, and leave in the refrigerator about at least 2 hours.




Preheat oven to 375 degrees F.




In a large baking pan, line the marinated chicken pieces and bake for about 35-40 minutes, or until the internal temperature meets 165 degrees F and the juices are clear.




While the chicken is cooking, in a medium bowl, whisk together all the ingredients for the Raita (yogurt sauce).  Set aside in the refrigerator until ready to serve.



Serve with naan

, fresh raita, and your favorite side dish such as a sautéed vegetable and/or coconut rice.
Notes
**Prep Time does NOT include Inactive Prep Time
Prep Time:

15 minutes

Cook Time:

55

Cuisine:

Indian
Keywords: chicken, poultry, tandoori, chicken tandoori
Recipe Card powered by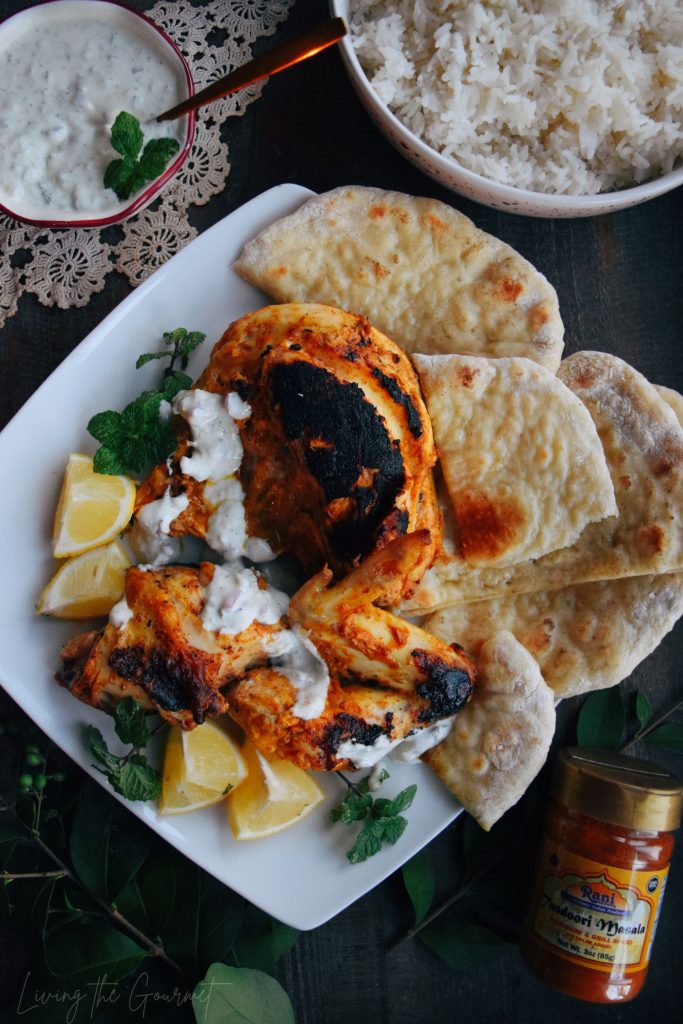 0