Savor the flavors of summer with our mouthwatering Chicken Caprese Skewers! This delightful recipe brings together the vibrant essence of a classic Caprese salad and turns it into a delightful, Mediterranean-inspired experience. Get ready to elevate your appetizer game fresh summer flavors, or enjoy a light and satisfying main course that celebrates the best seasonal ingredients.
Grilled chicken, creamy mozzarella, juicy cherry tomatoes, and aromatic basil leaves come together on these delightful skewers, creating a symphony of fresh and wholesome flavors. Each bite bursts with the essence of sun-ripened tomatoes, fresh basil leaves, and succulent grilled chicken, delivering an experience that will transport your taste buds to an Italian summer paradise.
The appeal of these Chicken Caprese Skewers lies not only in their simplicity but also in their versatility. Whether you're hosting a summer soiree, planning a delightful family dinner, or craving a light lunch option, these skewers are the perfect fit. Plus, they are so quick and simple to prepare that you'll be spending more time enjoying the company of your loved ones than in the kitchen!
With every succulent bite, you'll experience the delightful contrast of creamy mozzarella against the juicy sweetness of cherry tomatoes, all accented by the aromatic basil leaves. It's a culinary masterpiece that embodies the essence of summertime freshness.
So, are you ready to embark on a tantalizing journey of flavors? Join us as we guide you through the simple steps to create these delightful Chicken Caprese Skewers. Your taste buds will thank you, and your guests will be raving about this delightful dish!
Continue reading to find out how to assemble these skewers, and discover some delightful variations to cater to all your taste preferences. Now let's dive into a culinary adventure that brings the spirit of Caprese to your table!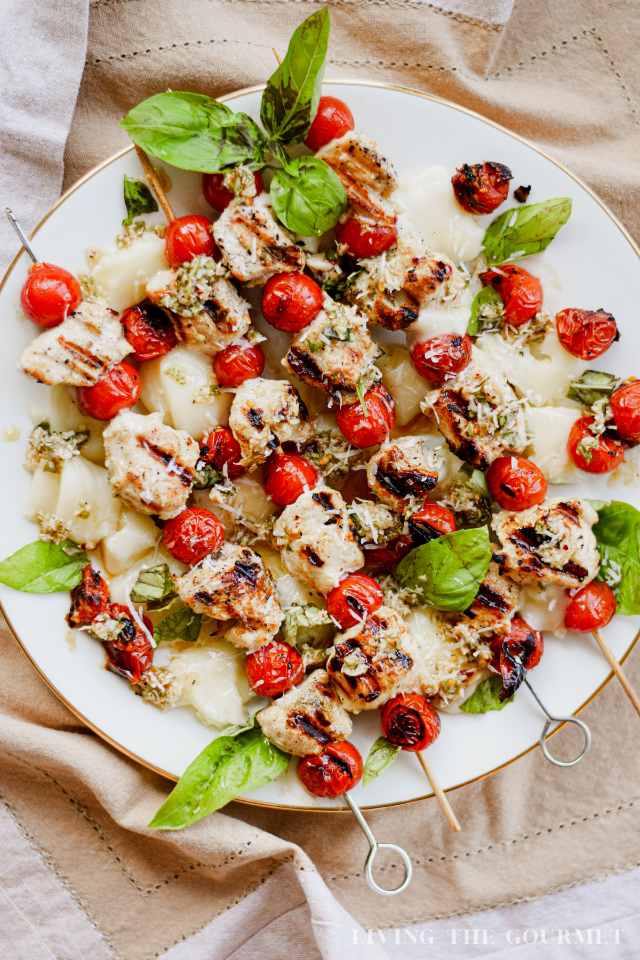 Ten Reasons to Love (and try!) Caprese Skewers
Bursting with Freshness: The Chicken Caprese Skewers bring together the vibrant flavors of juicy cherry tomatoes, creamy mozzarella, and fragrant basil, creating a burst of freshness in every bite.
Quick and Simple: With simple and accessible ingredients, these skewers are a breeze to put together, making them perfect for quick and hassle-free meal prep.
Versatile Delight: Whether you're hosting a summer BBQ, a casual family gathering, or seeking a light and satisfying meal, these skewers are incredibly versatile and fit seamlessly into any occasion.
Beautiful Presentation: The colorful combination of ingredients threaded onto each skewer makes for an eye-catching and visually appealing dish, adding a touch of elegance to your table.
Perfect Blend of Flavors: The succulent grilled chicken adds a delightful depth to the classic Caprese combination, creating a harmony of flavors that will leave taste buds singing.
Fun Finger-Food Experience: Enjoy the interactive pleasure of savoring each delicious element on the skewer, making these Chicken Caprese Skewers a delightful and enjoyable finger-food experience.
Ideal for Sharing: These skewers are meant to be shared and relished together, bringing people closer and adding a sense of togetherness to any gathering.
Healthful and Wholesome: Packed with nutritious ingredients, this salad is a guilt-free delight that nourishes the body and delights the soul.
Summer on a Skewer: With the taste of sun-ripened tomatoes, the aroma of fresh basil, and the charred goodness of grilled chicken, these skewers encapsulate the essence of summer on a plate.
Creative Twist on a Classic: Embrace the creativity of transforming a classic Caprese salad into a fun and innovative dish, bringing a touch of excitement to your culinary repertoire.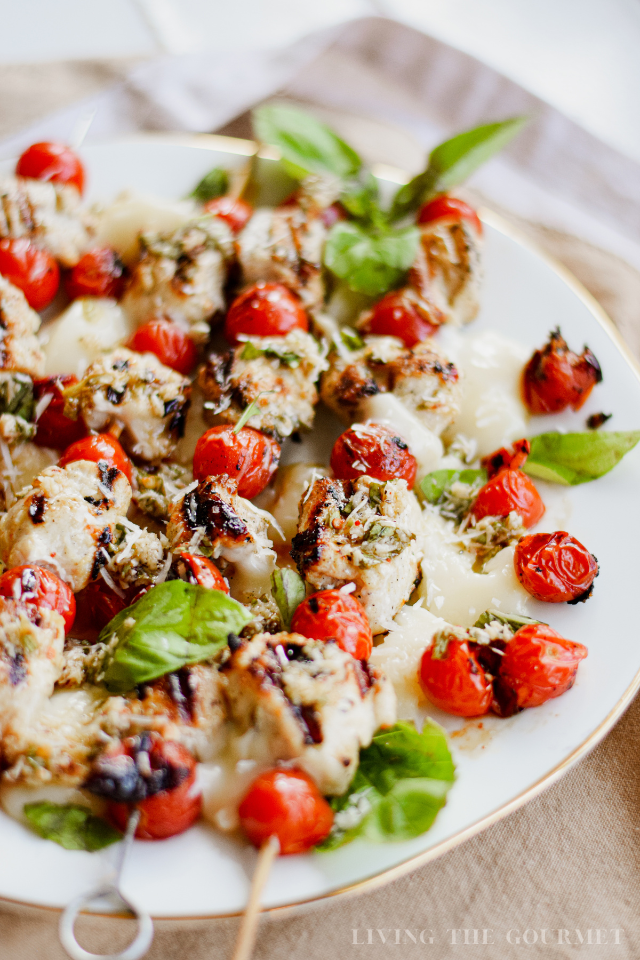 Ingredient Checklist for Chicken Caprese Skewers
Here's a checklist of the four main ingredients you'll need to prepare these skewers, along with notes, tips, and substitutions for each.
Grilled Chicken:

Notes: Use boneless, skinless chicken breasts or thighs for a tender and flavorful result.
Tips: Marinate the chicken with olive oil, garlic, lemon juice, and Italian herbs for added taste. Grill until cooked through and slightly charred for that smoky flavor.
Substitutions: You can use grilled tofu for a vegetarian option.

Fresh Basil:

Notes: Choose fresh, aromatic basil leaves for the best flavor and aroma.
Tips: Stack the basil leaves together and roll them up like a cigar, then thinly slice to create a chiffonade. This technique enhances the basil's fragrance and appearance.
Substitutions: If fresh basil is not available, you can use baby spinach leaves or arugula for a peppery twist.

Mozzarella:

Notes: Opt for fresh mozzarella in small balls or pearls, or cut a larger ball into bite-sized pieces.
Tips: To enhance the creaminess, drizzle the mozzarella with olive oil and a sprinkle of salt before assembling the skewers.
Substitutions: If fresh mozzarella is not accessible, you can use cubed regular mozzarella or bocconcini.

Cherry Tomatoes:

Notes: Select ripe, firm cherry tomatoes for a burst of sweetness and color.
Tips: Thread the cherry tomatoes onto the skewers with the other ingredients, ensuring they are evenly distributed for a visually appealing presentation.
Substitutions: Grape tomatoes or small heirloom tomatoes work well as alternatives to cherry tomatoes.
These main ingredients form the heart of our Chicken Caprese Skewers, creating a delightful blend of flavors and textures. The grilled chicken adds savory and smoky notes, while the fresh basil provides a refreshing and aromatic touch. The creamy mozzarella complements the dish with its milky richness, and the cherry tomatoes bring a burst of juicy sweetness. Assemble these ingredients on skewers for a visually stunning and appetizing dish that will impress your guests and brighten any mealtime.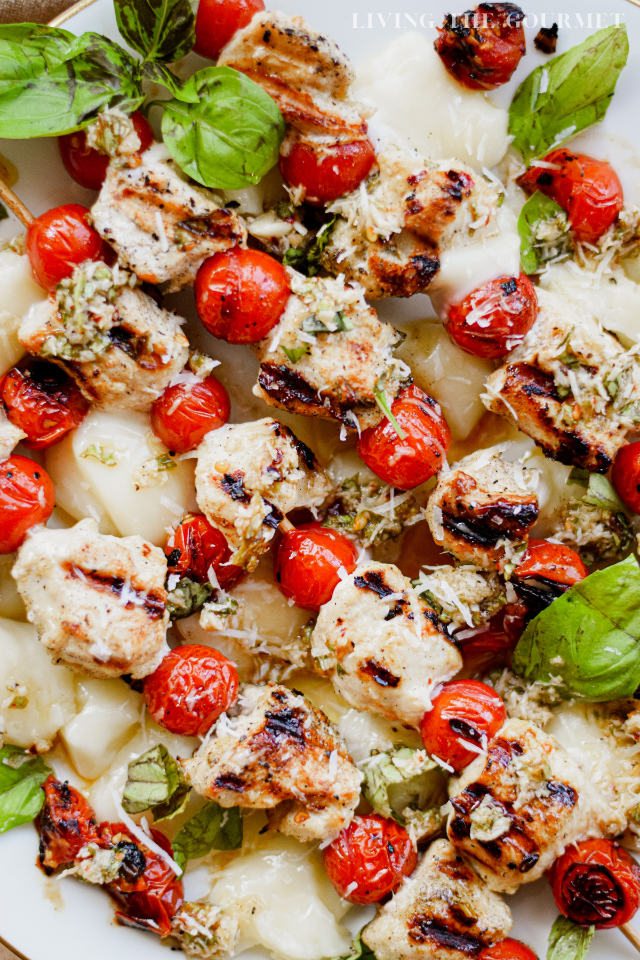 Variations – Making these Skewers Your Own
Balsamic Glaze Drizzle:

After grilling the skewers, drizzle a luscious balsamic glaze over the top. The sweet and tangy notes of the glaze beautifully complement the savory chicken, creamy mozzarella, and juicy cherry tomatoes, adding a delightful depth of flavor.

Dried Oregano Sprinkle:

Before grilling the chicken, season it with a sprinkle of dried oregano and a pinch of salt and pepper. The aromatic and earthy notes of oregano will infuse the chicken with a Mediterranean flair, enhancing the overall taste of the skewers.

Lemon Zest Infusion:

Add a burst of brightness to the skewers by grating some lemon zest over the chicken and mozzarella before grilling. The zesty lemon flavor perfectly balances the richness of the mozzarella and adds a refreshing twist.

Pesto Drizzle:

Serve the Chicken Caprese Skewers with a drizzle of homemade or store-bought basil pesto. The aromatic and herby flavors of pesto complement the fresh basil leaves and create a harmonious blend of taste.

Red Pepper Flakes:

For those who enjoy a touch of heat, sprinkle some red pepper flakes over the skewers before grilling. The mild spiciness adds a tantalizing kick that pairs well with the other flavors.

Garlic Butter Basting:

While grilling the chicken, brush it with garlic-infused butter. The garlic butter adds richness and a garlicky note that enhances the overall taste of the skewers.
These extra flavor suggestions offer delightful twists to the classic Chicken Caprese Skewers, allowing you to customize the dish to suit your taste preferences. Feel free to mix and match these ideas or come up with your own creative combinations for a unique and memorable dining experience.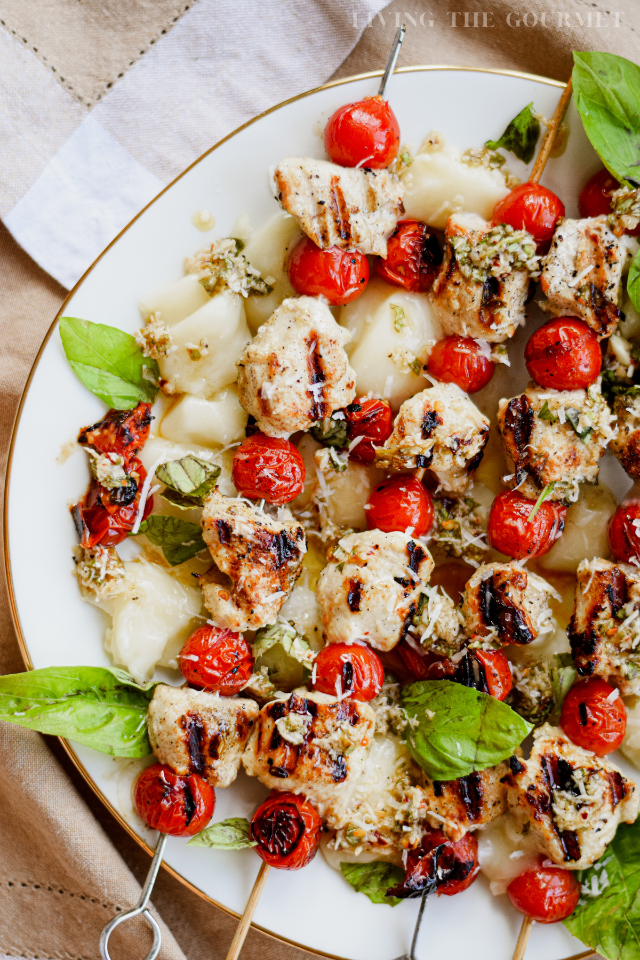 Ways to Serve Chicken Caprese Skewers
As an Appetizer:

Present the skewers on a beautiful platter with a side of balsamic glaze for dipping. This makes for an elegant and appetizing starter at parties or gatherings.

With a Fresh Salad:

Serve the Chicken Caprese Skewers over a bed of mixed greens, drizzled with a light vinaigrette dressing. This creates a refreshing and balanced salad that can be enjoyed as a light lunch or dinner.

In a Mediterranean-Style Wrap:

Remove the chicken, mozzarella, and cherry tomatoes from the skewers and wrap them in a warm pita or flatbread with fresh basil leaves and a dollop of pesto sauce. This creates a portable and delicious wrap for a quick and satisfying meal.

On a Pasta Salad:

Toss the Chicken Caprese Skewers with cooked penne pasta, cherry tomatoes, mozzarella balls, fresh basil, and a simple Italian dressing. This creates a flavorful and hearty pasta salad perfect for picnics or potlucks.

With Mediterranean-Inspired Sides:

Create a Mediterranean-inspired meal by pairing the Chicken Caprese Skewers with sides like hummus, tabbouleh, grilled vegetables, and warm pita bread. This combination offers a delightful spread of flavors and textures reminiscent of a Mediterranean feast.

Alongside Quinoa or Couscous:

Serve the Chicken Caprese Skewers with a side of fluffy quinoa or fluffy couscous seasoned with herbs and a drizzle of olive oil. This adds a wholesome and satisfying element to the meal.

In a Salad Bowl:

Arrange the Chicken Caprese Skewers over a bed of quinoa, mixed greens, or farro, and add roasted vegetables, avocado slices, and a sprinkle of pine nuts. Drizzle with balsamic glaze or a lemon-tahini dressing for a hearty and nutritious salad bowl.
These various serving options allow for flexibility in presentation and provide an opportunity to explore different flavor combinations. Whether you're looking for an appetizer, a light lunch, or part of a larger Mediterranean-inspired meal, the Chicken Caprese Skewers can easily adapt to your culinary preferences and elevate your dining experience.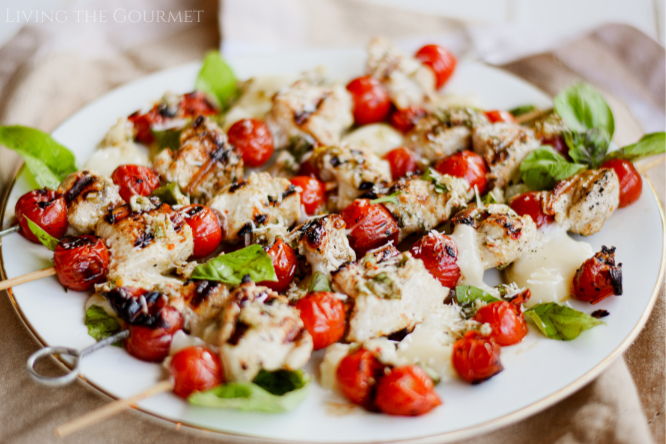 shop this post
Print
Chicken Caprese Skewers
---
Author:

Total Time:

25 minutes

Yield:

4

servings

1

x
1 1/2

-

2

lbs

. of chicken breast, cubed
Mozzarella, fresh or sliced
Fresh basil leaves, for garnish
Cherry tomatoes
Kebab skewers (Note: if using wooden skewers - soak them in water before threading with the chicken and tomatoes)
For the Marinade and Dressing:
8

-

10

fresh basil leaves, sliced thin
Juice of

1/2

fresh lemon

4

tbs. olive oil

1/2 tsp

. coarse black pepper

1/4 tsp

. red pepper flakes

1 tsp

. salt

1 tsp

. sugar

4

cloves of garlic, grated

1/2

cup

of fresh parmesan or Romano cheese, grated
---
Instructions
Prepare the marinade in a large bowl.
Add the cubed chicken and cover with plastic wrap.
Place in the refrigerator for at least 1 hour or up to overnight.
Thread the skewers, alternating the chicken followed by the tomato.  Repeat this process along the skewers.  Note:  Discard any remaining marinade.
Heat a large cast iron griddle, rubbed with olive oil, place the kababs on the heated griddle.
Grill for 4 – 6 minutes on each side of the kabab, or until the chicken is cooked through and the juices run clear.
Make a new batch of the marinade to drizzle over the cooked kebabs.
Serve with fresh basil, fresh grated parmesan or Romano cheese and fresh mozzarella.
Prep Time:

10 minutes

Cook Time:

15 minutes

Category:

Main Dish

Cuisine:

Italian
Keywords: skewers, kebabs, caprese, chicken
Recipe Card powered by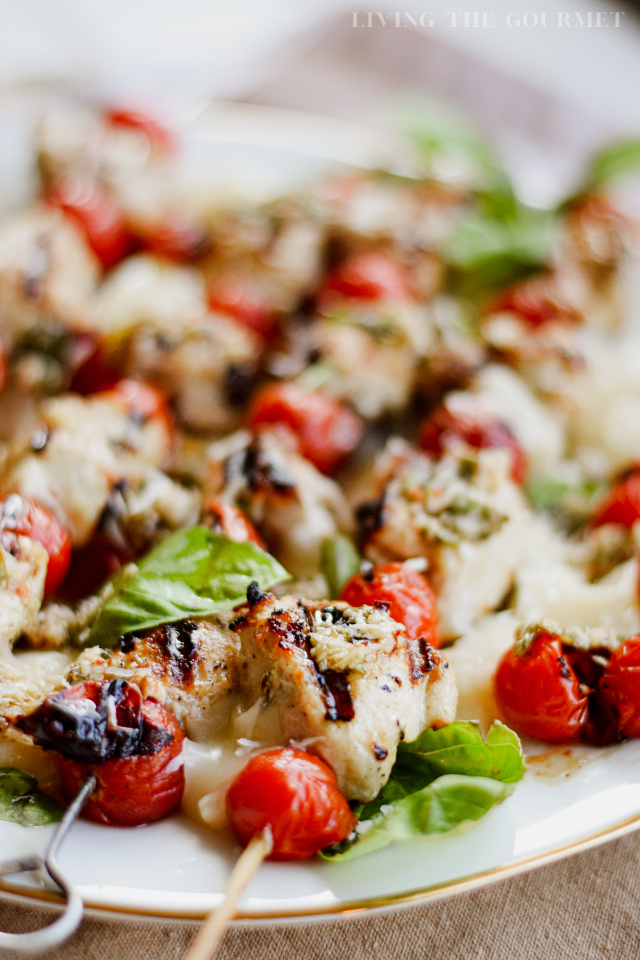 And those are our Chicken Caprese Skewers. I would love to hear about your experience with this recipe, so please share your thoughts and feedback in the comments section below.
And if you haven't already, be sure to subscribe to receive more mouthwatering recipes and culinary inspiration delivered straight to your inbox.
Happy Cooking!
0