This post has been sponsored by Andria's Food Group. All opinions expressed are my own.
Sink your teeth into a delightful and satisfying classic, but with a decadent twist - Buttermilk Barbecue Fried Chicken. This mouthwatering recipe takes our beloved fried chicken to new heights with its irresistible combination of flavors and textures. Picture this: tender and juicy chicken pieces coated in a delectably crunchy exterior, coating a moist and succulent interior, combining to create a beautiful contrast of textures, one that will leave you and your guests craving seconds.
At the heart of this recipe lies the perfect marriage of two key elements - buttermilk and Andria's Barbecue Sauce. The tangy and creamy buttermilk serves as a tenderizing agent, infusing the chicken with a subtle tang, while also keeping it moist and juicy through the frying process. Andria's Barbecue Sauce, courtesy of our good friends over at Andria's Steakhouse, brings its rich texture and sweet and savory flavors to the mix, elevating the recipe to new heights. This exceptional sauce, which I've fallen in love with for its premium quality, thick texture, and perfect balance of sweet, savory and smoky, adds a delightful depth and complexity to today's Buttermilk Barbecue Fried Chicken, truly setting it apart.
Now, let's talk about the coating. A flavorful blend of spices, sugar, and cornstarch creates a thick and crispy crust that seals in the juicy goodness of the chicken. Each bite delivers a satisfying crunch that gives way to the tender meat within, creating a harmonious contrast of textures that will leave you craving more.
Naturally, you will want to pair this delectable Buttermilk Barbecue Fried Chicken with an array of sides and sauces to enhance your dining experience. Serve it alongside classic accompaniments like creamy coleslaw, fluffy mashed potatoes, or tangy pickles. For a lighter option, a refreshing salad with crisp greens and a zesty vinaigrette can provide a delightful balance to the rich flavors of the chicken. Don't forget to drizzle some extra Andria's Barbecue Sauce over your plate to elevate the flavors even further.
Stay tuned for the full recipe, where we'll guide you through each step, from marinating the chicken to achieving that coveted crispy coating. Get ready to bring the enticing flavors of Buttermilk Barbecue Fried Chicken into your own kitchen and create a meal that will have your family and friends asking for seconds. And a special thanks to our sponsor, Andria's Steakhouse, for providing their exceptional Barbecue Sauce to make this recipe truly outstanding.
So, gather your ingredients, roll up your sleeves, and let's dive into the world of Buttermilk Barbecue Fried Chicken. Now, without further introduction, let's fry some chicken.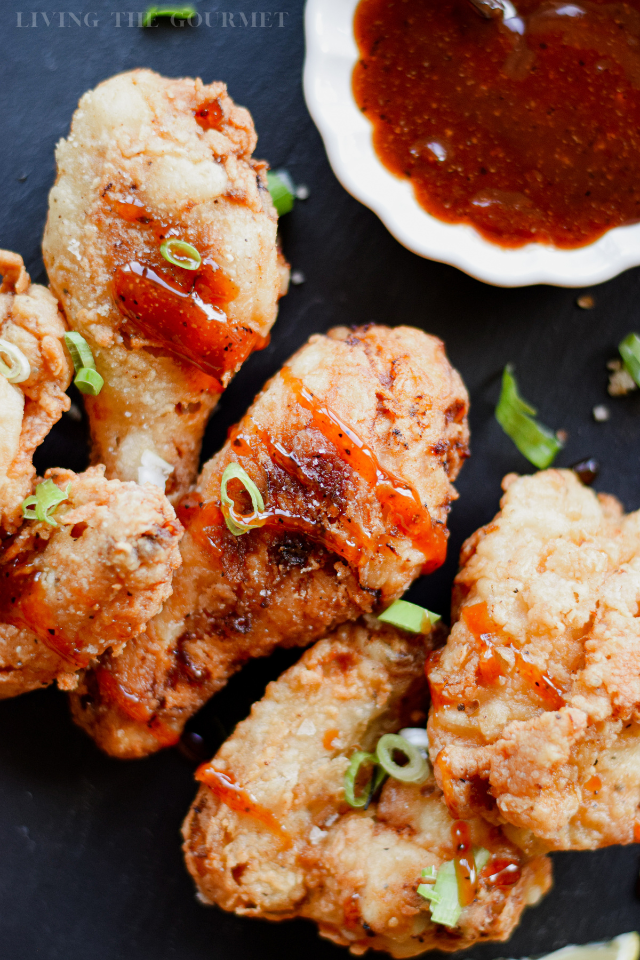 Ingredient Checklist – Everything You'll Need
1 whole chicken, quartered

Note: I'm cutting up the chicken pieces myself, but this is purely a matter of preference. Feel free to buy your favorite selection of precut pieces.
Tip: Make sure the chicken is properly thawed if using frozen chicken.

2 cups buttermilk (or sour milk, see recipe notes)

Note: Buttermilk adds a tangy flavor and helps tenderize the chicken.
Tip: If you don't have buttermilk, you can make a sour milk substitute by adding 2 tablespoons of lemon juice or vinegar to 2 cups of milk. Let it sit for 5 minutes before using.

1 cup Andria's Barbecue Sauce

Note: Andria's Barbecue Sauce adds a rich and savory-sweet flavor to the chicken. It's today's secret ingredient and the star of the show!
Tip: Enhance the flavor journey of our crispy Buttermilk Fried Chicken with the irresistible accompaniment of Andria's Barbecue Sauce. This exceptional sauce strikes the perfect balance between savory and smoky, boasting a luxuriously thick texture and a tantalizingly sweet undertone. While it's a sensational match for grilling favorites like roasts, steaks, burgers, and sausages, its versatility extends to heartier seafood options such as shark or salmon. Whether you choose to dip or drizzle, Andria's Barbecue Sauce is sure to captivate your taste buds. Indulge in the bold flavors and velvety consistency of this sauce, making it an essential addition to any culinary repertoire. Elevate your dining experiences with its mouth watering presence, leaving a lasting impression on every occasion. Don't stop at just the Barbecue Sauce; venture into the world of Andria's and discover their Brush on Steak Sauce and delectable Salad Dressing. Embrace the culinary possibilities and let Andria's sauces become your trusted companions in the kitchen. Give them a try, and embark on a flavor adventure that will delight and surprise your palate.

Salt & Pepper to taste

Tip: Pre-ground pepper is fine for today's recipe. I'd also suggest saving your favorite gourmet salt for other uses. The deep-frying process will cook away all of the subtleties that make grinding fresh pepper or using gourmet salt worthwhile.

1 teaspoon cayenne

Note: Cayenne adds a subtle heat to the chicken.
Tip: Adjust the amount of cayenne according to your spice preference.

1/2 tsp paprika

Note: Paprika adds a mild smoky flavor and a touch of color to the chicken.
Tip: Consider using smoked paprika for an extra layer of smokiness.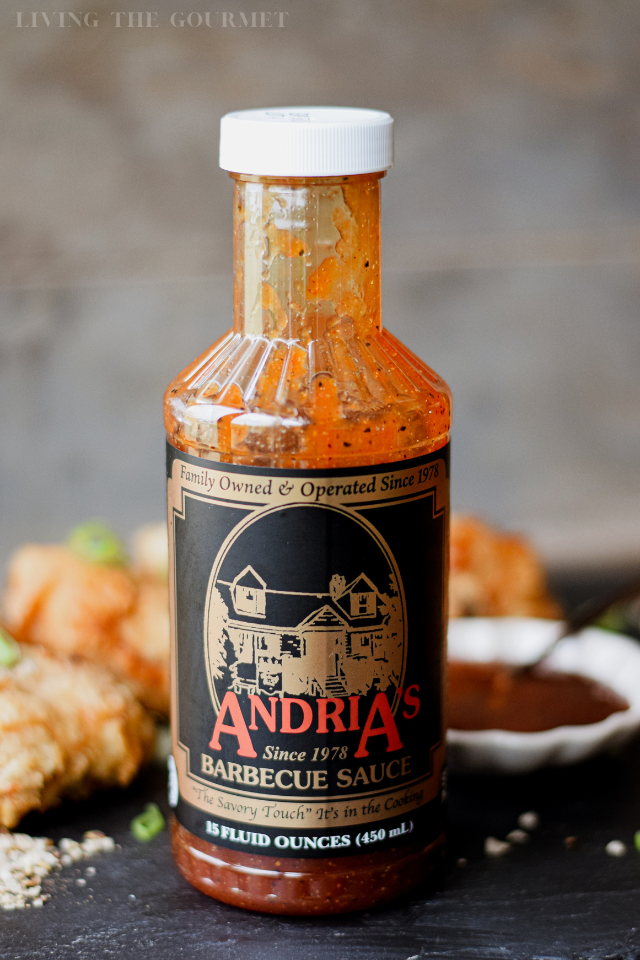 For the Coating:
1 tablespoon sugar

Note: Sugar helps in creating a golden brown and crispy coating on the chicken.

1 tsp garlic powder

Note: Garlic powder adds a savory flavor to the coating.
Tip: If you prefer a stronger garlic flavor, you can use minced fresh garlic instead, just be sure to mince the garlic as finely as you can manage.

1/2 tsp paprika

Note: Paprika in the coating enhances the color and adds a mild smoky flavor.
Tip: Experiment with different types of paprika, such as sweet or smoked, to vary the flavor profile.

1/2 tsp black pepper

Note: Black pepper adds a subtle heat and depth of flavor to the coating.
Tip: Once again, this is one recipe where you can save some time by using pre-ground.

1/2 tsp salt

Note: Salt in the coating helps enhance the overall taste of the chicken.
Tip: Adjust the amount of salt based on your preference.

1 cup cornstarch

Note: Cornstarch helps create a light and crispy texture in the coating.

2 cups all-purpose flour

Note: All-purpose flour provides structure and helps the coating adhere to the chicken.
Tip: You can substitute with a gluten-free flour blend if desired.

Oil for frying

Note: Choose a neutral oil with a high smoke point for frying, such as vegetable, canola, or peanut oil.
Tip: Use enough oil to fully immerse the chicken to ensure even frying. Also, don't overcrowd the pan or pot.
Completing the Summer Feast: Sides and Pairings
Classic Coleslaw:
Serve your crispy fried chicken with a side of classic coleslaw. The creamy and tangy coleslaw provides a refreshing contrast to the rich and flavorful chicken. The crunch of the coleslaw also adds an extra element of texture to the meal.
Southern-Style Cornbread:
Pair your Buttermilk Barbecue Fried Chicken with homemade southern-style cornbread. The slightly sweet and crumbly cornbread is a perfect match for the savory and crispy chicken. It adds a comforting and hearty component to the meal.
Mashed Potatoes:
Creamy mashed potatoes are a classic side dish that pairs well with fried chicken. The smooth and velvety texture of the mashed potatoes complements the crunchy exterior of the chicken. Top the mashed potatoes with a dollop of butter or gravy for an extra indulgent touch.
Biscuits:
Fluffy and buttery biscuits are another fantastic option to accompany your fried chicken. Serve them warm with a pat of butter or a drizzle of honey for a delightful treat.
Corn on the Cob:
Take advantage of the summer season by serving fresh and juicy corn on the cob alongside your fried chicken. Boil or grill the corn and brush it with butter and a sprinkle of salt. The sweet and crisp corn kernels provide a burst of natural sweetness that complements the savory chicken.
Macaroni and Cheese:
Indulge in the ultimate comfort food combination by serving your fried chicken with creamy and cheesy macaroni and cheese. The rich and cheesy pasta pairs well with the crispy chicken, creating a satisfying and indulgent meal.
Grilled Vegetables:
For a lighter and healthier option, serve your fried chicken with a side of grilled vegetables. Season and grill an assortment of colorful vegetables such as zucchini, bell peppers, onions, and eggplant. The smoky and charred flavors of the vegetables provide a nice contrast to the richness of the chicken.
Remember, these are just a few suggestions, and you can mix and match side dishes according to your personal preferences. Get creative and enjoy the process of creating a well-rounded and delicious meal to accompany your Buttermilk Barbecue Fried Chicken.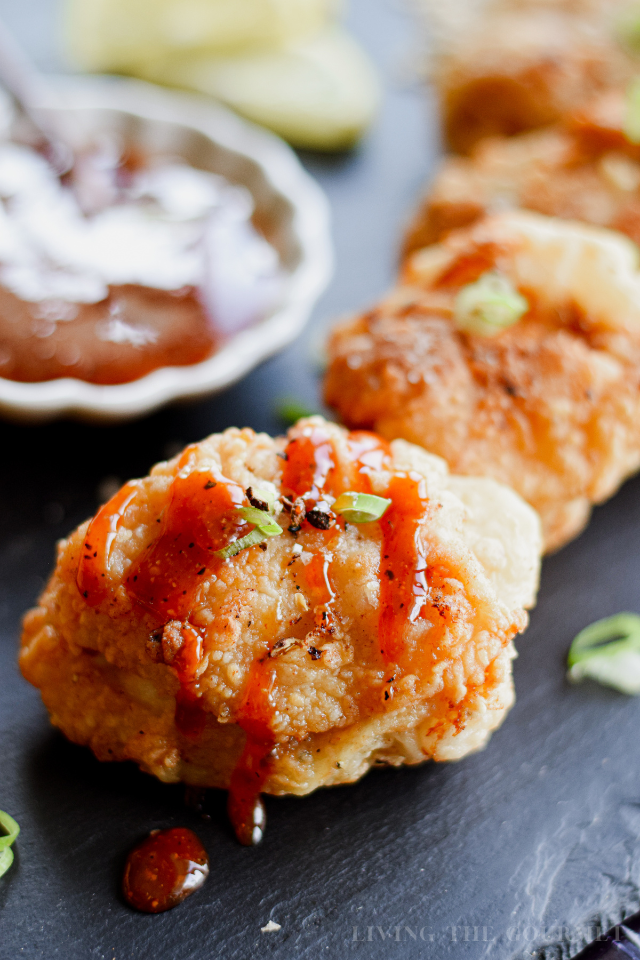 Achieve the Best Fried Chicken Every Time – Ten Super Simple Tips
For the crispiest, most flavorful fried chicken every time, follow these ten simple steps:
Use a thermometer: It's important to maintain the proper frying temperature. Use a kitchen thermometer to monitor the oil temperature and keep it around 325-350°F (163-177°C). This ensures that the chicken cooks evenly and achieves a crispy exterior.
Double coat the chicken: For extra crispy and flavorful chicken, double coat each piece. After the first coating of flour and cornstarch mixture, dip the chicken back into the buttermilk marinade and coat it again in the flour mixture. This double coating creates a thicker and crunchier crust.
Rest the chicken: Once the chicken is fried to golden perfection, let it rest on a wire rack for a few minutes. This allows the excess oil to drain and helps the crust to stay crispy.
Season generously: Season the chicken generously with salt, pepper, and any additional spices or herbs you prefer. Make sure to season both the buttermilk marinade and the coating mixture. The right amount of seasoning enhances the flavor of the chicken.
Properly heat the oil: Preheat the oil to the recommended temperature before adding the chicken. This ensures that the chicken cooks evenly and absorbs less oil, resulting in a lighter and less greasy finished product.
Fry in batches: Avoid overcrowding the pan or fryer. Fry the chicken in batches to maintain the oil temperature and allow the chicken pieces to cook evenly. Overcrowding the pan can lead to uneven cooking and a less crispy crust.
Let the chicken rest after frying: Once the chicken is fried to perfection, let it rest for a few minutes before serving. This allows the juices to redistribute throughout the meat, resulting in a more tender and flavorful chicken.
Experiment with spices and herbs: Feel free to experiment with different spices and herbs in the coating mixture to customize the flavor of your fried chicken. Add paprika, garlic powder, cayenne pepper, or any other seasonings that you enjoy.
Keep leftovers crispy: If you have leftovers, store them in an airtight container in the refrigerator. To reheat and maintain the crispiness, place the chicken on a wire rack over a baking sheet and reheat in a preheated oven at 350°F (175°C) for about 10-15 minutes.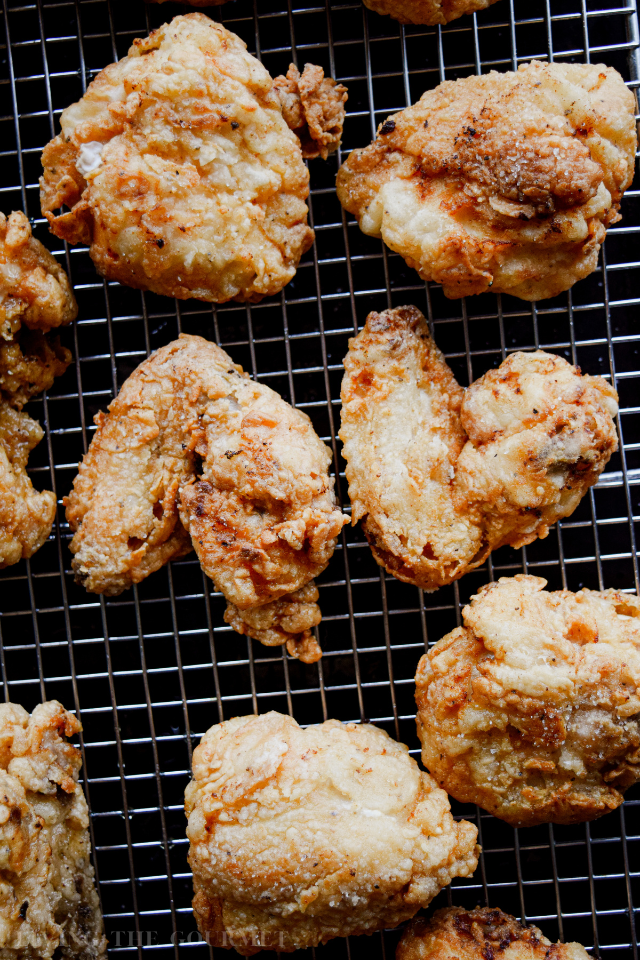 Remember, practice makes perfect, so don't be afraid to experiment and find your own techniques for achieving the best possible fried chicken. Enjoy the process and savor the delicious results!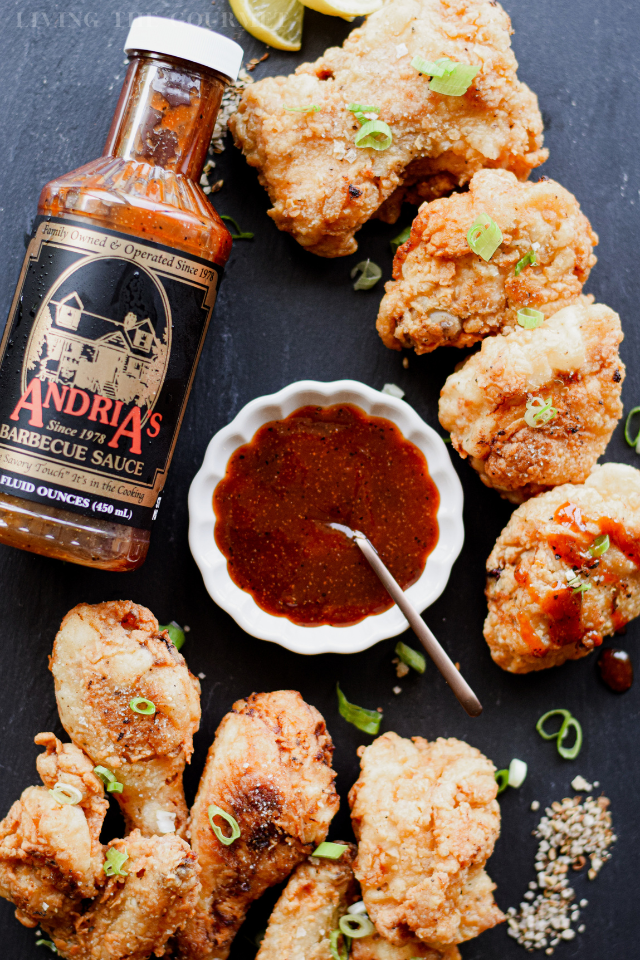 shop this post
Print
Buttermilk Fried Chicken
---
Author:

Total Time:

35 minutes

Yield:

4

servings

1

x
1

whole chicken, quartered

2

cups

buttermilk (or sour milk see recipe notes)

1

cup

Andria's Barbecue Sauce
Salt & Pepper to taste

1 teaspoon

cayenne

1/2 tsp

paprika
For the Coating:
1 tablespoon

sugar

1 tsp

garlic powder

1/2 tsp

paprika

1/2 tsp

black pepper

1/2 tsp

salt

1

cup

cornstarch

2

cups

AP flour
Oil for frying
---
Instructions
In a large bowl place chicken pieces.
Whisk together buttermilk and spices. Pour over the chicken along with the barbecue sauce. Toss the chicken in the brine and make sure each piece is coated. Cover and refrigerate for 2 hours or up to overnight.
In a large cast iron pan heat 1-inch of oil to 325-350 degrees F.
In a large bowl, whisk together ingredients for coating.
Double coat each chicken piece and fry for about 5-6 minutes each side or until golden and internal temp reads 165 degrees F.
Line the fried chicken on a wire rack and sprinkle with flaky salt. Serve alongside barbecue sauce and fresh lemon. Enjoy!
Prep Time:

15 minutes

Cook Time:

20 minutes

Category:

Main Dish

Method:

Fried

Cuisine:

American
Keywords: fried chicken, buttermilk, barbecue sauce
Recipe Card powered by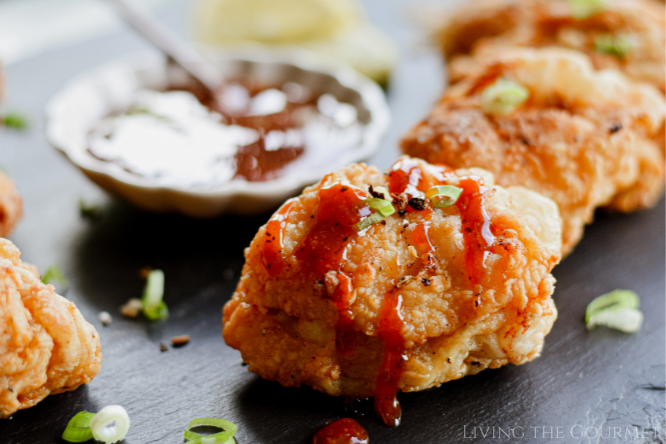 And that's our Buttermilk Barbecue Fried Chicken.
Be sure to check out Andria's line of delicious sauces, including their Brush On Steak Sauce and their flagship Salad Dressing. Both are simply delicious, you won't be disappointed!
If you enjoyed today's recipe, be sure to like, share, and subscribe – so that you never miss a post. If you have any questions or suggestions, be sure to let us know in the comments below, we always loving hearing from you. Happy Cooking!
0