Regardless of what 'wine snobs' might say – and some might even accuse 'me' of being a wine snob – I've always had a soft spot for sangria, despite that I can count on one hand the number of times I've actually had it.
My first encounter with sangria was many, many years ago. Picture a pleasantly warm summer day overlooking Long Island's Great South Bay across a sea of tall grass and reeds from the balcony of a house-barge. A table is set for six or seven people, and in the center of that table is a huge barrel-shaped pitcher filled to the brim with dark red wine, and packed to bursting with sliced oranges, peaches, cherries, a plum or two, with its rim decorated by slices of lime 'and' lemon.
The liquid from that profusely sweating pitcher of iced red wine tasted…not 'quite' like wine, but more like a 'wine flavored fruit punch,' and enjoyably so. It was bitingly sweet, just a tad 'thick' in terms of texture, and every kind 'fruity' one can imagine.
Now, without further introduction, let's make sangria.
What is Sangria, really?
An Iberian wine punch consisting of dry red wine, sliced fruit, and typically some sort of 'sweetening' agent. The sweetening agent usually comes in the form of a sweet spirit – typically a fruit flavored liqueur, but syrups and fresh fruit juices are also common – or sometimes even a mix of the three. While sangria can be bought commercially (there are EU laws regulating its labeling and production), this punch is most commonly encountered 'house made' in bars, restaurants, and chiringuitos all across the Spanish speaking world.
The Sum of Its Parts
1) The Wine. There is a reason that 'most' guides to making sangria simply call for "Dry red wine that you personally enjoy," without specifying a specific type of grape or wine, because this is all you 'really' need. Traditionally, however, tempranillo and garanche are the primary wines used in red sangria. However, this selection of wine likely has more to do with these being the wines that Iberian mixologists of yesteryear had the easiest and cheapest access to, as opposed to anything else. These grapes were, and are, grown in great abundance on the Iberian peninsula.
With that said, unless you decide to be a wise guy and prepare your sangria without something intentionally absurd like a xinomavro (dark Greek wine that literally translates 'black poison' or 'sour black'), it's going to be pretty hard to 'ruin' your sangria with any of the more popular or most common dry red wines. Then again, a xinomavro-negoska blend would likely produce a fruit bomb of a sangria, albeit with a sky-high alcohol content. In other words, This is to say that no one's going to leave our barbecue in protest because you opted for merlot or syrah as opposed to tempranillo. And if they do, they probably aren't worth keeping around anyway.
2) The Fruit. Oranges, peaches, apricots, sliced red cherries, and even strawberries are all common fruits to be tossed into the sangria pitcher. As rule, try to choose fruit that fits the flavor profile of the wine. Thus, a particularly dry and dark garnache or cabernet with notes of sliced red cherries…add in sliced red cherries. A light and fruity rose? You probably want some strawberries or apricots. Or, just mix it all up and hope for the best. Again, there are no real rules beyond preference – just guidelines for an enhanced experience.
3) The Sweeteners: Liqueurs, Syrups, and Juices. Some form of a sweetening agent is common in sangria. This usually takes the form of something like orange Cointreau, simple syrup, or fresh fruit juice. This is entirely a matter of preference, though I do suggest adding 'something' to sweeten your sangria, especially if you are using a particularly dry wine.
4) To Ice or Not To Ice? In my opinion, sangria is meant to be consumed cold, and on the spot. As such, the 'real' reason for 'not' icing wine doesn't really apply here. Usually, we don't ice wine because wine is meant to be sipped or savored alongside food, and thus as the ice melts you end up with a watered-down cup of wine about midway through. Also, you don't want to mask the flavor of 'decent' wine by drinking it cold, which is why good wine should be indulged at room temperature. In the case of sangria, it's not meant to be 'savored' at any length, and it's not 'really' supposed to be produced with top quality wine, the flavor of which is being 'heavily' masked by fruit and sweeteners. So, if sangria lasts in your glass long enough for the ice to melt…it probably wasn't a great a sangria to begin with. Thus, ice it and enjoy it cold.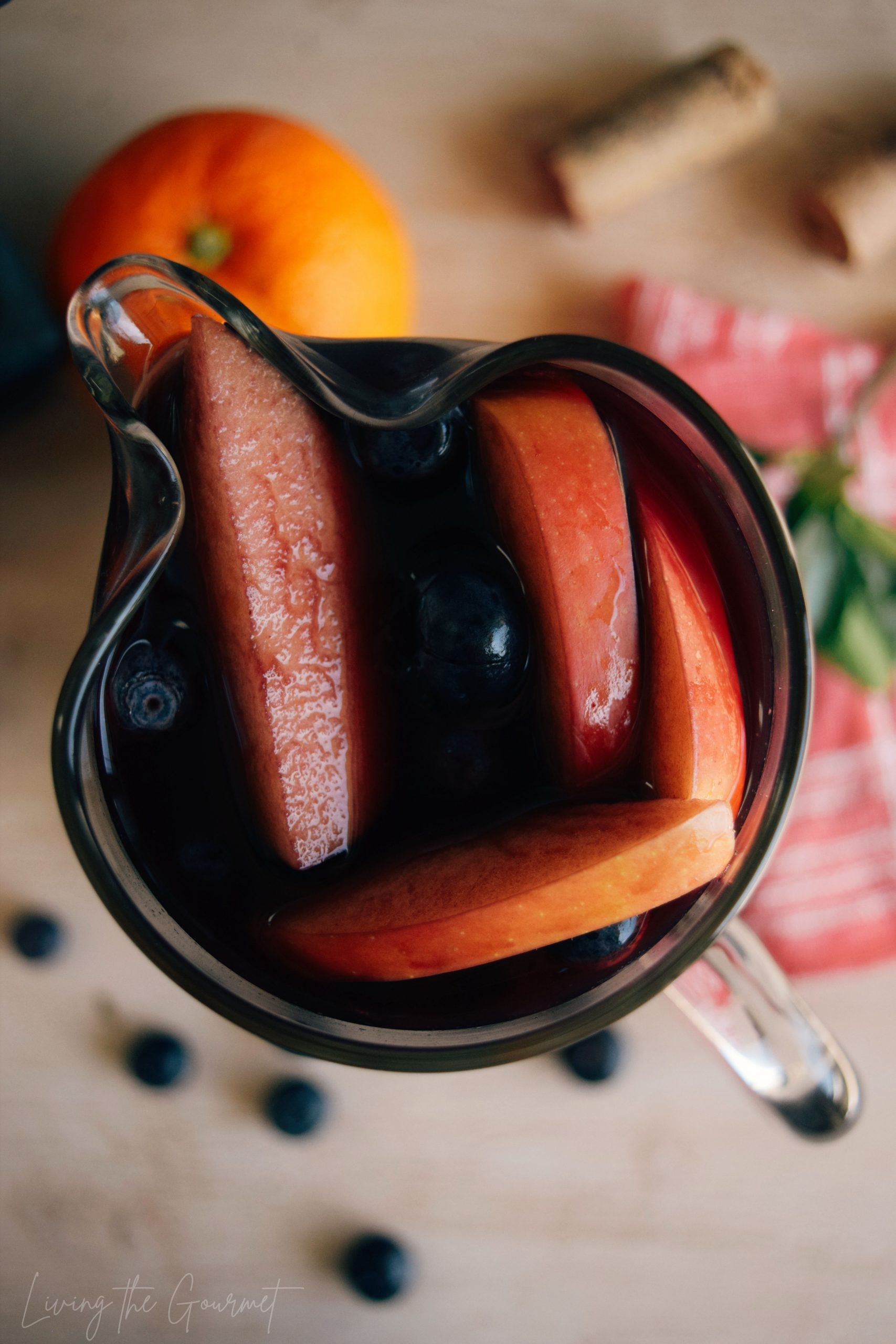 Storing Sangria
Storing sangria in the fridge is a bit of a trick. Ideally, when refrigerating wine, you want to keep it corked in its bottle. Obviously, that isn't possible with sangria, meaning you're either keeping it in a sealed jar or plasticware, or open in the pitcher you've prepared it in – none of which are ideal for storing opened wine.
Instead, your best bet is to serve it immediately after it's been prepared – ideally after the sangria has had a chance to sit for an hour or two for the flavors to meld. After that sitting period, add the ice, and serve.
With that in mind, there are two things to keep in mind when storing sangria:
1) The Ice Rule. If you've iced your sangria, it's time to drink it. The ice is actively melting in the pitcher, meaning your wine is actively getting watered down.
2) Without Ice and Fruit. If you have 'only' mixed the wines, and haven't yet added fruit or ice, my rule of thumb is that the lifespan of sangria is the lifespan of whichever wine in the mix has the 'shortest' open-bottle lifespan. Even with that in mind, I wouldn't really make sangria more than a day or two ahead of time.
3) Fully Mixed Sangria. A day or two. You can prepare sangria a day or two ahead of time, allowing it to chill in the fridge, during which period the flavors will fully come together. However, ice it at the last possible moment before serving.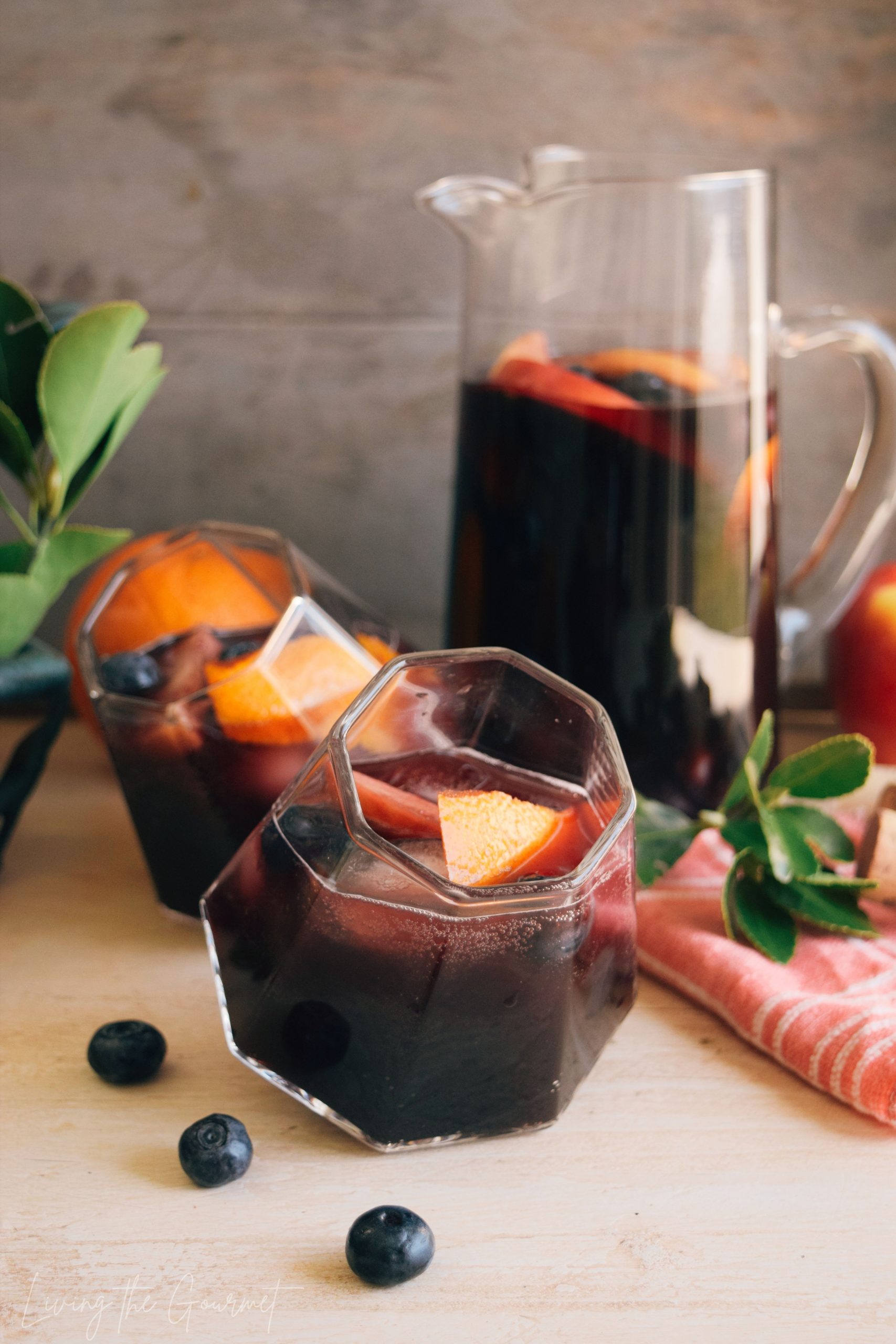 Print
Summer Sangria
Author:
Prep Time:

10 minutes

Cook Time:

15 minutes

Total Time:

25 minutes

Yield:

6 cups

1

x
1

bottle red wine (I used Pinot Noir)

1

cup

fresh orange juice

1/2

cup

brandy

3 tablespoons

brown sugar

1/4 teaspoons

cinnamon

2 tablespoons

honey

1 teaspoon

vanilla
Peel of

1

orange

1/2

cup

blueberries

1

apple, sliced
Ice
Instructions
In a small saucepan, bring brandy, brown sugar, cinnamon, honey, and vanilla to a simmer until sugar has dissolved and the mixture has been reduced to a syrup-like consistency.  Remove from heat and let cool.
In a large pitcher, add sliced apples, blueberries, and orange peel.
Pour in wine, orange juice, and brandy syrup.  Stir to combine and leave to chill in the refrigerator before serving.  Enjoy!
Recipe Card powered by
0