This post has been sponsored by Nasoya. All opinions expressed are my own.
Block tofu is a 'flavor neutral' protein, making it ideal for recipes where it's allowed to absorb lots of flavor. For this reason, marinating and stir-frying are two of the most quintessential ways to prepare block tofu – and that's precisely what we're doing today, and we'll be doing so with a little (a lot) of help from our friends over at Nasoya, the USA's top producer of organic, non-GMO tofu products.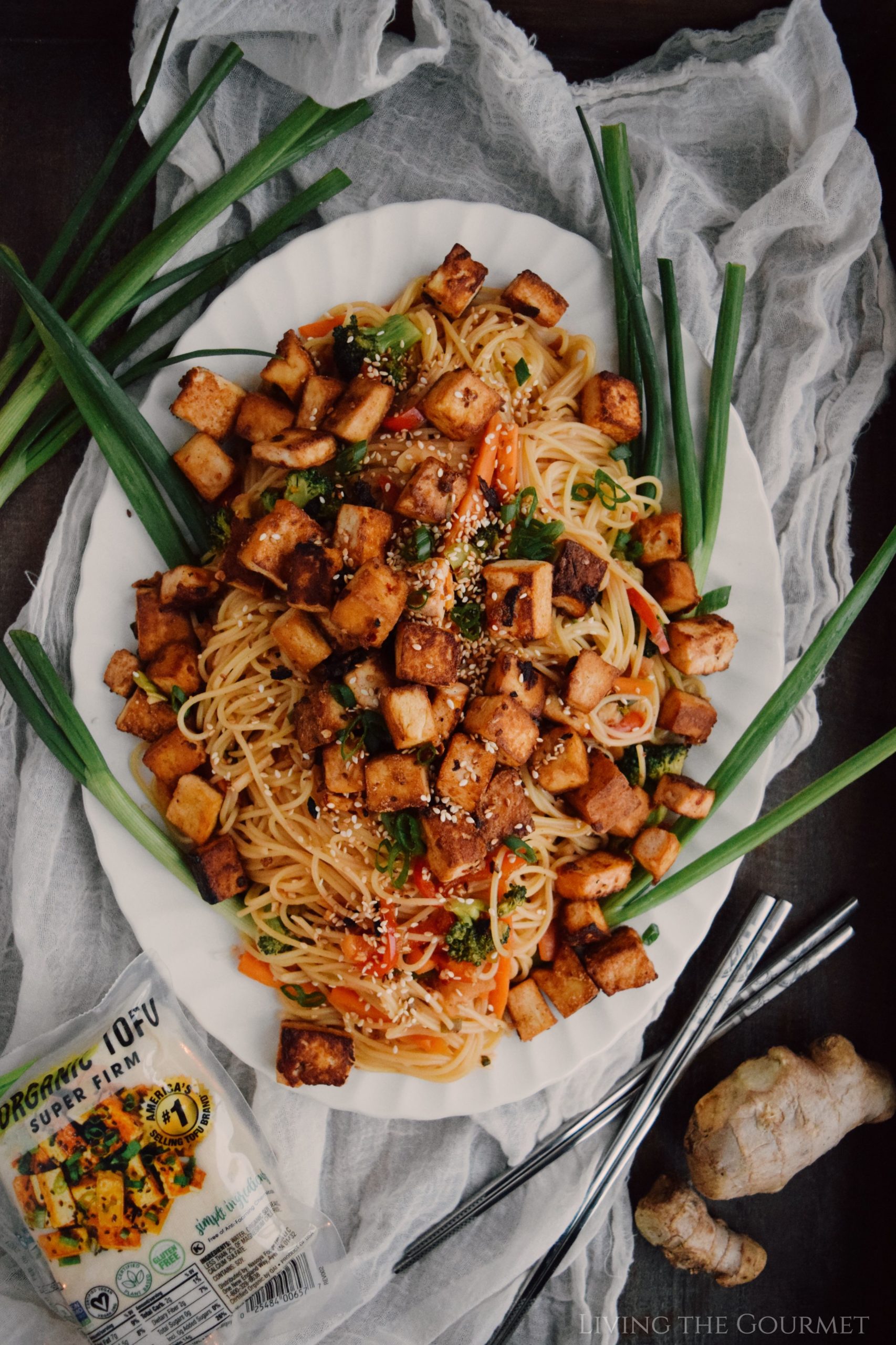 To start, we'll be marinating sliced tofu in a spicy mix of chili paste and ginger, along with rice wine vinegar and plenty of garlic. Then we're going to brown the tofu to crisped perfection before platting it over pasta and veggies with a honey-garlic sauce. The end result is a sweet-and-spicy tofu and pasta dish, set against a warming umami backdrop.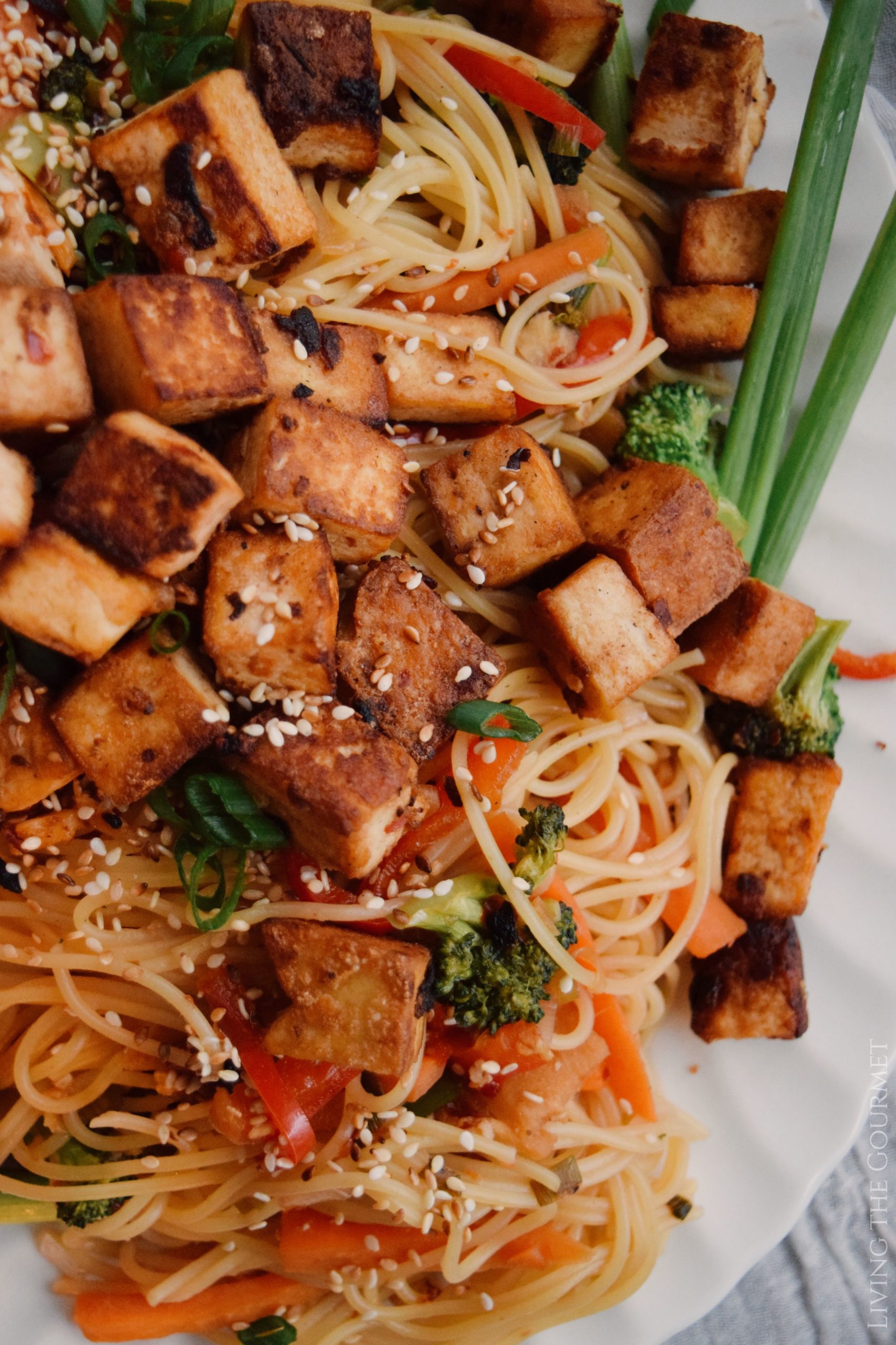 Ingredient Notes, Tips, and Substitutions
1) The Ginger – Fresh is a Must…sort of. Whether you think of it as spicy, peppery, citrusy, or 'garlic with a hint of orange,' it's safe to say that ginger is a difficult flavor to nail. However, what we can all agree on is that ginger is a 'powerful' ingredient, one whose presence simply defies subtly. If ginger is in a recipe, it's almost always stealing the limelight. Today's recipe is 'not' an exception to that rule. Fresh ginger is bright and spicy and fibrous and 'loud.' Powdered ginger is much more muted, trading in its brightness for warmth, while keeping much of its original spice, while fading 'somewhat' into the background when compared to its fresh counterpart. For this reason, I strongly suggest using fresh ginger in today's recipe…but don't fret if you only have the powdered version of this root on hand.
Substitution: Use around one quarter of teaspoon of powdered ginger in place of today's fresh ginger. Adjust this according to your palate.
However: Ginger begins mellowing almost immediately after it has been sliced. This mellowing process slows 'somewhat' if the root is left intact and refrigerated, and is preserved even further if the ginger is dried. That said, the more you 'work' ginger, the more it loses its characteristic 'punch' and 'spice.' Thus, you might imagine how much of that 'spice' has been lost in its powdered form. Powdered ginger lacks almost all of the 'bite' of its fresh counterpart, while preserving the unique 'flavor.' Thus, you can imagine that a fair bit of the 'zing' in today's stir-fry is from the use of fresh ginger – 'zing' that will be lost almost entirely if substituting powdered for fresh.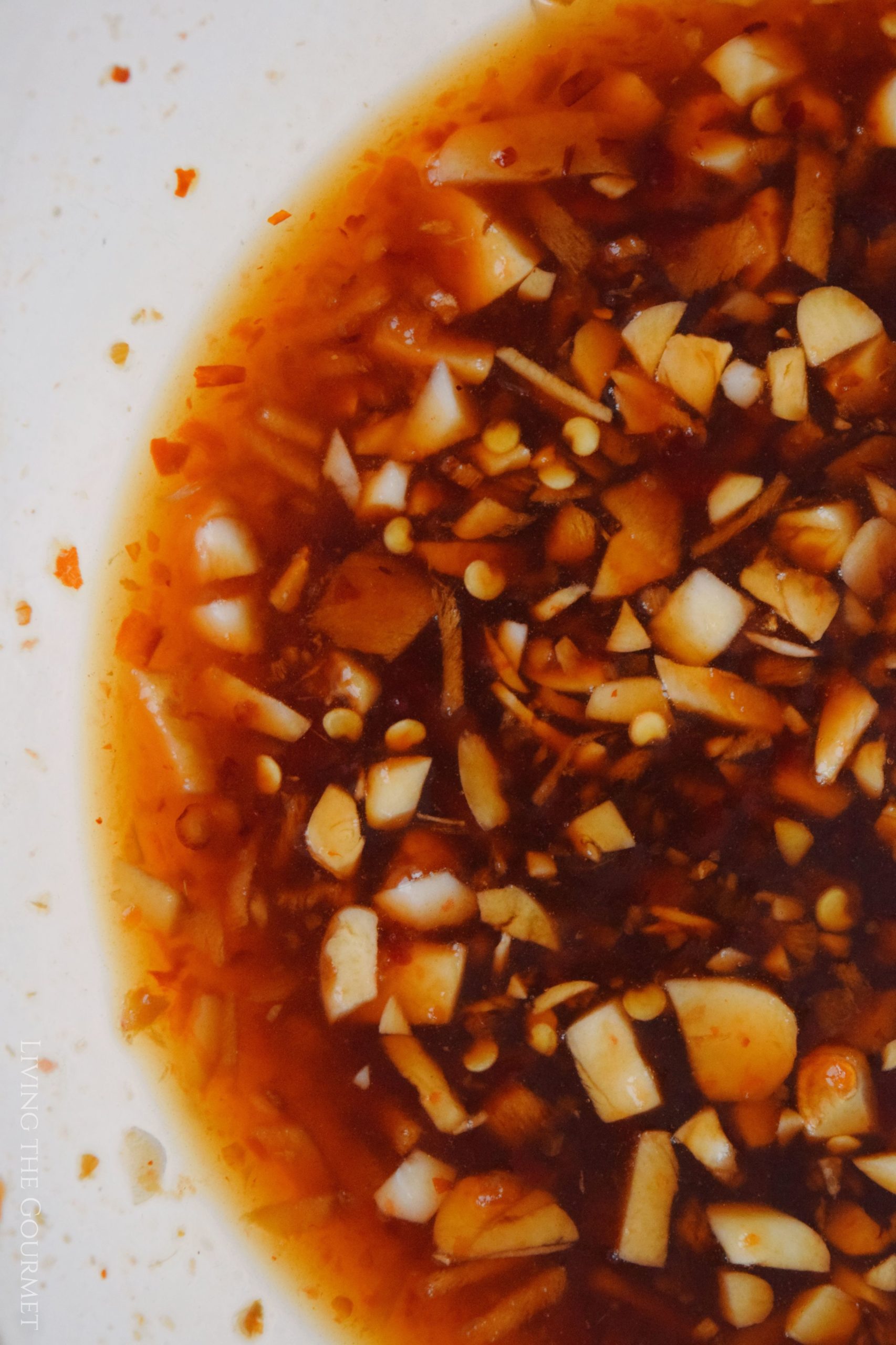 2) Chili Paste – A Kitchen Staple. This is an ingredient that is so versatile I truly don't know how a kitchen functions without it. Chili paste works wonders as a base for everything from marinades to homemade hot sauces, or for adding some spice to red sauces or salsas, or even serving as a condiment on its own for meat, eggs, and fish, where it brings pungency, spice, and bright 'chili flavor.' That said, I don't personally use a fancy or 'hard to find' chili paste – and honestly, you shouldn't either. On the contrary, I use an Indonesian Sambal chili paste that sells for a couple of dollars per jar. It's a super basic mix of chilis, salt, and vinegar. It's hot, not overly thick, and allows the pungency and spice of the chilis to really shine through.
Should you make your own? No, no not really. I know there are a lot of recipes online for how to make chili paste, and honestly it's just not worth the trouble. Yes, making your own is (relatively) easy and (very) inexpensive, but at the end of the day, store bought chili paste 'does' taste just as good as similarly structured at home recipes – and is already really inexpensive on its own. Sure, if you want to 'fancy up' a particular chili paste recipe, go for it, but for super-basic chili pastes for use in things like today's recipe, store bought works just fine.
Substitution: An equal amount of 'plain' Sriracha works 'almost' as well – but Sriracha brings a lot of extra flavors with it (due to being a lot more than just chilis, salt, and vinegar), and surprisingly Sriracha is quite a bit 'cooler' than most chili pastes. Regular chili paste brings a good bit more kick, and a 'purer' chili flavor. Thus, while not 'ideal,' Sriracha is an 'okay' substitute.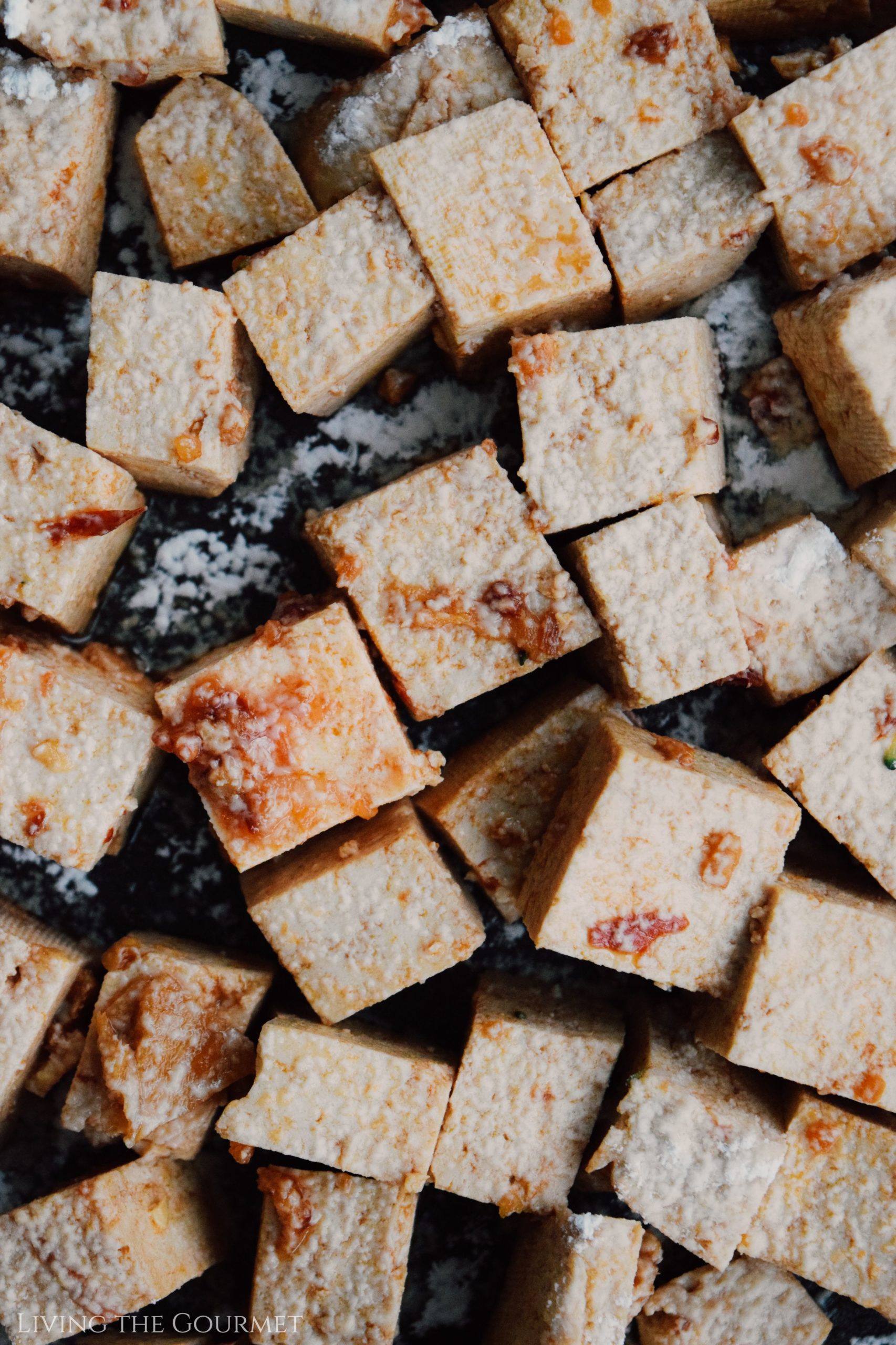 3) The Tofu. The 'meat' of today's recipe is Nasoya's Super Firm Tofu. That said, I prefer Nasoya for my tofu products – especially block tofu. The leading brand of tofu in the USA, Nasoya has been producing tofu since 1978, and all of their tofu products are certified organic, including their Organic Extra Firm Tofu, Organic Firm Tofu, Organic Silken Tofu, and their Organic Super Firm Tofu. Seriously, try their tofu products if you haven't already, I promise you won't be disappointed. Be sure to pick up Nasoya's tofu products at your local Shop Rite in the produce or natural foods section!
Tofu Basics – A Primer
1) What is Tofu, really? Tofu is simply condensed soybean curd. Since soybeans are virtually tasteless, tofu is considered one of the most 'flavor neutral' foods available. For this reason, tofu is a great 'carrier' of flavors, since when cooking with tofu you needn't account for the taste of the tofu itself in the recipe, and can instead rely on the tofu to simply 'carry' or 'take on' the flavors that it is being prepared with.
2) Be Health-Minded in Selecting Your Tofu. It's easy to think that you're 'being healthy' simply by virtue of opting for tofu. Sadly, this is not the case as not all tofu is created, or sourced, equally. Today, most of the world's soybeans are grown in the US, and well over ninety-percent (!) of those soybeans are produced using GMO methods. This is another big reason why I love Nasoya products, as they are among a very select few producers of natural, non-GMO tofu.
2) Can I freeze it? Yes, tofu can keep for up to three months in the freezer. If you purchase tofu packed in water, 'do' drain the water first, then wrap the tofu in plastic, or place it in an airtight container or freezer bag before freezing. Do remember, however, that frozen tofu becomes 'firmer' after freezing, and will also be somewhat 'dryer,' and may lose its signature 'spongy' texture.
3) Preparing Water Packed Tofu. As I explain below, you need to 'press' the tofu between two sheets of paper towels if using water-packed tofu. I do this by wrapping my tofu in a paper towel, and then placing it on a tray beneath a small cast iron pan. This drains the tofu of water, and as a result if you skip this part, the tofu will instead drain all of its excess water during cooking, and possibly break apart in the process. Not fun.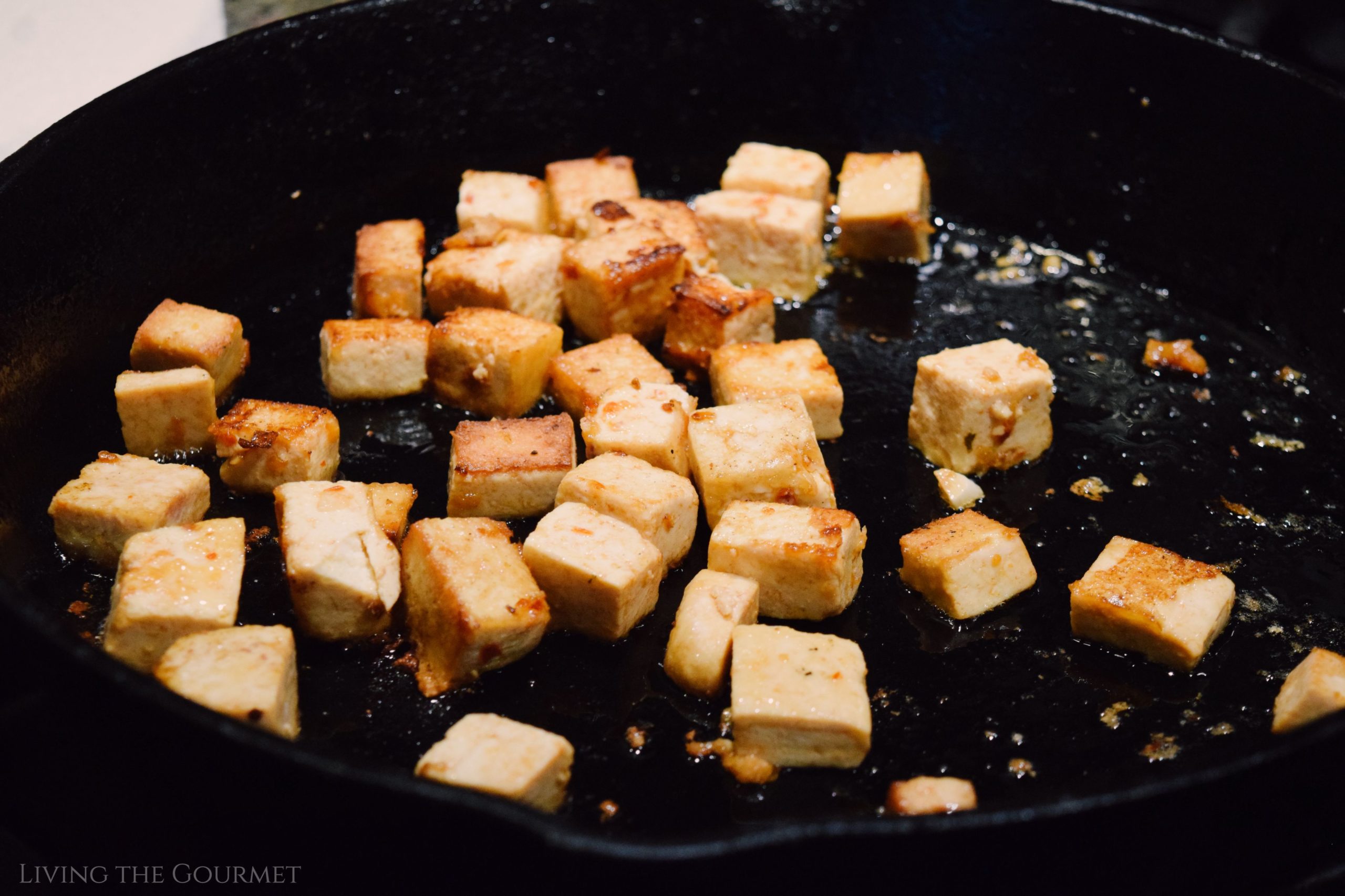 4) Types of Tofu. Tofu comes in several varieties, with the most popular and widely available being extra firm, firm, and silken, in addition to super firm and regular. Some outlets and producers have their own labeled varieties, but most fall roughly into those categories, or are variations thereof. Super firm is the densest form of tofu, and as such is also the least absorbent, meaning it's primarily used either to prepare dried tofu, or in roasted and deep-fried dishes. Generally speaking, super firm tofu is only rarely commercially available, except via specialty outlets (such as Nasoya). On the opposite end of the popularity spectrum is extra-firm tofu. When you encounter cooked, pan-fried, or marinated tofu of any kind, you're almost always encountering 'extra firm' tofu. Firm tofu is the next most popular variety, being great for marinating and then eating 'raw' in sandwiches, wraps, or as the 'meat' in lightly cooked stir-fry or light soups. Silken tofu, as the name implies, has a silky and moist texture, usually such that it defies being handled without falling to pieces. For this reason, it's used for preparing things like smoothies, dips, or as a replacement for cheese in various recipes, in particular cream cheese and ricotta.
5) Protein Content. Tofu has been recognized as a valuable source of protein for some two thousand years. In fact, tofu was spread across Asia from China chiefly by traveling Buddhist monks who favored it as a staple protein in their wholly vegetarian diets. Roughly eight percent of tofu's total mass is protein, alongside high levels of folate, vitamin K, and assorted minerals, making it a nutrient dense food, and at less two-hundred calories per cup.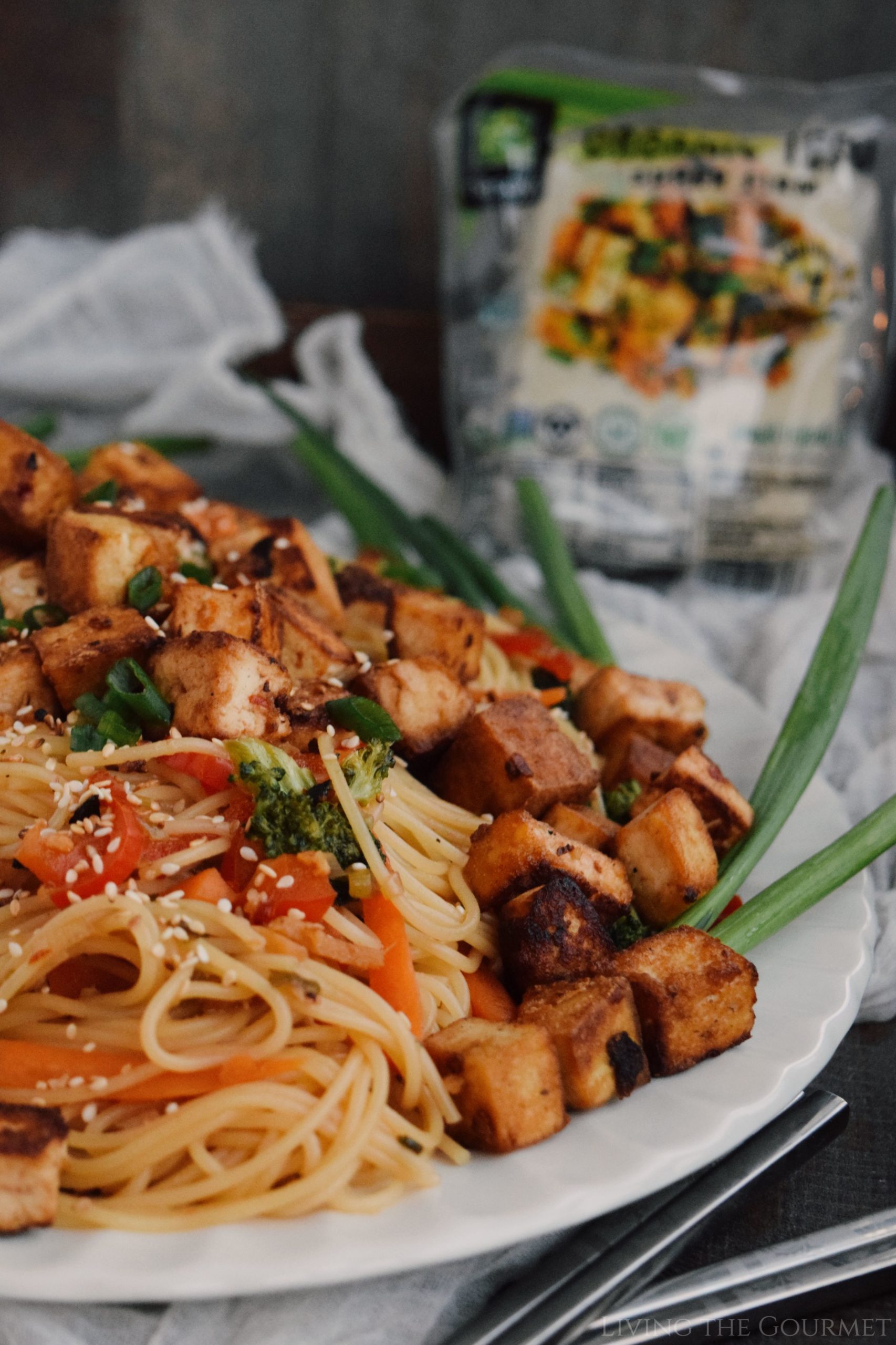 Print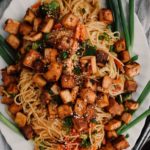 Honey Garlic Tofu & Noodles
---
Author:

Prep Time:

10 minutes

Cook Time:

25 minutes

Total Time:

35 minutes

Yield:

4

1

x
2

–

16

oz. packages of Nasoya Super Firm Tofu
Cornstarch for dusting the tofu

1

lb. of your preferred noodles (thin spaghetti also works for this recipe)
Chopped scallions for garnish
Canola oil for frying
Soy Marinade for the Tofu:
½ cup

of soy sauce

2

tbs. Rice wine vinegar

2

tbs. sesame oil

2

tbs. chili paste

2

tbs. fresh ginger – about

2

inches long piece of ginger bark

4

cloves of garlic – crushed and chopped
For the Veggies:
2

carrots – sliced thin – (matchsticks)

1

small head of broccoli – crowns – cut into bite size pieces

4

–

5

garlic cloves – crushed and chopped

1

red bell pepper – slices very thin

1

bunch of scallions – chopped

2

tbs. toasted sesame seeds – garnish
For the Honey Garlic Sauce:
½ cup

of Soy Sauce

½ cup

of Honey

2

tbs. rice wine vinegar

4

–

5

cloves of garlic – crushed and chopped

2

tbs. fresh ginger

2

tbs. chili paste
---
Instructions
Remove the tofu from the package and wrap in paper towel.
Place the tofu on a cutting board and place a small frying pan on top to make a press to allow excess water to remove from the tofu. Let the tofu sit like this for about an hour or so.
Cut the tofu into bit – size pieces and place in a bowl. Prepare the marinade for the tofu and pour over the tofu pieces.
Allow the tofu to marinade for about 30 minutes or up to overnight in the refrigerator.
When the tofu is finished marinating place on a baking sheet and dust with the cornstarch.
Heat a large cast iron frying pan with a tablespoon or two of cooking oil.
Place the tofu pieces in the heated oil and allow to get a beautiful golden color on all sides, this will take a few minutes per side.
Place on a platter prepared with a paper towel when this is achieved.
In a small dry cast iron frying pan place the sesame seeds and let them get a nice golden color. This will only take a minute so, do not burn the seeds.
Prepare the honey garlic sauce.
Heat another large cast iron frying pan and place the veggies in the dry pan to slightly soften.
Pour the honey garlic sauce over the veggies and turn the heat off.
Prepare noodles as directed, drain, and then toss it with the veggies in the honey garlic sauce.
Plate the noodles and top with the fried tofu and garnish with the fresh scallions and toasted sesame seeds.
Notes
Prep Time does NOT include Inactive Prep Time
Recipe Card powered by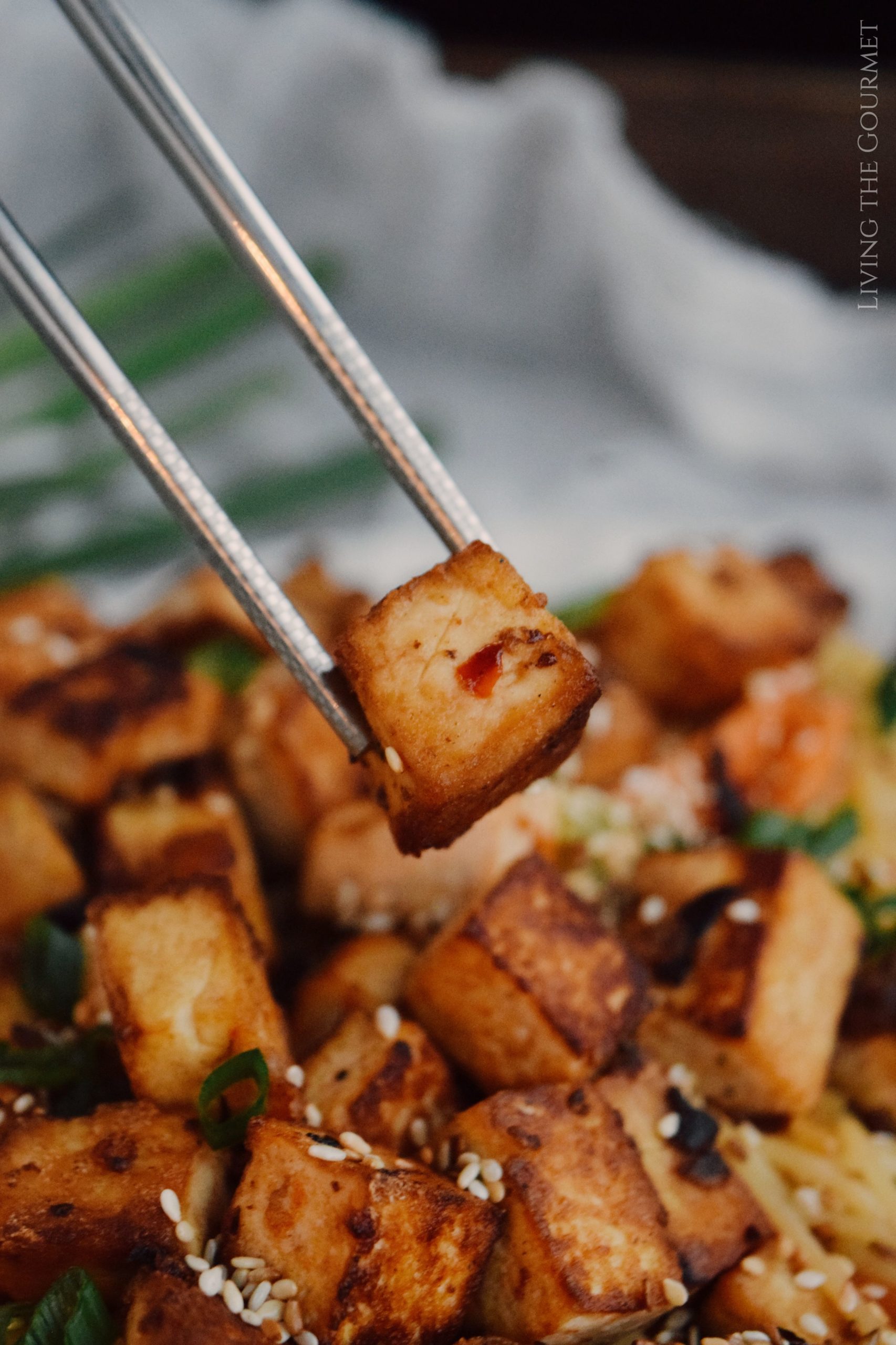 0