Savory, just a touch sweet with a nice hint of background spice, today's Butter Bean Chili makes for an unexpected and welcome twist on a familiar favorite.
I'm going to be honest and say I'm not totally sure 'what' today's recipe is. It's 'vaguely' a chili, 'sort of' a tomato sauce, but 'definitely not' what goes between the bread of a Sloppy Joe. With that said, if you treat today's recipe in the same way you would a more traditional chili, you won't be disappointed.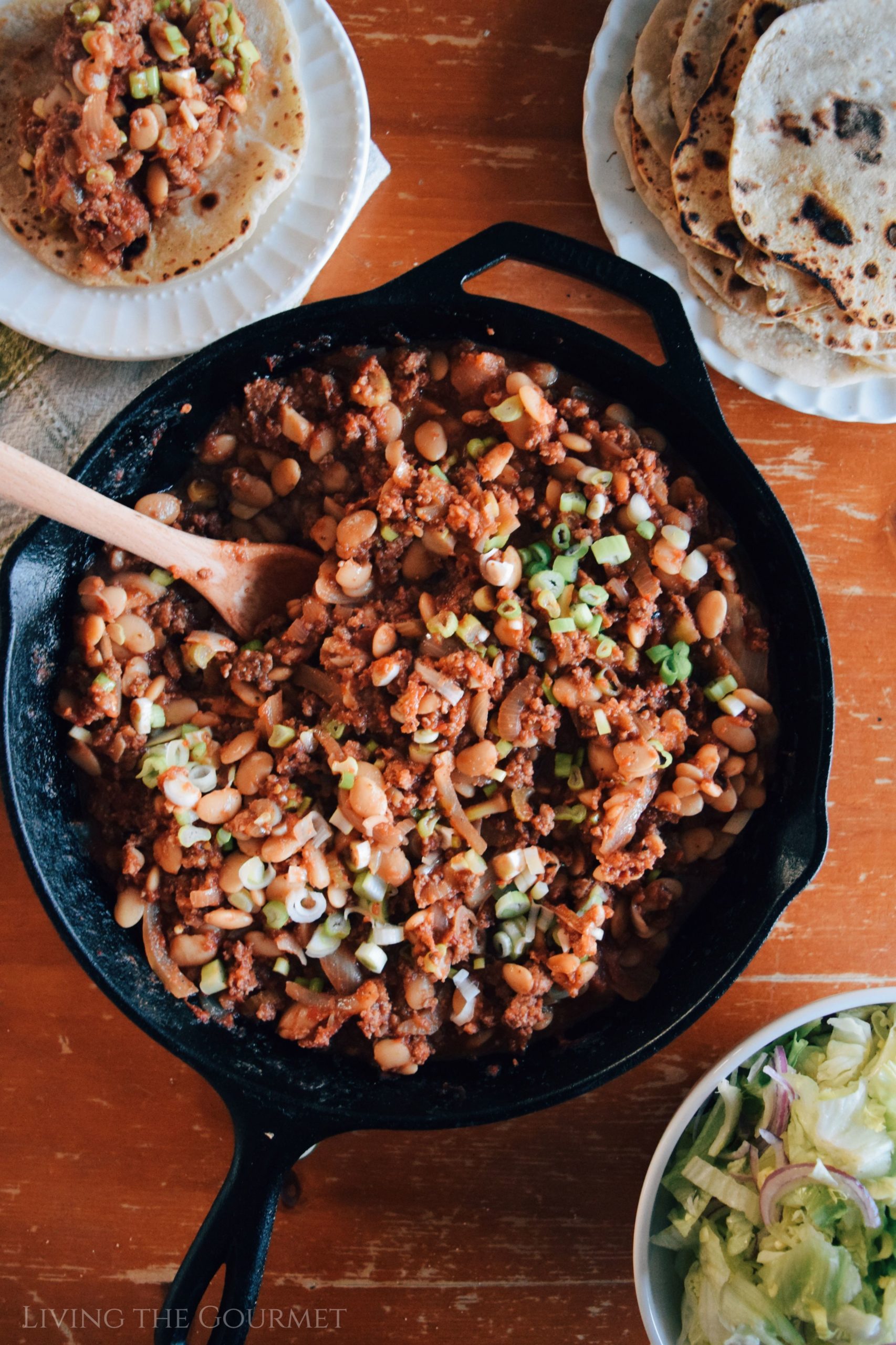 Why to Try Today's Butter Bean Chili
1) Super Simple. Today's Butter Bean Chili is super simple to make, being a real 'set t and forget it' recipe once everything's combined for simmering. This makes it perfect for busy weeknights and lazy evenings alike.
2) It Keeps. This stores nicely in the fridge for up to five days, and heats up beautifully, making it a great 'make ahead' recipe.
3) Versatile. Over rice, over pasta, or folded into tortillas, today's Butter Bean Chili is as versatile as more traditional chilis.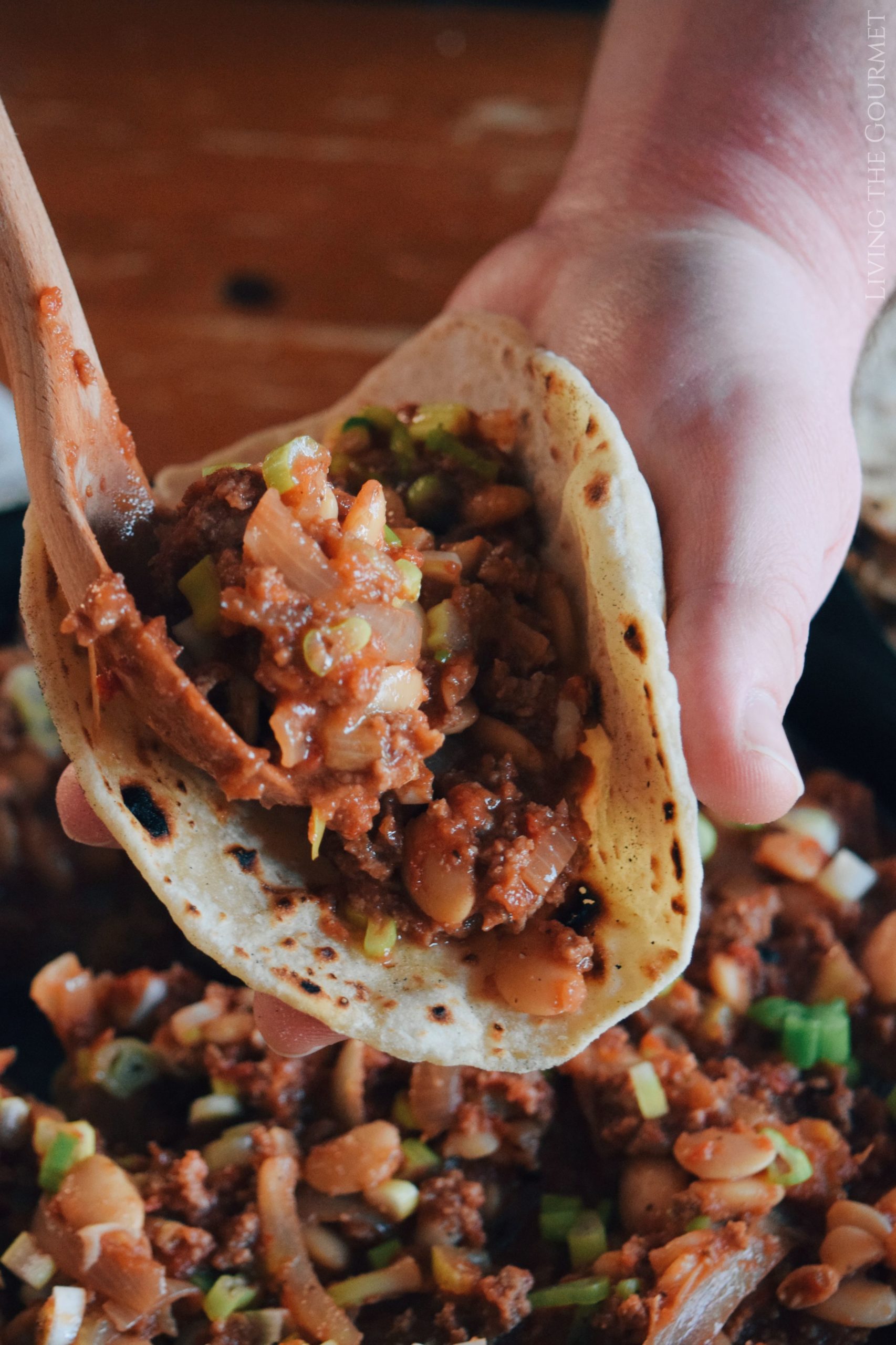 Ingredient Notes and Substitutions
1) Cannellini Beans vs Navy Beans vs Butter Beans. The truth is that these three beans are often used interchangeably. However, there are subtle difference that make one or the other better suited to certain recipes than its counterparts. Cannellini beans are the largest and 'meatiest' of the 'white bean' group. They have a nutty, slightly earthy flavor, and a very tender flesh, making them excellent for chili, minestrone soup, and dips. By contrast, Butter Beans are much starchier and somewhat smaller, and are popular in soups in stews. These qualities, however, makes them less desirable when you prefer a 'hardier' texture – as in today's chili, or where you want the beans to stand on their own. Finally. Navy Beans are small and pea-like, and have a low cooking point – basically meaning that they become softer faster – and are typically used as a thickening agent for soups and stews. They are also relatively flavor neutral. Naturally, these qualities make them ideal for cooking, but less so for processing into a dip or simmering into a chili.
2) The Scallions. First off, scallions are 'not' shallots. Yes, some American supermarkets mislabel the two items, but US supermarkets are notorious for their labeling mishaps, with one prominent example being their labeling of orange fleshed sweet potatoes as 'yams,' despite 'real' yams being more akin to yucca in taste and texture. Yes, some parts of the English-speaking world don't differentiate shallots from scallions linguistically – but linguistics often fall short of 'reality.' Instead, what matters is that they 'are' different things. Scallions are long, thin, green and white, with a flavor reminiscent of 'crisp sweet onion' with a hint of 'vegetable moisture.' By contrast, shallots look like elongated red onions, and taste like 'sweet onions and garlic.' However, one area where they 'do' overlap is that they are both easily enjoyed raw either as salads or as edible garnish.
Substitution: You have several options if you don't have scallions on hand. The first, and perhaps best alternative for today's recipe, would be diced shallots, next up would be chives, and finally you can simply dice up some red onion. All will work just fine.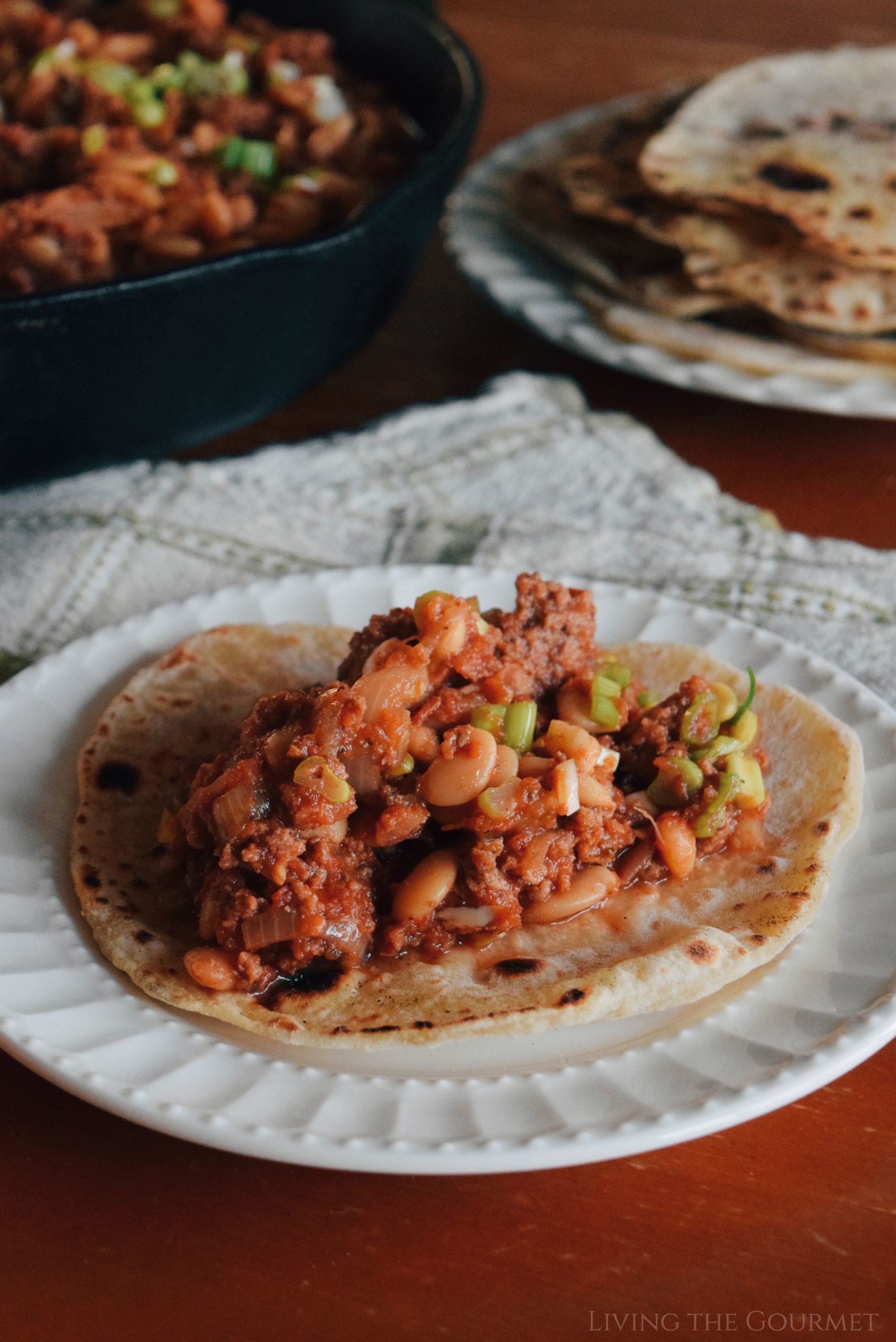 3) The Sugar. Since we're approaching today's recipe 'in part' as if it were a sauce, we're going to be adding in a dash of sugar. Like salt, sugar is a 'blurring' or 'melding' agent. That simply means that sugar helps to 'bind' flavors together. In recipes like red sauces, chilis, or stews, where you have a medley of different flavors coming together, some of which actually contrast quite sharply, you need 'something' to help 'blur' or 'meld' those ingredients together. The primary item for doing this is salt, but sugar also has a very similar effect. However, unlike salt, sugar also 'mutes' or 'blunts' acidity – despite being somewhat acidic itself (chemically speaking). That said, unlike the 'saltiness' of salt, which can come through quite powerfully, the 'sweetness' added by sugar is much milder and harder to detect, especially when used in very small quantities. Thus, sugar serves two purposes inside of today's recipe, melding together flavors and blunting acidity, while itself being a nearly 'invisible' ingredient.
4) Cumin – A Brief Overview. Unlike cayenne, turmeric, black or red pepper, or really any 'common' spice one might think of, cumin is rarely if ever used on its own or as the 'primary' flavor in a recipe. Being somewhat bitter, earthy, and nutty all at once, cumin isn't immediately inviting or even terribly 'palatable' by itself. However, it makes a great 'grounding' flavor or 'background' for spice blends, such as rubs, curries, and marinades, pairing particularly well with meaty dishes, shining in things like curry, chili, and dry rubs for steaks, chops, and roasts.
5) The Absence of Chili Powder. It may come as a surprise, but even in the most 'traditional' chili recipes out there, chili powder is 'not' a universal ingredient in 'chili.' Not here in the states, and not in Mexico (whose chefs 'indignantly deny' any historical association with the dish), not anywhere. Chili powder is a common ingredient in chili, yes, but is by no means 'necessary.' Shocking, I know. The first reason is that there is no 'one' type of chili powder. Chili powder is composed of pulverized dried chilis, which can be almost anything – from anchos to piri-piris to jalapenos to Indian red chilis to chile de arbol peppers; if it's in the genus capsicum it's likely found its way into a chili powder blend. Notice that last word 'blend.' Yes, virtually all chili powders available on the market are 'blends' of not only multiple chilis, but also various spices. This means that the taste of chili powders can vary dramatically from maker to maker, and especially from region to region, since chili powder is a touchstone ingredient of different cuisines from around the world. That said, while some chili powders do pack a 'little' heat, chili powder is 'not' used to bring spice to a recipe – and 'chili' is no different. Instead, chili powder is used to bring earthy and rustic flavors, with 'warming' background notes – and it doesn't take a lot of chili powder to achieve this. Similar to cayenne pepper, a small amount tends to go a long way.
When to Use Chili Powder: Given the above, you add in chili powder when you want 'darken' the flavor profile of a recipe, or to 'anchor' or 'ground' a recipe in a backdrop of earthy notes. Since I want today's chili to be a bit more 'lively' than that, we're simply leaving it out.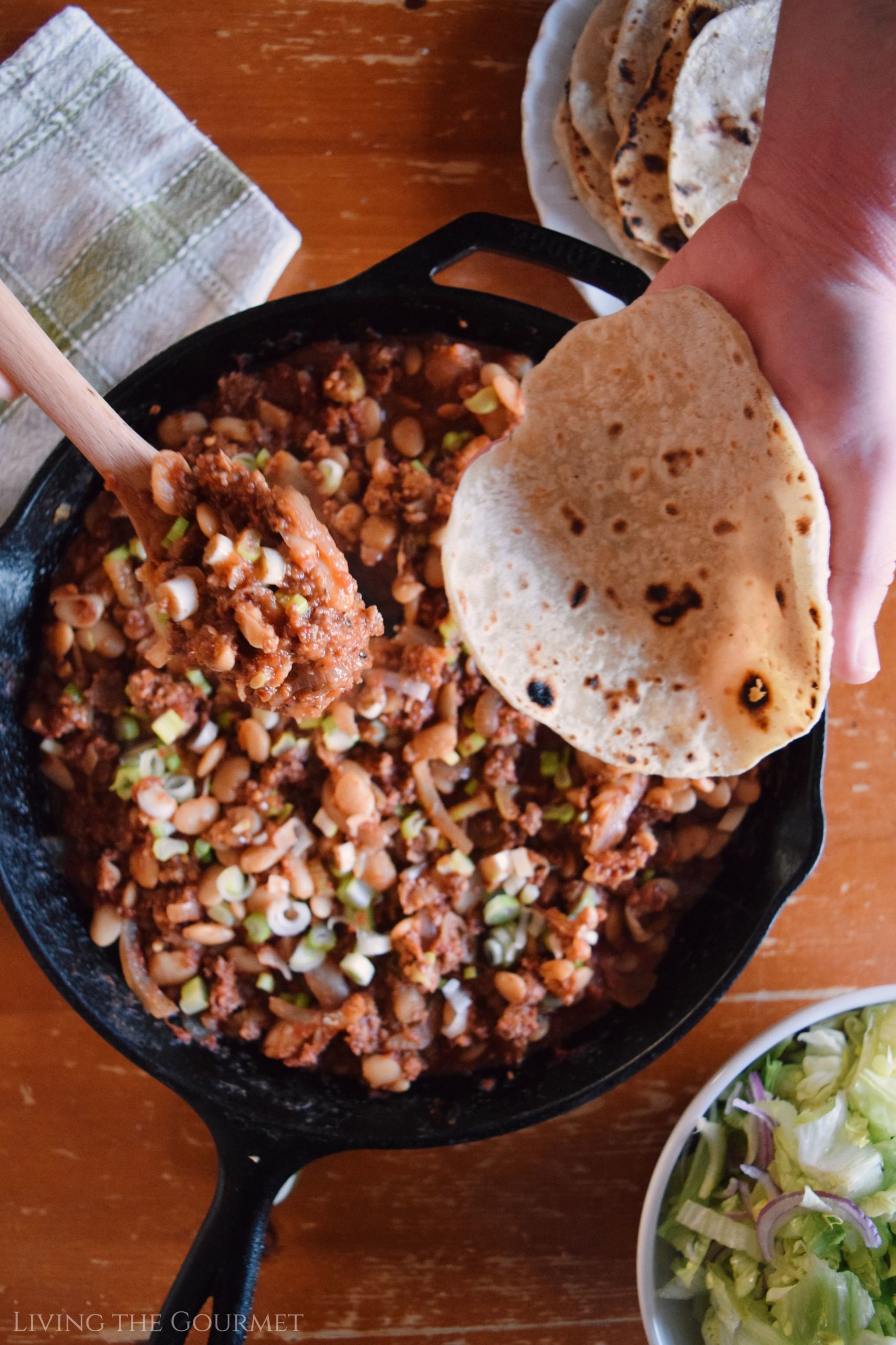 How to Pair Today's Butter Bean Chili
1) In Tacos – Soft or Crisp. The obvious go-to for any chili is to layer it into a taco, maybe with some rice, some greens, some avocado, plenty of cheese, maybe a dash of hot sauce, and then to eat it just like that. Today's chili is no exception.
2) Tortillas – But Make Your Own. Wrap today's chili in a homemade tortilla shell, with a nice dollop of sour cream, a thick layer of cheese, some habanero or scorpion pepper based hot sauce, and you've got yourself a real treat. However, I suggest making your own tortillas or 'flatbreads,' it's so easy and satisfying to do. For my favorite way to make wheat tortillas see my recipe for 5 Ingredient Flatbreads.
3) Over Rice. The default way to serve chili, in my opinion, is over rice, then topped with cheese and a dash of hot sauce.
4) With A Cold Drink. Chili and a cold drink are a match made in heaven. However, imagine today's recipe and your 'favorite' drink, your favorite drink mixed by an expert mixologist. That's where Drinkworks comes in. Think of Drinkworks as the "Keurig of Home Bars," simply pop one of their drink pods into the machine, and out comes a delicious chilled 'adult beverage' (no ice required), a beverage that tastes like it was mixed by a master. With dozens upon dozens of drink pod flavors to choose from, including Margarita, Cosmopolitan, Mojito, Moscow Mule, Whiskey Sour, White Russian, and Old Fashioned, among many others, there's something for everyone, every palate, and every food pairing. Truly, check them out, you won't be disappointed, I promise.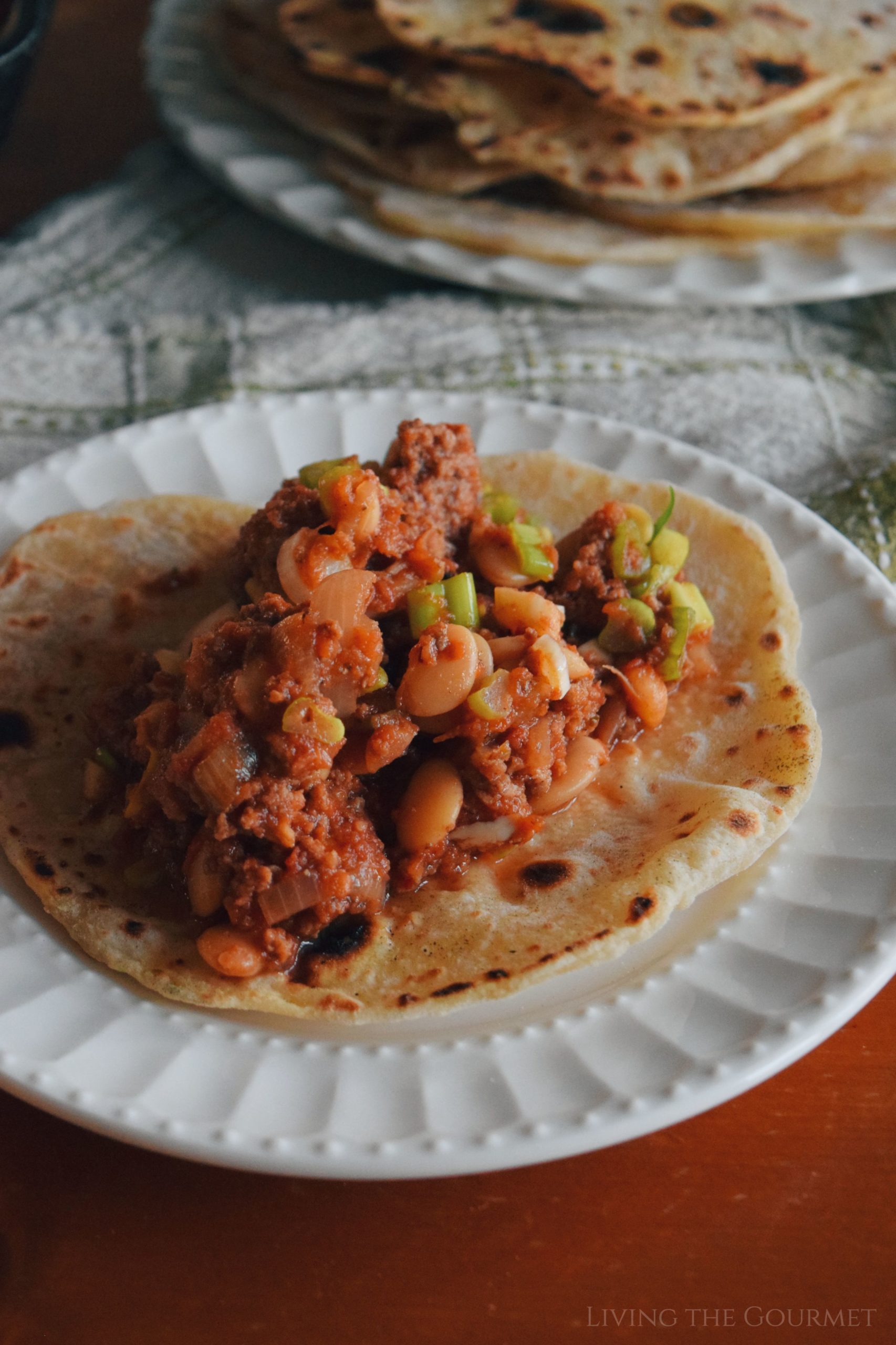 Print
White Bean Chili
Author:
Prep Time:

15 minutes

Cook Time:

30 minutes

Total Time:

45 minutes

Yield:

4

1

x
28 oz

. can of crushed tomatoes

1

lb

. of ground beef

2

onions – sliced

6

–

7

cloves of garlic – chopped

3

–

4

stalks of celery – chopped with leaves

1/4

cup

of wine

2

–

16

oz. cans of butter beans – rinsed and drained

1

bay leaf

1 1/2

tsps. salt

1 1/2 tsp

– black pepper

2 tsp

. dried oregano

2 tsp

. ground cumin

1/2 tsp

. cinnamon

2 tsp

. sugar

1 1/2 tsp

. red pepper flakes

2

tbs. olive oil

1

bunch of scallions – chopped – for garnish
Instructions
Heat a large cast iron frying pan and place the sliced onions, garlic and celery in the dry pan.
Allow the onions to get a slight char and the garlic fragrant.
Add the ground beef and toss. Cook the beef down with the veggies.
Add the crushed tomatoes and the wine and cook down on a gentle heat.
Add the seasonings and butter beans and toss.
Allow to cook down on a gentle heat. Taste for seasonings and adjust to taste.
Cook on a gentle heat for 20 – 30 minutes.
When the cooking process is finished turn the heat off and toss in the chopped scallions and olive oil.
Serve with your favorite flatbreads and a nice side salad.
Recipe Card powered by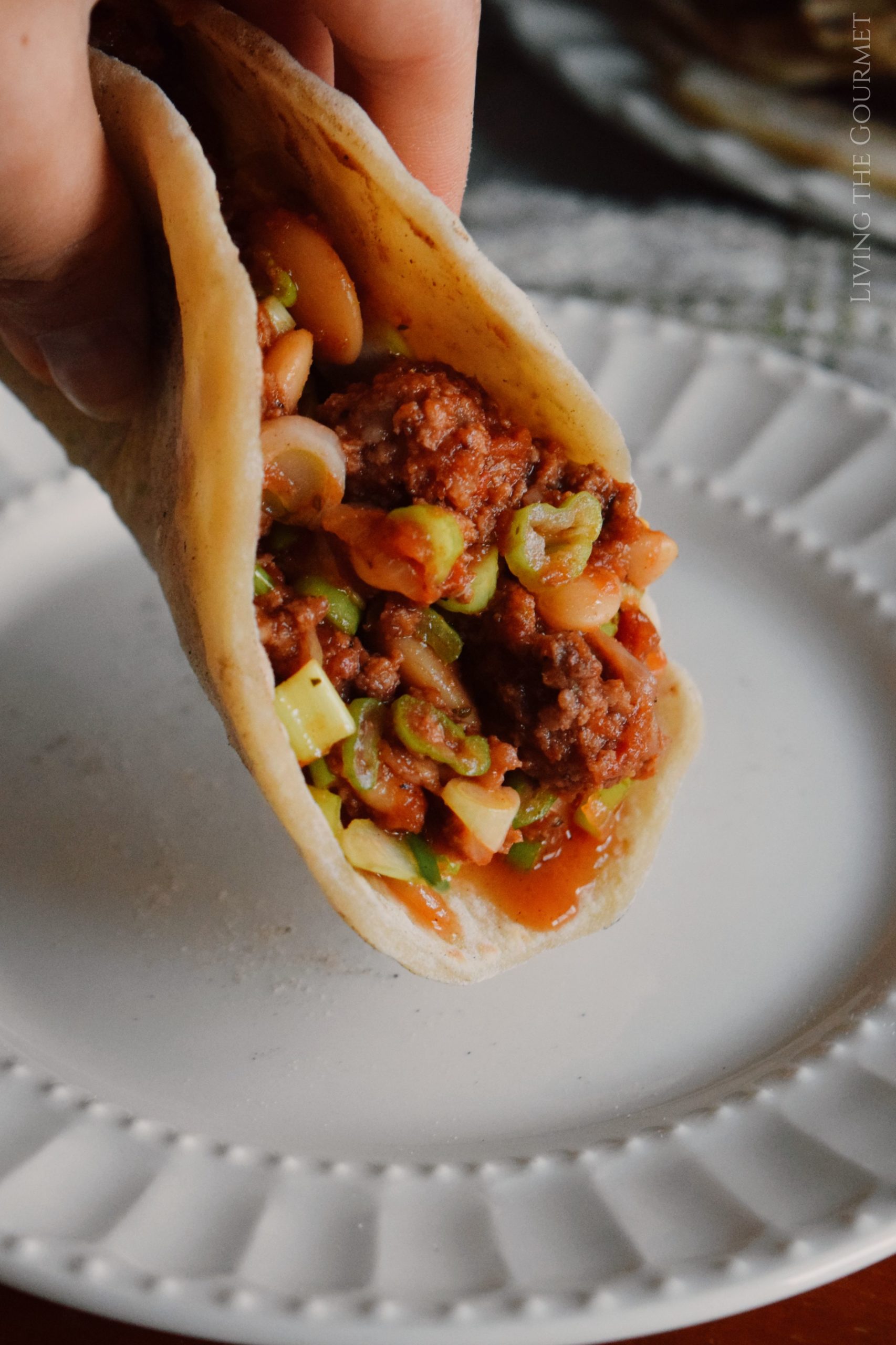 1