Today we're preparing a Strawberry, Honey, and Mustard Pretzel Dip, and we'll be doing so with a little help from my new friends over at "Dream Pretzels." Today's dip is sweet and spicy, and just a tad smoky, making it a great companion for snack food like pretzels, as well as for grilled favorites like chicken and pork chops.
Now, without further delay, let's dive right in, because we've got a lot to cover.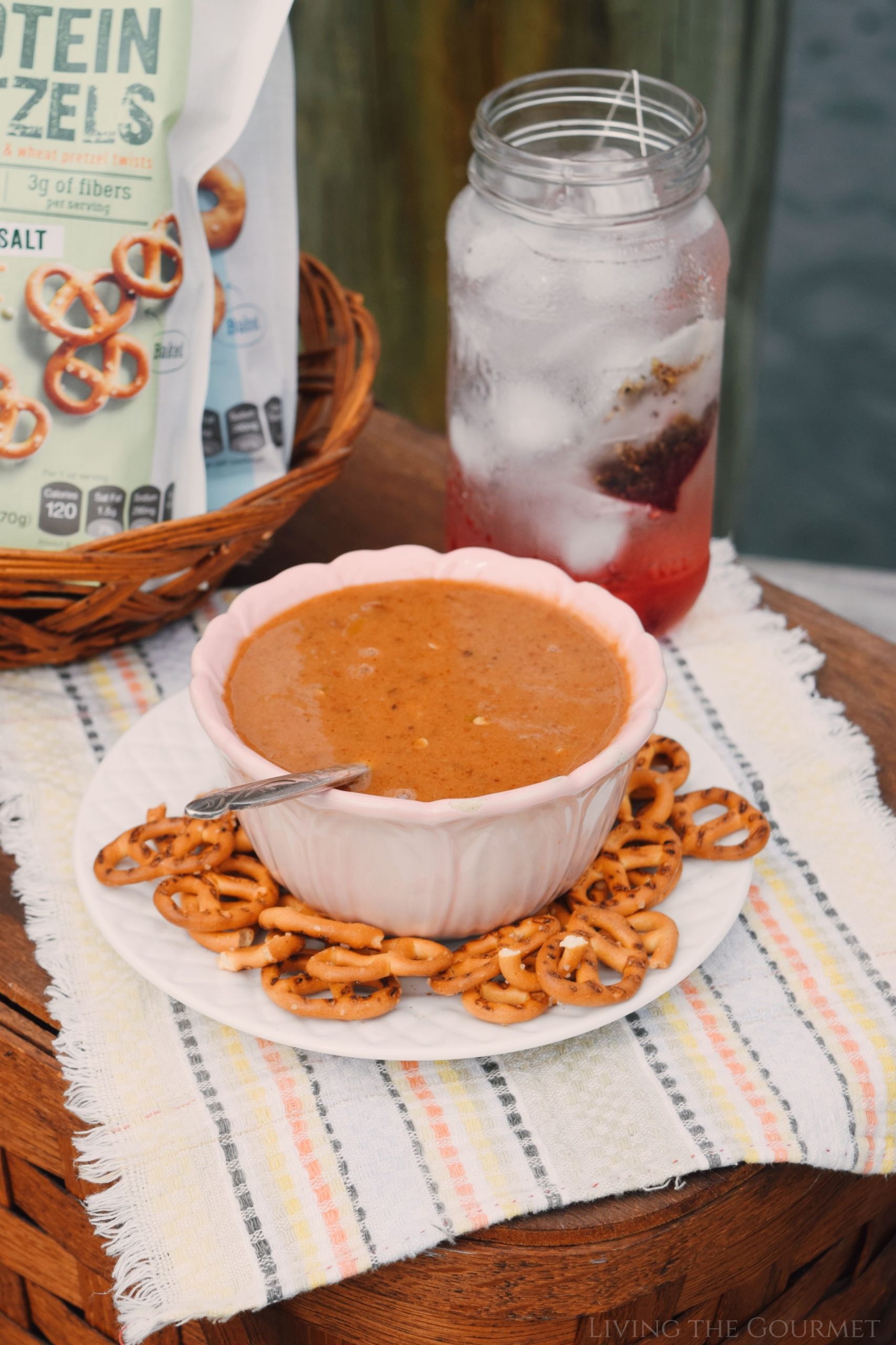 Ingredient Notes, Tips, and Substitutions
1) The Vinegar – It's all the same, unless it's Balsamic. There are a lot of different types of vinegar out there. Rice vinegar, malt vinegar, distilled white vinegar, white wine vinegar, red wine vinegar, Balsamic Vinegar, sherry vinegar, champagne vinegar (yes, that's a thing), truffle vinegar (also a thing), plum vinegar (no, I'm not making that up)…there are literal textbooks out there simply outlining the shockingly nuanced differences between vinegars. That said, you might be surprised to learn that all vinegar is essentially just fermented ethanol (except for Balsamic), and that vinegar in general is used almost solely to add acidity to a recipe (except for Balsamic, which has a myriad uses), or as a preservative and/or base for pickling (except for Balsamic, which has no such preservative properties). Shockingly – or not – the amount of variance between vinegars in terms of taste and texture is astoundingly negligible (except for Balsamic). In terms of texture, it's worth noting that the consistency of almost all vinegars is roughly that of water (except for Balsamic, which can range from thin to syrupy). However, there have to be 'some' differences, right? Yes, but those differences are 'very' nuanced, and usually come down to the flavors and/or texture of the base item from which the vinegar was produced. For example, plum vinegar will (shockingly) have a slight hint of plum in the background, and may contain plum pulp depending on whether or not (or how thoroughly) the vinegar was strained. The same is true of apple cider vinegar, which we're using in today's recipe. However, these flavors are often overpowered by the sheer acidity of the vinegar itself, and rarely if ever come through all that powerfully in the recipe into which these vinegars are being added. Naturally, these subtle differences shine through in raw recipes, or where there aren't many other competing flavors – such as salad dressings, spreads, or dips.
Substitutes: White wine vinegar, fresh lemon juice, and rice vinegar are all decent substitutes for apple cider vinegar, according to Mashed. While I would still suggest using Apple Cider Vinegar, any of those vinegars are a fine stand-ins for today's recipe.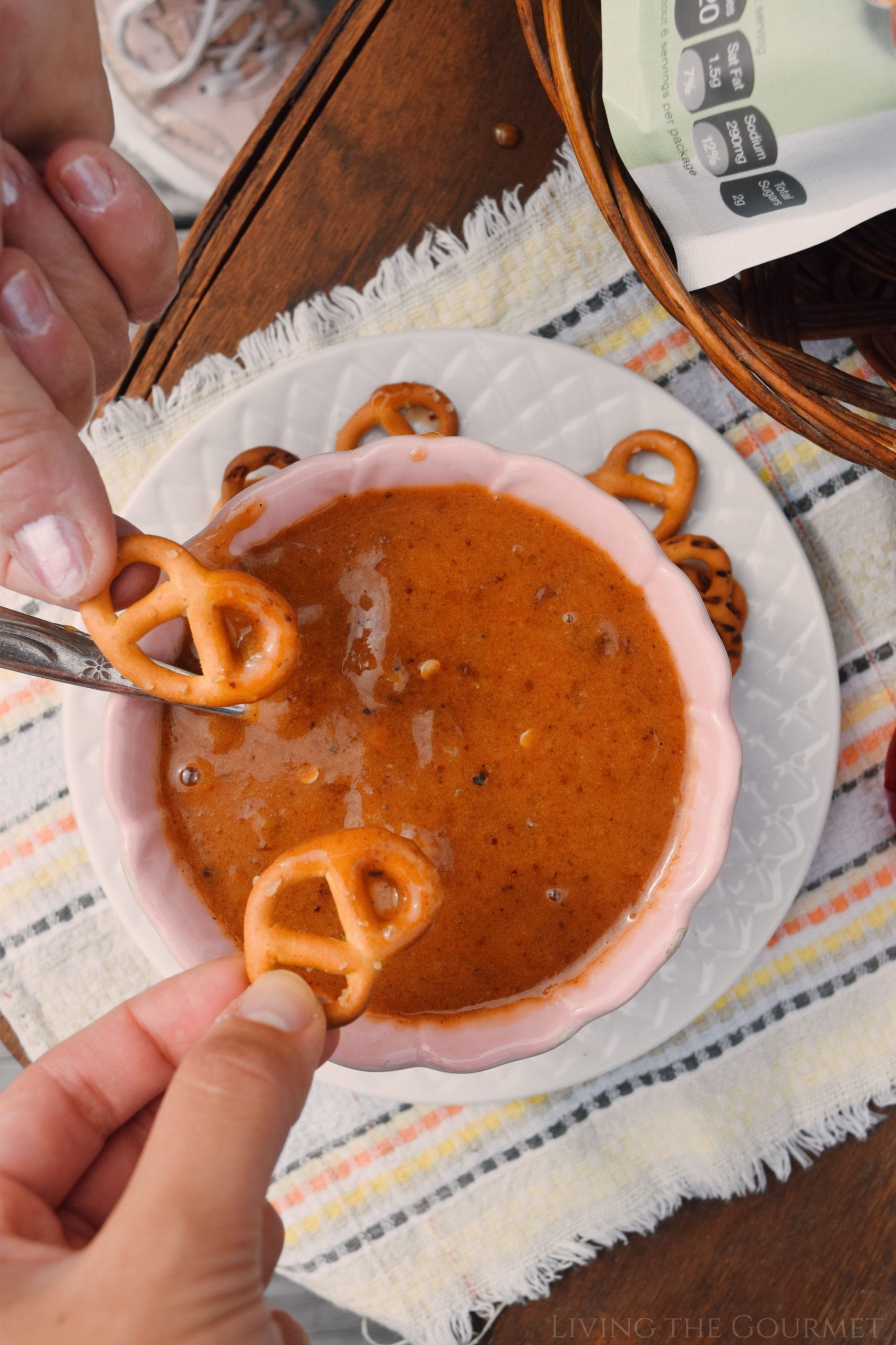 2) The Honey. I'm of the opinion that store brand honey is perfectly fine for 'most' kitchen applications, and in virtually all 'cooked' applications. I say this because the qualities that separate gourmet or quality raw honey from 'standard' store brand are very nuanced, often coming down to delicate texture differences which are wholly destroyed during the cooking process, while any minor flavor differences will almost certainly be masked or overpowered by other ingredients. However, raw or gourmet honey is at home in things like salad dressings, dips, and delicate baked goods, where its nuanced flavors and delicate texture can really shine through, and that includes today's recipe.
3) The Mustard. We're using Spicy Brown Mustard in today's recipe, and we're doing so for a few reasons. To start off, let's look at the various types of mustard out there. Yellow mustard, which is sometimes called 'ballpark mustard' in the US, is typically a mix of thoroughly ground mild yellow mustard seeds, turmeric, vinegar, and water, along with additional other spices (or not) depending on the brand. Plain yellow mustard is 'pleasantly forgettable,' being neither overwhelmingly 'flavorful' or 'spicy.' Hotdogs, mild dressings, mild dips, and burgers, is where this mustard really shines. Next up, spicy brown mustard. Spicy brown mustard varies wildly in flavor and texture from brand to brand. The reason for this largely comes down to the fact spicy brown mustard isn't actually named for the 'brown mustard seed,' but rather for the additional ingredients mixed into the mustard – the ingredients that make it 'brown' and 'spicy.' These ingredients can include any combination of ginger, nutmeg, cinnamon, paprika, coarsely ground peppercorn, chili powder, and coarsely ground mustard seed – to name just a few. This type of mustard is also called 'deli style' for the simple reason that delis often pair this mustard with 'hardy' meats like pastrami, sausage, and salami – where you need a hardier, spicier mustard to stand up to the meat it's being slathered on. Spicy brown mustard can be made from brown mustard seeds, yellow mustard seeds, or a mix of both. On the opposite end of the spectrum we have 'whole grain mustard,' which is even spicier and more heavily textured than deli style mustard, except that all of its 'pungency' and 'heat' comes from its blissfully powerful concentration of 'mustard.' It uses very coarsely ground (or even whole) mustard seeds to achieve its signature texture and biting flavor. Finally, we come to Dijon mustard. Most Dijon mustard is not actually made in Dijon, France, and hasn't been for quite some time. Dijon is typically a mix of brown mustard seeds and white wine, although some brands will use black seeds. Now, you might be asking "What about honey mustard?" Honey mustard is simply mild yellow mustard mixed with honey – ideally at a one-to-one ratio.
Which is best for today's recipe? Given the grilled garlic and the grilled jalapeno, I'm opting for spicy brown mustard, which I feel melds nicely with the grilled flavors of both.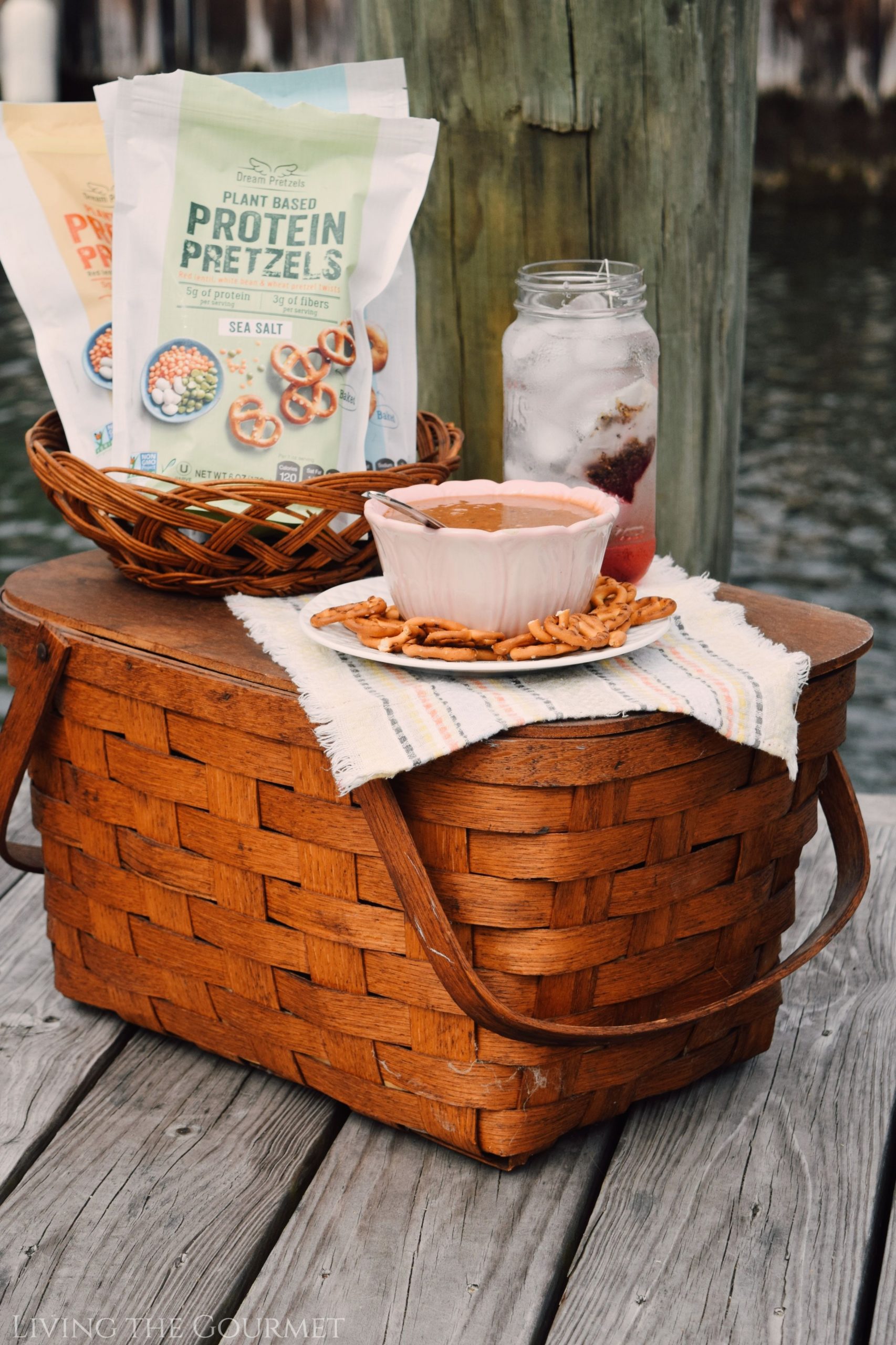 What To Do With Today's Dip – Pairings
1) Pork Chops. My son put a bit of today's dip on pan fried pork chops, and the combination was simply delicious.
2) Grilled Chicken. Today's dip actually pairs great with grilled chicken, especially if you slice the chicken over a salad with fresh greens and tomatoes.
3) Pretzels. Today's Strawberry, Honey, and Mustard dip was made with snack food in mind – pretzels in particular – and that's why I'm pairing it with "Protein Pressels" from my new friends over at "Dream Pretzels." These pretzels are 'pressed' to make them extra crispy (hence the name 'Pressels') and baked making them low in fat. Additionally, they are packed with 5g of protein per serving since they are legume-based.
All Dream Pretzels products are non-GMO, vegan friendly, and free of trans-fat, MSG, preservatives, and artificial flavor. This means not only are these pretzels delicious, but I can also feel good about eating them. They come in two flavors; BBQ and Sea Salt, so be sure to grab yours today, I promise you'll love them.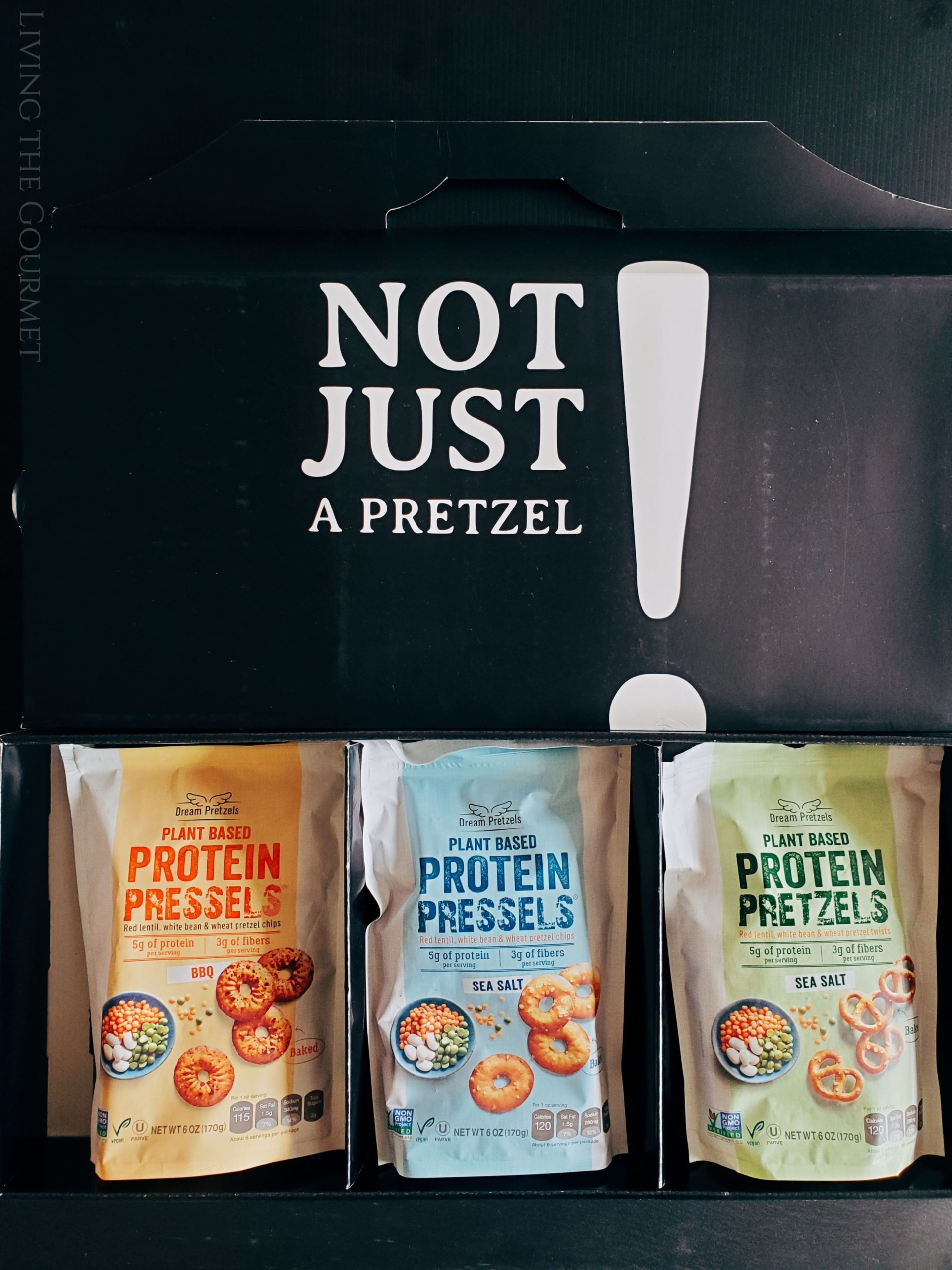 Other Great Dips and Spreads
1) Cherry Tomato Salsa. A rustic mix of cherry tomatoes, grilled garlic, red pepper, and romano cheese combine to create a warming yet 'fresh' tasting salsa. Trust me when I say this is the perfect accompaniment to any charcuterie board.
2) Artichoke Hearts and Olives. Olives, artichoke hearts, sundried and tomatoes, form the base for this zesty yet earthy dip creates a dip that simply screams "Old World Mediterranean" like few others.
3) Aguachili. If you've never tried aguachili, you're missing out. Similar in appearance and taste to a Sicilian gremolata, aguachili is a spicy mix of garlic, roasted chili peppers, and lime set in a base of tomatillos and cilantro, to create a moist, smooth dip that you'll simply fall in love with.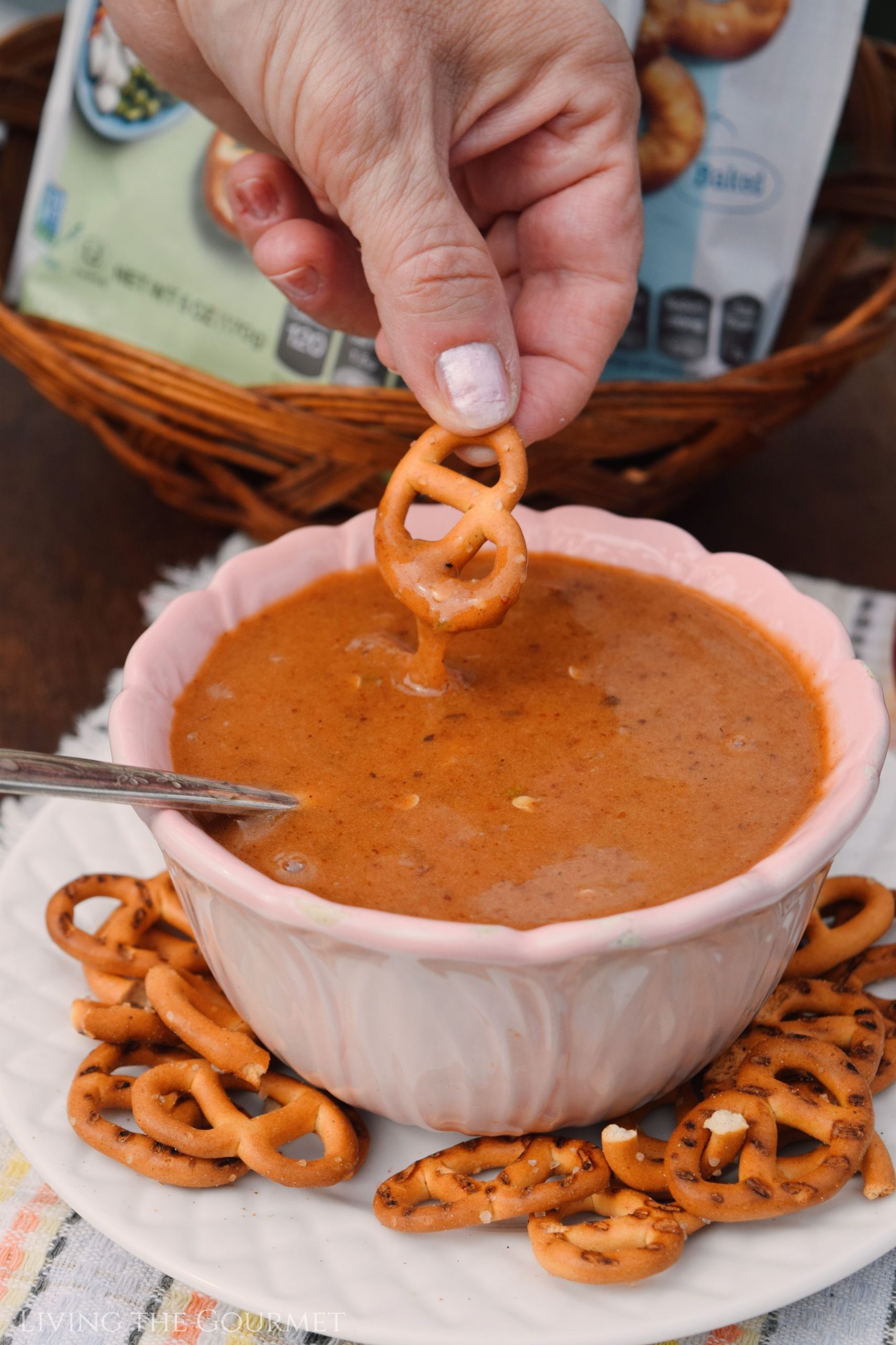 Print
Strawberry and Honey Mustard Dip
Author:
Prep Time:

10 minutes

Total Time:

10 minutes

Yield:

6

1

x
1 1/2

cups

strawberry preserves

1

jalapeno - grilled whole with seeds

3

-

4

large cloves of garlic - grilled

1/2

cup

spicy brown mustard

1/2

cup

honey

1 1/2

tsps. apple cider vinegar

1 tsp

. olive oil, drizzling
Instructions
Heat a small cast iron pan.
Place the whole jalapeno in the pan along with the cloves of garlic. Drizzle the garlic and jalapeno with the tsp. of olive oil.
Allow the jalapeno and garlic to get a beautiful golden color.
Place the mustard, honey, strawberry preserves, apple cider vinegar, grilled jalapeno and garlic a food processor and give a few good chops to desired consistency.
Serve with the pretzels.
Recipe Card powered by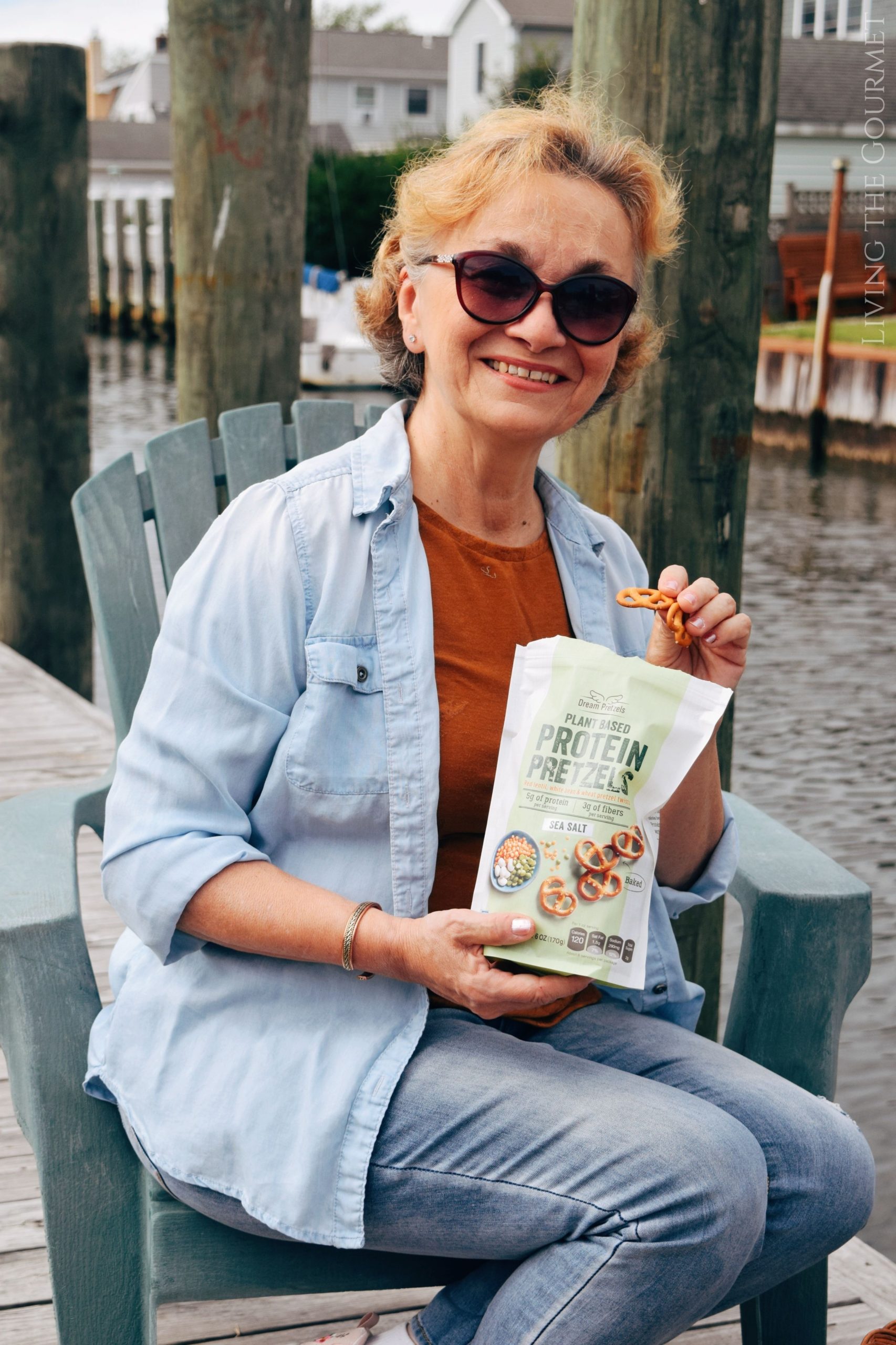 If You Enjoyed Today's Recipe…
Be sure to follow us on Instagram to stay up to date with all things Living the Gourmet, and for more great recipes, tips and tricks.
Did you make this recipe?
If so, let me know in the comments down below, or post a picture to Instagram, or to Pinterest, and I'll give you a shoutout on Instagram, or post your pin to one of my Pinterest boards!
0