I'm an unrepentant carnivore who just so happens to love a good bean burger every once and a while, and I have, since before they were trendy.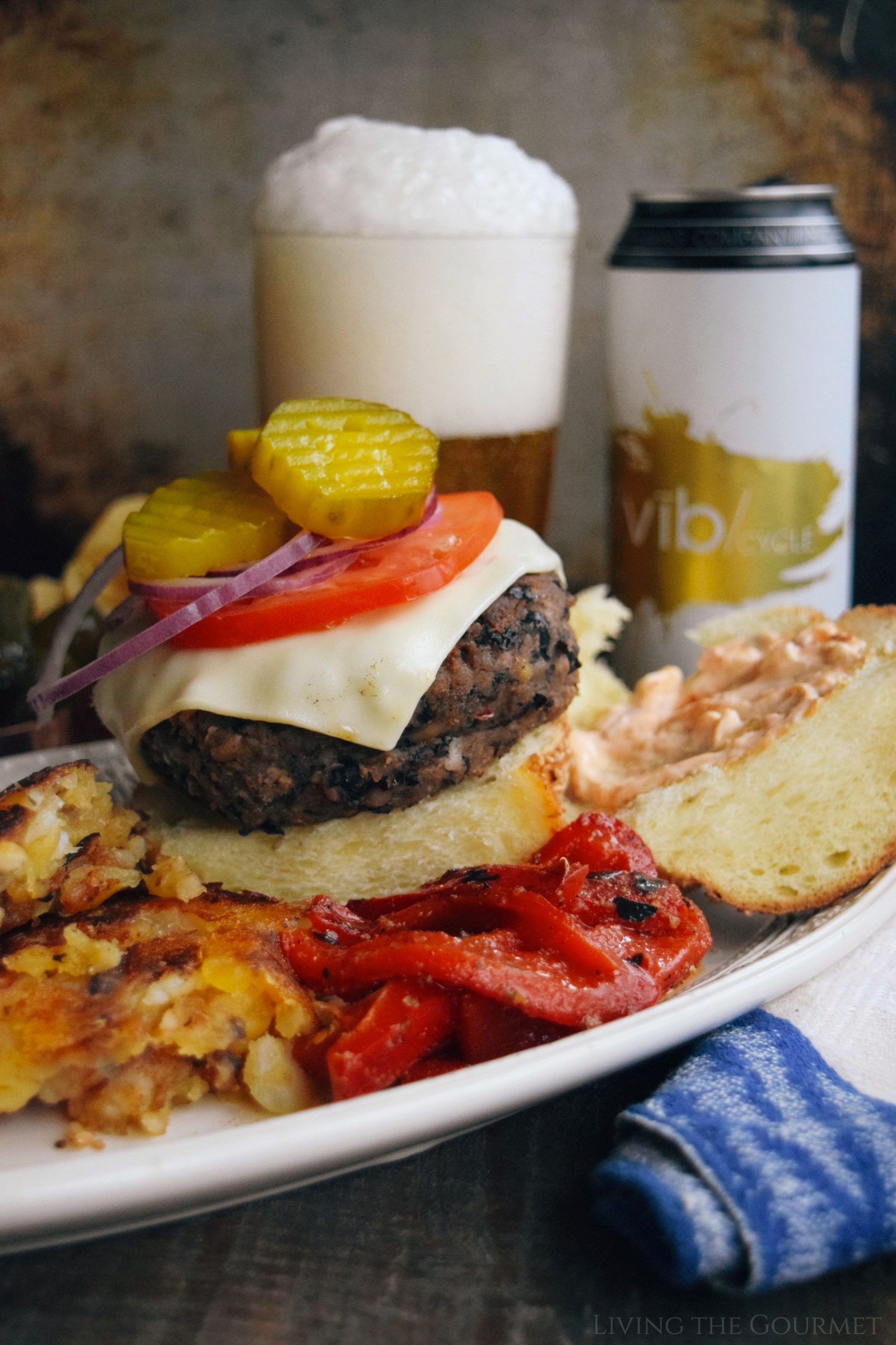 However, there is one caveat. I don't understand bean burgers that are designed to taste like 'meat.' Why should beans taste like meat? What would think if we cut into a steak and it tasted like…beans? No, just no. This flies in the face of what makes 'bean burgers' unique and delicious. You can play with the flavors of a hardy bean burger in ways that simply wouldn't work with ground beef. To my mind, bean burgers can embrace the beautiful mosaic of herb and veggie flavors in ways that would simply 'dilute' or 'mask' ground beef burgers, or turn those same ground beef burgers into mini-meatloaves.
No, I want my bean burgers to be packed full of things like fresh garlic, red pepper flakes, pignoli, shallots, or to feature a rainbow of multicolored peppers, and to be bursting with a collage of herbal seasonings that run the gamut from spicy to earthy and back again.
While ground beef burgers 'are' an artform unto themselves, and making the 'perfect' burger takes skill and practice – the same is true of a good bean burger, and to try to blur the line between the two is to blur what makes either item truly delicious and unique.
And that's where the inspiration for today's recipe comes in – hardy black bean burgers that are positively bursting with flavor, character, and complexity, and that are unapologetically 'bean burgers.'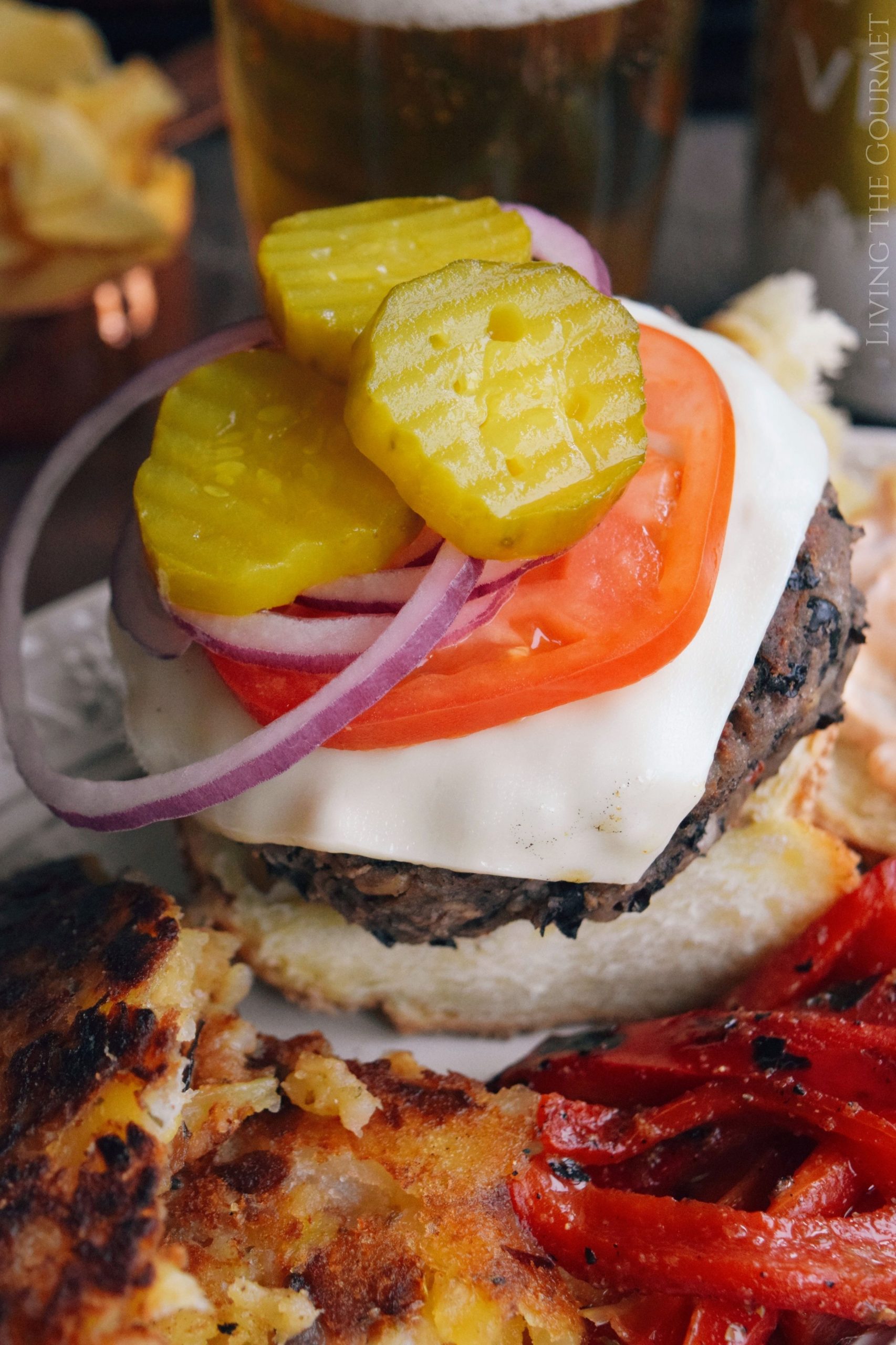 Ingredients Notes, Tips, and Substitutions
1) The Beans. Let's get this one out of the way straight away. The truth is that pretty much any bean that 'crushes up well' can be turned into a burger. However, this trait isn't as important as you might think, since even notoriously 'tough,' 'flaky,' or 'resistant' beans can be crushed into burgers – such as chickpeas (which actually make delicious burgers and patties – looking at you falafel). However, black beans are beloved as the 'go-to' bean for burgers for a couple of important reasons. The first is that they 'look' like ground beef after they've been crushed – and for some people this is important. I myself couldn't care less if my 'bean burger' looked like ground beef…why would I expect it to? But I digress. The second reason is that they have a moist and tender interior, which is easily crushed and then molded into a burger of your desired shape and thickness. As a nice bonus, their interior is only 'mildly' flavorful, thereby allowing you two tweak the flavor of your bean burgers to your heart's content. Note I said only 'mildly' flavorful, since the beans do carry a nice 'meaty' flavor of their own, giving you a pleasant starting point.
2) Shallots. Onions at a 1-to-1 ratio substitute fine for shallots. However, most types of onions tend to have a slightly harsher flavor and a fair bit more acidity than shallots, so be aware of this. Also, be sure to chop your onions very small, since you don't want chunks of onion in the burgers, since the shallots tend to simply 'disappear' into the mixture.
3) Pine Nuts – What Are They? Is There a Substitute? Side note, I just realized I call these 'pine nuts' when I'm making things like black bean burgers, and I call them pignoli when I'm preparing pasta dishes. Oof. Regardless, pine nuts and pignoli nuts are the same thing – the seeds of pine trees. That said, pine nuts (or pignoli if you prefer) are valued for their small size, tender or even 'buttery' texture when cooked, and the large amount of oil that they contain – relative to their small size – which seeps out into the food they are being cooked in or with, thereby spreading their flavor more intensely and evenly than other nuts. As a result, a truly 'good' substitute is hard to find, since very few, if any, other nuts carry this precise combination of desirable traits. For today's recipe, I would likely opt for chopped almonds. Other 'decent-ish' substitutes include chopped walnuts and hazelnuts. It really comes down to preference, in all honesty.
4) Coriander Substitution. Cilantro. Cilantro and Corriander actually come from the same plant – dubbed "Coriandrum sativum." Coriander is the seed of the cilantro plant, while 'cilantro' are the leaves. Fun fact: The entirety of the plant is edible and flavorful. Coriander root, for example, is popular in some areas. That said, dried cilantro substitutes just fine on a one-to-one basis for coriander. Equal parts cumin and parsley also make for a decent, if slightly 'inexact,' substitute.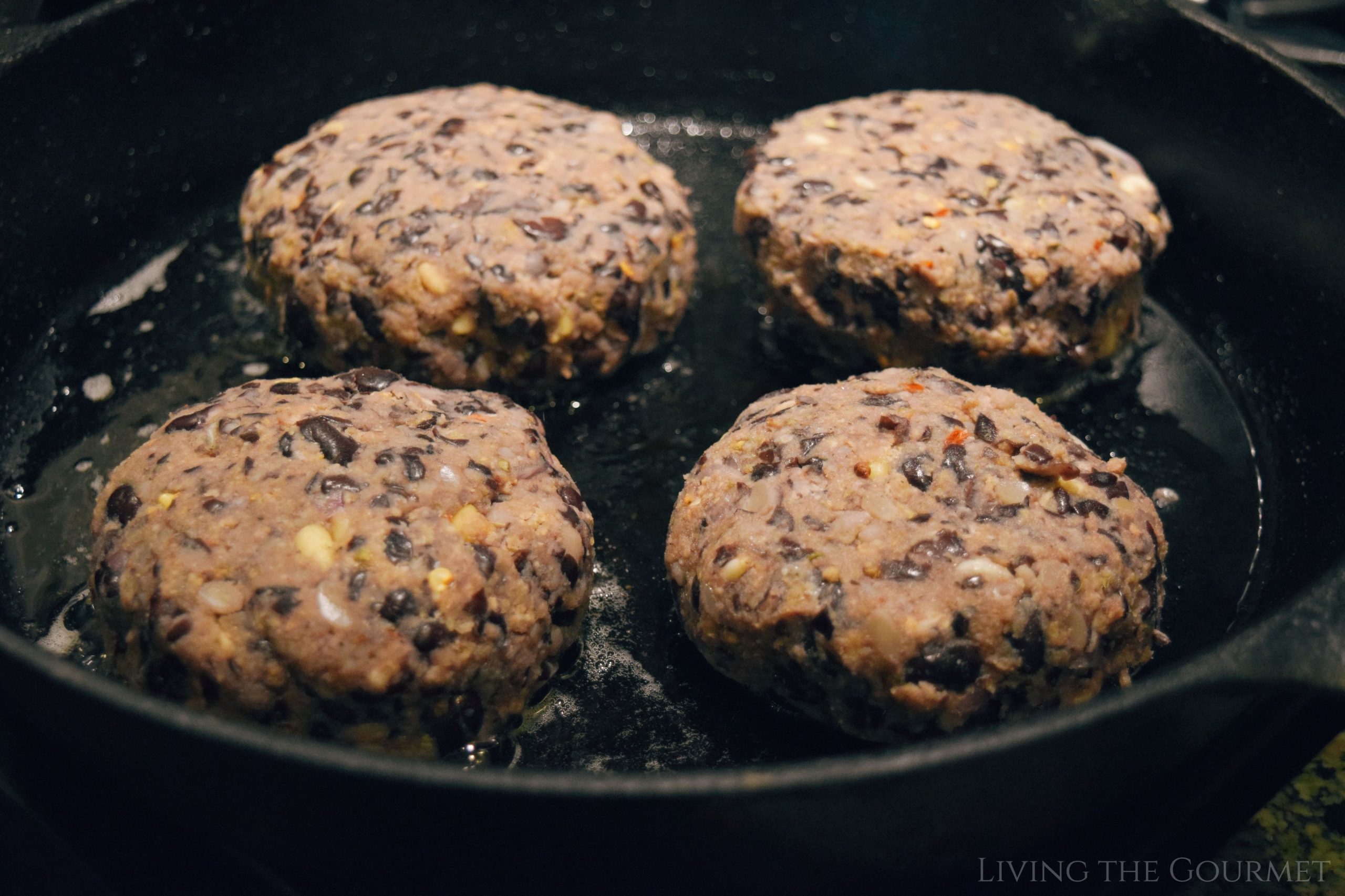 Tips and Tricks
1) Mix Them Well. You want the black bean mixture to be thoroughly, completely, and uniformly combined. This is in contrast to mixing ground beef, where you want to work the meat mixture 'only' until your ingredients are incorporated, lest you end up with a rubbery burger, meatball, or meatloaf. That won't happen here. Just the contrary. If your ingredients are 'not' thoroughly and uniformly blended, you will end up with burgers that won't hold together through cooking.
2) No Animal Fat Means No Shrinkage. If you've ever prepared ground beef burgers or meatballs or meatloaf, you're well aware that those items 'shrink' during cooking – and this is especially true when using thoroughly marbled meat. Leaner meat shrinks less – or barely at all if you're using painfully lean meat. That doesn't happen with veggie or bean burgers, since there simply isn't any animal fat to dissolve or 'melt' during cooking. Instead, the burgers will remain roughly the same size during cooking, so form them to precisely the shape and size you want beforehand.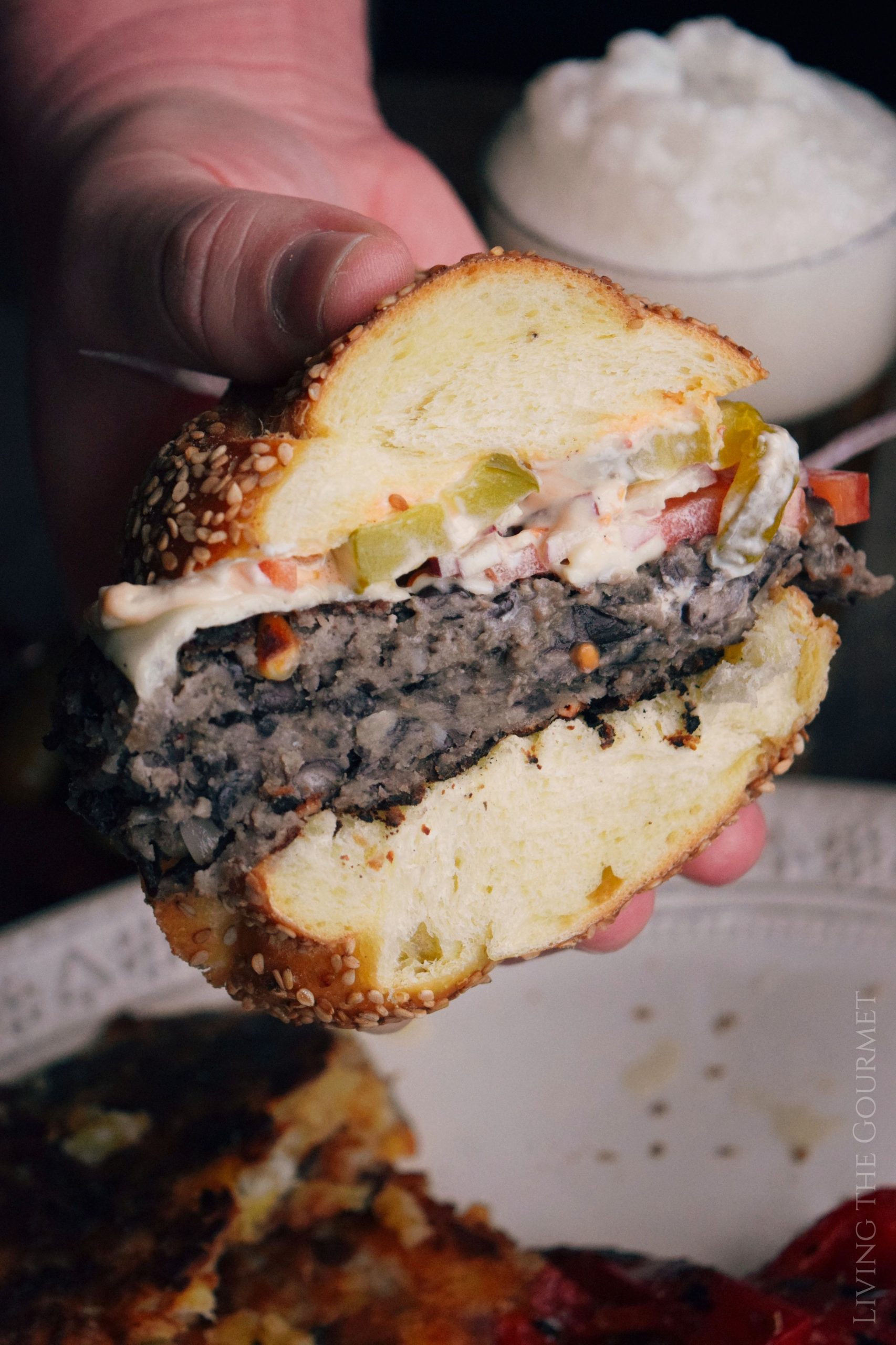 More Veggie Goodness
1) Sundried Tomato Falafel. A traditional falafel recipe blended together with sundried tomatoes, curry, and cumin. Paired with homemade flatbreads, these are great either as a light lunch or as a starters to a Mediterranean themed meal.
2) Crispy Fried Cauliflower Balls. One of my absolute favorite uses for cauliflower. Crisp, crunchy, flavorful, and moist, these are a real treat. If you've got some cauliflower that you aren't sure what to do with, or are simply looking for a new use for cauliflower, these have got you covered.
Pairs Great With
1) Baked Steak Fries. Hardy, thick sliced steak fries topped with a cheesy sauce. Need I say more? This with today's burger is one of my many definitions of 'paradise.'
2) A Cold Beer. Much like a 'regular' burger, today's black bean burger pairs best with a tall, cold beer, preferably a quality craft beer. Now, I know what you're thinking, quality craft beers are hard to find, since they often operate in relative obscurity, and the 'trial and error' process of a finding a decent one can be daunting. However, what if you had access to an expertly curated list of the very best craft beers throughout country, and what if this list was available at a little or no cost? Well, that is exactly what my friends over at Tavour offer, a curated list of quality craft beers. You can also sign up for their monthly delivery service, where they will ship handpicked batches of craft beers right to your door. Seriously, give them a try, you won't be disappointed. This message is intended for those 21+. Please enjoy responsibly.
Print
Black Bean Veggie Burgers
Author:
Prep Time:

10 minutes

Cook Time:

15 minutes

Total Time:

25 minutes

Yield:

4

1

x
2

–

15

oz. cans of black beans – rinsed and drained

2

cloves of garlic – grated

1

small shallot – grated

2

egg

1

cup

bread crumbs

1/4

cup

pine nuts

1 tsp

. salt

1 tsp

. fresh ground black pepper

1 tsp

. red pepper flakes

1 tsp

. dried oregano

1 tsp

. ground coriander
Olive oil for drizzling the pan – about 2 tbs.

1

pat of butter
Slices of your favorite cheese for melting
Your favorite bread or rolls
Pickles
Sliced tomato
Sliced red onion
Instructions
Place the rinsed and thoroughly drained beans in a bowl.
Mash until mushy but not overly mushy, there still should be some whole bean pieces left.
Add in the eggs, seasonings, grated garlic, grated shallot, pine nuts and bread crumbs.
Mix until everything in well incorporated. Let the mixture sit while preheating a large cast iron frying pan on a medium low heat.
Form the burgers to desired size. These burgers will not shrink, since there is no fat in them as in beef burgers. So, make the burgers the desired size you would like them.
Add the olive oil and butter to the pan.
Place the burgers in the pan and cook for about 4 – 5 minutes per side on a medium – low heat. These burgers were about one-inch thickness. The cooking time depends on the thickness of the burger.
When you flip the burger place the cheese on top of the flipped side to let the cheese melt.
Serve with your favorite condiments and bread or rolls.
Recipe Card powered by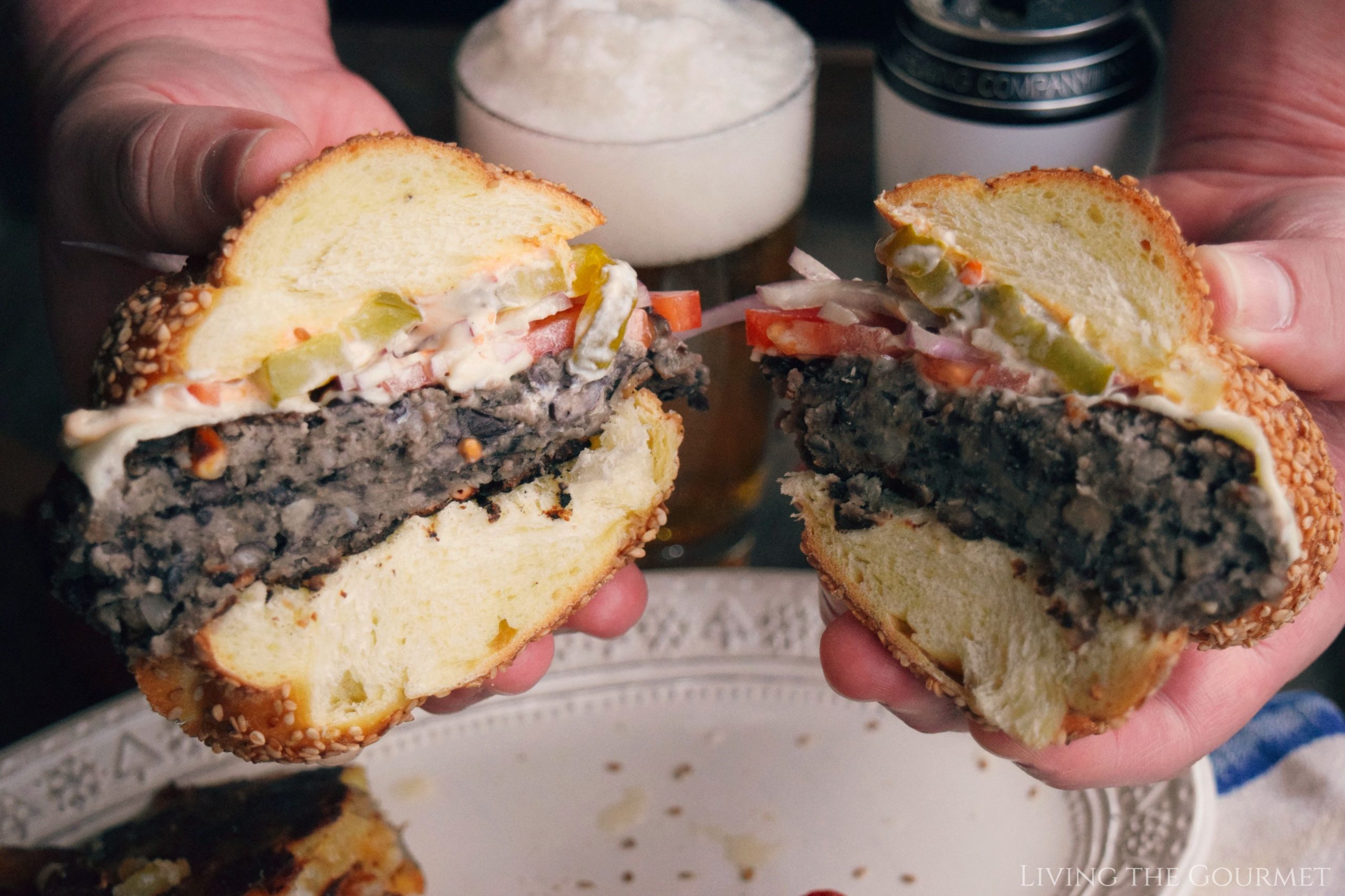 If You Enjoyed Today's Recipe…
Be sure to follow us on Instagram to stay up to date with all things Living the Gourmet, and for more great recipes, tips and tricks.
Did you make this recipe?
If so, let me know in the comments down below, or post a picture to Instagram, or to Pinterest, and I'll give you a shoutout on Instagram, or post your pin to one of my Pinterest boards!
2