This post has been sponsored by Chop N' Drop. All opinions expressed are my own.
Thanksgiving Stuffing. It's the star of every holiday table, even more than the turkey itself, often times overtaking even the creamiest of mashed potatoes. It's also one of few Thanksgiving items of which there are rarely if any leftovers. At least that's always the case at my Thanksigiving tables, where the stuffing has usually all but vanished by the end of the night, regardless of how much I've made. Today, however, we're putting a little bit of a twist on that holiday favorite – but don't fret, we're not changing anything beyond beloved recognition, we're just 'tweaking around the edges' a little.
Of course, we're putting together today's stuffing with a little help from our new friends over at Chop N' Drop, but more on them in just a minute.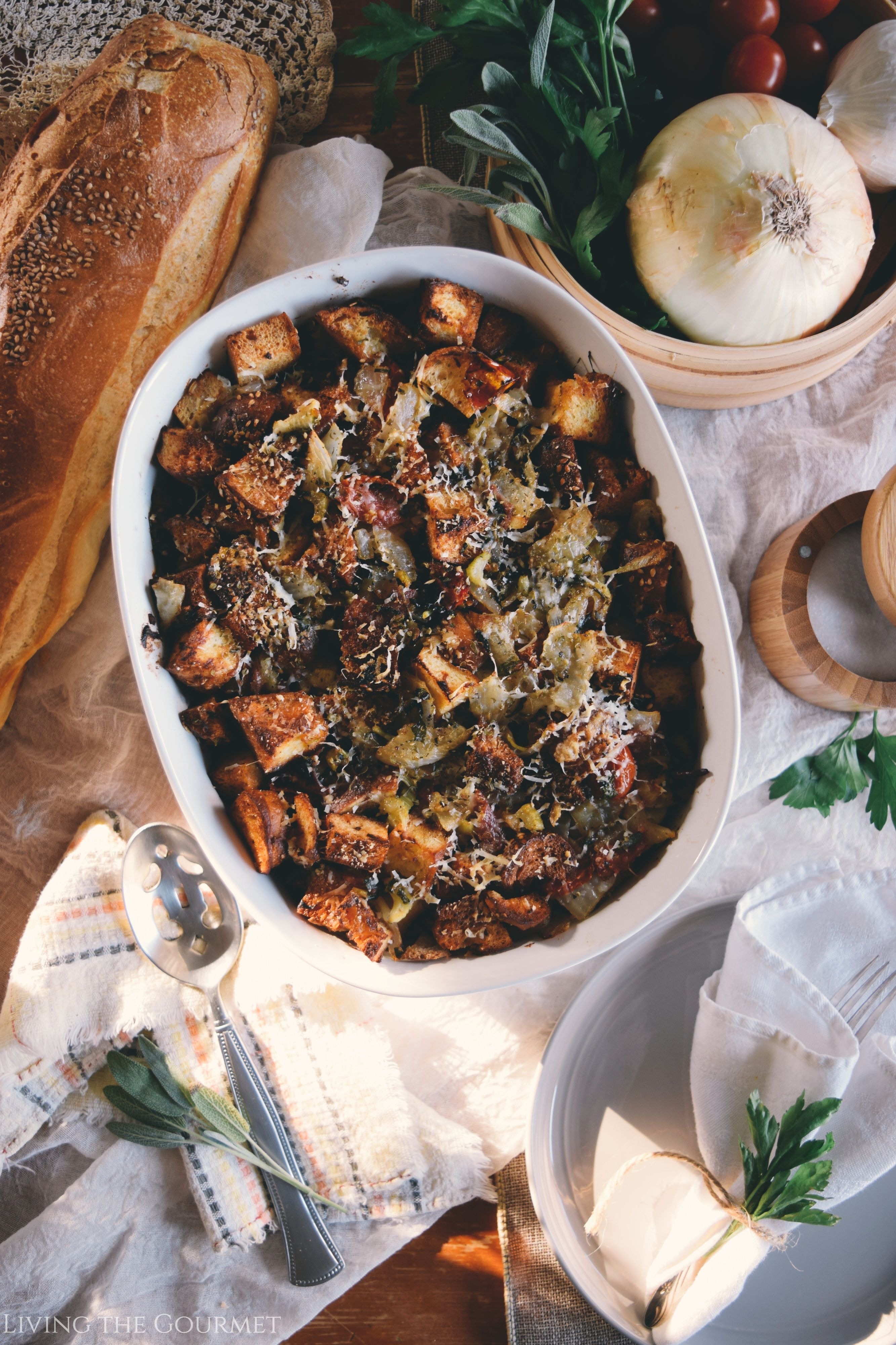 Prep Tips – How To Stuffing
1) Firm, Crusty Italian Bread. You want an Italian bread with a substantial crust and a firm interior, preferably something artisanal. This is due simply to the fact that over-soft Italian bread will simply fall apart during cooking, or become overly 'sponge-like,' rather than pleasantly so. By contrast, we want the top layer of the bread, or the 'crust' of the stuffing to become crisped and golden, while the bread below becomes 'pleasantly' soft and saturated in the 'juices' of the stuffing. Yet, this combination is only possible if the bread can withstand the cooking process.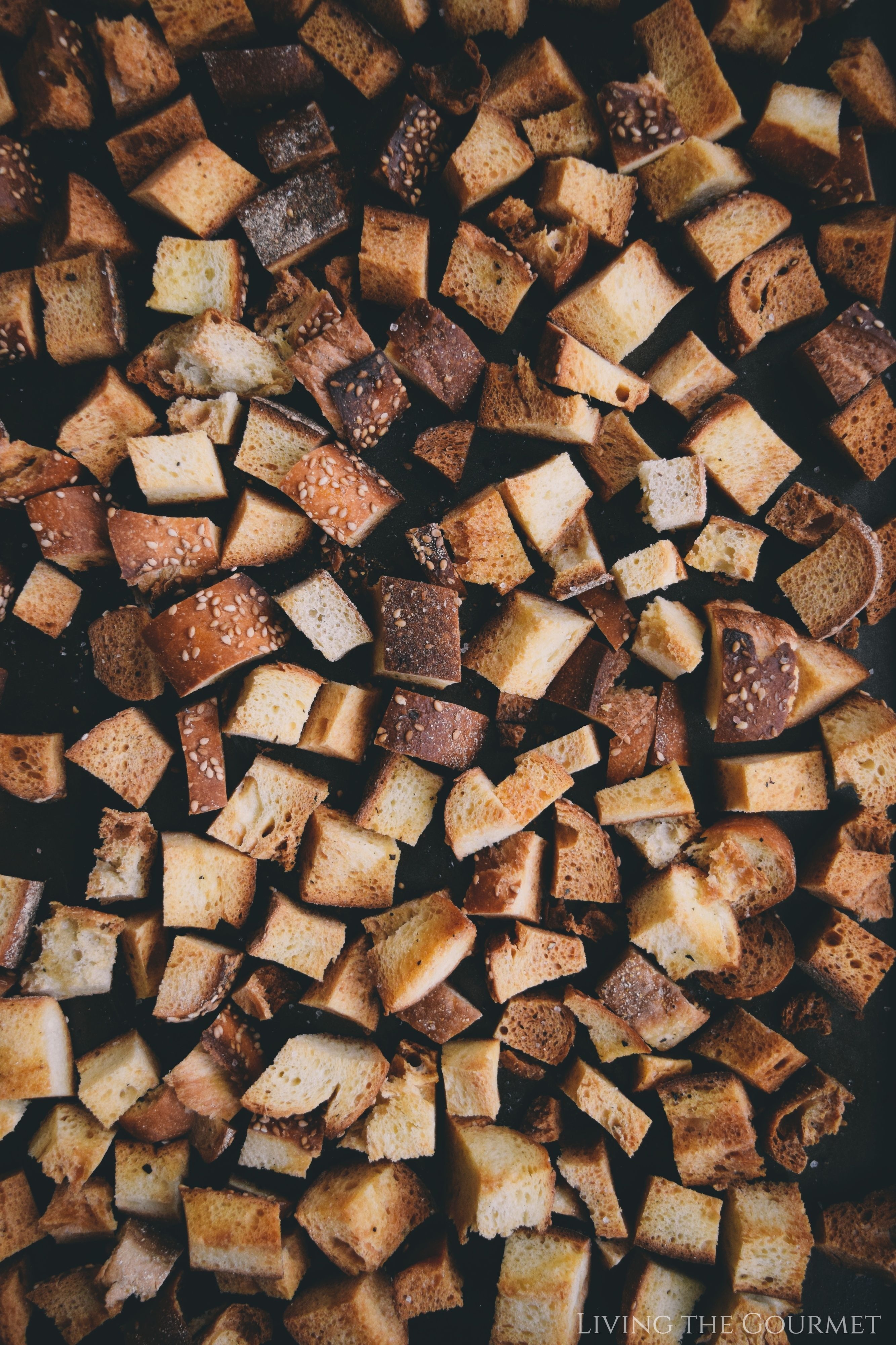 2) Get a Chop N' Drop – no, seriously, get one. This was the star of my kitchen experience while preparing the stuffing. This is 'not' a gimmick item. This thing really does make the chopping and mixing process worlds easier, more convenient, and less clean-up intensive. Constructed primarily of bamboo, the Chop N' Drop is, at its core, a very sturdy cutting board that's fully organic in its construction.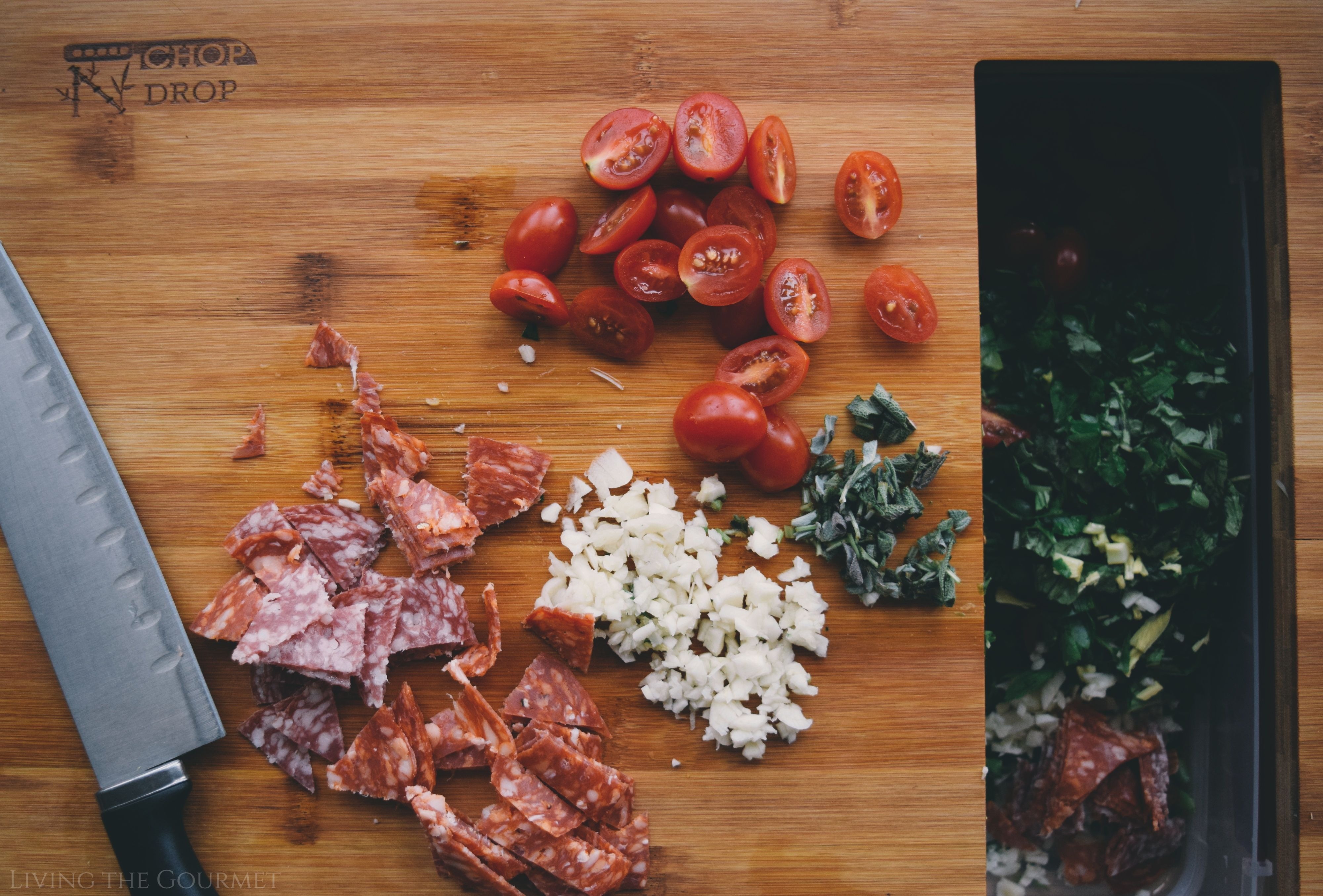 However, as you chop, you can simply slide the chopped ingredients through a latch into liquid seal-tight containers directly beneath the cutting board. What the Chop N' Drop allows you to do is to save on space, save on cleanup, and makes for a super convenient way to almost instantly sort ingredients as you're chopping them. For a recipe like today's stuffing, which involves a large amount of chopping, this device is truly a godsend. Naturally, the board is both left and right handed friendly with a simple flip of the board. The entire item is quite sturdy, and didn't slip at all on my granite counter top, courtesy of the Chop N' Drop's silicon anti-slip pads. For more info check them out on Amazon, and if you order from Black Friday through Cyber Monday you'll save 20% on your order!
Ingredient Notes
1) Salami – Thin vs Thick Cut. Please, please, please, use thin cut salami. Whole, large cut chunks of salami will remain 'hard' or 'overly substantial' during cooking, and will be the farthest thing from pleasant to chew on when attempting to enjoy today's stuffing. By contrast, thinly sliced salami takes a back seat in terms of texture to the saturated Italian bread, while imbuing the entire recipe with its delicious cured-meat flavor.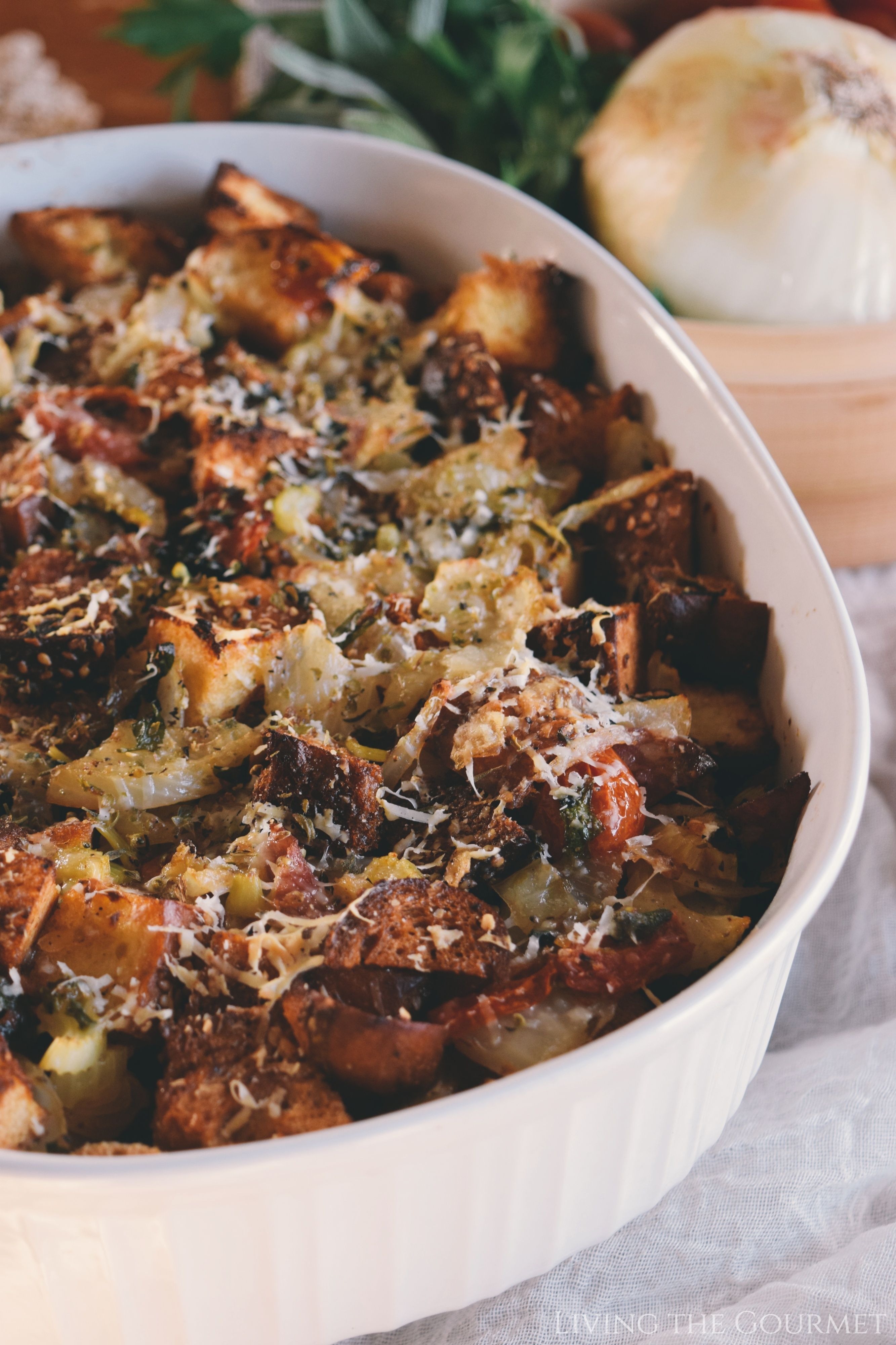 2) Dried Oregano. I've a written here a few times that fresh herbs almost universally have a 'brighter' and 'crisper' flavor than their dried alternatives, in addition to being 'less' concentrated or 'powerful' overall. Oregano is no different. However, you typically want to use fresh herbs in place of dried when the 'clean' or 'bright' qualities that typify fresh herbs won't become overpowered by a strong assortment of flavors, or where their 'crispness' won't be destroyed by a harsh cooking process. As such, fresh oregano is simply unneeded for today's stuffing.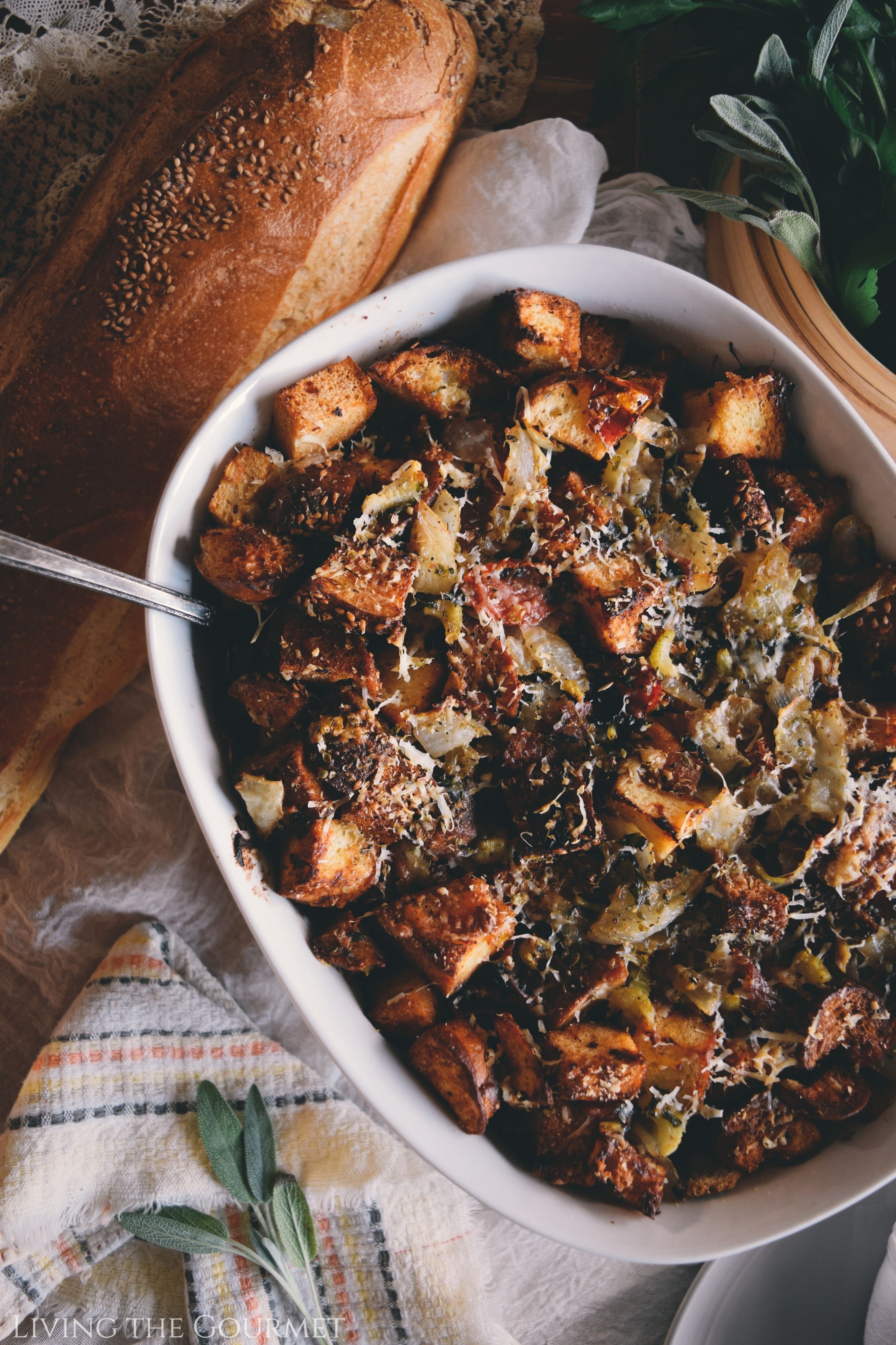 3) Fennel Seeds. These have a similar taste and aromatic profile to fennel, which is to say 'fresh licorice,' except notably subtler than their 'whole' or 'grown' counterparts, and without the needs to account for chunks of fennel in the recipe. In other words, they pack less of a punch, and easier to cook with. In things like stuffing, stews, and roasts, the 'flavor' of the seeds are largely overpowered, taking a decidedly background role, but they nevertheless add an unmistakable 'herbal sweetness' to the recipe. As a side note, fennel seeds are very similar in their function to anise, though it's debatable if the two are interchangeable.
4) Fresh Parsley – A Cooked Garnish. Due to the flavor profile of today's stuffing, the fresh parsley is largely a 'baked in garnish' intended to add some 'green' and 'leafy' colors and textures to the stuffing. For this reason, I highly suggest using Italian Parsley, since it typically features a brighter green color and a more eye-appealing leaf structure.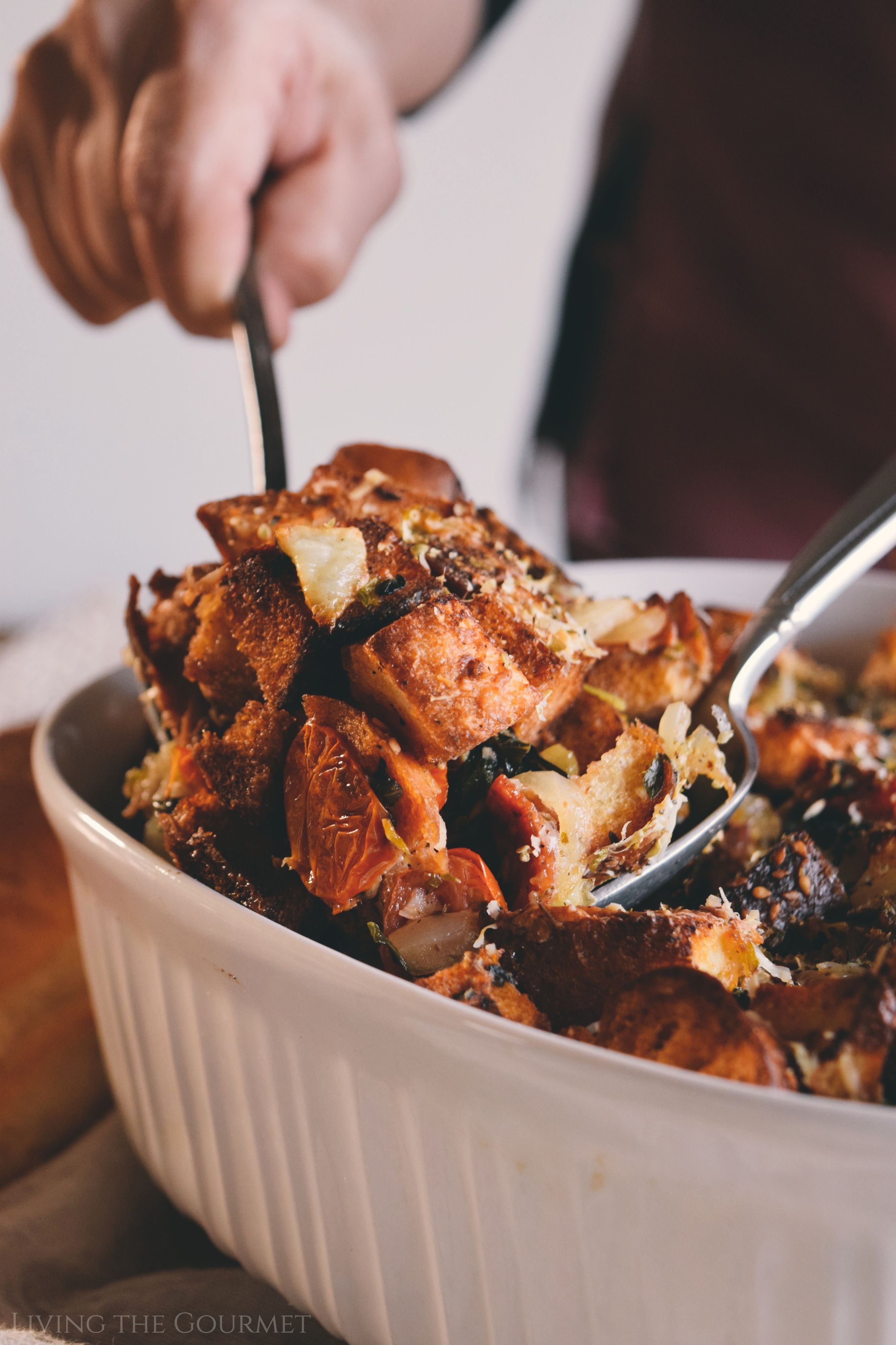 Living the Gourmet
Yields 4-6
Italian Stuffing
10 minPrep Time
1 hrCook Time
1 hr, 10 Total Time
5 based on 16 review(s)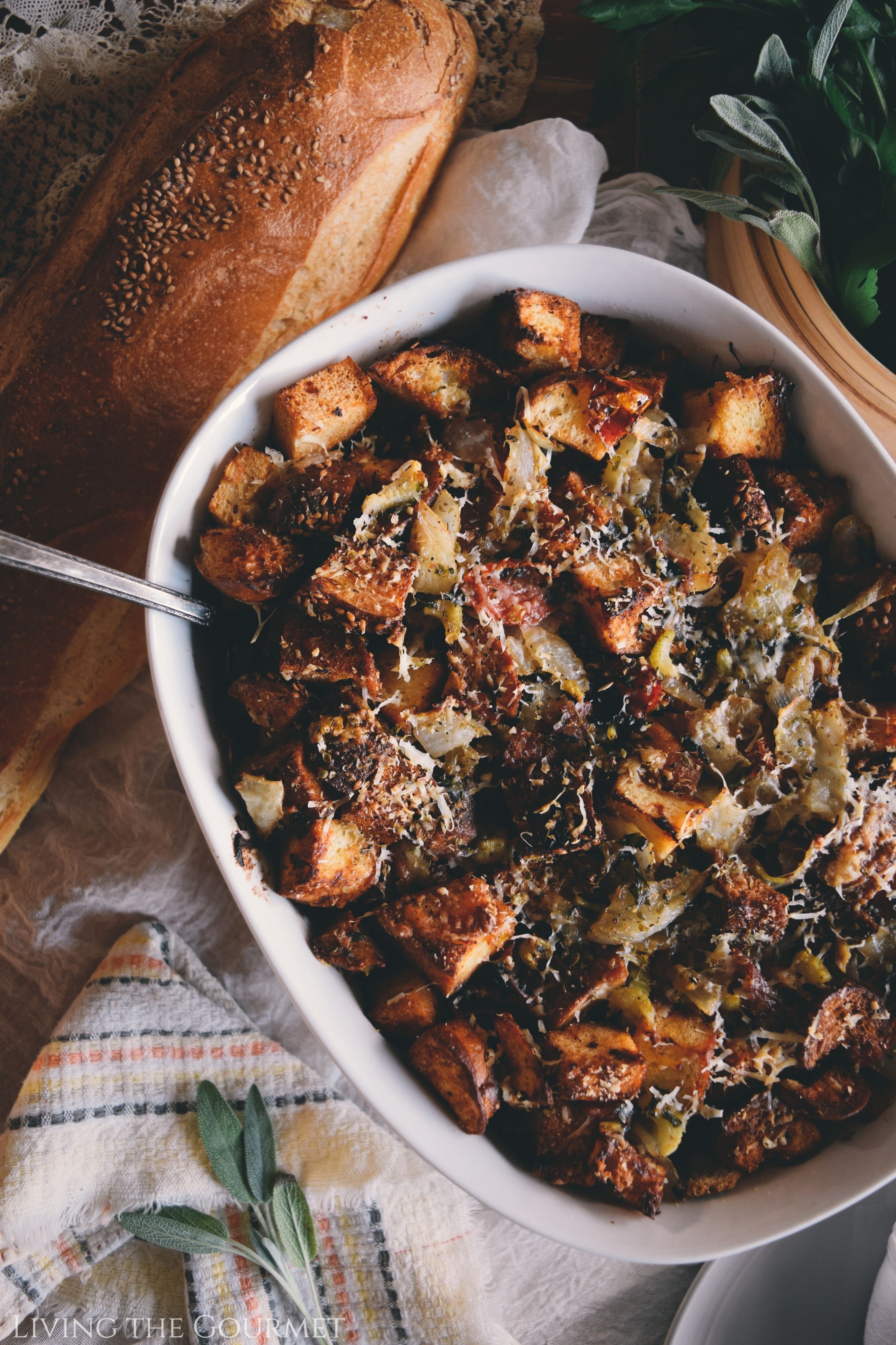 Ingredients
8 cups of cubed Italian bread
1 large onion – chopped
4 - 5 cloves of garlic – chopped
1 cup of fresh parsley – chopped
5 - 6 stalks of celery – chopped with leaves
1 ½ cups of cherry tomatoes – halved
6 – 8 fresh sage leaves - chopped
6 – 8 fresh basil leaves – chopped
12 slices of salami – I mixed hot and sweet salami – chopped
2 – 3 tbs. olive oil
2 – 3 tbs. sweet butter
1 tsp. salt
1 tsp. black pepper
2 tsp. dried oregano
1 tsp. fennel seeds
Instructions
Preheat Oven 350 degrees F.
Cube the Italian bread and place on a baking sheet.
Drizzle with olive oil and sprinkle with salt and black pepper.
Bake 12 – 15 minutes or until the bread becomes slightly golden.
Heat a large cast iron frying pan with 2 tbs. butter and 2 tbs. olive oil.
Add the chopped herbs, tomatoes and garlic and sauté until the garlic is slightly fragrant.
Add the chopped celery and onion and continue to sauté until the onion is slightly transparent.
Add the seasonings and toss.
Add the chopped salami, cubed bread and the grated cheese; reserving about a quarter of a cup of grated cheese to sprinkle on top. If you didn't reserve a bit, don't worry just grate more on top.
Butter a casserole dish and add the stuffing and sprinkle the remaining cheese on top, along with a drizzle of olive oil and a sprinkle of dried oregano and fresh ground black pepper.
Bake for 30 – 40 minutes. Cover until ready to serve for a more moist dressing.
7.8.1.2
1377
https://livingthegourmet.com/2019/11/italian-stuffing.html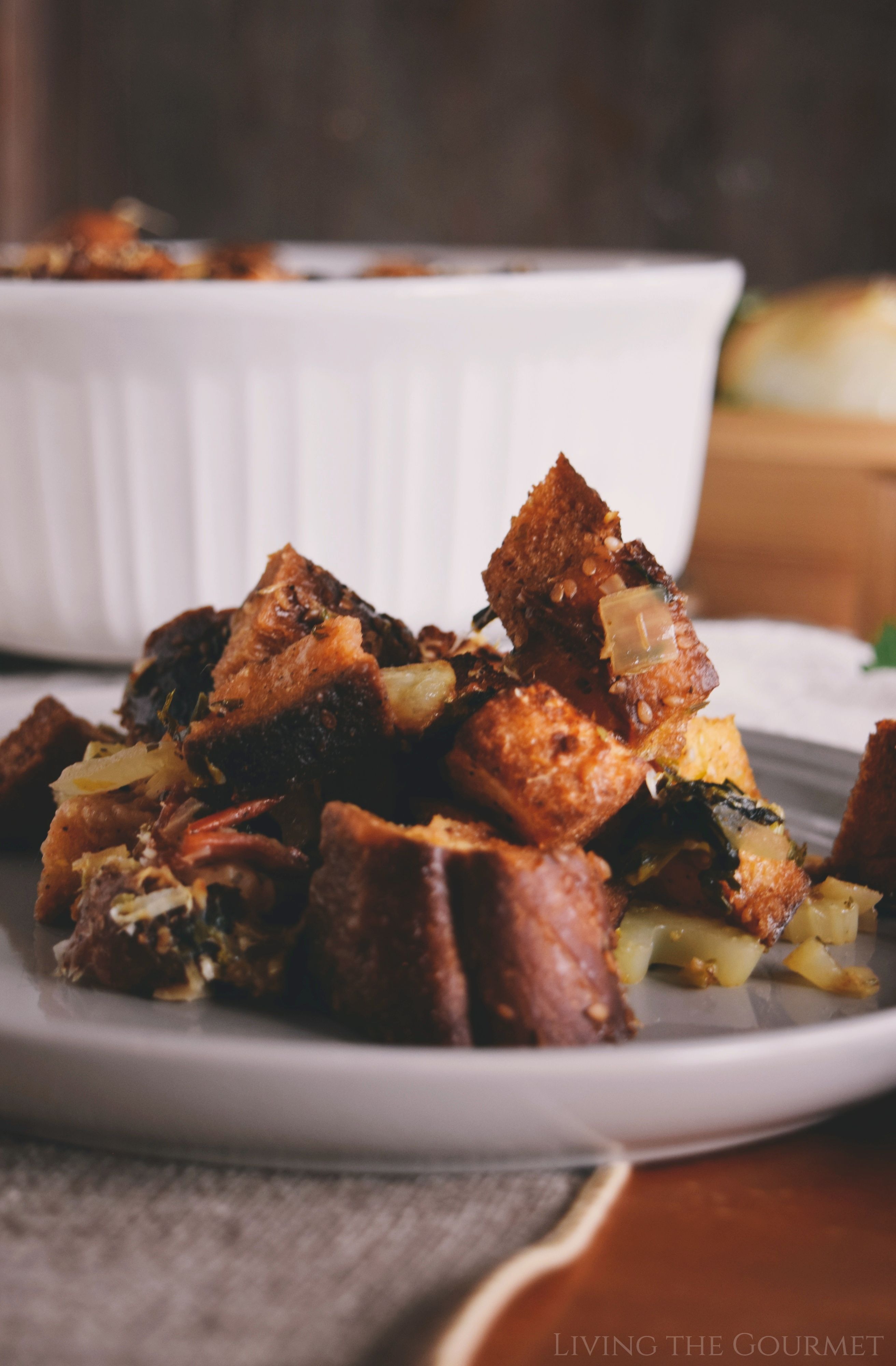 My Favorite Thanksgiving Recipes So Far This Year
1) Cranberry and Jarlsberg Tartlets. My new favorite seasonal appetizer, this delightful little tartlets are treat for the eyes and palate alike.
2) Chocolate Swirl Pumpkin Cheesecake. Every Thanksgiving table needs something 'pumpkin' on it. This is my cheesecake spin on the classic pumpkin pie, with a decadent chocolate swirl.
3) Herb Crusted Turkey Breast. An herbed turkey breast complete with candied bacon and latkes, creates a wonderfully simple yet satisfying take on the Thanksgiving bird, perfect for smaller gatherings or pre-Thanksgiving get-togethers.
Have you Tried it? Have you tried today's wine, or prepared today's pairing suggestions? If so, we would love to hear from you! Give us a shout out on Instagram or Facebook with a picture of what you prepared, or let us know down below in the comments how it turned out! We can't wait to hear from you!
0