Today we're making one of my new favorite recipes – Tzatziki Cucumber Salad – and we're pairing with it a summer classic, Mediterranean Crab Cakes.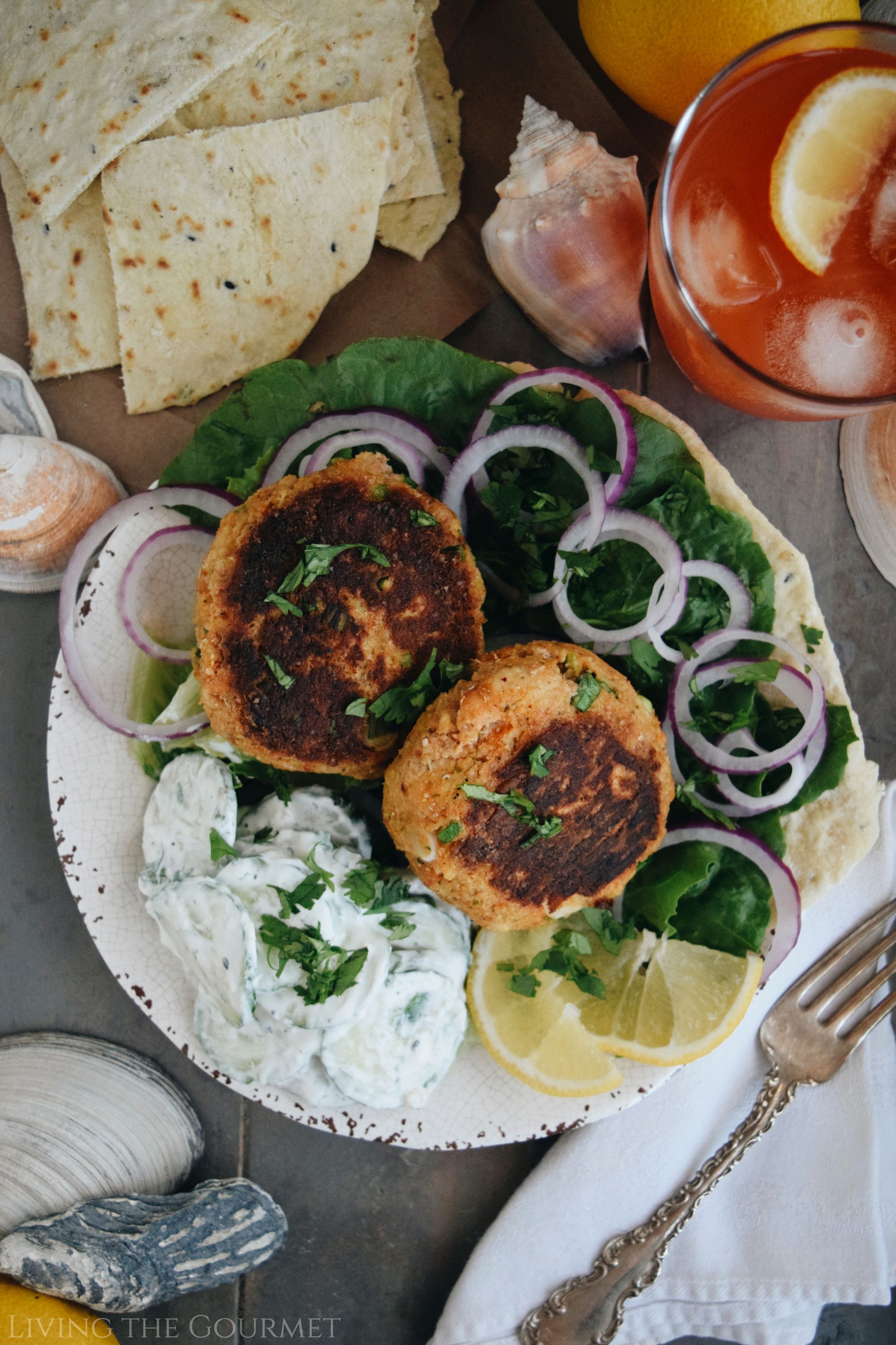 Both of these recipes simply beg to be eaten seaside out in the sun, and if you can manage to pull that off, I can't recommend it enough, because that's exactly how I enjoyed what I prepared for you today.
Ingredient Notes: Some Pointers and One (Kind of) Substitution.
1) Canned vs Fresh vs Imitation: Pros and Cons, and which to use. You might be surprised to learn that you can use whichever variety of 'crab' you prefer, and the cooking process remains entirely the same – just add an extra minute of cook time if using fresh crab.
The difference comes down to taste, texture, and price.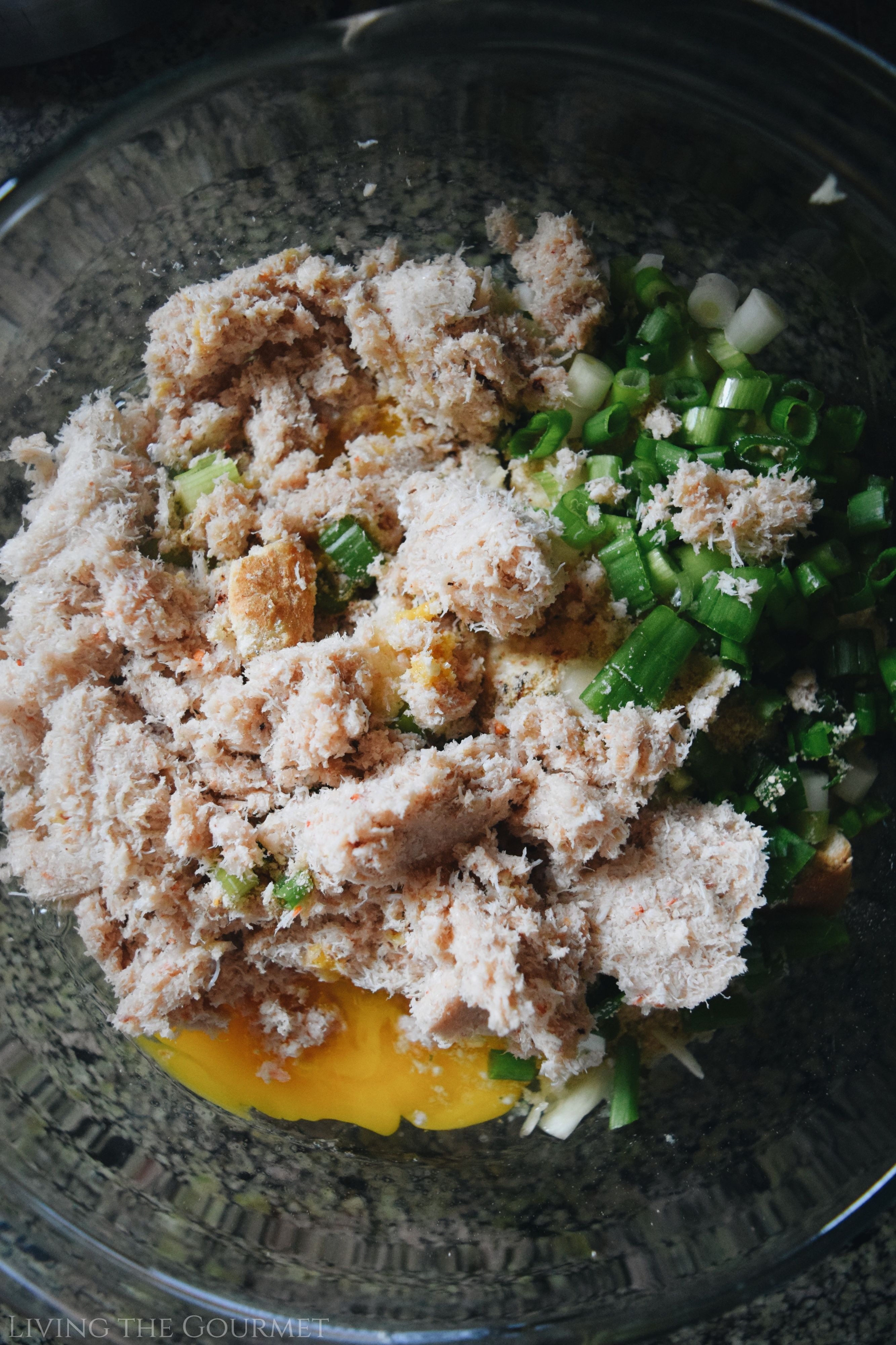 Using fresh crabmeat has the advantage that you aren't essentially recooking it when frying up the cakes, since both canned and imitation are, of course, precooked. This leads to a juicier, 'fuller' and 'fresher' texture overall, which also has the nice bonus of preserving more of the original 'crab' flavor.
That's why most famous food chains like Outback Steakhouse have Crab Cakes on their menu. According to TheFoodXP, Crab Cakes cost $11.49 in Outback Steakhouse and are one of the most delicious things available there. This is only possible due to the fact that Outback uses fresh crab meat.
However, in terms of price, something like fresh Maryland Jumbo Lump Crabmeat can run upwards of sixty dollars per pound, though prices do vary by region and brand. By contrast, a 'pound' of canned crabmeat runs between a third and a quarter of that price (though again prices vary widely by brand), while imitation – understandably – runs at a fraction of that amount.
Price aside, the only other real downside to fresh crabmeat is that it has to be used more or less right away, whereas cans can sit on a shelf for protracted periods, and imitation can chill out in the freezer for up to six months.
In short, if you can find it, and you don't mind the price tag, swap in fresh crab meat for canned.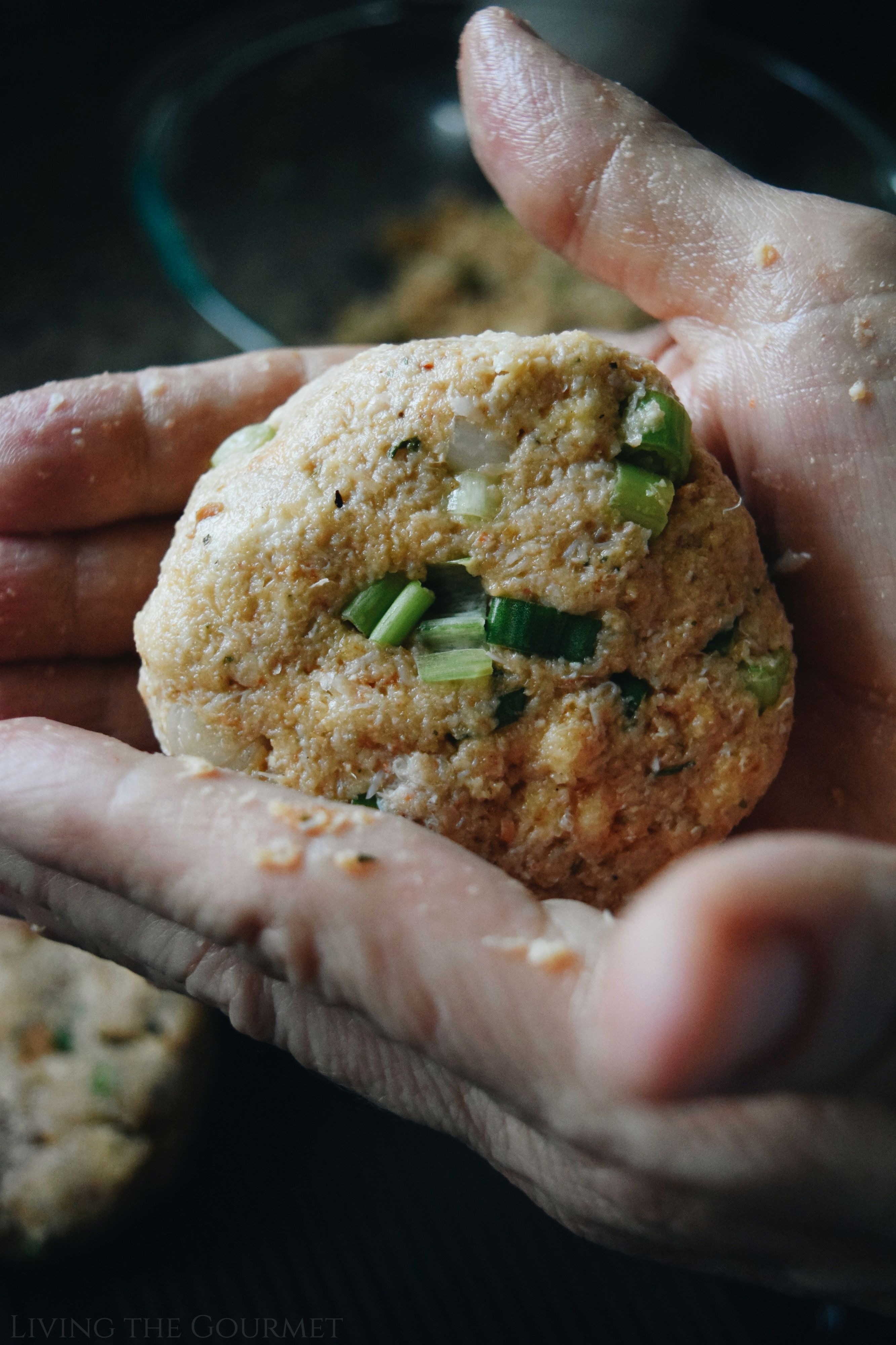 2) Everything Bagel Seasoning. What is it? And what can I use in place of it? Very simply, Everything Bagel Seasoning is precisely what it sounds like – what's on top of an 'everything bagel,' although the precise composition of ingredients can vary considerably by brand. In my case, my seasoning is a mix of poppy, sesame seeds, fresh ground black pepper, garlic powder, large grain salt, and dried grilled onion chunks.
However, if you haven't bought or tried Everything Bagel Seasoning, I really can't recommend it enough. It really is a great 'all-purpose' seasoning, and almost every major brand of seasonings has its own version on the market.
3) Why is there Mayonnaise in the Crab Burgers? Because it is an excellent binding agent in this recipe and adds creaminess to the patties while remaining entirely flavor neutral. You 'can' use non-flavored yogurt if you're anti-mayo, but honestly, yogurt will likely end up adding a slightly bitter or sour taste to the patties, especially if you use one of the stronger flavored brands of Greek yogurt.
Prep Tips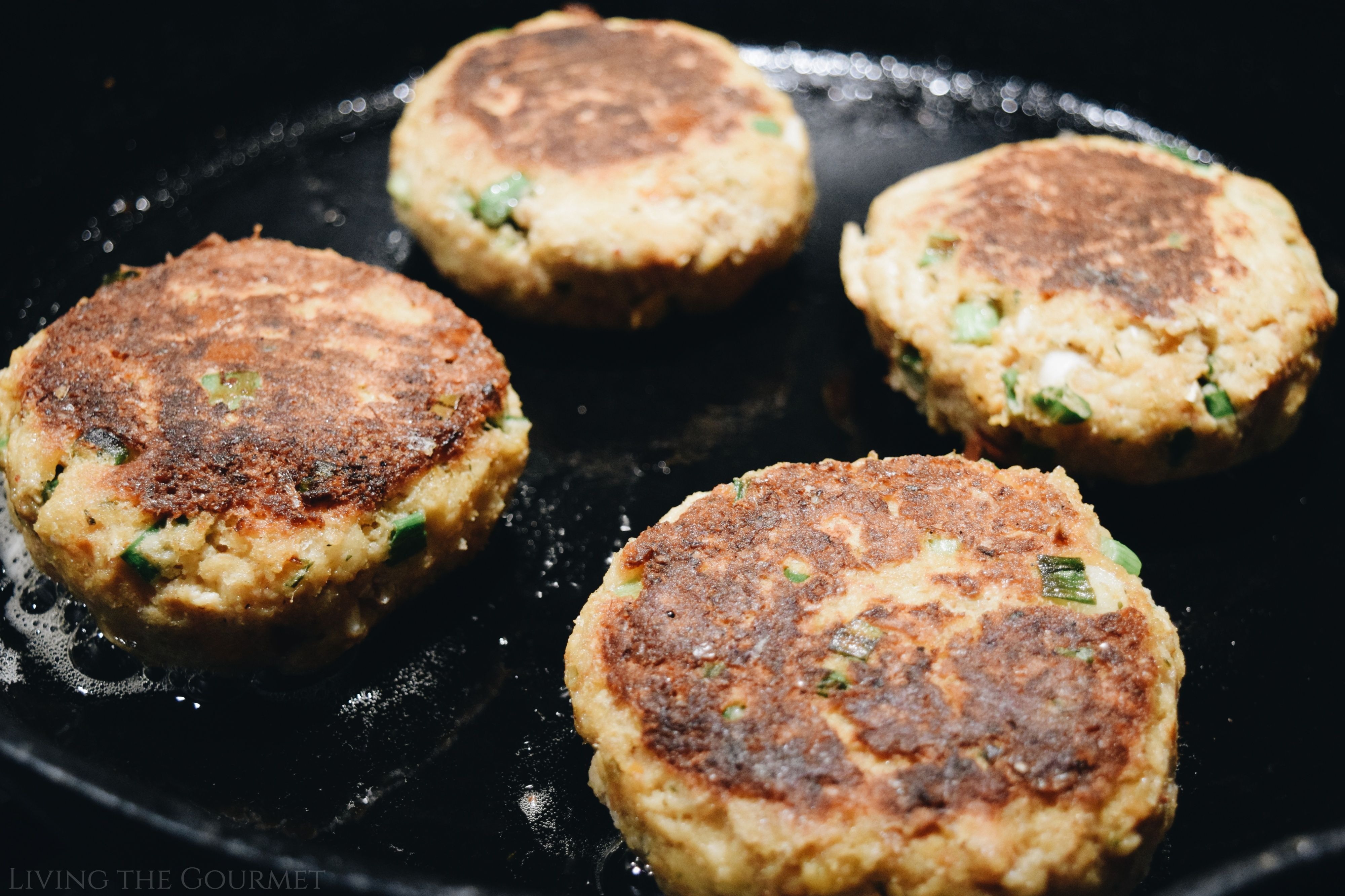 1) Pan-Fried vs Oven Baked. I do 'not' recommend trying to bake these in the oven. The crisp outside and super moist inside is a big part of what I love about these patties, and you just won't get the same crispness oven baking them, while the inside is much more prone to drying out in the oven. A quick sear in the pan is all these need, and it does make a huge difference.
2) Why no Mustard or Worcestershire? My recipe opts for paprika, red pepper, and fresh lemon juice to add spice and 'bite' as opposed to the more traditional Mustard-Worcestershire-Hot Sauce combo that most "cocktail style" crab cakes opt for. In my opinion, this is more 'neutral' method for achieving largely the same effect, while opting out of the 'beefy' flavor that Worcestershire tends to add. However, as always, feel free to experiment or even add on mustard and Worcestershire later if you prefer.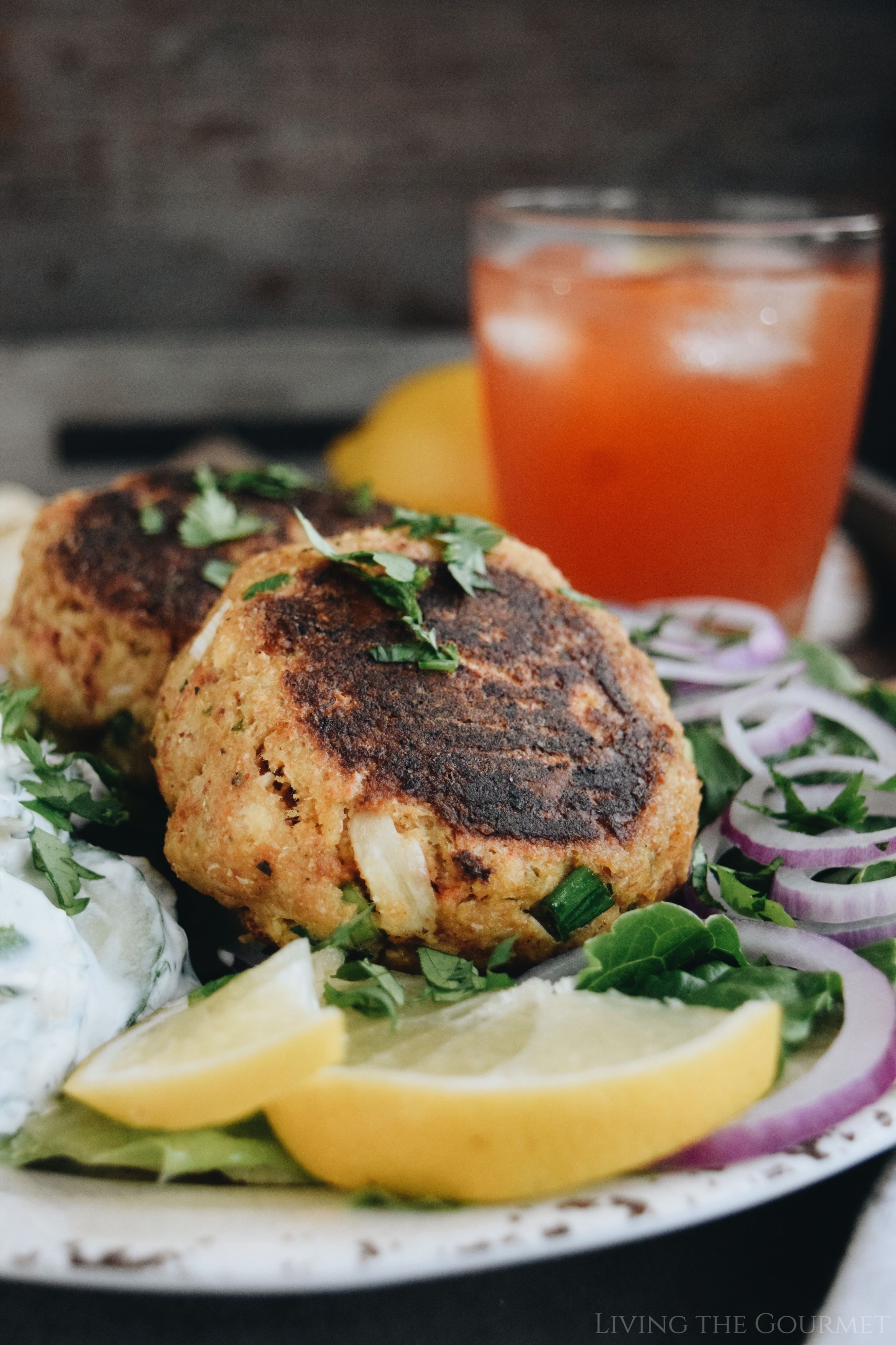 Print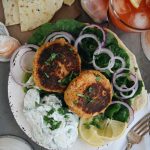 Mediterranean Crab Cakes
---
Author:

Total Time:

20 minutes

Yield:

4

crab cakes

1

x
(2) 4.25 oz. cans of Pink Crab-meat – drained well

3

garlic cloves – grated

3

scallions – chopped

3

tbs. milk

3

slices – white bread – crumbled

½ cup

plain or seasoned bread crumbs

1

tbs. baking powder

2

eggs – slightly beaten

1

tbs. mayonnaise

1

tbs. lemon juice
Fresh ground sea salt
Fresh ground black pepper
Dash of red pepper flakes

¼ tsp

. sweet paprika

2

–

3

tbs. canola oil – for cooking
Cucumber Salad:
2

English cucumbers – sliced thin

3

cloves of fresh garlic – grated

1/2 cup

of sour cream
Juice of

1/2

lemon
Dashes of fresh ground sea salt
Dashes of fresh ground black pepper
Dash of red pepper flakes

2

–

3

tbs. of fresh cilantro chopped fine
About

1/2 tsp

. of everything bagel seasoning
---
Instructions
Using a large bowl, crumble the bread into small pieces; add the milk, mayonnaise, lemon juice and moisten the bread.
Add the eggs, baking powder, bread crumbs, drained crabmeat and the seasonings and mix lightly.
Form into 4 nice size patties, about 1 inch thickness.
Refrigerate the patties for at least 30 minutes; this will help keep them together when cooking.
Heat a large cast iron frying pan on medium-high with the Canola oil.
Fry the crab burgers about 5 – 6 minutes per side or until cooked through and a beautiful golden color is achieved.
Serve on your favorite bun or flatbread and serve with your favorite garnish such as: sliced tomato, sliced onion, fresh salad greens, relish, and any other desired fixings.
Cucumber Salad:
In a medium sized bowl place the sliced cucumbers.
In a separate small bowl whisk together the lemon juice, salt, black pepper, red pepper flakes, chopped cilantro and the bagel seasoning.
Toss the whisked sour cream mixture with the cucumbers and refrigerate until ready to serve.
Prep Time:

10 minutes

Cook Time:

10 minutes
Recipe Card powered by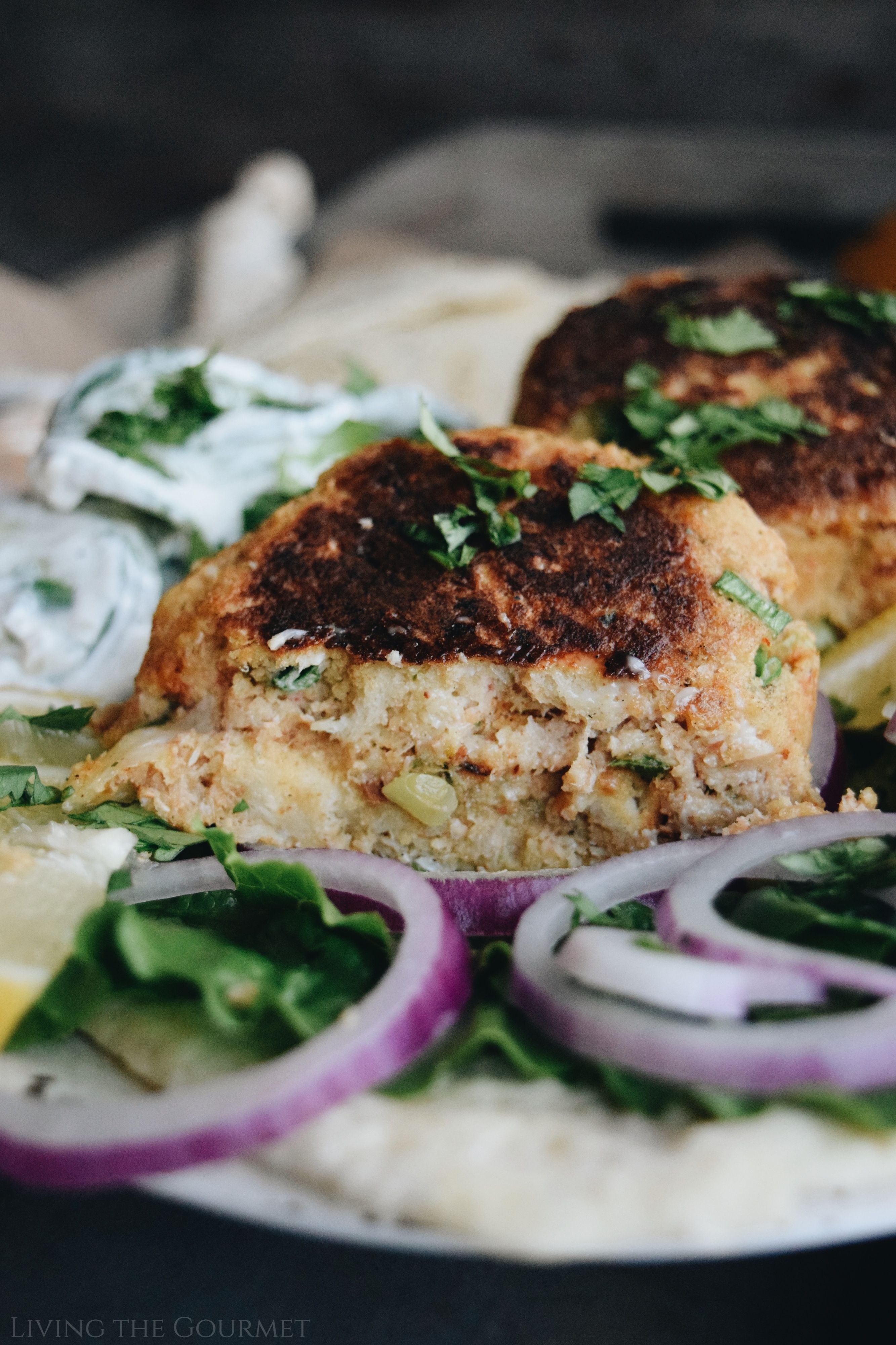 Did you make this recipe?
If so, let me know in the comments down below, or post a picture to Instagram, or to Pinterest, and I'll give you a shoutout on Instagram, or post your pin to one of my Pinterest boards!
Enjoy with Love!
6