Caramel, cinnamon, and coconut come together for a refreshing and creamy drink that is low in carbs and energy-boosting! #ToraniBulletproofCoffee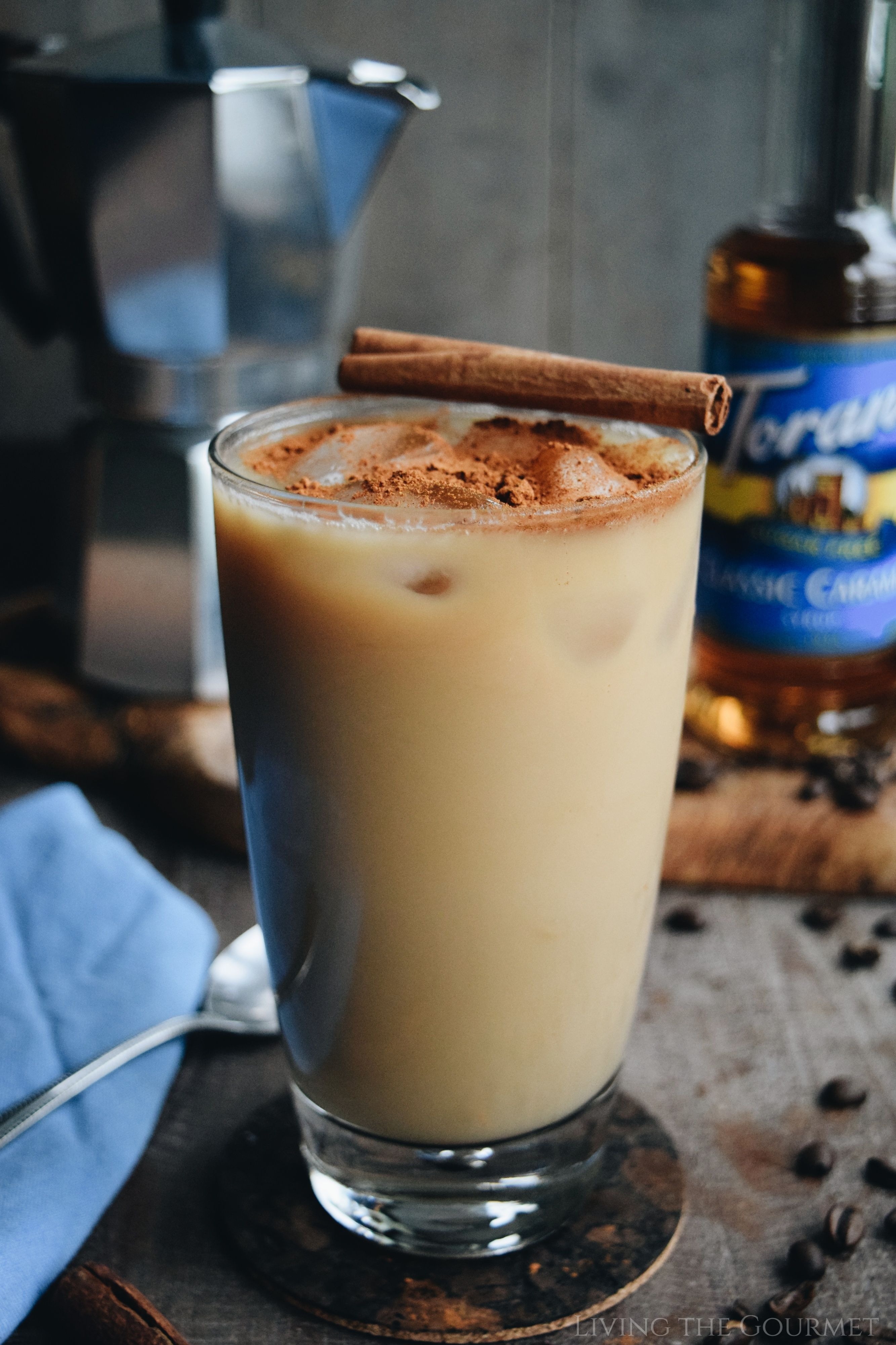 Remember when butter coffee became a thing? Then suddenly, this whole new craze was taking the internet by storm but most of us pretty much had the same reaction. That is, until we started learning it was all part of the Keto diet and that it actually had some rather surprising benefits. Since then it's blown up people have even started listing Keto-friendly drinks at Starbucks of all places, they obviously didn't know you can make delicious alternatives at home.
When I started the Keto diet last year, I realized if I wanted to reap all its benefits, I would have to really dive into the details of this low-carb lifestyle and invest fully in it…and I did. That included adding fat to my coffee in the mornings to help boost my body into ketosis. The surprising result is, I actually loved it.
I should clarify, however, that I never put melted butter in my coffee. If you do your research, it's important to learn about the best Keto fats, and no, a regular stick of butter isn't really one of them. Sorry butter coffee fans.
If you're semi-familiar with the fact that coconut oil is wildly popular among the Keto community it's because it is a great source of MCTs which are medium-chain triglycerides which in turn help speed the process of Ketosis.
Sounds like some pretty complex stuff, huh? Well, I'm not here to talk science today, I am just here to share with you a recipe for the ultimate bulletproof coffee you need in your life right now.
Keto warriors rejoice, this blend is creamy but low in carbs and sweet but completely sugar-free all thanks to my new favorite Keto syrup- Torani.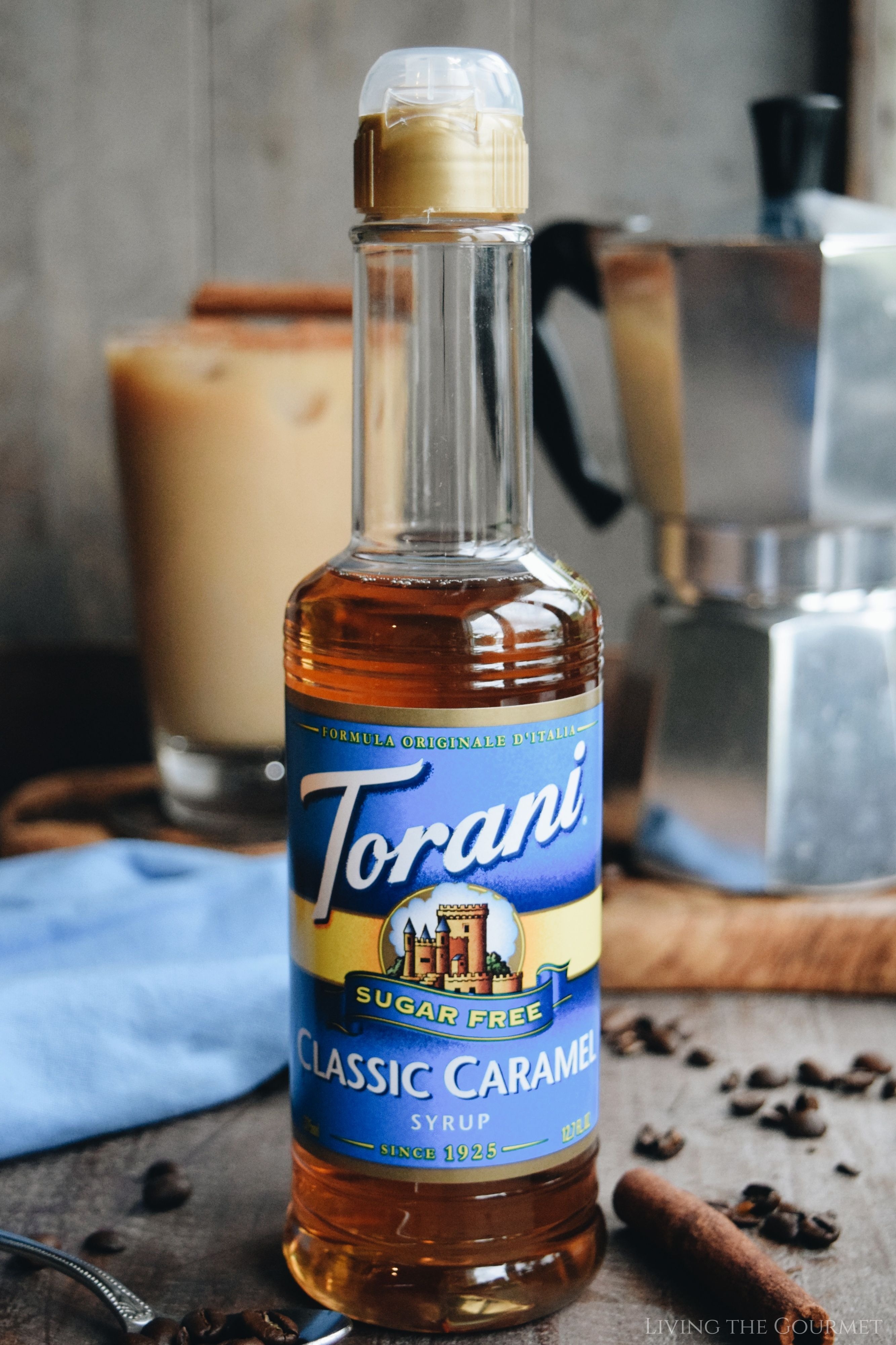 I've struggled for a long time with satiating my sweet-tooth while being proactive in the Keto lifestyle. It isn't easy and there are very few low-carb sweeteners out there on the market that are actually acceptable on the Keto diet. Note, not all sugar substitutes are Keto-friendly even IF they are listed on the nutrition label as being low in carbs. Personally, I'm not the biggest fan of stevia unless it is mixed with monk fruit, since it tends to leave a bitter aftertaste. So imagine my delight when I discovered Torani Sugar-Free Syrups.
I have found that Torani mixes well into a lot of drinks, not just coffee- think cocktails, teas (hot and iced), hot cocoa, and lattes…the possibilities are endless. Torani also comes in a variety of flavors so whatever you are making, there's a syrup for it.
Remember those Keto PB & Blackberry Cups I shared a while back? Tip, you can sweeten them up with Torani. If you're making a berry preserve, add a few drops of Torani. Even though Torani can be found in the coffee aisle of most retailers, their syrups aren't exclusive to drinks only.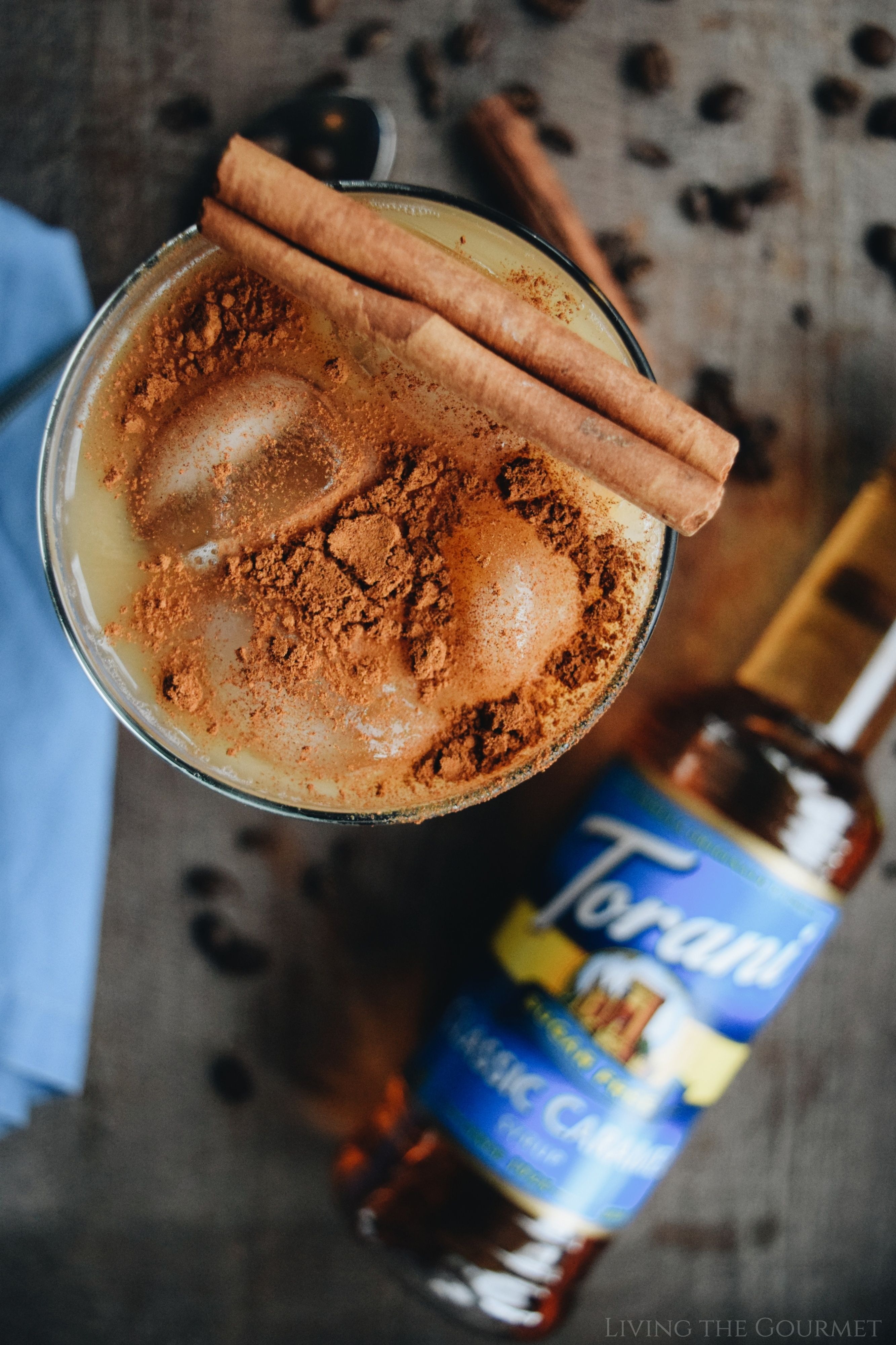 One very important detail for me is that unlike other sugar-free sweeteners out there on the market, Torani is made with simple and thoughtfully sourced ingredients which is why it is now one of my top Keto-friendly sweeteners.
For today's recipe, the process is a very simple one. My iced bulletproof coffee takes only minutes to prepare and can be enjoyed morning or afternoon. It will give you the extra energy you need to get you through the day. Now, let's get started…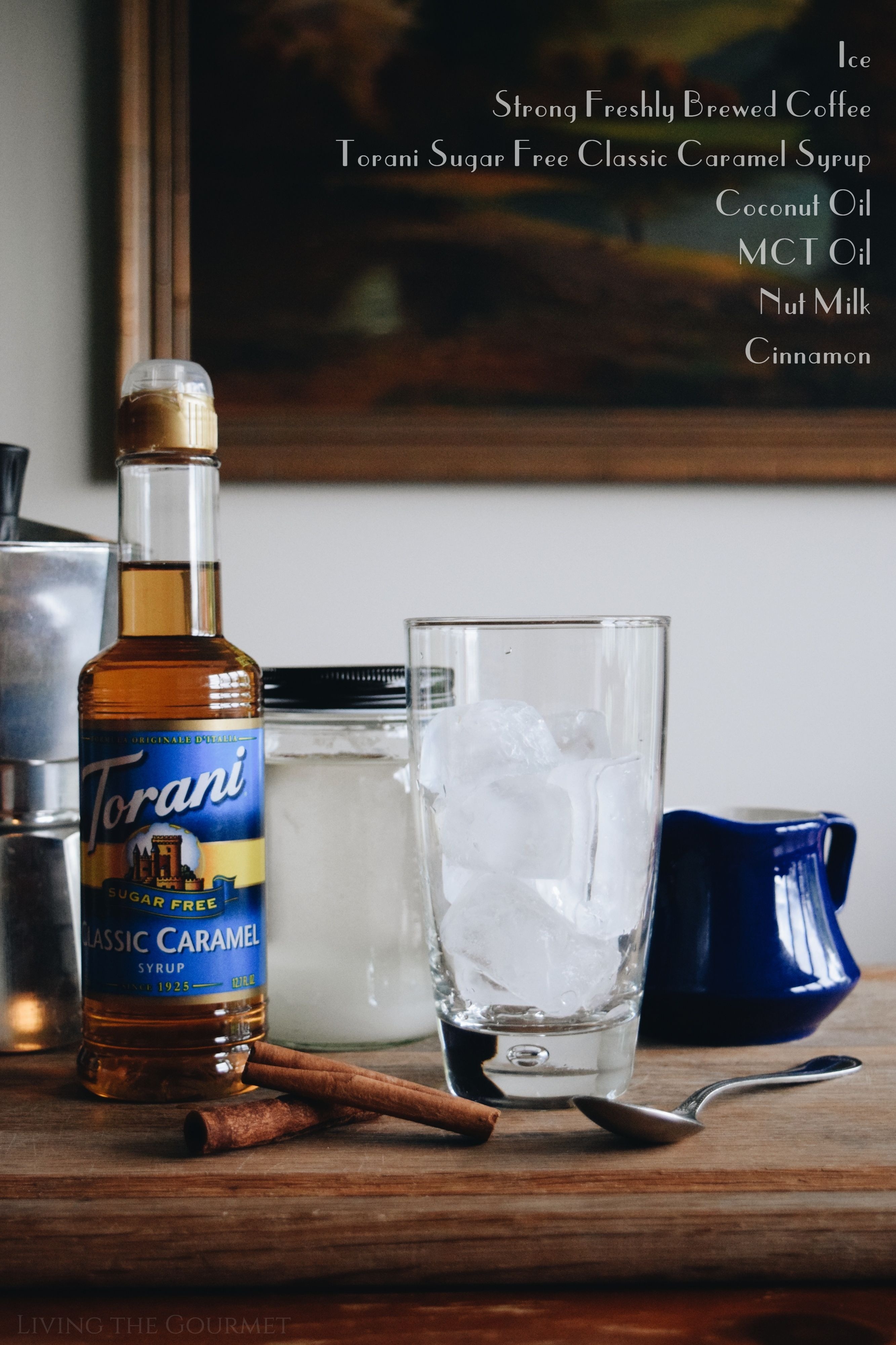 Begin by filling a tall glass with ice. Pour in 8 oz. of strongly brewed coffee that has been chilled preferably. Next, add your coconut oil, MCT oil, and Torani Sugar-Free Syrup (I used Torani Sugar-Free Classic Caramel Syrup). Stir to combine.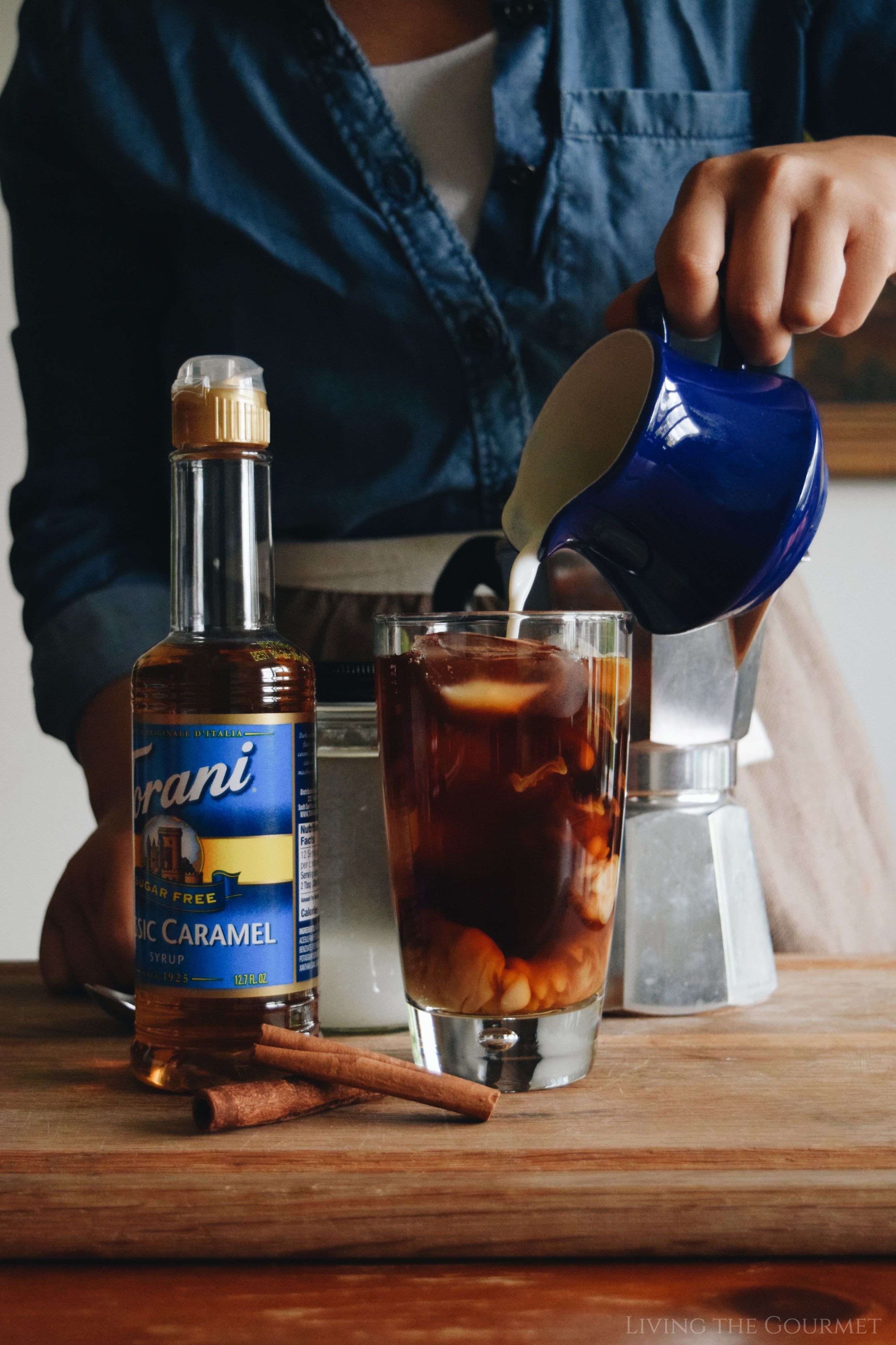 For added creaminess, I added a splash of unsweetened nut milk. Sprinkle with cinnamon and enjoy. It's that simple.
Feel free to make this drink your own. You can choose any of the other sugar-free syrups like almond, brown sugar, vanilla, or a variety of cookie-inspired flavors, just to name a few.
But I'm a sucker for caramel and dare I say, you may not ever be able to tell the difference between this drink and your other favorite coffeehouse caramel drink…ahem 😉
Print
Iced Caramel Cinnamon Bulletproof Coffee
Author:
Prep Time:

8 minutes

Total Time:

8 minutes

Yield:

8 ounces

bulletproof coffee

1

x
8 oz

. strong brewed coffee, chilled

2 tablespoons

Torani Sugar-Free Classic Caramel Syrup

1 tablespoon

coconut oil

1 tablespoon

MCT oil

¼ cup

chilled nut milk

1 teaspoon

cinnamon
Ice
Instructions
Add ice to a tall glass.
Pour coffee, Torani, coconut oil, and MCT oil to the glass and stir until well-combined.
Add a splash of nut milk (about ¼ cup) if desired.
Sprinkle with cinnamon and enjoy!
Recipe Card powered by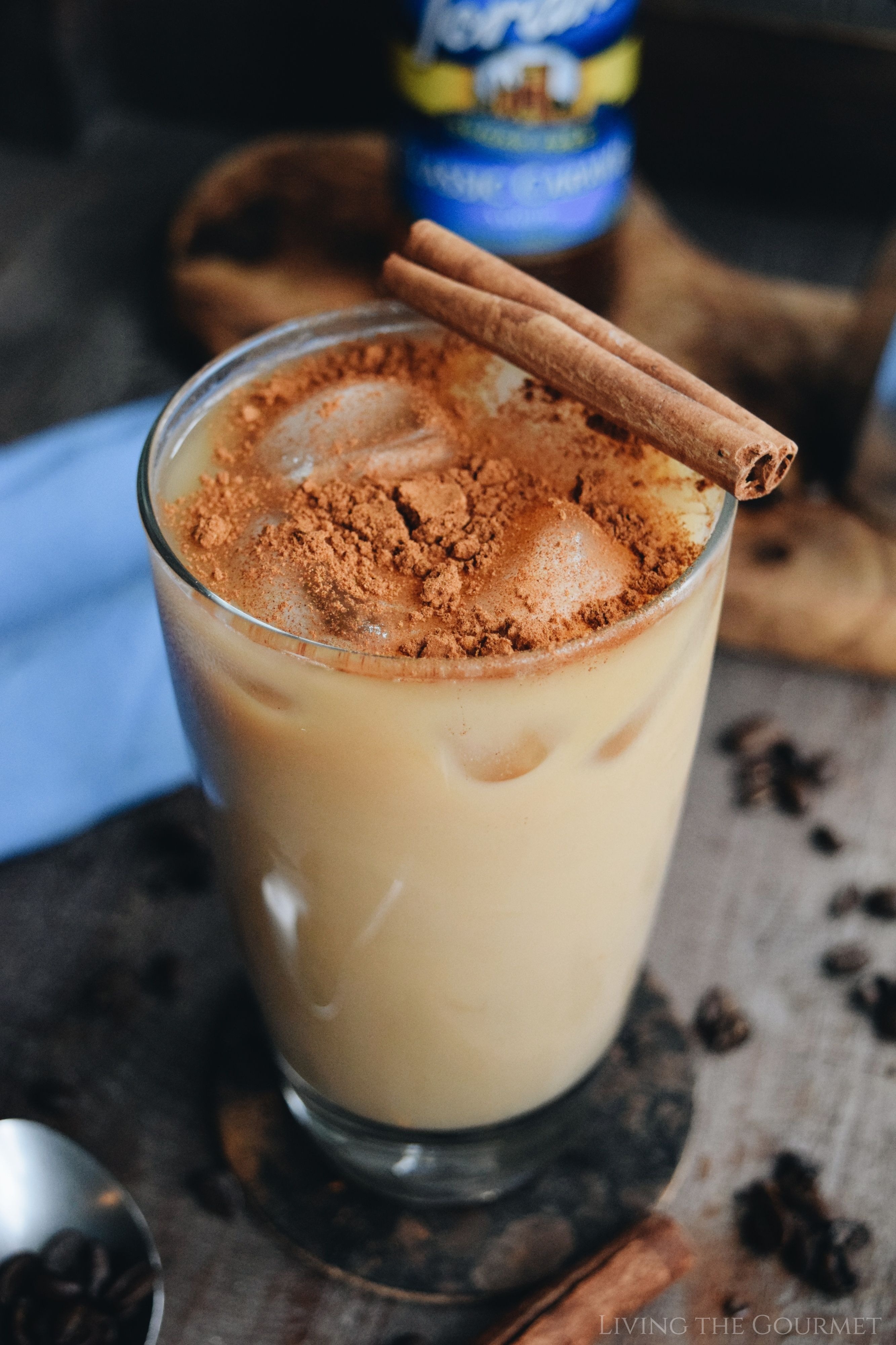 Be sure to use the Torani store locator and pick up a bottle today and don't forget to check out their site and follow along on social media (@ToraniFlavor) for endless recipes and delicious inspirations!
Cheers!
4