Peanut butter and homemade blackberry preserves are cloaked in extra dark chocolate then sprinkled with Himalayan pink salt for the ultimate bite-sized treat! These little cups are sweet, salty, nutty, and best of all, they are keto friendly!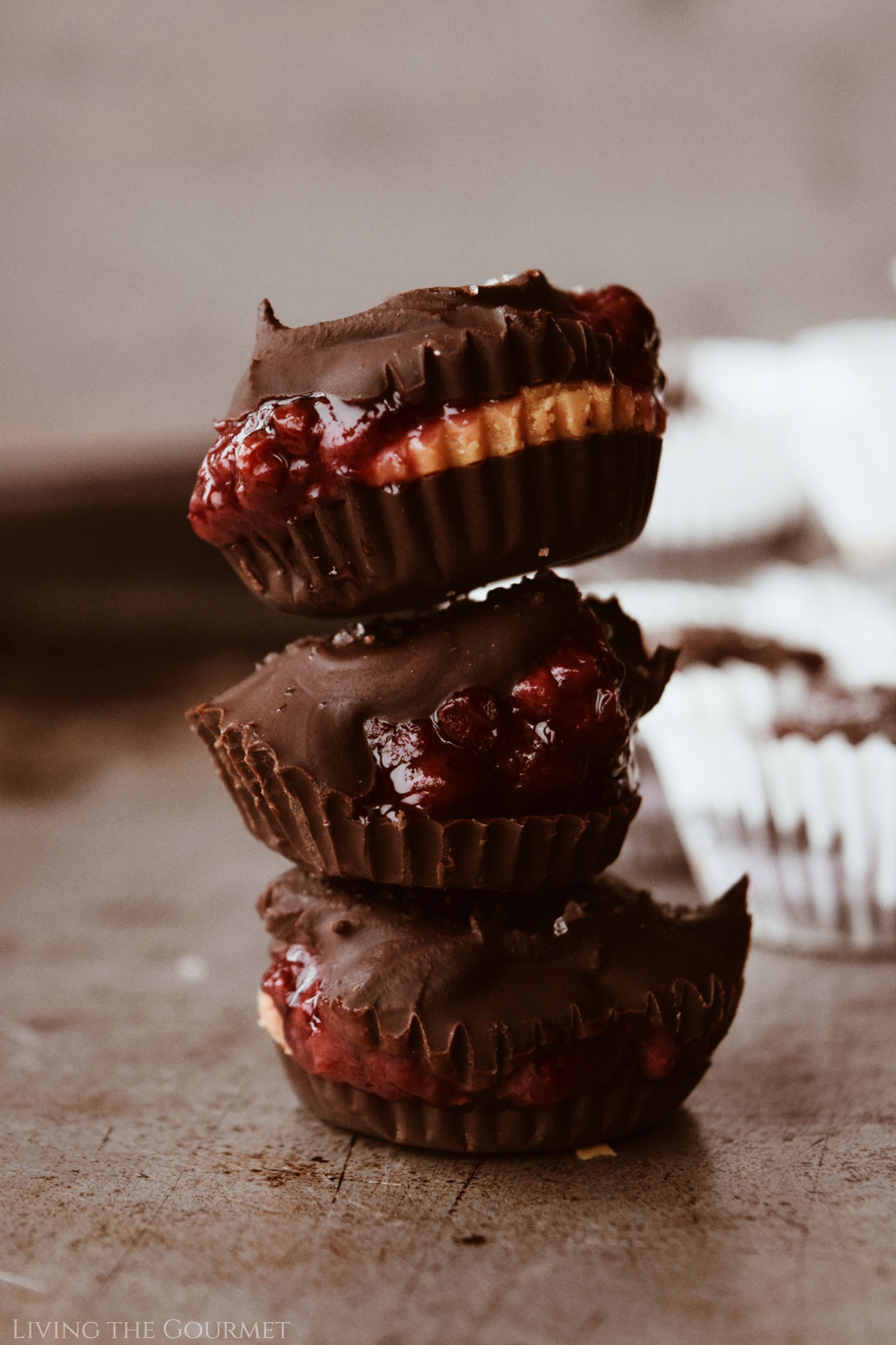 Being a foodie and a food blogger, there isn't much that delights me as much a good meal, a tried=and-true recipe, or a glass of wine.
Yet, I digress...there are however, few things I will compromise on when it comes to food.
The first being pizza. Sorry, cauliflower-crust 'fans' -not sorry. I'm Italian through and through, so don't take my pizza or my pasta and try to convince me that cauliflower is a suitable substitute. I have a simple philosophy for this. While pizza and pasta are not as common in my household as they are in some, when I do enjoy a plate of spaghetti, I want the real deal. Same goes for pizza and bread in all its forms.
Now as I shared a few posts back, my daughter started the Keto diet and has become a die-hard fan, claiming it has cured her of all her problems. I wasn't aware these problems existed, but I'm a mom so what do I know? 😉
I also mentioned how I'm not totally on the Keto train but being that half of the refrigerator is taken up now with almond bread, avocados, and cauliflower...so much cauliflower...it's hard to avoid. I do admit my daughter's carb-free ways have led me to reevaluate the carbs I do take in.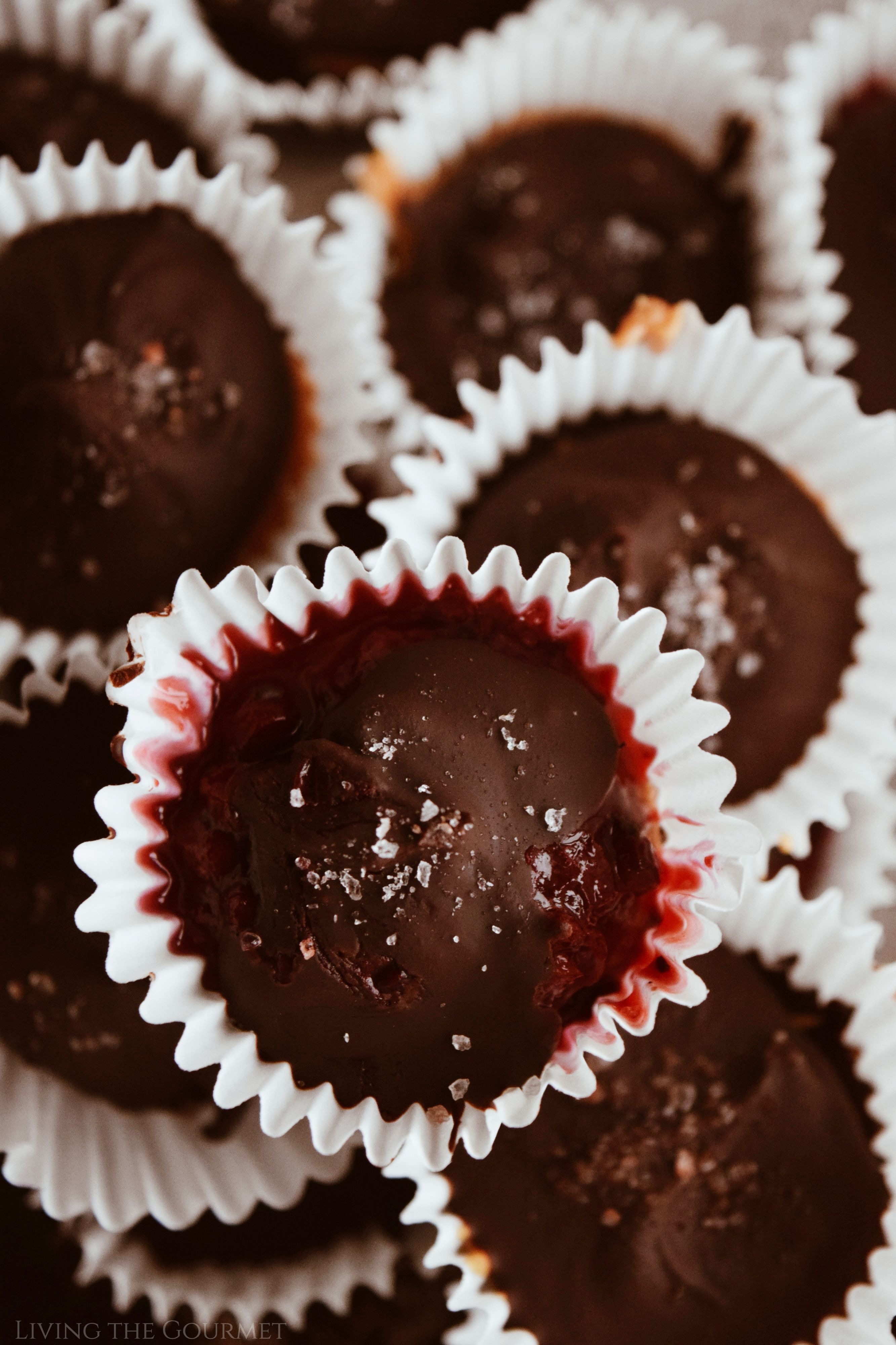 There is one thing however that I will compromise on, and that is dessert.
I love a little something sweet at the end of the day, but I don't like the extra pound I feel at the start of the following day. The struggle is real.
There are few 'healthy' desserts I actually enjoy - or have to convince myself that I enjoy. Yet, I'm willing to try anything once. So, when my daughter made these PB&J cups for me the first time, I emphatically declared, 'you must share these on Living the Gourmet!'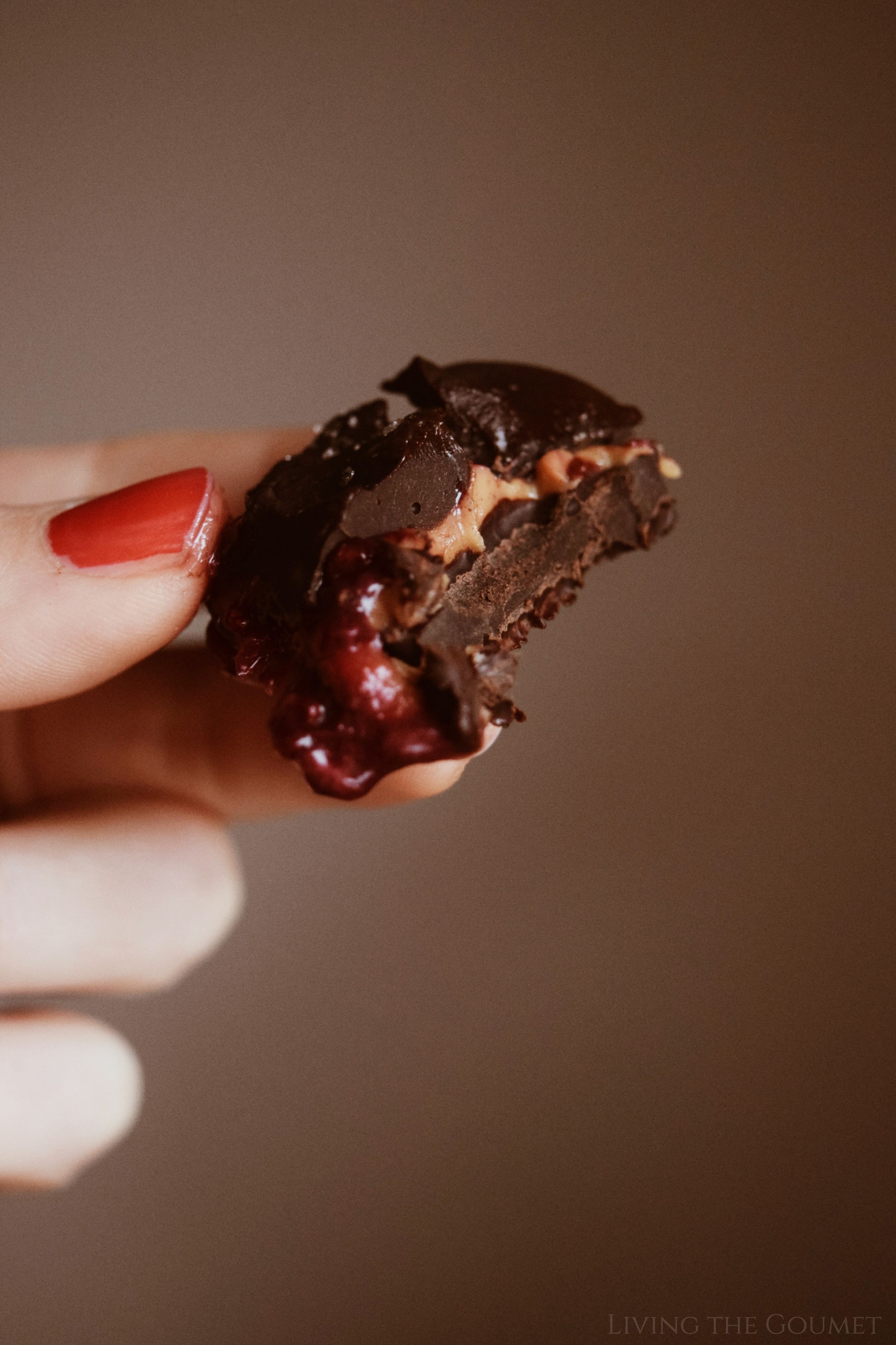 It seems, my daughter and I have met somewhere in the middle, and the middle happened to be these bite-sized treats that I now find myself looking forward to by the time evening rolls around.
They are of course, low in carbs and gluten-free as well for those who are curious.
My daughter has even perfected a Keto friendly Blackberry preserve so she can enjoy her PB&Js, which she used in the center of these candies as well.
I prefer creamy peanut butter, my daughter prefers chunky, you can try this peanut butter flavored ketogenic protein powder called Keto1 Protein, whichever you have on hand will do. You can alternate as well, make some with just a blackberry filling or peanut butter filling, or both, which we did with this batch.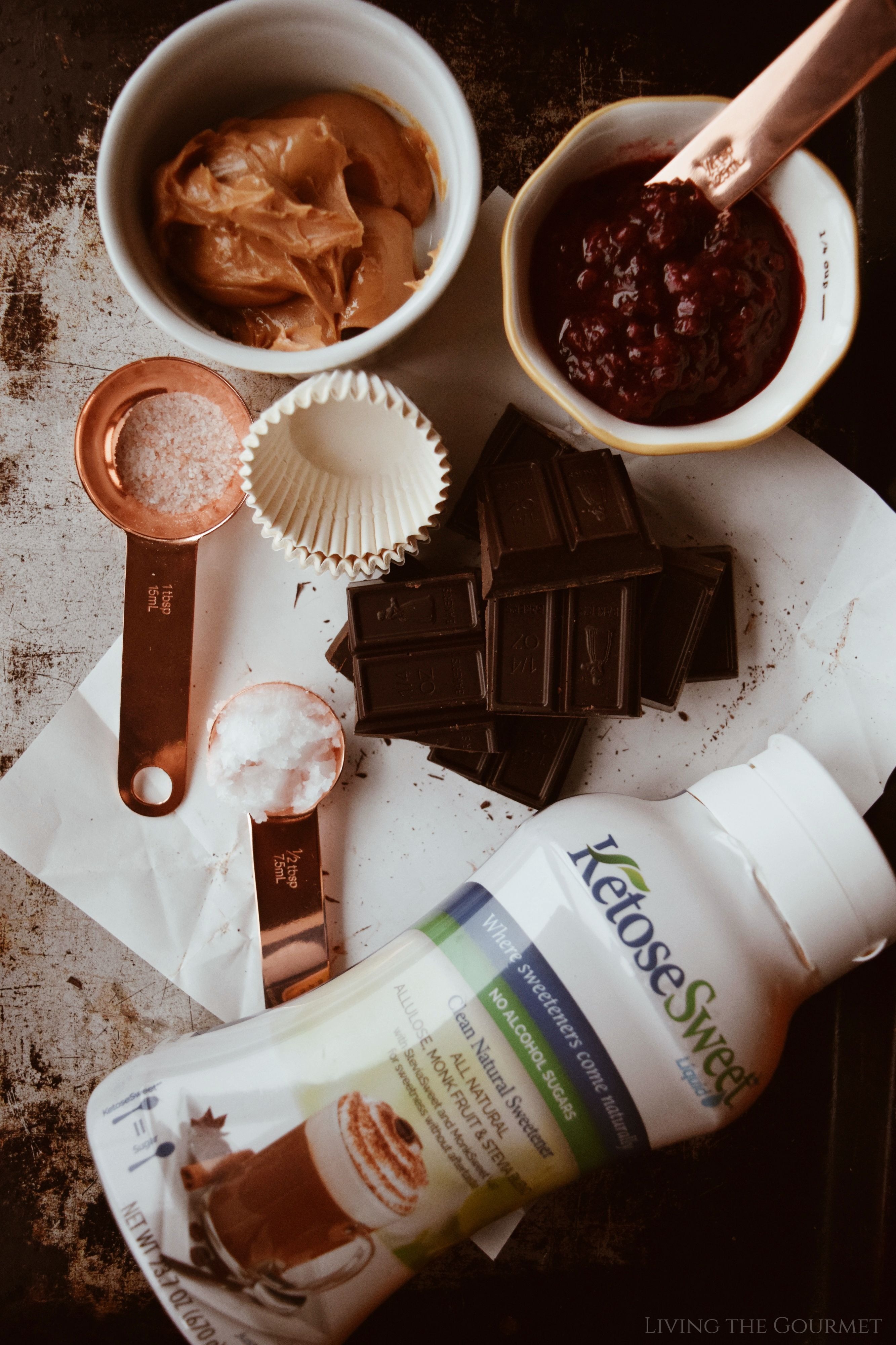 To start, we melted down 100% cocoa otherwise known as baker's chocolate. The higher the cocoa in your chocolate, the lower the carbs. We melted this down with a bit of coconut oil and 2 tablespoons of Steviva's KetoseSweet + Liquid.
Line your paper cups (you can also use cupcake liners if you don't have candy cup liners) with a teaspoon worth of melted chocolate. Pop in the freezer for a few minutes until the chocolate has set. Next, fill with peanut butter and the blackberry preserve, pop again in the freezer to allow the peanut butter to set.
Lastly, you'll cover each candy cup with a final layer of chocolate then sprinkle each with a pinch of Himalayan pink salt. Set that in the freezer once more and you're ready to enjoy! Check out the video we've compiled to show you how it's done.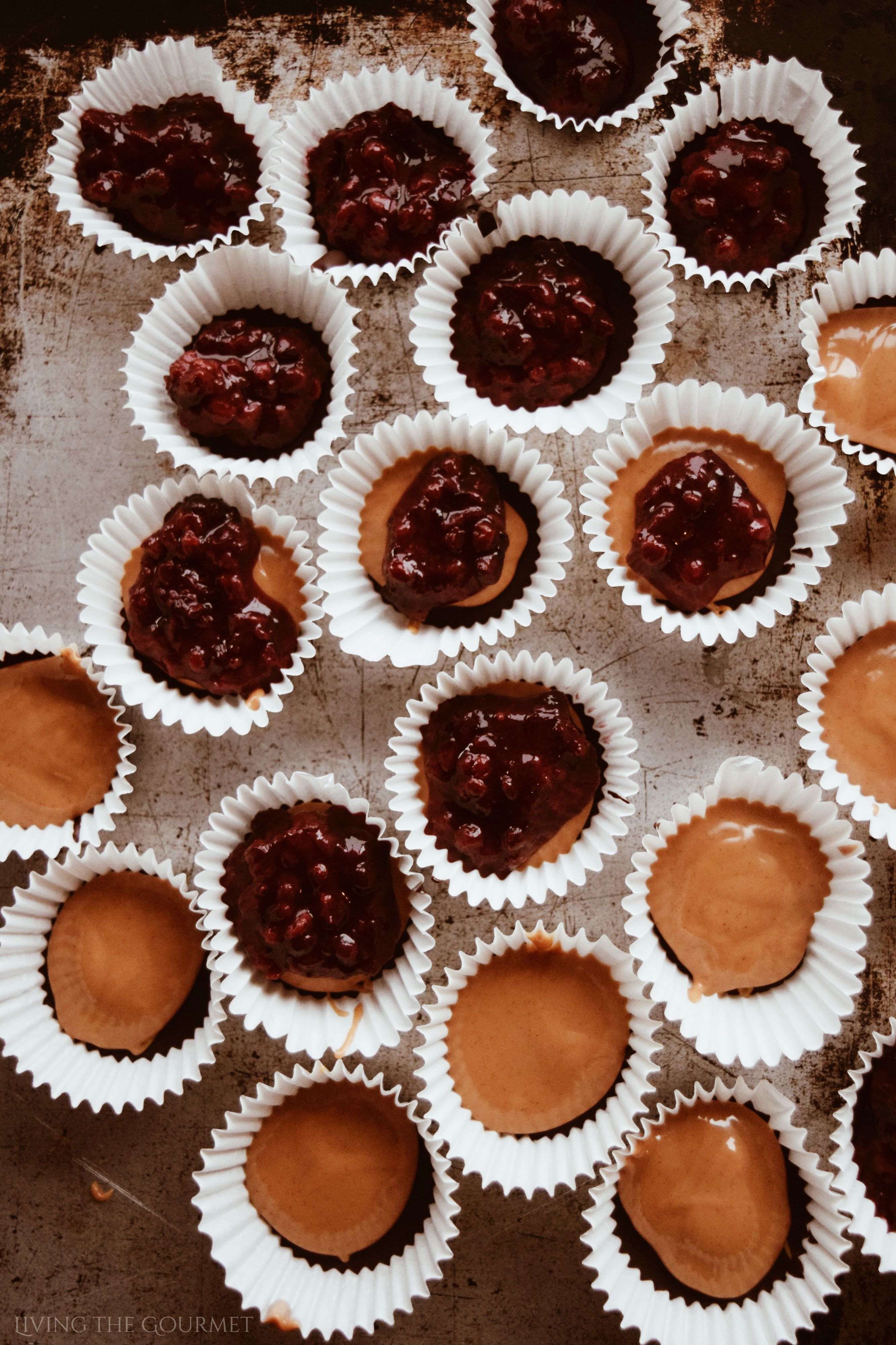 Print
Peanut Butter & Blackberry Cups
Author:
Prep Time:

5 minutes

Cook Time:

5 minutes

Total Time:

10 minutes

Yield:

1

dozen cups

1

x
6

ounces

baker's chocolate (100% cocoa)

1 tablespoons

coconut oil

2 tablespoons

Steviva's KetoseSweet + Liquid

1/2

cup

all natural peanut butter (smooth or chunky)

1/2

cup

blackberry preserves (recipe below)
Ground Himalayan pink salt, for topping
Blackberry Preserve:
2

cups

fresh blackberries

2 tablespoons

Steviva's KetoseSweet + Liquid

1 tablespoon

cornstarch

2 tablespoons

water

1 tablespoon

chia seeds
Instructions
Blackberry Preserve:
Combine blackberries, Steviva's KetoseSweet + Liquid, cornstarch and water in a small saucepan over medium heat and cook down until mixture has thickened and the berries have all broken down. Remove from heat and transfer to heat safe bowl or mason jar. Stir in chia seeds and let cool completely.
Peanut Butter & Blackberry Cups:
In a small saucepan, melt together chocolate, coconut oil, and Steviva's KetoseSweet + Liquid until smooth.
Fill candy cup liners with about 1 teaspoon of chocolate. Set the cups in the freezer to allow the chocolate to set, about 10 minutes.
In the meantime, heat 1/2 cup peanut butter just until it is smooth and stir-able. Fill each candy cup with about 1/2 teaspoon of peanut butter and another 1/2 teaspoon blackberry preserve. If you like, you can simply fill each cup with 1 teaspoon peanut butter or just preserve.
Chill the cups again to allow the peanut butter to set, about 10 minutes.
Finally, top each candy cup with the remaining chocolate. Sprinkle each cup with Himalayan pink salt and return the freezer to set, another 10 minutes.
Store in an airtight container in the fridge. Enjoy!
Notes
Prep Time does NOT include Inactive Prep Time.
Recipe Card powered by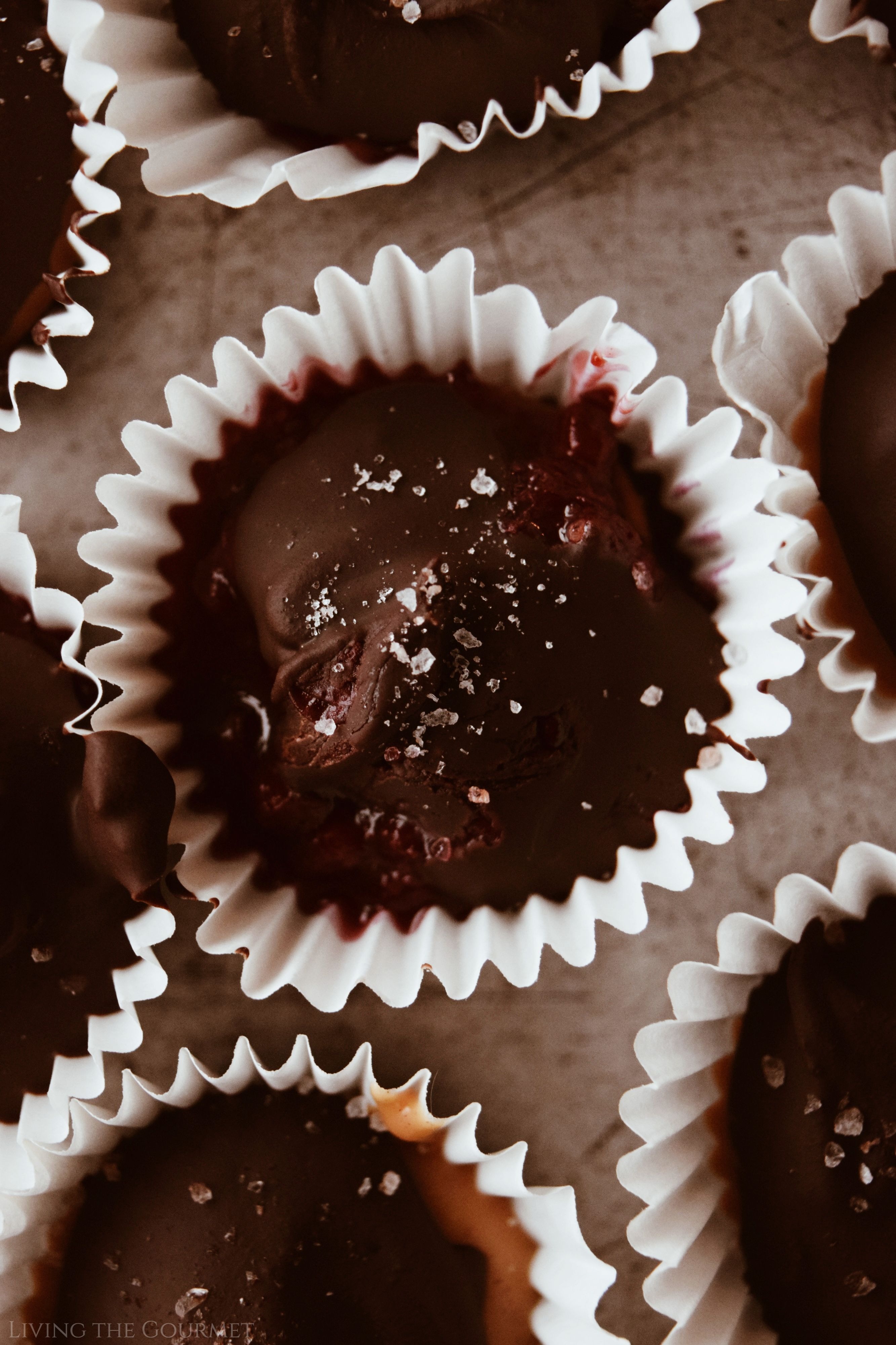 Enjoy with Love!
This post has been sponsored by Steviva. All opinions expressed are my own.
4