This shop has been compensated by Collective Bias, Inc. and its advertiser. All opinions are mine alone. #GetGrillingAmerica #CollectiveBias
These Mediterranean Style Back Ribs are the perfect welcome to grill season! Flavored with a zesty herbed marinade, these will quickly become your summertime favorite!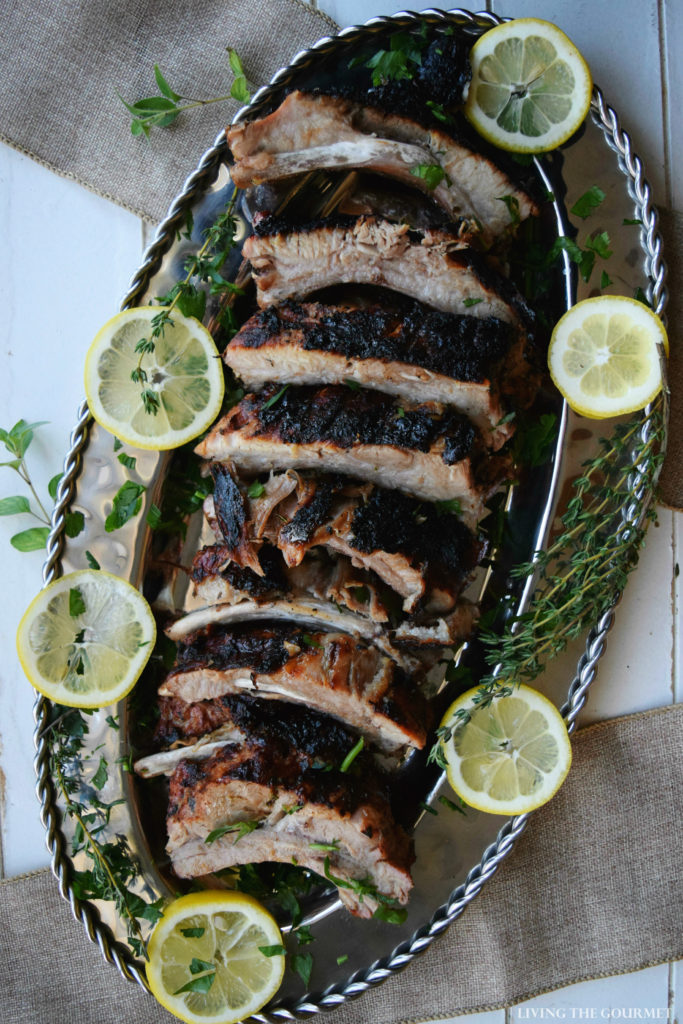 Emotion, like tradition, is a psychological invention of our species, whose sole value is precisely naught – except for that which we attach to it. And yet, 'Sentiment' is the currency of the soul, the value attached to our memories, and those antiquated objects from which our memories are kindled. In this way, 'sentiment' is both entirely worthless, and yet utterly priceless. It is the paradox of the 'soul' made manifest."
I would add, simply, that whereas tradition is a communal affair, 'sentiment' is far less definitive, being an almost entirely personal quality. What is sentimental to one, maybe entirely worthless to another, and so forth.
Why do I bring this up? Because at the start of this Easter season, I cannot help but approach the holiday with an odd bit of my own sentimentality. You see, one of my earliest memories of Easter is, perhaps, a tad unorthodox. It doesn't involve bunnies, mounds of cheap chocolate, or silly 'paper grass.'
Instead, it involves salt sea air, hardy barbecue, blues, and the remark "Gas? If I wanted to cook with gas I'd be at my stove."
Because of that single line, all of my grilling, both personal and for Living the Gourmet is done with charcoal. It is also perhaps for this reason that my preferred fare for the Easter season is somewhat less-than-usual, which brings us to today's recipe.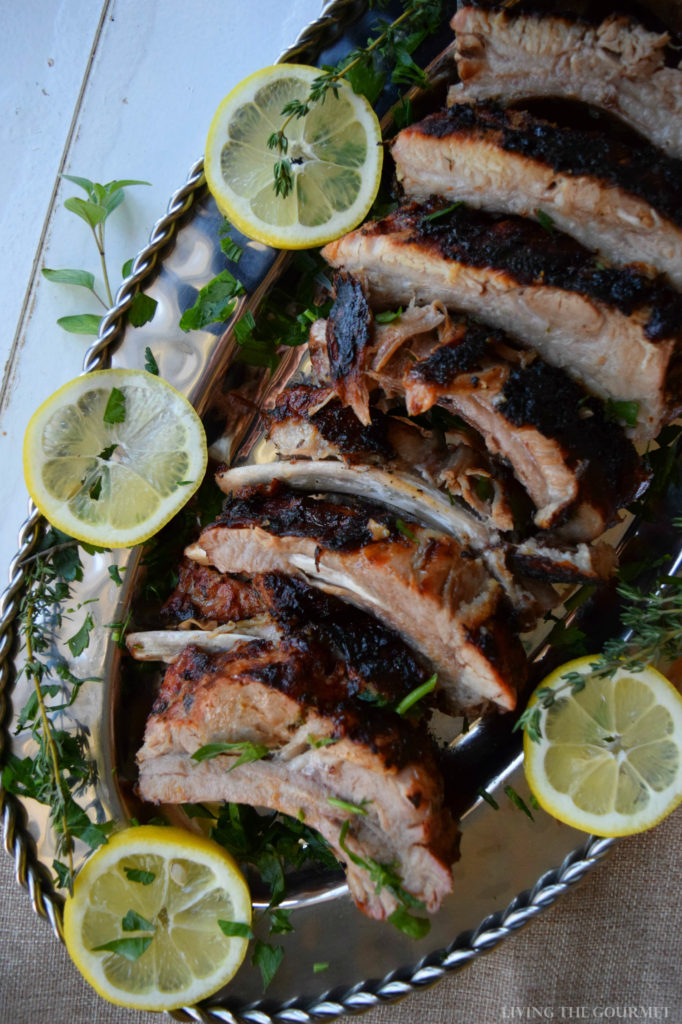 To start, yes, we are talking about perhaps the most quintessential kind of meat you can put on the grill – tender ribs. Now, before I go any further I'm going to be the first to admit three things. First, barbecuing ribs does in fact take a bit more 'finesse' than grilling a simple burger or steak – but are by no means 'difficult' to prepare. Second, setting up to cook on the grill, especially a charcoal fired grill, does take a bit more effort than doing things indoors. Third, there is no reason to feel intimated either by the grill, or by grilling ribs.
But that's precisely the point in some ways. We're talking about really enjoying food, about really enjoying the start of the grilling season, about kicking things off right. And what better place or way to do this than over a charcoal fired grill with friends and family?
Now, while 'barbeque' tends to conjure images of thick sauces and messy rubs, and while I'm certainly a fan of that, that is certainly not a 'rule,' and avoiding the 'standards' of such barbeque fare can be one of the easiest ways of mixing things up a bit.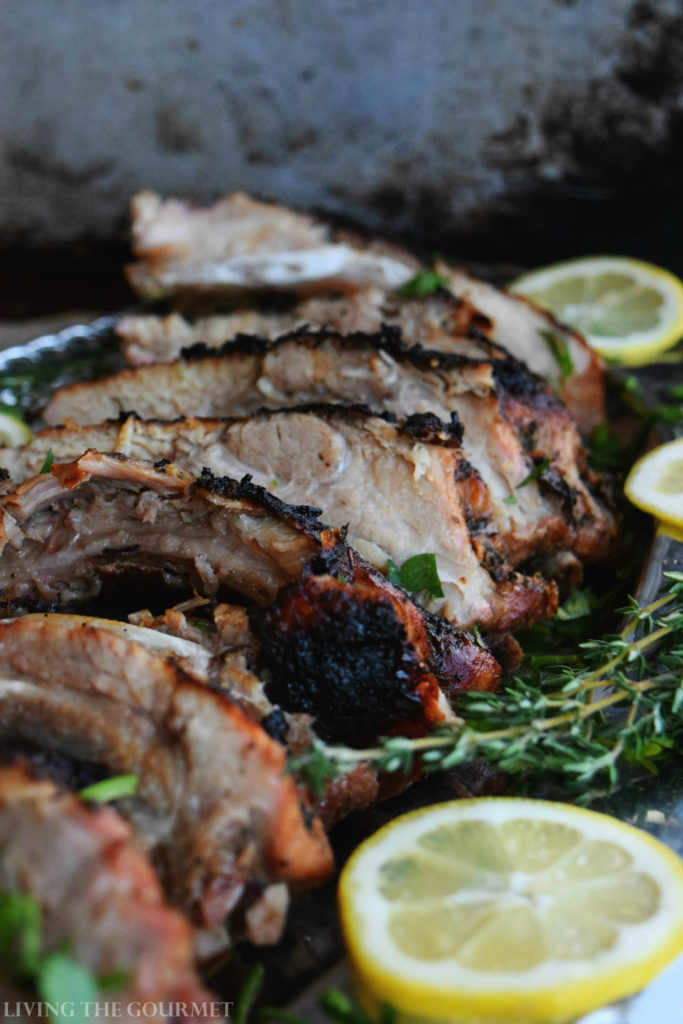 Take for example today's Greek Style Ribs. To start things off, I begin with a pack of Smithfield Extra Tender Back Ribs, which I prefer since they have no added hormones, are hand trimmed, and easily available at Walmart. If you're using a charcoal fired grill, be sure to pick a pack of Kingsford Charcoal as well, since it's a reliable coal that won't impart any undesirable flavors or odors to the meat as lesser charcoals sometimes do. As a side note, Smithfield Fresh Pork has partnered with Kingsford Charcoal.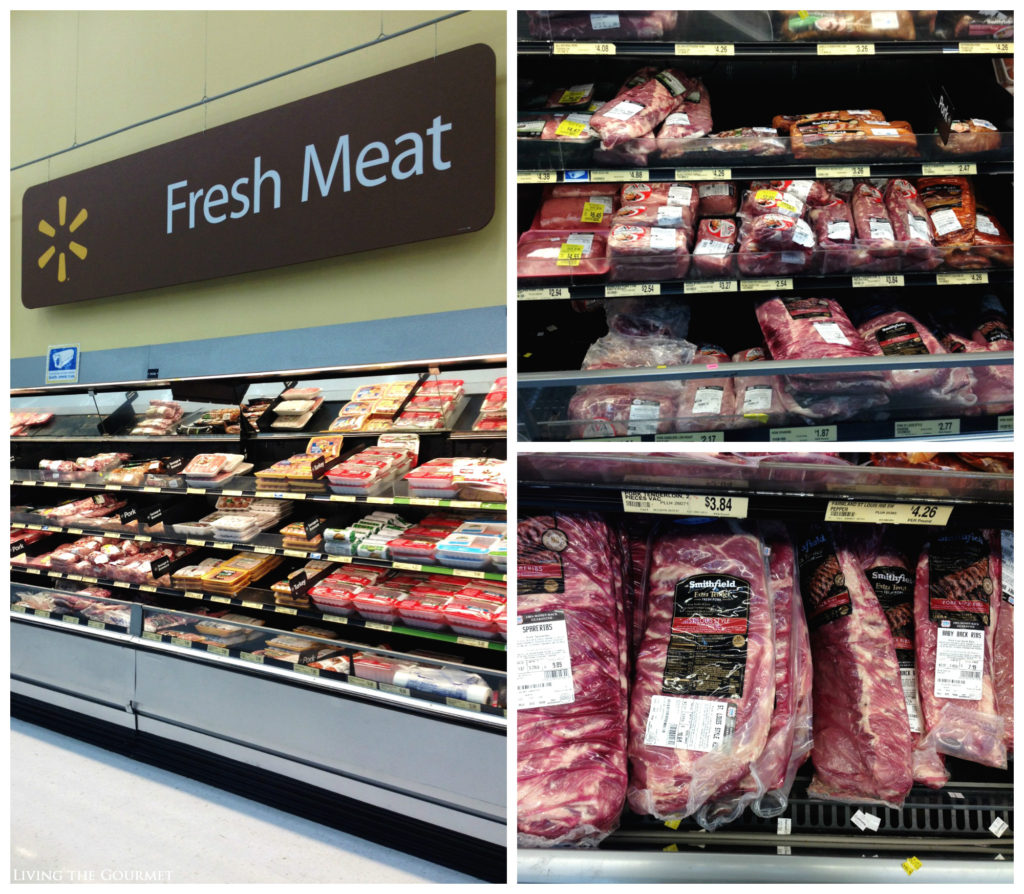 With that said, we begin with a super simple brine consisting of garlic, rosemary, thyme, oregano, fresh parsley, lemon juice, white vinegar, honey, salt, pepper, ground cinnamon and olive oil. Don't be afraid to be creative with this brine, or to adjust the measurements to your taste. We then set the ribs in foil, together with that mixture, and let them brine for several hours. Once that's done, we set the ribs in a bbq-safe pan, I prefer cast iron for this purpose, and let the ribs cook on the grill for about an hour and a half. Then take the ribs out of the pan and set them directly on the grill for thirty minutes or so for that delicious barbeque char. Once they have a nice crust, they're ready to serve. If your guests are so inclined, KC Masterpiece Barbeque Sauce and Tabasco goes great with this particular recipe.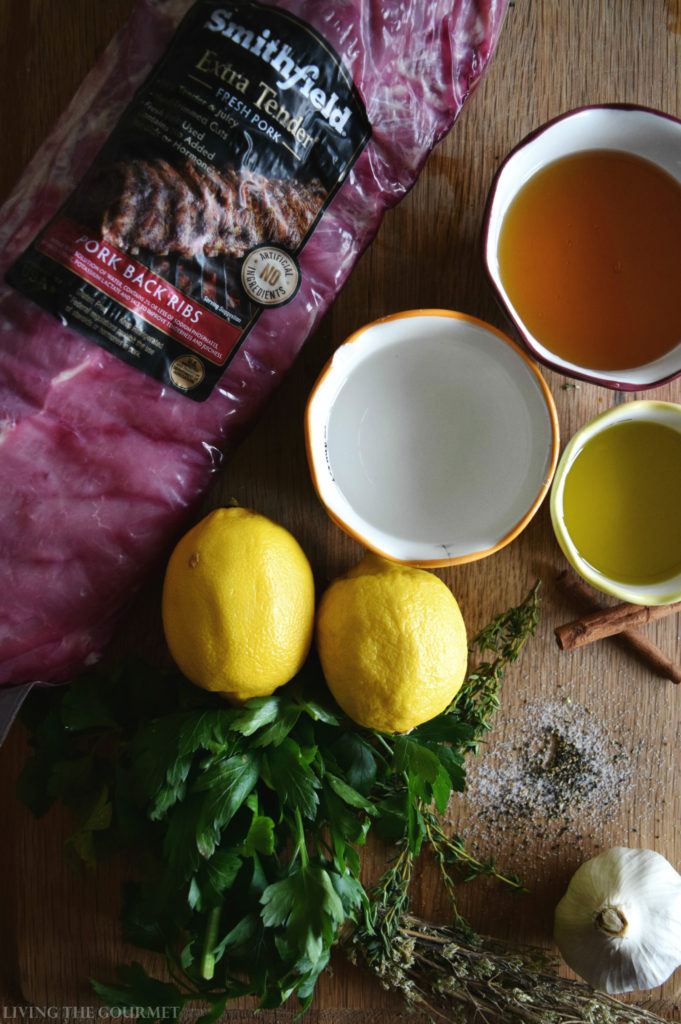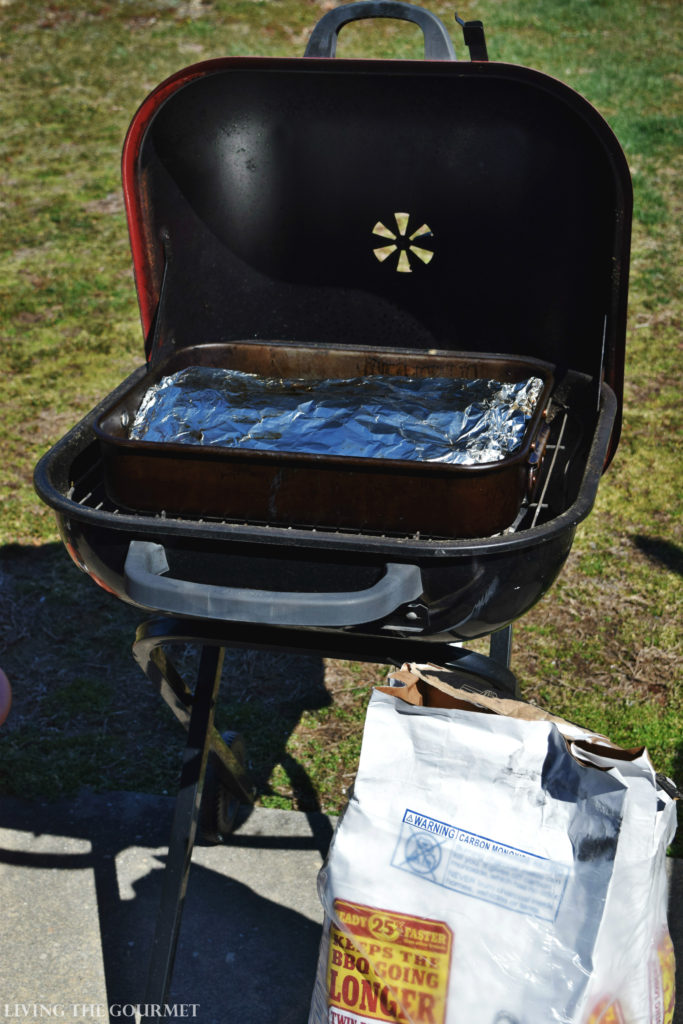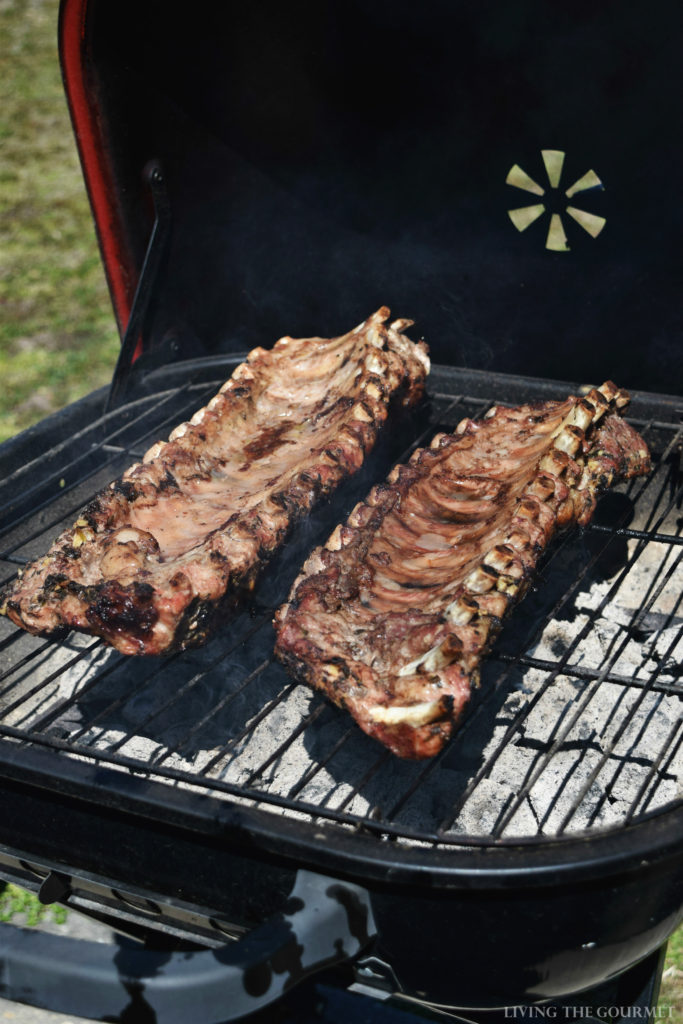 Print
Mediterranean Style Back Ribs
Author:
Prep Time:

10 minutes

Cook Time:

1 hour 45 minutes

Total Time:

1 hour 55 minutes

Yield:

8

-

1

0

1

x
Category:

Main Dish
Smithfield Extra Tender Back Ribs – 2 racks
For the Marinade:
¼ cup

olive oil

2/3 cups

white vinegar
Juice of

2

lemons

½ cup

honey

2 tsp

. dried oregano

2 tsp

. cinnamon

2 tsp

. black pepper

2 tsp

. salt

4

cloves garlic – chopped

½ cup

fresh parsley – chopped

5

–

6

sprigs of fresh thyme
Instructions
Combine all of the ingredients for the marinade in a medium sized bowl.
Place the ribs in tin foil and pour the marinade into the foil and wrap the ribs in the foil to brine.
Refrigerate for at least one hour or up to overnight.
Start the barbecue.
Place the ribs still in the foil in a barbecue proof pan and place on the grill. Close the top to the grill and barbecue for approximately 1 ½ hours.
Uncover the ribs and place on the grill for approximately 30 minutes to get a nice char; turning once.
Remove and serve.
Notes
*Prep Time does not include Inactive Prep Time
Recipe Card powered by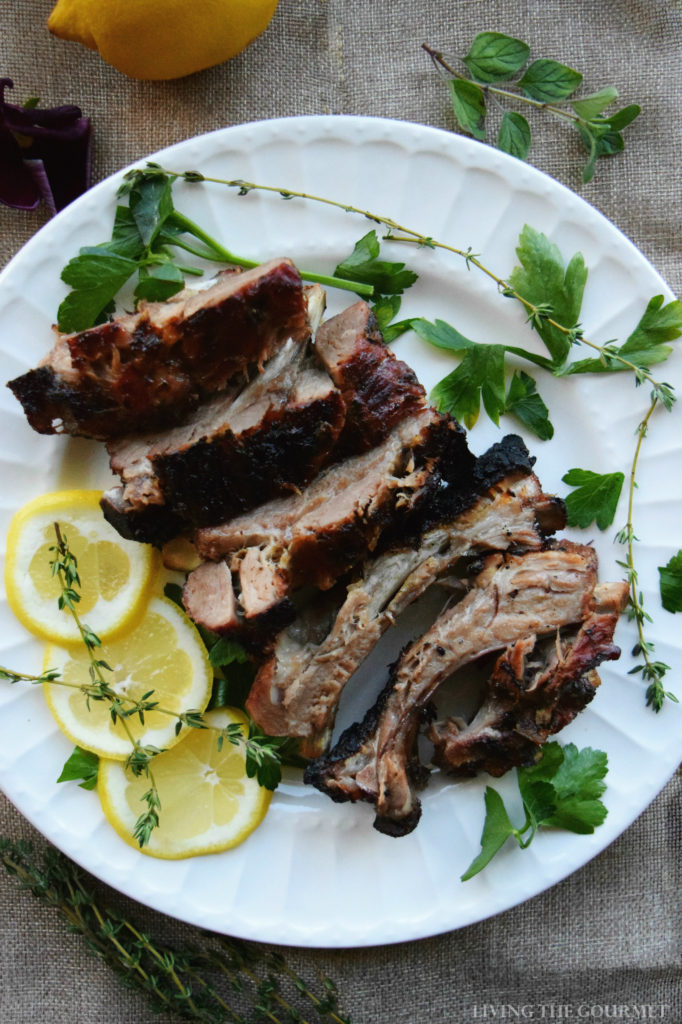 What are some you're favorite Easter season recipes? Or what some of the ways you kick off the grilling season? We would love to hear to from you!
Now for some exciting news, Smithfield is encouraging America to get grilling so starting May 1st, you can win $5,000 cash plus multiple prizes throughout the summer! Check out all the details HERE!
For more grilling inspiration follow Smithfield on:
Facebook
Twitter
Youtube
Pinterest
Enjoy with Love!
8