This shop has been compensated by Collective Bias, Inc. and its advertiser. All opinions are mine alone. #SuperCrispyMealHero #CollectiveBias
This classic Ham and Spring Onion Quiche is getting a makeover with a crispy potato fry crust!
The quiche is a home-cooking classic. Light, versatile, easy to make, and almost equally as easy to dress up in limitless varieties, this recipe is perfect for a simple yet satisfying weeknight dinner, a 'make ahead' breakfast, or even as a light centerpiece for a weekend evening spread.
These days, however, it's easy to dismiss the quiche as drably 'old fashioned,' or as something plucked from the dinner tables or late luncheon gatherings of yore. The quiche doesn't invoke thoughts or images of 'innovation' or 'palate challenges.' On the contrary, in a culinary world dominated by faux-sophistication and 'boundary pushing,' the quiche risks simply being overshadowed, or even looking quaint.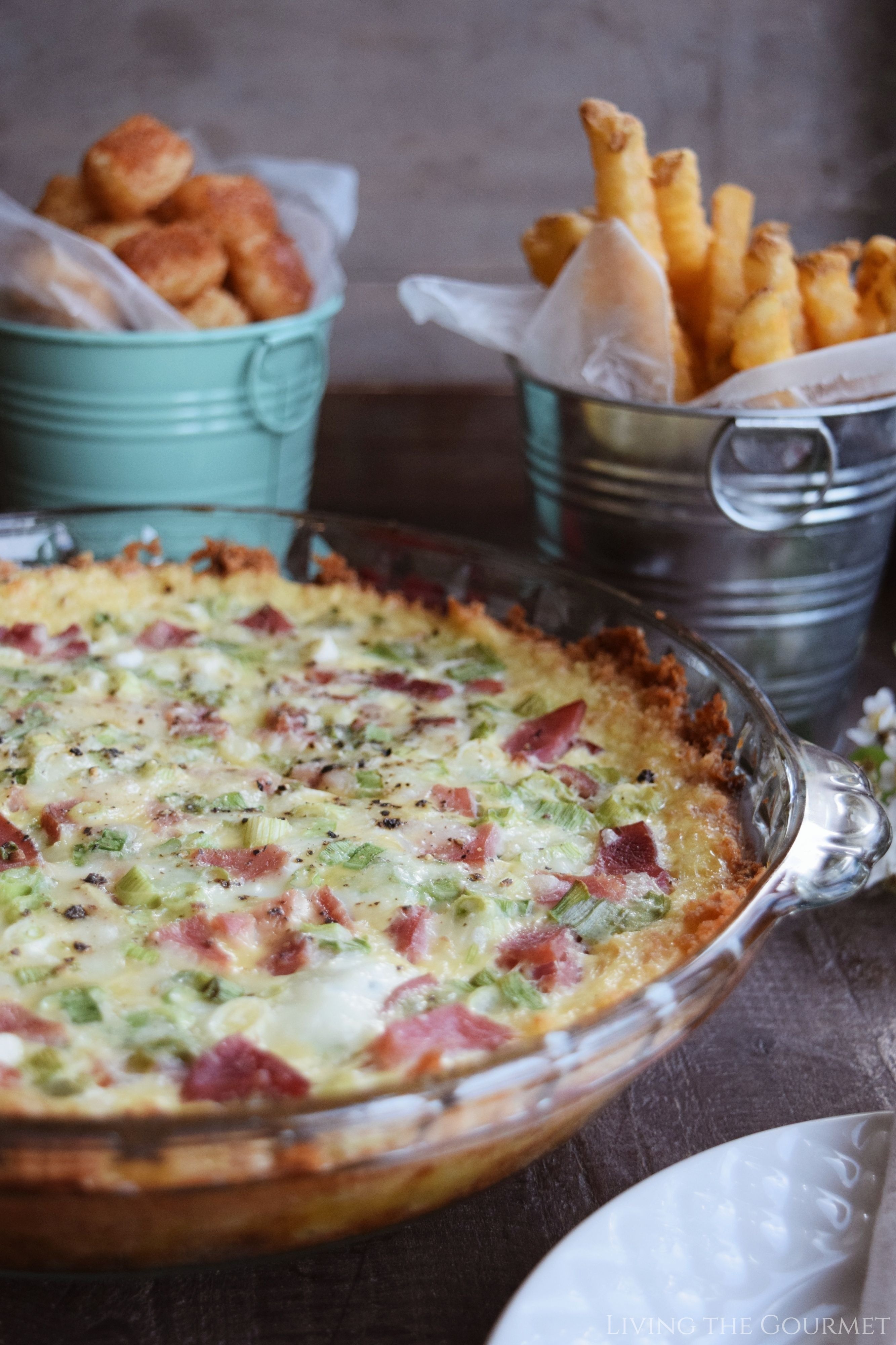 However, "A classic is something that retains its value in defiance of the passage of time, and in spite of the coming and going of trends," one of my professors once attempted to define down the bizarrely universal and yet strangely difficult to define the idea of something being a 'classic.'
In other words, certain things "Just Work," and I would contend that the quiche fits that category. For everyday meals, with familiar flavors, or something that can turn into an easy family favorite, the basic quiche is, at least to my mind, up there with "Sunday Roast."
Today, we're putting a couple of twists on the standard quiche recipe and cooking process, but without increasing the difficulty. Just the opposite in fact. So now, without further delay, let's get today's recipe – Ham and Spring Onion Quiche.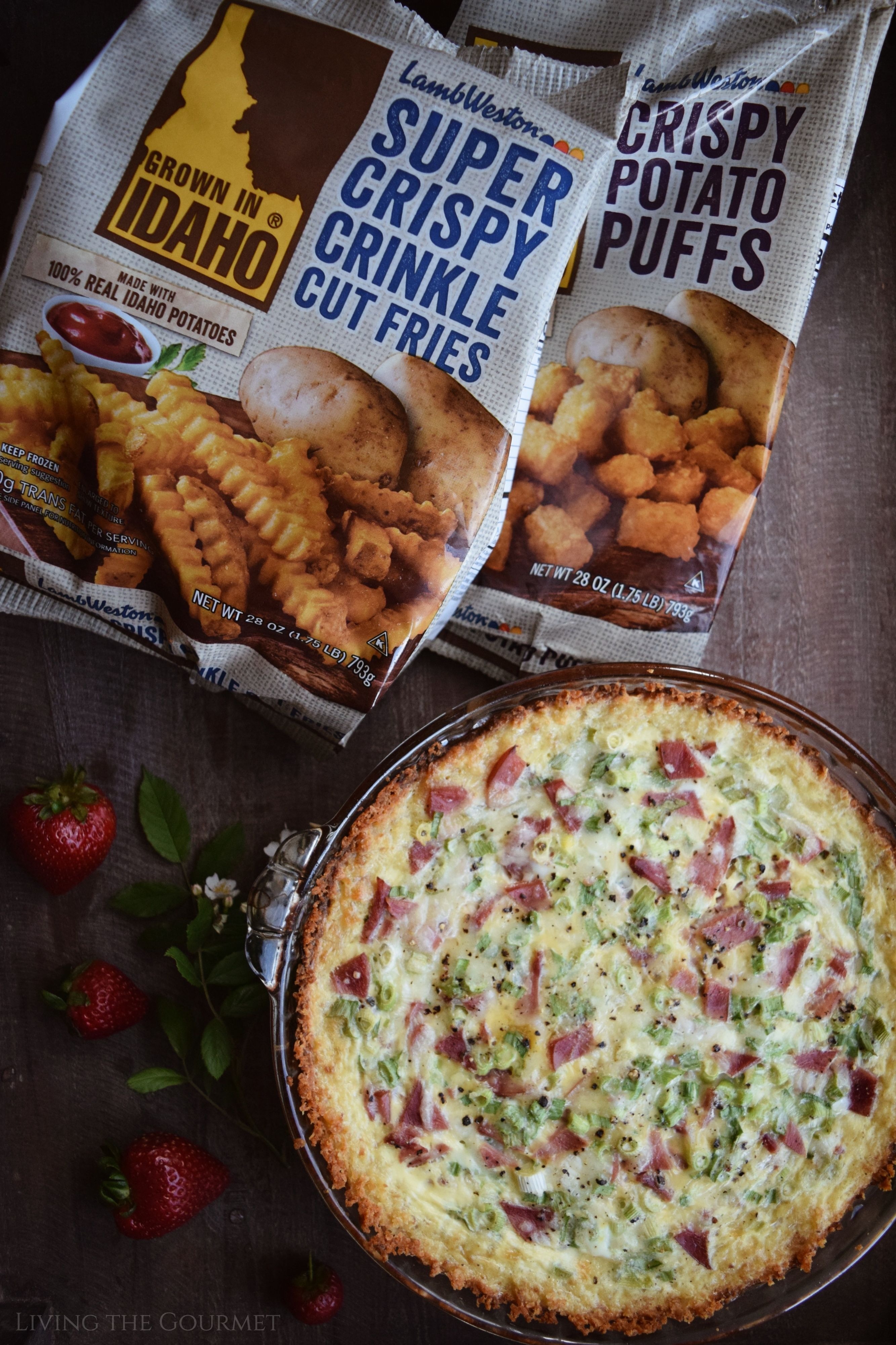 To start things off, we begin with a 28oz bag of Grown in Idaho Super Crispy Potato Puffs, which is now available at all major retailers including Stop & Shop, where you can find them right in the frozen food aisle. Now, process the puffs with olive oil in a food processor until you have a workable mixture. Then press the processed potato puffs into a pair of pie plates as pictured below.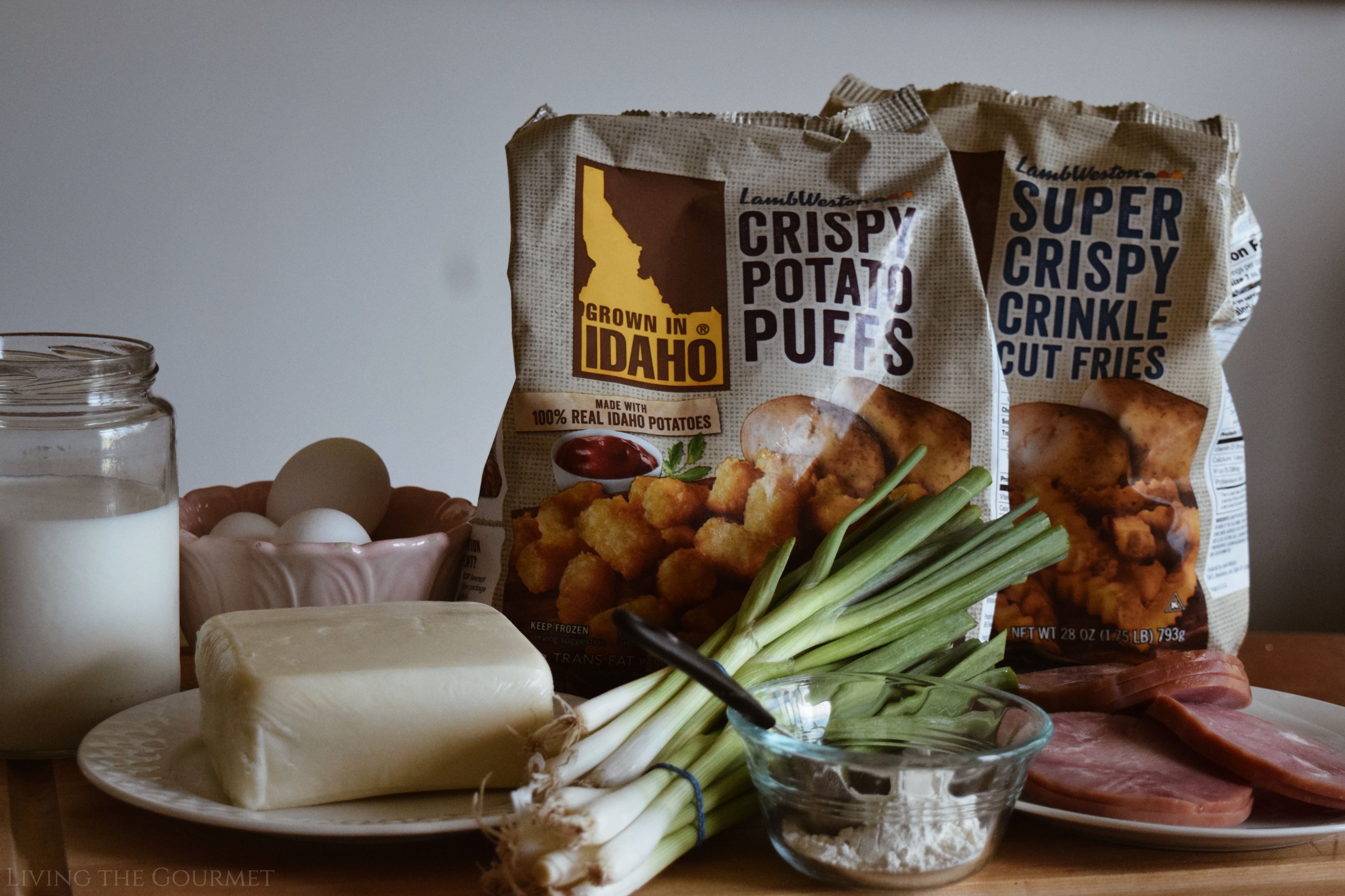 We're using Grown in Idaho Super Crispy Potato Puffs since these are super crispy on the outside, but tender, full and fluffy on the inside, which will give today's crust the perfect combination of textures, along with a Real Idaho potato taste, that's 100% grown in Idaho.
From there, bake the crusts for about twelve to fifteen minutes, or until they are lightly golden.
Next, in a large bowl, mix together chopped scallions, shredded mozzarella, and diced ham, with a dash of ground black pepper, and toss this mixture lightly.
In a separate bowl, gently whisk together eggs and milk, and then gradually and carefully mix that together with the ham, scallions, and cheese mixture from before. Now, divide the resulting mixture between the two pie plates, and top each with a light dusting of ground black pepper.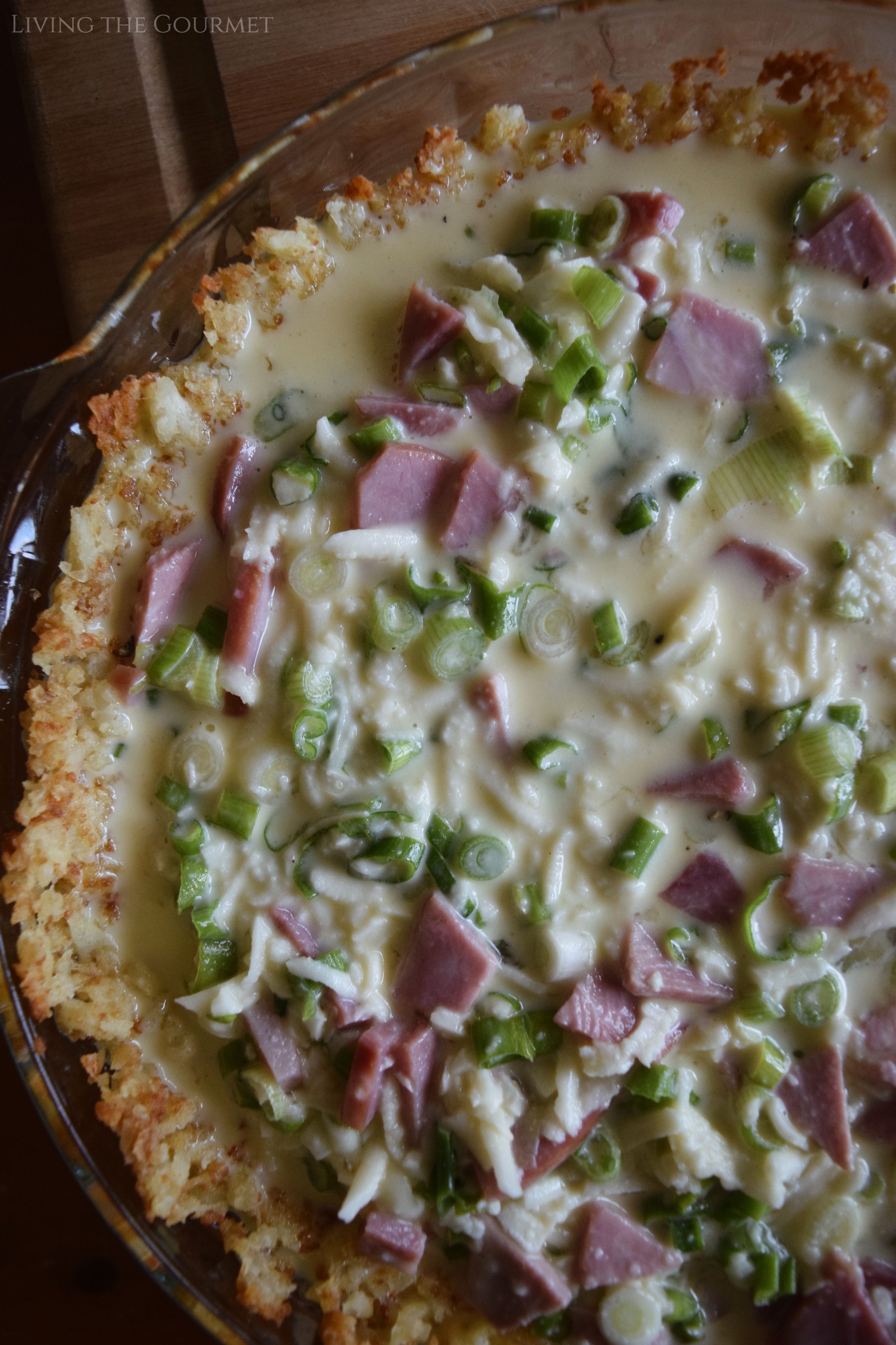 Bake the quiches for forty-five to fifty minutes, and then let them rest for about ten minutes before serving. I served mine with a side of Grown In Idaho Super Crispy Crinkle Cut Fries and Crispy Potato Puffs.
Living the Gourmet
Yields 2 quiches
Ham and Spring Onion Quiche
15 minPrep Time
45 minCook Time
1 hrTotal Time
5 based on 13 review(s)
Ingredients
6 eggs
2 bunches of scallions – chopped (2 cups)
2 cups of diced ham
1 (28 oz. bag) of Grown In Idaho Crispy Potato Puffs , preferably slightly thawed
4 tbs. olive oil
2 cups of shredded mozzarella
2 tbs. flour
2 1/3 cups of whole milk
Fresh ground black pepper
Instructions
Preheat Oven 350 degrees F:
Place the Grown in Idaho Super Crispy Potato Puffs and the olive oil in a food processor and process to workable mixture.
Press the processed potato puffs into the pie plates.
Bake the potato puffs 12 – 15 minutes or until lightly golden.
Let the crust cool down.
In a large bowl mix the scallions, cheese, flour and diced ham, dash of fresh ground black pepper; toss lightly.
In another large bowl, gently whisk the eggs with the milk.
Gently mix the ham mixture with the milk and egg mixture.
Divide the mixture between two 9-inch pie plates and top each pie dish with fresh ground black pepper.
Bake 45 to 50 minutes or until knife inserted in center comes out clean. Let stand 10 minutes before serving.
Serve with Idaho potato fries cooked as directed.
7.8.1.2
1311
https://livingthegourmet.com/2019/06/ham-and-spring-onion-quiche.html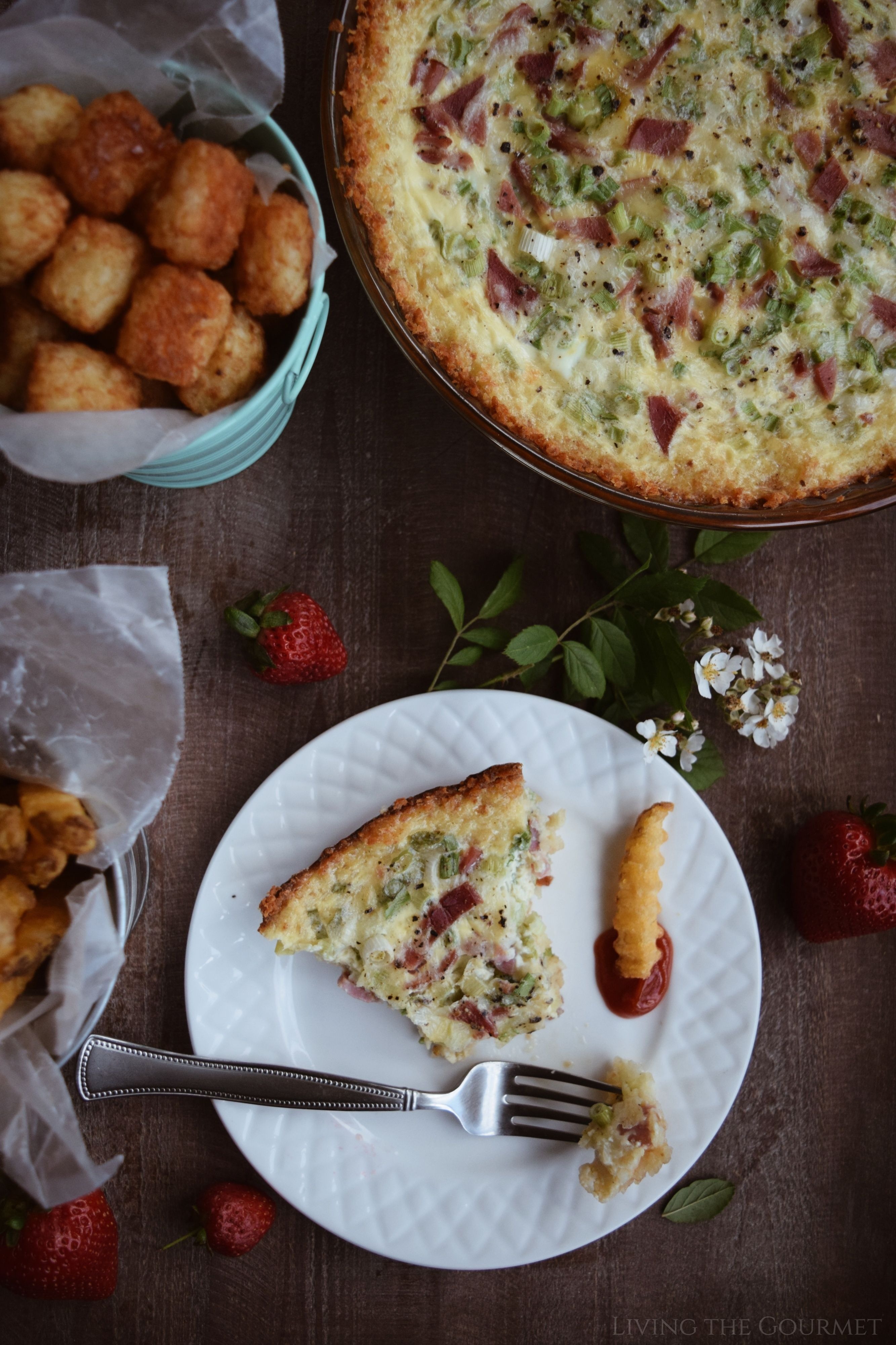 What are some of your everyday favorites? We would love to hear from you.
For more delicious recipe creations and inspiration, follow Grown in Idaho on Facebook and Instagram!
Enjoy with Love!
19