This shop has been compensated by Collective Bias, Inc. and its advertiser. All opinions are mine alone. #MarinadesWithMazola #MakeItWithHeart #CollectiveBias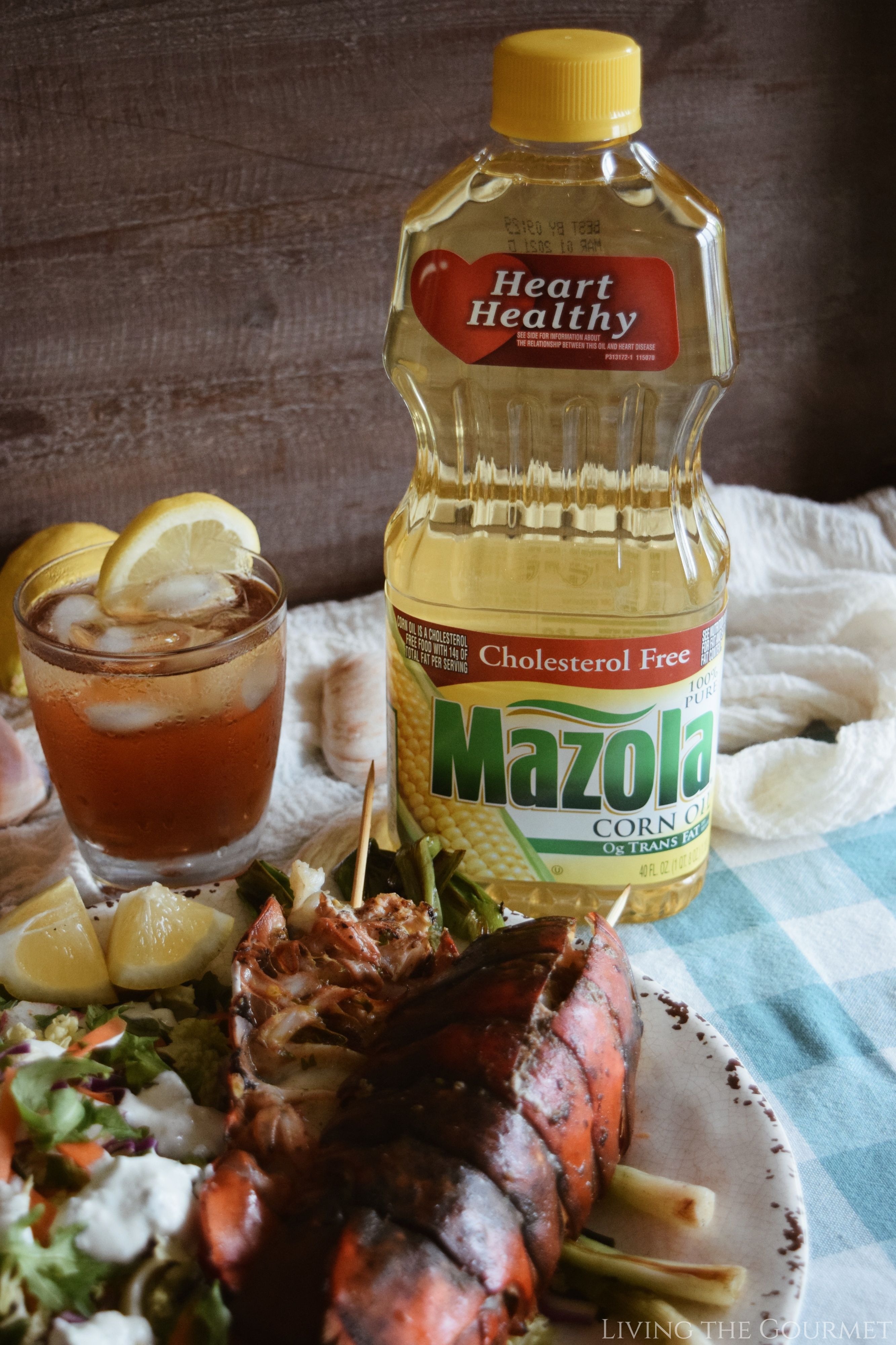 ​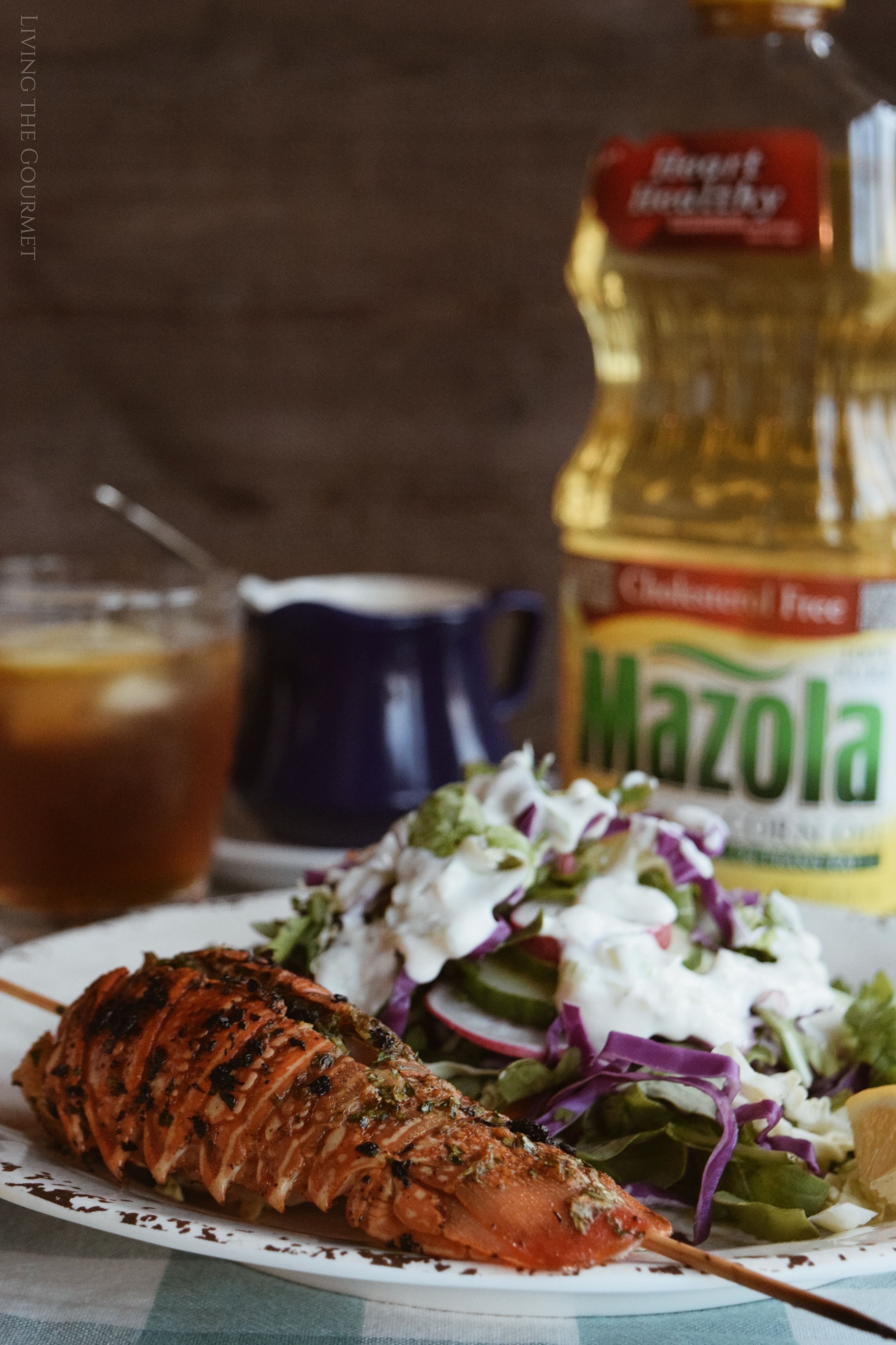 ​ 
We're officially welcoming summer with Grilled Lobster Tails served alongside Sweet Honey Tea and a Fresh Greens Salad kicked up with a Creamy Gorgonzola Dressing!​ One of the very few things that simply cannot be replaced in the kitchen is the need for cooking oil. Oil of some kind is a simple necessity for preparing a plethora of culinary staples, such that no kitchen is complete without it. As a result, using the healthiest 'and' most flavor-neutral cooking oil is ideal. Now, imagine my shock when I read that a clinical study showed Mazola Corn Oil reduces cholesterol 2x more than extra virgin olive oil. To check this out for yourself, visit Mazola.com, and post your thoughts below. As a bonus, Mazola Corn Oil has a completely neutral flavor profile, which means it neither masks nor alters the flavor of your other ingredients. As a result, this is about as close to an ideal cooking oil as you can find. And don't forget to text MAZOLA to 79495 between 6/20/19 – 9/26/19 to receive $1.00 back on your purchase of Mazola 40oz Corn Oil! Limit 1 rebate per household. PayPal account required. By texting, you expressly consent to receive multiple automated text messages on this offer. Consent not required as a condition of purchase. Message & data rates apply. Text HELP or STOP to 79495 at any time. Full terms: http://cbi.as/a38tw​.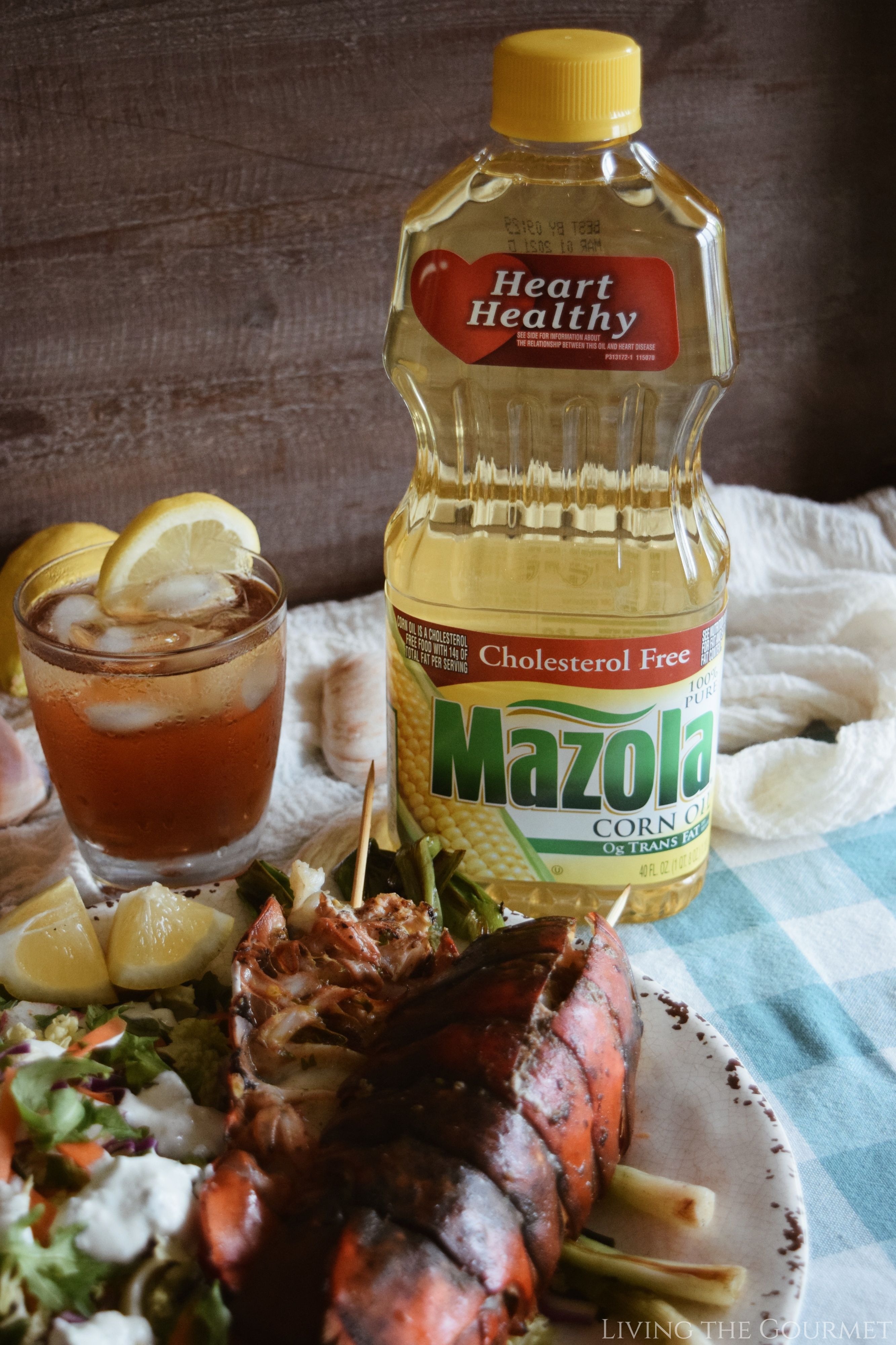 With that said, one of the cornerstones of summer grilling is the beloved 'seafood bake.' A blissfully messy, heartwarmingly satisfying mix of all the ocean's most flavorful offerings. The last seafood bake I posted was for Father's Day of 2015, nearly half a decade ago, and featured a New England themed feast of lobsters, clams, and scallops. Naturally, I figured it was high time for a repeat – but in a slightly more subdued manner. However, I wanted today's arrangement to be a bit more heart-healthy.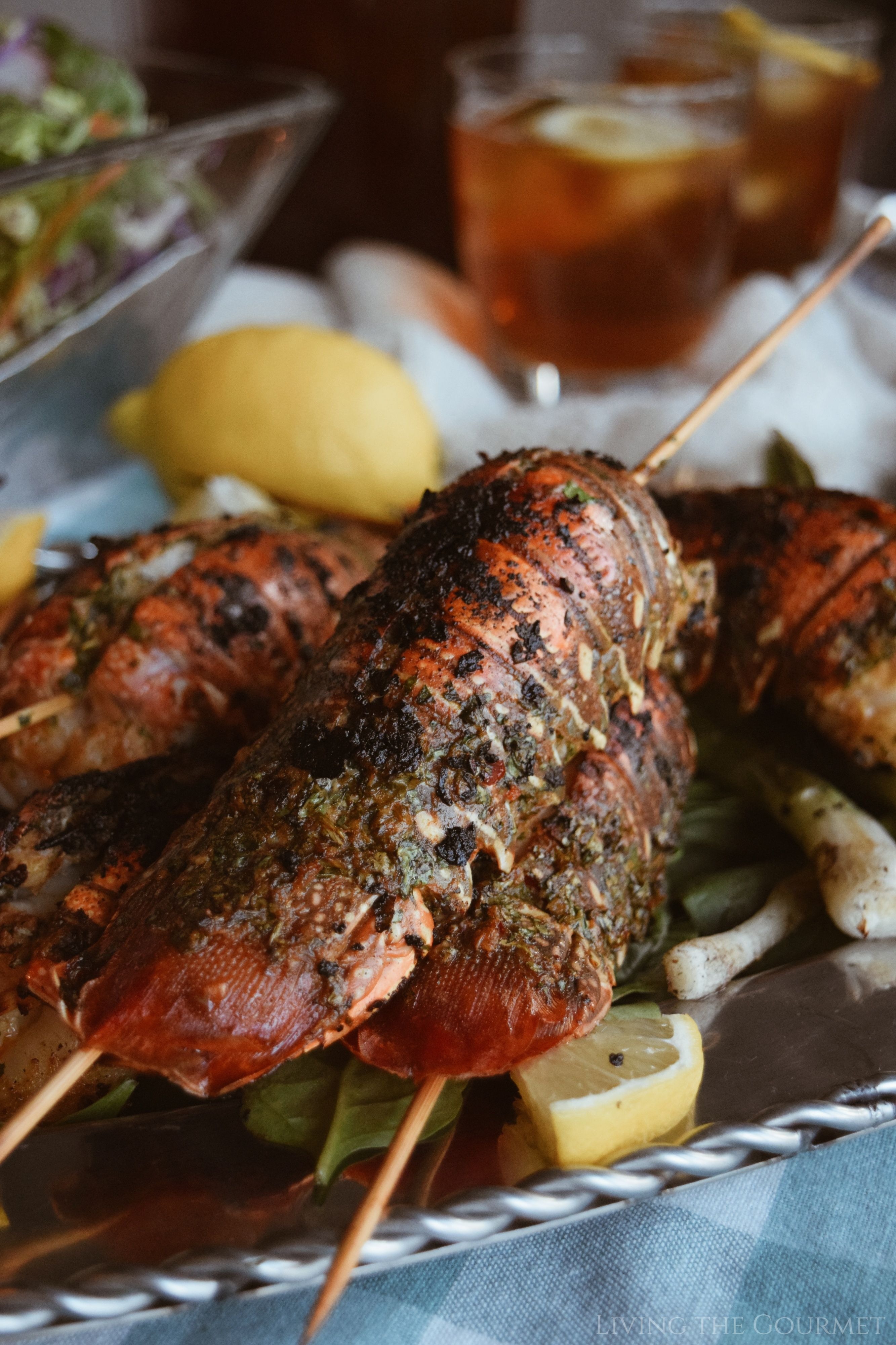 To start things off, I began by perusing the seafood case at my favorite fishmonger's, and, naturally, when I asked how the lobster tails were, he announced that he had a sale "just for me," and presented me with the lovely batch of tails you see below.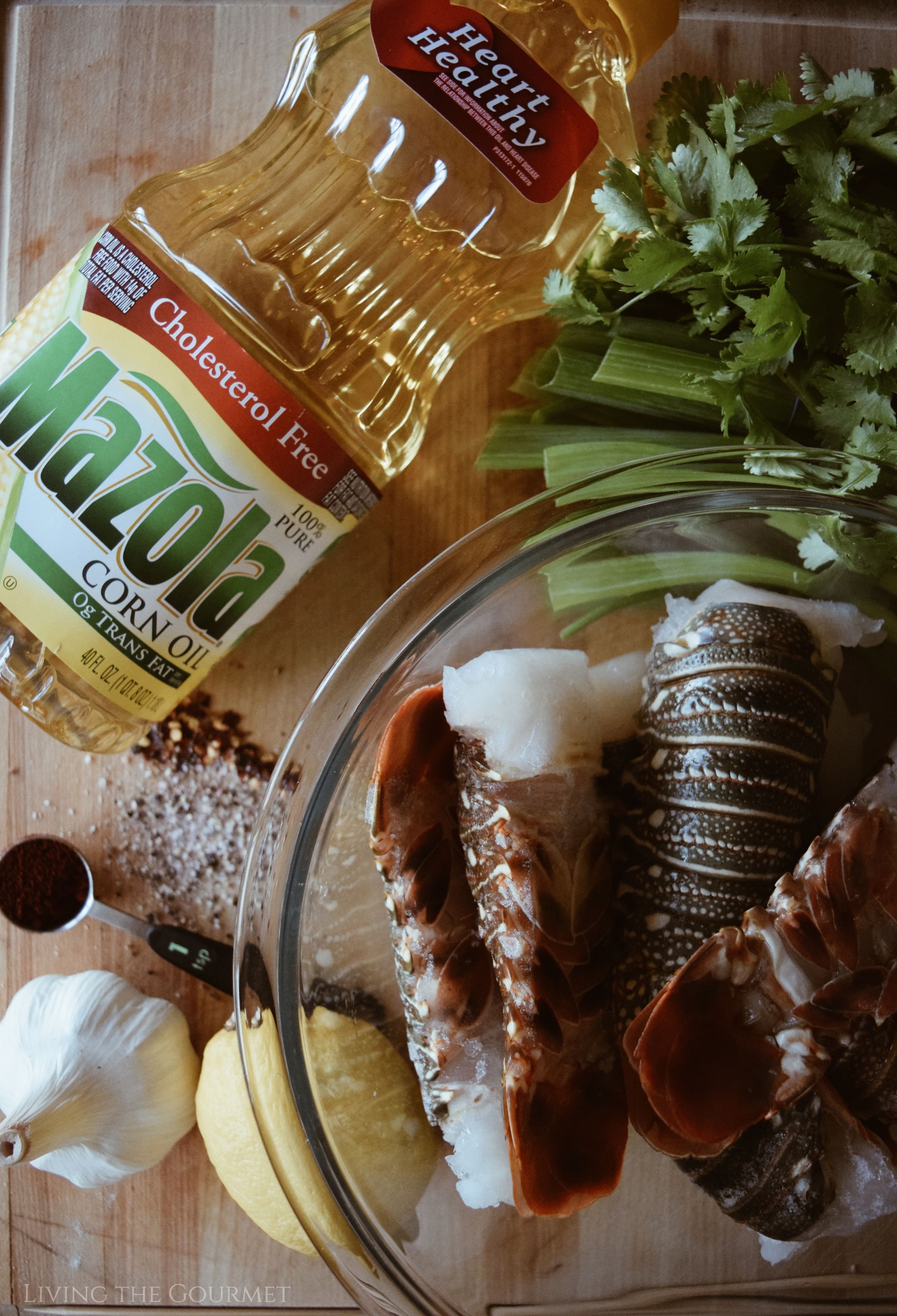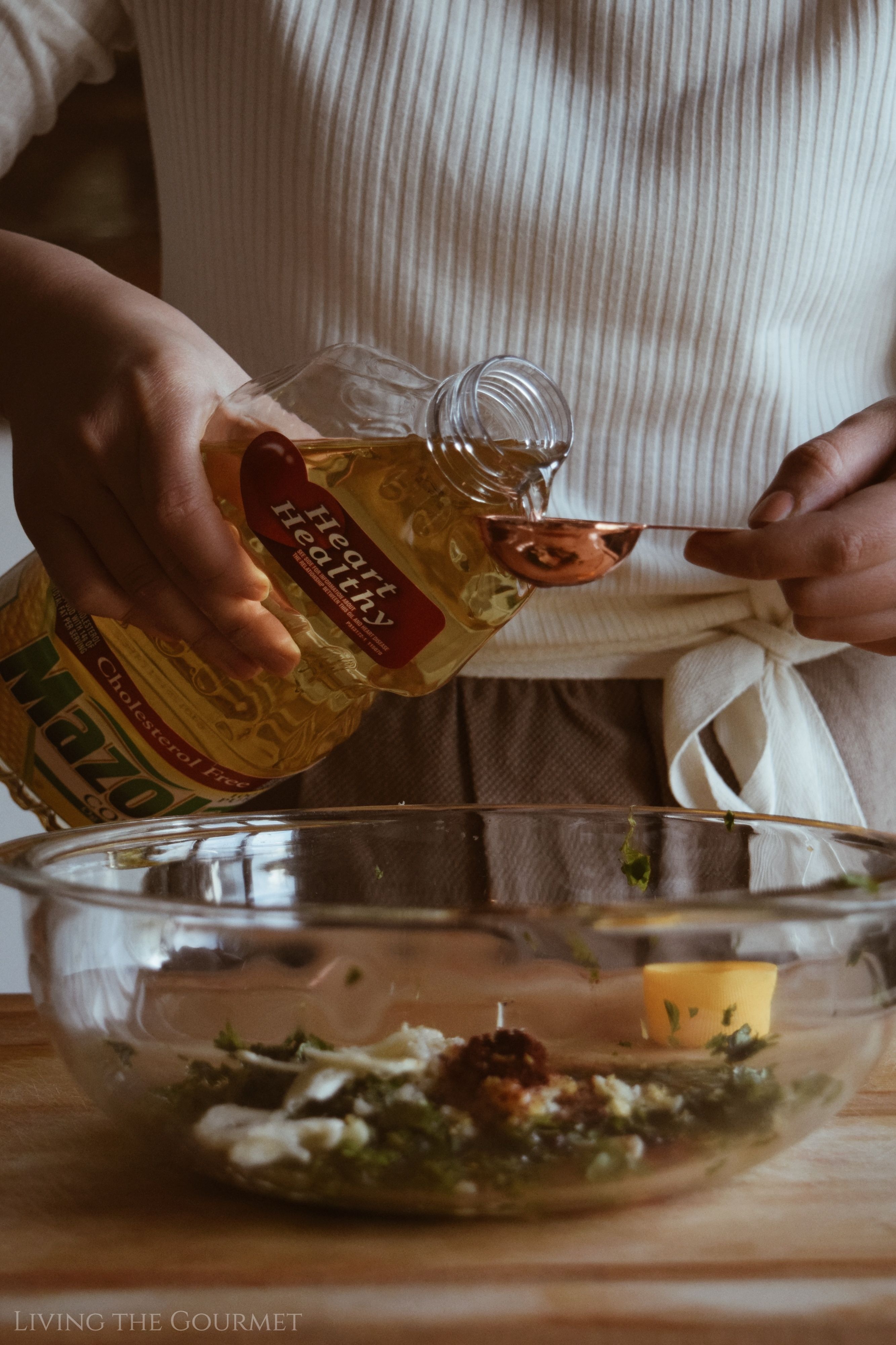 To begin, we start by prepping a marinade with a base of seasonings comprised of paprika, sea salt, fresh ground black pepper, red pepper flakes, grated garlic, and chopped cilantro. To make this better-for-you, we'll be combining this seasoning mix with Mazola Corn Oil rather than butter, since Mazola Corn Oil contains cholesterol-blocking plant sterols, making it a heart-healthy choice not just for salad dressings but marinades and more as well. To learn more, check out Mazola.com. Next, we split the lobster tails lengthwise as pictured below with a sturdy knife or a pair of kitchen shears, and then skewer the tails lengthwise all the way through to prevent them from curling during cooking.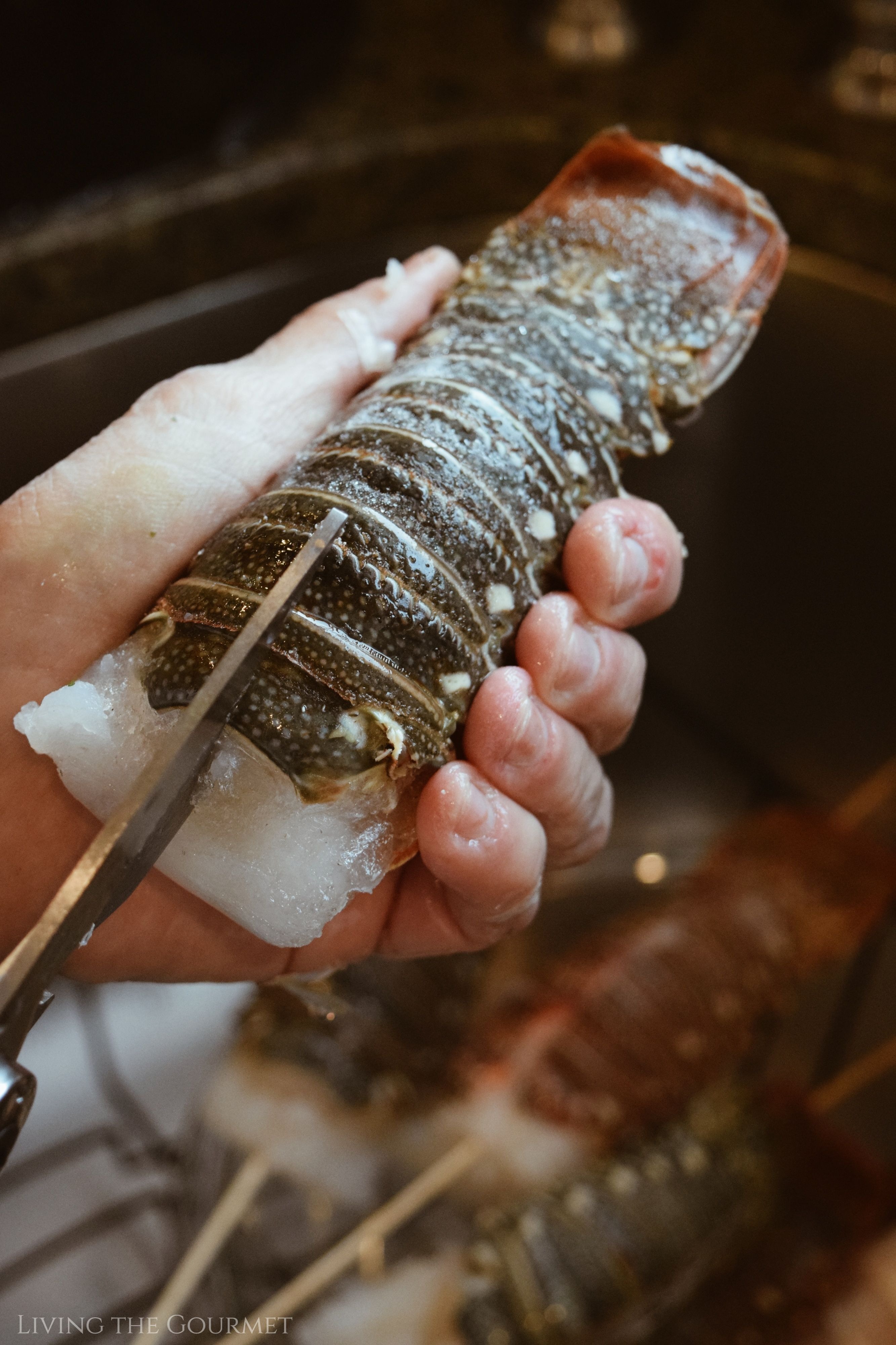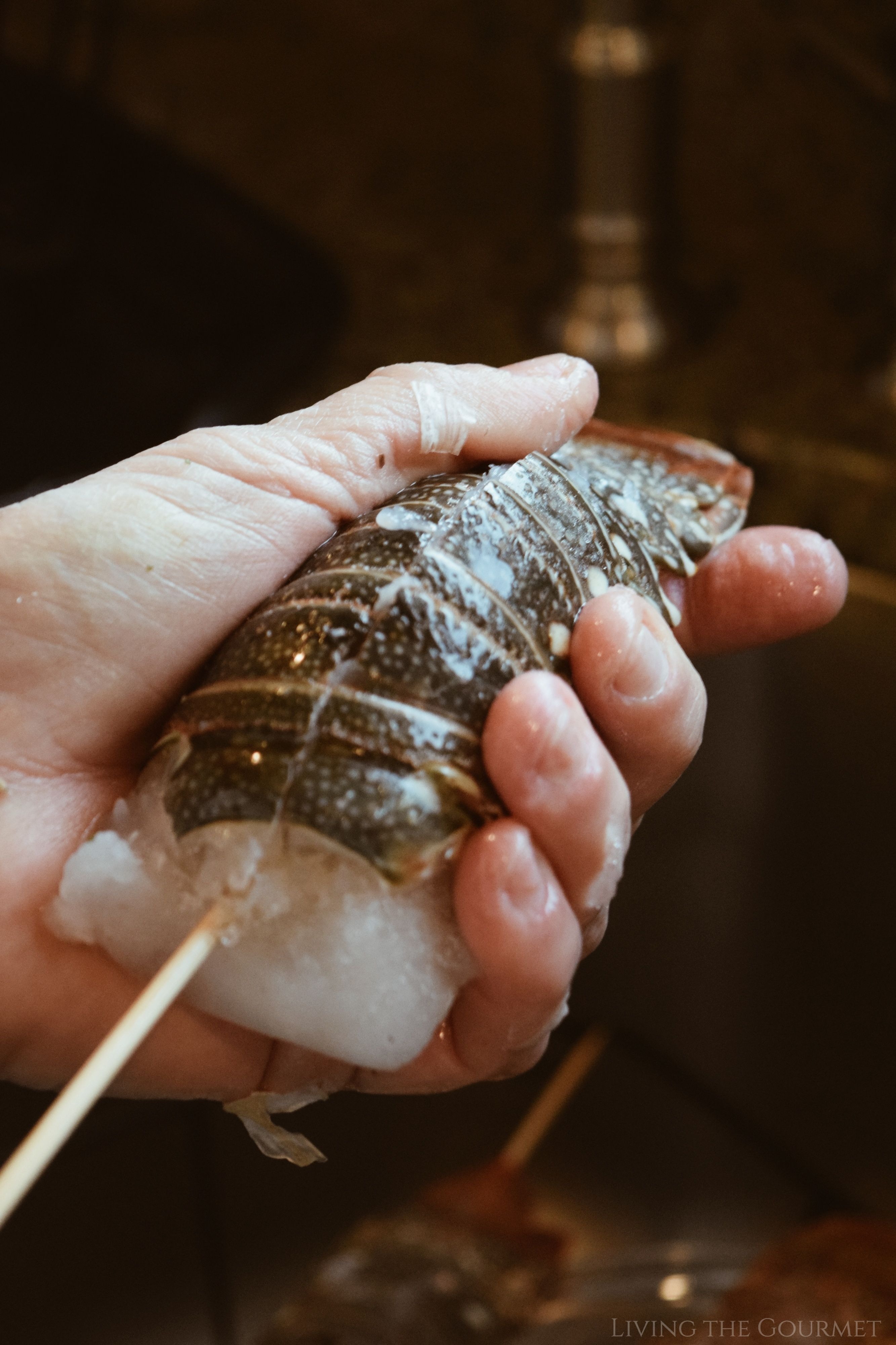 We then brush the entirety of the tail with the marinade – not just the meat beneath the shell. You want the tail thoroughly drenched.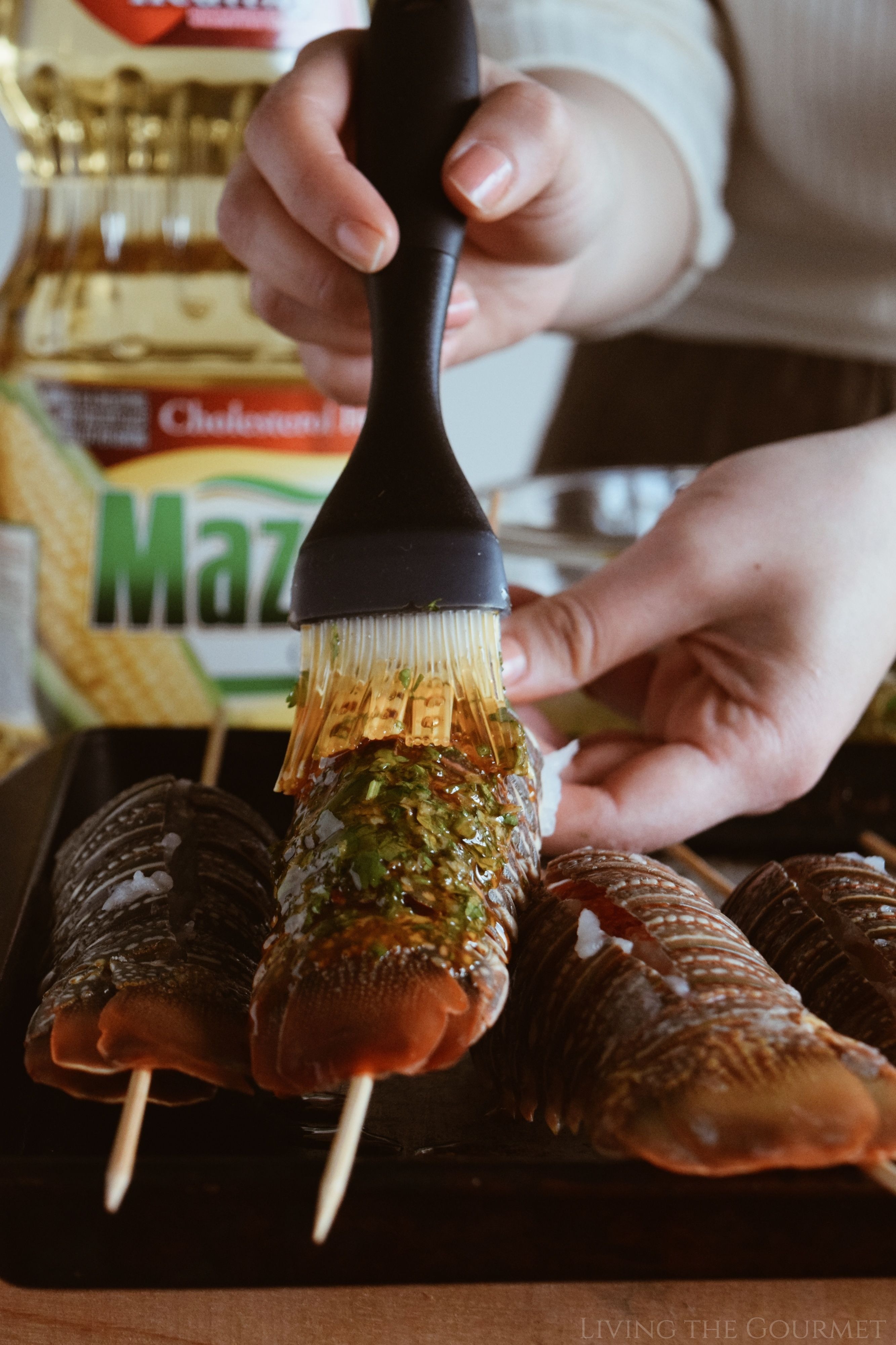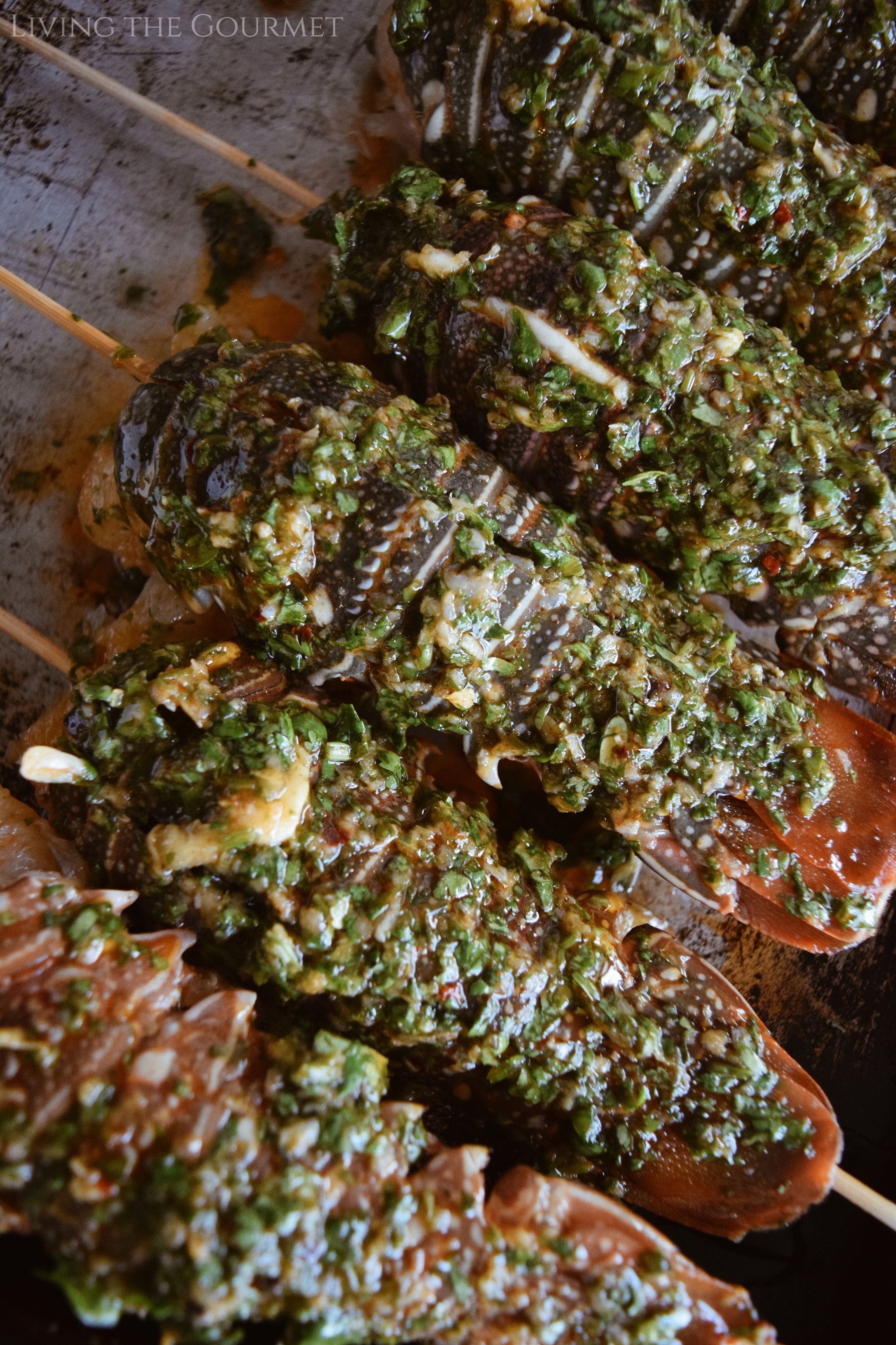 We then heat a cast iron pan, and add a thin layer of Mazola Corn Oil to the pan. We grill the tails flesh side first, followed by the underside as described in the recipe card below. On a side note, while we're on the subject of grilling, Mazola Corn Oil has a 'smoke point' that's significantly higher than most other cooking oils (450-degrees Fahrenheit), meaning it will perform admirably in a variety of cooking applications. In case you were wondering, exceeding the 'smoke point' of your cooking oil not only negatively impacts the flavor of your food, but also its nutritional value.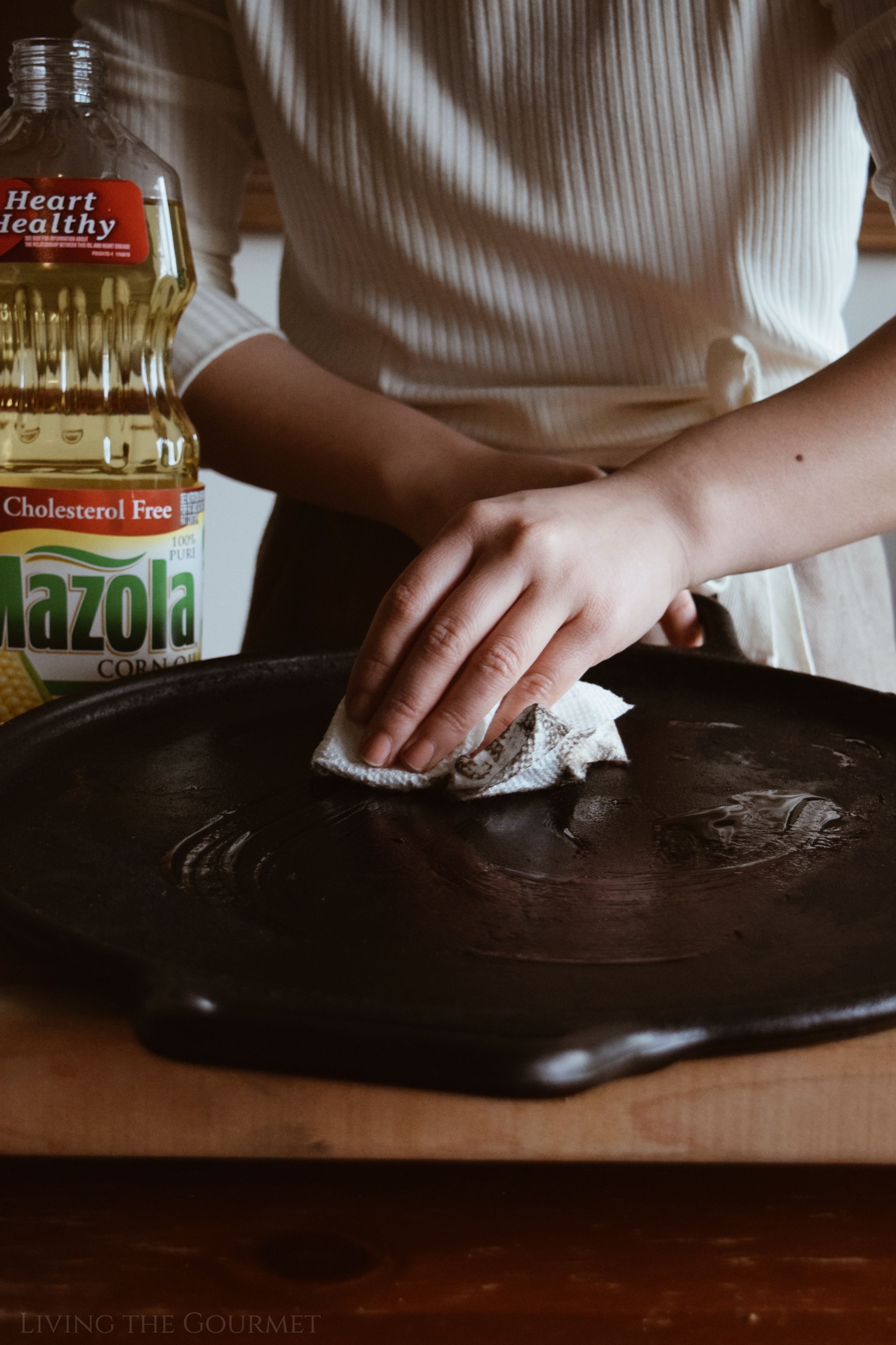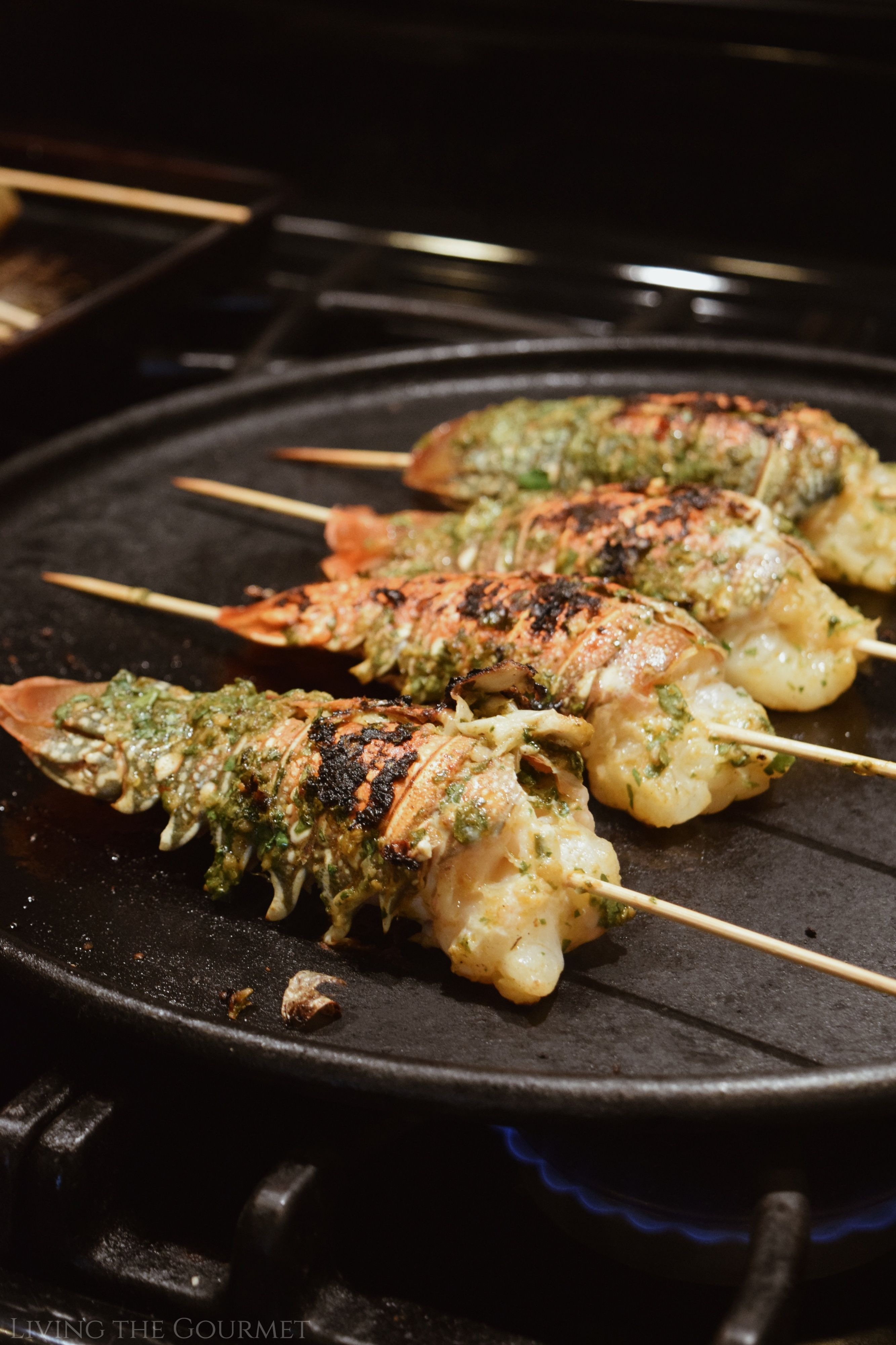 Now, to go along with the tails, we'll prepare a Summer Greens Salad, which we'll top with a Creamy Gorgonzola Dressing. However, in place of the typical whipped mayonnaise, we'll be using Greek yogurt, and mix that with fresh lemon juice, grated garlic, sea salt, fresh ground black pepper, and sliced scallions.
Ingredients for the Salad:
1 carrot, sliced (I used a kitchen peeler to ribbon)
2 cups arugula
¼ head of green cabbage, sliced very thin
¼ head of red cabbage, sliced very thin
Fresh cucumber, sliced thin
Fresh radishes, sliced thin
Place all of the above ingredients in a bowl and toss. Refrigerate until ready to use.
Ingredients for the Creamy Gorgonzola Dressing:
2 cups plain Greek yogurt
½ cup buttermilk, (this may be achieved with whole milk plus 1 tbs. lemon juice and let sit for a few minutes)
4 garlic cloves, grated
Juice of 1 fresh lemon
¼ lb. Gorgonzola cheese
2 scallions – sliced very thin
Fresh ground black pepper, to taste
Fresh ground sea salt, to taste
In a medium-sized bowl place, the Greek yogurt, buttermilk, grated garlic, lemon juice and stir together. Crumble the Gorgonzola and add to the yogurt mixture along with the sliced scallions and the fresh ground sea salt and black pepper to taste. Refrigerate until ready to use.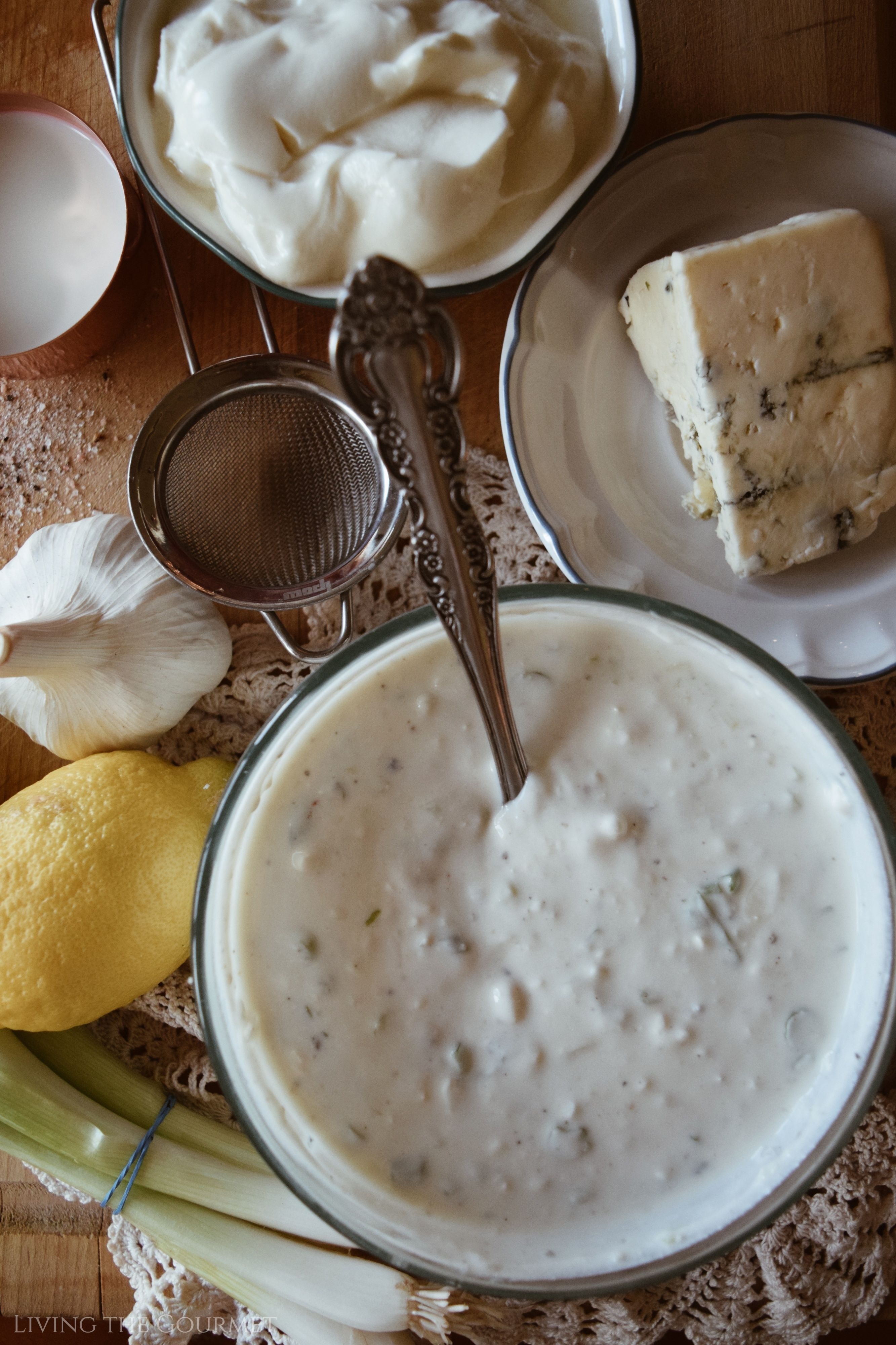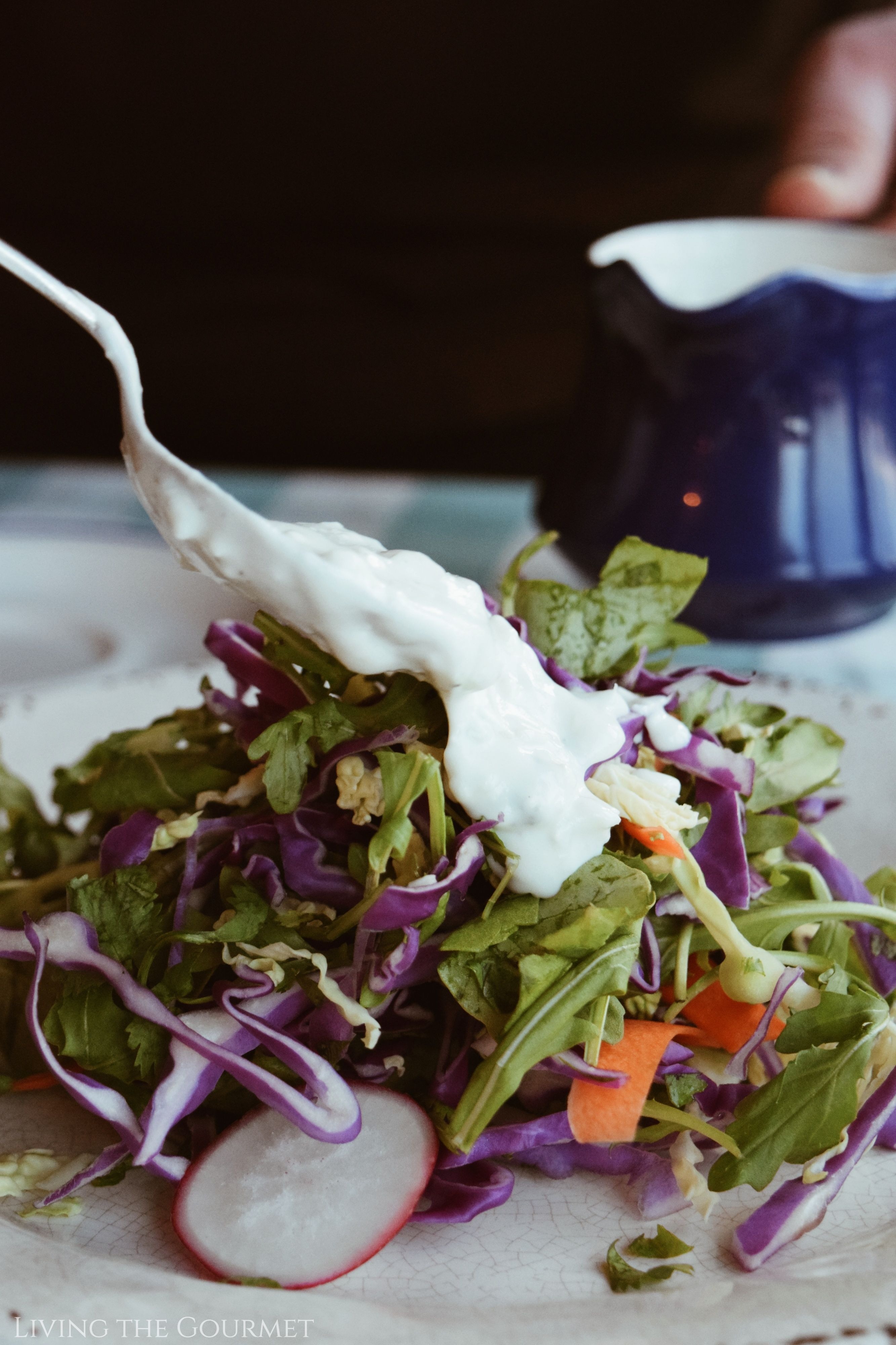 The final piece of our summer grilling spread is a seasonal classic- Sweet Tea, in which we'll swap out sugar for raw honey.
Makes a 64 oz pitcher of tea
Ingredients:
8 cups filtered water, divided
5 black tea bags
3/4 cup raw honey
1/2 lemon, sliced thin
Mint leaves for garnish, optional
Ice
As shown below, the process is a simple one. Being by bringing 4 cups of water to a boil, then submerge the tea bags in the boiled water and allow to steep until the water has cooled down completely to room temperature. Once the tea has cooled, discard the tea bags and transfer to a cool pitcher (I place mine in the refrigerator an hour before serving).
Add 4 more cups of water to the pitcher. Stir in the raw honey to sweeten. Add lemon slices and serve with mint leaves if desired. Add ice to each glass before serving.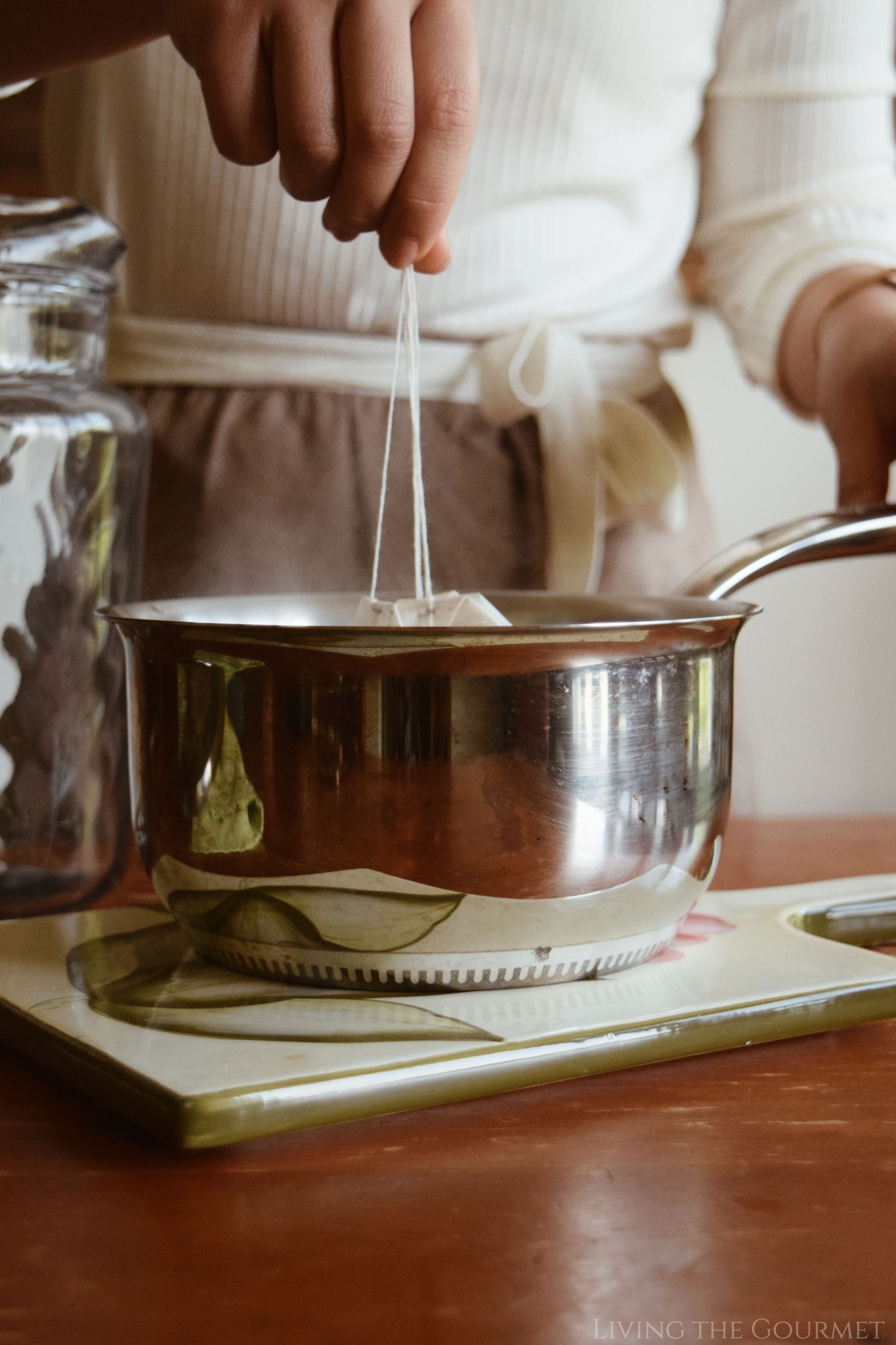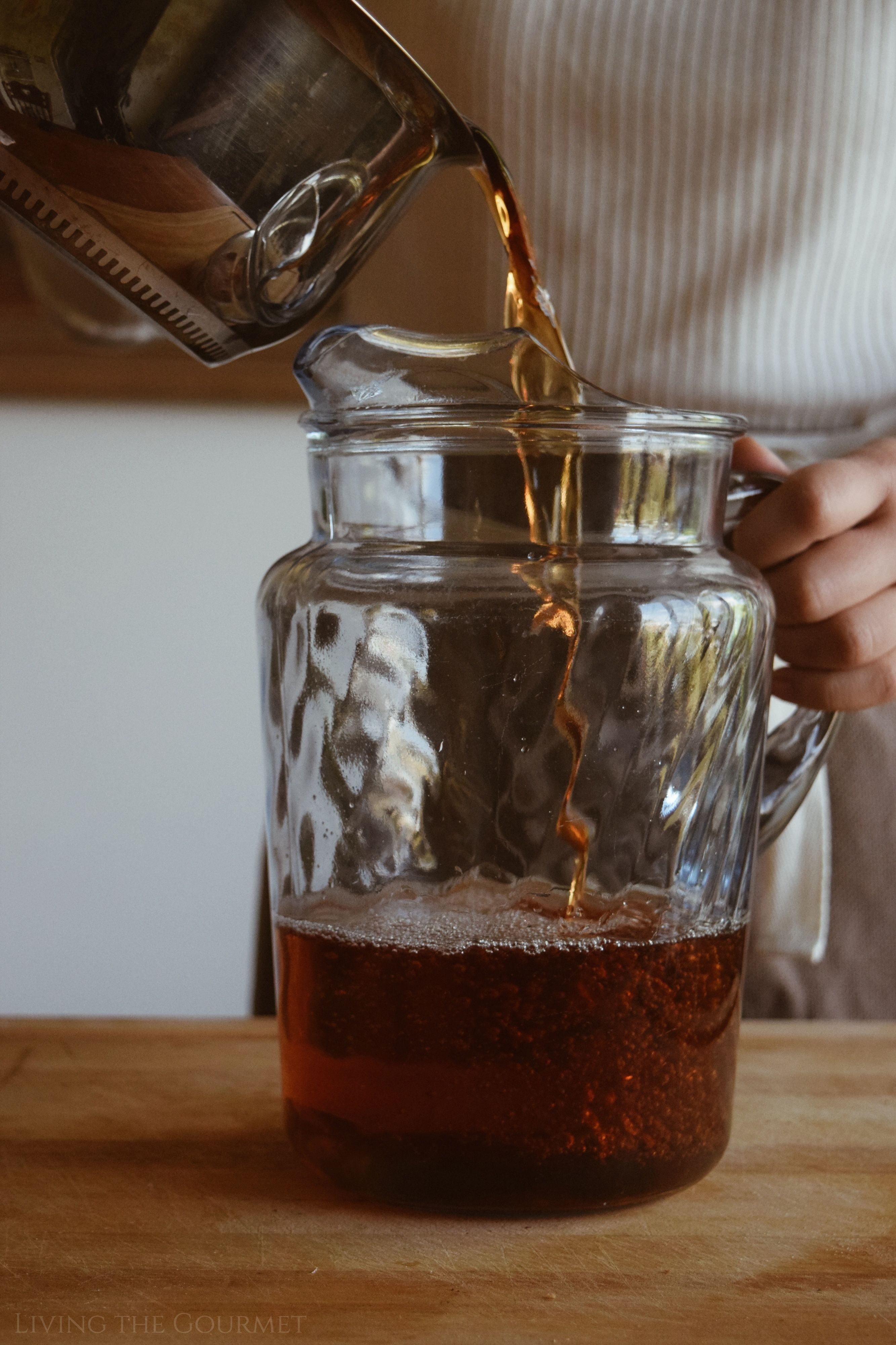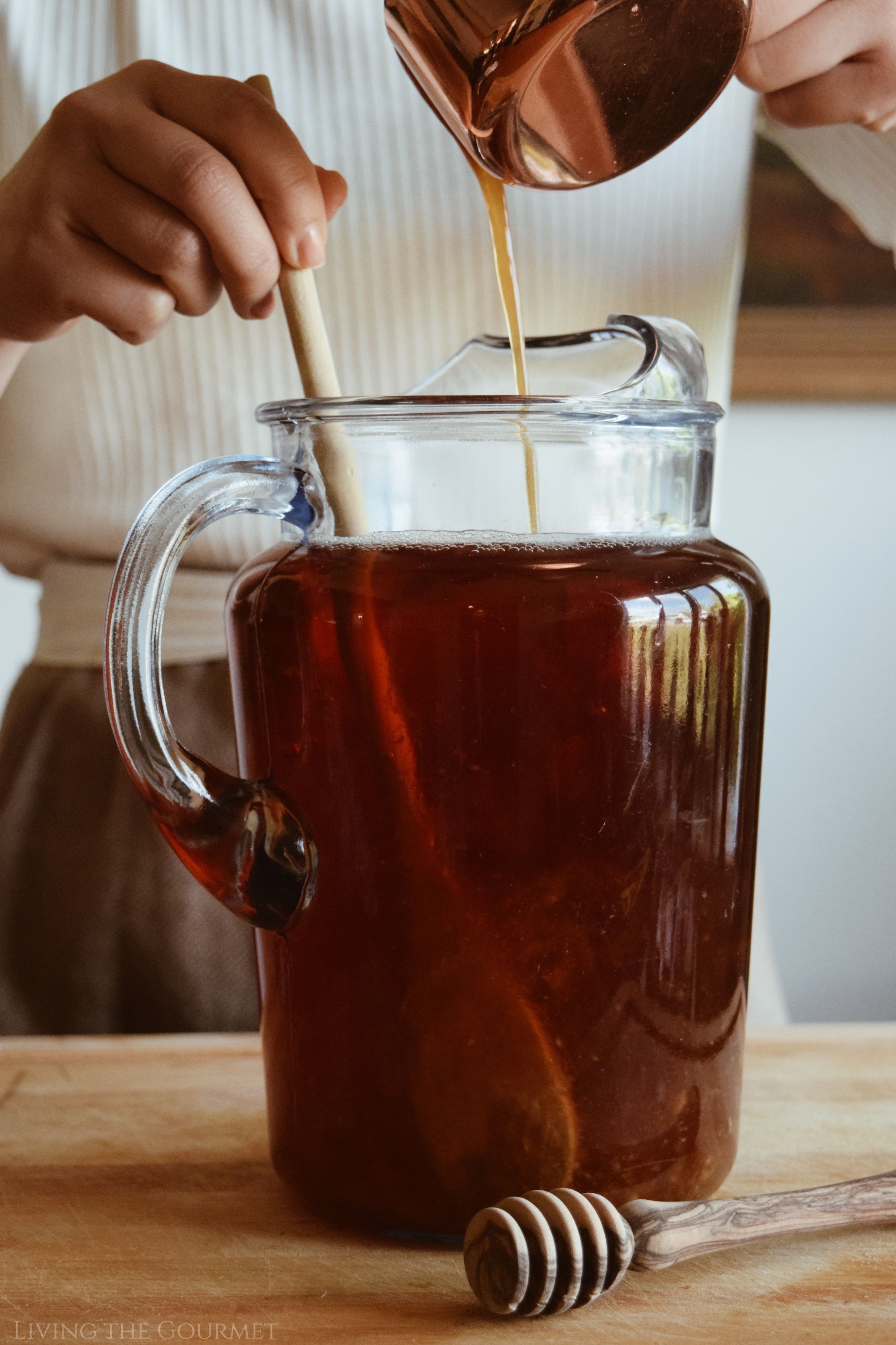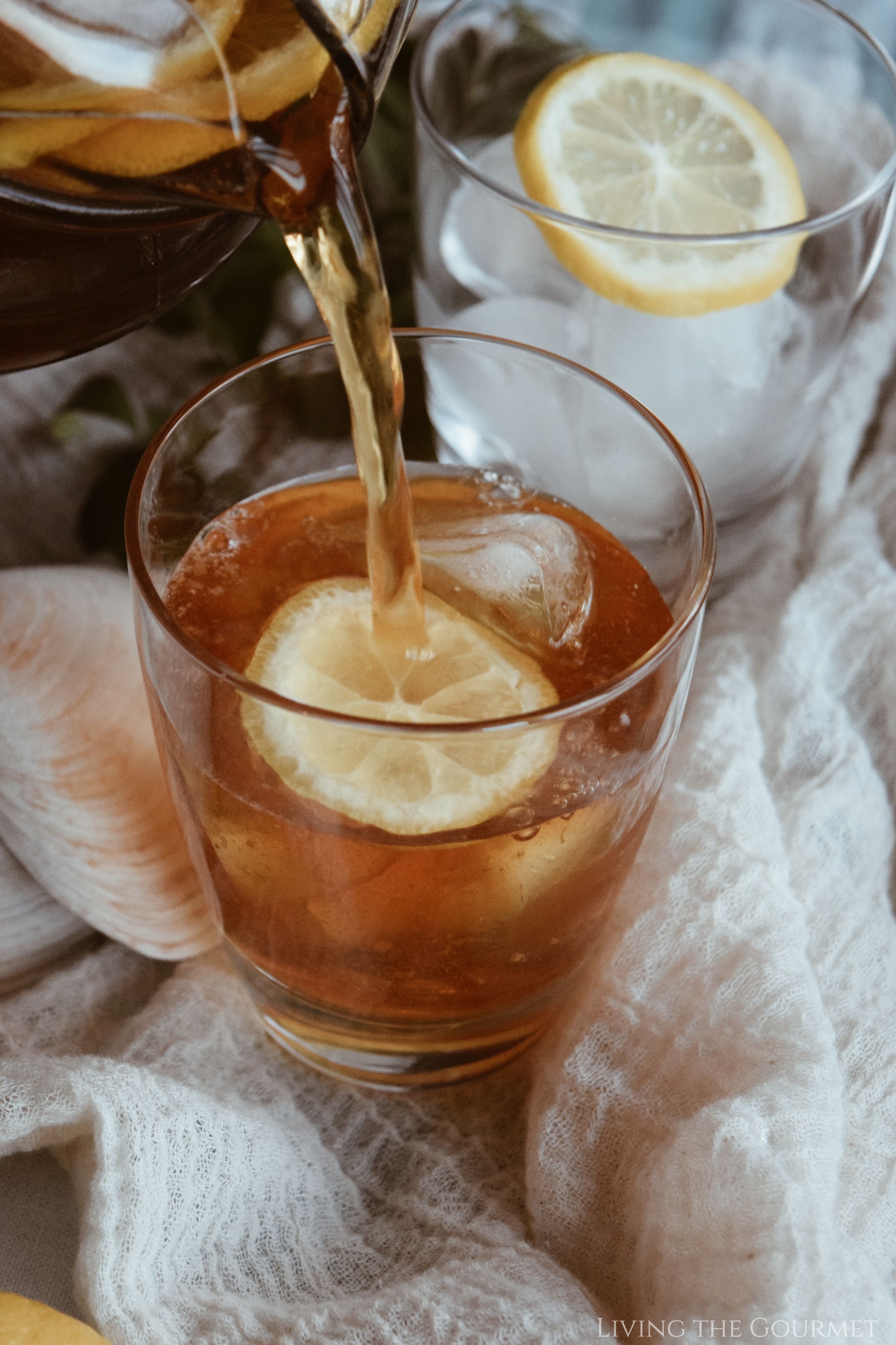 Living the Gourmet
Yields 8
Grilled Lobster Tails and Sweet Tea
15 minPrep Time
10 minCook Time
25 minTotal Time
5 based on 3 review(s)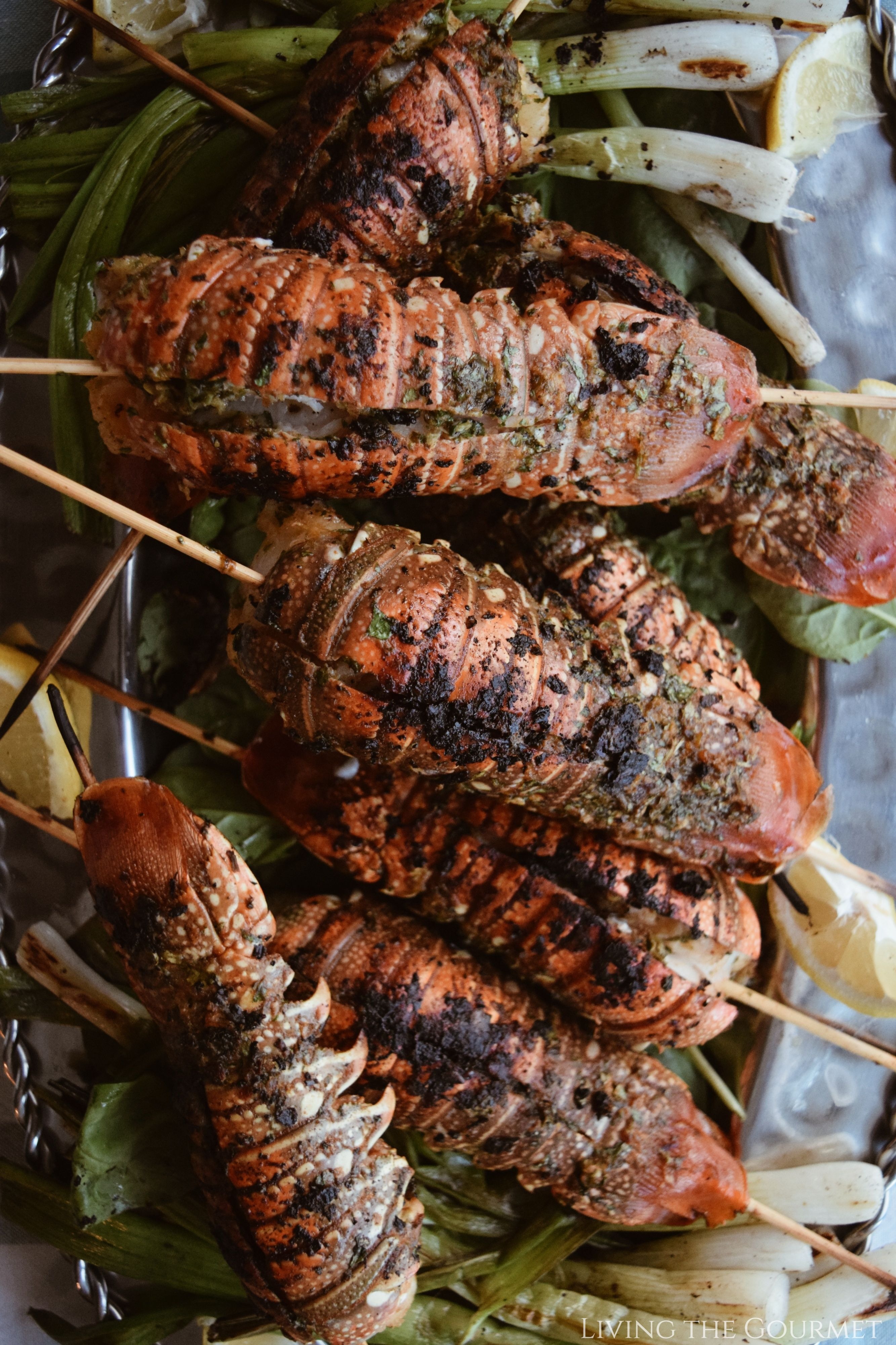 Ingredients
8 small lobster tails – in the shell

Rub for Tails:

4 tbs. Mazola Corn Oil
4 cloves of garlic - grated
1 bunch of fresh cilantro – stems removed and chopped fine
1 tsp. sweet paprika
Fresh sea salt
Fresh ground black pepper
1/2 tsp. red pepper flakes
Juice of 1 fresh lemon
Instructions
Combine all of the ingredients for the rub and form a paste.
Split lobster tails lengthwise with a large knife or kitchen shears.
Gently separate flesh from the shell being careful not to break the shell and brush flesh side of tail with marinade, getting the marinade under the shell.
To prevent the tail from curling during cooking, insert skewers lengthwise through the center of the whole lobster tail.
Lightly oil grill. Over a medium heat, place tails, flesh side down, on preheated grill.
Cook for 10 to 12 minutes, turning once, and basting frequently with remaining marinade. Discard any leftover marinade.
Lobster is done when opaque and firm to the touch.
7.8.1.2
1301
https://livingthegourmet.com/2019/06/grilled-lobster-tails-and-sweet-tea.html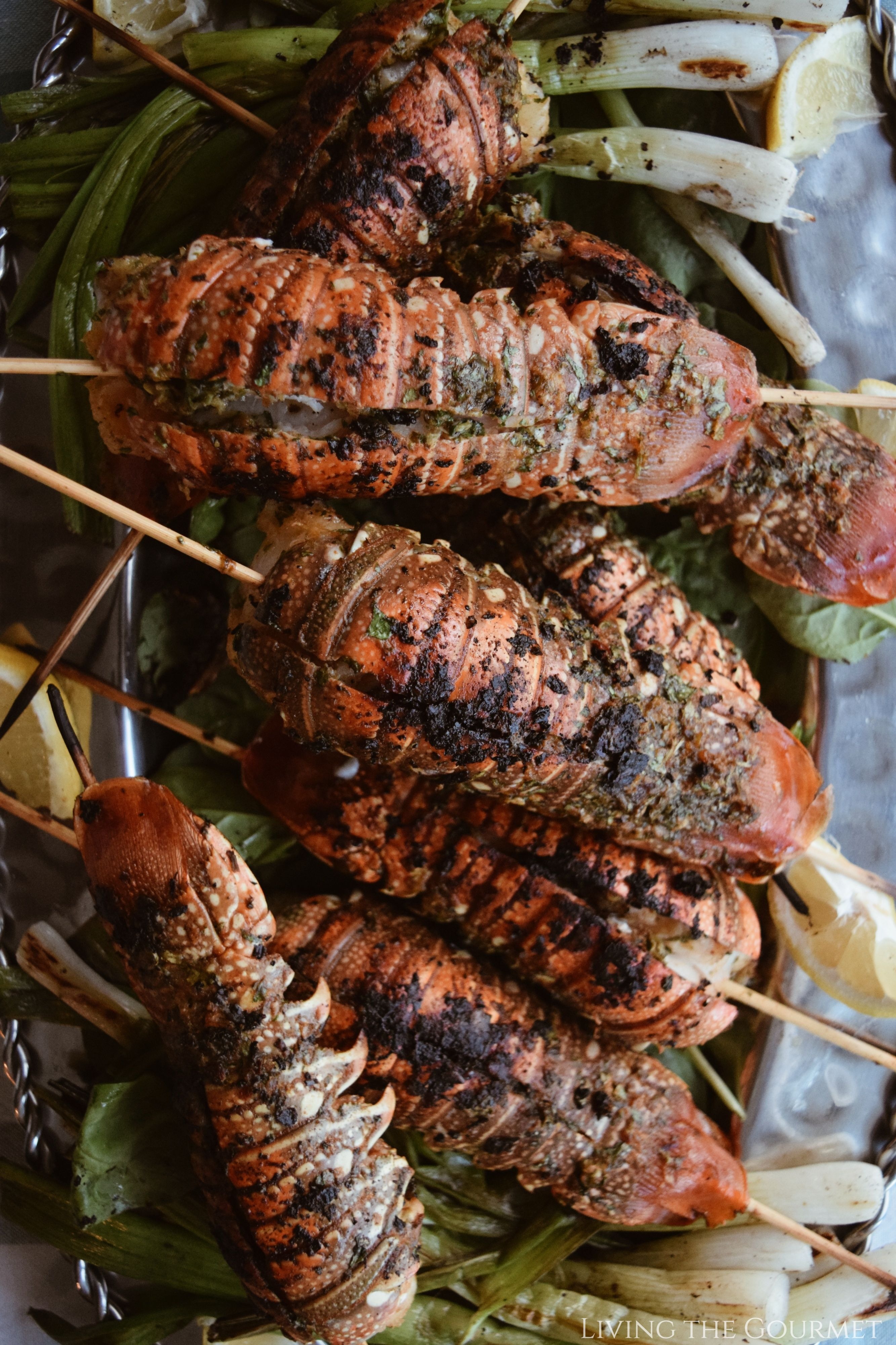 And just like that, we've put together a summer seafood spread with three health-conscious swaps to make it bit easier on the waist and conscience. What are some of your favorite recipes and tips to keep the flavor up and the guilt low? We would love to hear from you.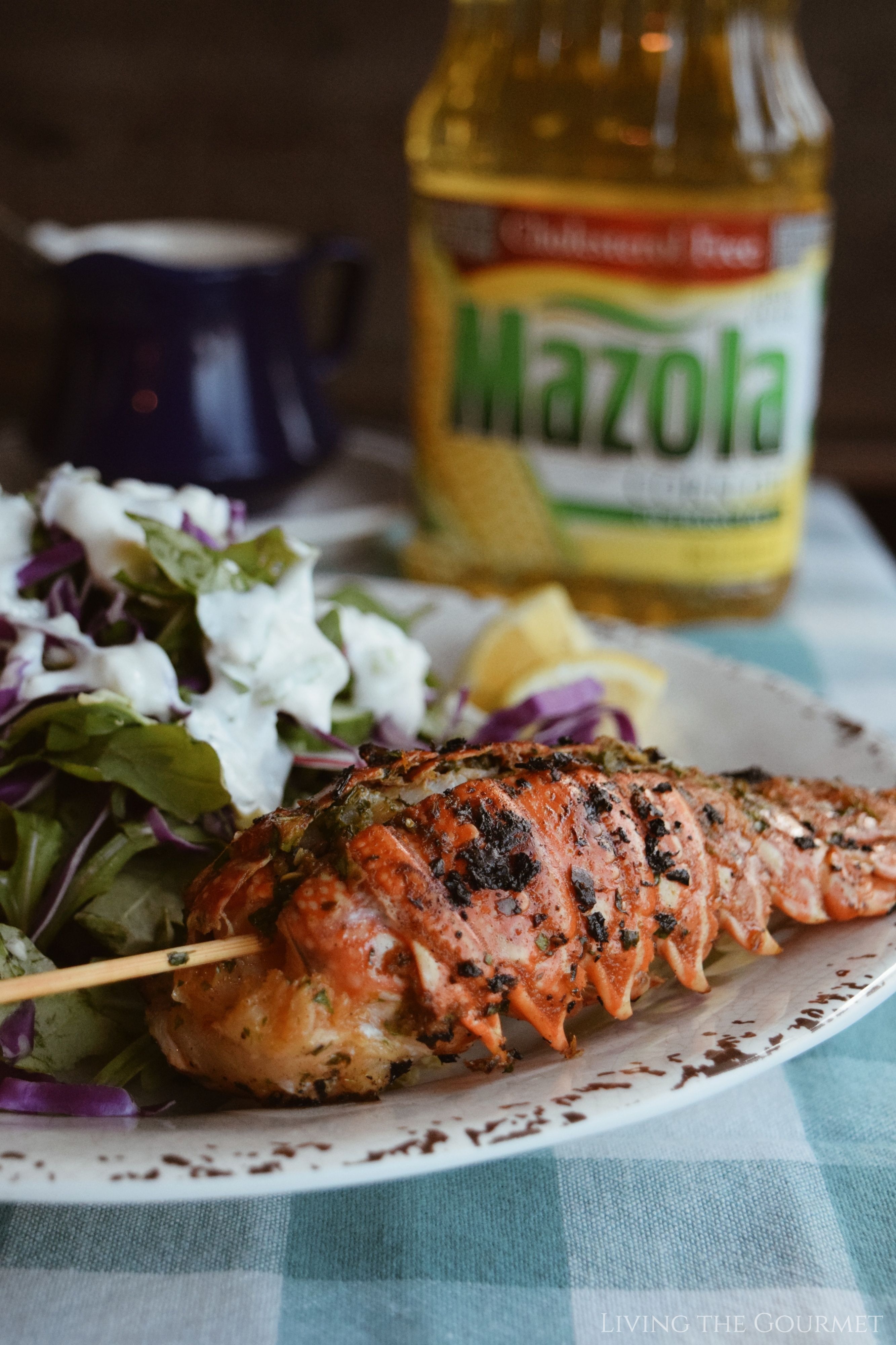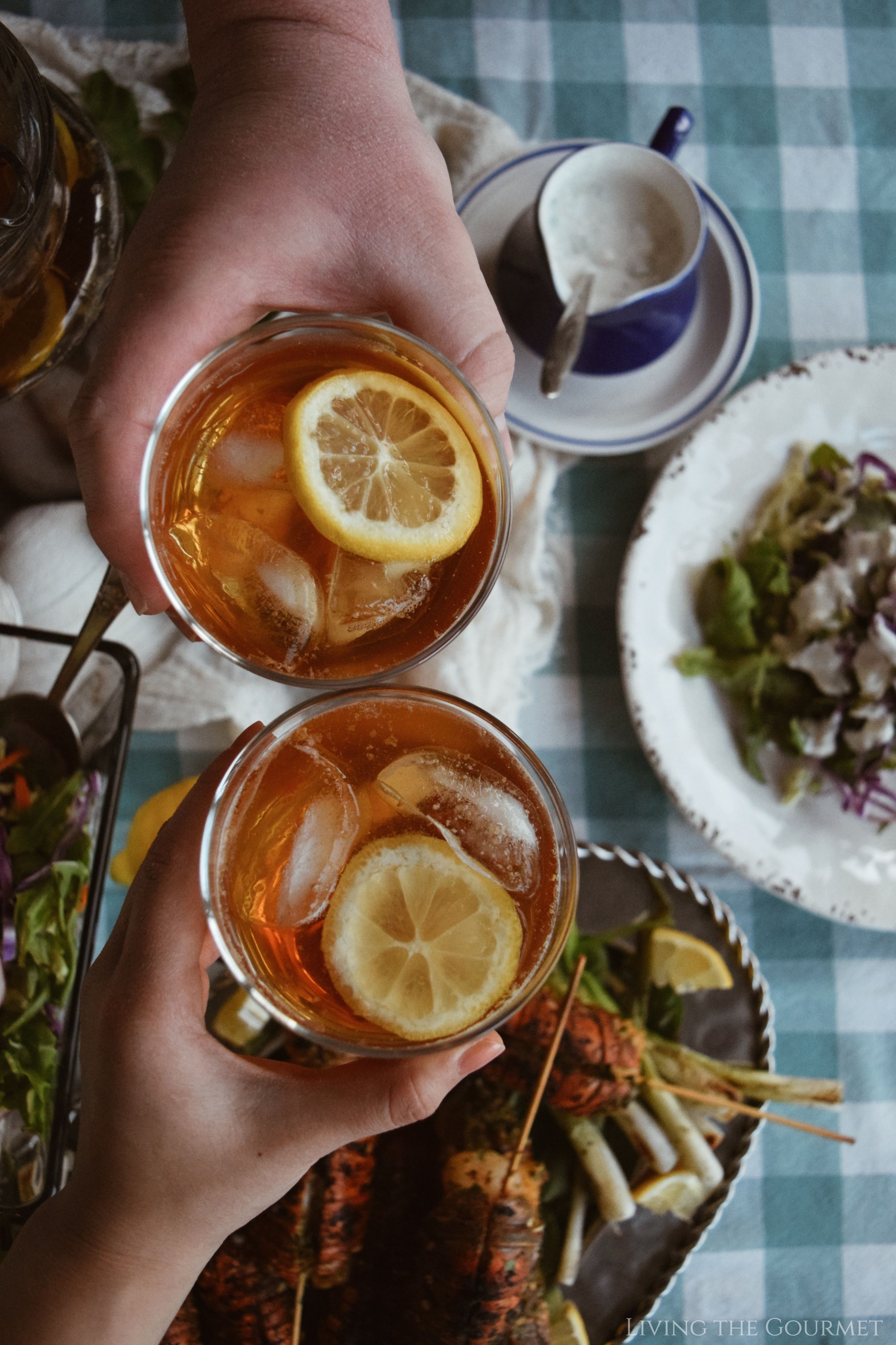 Enjoy with Love!
1