This post is in partnership with Fotor. All opinions expressed are my own.
Today we're serving up a simple Springtime Apple Crisp that's buttery, sweet and sure to please.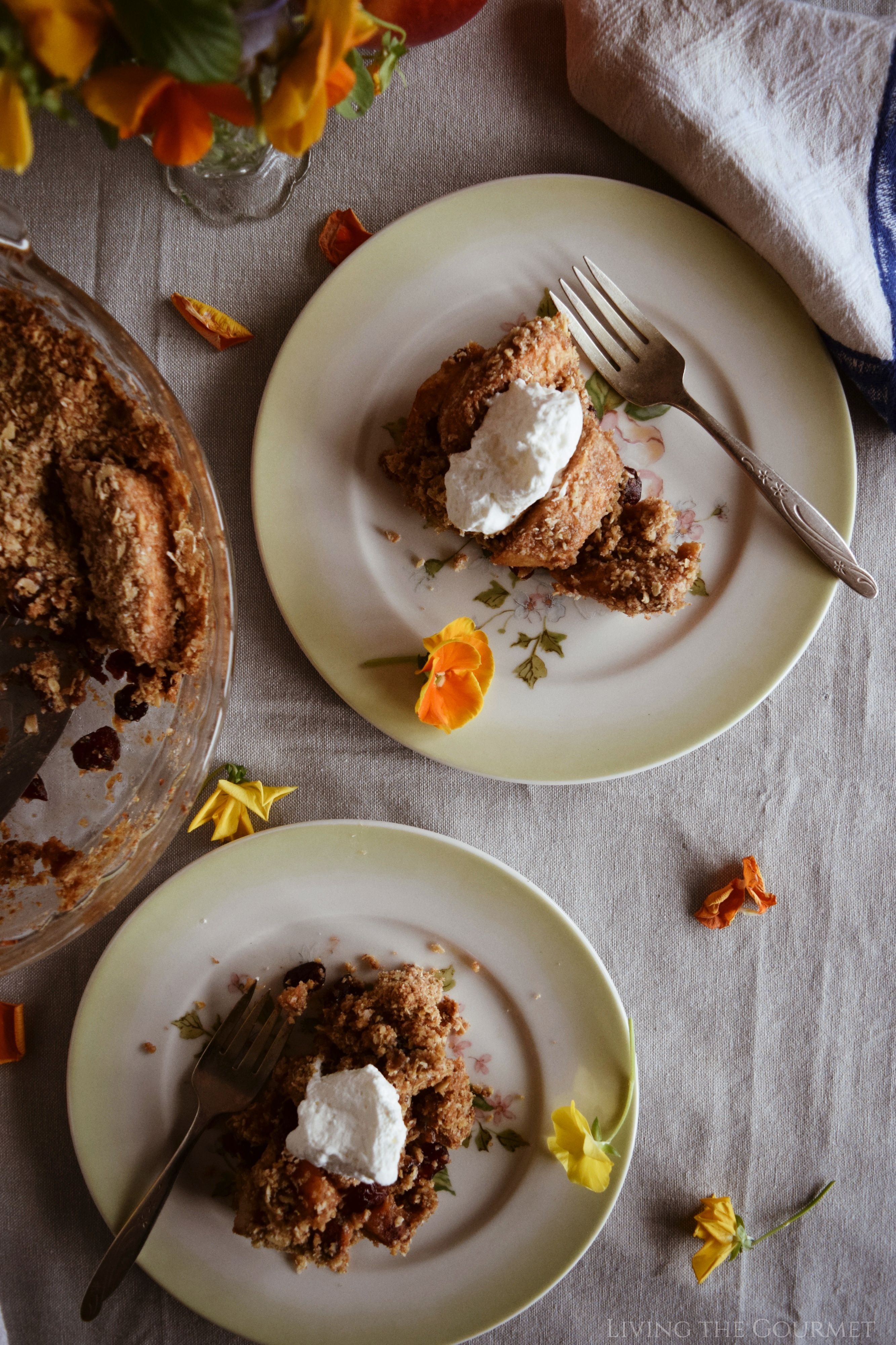 We have a way of turning into our mothers before we even realize it's happening. I assure you I do not say that in a questionable tone either. There are mannerisms and habits my mom has already passed down to me. In many ways we've become more alike as I've gotten older that we sometimes get caught echoing one another's thoughts. I see the pride flash in her eyes. Still, we have our differences as most mother/daughters do, but as I've gotten older, I find our differences have a way of complimenting one another.
Living the Gourmet is and has been since its birth, a family affair. So it goes without saying that my mom and I share an unbreakable bond. She is a mother, a boss lady, a compassionate soul, a sister, and a best friend. Now, maybe you can understand why Mother's Day is so important to me.
I'm giving you a sneak peek at Mother's Day today with a simple recipe, some tablescape tips, and a tutorial on how to make your own personalized cards for mom with Fotor.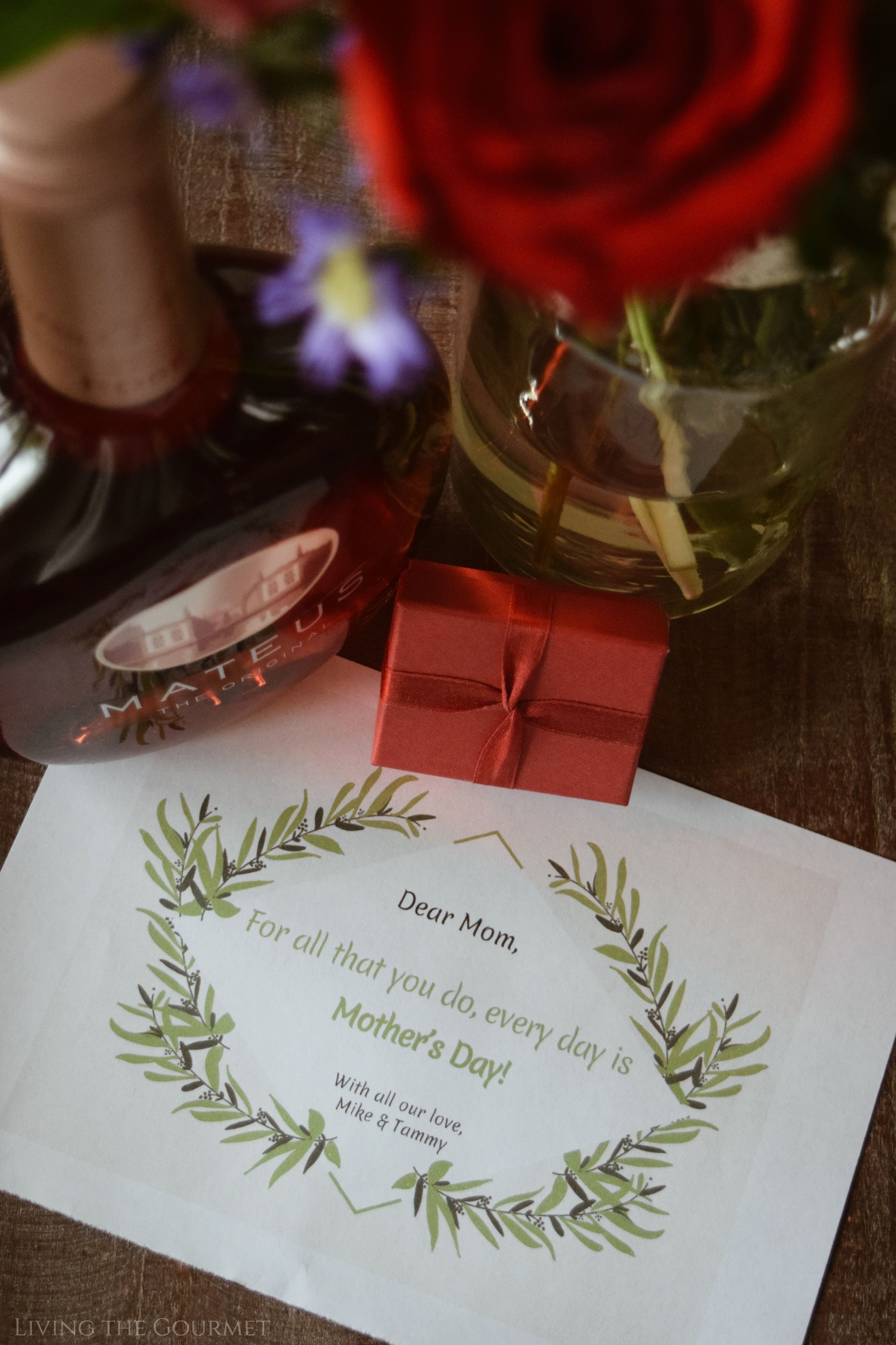 Let's begin with how to customize a printable card with some of Fotor's design features. As I've mentioned previously here on Living the Gourmet, Fotor offers a wide array of design templates for cards, posters, and collages that you can design your own way. It's a world that goes beyond photo editing.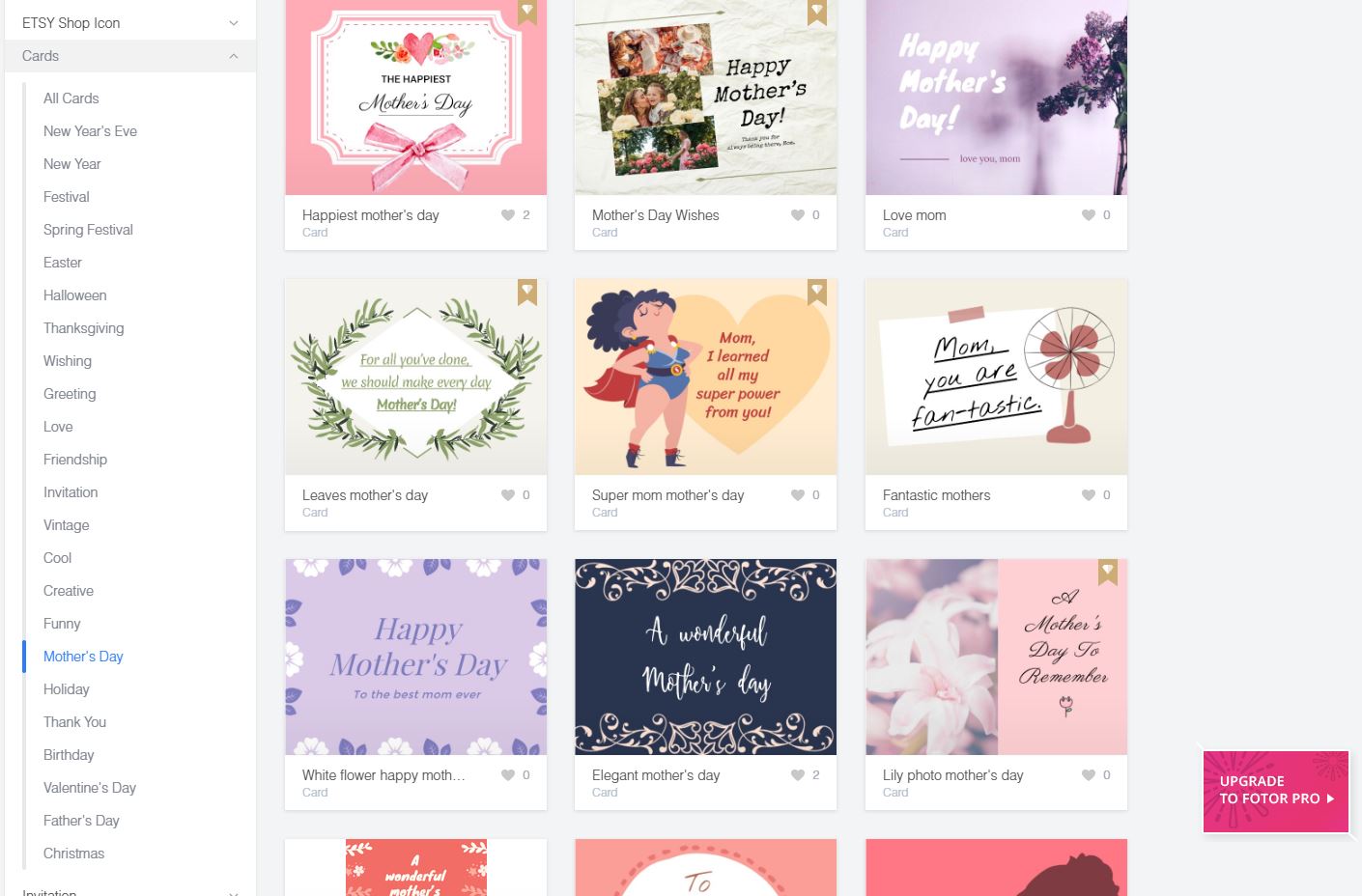 From Fotor's Mother's Day Templates, I chose the 'Leaves Mother's Day' design to edit. I've always loved earthy designs and I felt this was the perfect card to accompany a wrapped gift. As shown below, the process is simple. The card will open up into editor and from there you can not only change the color of the leaves if you so choose, but you can edit to convey your own message. Change the font if you like, and feel free to add more text too.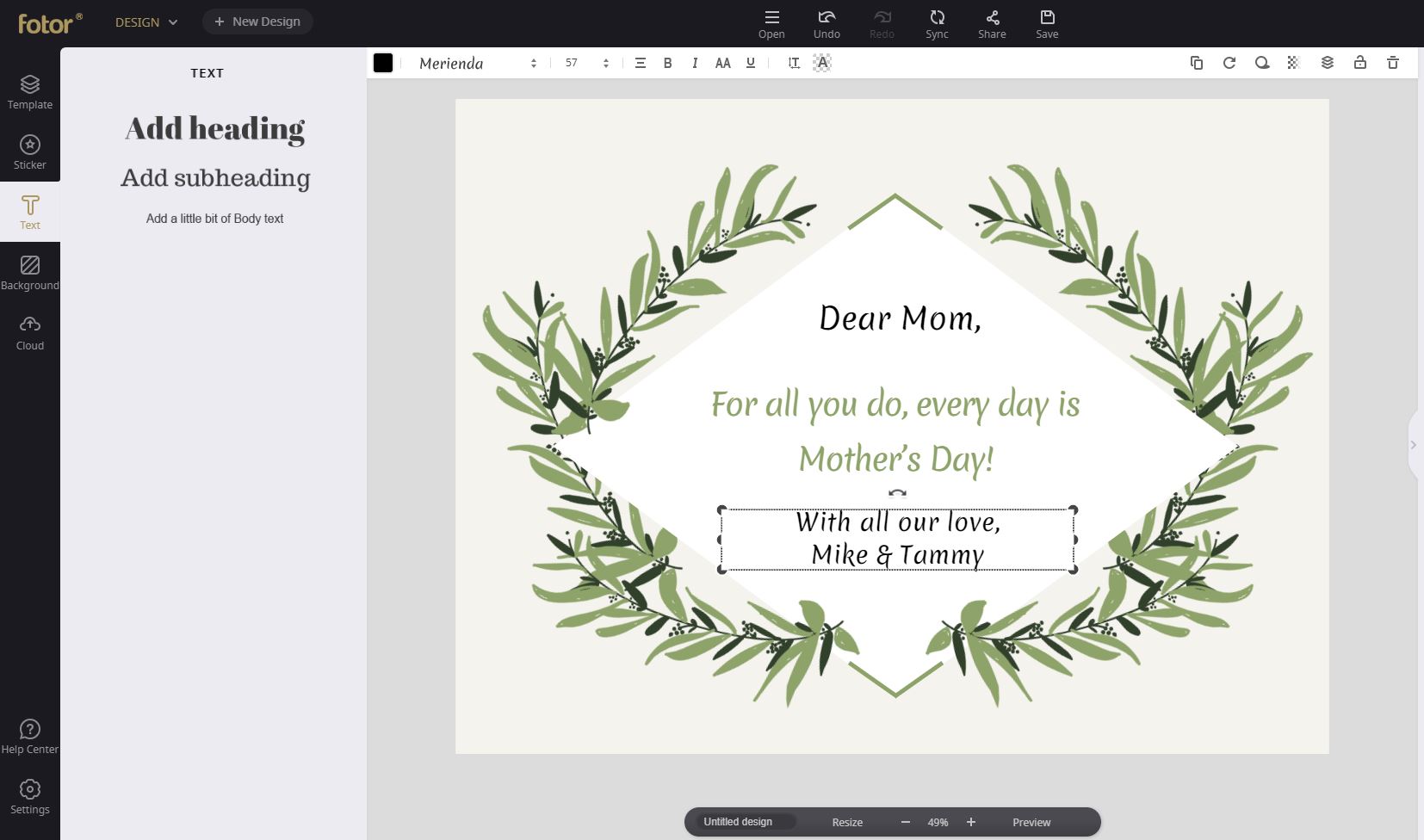 Mike had a cool idea to make Mom a photo collage card with some of our favorite photos. He chose the 'Mother's Day Collage' template which is perfect since sunflowers are her favorite. We changed the design a little on this one to reflect our own style. After adjust the background of the card with the color wheel and edited our message, we simply uploaded a couple of our favorite photos of Mom and Grandma. Adding photos to a collage with Fotor is as simple as 'drag and drop'. Literally.
There are three sets of Mother's Day stickers currently available in editor mode which you can add- Awesome Mom, Mother's Day, and Mother's Love. The stickers are also customizable so you can change the colors of each to coordinate with your design.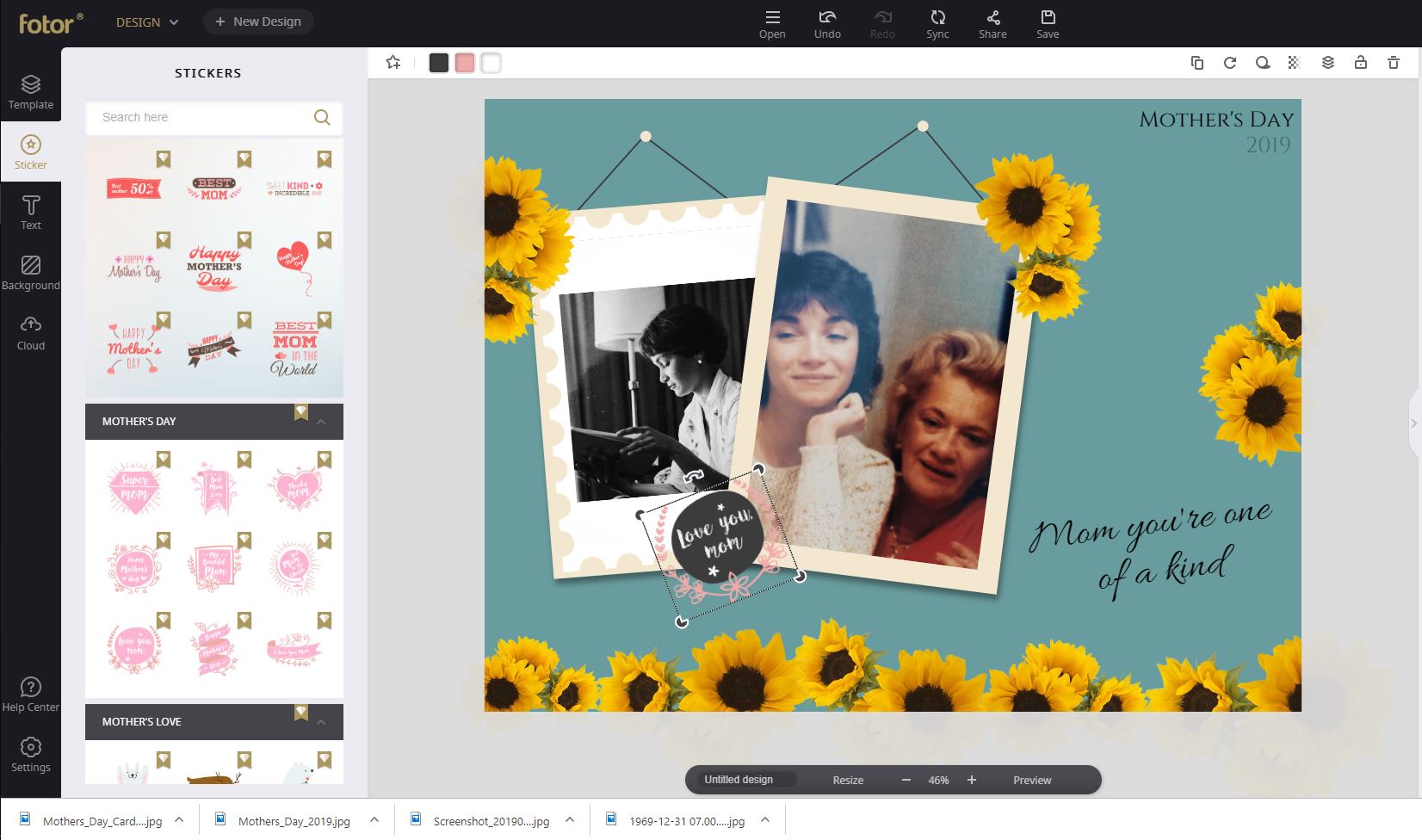 You can even upload a photo of your own and add stickers, text, and frames to create your own card if you prefer that over the premade templates. The possibilities are endless and the process is fun. To make it even more fun, Fotor is hosting a Shout Out Your 'MOM'ent Campaign where users can submit their creations made with Fotor for a chance to win a year of Fotor Pro. As a bonus, every participant also gets a 10% OFF coupon code for Fotor Pro- so in the end, we all win!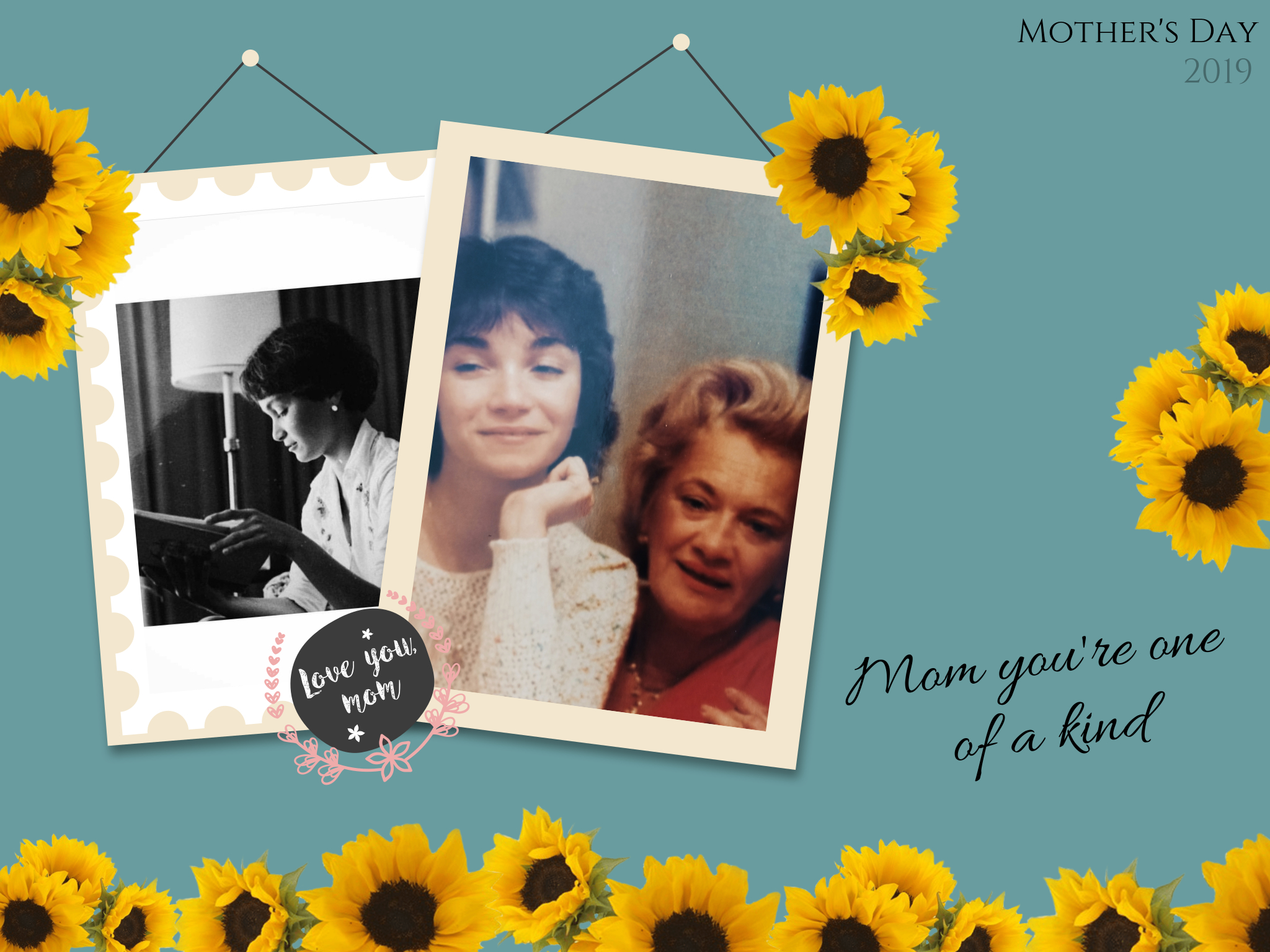 The selected submissions will be awarded Fotor Pro free for one year and win a shout out on their social media channels during Fotor Week which will run from May 6th to May 12th. So get creative and start sharing your work now!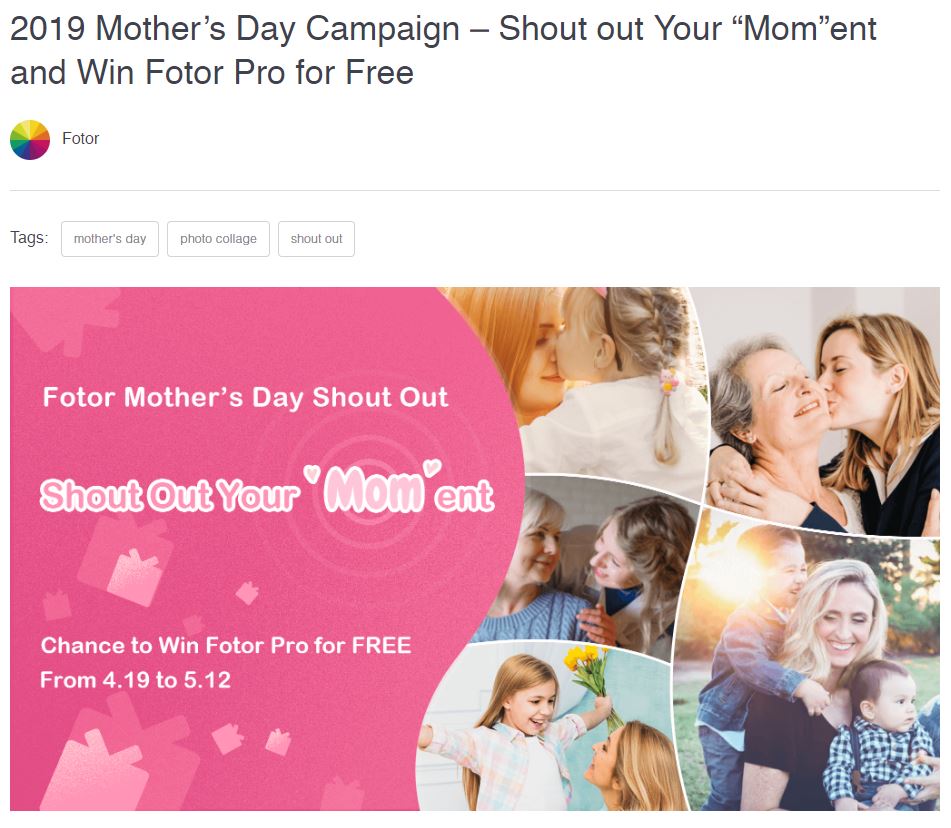 Today, I've always relied upon Fotor to help edit my photos for this post. As you know, I've been utilizing the editing effects and techniques of Fotor when it comes to Pinterest collages, FB covers, applying filters to certain photos, and watermarks on all my photos. So today, I'm using the 'food' filter from the 'scenes' category under effects. It's a golden warmth to the photos and enhances the early evening mood. Now onto the recipe!
My mother absolutely loves fruit desserts so in her honor to go alongside her gift and homemade cards, I've prepared this Springtime Apple Crisp.
Ripe, locally grown apples are sliced and tossed together with sweet craisins then covered in a butter crumble, then baked to bubbly golden perfection. Fruit desserts in the springtime are best served with something cool like ice cream or a dollop of fresh whipped cream. Treat mom this holiday and bake this simple crisp. She'll absolutely love it!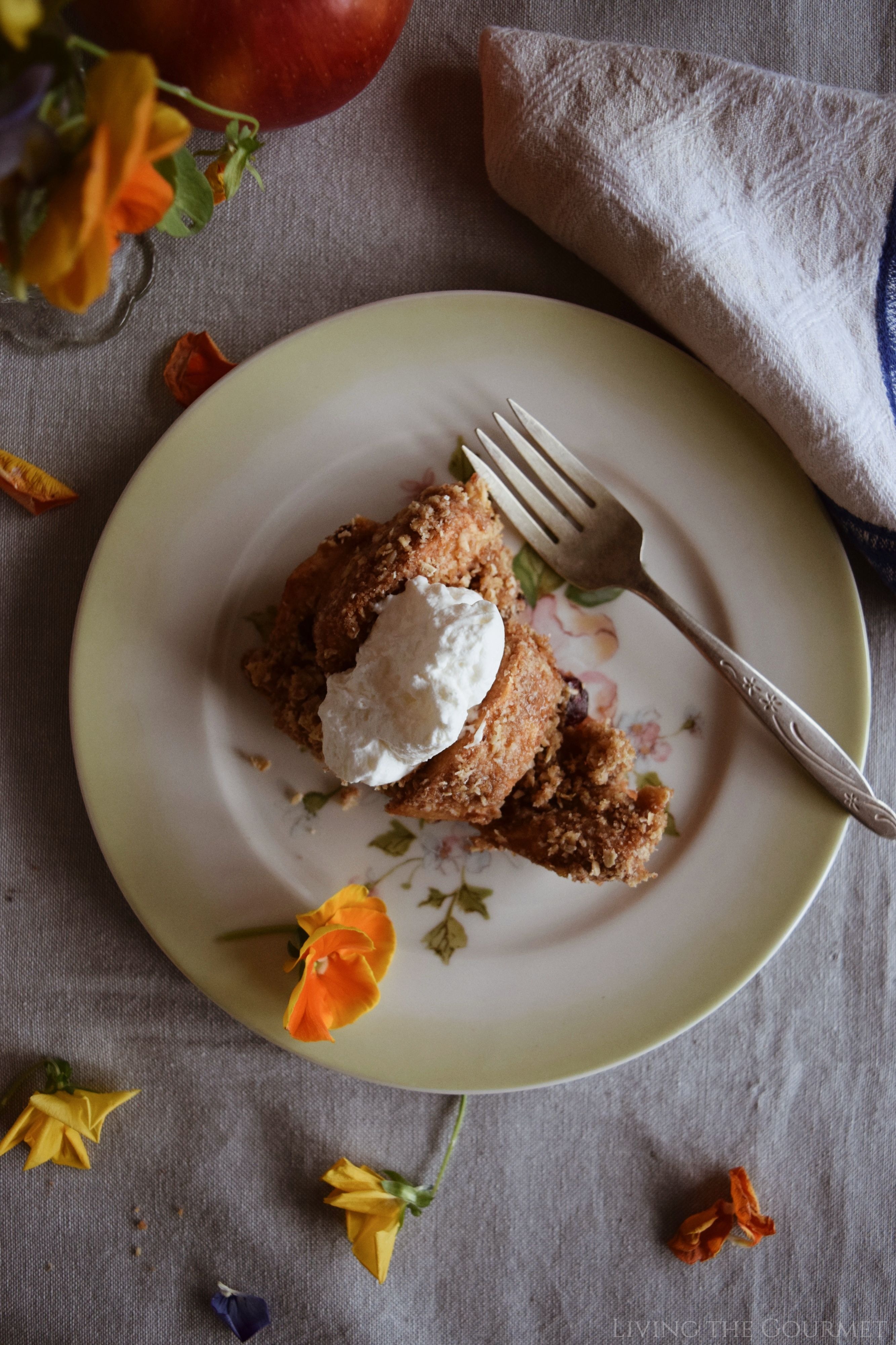 For the tablescape, I like keeping it simple but classic. I like incorporating seasonal elements like flowers and lighter colors. As I shared on Instagram earlier this season, I found a beautiful linen tablecloth in dusty blue. My number one tip is to find timeless pieces that can be reused for different occasions and year-round. I like lighter, muted tones for versatility and to keep the atmosphere light.
I made mini bouquets of garden flowers and used crystals glasses as mini-vases for each. It adds color throughout the table and takes up less space than one large bouquet or centerpiece.
So there you have it, simple tips for an elegant setting, set alongside your cards and homemade crisp, who's better than you? Or mom? 😉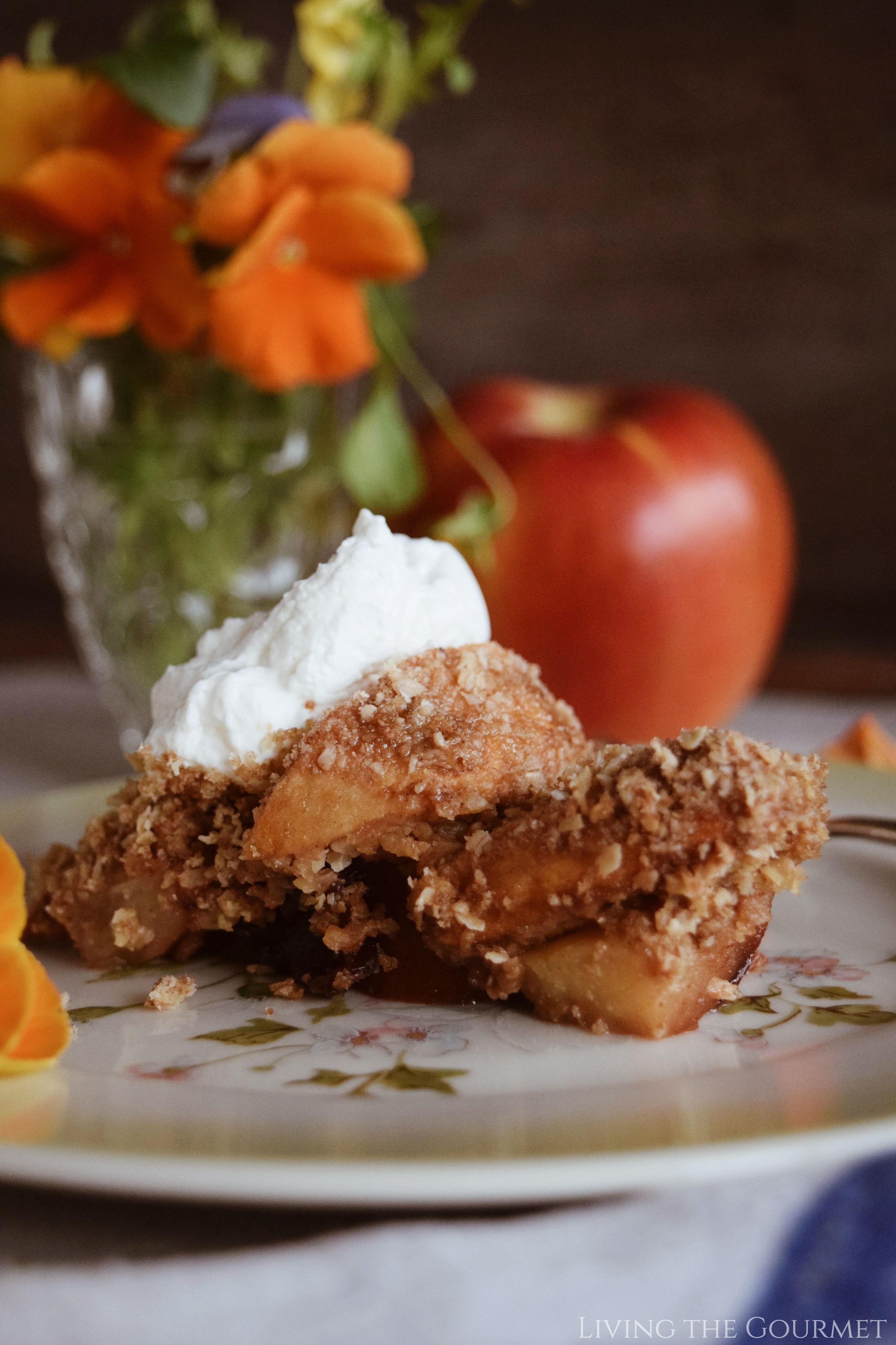 Print
Springtime Apple Crisp and Mother's Day Cards
Author:
Prep Time:

10 minutes

Cook Time:

40 minutes

Total Time:

50 minutes

Yield:

1

crisp

1

x
1

cup

oats

4

tbs. brown sugar

4

tbs. flour

5

tbs. butter

6

apples – cored, peeled and sliced

1

cup

dried cranberries

1

tbs. vanilla

1/2 tsp

. cinnamon

1/8 tsp

. ground ginger

2

tbs. sugar
Instructions
Preheat Oven 350 degrees F.
Butter a pie dish.
Combine oats, brown sugar, flour, cinnamon and ground ginger. Mix together to combine.
Soak the dried cranberries in the tablespoon of vanilla.
In a large bowl, combine the apples, soaked cranberries, 2 tbs. of sugar, cinnamon and the ground ginger; toss to combine well.
Pour the apple and cranberry mixture into the prepared pie dish.
Sprinkle with the oat mixture.
Bake 40 – 45 minutes.
Let the pie cool and serve with fresh whipped cream or ice cream.
Recipe Card powered by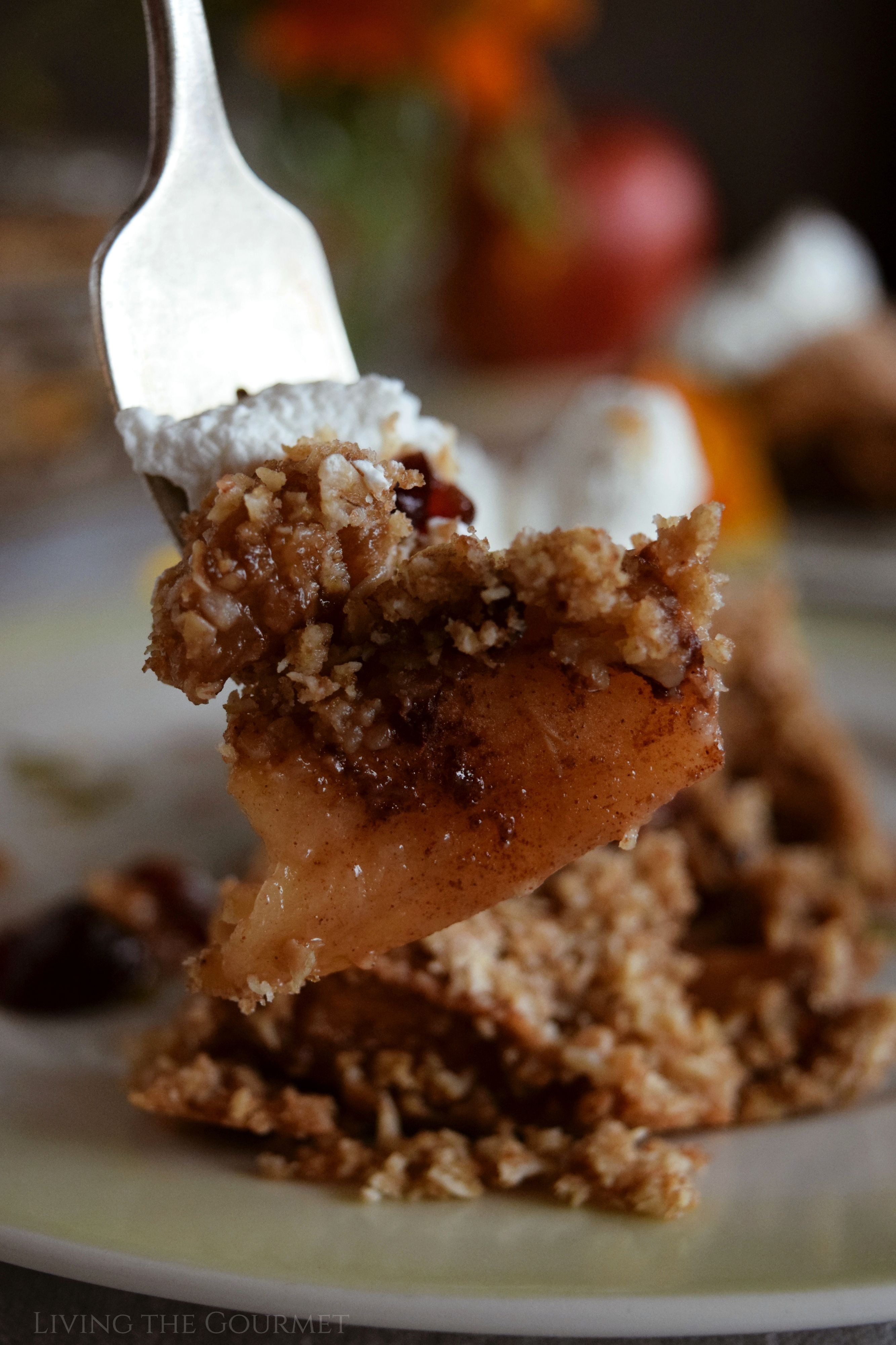 If You Enjoyed Today's Recipe…
Be sure to follow us on Instagram to stay up to date with all things Living the Gourmet, and for more great recipes, tips and tricks.
Did you make this recipe?
If so, let me know in the comments down below, or post a picture to Instagram, or to Pinterest, and I'll give you a shoutout on Instagram, or post your pin to one of my Pinterest boards!
Enjoy with Love!
3