The following post has been sponsored by Nasoya. All opinions expressed are my own.
Nasoya Vegan Dumplings and our Cauliflower Fried Rice are a delicious and easy option for Meatless Mondays!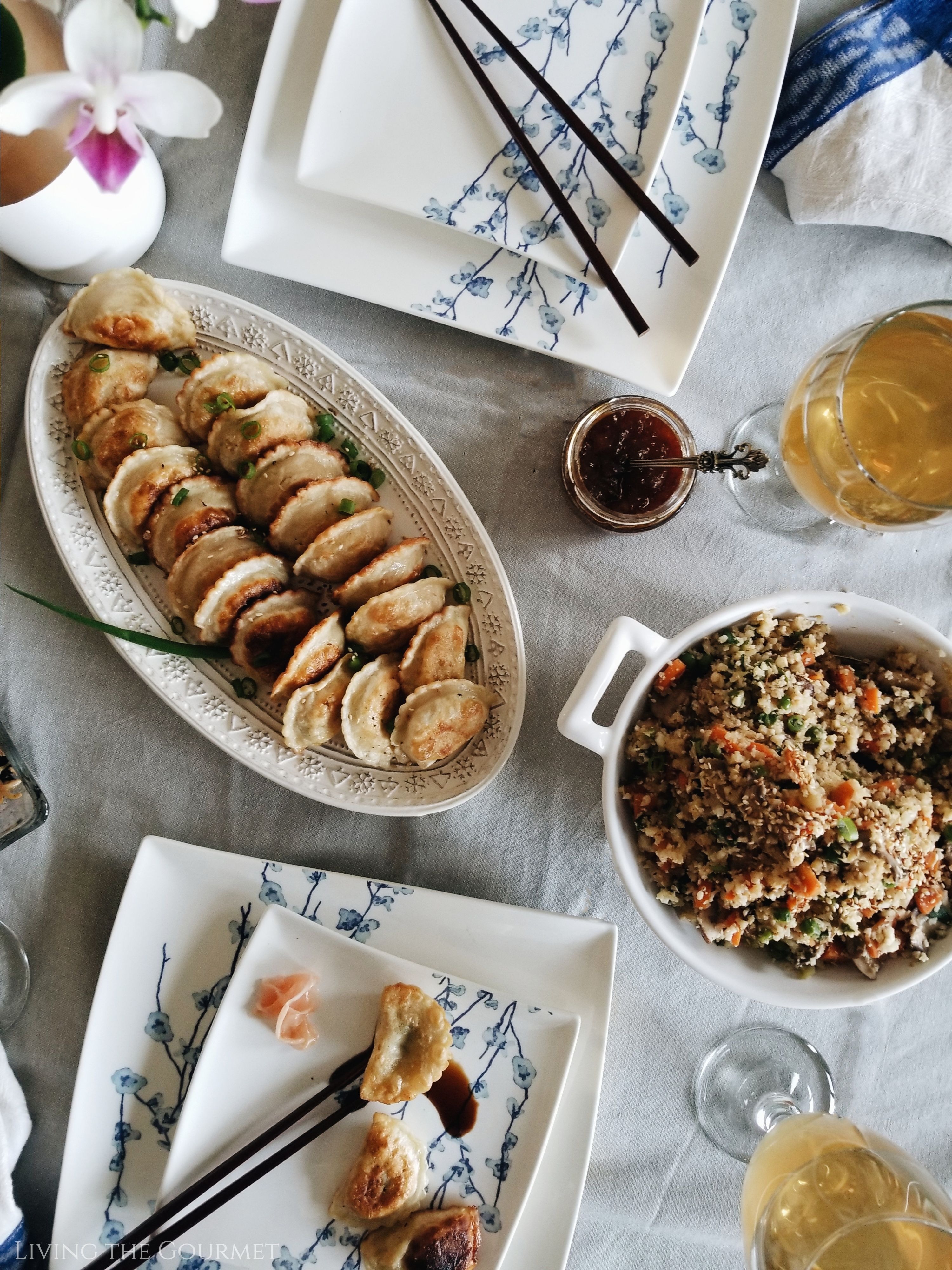 Plato remarked once that we need to curate what we read with all of the same care that we curate our diets, comparing words and ideas to the "nutrients of the mind." He said this, "I suspect, in part because you never really know what will stick with you and what won't. You never know what you'll end up carrying with you through the rest of your days, or what will end up changing the way you think – and keep in mind that not all change is good."
For example, in 2016 I read an article by Robin Rauzi entitled "How vegetarians, gluten-frees, grain-frees, and other L.A. food tribes ruined my BBQ tradition." The article runs primarily as an indictment of virtually every attempt at health-minded eating from the point of view of someone emotionally invested in block-party style barbeque. The one big question the article failed answer, however, is "Why are you inviting vegetarians and 'gluten-frees' to a BBQ where the primary food on offer consists of various forms of sandwiched meat?"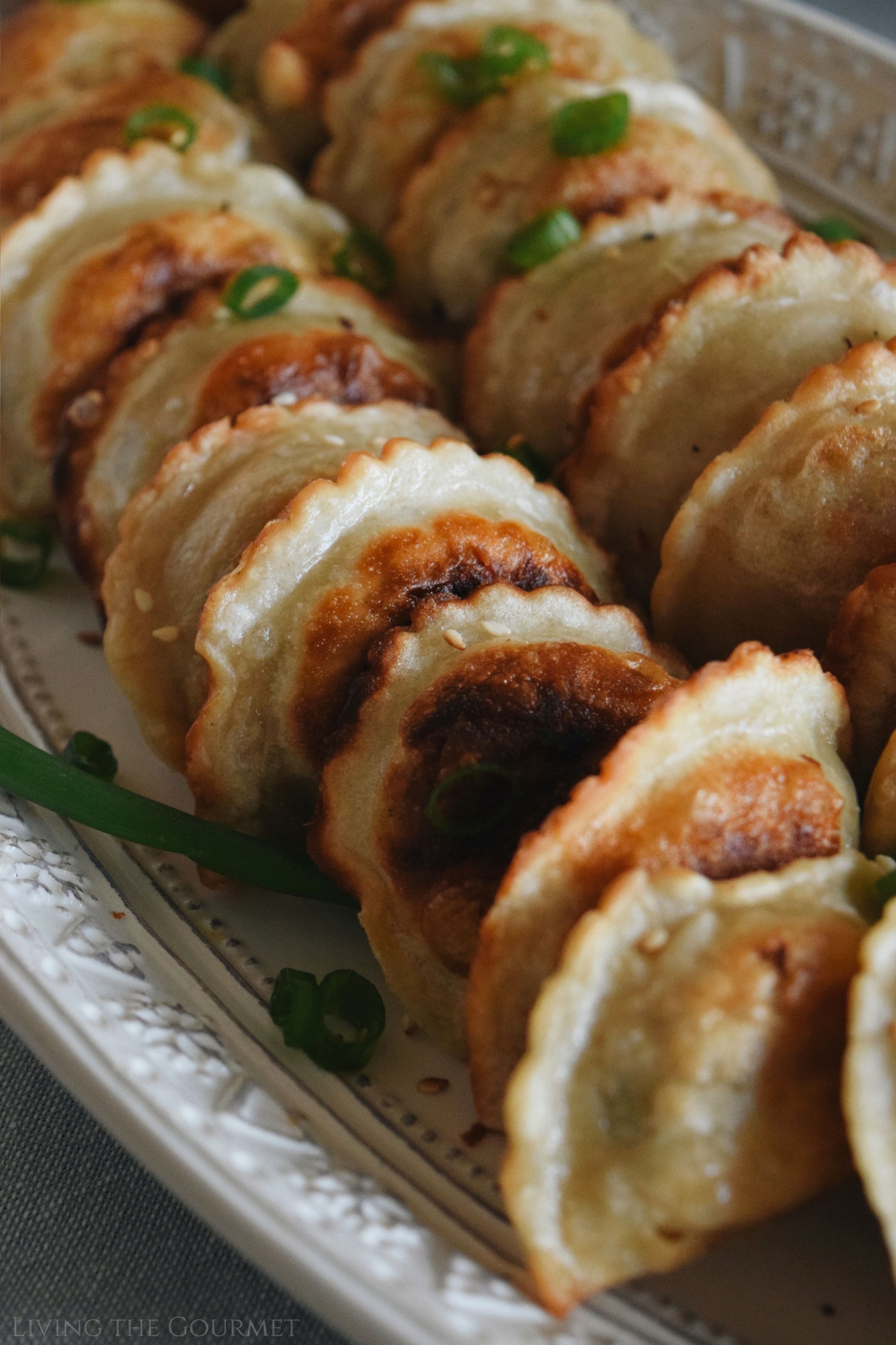 Given that almost forty percent of Americans report trying to fit more plant-based foods into their diet last year, I'm afraid Mr. BBQ's situation has only worsened.
Regardless, every time I prepare something that's vegetarian, gluten-free, or Keto-friendly, as well as every time I barbeque something meaty on the grill, I end up thinking back to that otherwise mundane article. It's positively silly.
On the other hand, it's made me think that perhaps his issue wasn't 'really' with those on health-minded diets – as the article infers – but rather with the food that we've come to associate with 'healthy eating.' While Aristotle remarked that "sweetness is a sign of nutrition," citing fruit as evidence of his theory, the equation is almost the reverse today. "Health Food" and "Conscientious Eating," are regarded in almost the same way that pilgrims of bygone eras regarded penance – something to be endured with the promise of future reward.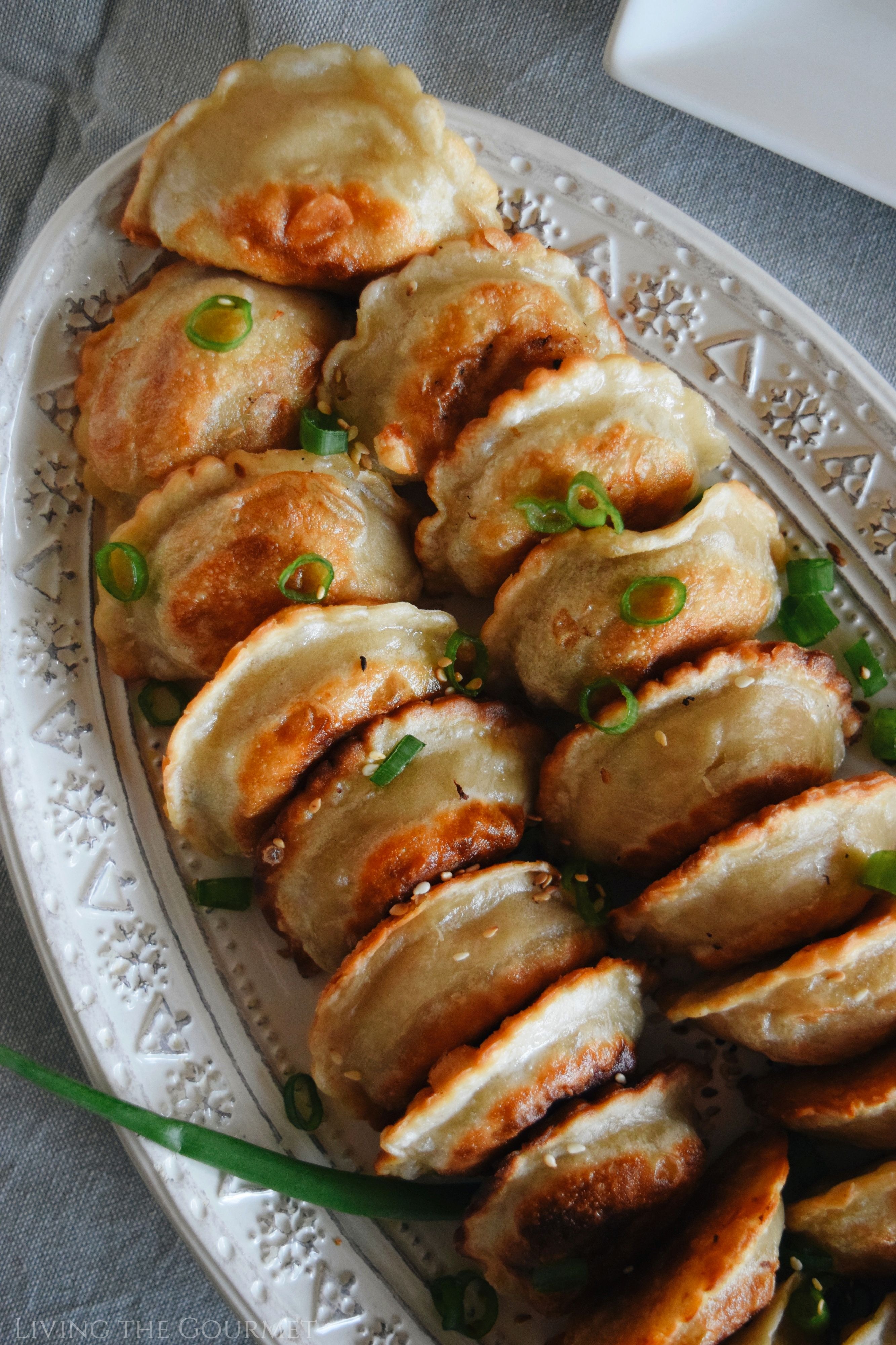 You can probably guess the next question I'll be asking, and in true saleswoman style – "Ah-Ha! But what if your vegan-tastic or superbly-keto food didn't need to taste like penance? Well, I've got just the thing for you!"
Instead, let me borrow a page (column?) from the aforementioned LA Times article, and phrase it this way – from the perspective of one looking to please guests. It's spring, you're having company over to enjoy the rebirth of the outdoors, and to bask in the still ever-so-slightly chilled air, made pleasant by a freshly radiant sun, free of the winter's grey canopy. From where I'm sitting, the first boats have just been put in the water, water alive with the season's first flocks of geese, ducks, and swans all vying for the choicest spaces along the river, while the hedges closing in my yard have turned from eerie spider-limbed visages of wintery slumber to bright and lively portents of the summer season yet to come. Now, to complement this 'in between' season, I need something light, something fresh tasting, but something that's easy to pull together, and that can be enjoyed equally by my vegan-minded guest as by my sternly omnivorous daughter.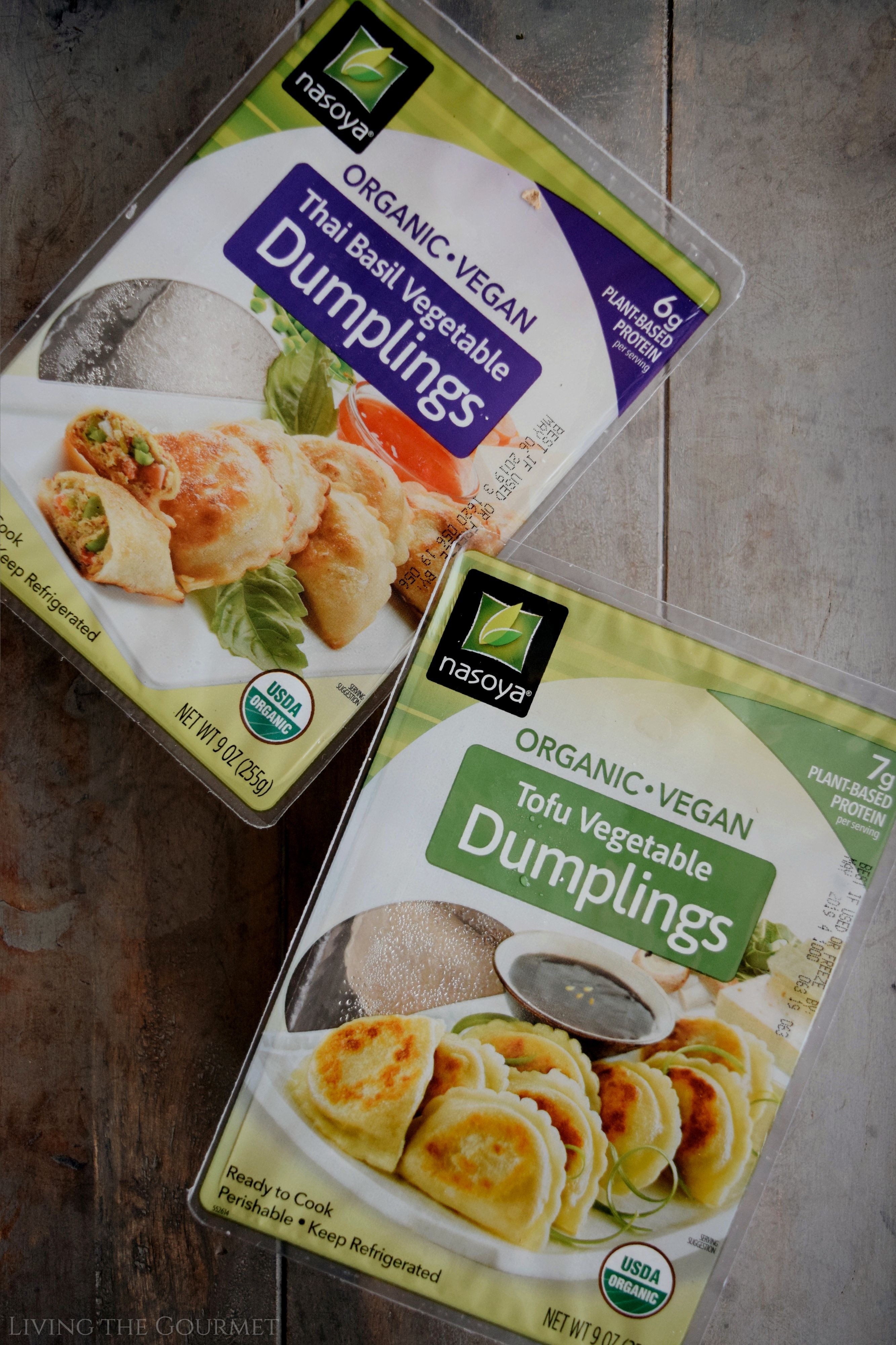 Dumplings fit that bill rather nicely, and thanks to Nasoya products there's a vegan-friendly alternative that even the pickiest of palates will appreciate. You can locate Nasoya at your local Shoprite or Stop and Shop in the product department. Don't forget your special coupon at checkout! Just open a pack, prep as directed, and pair with rice and/or a salad, and they make a surprisingly satisfying lunch or light dinner. I find them particularly ideal for a sunny spring afternoon.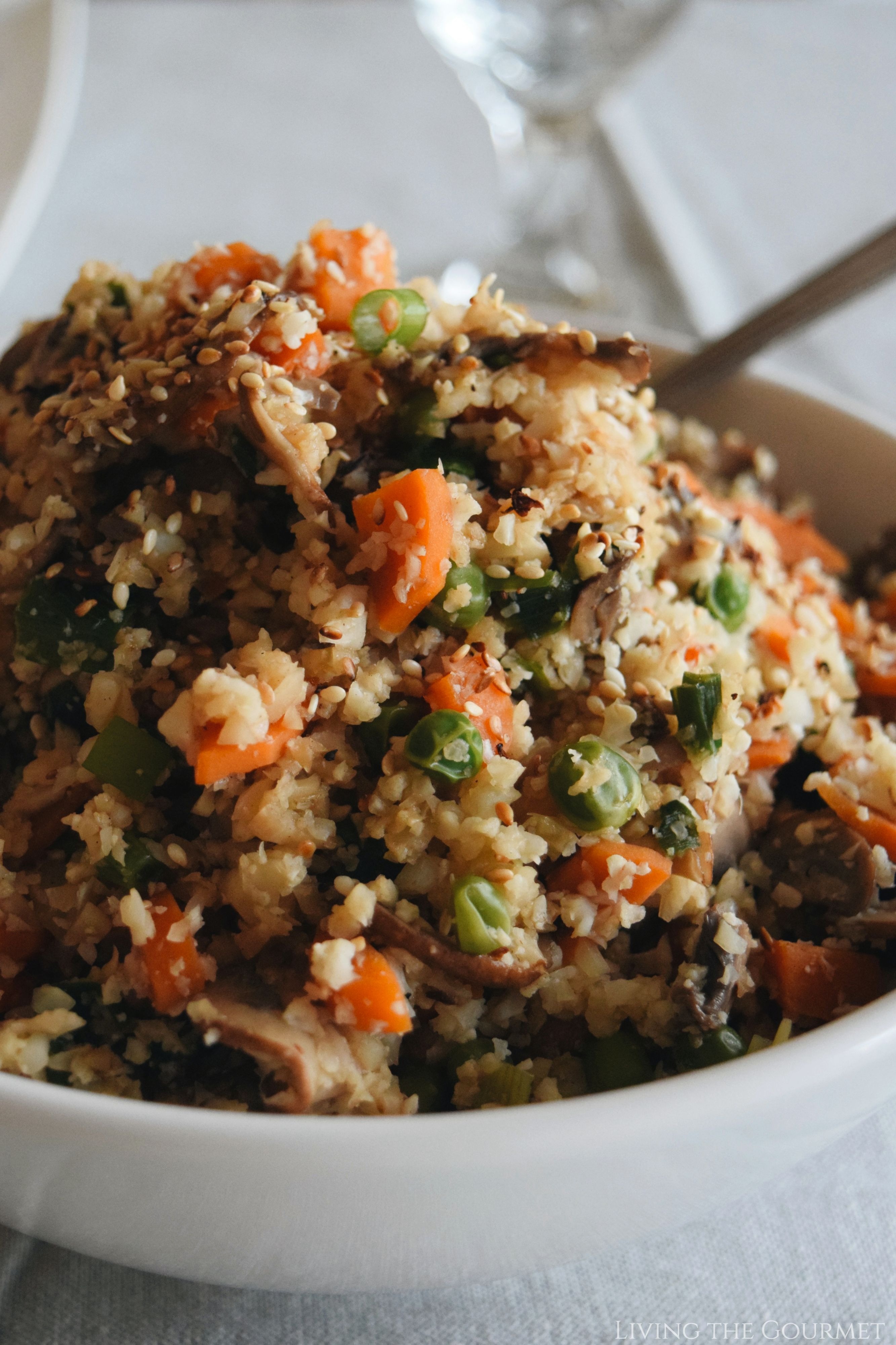 I paired mine with fried cauliflower rice, and a homemade duck-sauce (I don't think I've ever actually used duck-sauce on duck). Homemade duck-sauce is blissfully easy to prepare, but the store-bought option will work just fine if you prefer. If however, you would like to make your own, simply whisk together 1/4 cup apricot preserves, 1/4 cup peach preserves, 1/4 cup hoison sauce, and about 2 tablespoons of water just to loosen it up a bit.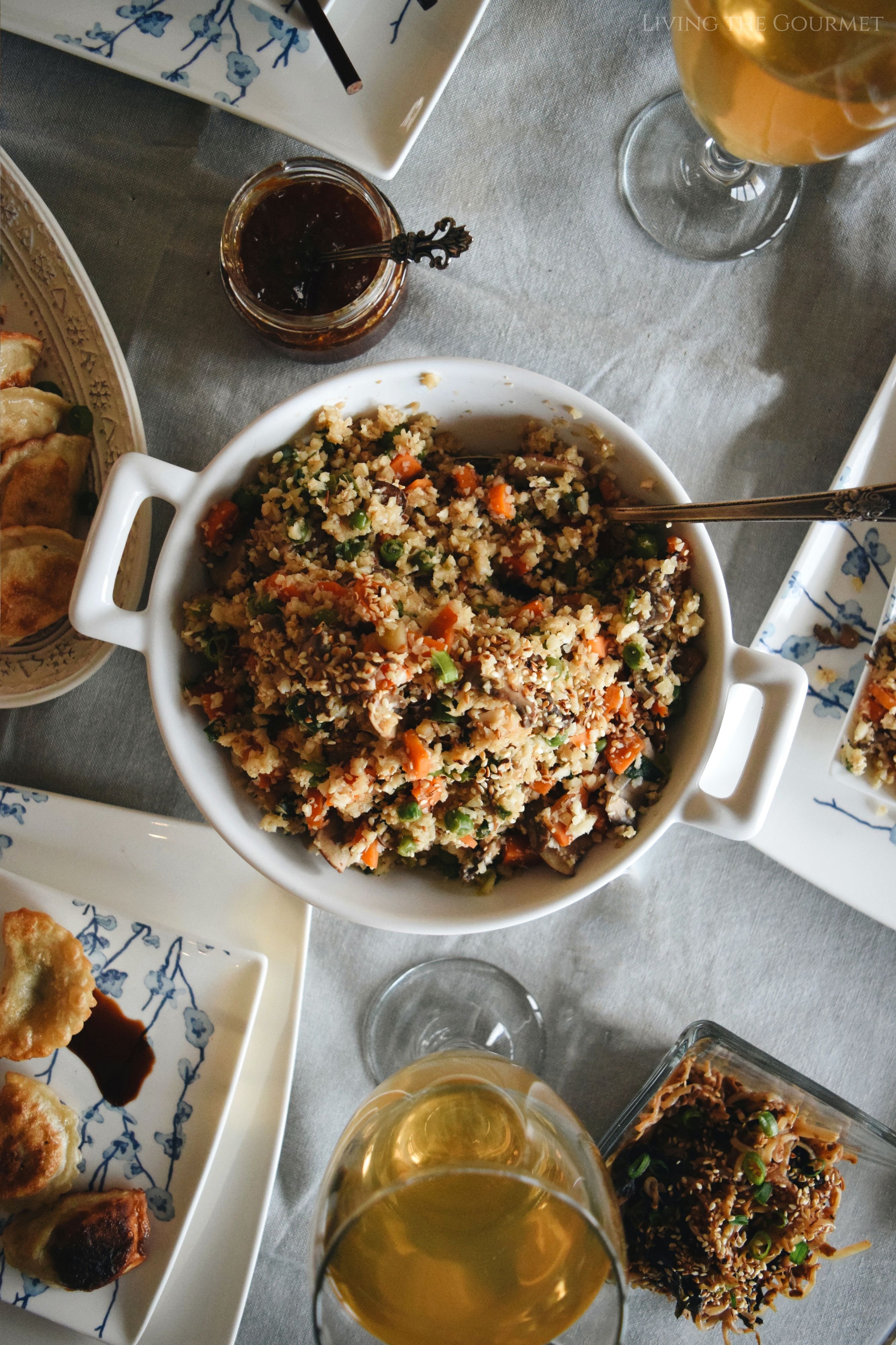 Nasoya Dumplings come in two delicious flavors, Tofu Vegetable and Thai Basil Vegetable. As a bonus, they're USDA Certified Organic and contain six to seven grams of plant-protein per serving.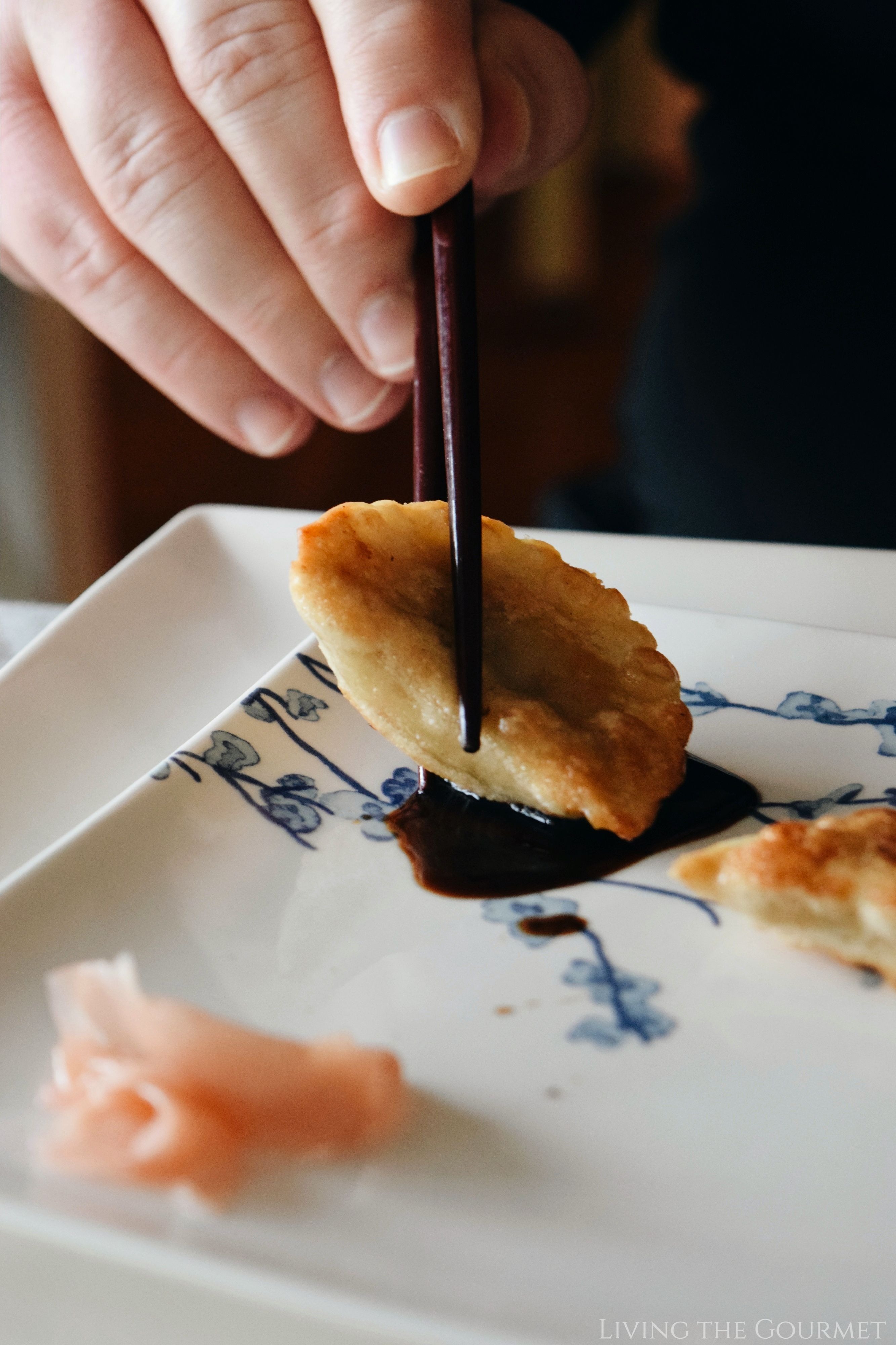 Print
Cauliflower Fried Rice
Author:
Prep Time:

10 minutes

Cook Time:

15 minutes

Total Time:

25 minutes
1

head cauliflower

2

cloves garlic, grated

2

large carrot sticks, diced

½ cup

green peas

1 cup

cremini mushrooms, sliced

1

bunch scallions, finely chopped
Sesame oil
Toasted sesame seeds for garnish, optional
For the sauce:
1 tablespoons

fresh ginger, grated

3 tablespoons

soy sauce

3 tablespoons

teriyaki sauce
Juice of

½

orange

2 teaspoons

hot chili paste

1 tablespoon

apricot preserves
Instructions
In a small bowl, whisk together all the ingredients for the sauce. Set aside.
In the food processor, 'rice' your cauliflower florets.
Heat a large frying pan with sesame oil. Sautee the garlic, carrots, mushrooms, peas, and scallions until all the water has cooked out of the mushrooms, about 10 minutes. With a slotted spoon, remove the sauteed vegetables from the pan and discard the broth from the pan.
Return the pan to the heat, and cook the riced cauliflower for about 5 minutes, just until it has softened. Add the sauteed vegetables back to the pan, toss in with the cauliflower. Add the sauce to the pan, toss again until well-incorporated.
Transfer the rice to the serving bowl and top with toasted sesame seeds if desired. Enjoy!
Recipe Card powered by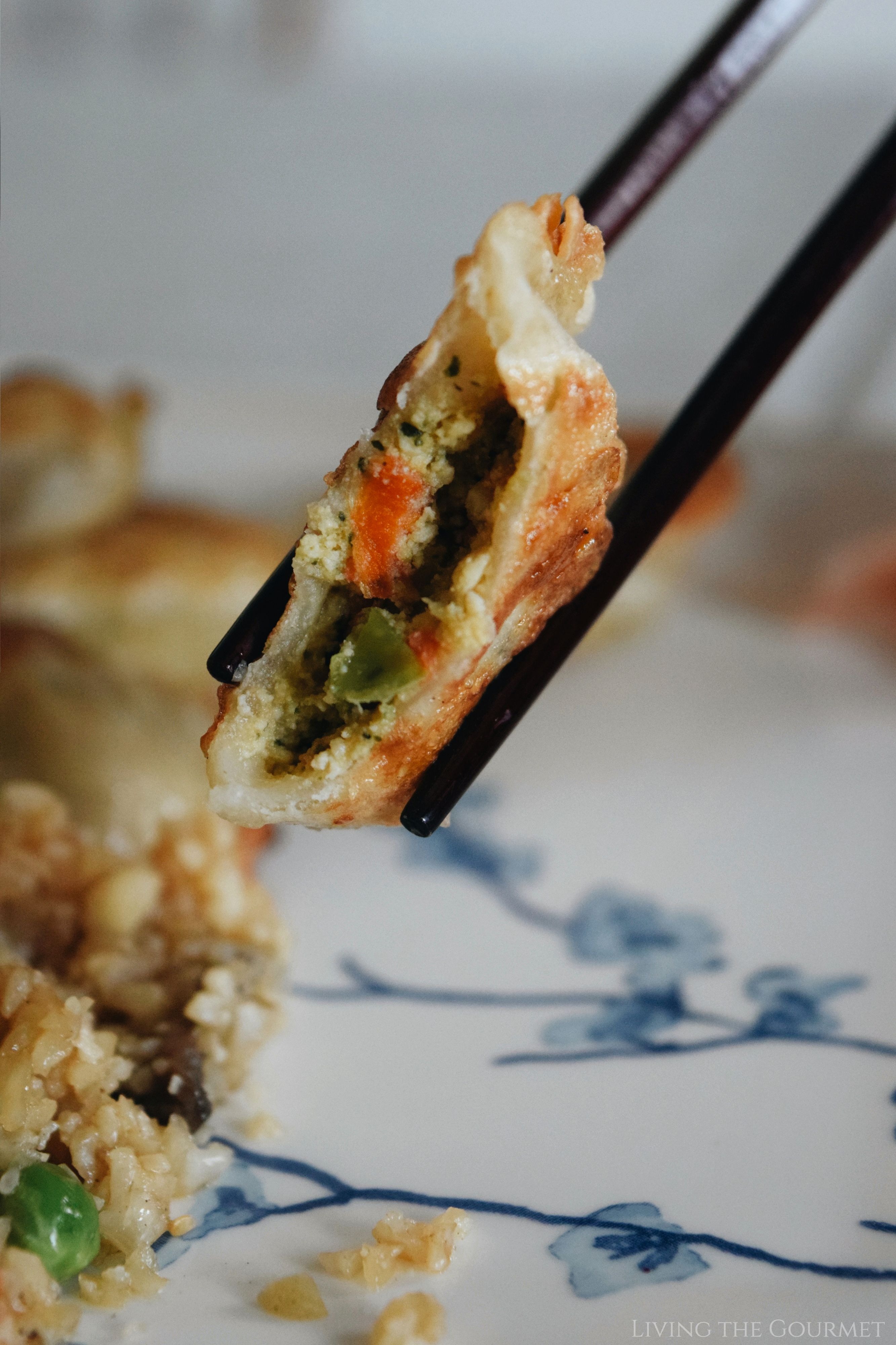 And that's a wrap. What are some of your favorite light spring recipes? We would love to hear from you.
Enjoy with Love!
3