This post has been sponsored by Stirrings. All opinions expressed are my own.
We're serving classic Bloody Mary Cocktails alongside Mediterranean-Style Smoked Salmon Sandwiches for the ultimate Spring luncheon!
The quintessential brunch cocktail. The tonic of choice of the roaring 20s. An American hangover remedy. Garden party and drinks.
Despite its numerous variations and irrepressible popularity, when the Bloody Mary was first popularized at New York's 21 Club, it started out as little more than tomato juice and vodka. However, the Bloody Mary we know and love today owes its infinitely more delectable recipe to Fernand Pertiot during tenure at the King Cole Room.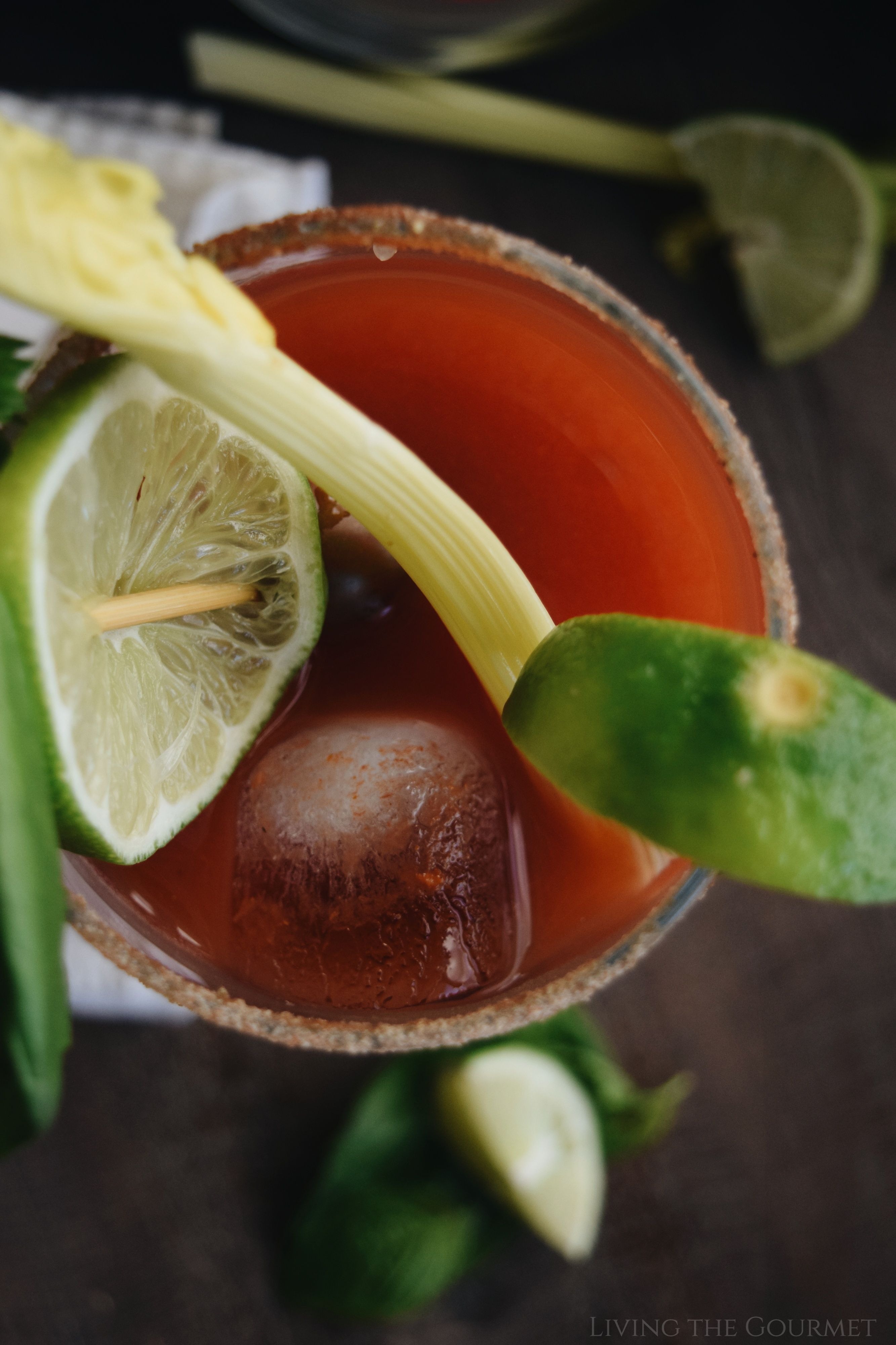 A 2008 article from Epicurius, by Michael Y. Park, quotes Petiot as saying, in a 1964 interview he gave to The New Yorker, "I initiated the Bloody Mary of today. Jessel said he created it, but it was really nothing but vodka and tomato juice when I took it over. I cover the bottom of the shaker with four large dashes of salt, two dashes of black pepper, two dashes of cayenne pepper, and a layer of Worcestershire sauce; I then add a dash of lemon juice and some cracked ice, put in two ounces of vodka and two ounces of thick tomato juice, shake, strain, and pour. We serve a hundred to a hundred and fifty Bloody Marys a day here in the King Cole Room and in the other restaurants and the banquet rooms."
Regardless of its origin, I've always considered the Bloody Mary to be the perfect cocktail for brunches and outdoor spring parties. It's fresh and 'lively' tasting without being the 'fruit bombs' often associated with outdoor spring and summer drinking. It's the sort of drink that you can pair with more 'refined' or 'subtler' recipes without fear of overpowering or overshadowing them.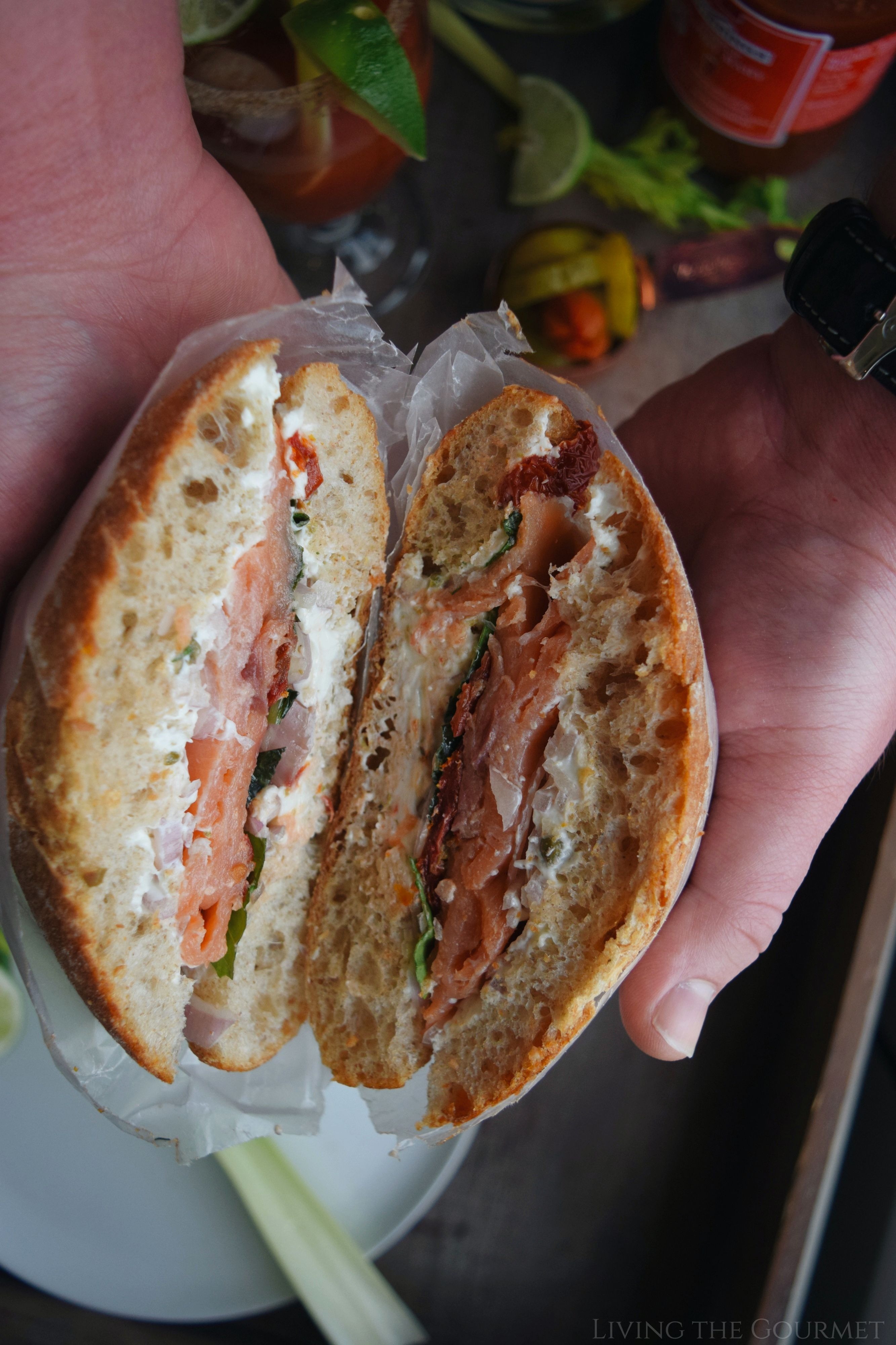 Take today's lox sandwich for example. While it can serve equally well at a garden party or as something you fix take out on the deck on your own, it's the kind of recipe that if I feel like indulging in an 'adult beverage,' something like a Bloody Mary is what I'll default to. You get the shallots and sun dried tomatoes from the sandwich, and that melds perfectly with the herbed tomato and vodka from the Bloody Mary, with both complementing rather than 'carrying' or 'overpowering' each other.
However, that recipe Petiot outlined sounds like a fair bit of work. So, let's you've got a house full – or a backyard full – of thirty guests, but you don't feel like playing bartender to your friends and family, nor do you feel like cleaning up their clumsy attempts at "fixing themselves one." Or, let's just say you feel like shaving a bit of unnecessary time and effort off of preparing your own cocktail. That's where Stirrings comes in.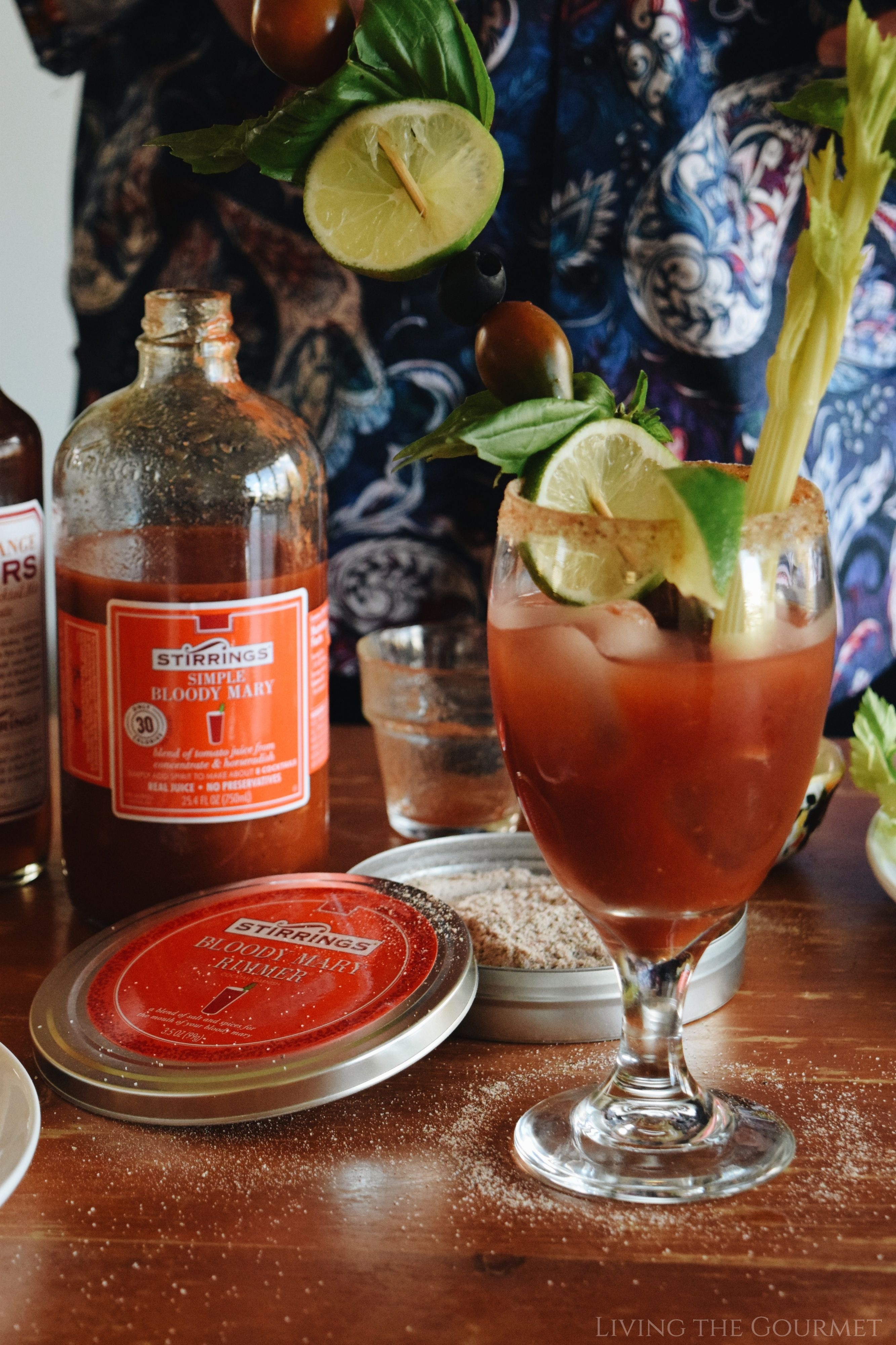 You can get all of the classic Bloody Mary flavor without any of the hassle of putting together the recipe that Petiot described above.
So, just how easy is it to prepare a cocktail using Stirrings? I'll show you. To start things off, we begin by prepping the garnish, which is just skewered cherry tomatoes with fresh basil, pitted black olives, and a lime wedge, which you alternate along the skewer as pictured below. Then rub a lime wedge along the rim of your glass.
Yes, a highball glass is considered standard, but honestly I prefer a goblet.
Then 'dip' the rim of the glass in the Stirrings Bloody Mary Rimmer, and fill the glass with ice, followed by the Stirrings Bloody Mary mixer, and then vodka, in the measurements suggested on the Stirrings Mixer. And serve.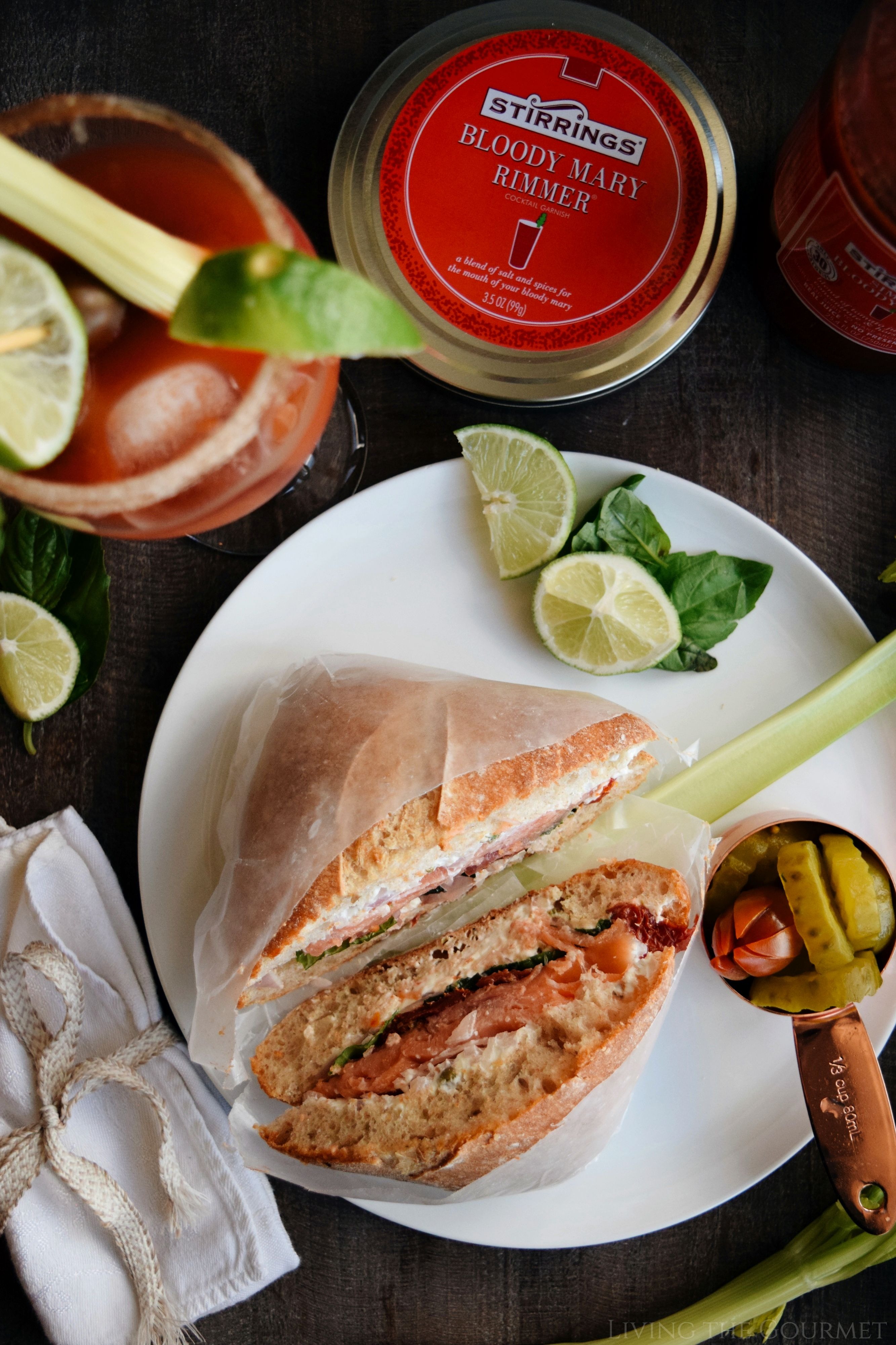 Print
Bloody Mary Cocktails and Mediterranean Smoked Salmon Sandwiches
Author:
Prep Time:

15 minutes

Total Time:

15 minutes

Yield:

2

drinks and sandwiches

1

x
For the Classic Bloody Mary:
For the Garnish:
Fresh Basil Leaves
Cherry Tomatoes
Olives
Lime Wedges
Celery Stalks with the leaves
For the Smoked Salmon Sandwich:
4

–

5

slices of smoked lox
Fresh basil leaves – stems removed
Shallots – sliced very thin
Sun dried tomatoes – sliced
Ciabatta rolls

8 oz

. block of cream cheese

3 tsp

. capers
Instructions
For the Classic Bloody Mary:
Skewer the fresh basil, cherry tomatoes, olives and lime wedges alternating as you go.
Rub the lime wedge along the rim of the glass.
Place the glass in the Stirrings Bloody Mary Rimmer.
Fill the glass with ice, followed by the Stirrings Bloody Mary Mixer, followed by the vodka.
Serve with the prepared skewers.
For the Smoked Salmon Sandwich:
Place the block of cream cheese along the capers in a food processor and give a few good chops.
Building the Sandwich:
Place the caper and cream cheese spread on each side of the roll.
Place 4 – 5 basil leaves on the roll, followed by thin slices of shallots, sun-dried tomato sliced thin and four to five slices of lox.
Slice in half and serve with your favorite pickles and the Bloody Mary.
Recipe Card powered by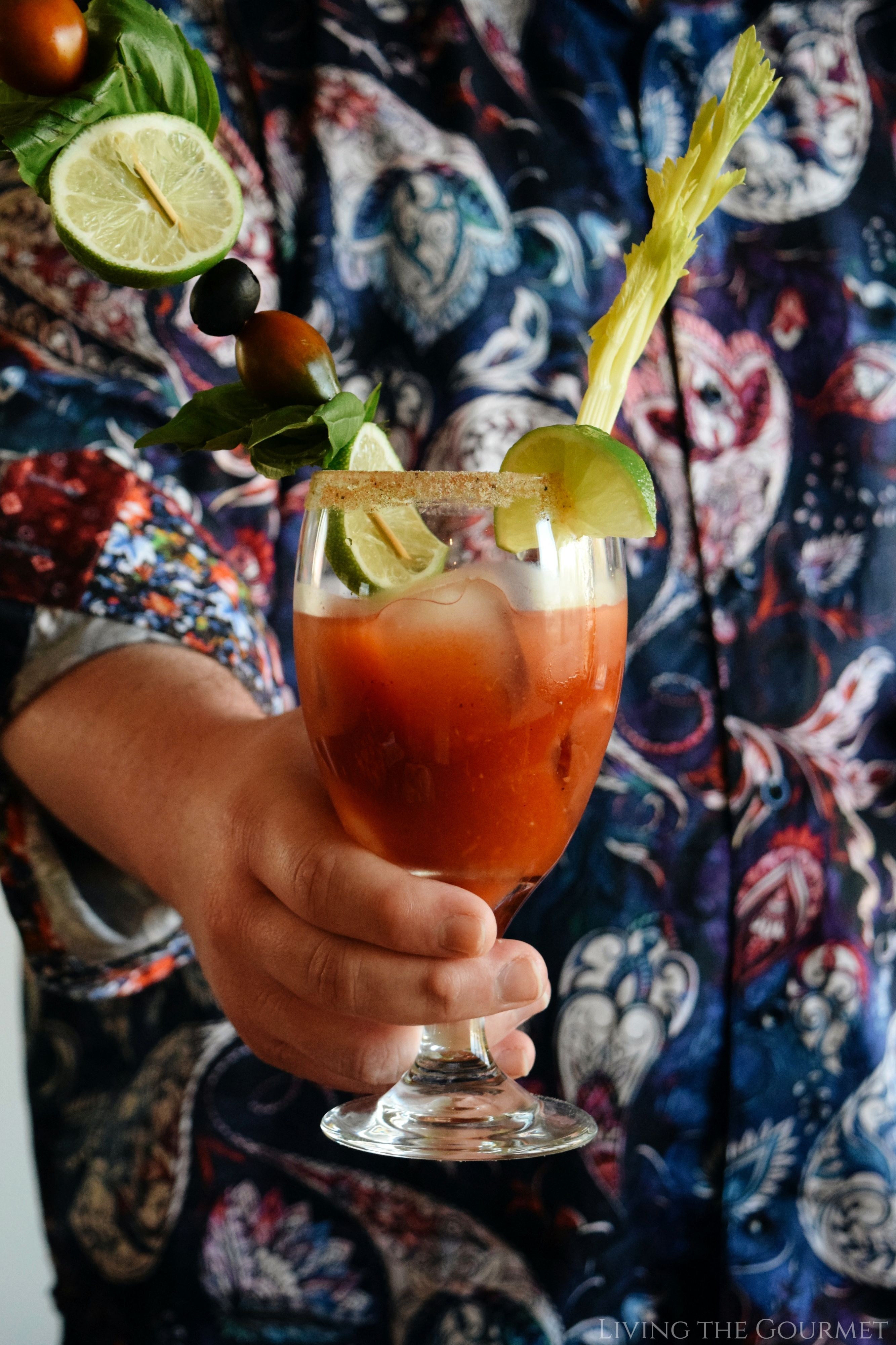 Yes, it's just the easy. Stirrings comes in a variety of flavors, such as Simple Cosmopolitan, or the Simple Peach Bellini. To check out their flavors, or to order your own, check out this link.
What are some of your favorite spring and summer cocktails and recipe pairings? We would love to hear from you.
Cheers!
This message is intended for persons 21+, please drink responsibly.
1