We're celebrating St. Patrick's Day this weekend with a traditional corned beef recipe served alongside boiled carrots and our favorite buttery mashed potatoes.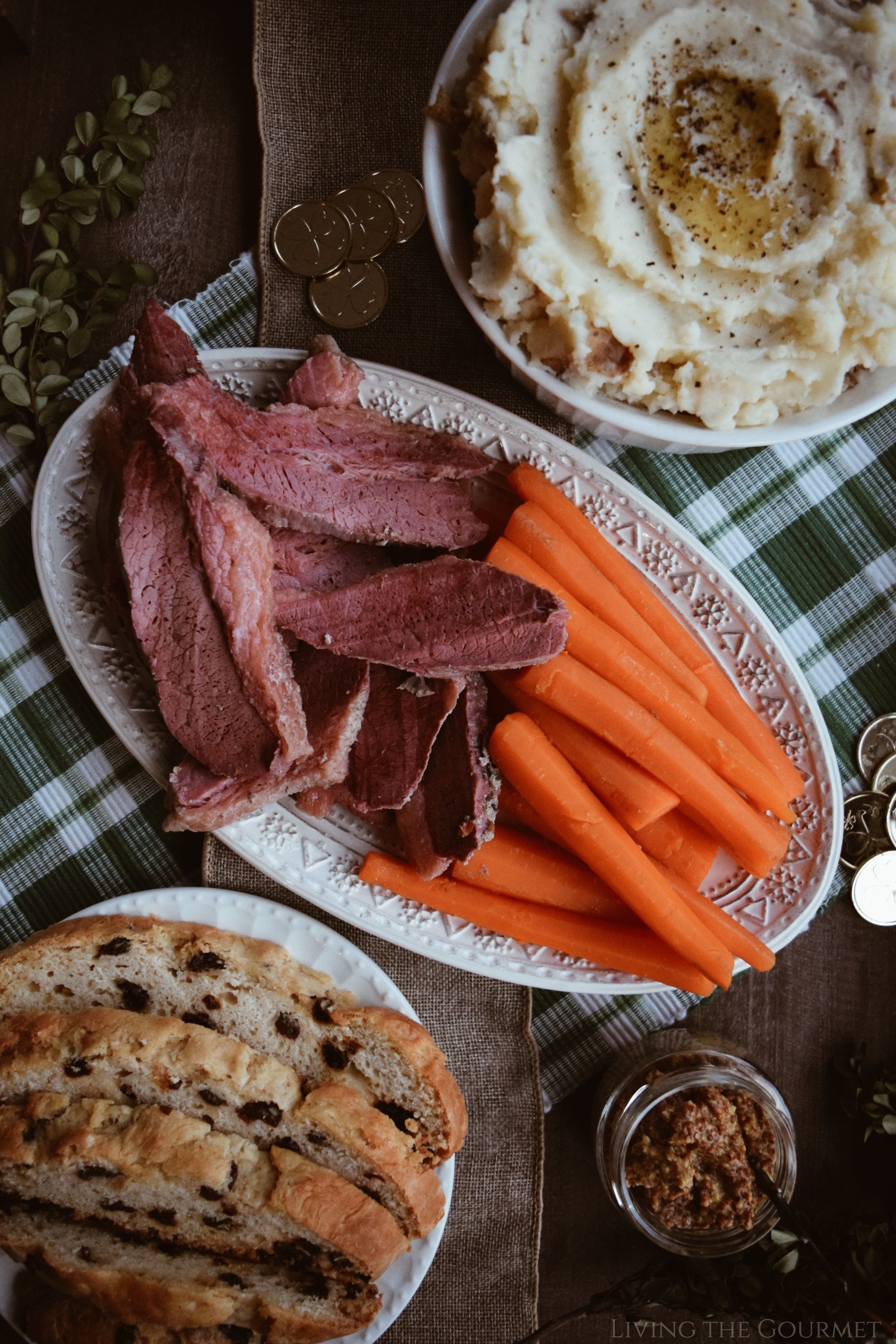 For full disclosure, yes, I myself am an Italian-American of Calabrian and Sicilian descent. My son is Greek-Italian, and my daughter is Korean. In other words, we here at Living the Gourmet are about as 'not' Irish as is possible.
However, that hardly stops us from engaging in American-style St. Patrick's Day festivities, and naturally that means a table full of all the standard fare of the day.
To start, 'corned' is an Old English colloquialism meaning 'salted.' Add some nitrates or nitrites to the beef during the 'corning' process, and you've got your standard pink-hued salted slab of beef that goes strangely well with mustard and boiled root vegetables.
But just how 'Irish' is corned beef, really?
Very, actually, but perhaps not in the way you might think.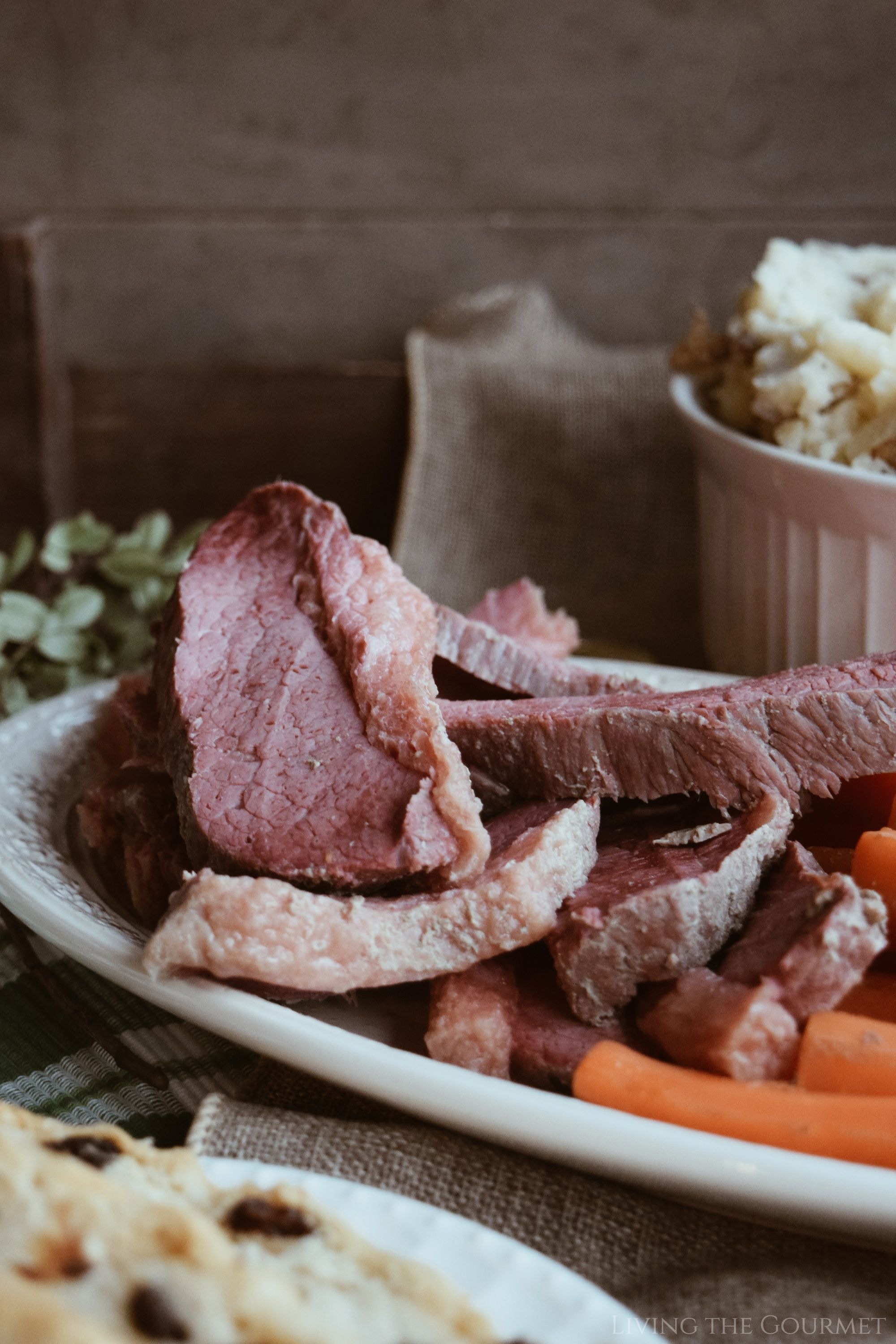 Think of Ireland and you likely think of rolling green hills and idyllic pastures. Following British domination of Ireland, they turned the island into something of a 'cow factory,' transforming much of the Irish countryside, and virtually all of the best farmland, into British-owned grazing lands, while the native Irish were forced to subsist on small allotments as tenant farmers. In other words, the production of beef in Ireland at that time – while wildly lucrative for the British – had a catastrophic effect on the Irish, who, aside from already being disenfranchised in their own homeland, now found themselves displaced and impoverished. As a result, even though their island was being used as giant cattle farm, beef, canned, corned, or otherwise, was simply not something most Irish could afford to indulge in at the time.
However, fast forward through a vast emigration to America, and suddenly you have a huge Irish population with access to relatively cheap American beef – especially in places like New York City where immigrant-operated butcheries were carving up hinds of cheap cuts like brisket to sell to fellow immigrants. Add that to immigrant grocers peddling similarly cheap canned goods to fellow immigrants, and suddenly you've got Italians eating fried balls of beef on a regular basis, and Irish eating salted slabs of brisket as a staple diet item.
In other words, the idea of corned beef as staple of the Irish diet is actually "Irish-American," a bit like spaghetti and meatballs is actually "Italian-American," corned beef – as an Irish staple – is part of a long immigrant history, the result of Irish immigrants adapting and thriving in their new homeland.
Now, to actually make corned beef.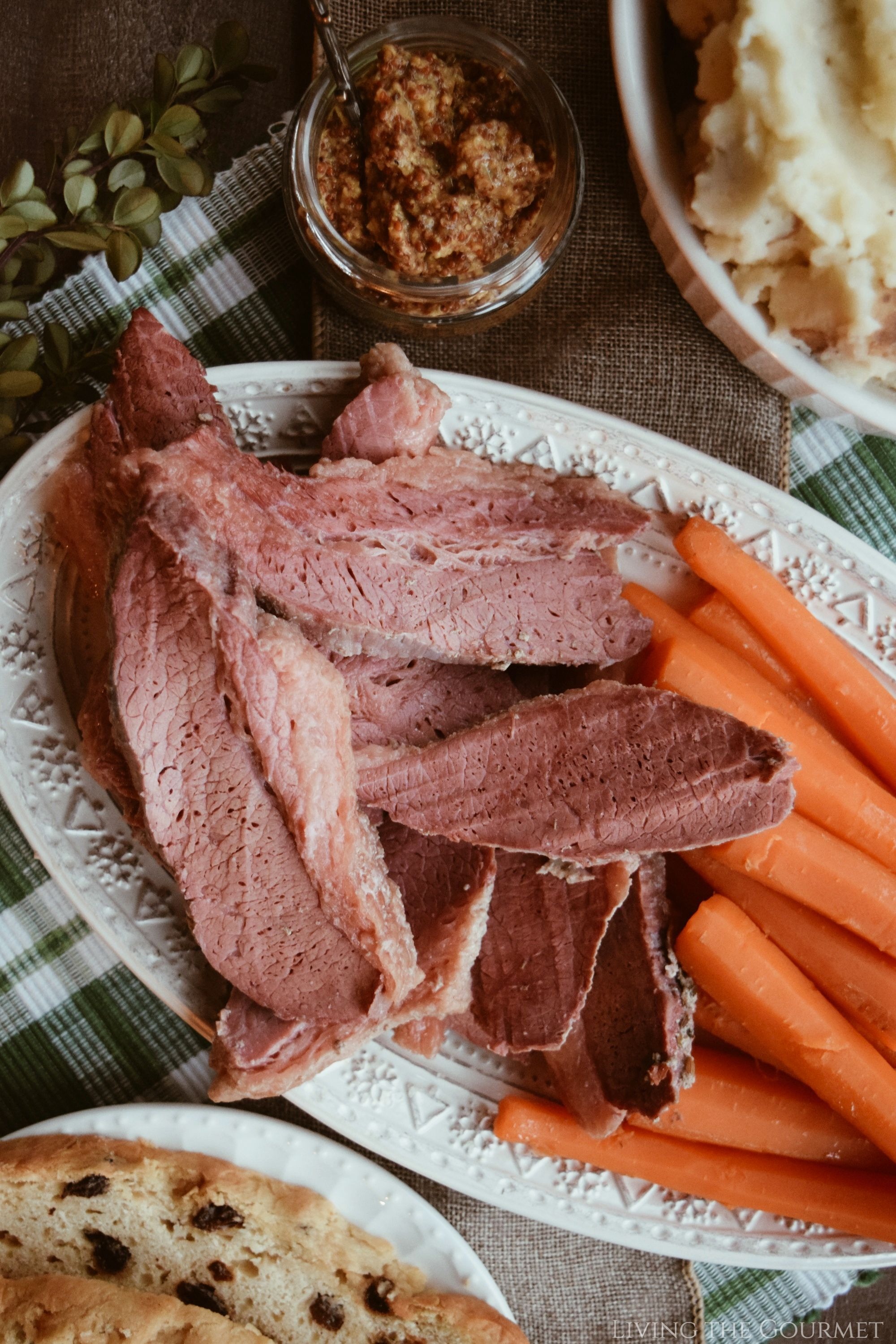 This one's really simple. We place a two three pound flat corned beef in a large pot, and cover with water, adding in the spice packets they come with. Let the water come to a boil, and lower the heat and allow the beef to gently simmer for about three hours, or until they are fork tender. Once that's been achieved, add in your peeled carrots, and simmer for another fifteen to twenty minutes, and then turn the heat off.
Let the corned beef sit in the water for about fifteen or twenty minutes before removing. Slice the corned beef to your desired thickness, but be sure to do so against the grain.
For the potatoes, I'm going to be a little unorthodox, and we'll be preparing garlic mashed potatoes this year, rather than the standard boiled.
We start out by rinsing the skin of the potatoes, and the placing them, unpeeled, in a pot and boil them until they are fork tender.
Once that's done, heat milk with garlic and butter, and add that to the potatoes. Season with salt and pepper, and begin mashing while they are still hot. Then serve with an extra pat of butter and fresh ground black pepper for garnish as shown below.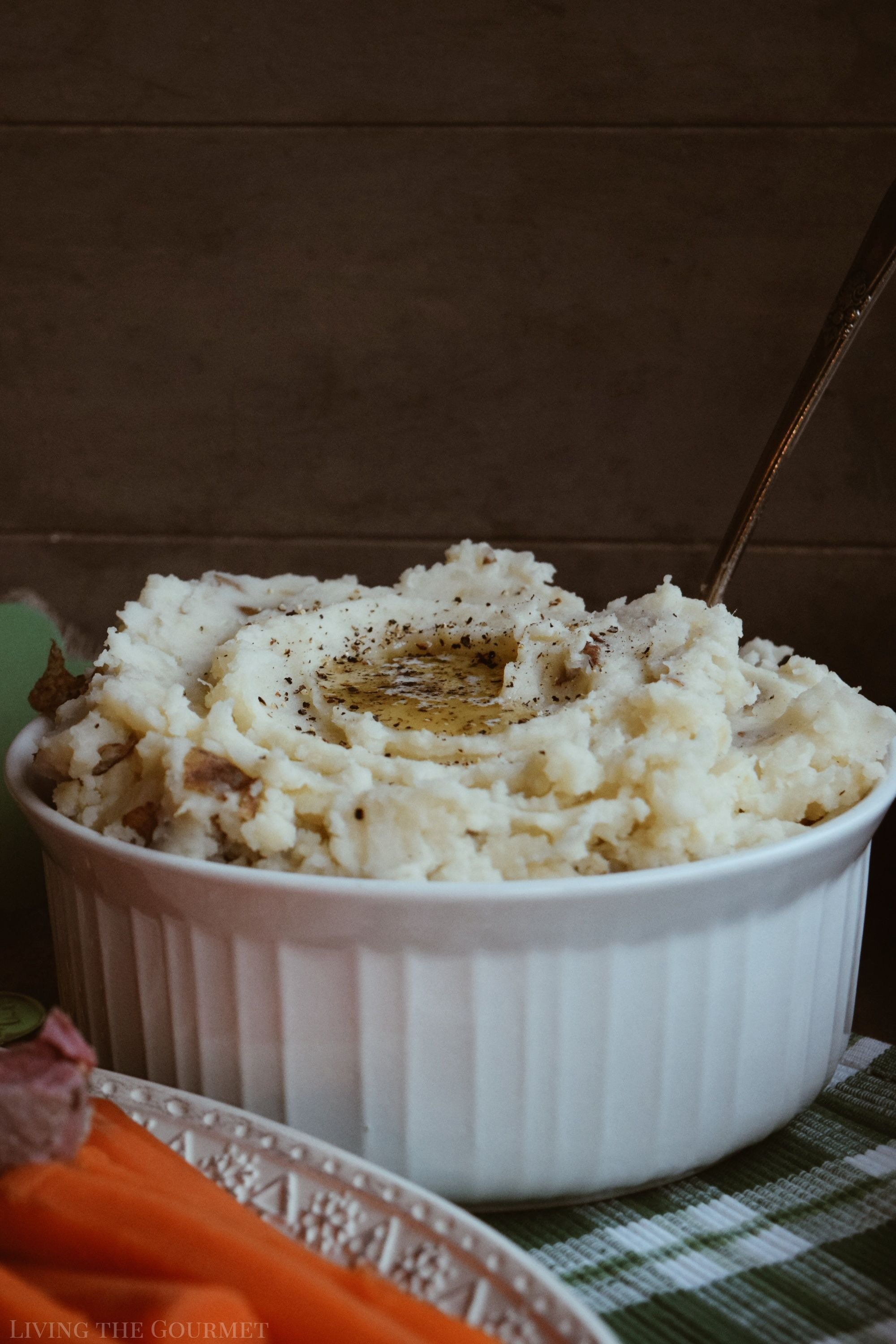 Print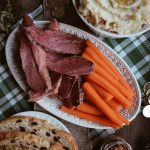 Corned Beef and Buttery Mashed Potatoes
---
Author:

Prep Time:

15 minutes

Cook Time:

3 hours

Total Time:

3 hours 15 minutes

Yield:

2

corned beefs

1

x
(2) 3 lb. flat corned beef – with spice packet

8

–

10

carrots
For the Potatoes:
For the Potatoes

6

medium to large russet potatoes

2 cups

of milk

½ cup

of butter

3

– cloves of garlic

1 tsp

. Salt

½ tsp

. Fresh ground black pepper
---
Instructions
For the Corned Beef:
Place the corned beef in a large pot and cover with water. Add the spice packets and bring the water to a boil, then gently simmer for at least 3 hours or until fork tender.
Place the carrots to the water the last 15 – 20 minutes to cook with the corned beef.
Allow the corned beef to remain in the water for about 15 minutes before removing.
Slice the corned beef across the grain and serve with your favorite condiments.
For the Potatoes:
Clean the skin of the potatoes and place in a large pot then cover with water. Make sure the water is salted generously.
Cook the potatoes until fork tender.
While the potatoes are cooking, in a small pot, heat the milk with the garlic and butter.
Once the potatoes are done, drain them and add the milk mixture while they are still hot.
Mash the potatoes until desired consistency. Then taste to see if the seasonings are satisfactory for salt and ground black pepper.
Serve with an extra pat of butter and fresh ground black pepper.
Notes
For the Irish Soda Bread (photographed) check out our recipe HERE
Recipe Card powered by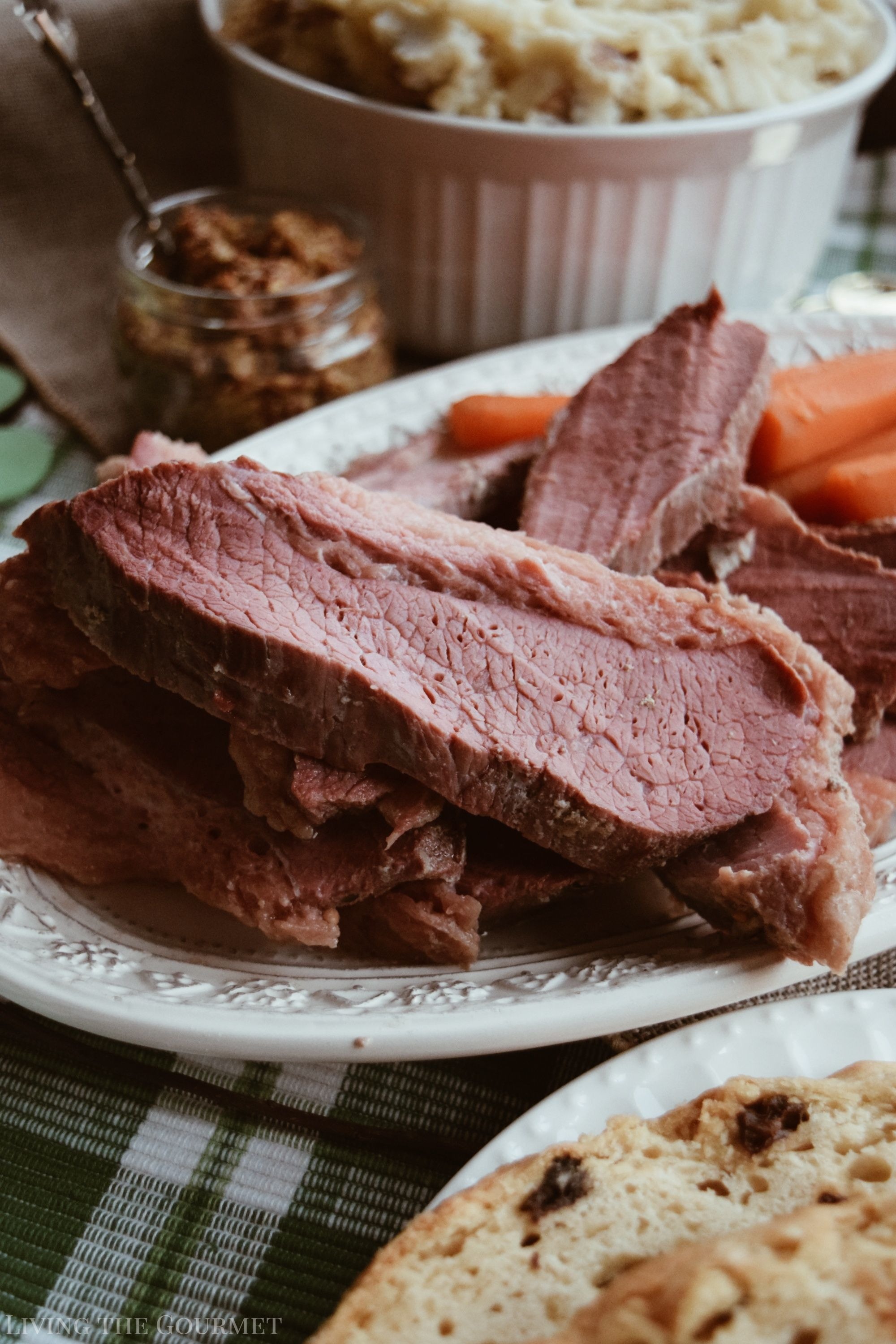 What to Drink:
1) Honestly, a really decent beer is the way to go here. My personal favorite is Einstok. See my review here for an overview.
2) While I wouldn't personally suggest trying to pair a wine here, if you want to try a decent cabernet sauvignon or a merlot, or really any wine with a sturdy body and full mouthfeel will pair well in order to stand up to the fat of the meat and the starch of the potatoes.
Some suggestions:
1) For a quick primer, check out this awesome little wine-guide that we hosted as a guest post last year.
2) My friends over at Decoy make some delicious mid-priced cabernets and merlots, check out this post, and this post for my reviews.
3) So as not to be accused of playing favorites, my friends at the Royal Wine Corp. also make some especially delicious merlots. If you're interested, check out this post for my review.
Leftovers:
My favorite part of corned beef is probably the leftovers, so here are a few suggestions.
1) Bagel Sandwich. While it might not be fancy, oh my God is it fun. Put a few slabs of corned beef on a plain bagel, heated, with some mayonnaise or mustard.
2) An obvious go-to for leftover corned beef is hash and eggs.
Enjoy with Love!
2