Whether you're celebrating with your love, spending the day with family, or cuddling at home with your furry friend, we've got a delightfully easy layered dessert for you this Valentine's Day.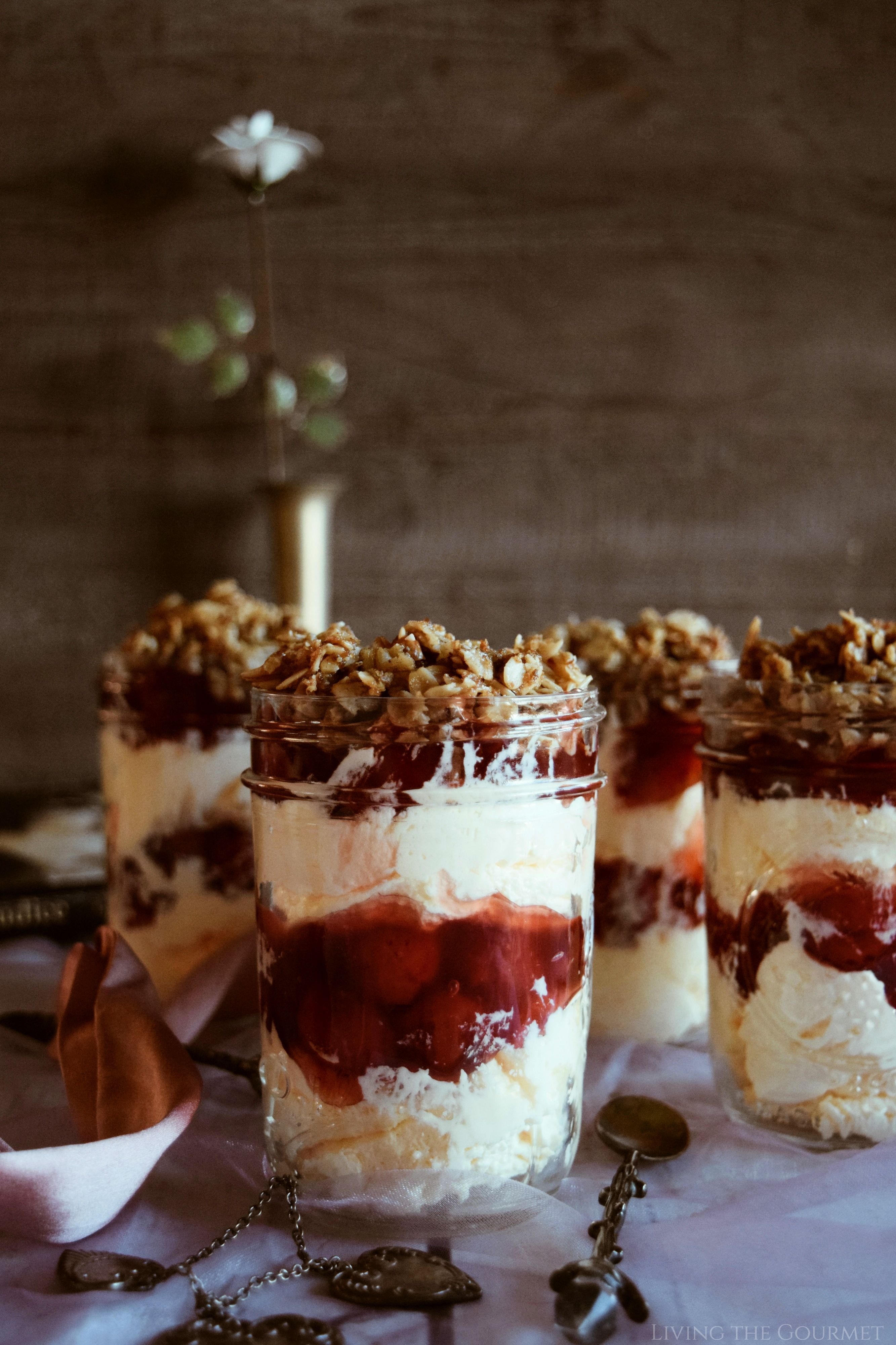 Happy Valentine's Day, friends!
Ah yes, the most dreaded day of the year (even for those who ARE in a relationship *cough cough*). It's the day we get a little more lovey than usual and overspend- as if we can't do either of these things any other day of year…
It's funny because I think I might be one of the few in my age group who actually remembers Valentine's Day being celebrated as Saint Valentine's Day. Do you remember when it was more than just heart-cutouts and roses?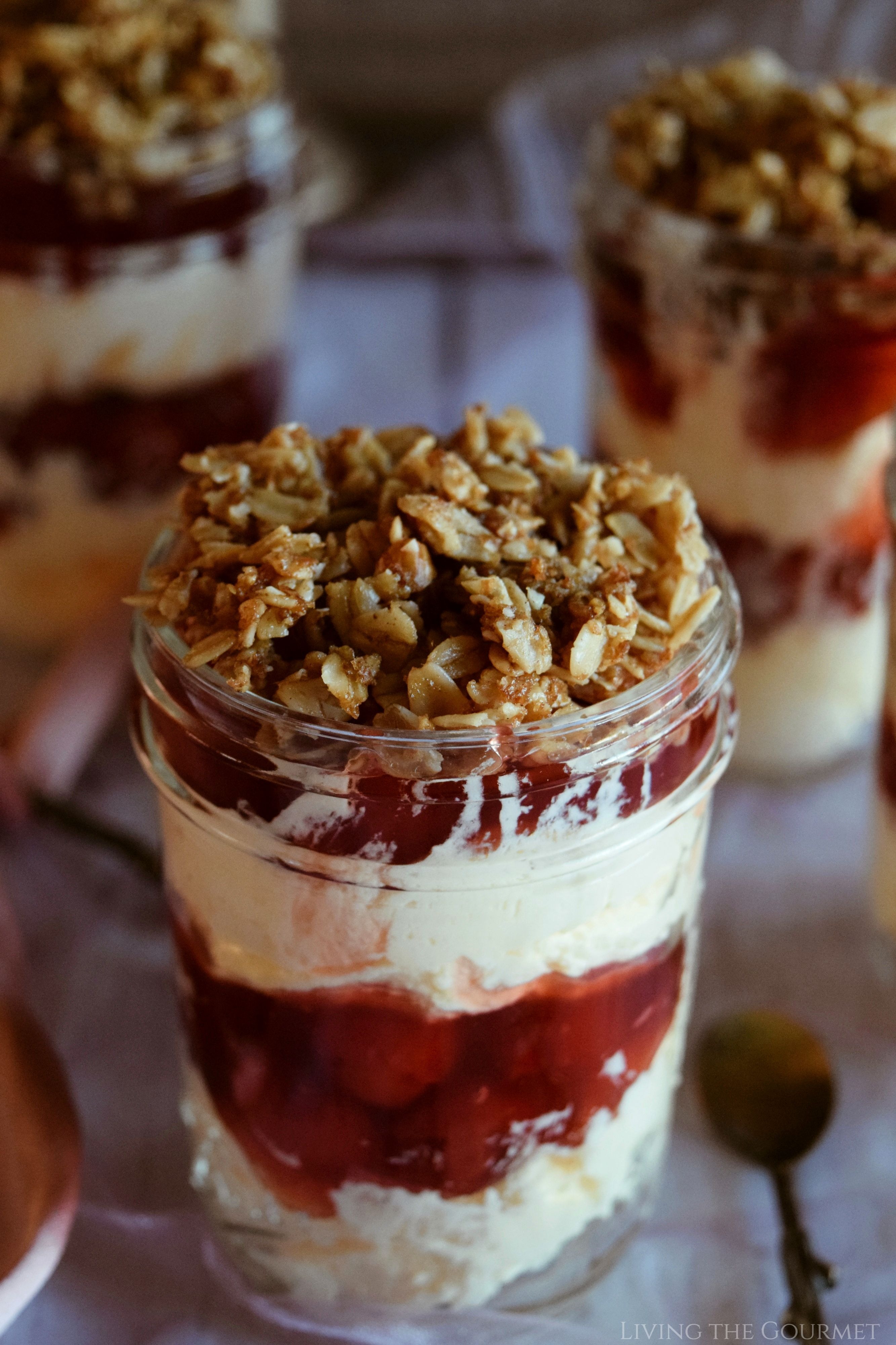 For a while, I never understood the correlation between the martyrdom of Saint Valentine and…romance? To this day, I think some are still left baffled. I remember when I was much younger, one Valentine's Day my mother gifted me the book of Saint Valentine. The romantic connotations came from the story that while imprisoned, shortly before his death, Valentine sent a letter to a woman with whom he had fallen in love and signed off with, "From your Valentine."
That's just one story, and while the life of Valentine remains shrouded in some mystery, the stories of this saint elucidate that he was a caring, valiant, and most importantly, romantic figure in Western culture.
So, today we celebrate Saint Valentine and all that he fought for and all that he represents- to have courage in the face of adversity, that a simple act of kindness can be the most powerful source of strength, and that even when the world seems dark and dismal, love is the flicker of light that gives us all hope and a reason to carry on.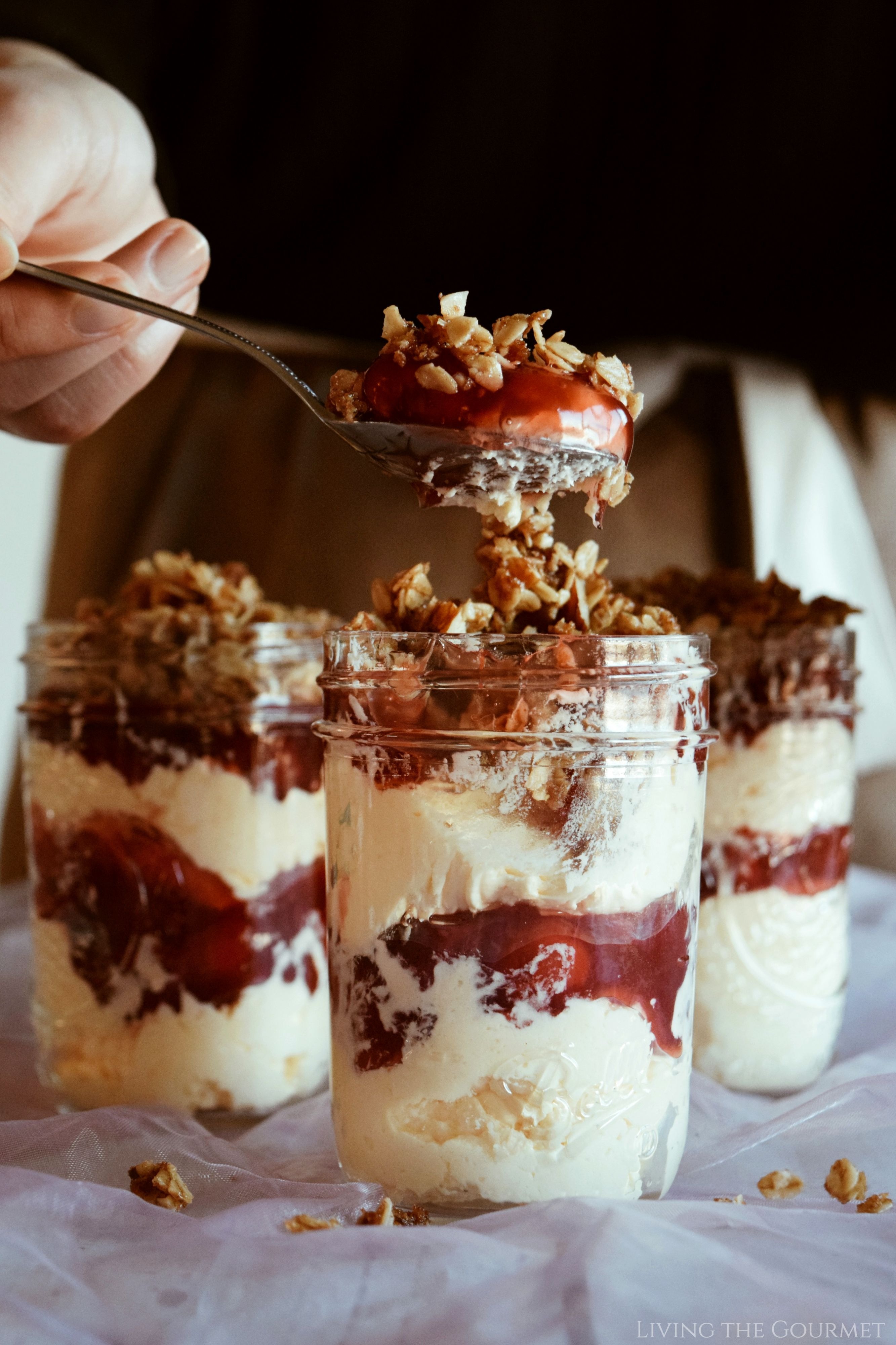 I'm taking it easy this year, playing it low-key and just enjoying my time at home. I am preparing something nice to enjoy with all the comforts of home and simply being with the ones I love. So, to keep in the spirit of the day, I opted to make something easy and accessible. It is Valentine's Day, after all, and this dessert is indulgent, pretty and the best part, easy.
That's where today's recipe comes in – Cherry & Vanilla Mousse Trifles with Toasted Granola. It's a practically no-bake dessert inspired by my mother's beloved cherry crumble.
I wanted to kick things up a notch and to do so, I decided to create an airy French Vanilla mousse, between layers of cherry pie filling, then finished off with toasted granola.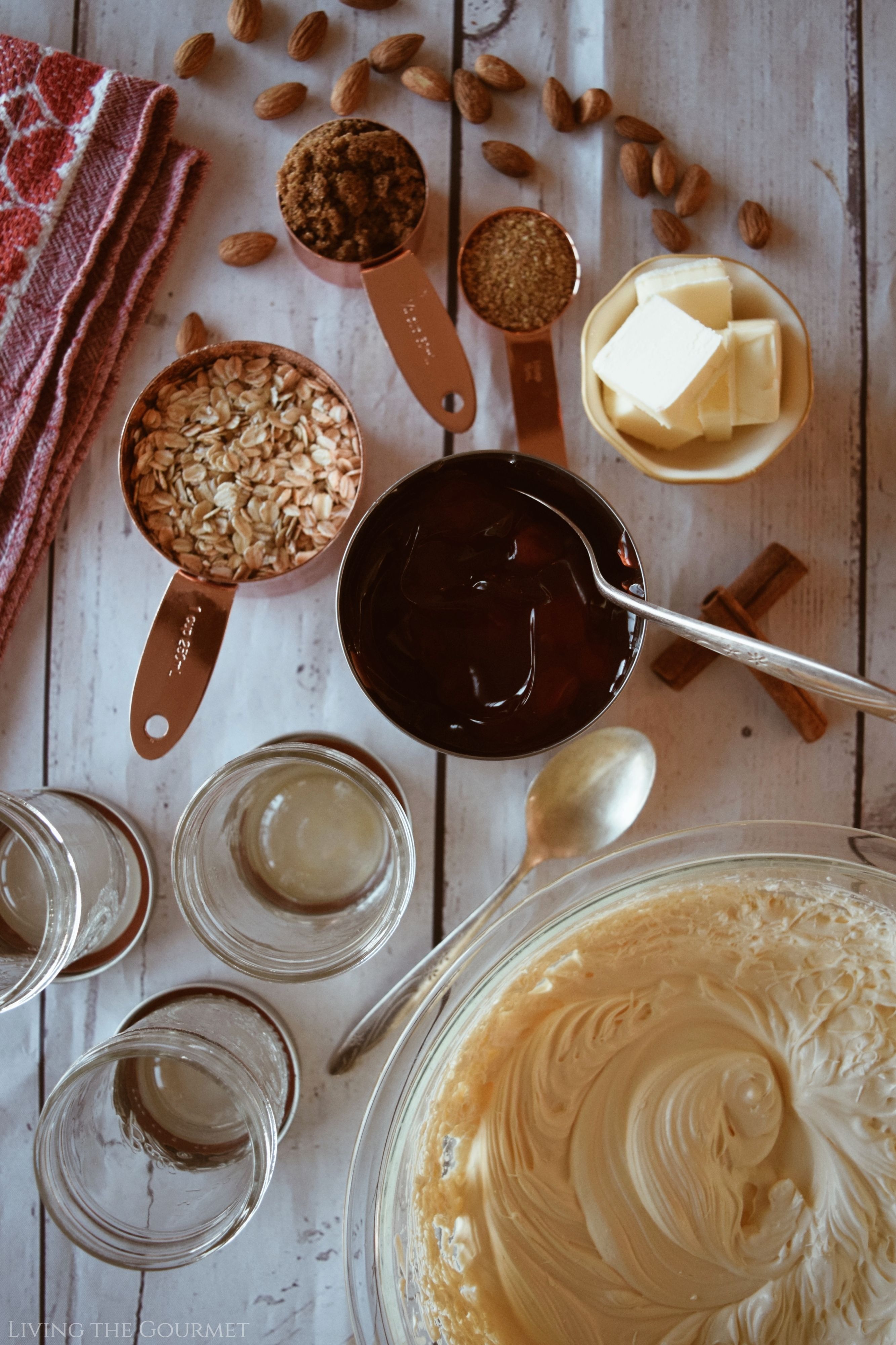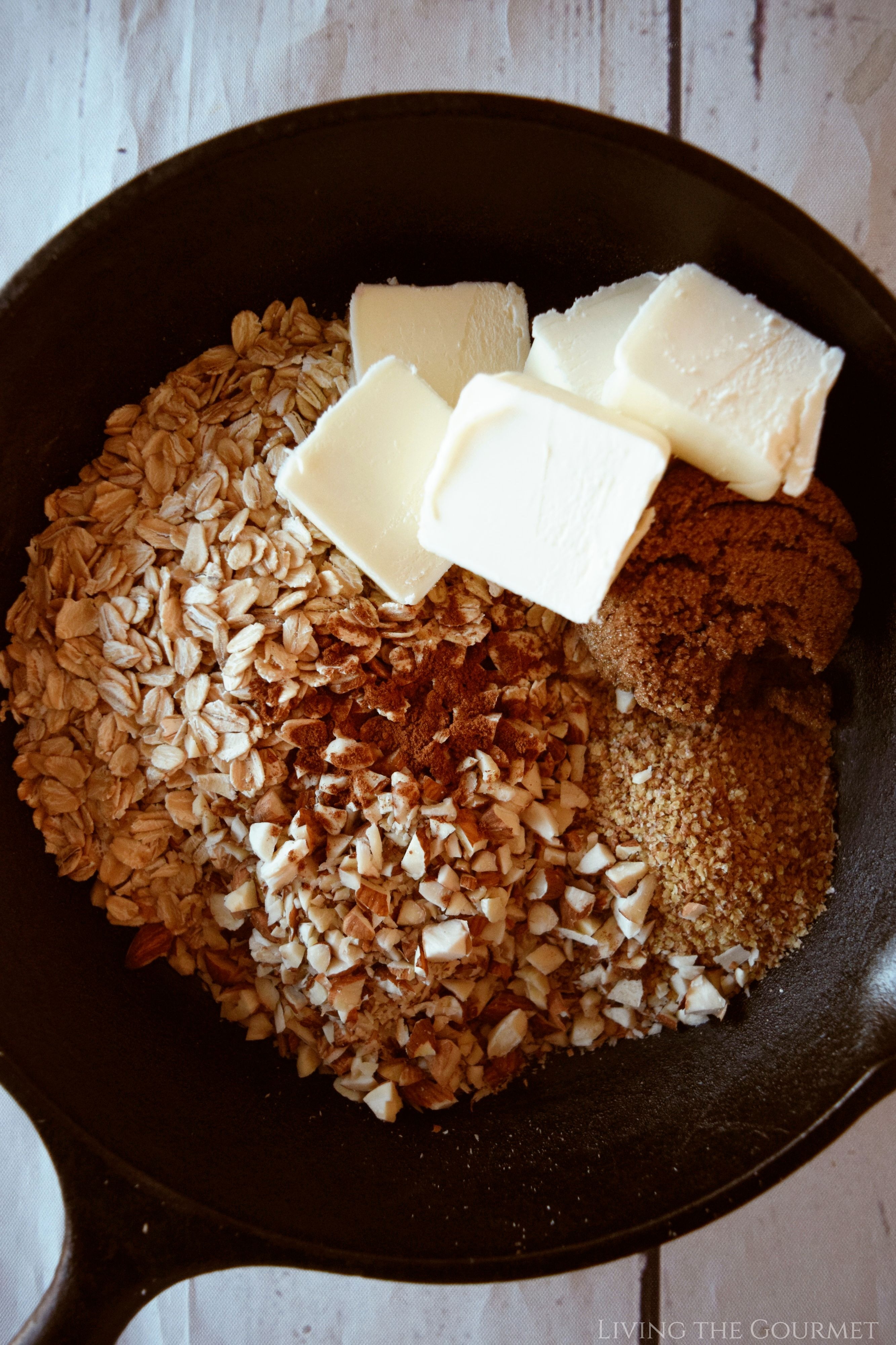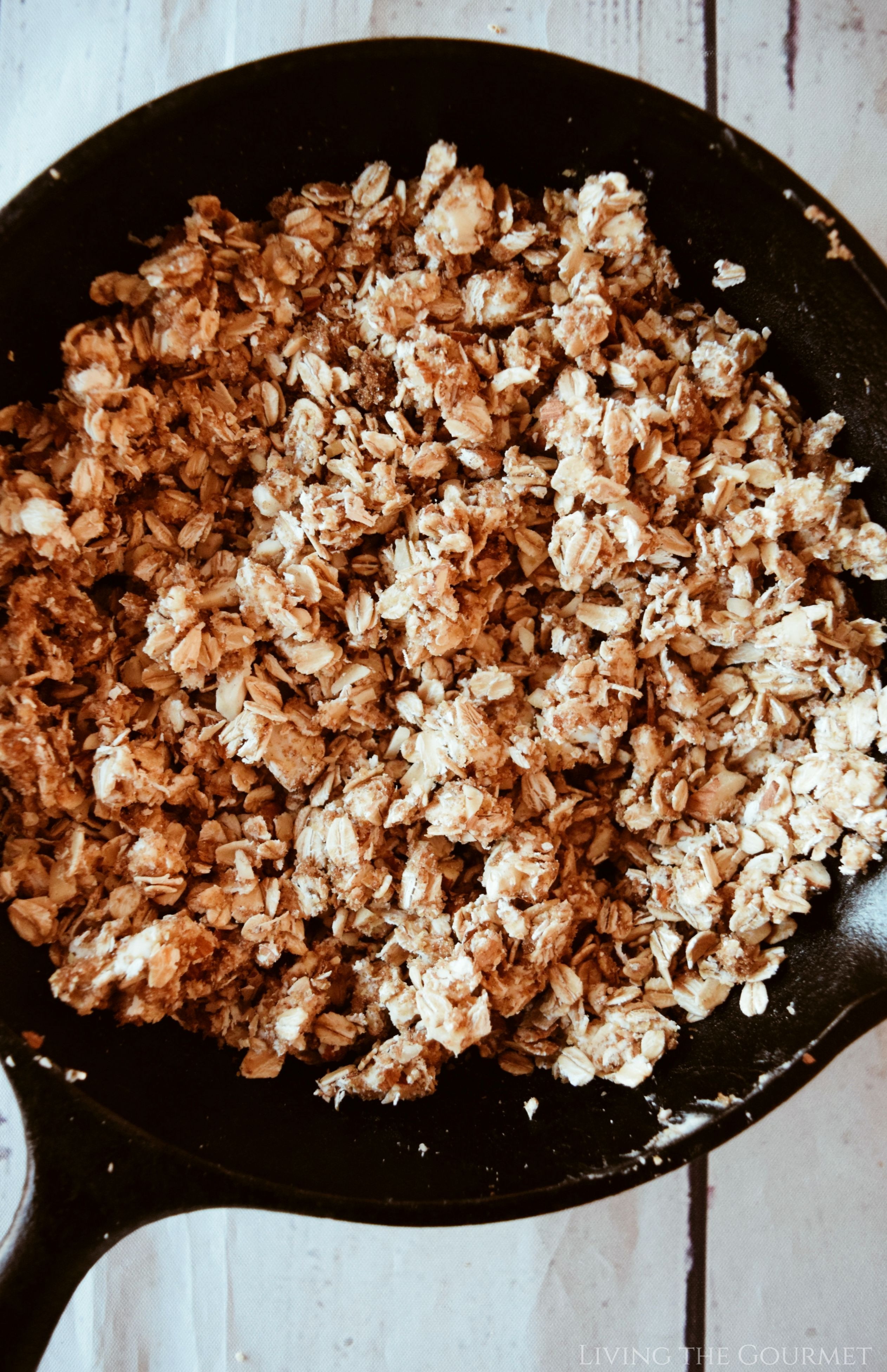 Living the Gourmet
Yields 6 individual trifles
Cherry & Vanilla Mousse Trifles with Toasted Granola
10 minPrep Time
20 minCook Time
30 minTotal Time
5 based on 11 review(s)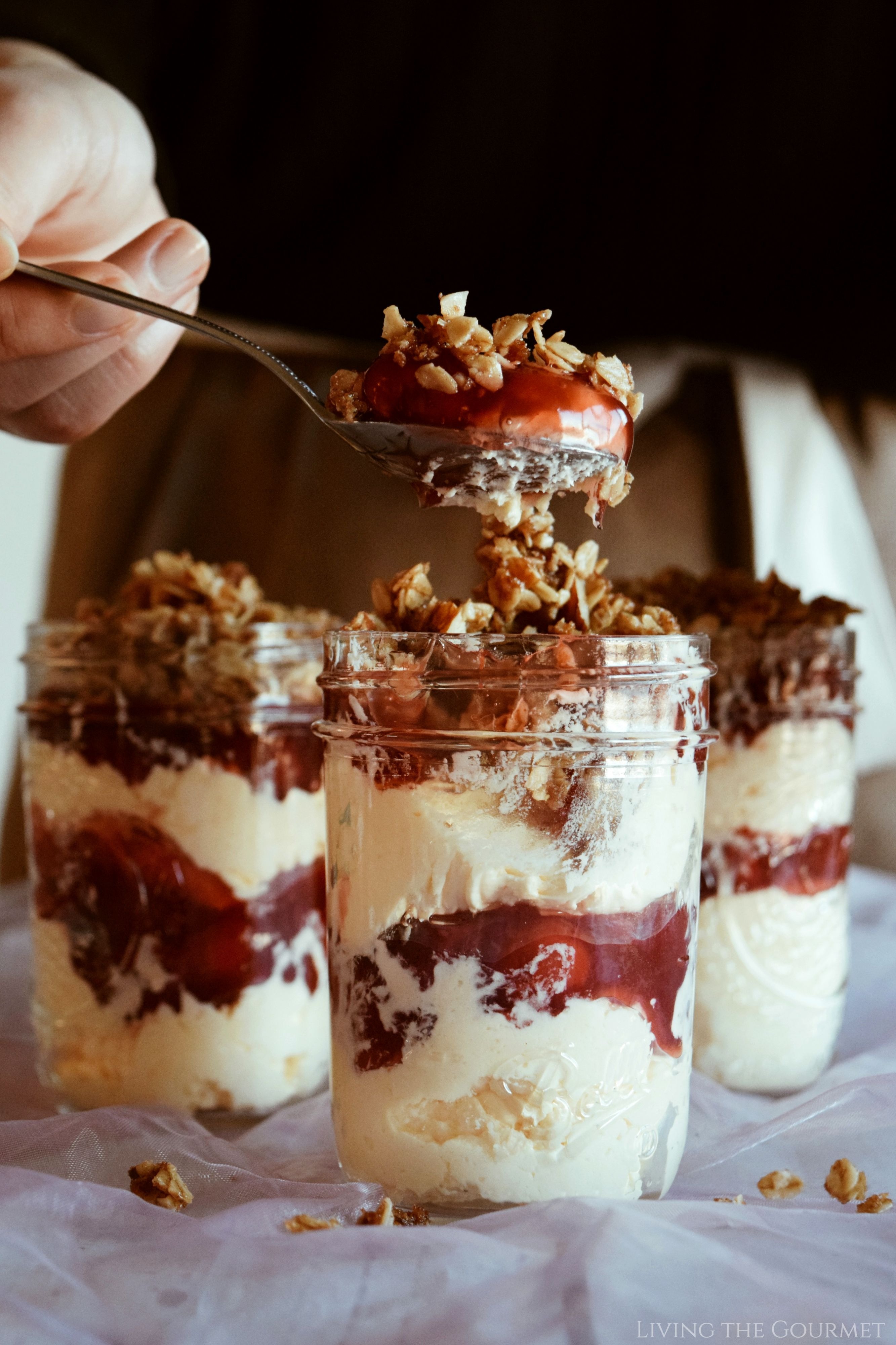 Ingredients
1 - 21 oz. can Cherry Pie Filling
1 package French Vanilla Mousse (My personal favorite is Dr Oetker French Vanilla Mousse)- prepared as directed

For the Granola Topping:

1 cup all-natural rolled oats
¼ cup brown sugar
2 tablespoons wheat germ
¼ cup chopped or slivered almonds
¼ teaspoon cinnamon
4 tablespoons butter
Instructions
Preheat oven to 350 degrees F.
In a small cast iron pan, combine all ingredients for the granola and mix with a pastry blended.
Bake for about 15-20 minutes until golden. Remove and let cool completely.

Assembly:

In 8 oz. mason jars, layer your trifles beginning with equal parts mousse and pie filling. You will get about four layers in total. Top generously with the granola. Serve if desired with whipped cream and serve immediately.
These can be made ahead of time as well. Cover each mason jar and store in the fridge before serving. Once ready to serve, present as is or with whipped cream. Enjoy!
7.8.1.2
823
https://livingthegourmet.com/2019/02/cherry-vanilla-mousse-trifles-with-toasted-granola.html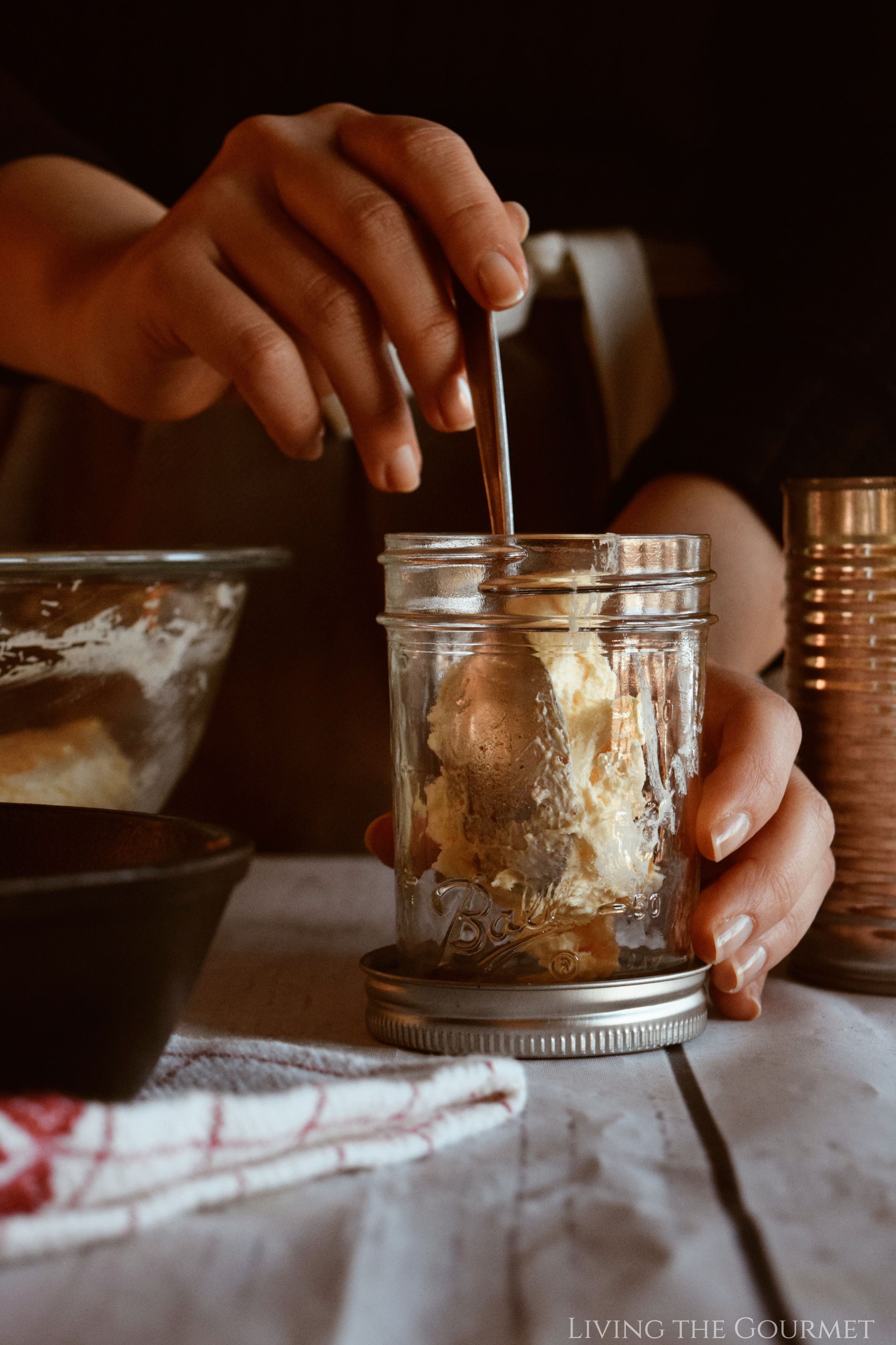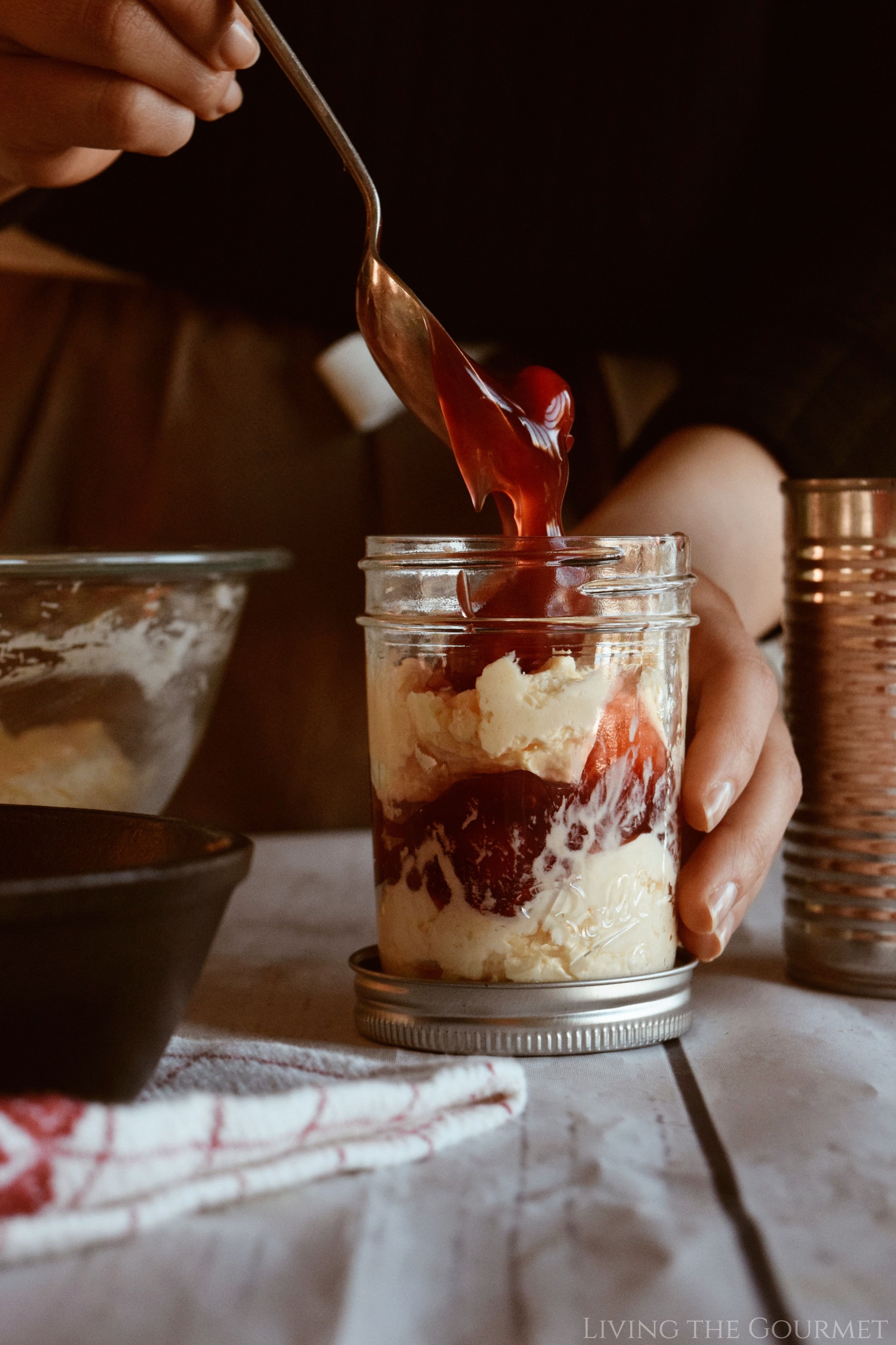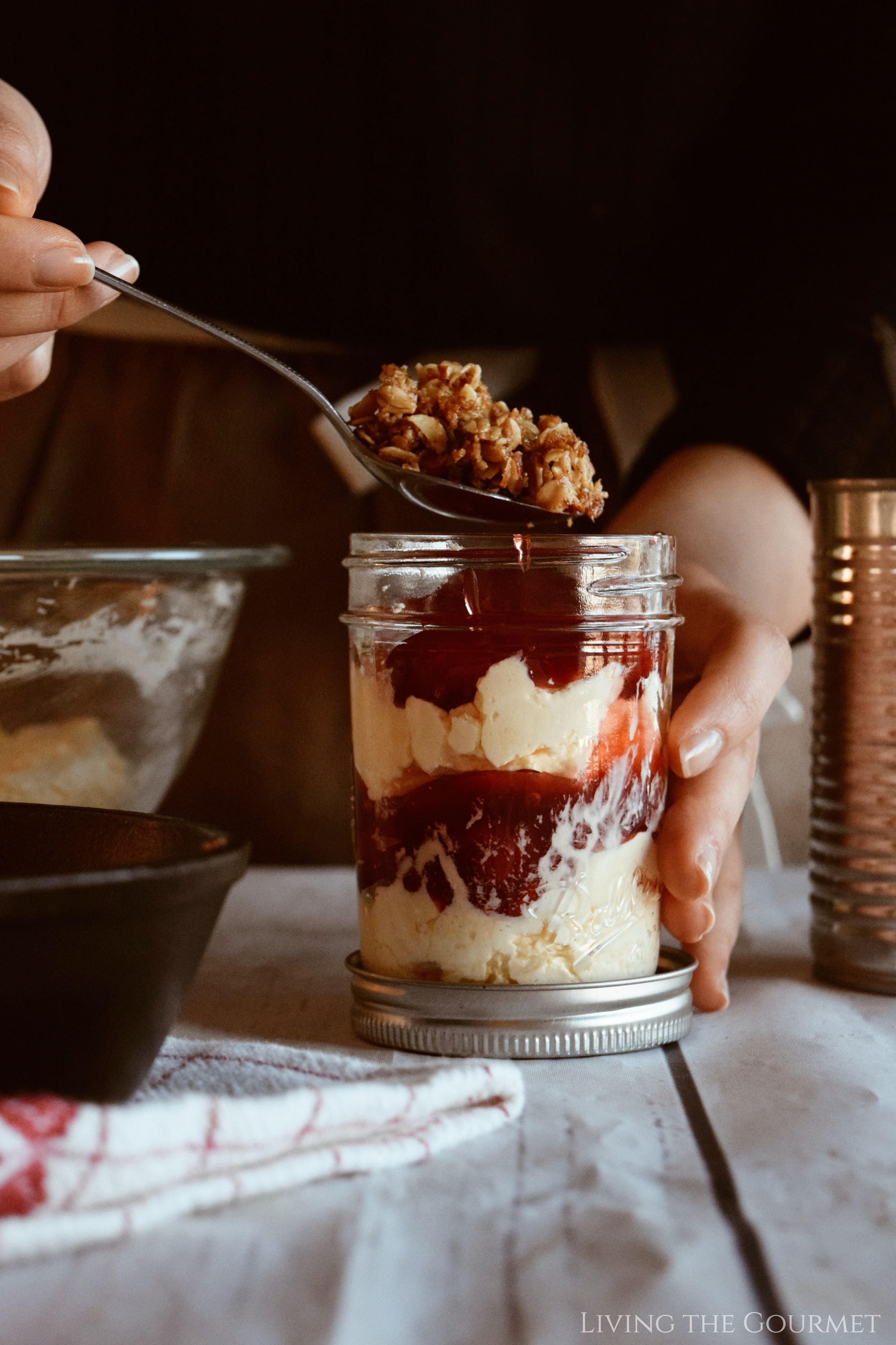 I served these up in individual jars but it would be just as pretty in a glass serving dish if you're hosting a large crowd (perfect for Galentine's Day celebrations ;)). Personally, for the event, I felt the individual jars add an intimate touch. And if you feel like splurging, a dollop of whipped cream or vanilla ice cream or chocolate syrup will do the trick.
Have a beautiful day, friends and however you are celebrating this day, just be sure to enjoy. I'll probably be baking away and sharing to our IG stories, so if you like, keep up with me on Instagram and we can spend the day together.
Hugs,
Tammy<3
0