This post has been sponsored by The Elevated Cook. All opinions expressed are my own.
This DIY Rotisserie Chicken is an easy solution to the beautiful, gold-roasted chicken you love thanks to this genius technique from The Elevated Cook.
"Fashion and the fashionable serves a duel and competing purpose," I recall one of my professor's comments on society. "On the one hand, it serves to decide what is mainstream, it sets society's tone and perception, coloring what is 'acceptable' or even 'laudatory.' Meanwhile, 'fashion' is what defines the contrarian lives of the dissenting bohemians among us, giving cause and target to society's critics."
I've spoken here before a couple of times about "everything old being made new again," and I can't really think of anything more 'old fashioned' or 'quaint' than a storefront window shielding a rotisserie chicken meant to entice passersby inside for a quick bite. Evenly cooked, intensely juicy, and seasoned throughout, without devoting counter space to a clunky rotisserie, the flavor and texture of these chickens were almost impossible to replicate. Spatchcocking or 'butterflying' is one method that rather nicely replicates the even cooking, but the process is painfully tedious, even for yours truly.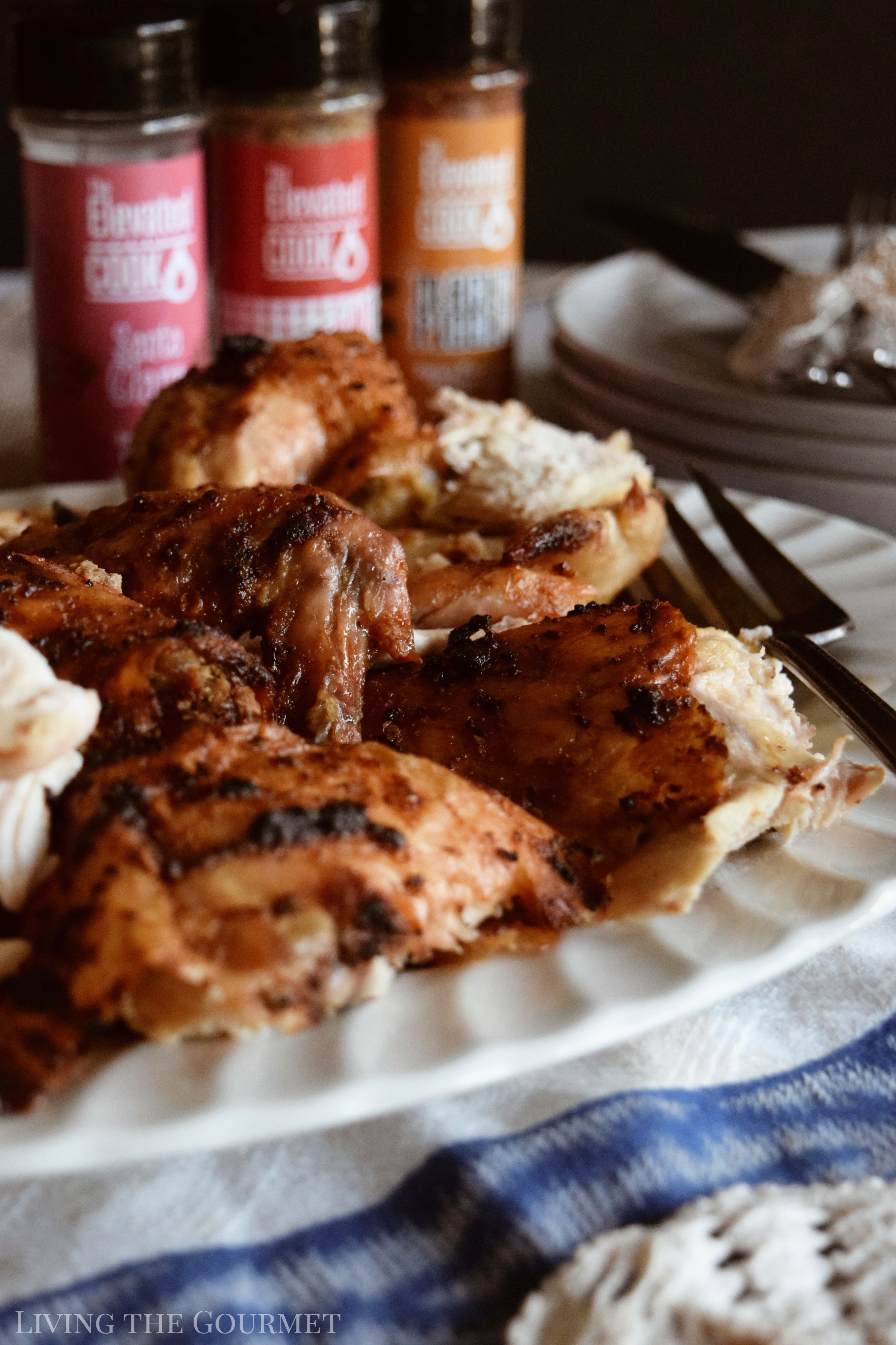 For this reason, some of the greats, such as James Beard and Julia Child, have recipes to help home cooks 'mimic' rotisserie style cooking, but it is only just 'mimicking.' However, what if you could almost perfectly achieve this style of cooking without needing to spend a fair bit of change and no small amount of counter space on an actual rotisserie?
Naturally, that brings us to today's product – The Elevated Cook.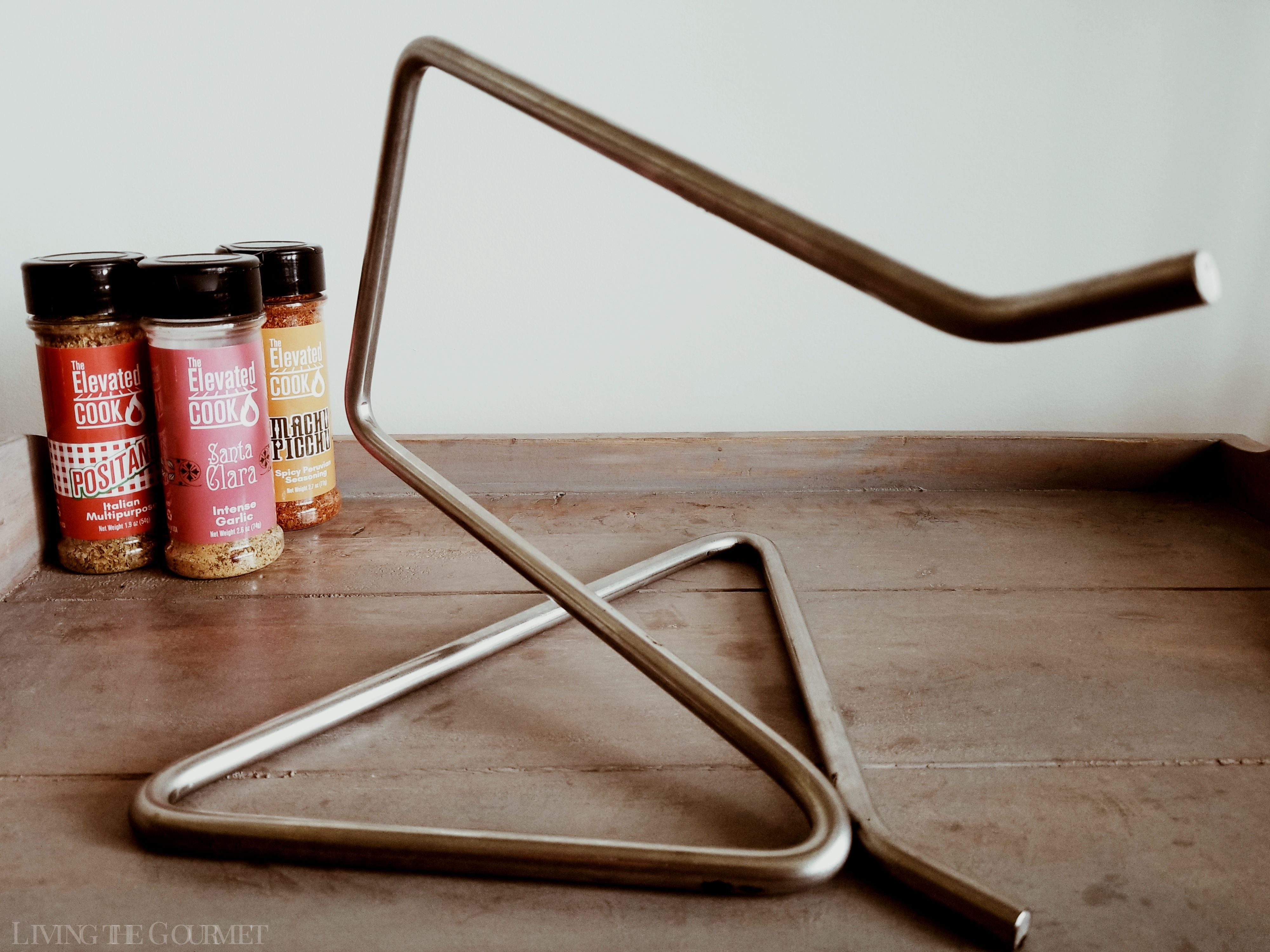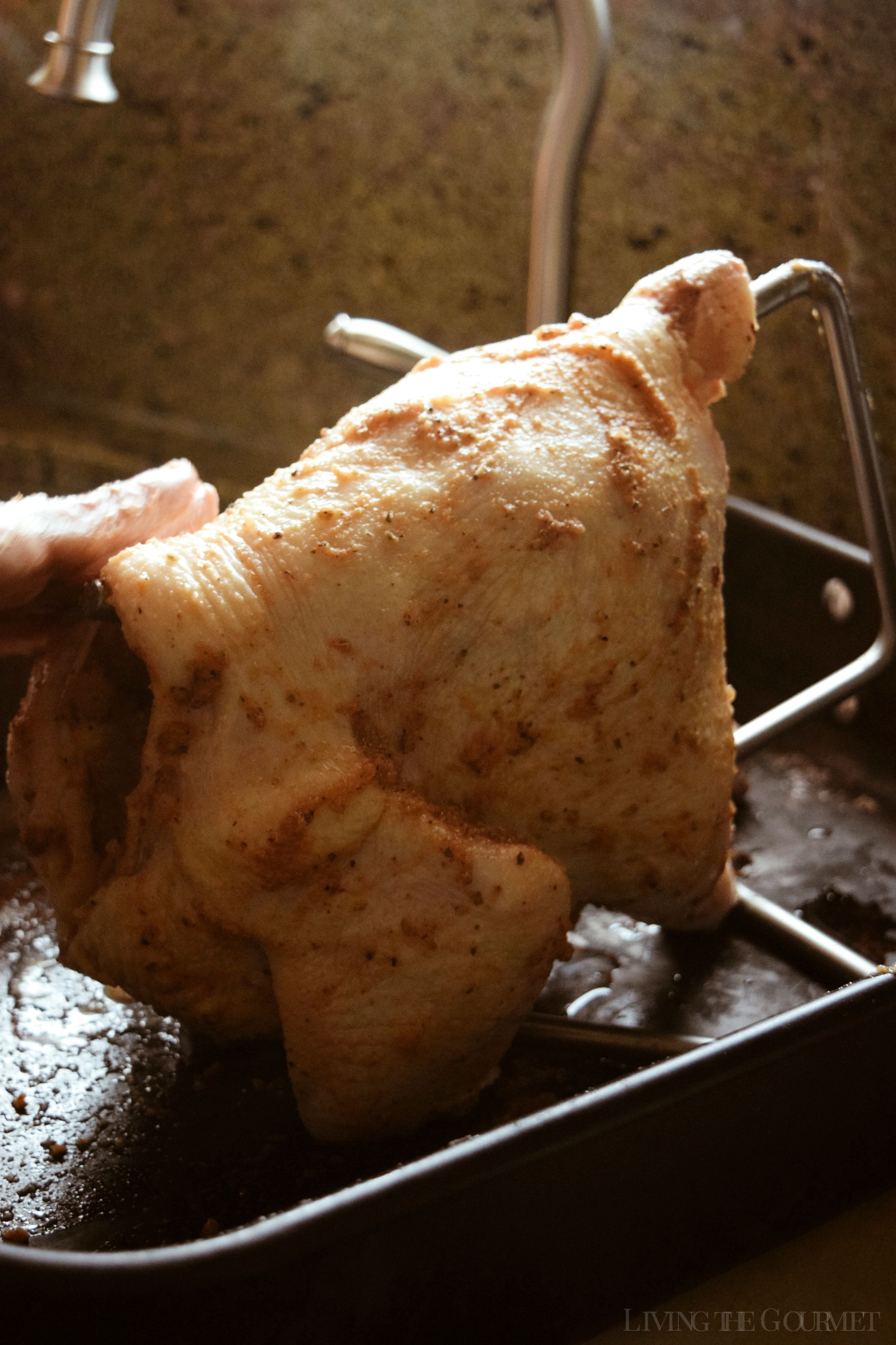 At first glance, the Elevated Cook appears almost 'too simple,' looking like little more than a twisted bit of metal poll, but, as Plato reminds us, "Simplicity is a virtue unto itself." So, looking at the pictures, you're likely asking "What's so special about this twisted metal?" The answer is almost as simple as the product itself – it elevates the chicken. The result is almost perfectly even cooking, as the bottom portion of the meat is no longer in contact with the heated pan. Instead, the interior heat of the oven radiates almost perfectly evenly through the chicken. The result is perhaps the closest 'mimicking' of rotisserie style chicken that you achieve without an actual rotisserie.
Which, of course, brings us to today's recipe – DIY Rotisserie Chicken.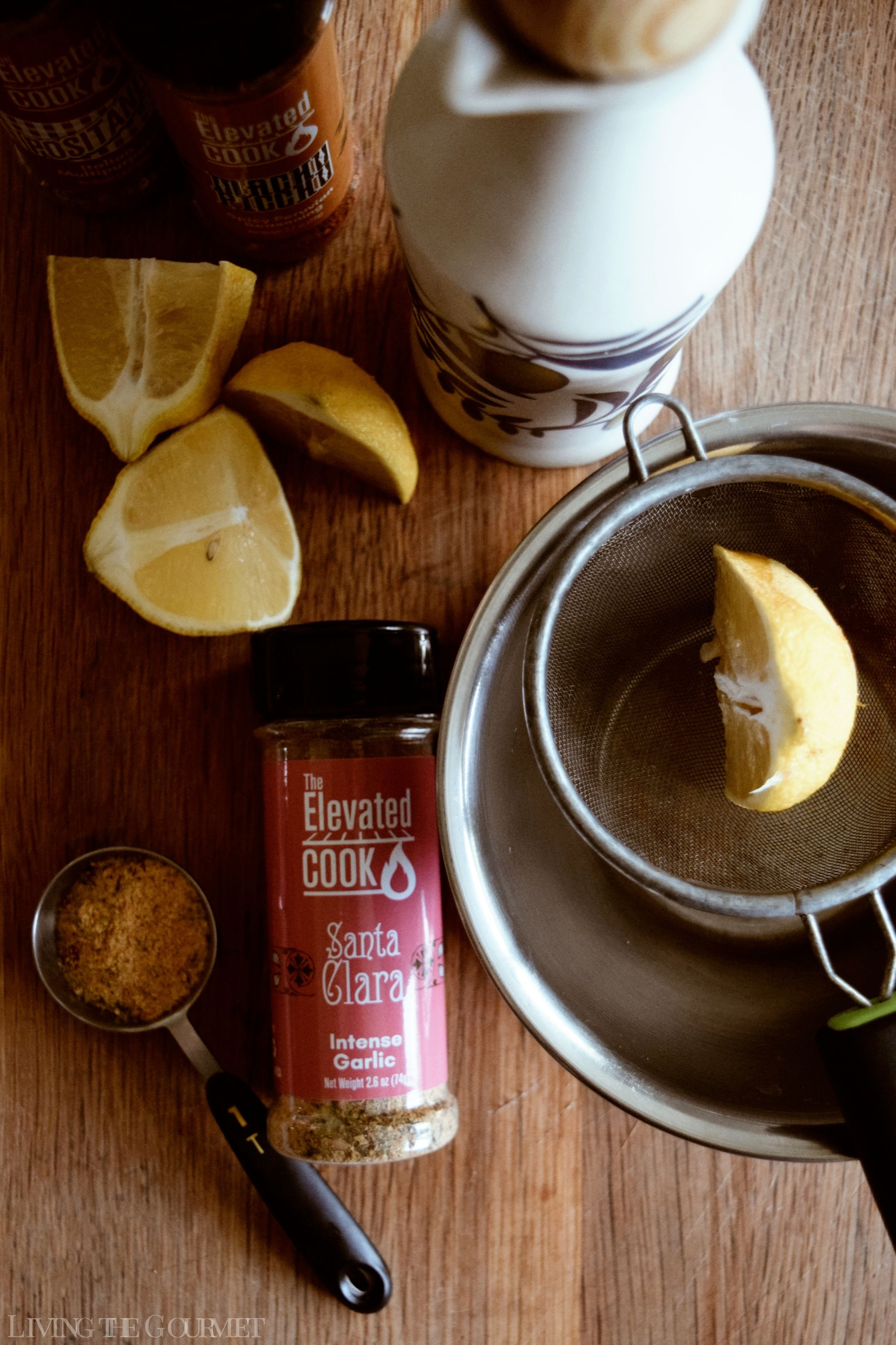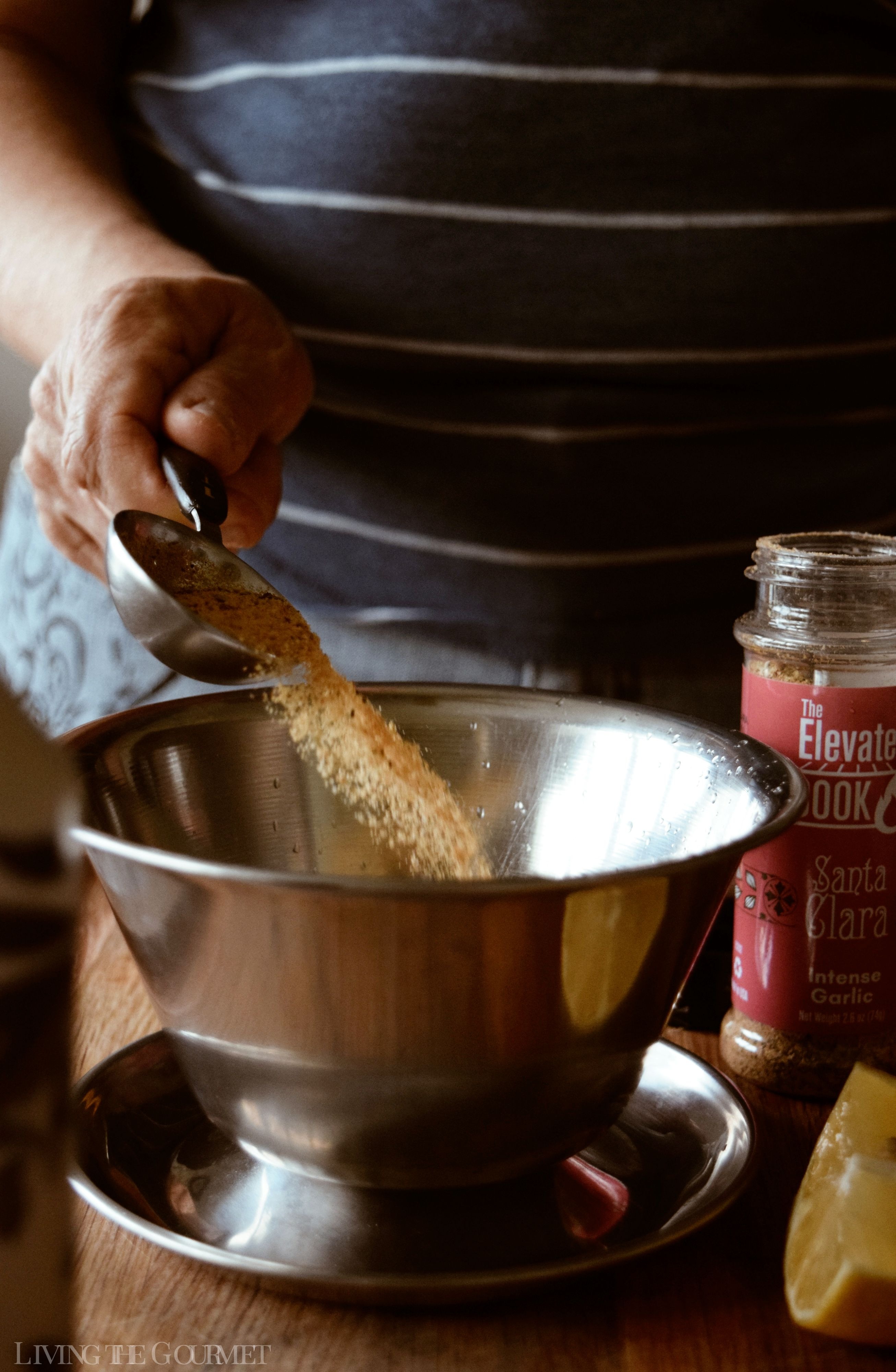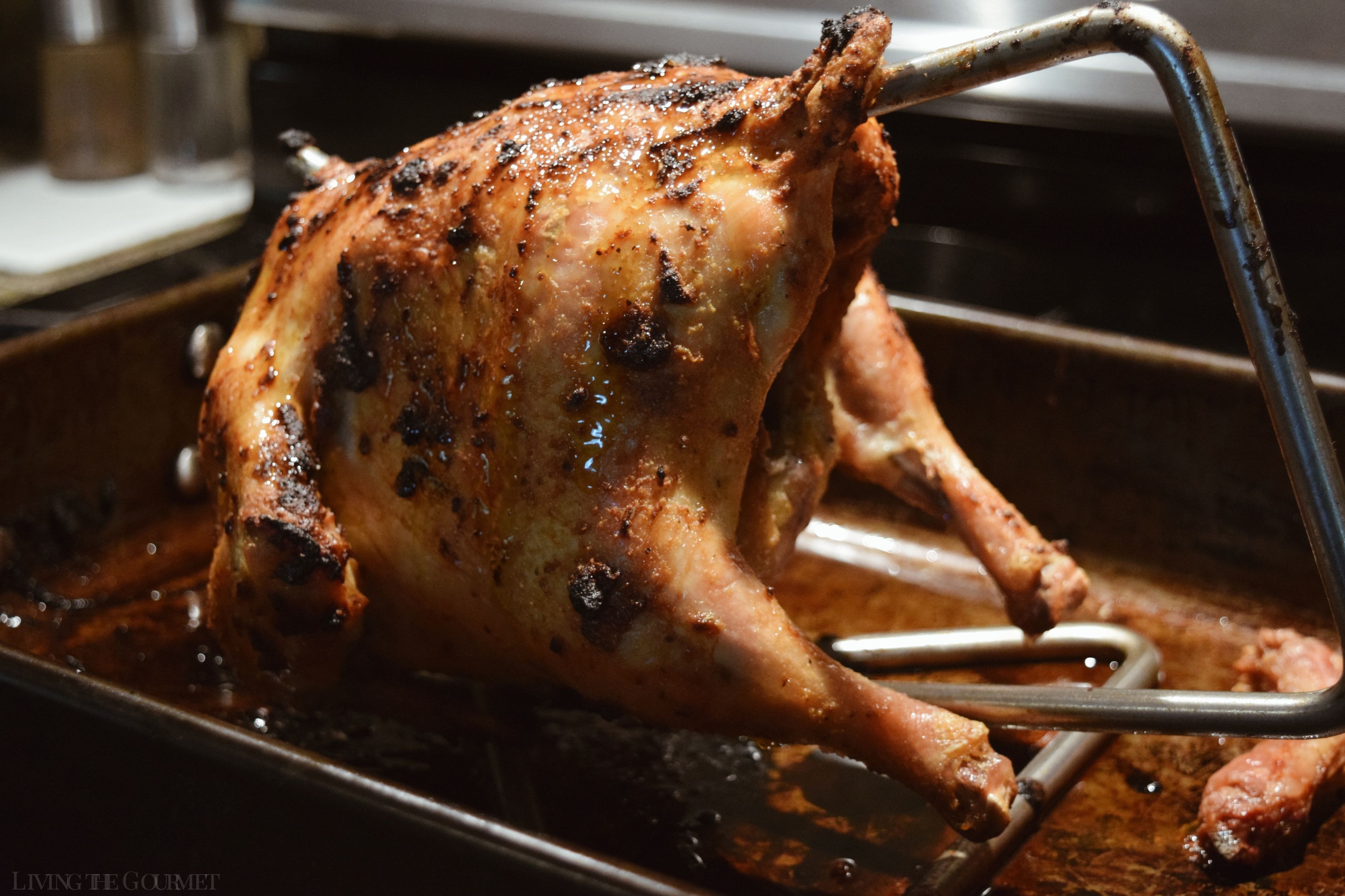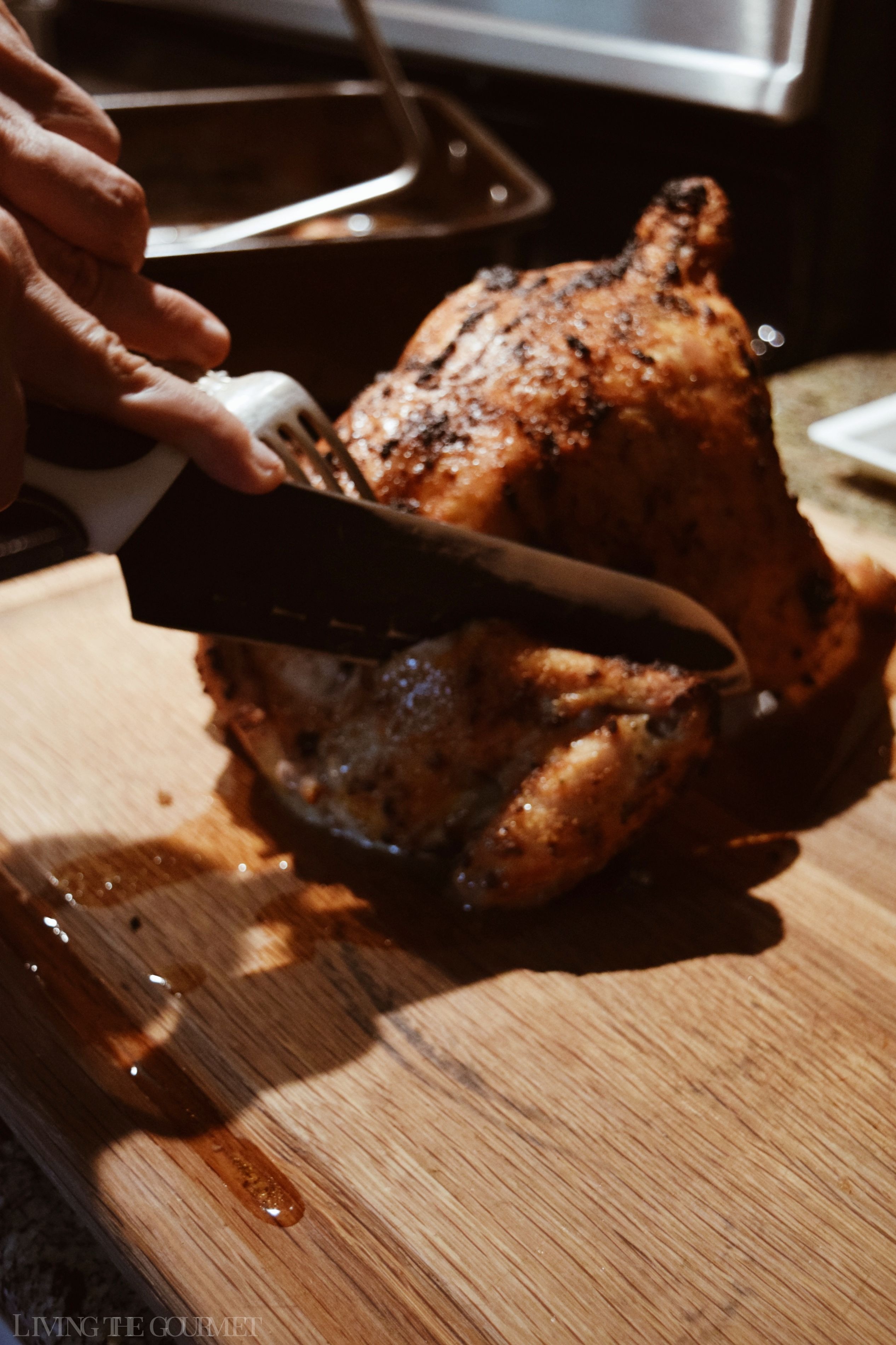 Living the Gourmet
Yields 1 whole chicken
DIY Rotisserie Chicken
10 minPrep Time
1 hr, 30 Cook Time
1 hr, 40 Total Time
5 based on 20 review(s)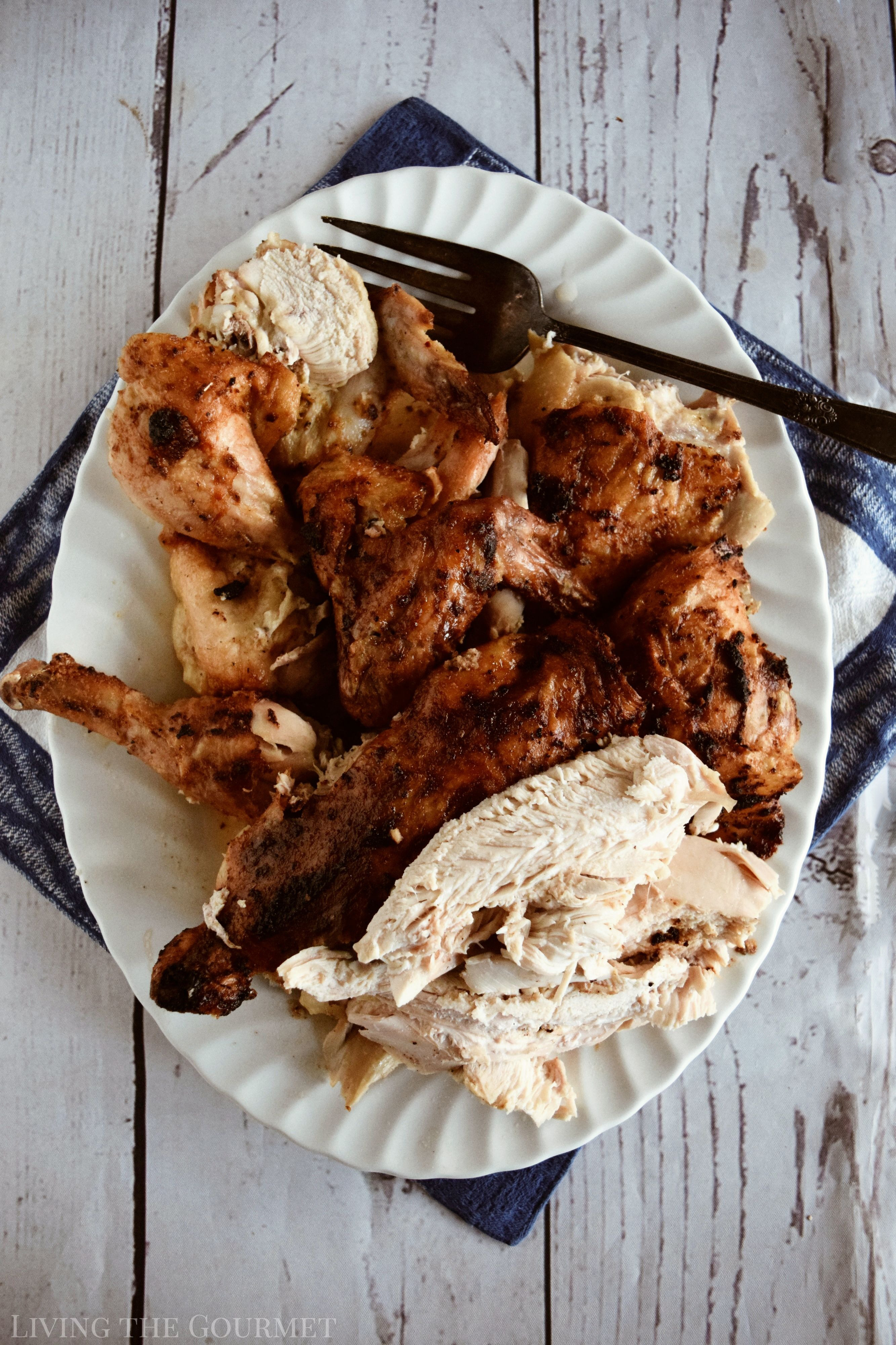 Ingredients
3 1/2 lb. whole chicken - cleaned

Rub for the Chicken

3 tbs. The Elevated Cook Santa Clara
2 1/2 tbs. fresh lemon juice
2 1/2 tbs. olive oil
Instructions
Combine the ingredients for the rub in a small bowl and stir to form a creamy mixture.
Massage the skin of the chicken with the rub.
Place on the hook and place in a large baking pan.
Preheat oven 350 degree F.
Place the chicken in the oven.
Bake 1 1/4 to 1 1/2 hours or until the juices run clear and the skin is a beautiful golden color.
7.8.1.2
769
https://livingthegourmet.com/2018/08/diy-rotisserie-chicken.html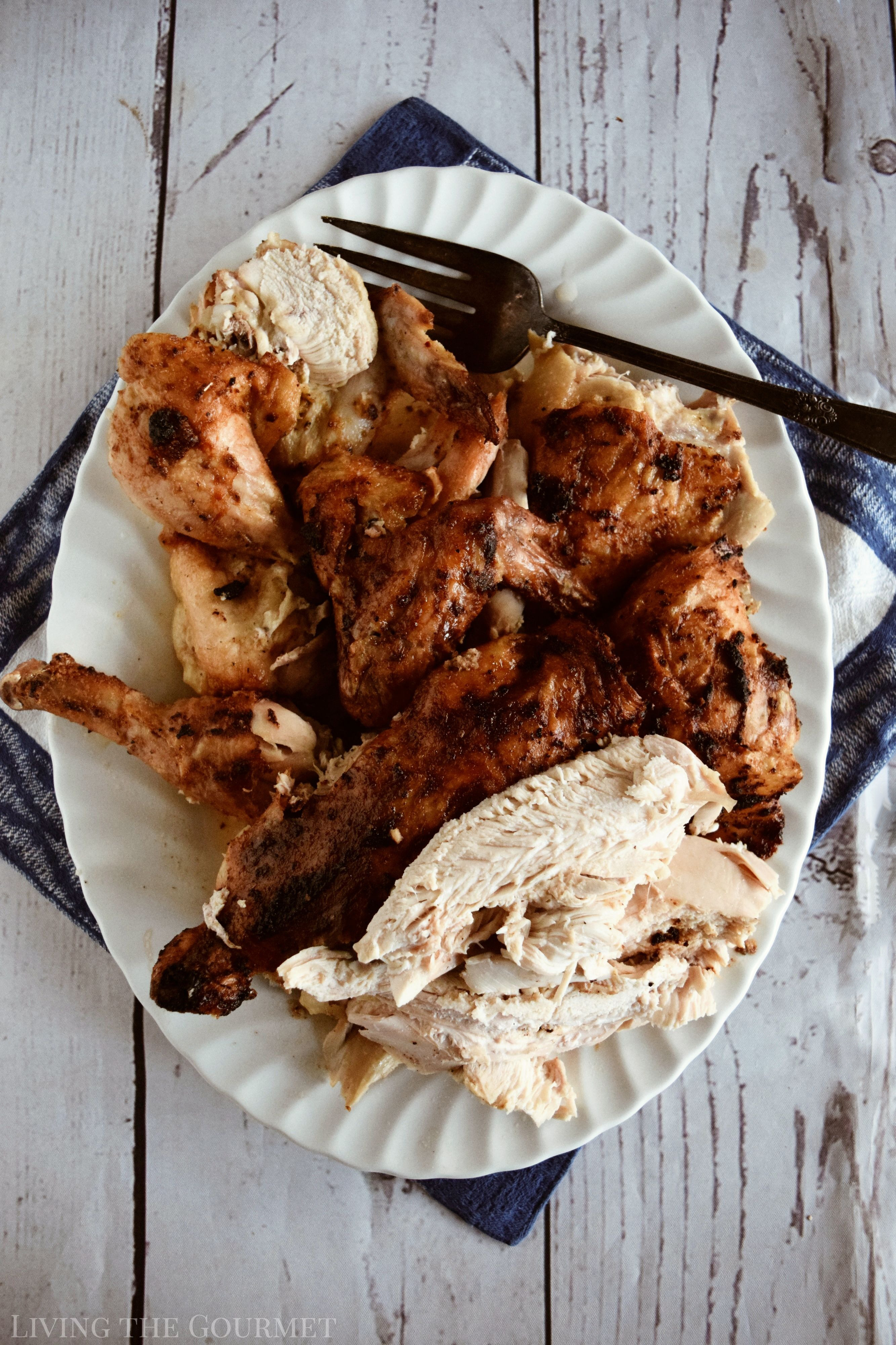 To start, combine the Elevated Cook's Intense Garlic seasoning with fresh lemon juice and olive oil, and then stir until they form a slightly creamy mixture, and rub that over the skin of the chicken thoroughly. Then simply place the chicken on the hook as shown below, and set the chicken on the hook in a large baking pan.
Then set that in a preheated oven of 350 degrees F. and bake for about ninety minutes, or until the juices run clear and skin is a nice golden color as pictured below.
And just like that, you've got 'rotisserie' chicken.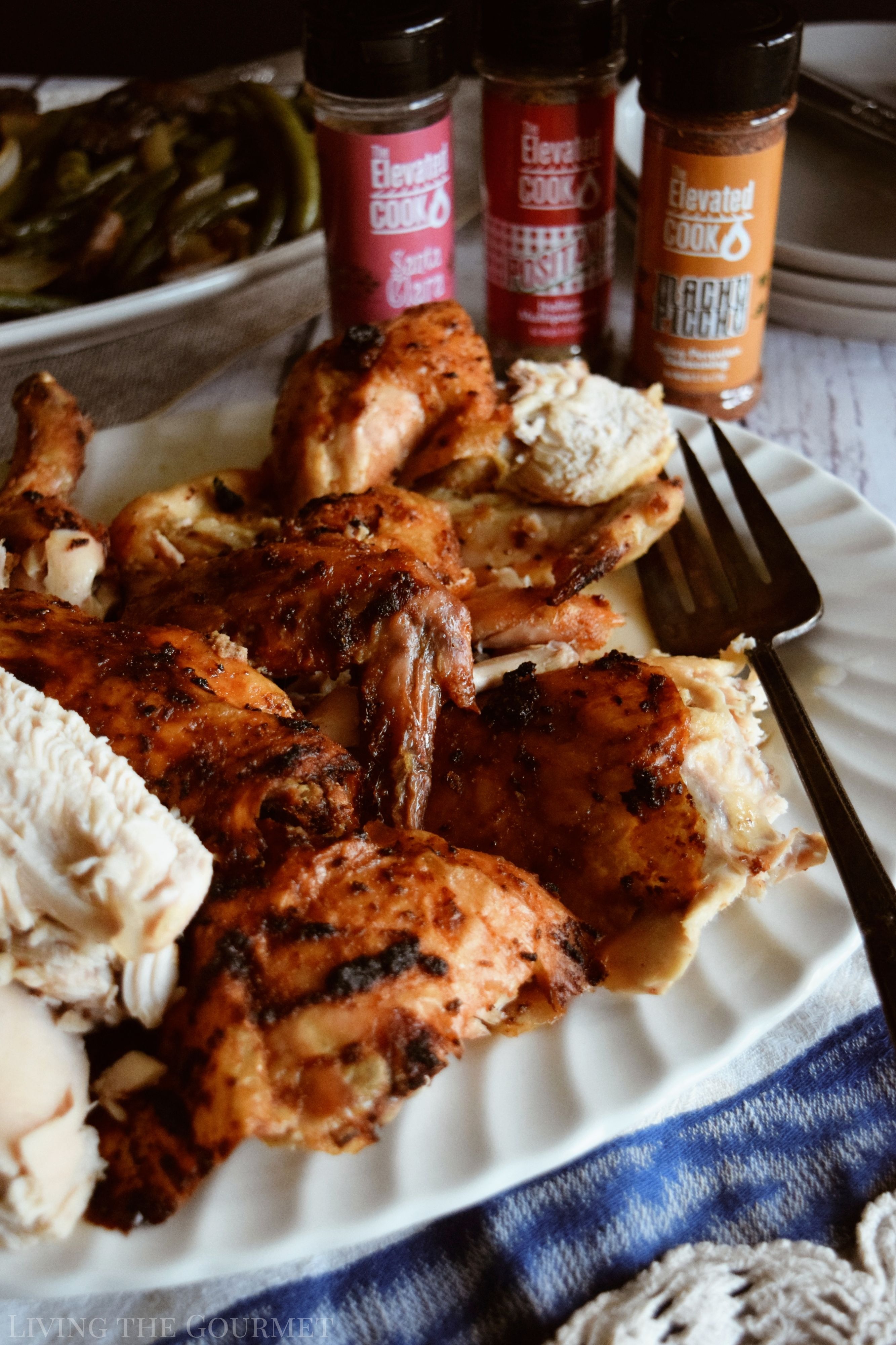 Enjoy with Love!
0