Spruce up your summer tablescape with Calamityware porcelain dining sets. Today we're revisiting an old LTG classic- Breaded Skirt Steak and serving it alongside Wedged Salad with a Green Goddess Dressing.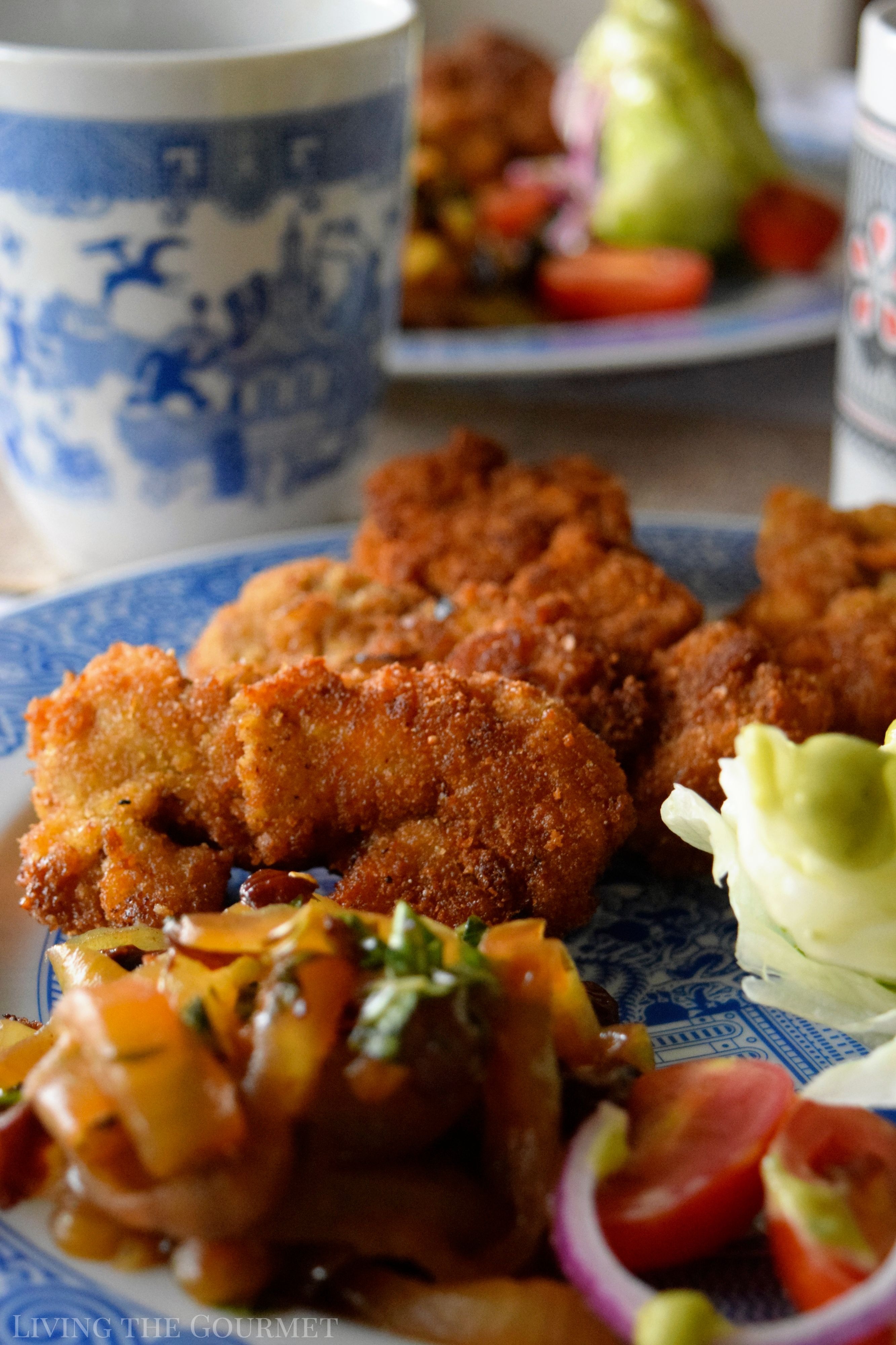 The Horror of awkward silence.
We've all experienced it at some point or another – some of us admittedly more so than others. For example, perhaps you've had an old acquaintance over for a dinner party, and you've known each other so long that you really have nothing left to discover or learn about from one another, and after an hour or so the small talk runs its course – cue a few minutes that seems like an eternity staring down into your phones or into your plates while waiting for the 'Conversation Muse' to inspire one of you to refresh the night's discourse.
However, suppose you didn't need to wait for the blessing of the Muse, suppose there was a zombie poodle in front of either yourself or your guest. A quick round of laughs and chatter would follow, and the evening would be back on track.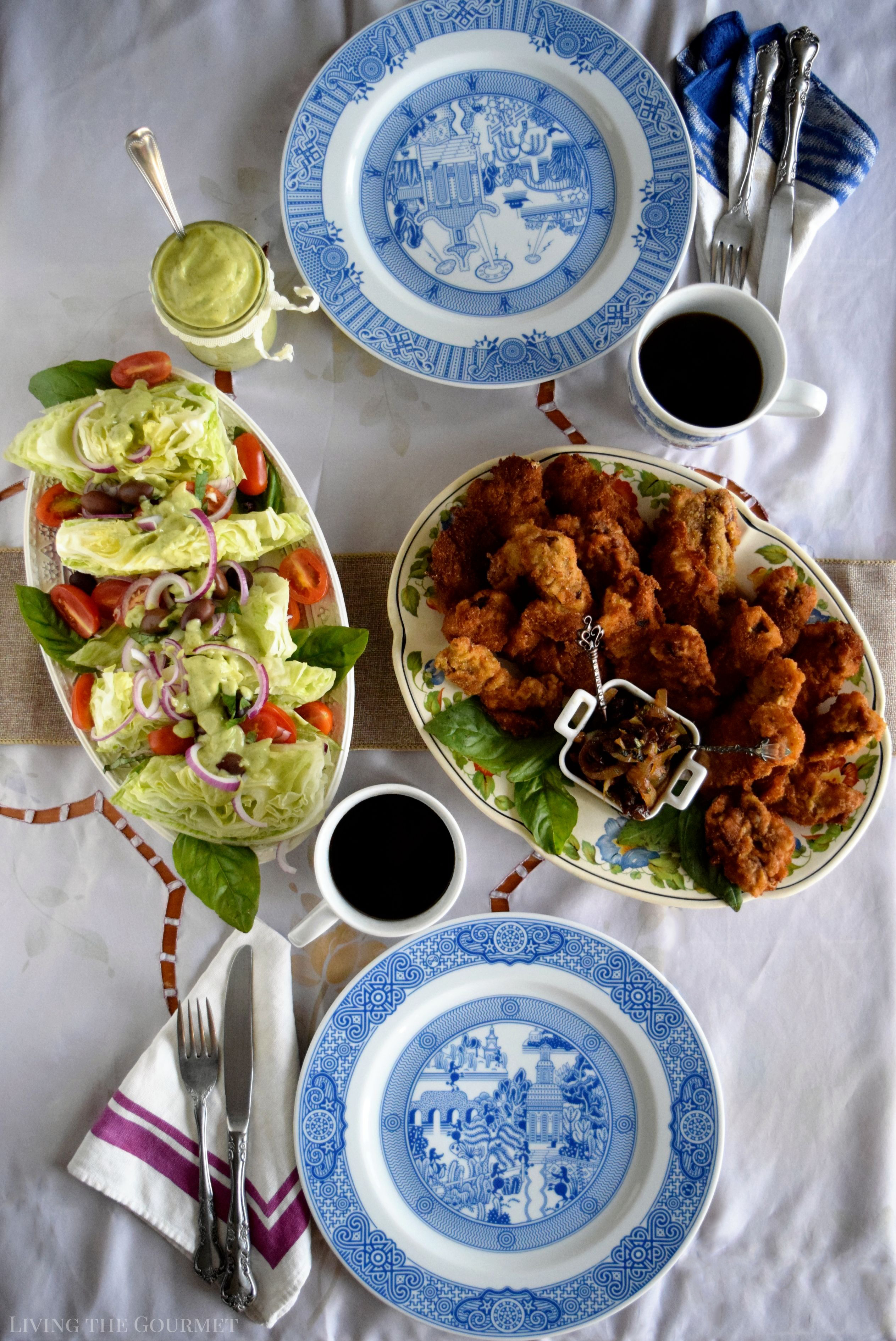 The Dread of Unnecessary Formality.
I'm guilty of this one. You've invited a couple of friends and maybe a family member or two over for an 'impromptu' dinner. For them it's impromptu, for me it's an exercise in 'My Craft.' The table setting has to be just right, the wine has to be paired perfectly both for the meal and the appetizer, as I have a reputation to upkeep, the playlists have to be primed and ready to go, the lighting has to be just so, and the entire meal has to be prepared for when they walk in the door, except of course for the 'last touches' which I always purposefully prepare just as they are arriving so it looks as though I'm being laid back and casual about all of it, since there's a certain charm to seeing the dinner host preparing something in the kitchen. After all, if 'everything' is prepared for the guest before they arrive, they feel like they're late, and of course kitchen prep makes for fantastic ice-breaking conversation and diversion.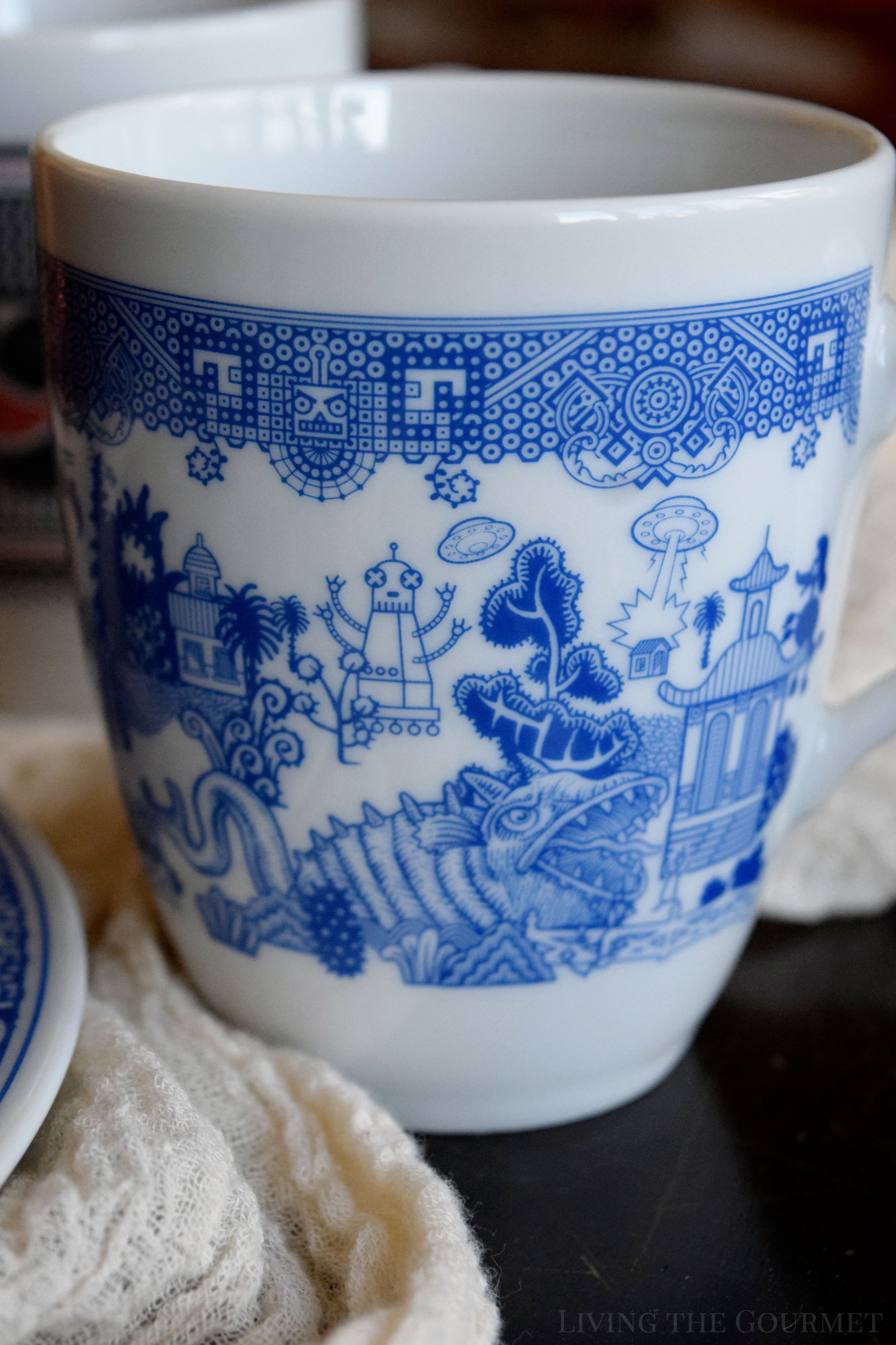 Yes, I do actually do all of that.
However, suppose each time you or your guest lifted your mug for a sip of tea or coffee you inadvertently toasted a 'Classy Curse' to each other, or a reminder that 'Things Could Be Worse' since, after all, aliens and killer robots aren't attacking – yet. The formality would be instantly relaxed without losing even an ounce of the night's planned elegance.
All of that brings us to perhaps the single most unique set of elegant dishware I've ever come across – Calamityware by sketch artist Don Moyer. No, the brand name does not indicate that these porcelain pieces will survive the ravages of an earthquake, instead it indicates what they depict, namely the aforementioned zombie poodles and classily delivered curses, along with pterodactyls, spiders, alien invasions, killer robots, and 'things from deep' – all delivered in what the artist himself calls a "Parody of traditional blue-willow designs."
I know what you're thinking, but stick with me on this.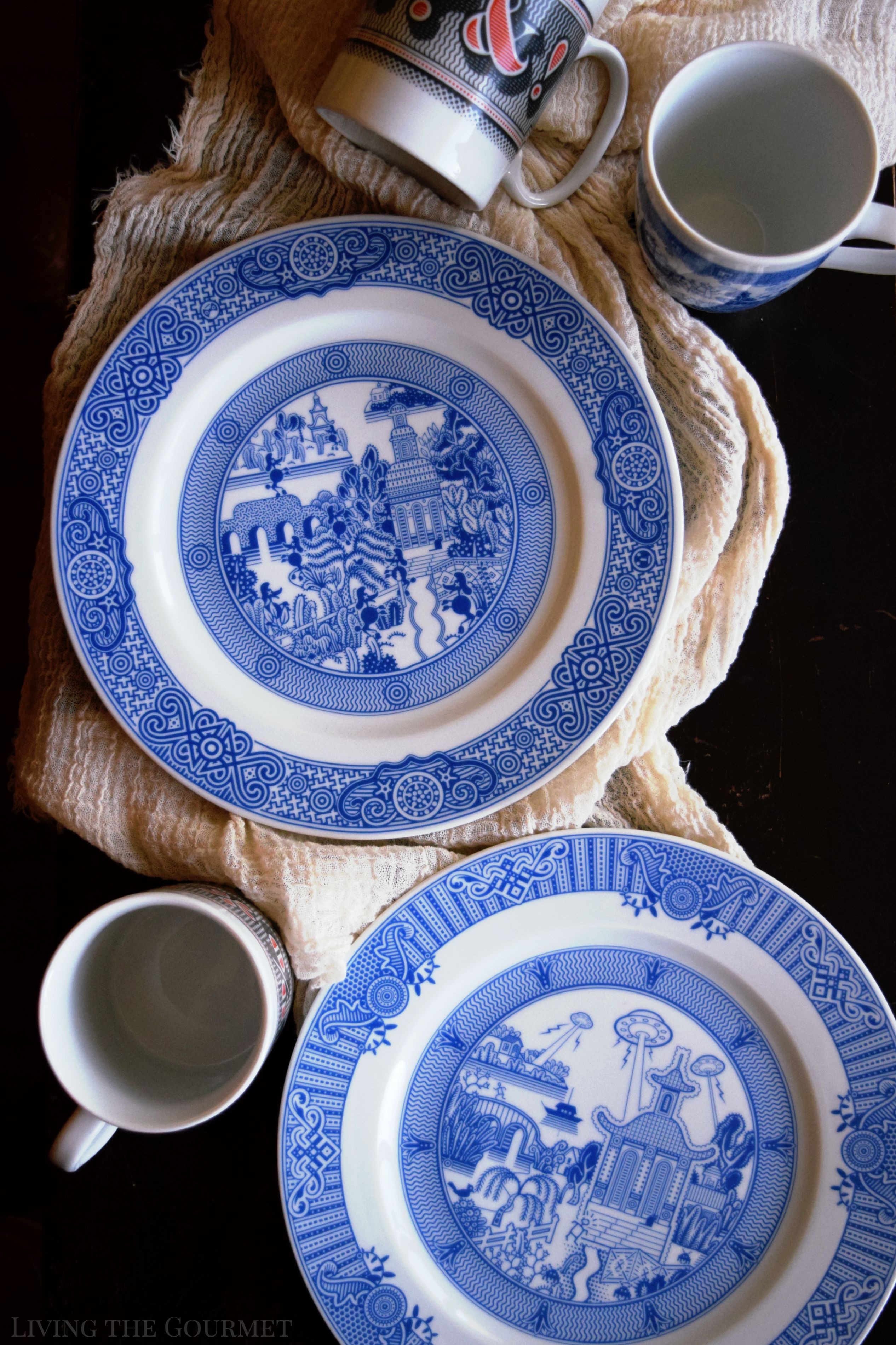 Trust me when I say that these aren't 'merely' novelty pieces for your nerd friends to get excited over (albeit my own nerd son positively lit up over them), nor are they solely for setting the table of an adult-friendly Halloween party (although these would serve astoundingly in such a setting). Instead, the designs on the ware are done with all of the elegance, talent, and attention to detail that you would find on traditional tableware. In fact, the artist relayed to me how his initial inspiration for the pieces came from a plate of his mother's that had been in the family from at least the 1890s, and how he was impressed with degree of detail and 'visual language' that had gone into that antique piece. That's what he wanted to recreate, but in a lighthearted parody form.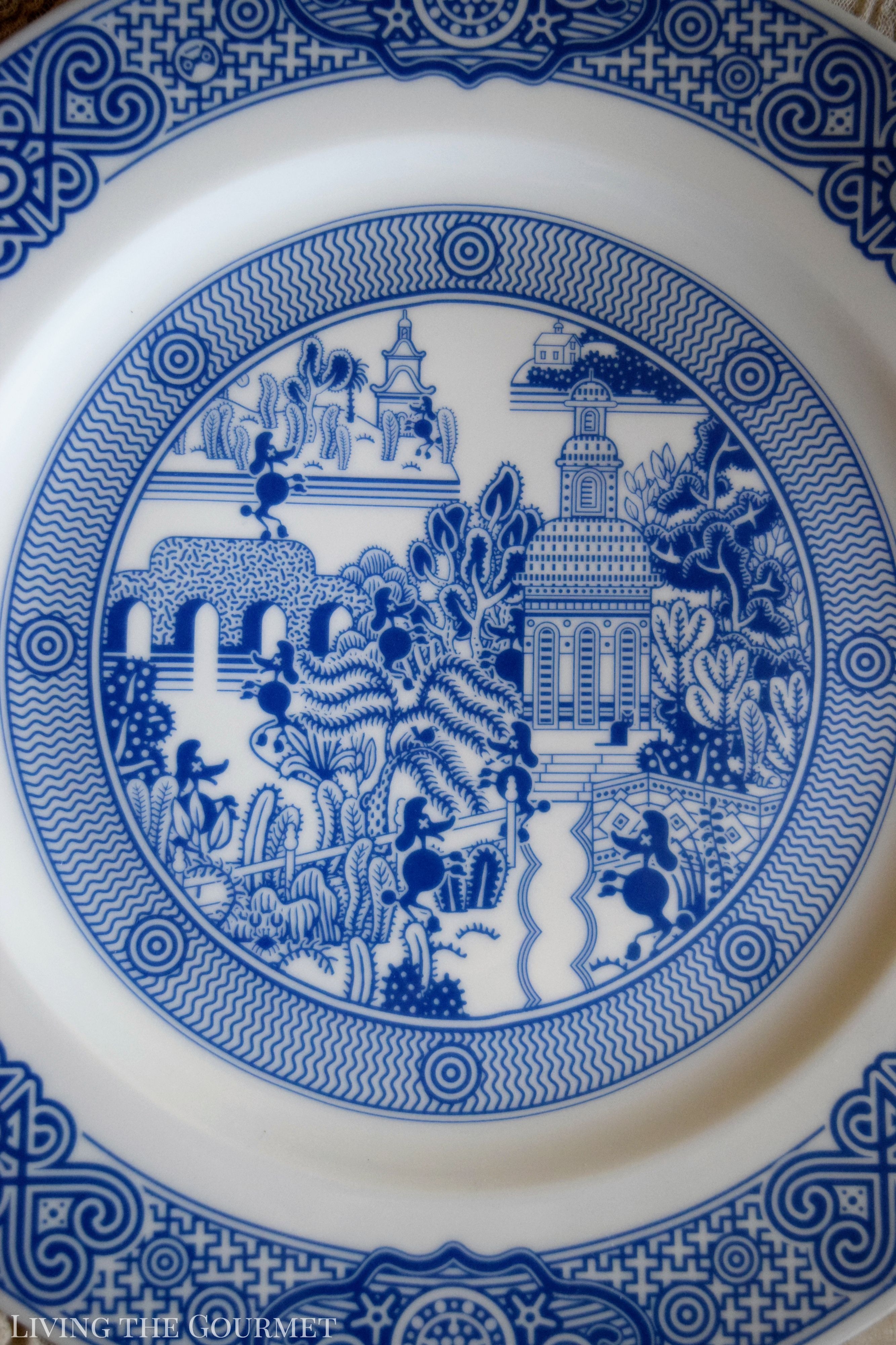 "The drawings I like best make me laugh," Don explained to me, and then recounted how he started on the first 'calamity' design. "I thought I'd draw my version of such a plate in my sketchbook. Not a copy, but a notation of what I had seen on the old plate. As I finished, it seemed right to give the design a twist. To leave my mark. So I substituted a pterodactyl in place of the usual birds. It was so much fun to draw the blue-willow scene and borders, that I did several more in a series. Each with its own odd calamity."
Don concluded, "If you pressed me to explain the subtext of my parody, I'd say it's the notion that modern audiences expect lots of thrills."
In other words, in a culture dominated by super-people in spandex staving off the latest faux-apocalypse and things going boom, why must the dishware remain boring?
Now, on the subject of thrills. Two words that are both 'thrilling' unto themselves are 'steak' and 'fried' – yet very rarely are these two words put together, and, as I'm sure you already know, that's precisely what we're doing today.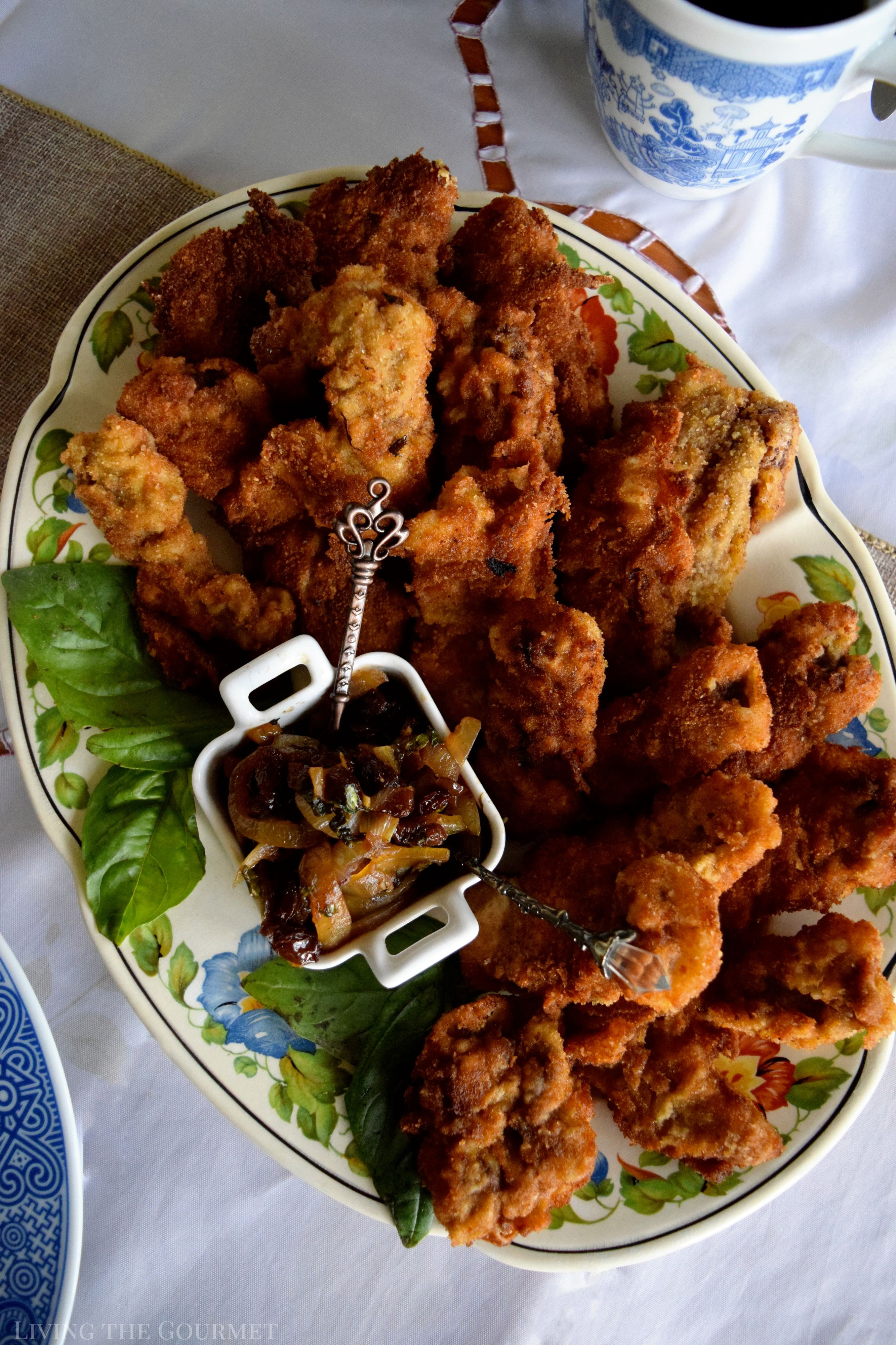 Breaded Skirt Steak plated on its own vision of Calamity.
In other words, a summer dinner served over a vision of the End of the World…there's a novel in that sentence somewhere, I'm sure.
To start things off, we begin by prepping our workstation – yes, our workstation, this isn't a 'quick' or 'easy' meal, we're treating ourselves today. For the workstation, you'll need three different bowls, preferably shallow, and fill one with flour, one with an egg-wash, and another with bread-crumbs.
Now, you're going to need about two and half pounds of skirt steak cut into strips. You'll want to keep the strips roughly bite-sized. Then dredge each piece of steak in the flour, then in the egg-wash, and then in the breadcrumbs as pictured below.
Once that's done, heat up a large cast-iron frying pan with about a half an inch of canola oil, and begin frying up the coated strips. Be very careful not to overcrowd the pan. You want each strip of steak to have at least a half an inch of free space around it.
The cook time here is about three minutes per side as described below.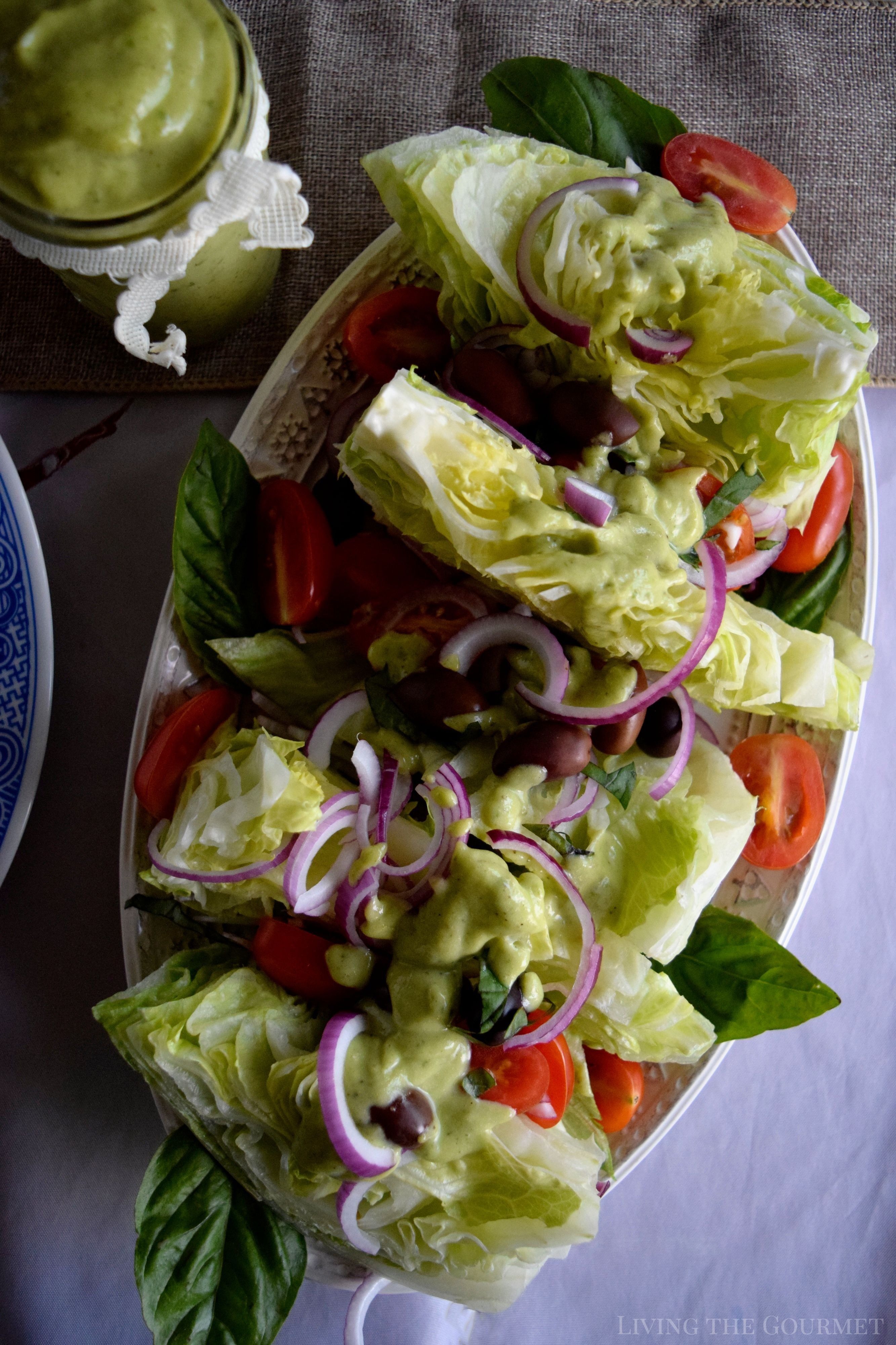 Now, for the salad. You'll probably be surprised to learn that one of my favorite ways to eat salad is to simply quarter a head of iceberg lettuce, arrange those on a platter with tomatoes, onions, and olives, and then top that with a dressing. It's simple, summery, relaxed, and has a certain charm to it – and that's exactly what I did here to today.
The dressing, however, is the star of this particular salad, the recipe for which is listed below.
On a side, I had taken the time to roast up and crumble some bacon bits. However, I got so sidetracked watching my new puppy's reaction to her 'First Ever Bacon,' that I simply forgot to sprinkle it over the salad for the pictures…so imagine there's bacon on the salad.
Finally, while the fried steak strips would pair great with a dash of hot sauce, I'm intent on turning the dial just a few more notches. After all, we've already come this far, so why not?
That brings us to the final item of the day – Sweet Onion Chutney.
Simply heat a large cast iron frying pan, dry, and add in the onions and let them roast.
Then add in the chopped garlic, raisins, the seasonings listed below, and then toss that together until the seasonings are well distributed. Then drizzle with olive oil, balsamic vinegar, add in the chopped basil and parsley, and toss again. You can serve this warm or cold according to your preference.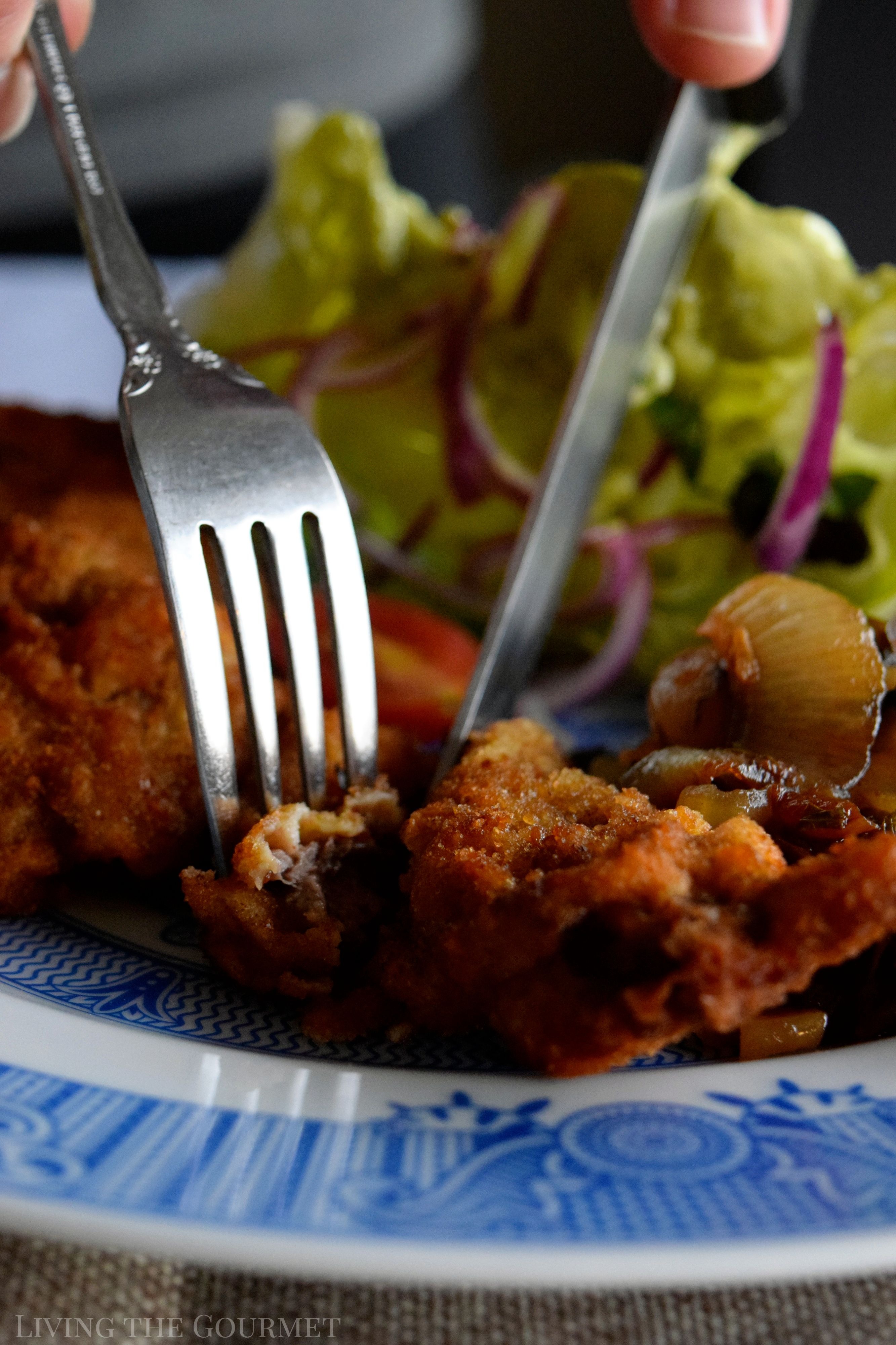 Living the Gourmet
Breaded Skirt Steak
10 minPrep Time
15 minCook Time
25 minTotal Time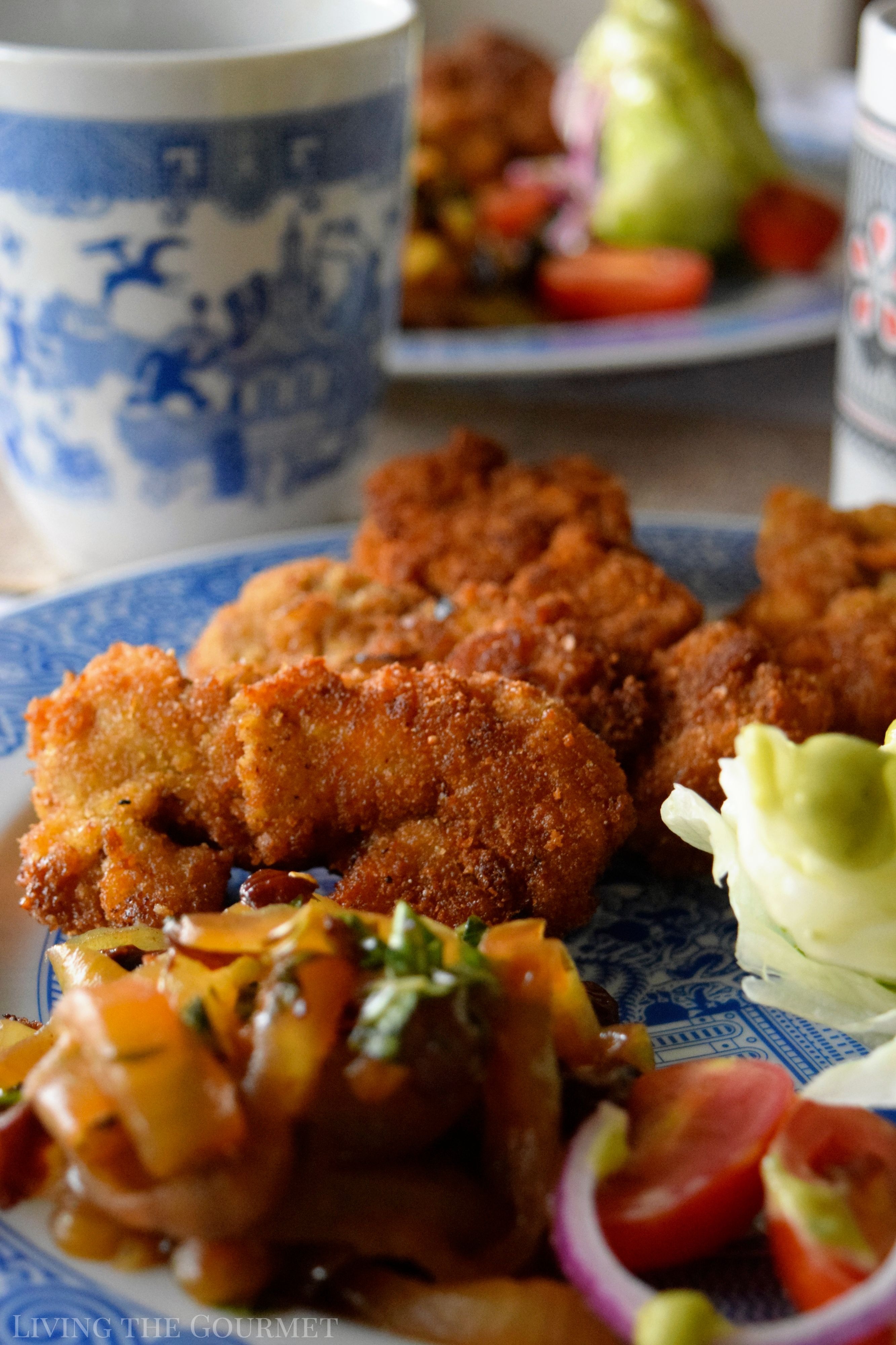 Ingredients
For the steak:

2 ½ lbs. skirt steak – cut into strips
1 ½ cups flour
2 ½ cups bread crumbs
4 eggs beaten with a splash of water
Canola oil for frying

For the onion chutney:

2 large sweet onions (Vidalia) - sliced
5 – 6 cloves of garlic – chopped
10 – 12 fresh basil leaves – chopped
½ cup of raisins – chopped
Healthy handful of fresh Italian parsley – stems removed and chopped
½ tsp. salt
½ tsp. fresh ground black pepper
¼ tsp. red pepper flakes
1 tbs. balsamic vinegar
2 tsp. sugar
2 – 3 tbs. olive oil

For the salad and dressing:

2 tbs. white vinegar
1 tsp. salt
1 tsp. fresh ground black pepper
¾ cup olive oil
1 – 2 cloves of garlic – roasted
3 tbs. sour cream
3 tbs. Parmesan cheese
Juice of 1 lemon
12 – 14 fresh basil leaves
½ tsp. dried oregano
4 – 5 tbs. honey
Instructions
For the steak:

Set a station with 3 bowls; one for the flour, one for the egg-wash and one with the bread crumbs.
Dredge each piece of steak first in the flour, then in the egg wash and finally in the breadcrumbs.
Heat a large cast-iron frying pan with about ½ inch of canola oil and place the prepared steak pieces carefully in the hot oil. Do Not Overcrowd the Pan!
When one side becomes a beautiful golden color turn over and let the other side become a beautiful golden color as well.
The cook time is about 2 – 3 minutes per side.
Remove the cooked pieces from the pan and place on a platter prepared with paper towels.

For the onion chutney:

Heat a large cast iron frying pan and add the sliced onions. Let the onions become a beautiful golden color.
Add the chopped garlic and raisins and toss. Add the seasonings and the sugar and toss.
Add the olive oil, balsamic vinegar and the chopped basil and parsley and toss.
Remove from the heat and serve warm or cold.

For the salad and dressing:

Combine all of the ingredients for the dressing in a food processor and process to desired consistency. Taste for your preference of seasonings.
7.8.1.2
756
https://livingthegourmet.com/2018/06/breaded-skirt-steak-2.html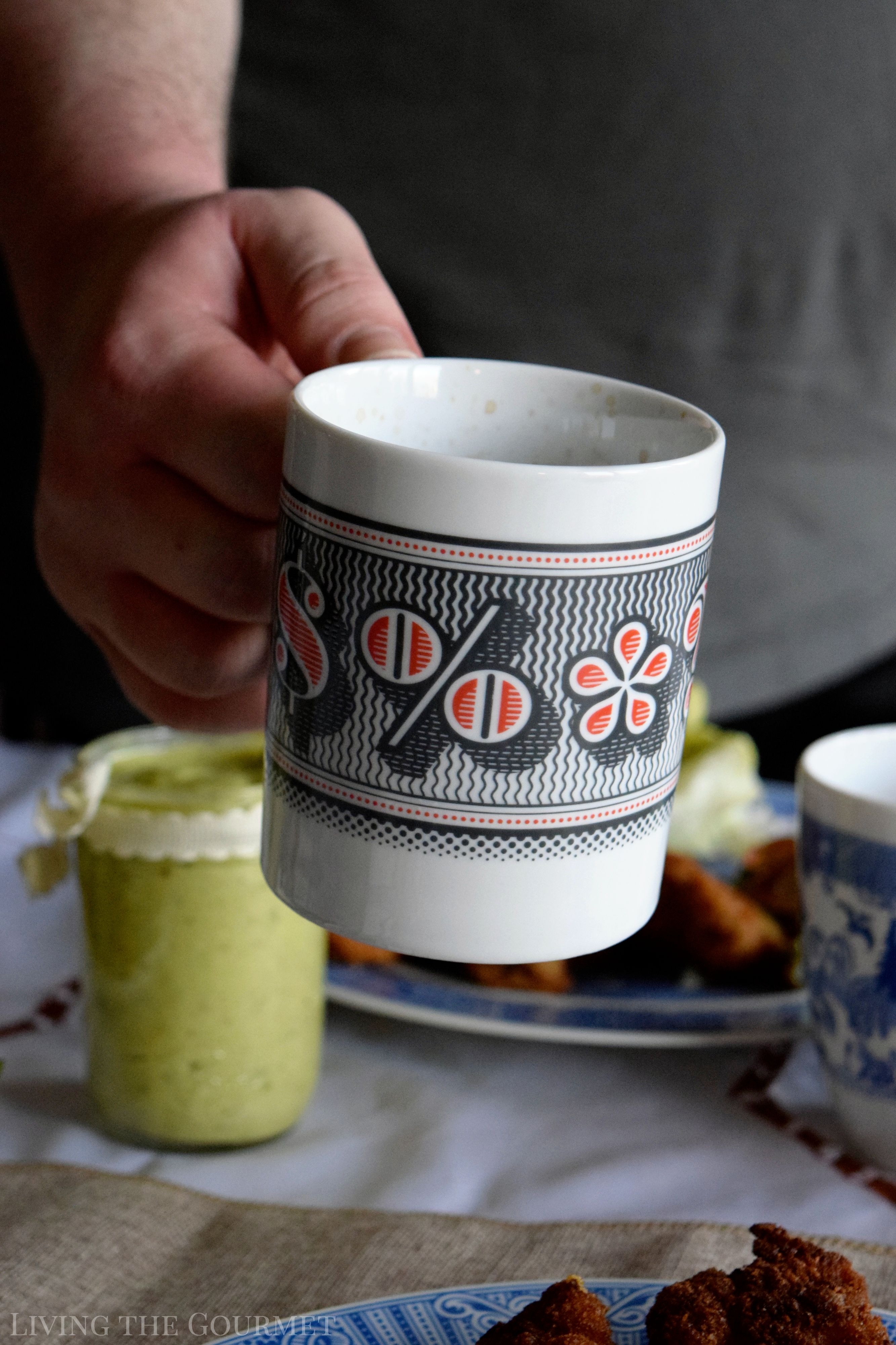 Now serve this all on some cataclysmic dishware, and you've got a laid-back summer feast that equal parts elegance, parody, and deliciousness.
To keep up with artist Don Moyer, be sure to visit Calamityware.com, or sign up for his newsletter.
Cheers!
3