This simple Eggplant Dip is easy and delicious for any gathering and pairs perfectly with Hello Delicious! Brands Pizza Chips.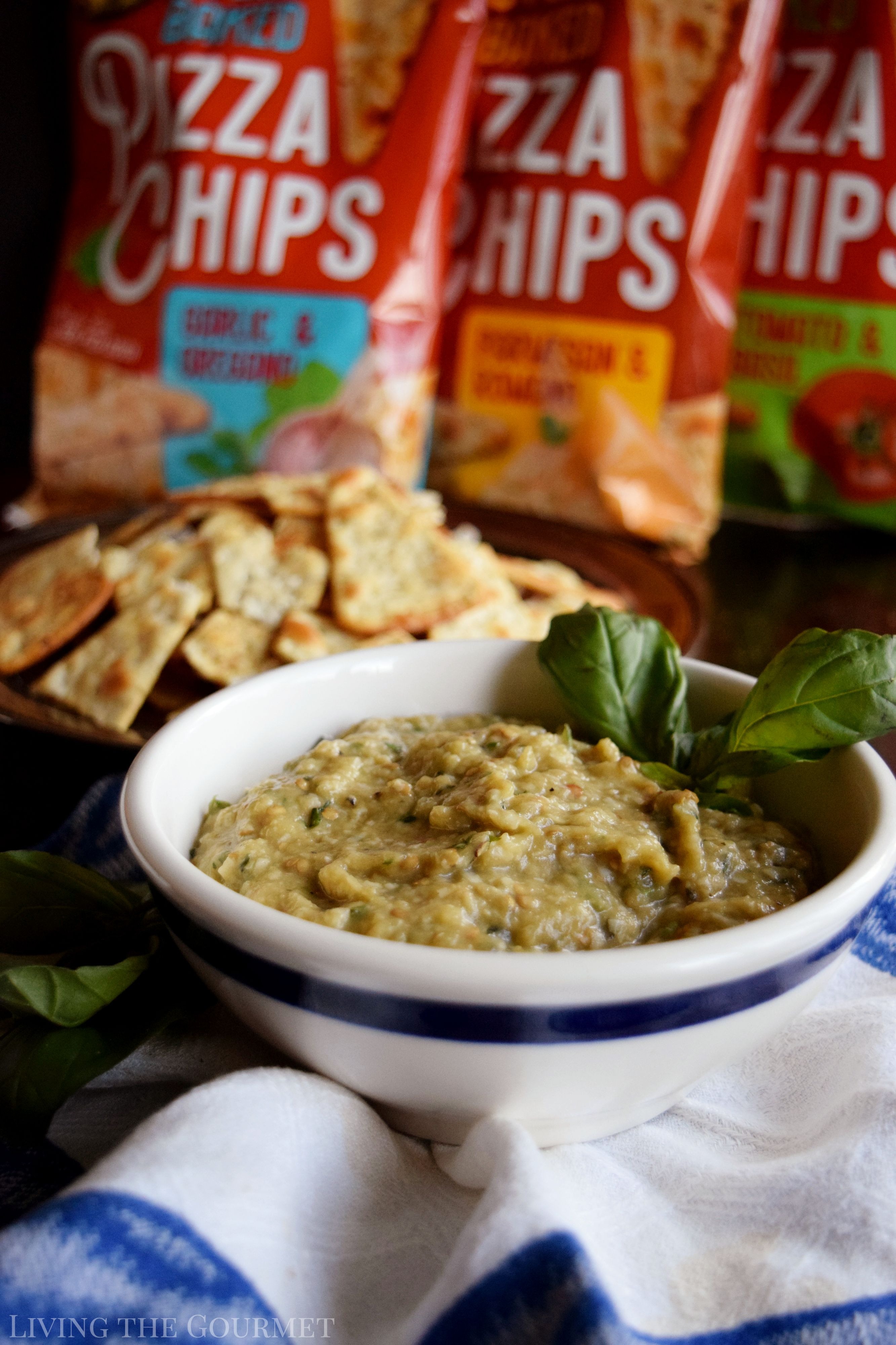 I tried to avoid using this quote, I really did, since I've used it here a few times in the past, but the more I tried to come up with something else the more apropos this seemed by comparison, and here it is – "Simplicity is its own virtue," as we are told by Plato.
One of the things I often dream about doing is perhaps one of the simplest things imaginable – sitting on my porch with precisely nothing to do or think about. It's one of those very simple but very elusive pleasures. Attempts to indulge this 'simple pleasure' are routinely thwarted by that perennial 'something' that 'needs' to be done, and by the self-defeating reassurance that there is of course 'always' tomorrow, except that tomorrow always seems to be just a few more hours off.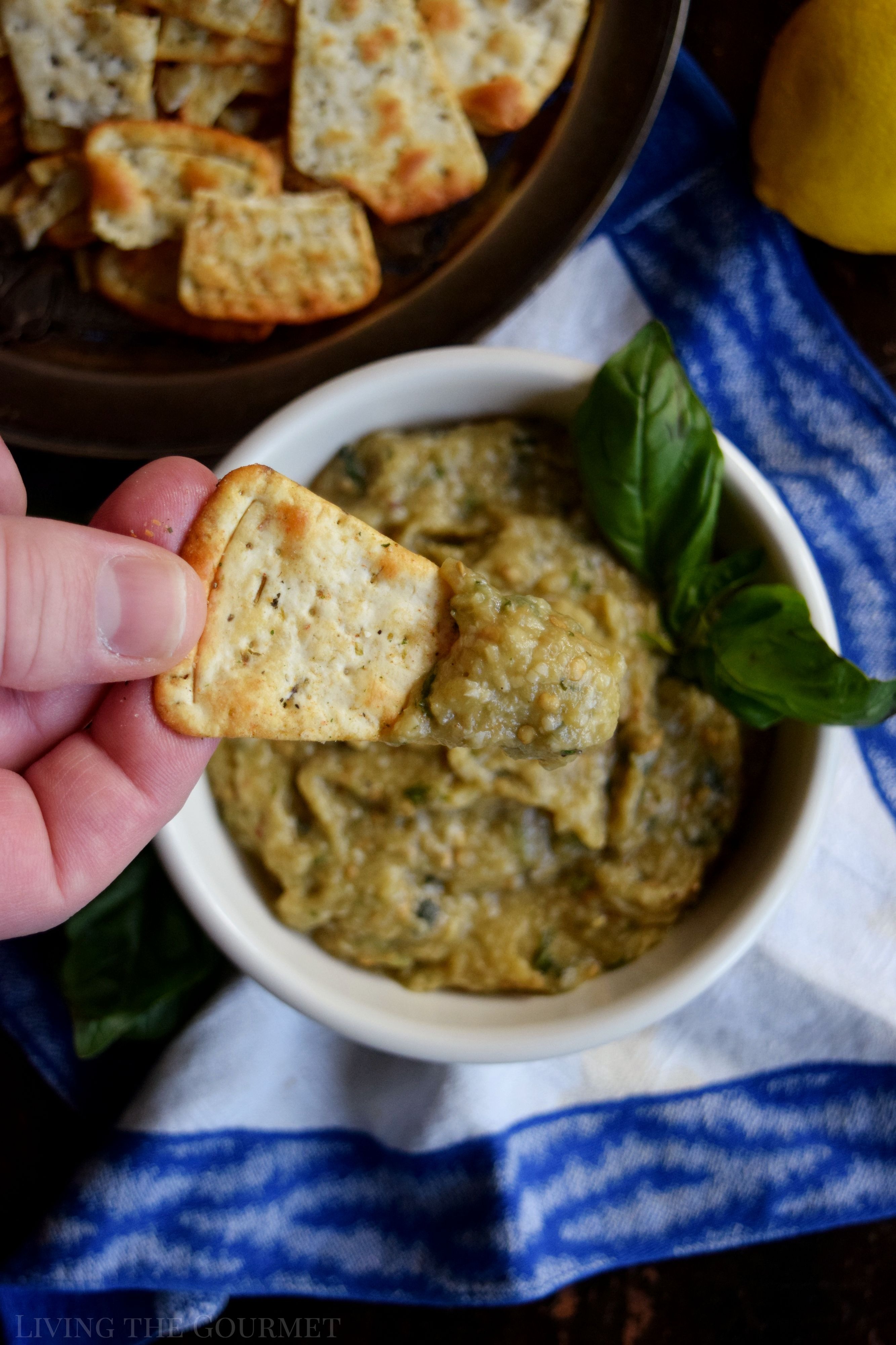 The idea of sitting outside in the still mildly chilly air, while savoring a seaside silence perforated by the laughter of seagulls and the rustling of river water always seems to remain just that – an idea. The idea of things like savory crackers and wine, or a platter of cheese, figs, and olives on a lazy afternoon, or just sitting and enjoying the simplicity of 'nothing' to do. These sorts of things are enhanced by the 'virtue' of their simplicity more than anything.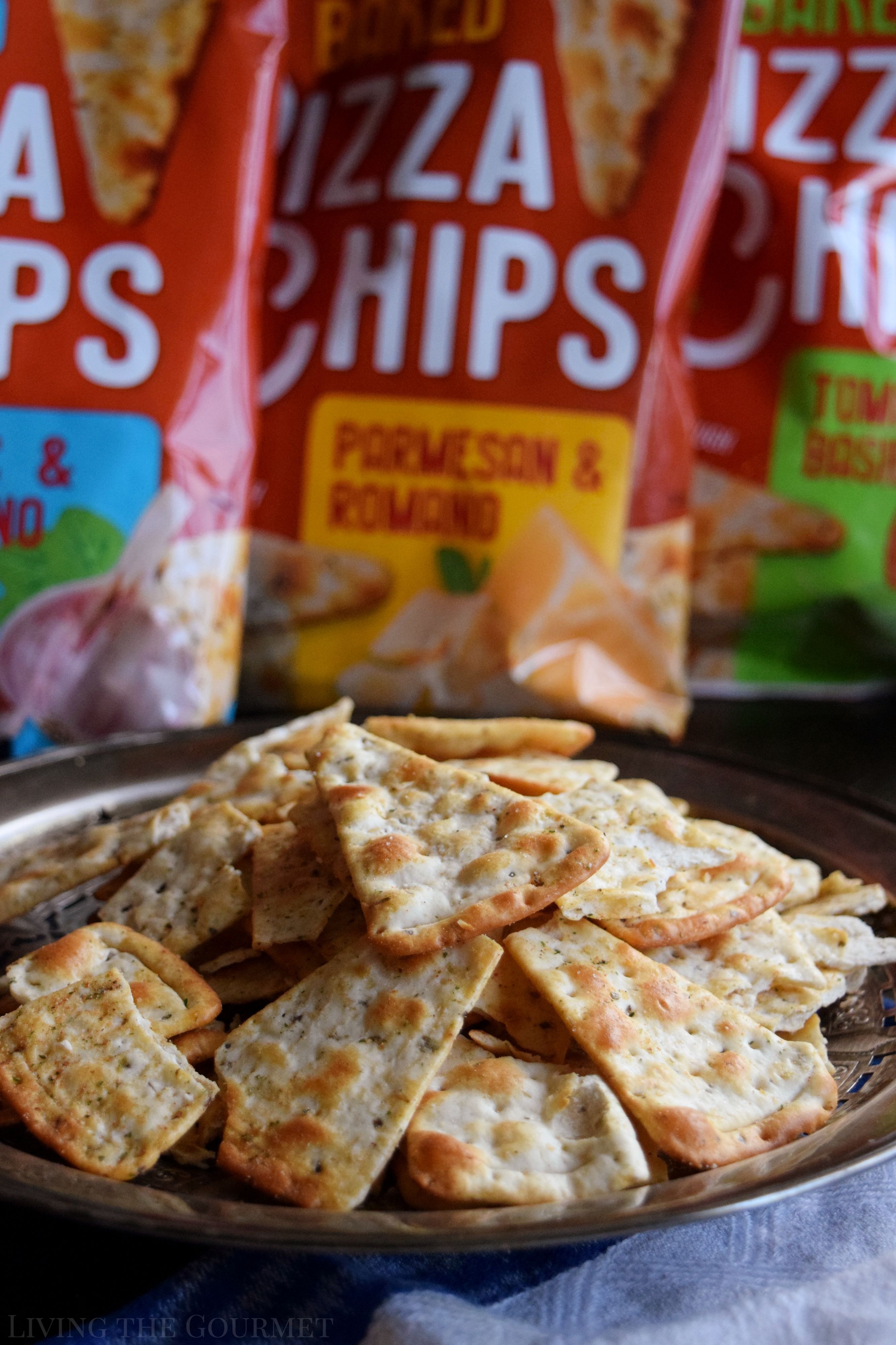 That said, I recently brought home a few bags of Hello Delicious! Brands Pizza Chips, which are made out of real pizza dough then oven baked to perfection. They are flavored to look and taste like pizza, my mind immediately went outside to my porch. I would take my first round of summer downtime and put my own spin on these flavorful Pizza Chips.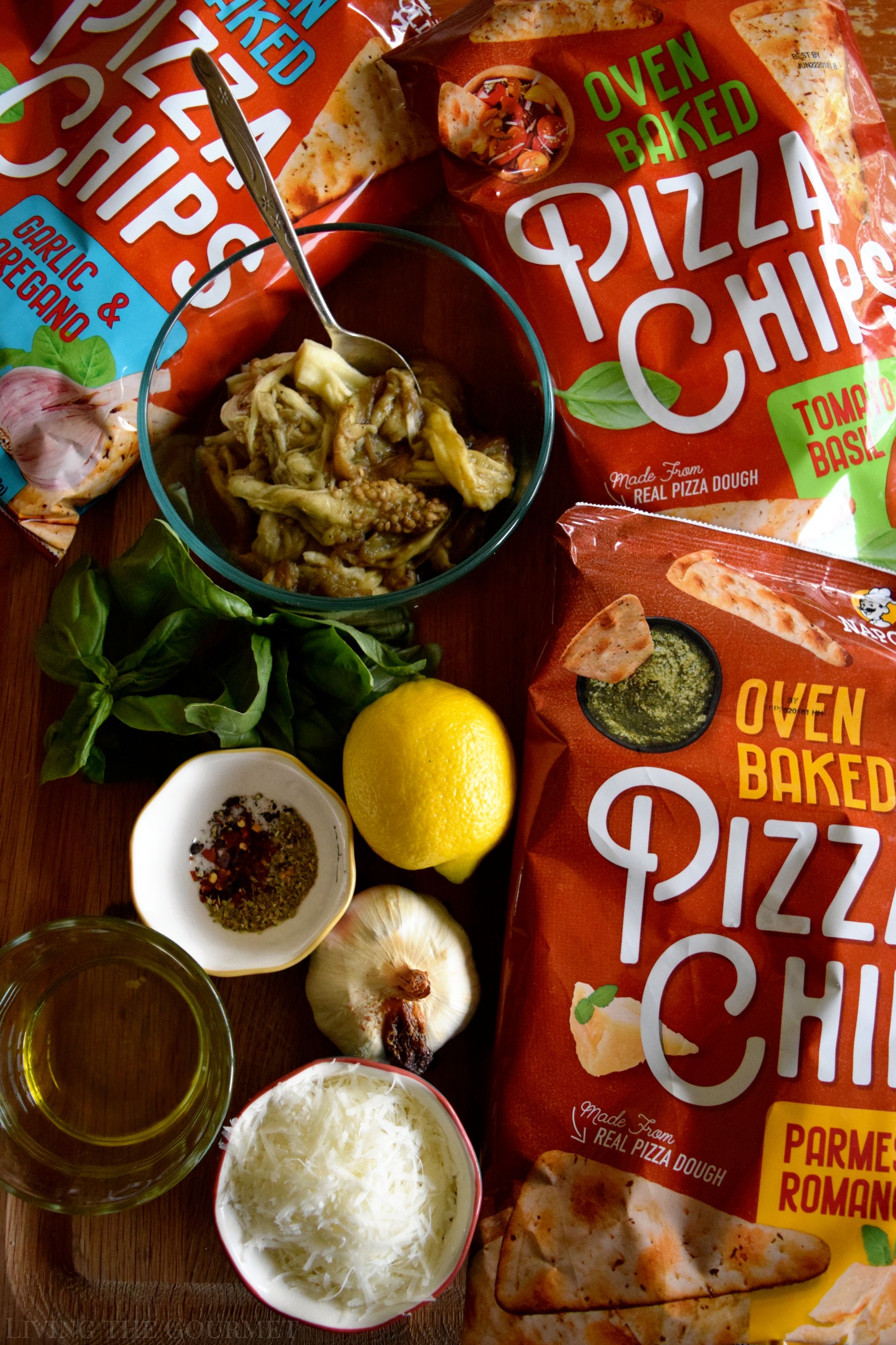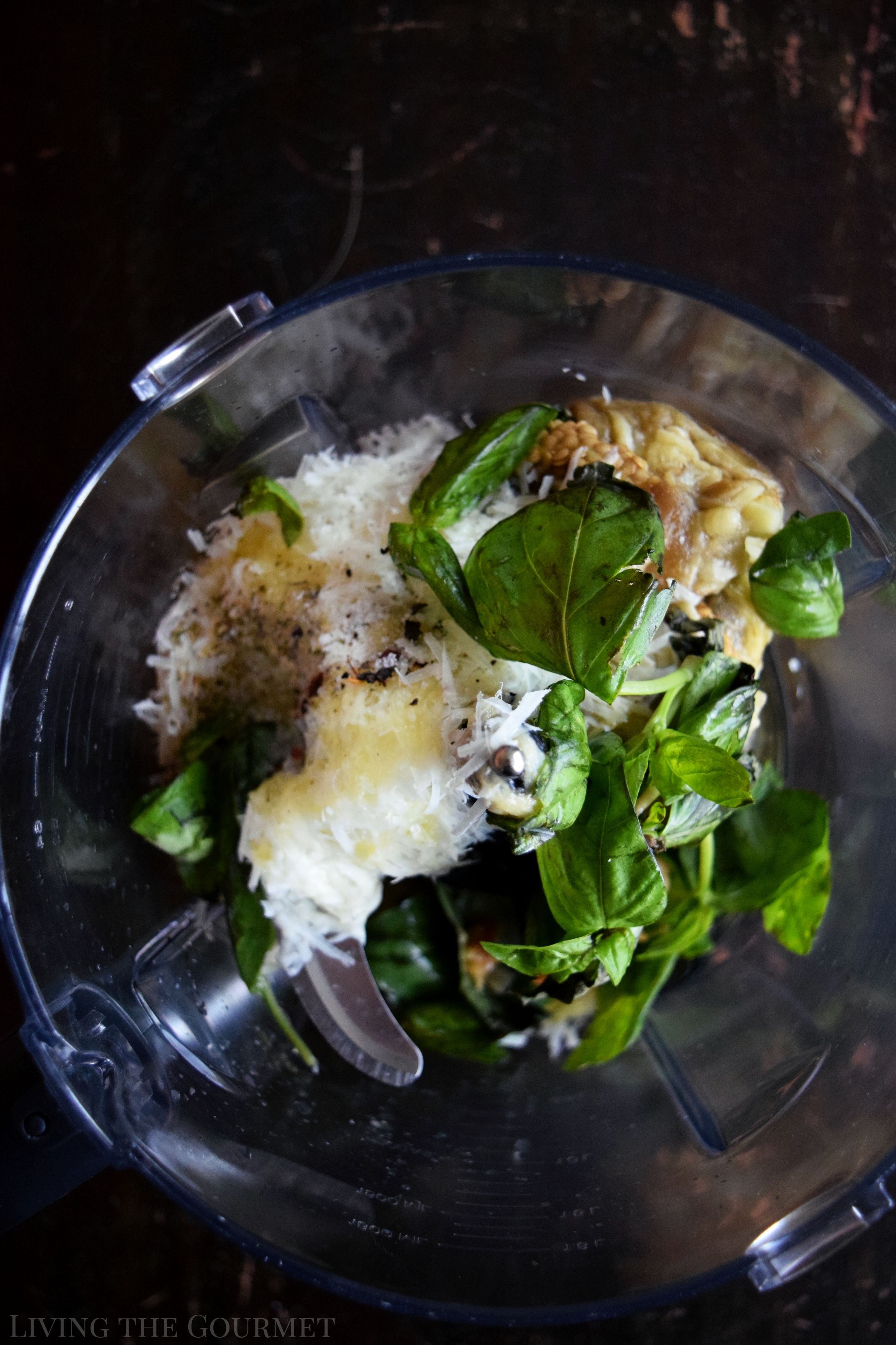 While these would pair great with the aforementioned wine, cheese, figs or olives, I decided instead to pair them with a Roasted Eggplant Dip – I know, but hear me out on this, it works. We begin with a whole eggplant, and one whole head of garlic, and we bake them in the oven whole for thirty to thirty-five minutes, or until the eggplant is wilted and soft. On a side note, you are baking both the eggplant and the garlic whole and in their skin. Do not peel the garlic.
After the garlic and eggplant have cooled, scoop the meat of the eggplant out into a bowl. Now, pop the garlic from its skin, and combine that in a food processor with the lemon juice, the eggplant, basil leaves, parmesan cheese, the seasonings listed below, and some olive oil, and give it a few good pulses until it has reached your desired consistency. I prefer mine more on the smooth side.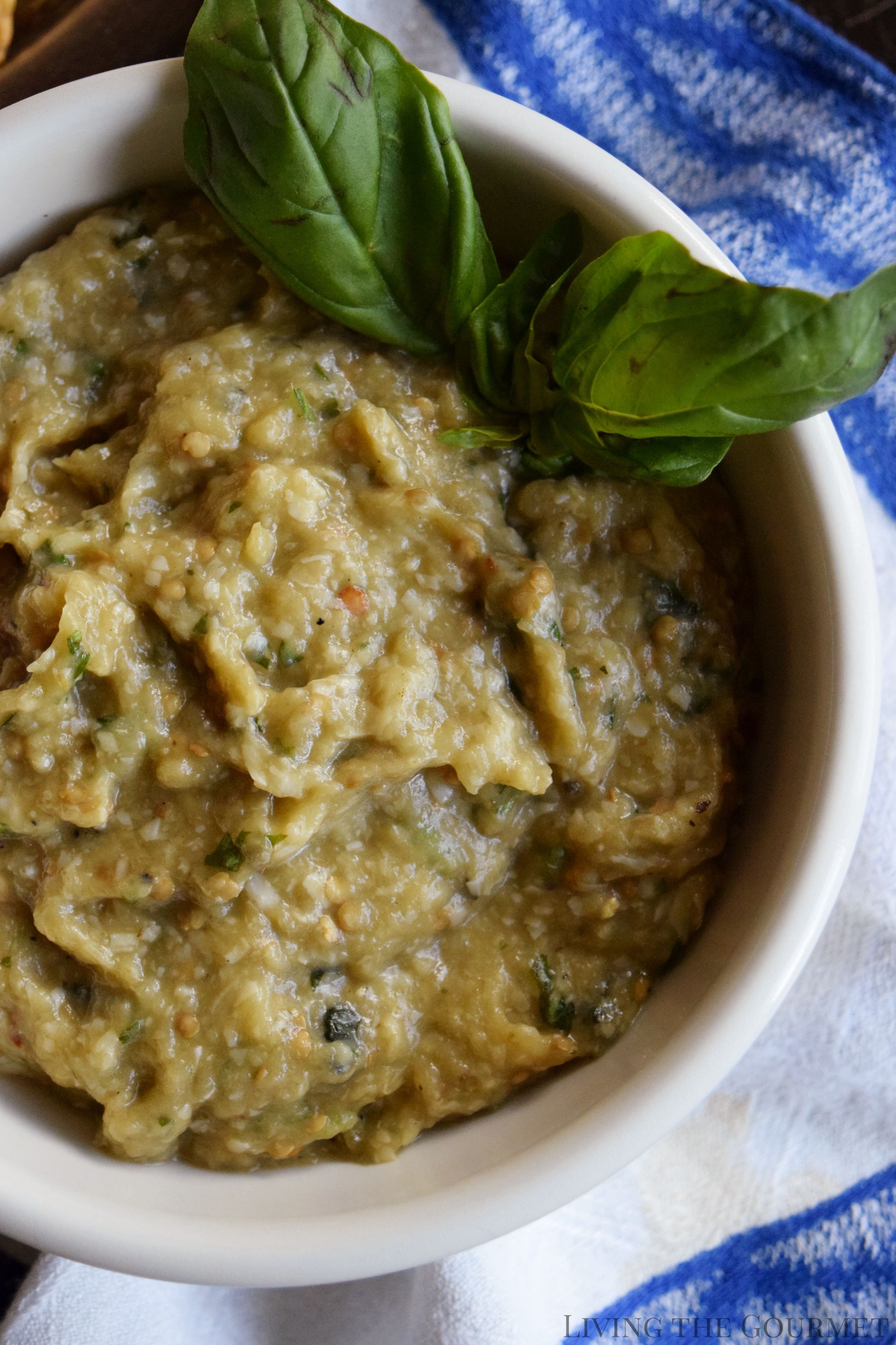 Print
Eggplant Dip with Hello Delicious! Brands Pizza Chips
Author:
Prep Time:

5 minutes

Cook Time:

30 minutes

Total Time:

35 minutes

Yield:

2 cups

1

x
Category:

Appetizer
1

eggplant – roasted
Juice of

1/2

lemon

8

–

10

fresh basil leaves

1/2

cup

of grated fresh Parmesan or Romano cheese

1

head of garlic – roasted

3

–

4

tbs. olive oil

1/2 tsp

. Salt

1/2 tsp

. black pepper

1/2

dried oregano

1/4 tsp

. red pepper flakes
Instructions
Preheat Oven 375 degrees F.
Bake eggplant and garlic for 35 – 30 minutes, or until the eggplant is wilted and soft.
Let the eggplant cool and then scoop the meat out and place in a bowl.
Pop the garlic from the skin and place the garlic, lemon juice, eggplant, basil leaves, Parmesan cheese, seasonings and olive oil in a food processor and give a few good chops until the desired consistency is achieved. Taste for seasonings.
Enjoy with the chips.
Refrigerate any leftover dip.
Recipe Card powered by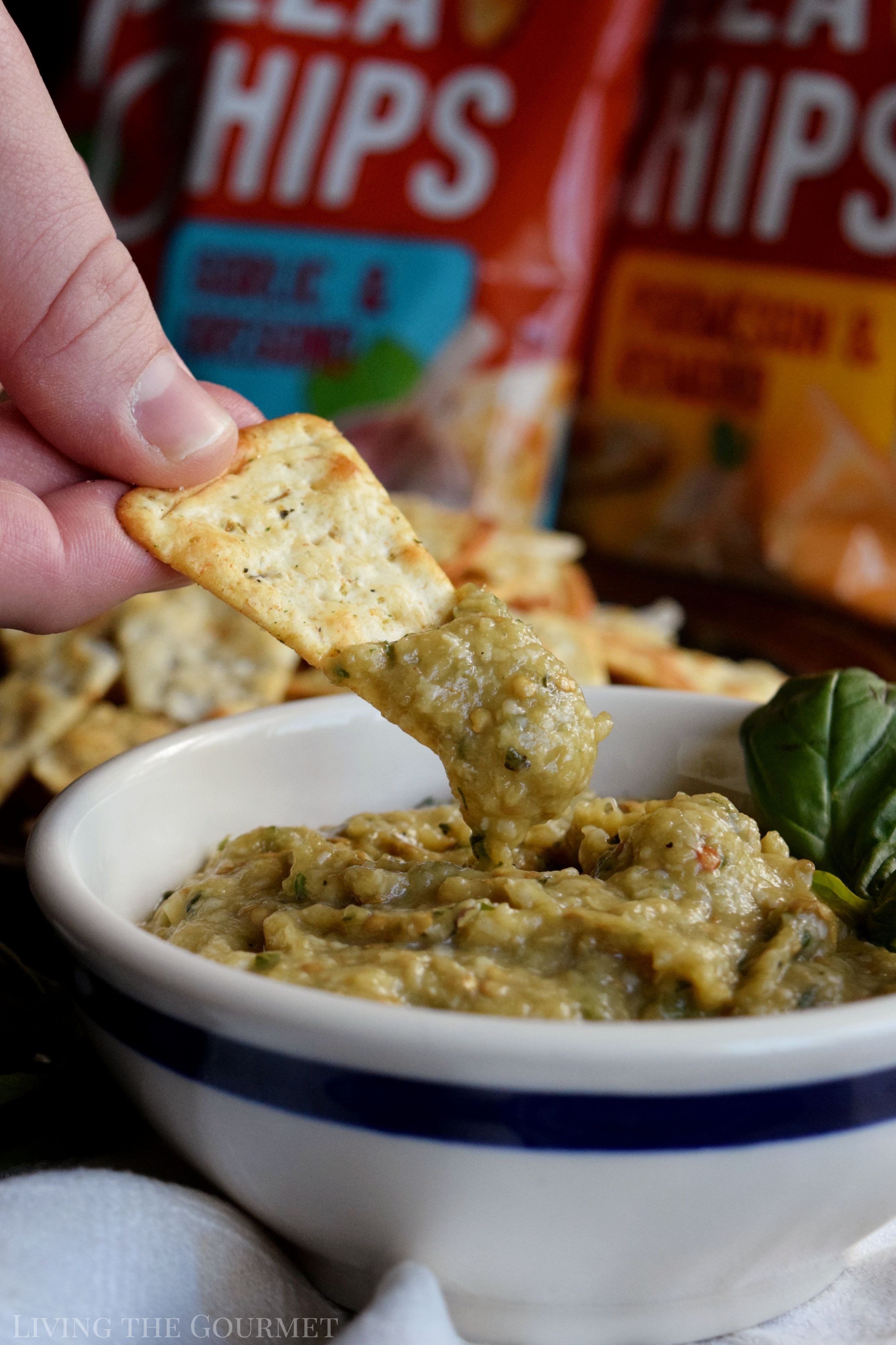 Once that was done, I assembled that on a platter with Hello Delicious! Brands Pizza Chips, and paired it with a tall cold drink, and took them out on the porch to finally enjoy that lazy afternoon I'd been thinking about for more days than I care to admit.
Find your nearest retailor to find Hello Delicious! Brands Pizza Chips and be sure to download and print your in-store coupon for Pizza Chips or use this Amazon code for 25% off a six pack of 7oz Pizza Chips: PCHIPS25
Enjoy with Love!
0