After a long, brutal winter it's time to give our recipes a refresh. This Mediterranean Cauliflower Rice is bursting with flavor and bright citrus- a perfect welcome to spring!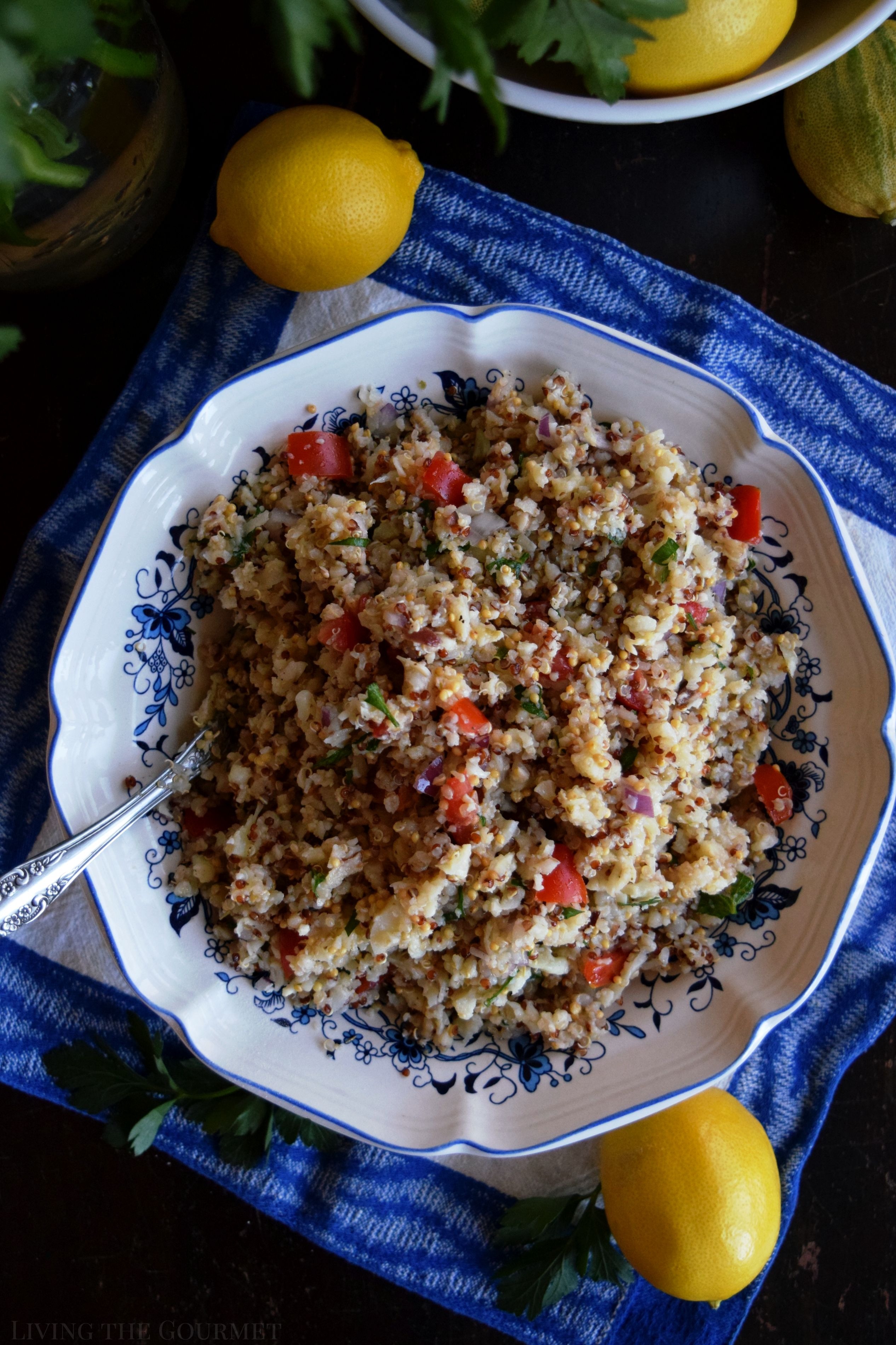 Today's star ingredient reminds me of a set of lyrics from a singer my son spent his youth on, "We are drained of our colors, We used to love ourselves, We used to love one another"…but then we ate cauliflower. Indeed, I've never quite matured in my view of the blank brassica oleracea, as I've always regarded it as more or less "La Versión Blanca del Broccoli."
After all, it's not at all exotic, on the contrary, it's a bit 'old timey' kind of like brussels sprouts, it isn't wonderfully flavorful, doesn't have any perceptible fragrance, nor is it terribly 'pretty,' and to top it all off its texture is a bit wonky – think crunchy broccoli that goes from crisp to mush with very little in between. Indeed, the way I grew up eating cauliflower was plain and drenched in vinegar as a side to a salad. Not exactly the stuff of gourmet dreams.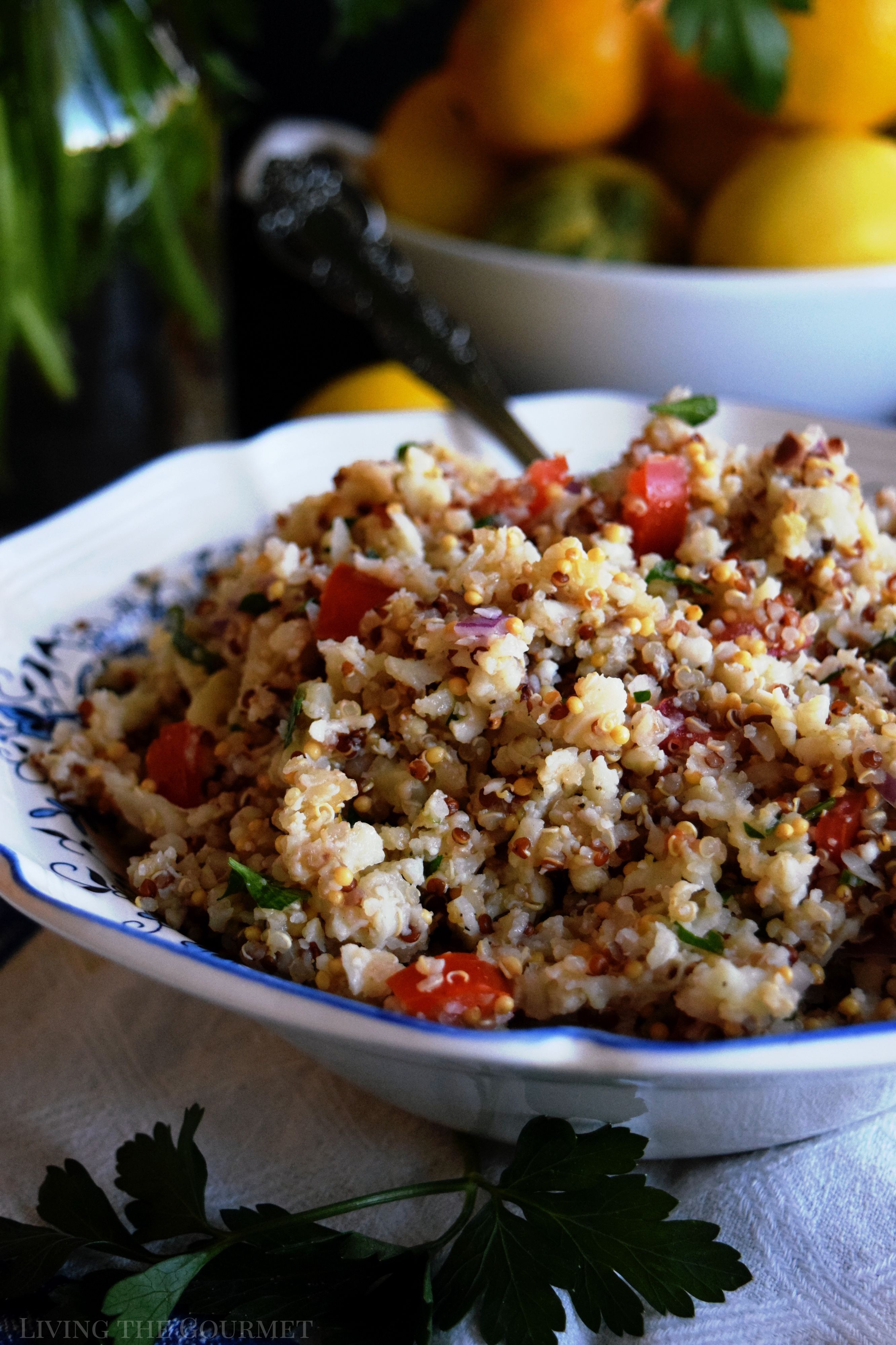 So why am I talking about cauliflower? Simple, because I got a giant box of lemons from my dear friends at Limoneira.
When the box arrived, and I opened it to find a treasure trove of sizeable, beautifully sunshine yellow lemons, my daughter almost instantly proclaimed "I've got it, we can make cauliflower rice!"
My initial reaction ran along the lines of "What on earth (in the hell) is cauliflower rice? And why do I want to eat it?"
"It's rice made from cauliflower, and you want to eat it because it's delicious and healthy."
As one of my favorite professors would have reminded me, "Ask an obvious question, and be prepared to receive a similarly obvious answer." Silly me.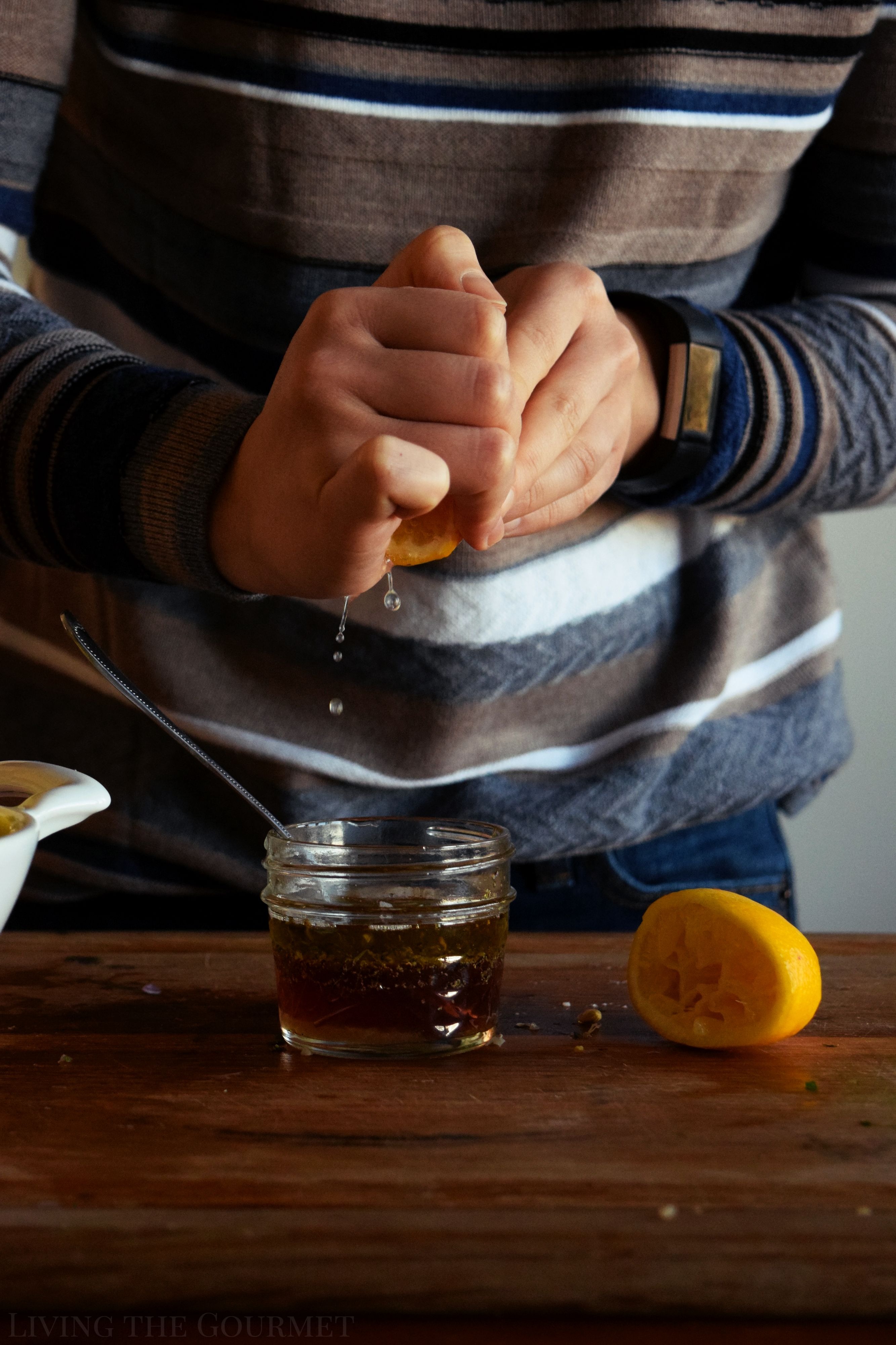 However, if you've been paying attention to the Living the Gourmet Instagram, you're likely aware that my daughter has recently 'discovered' cauliflower, and that I've been getting quite the fill of broccoli's colorless cousin. Bear in mind, only the successful cauliflower recipes get posted there.
That, of course, brings us to today's recipe – Mediterranean Cauliflower Rice.
First things first, this is very much a 'Start of Spring' dish, being light of texture and possessed of a bright flavor profile, while proving quite refreshing on its own. With that out of the way, let's get to it.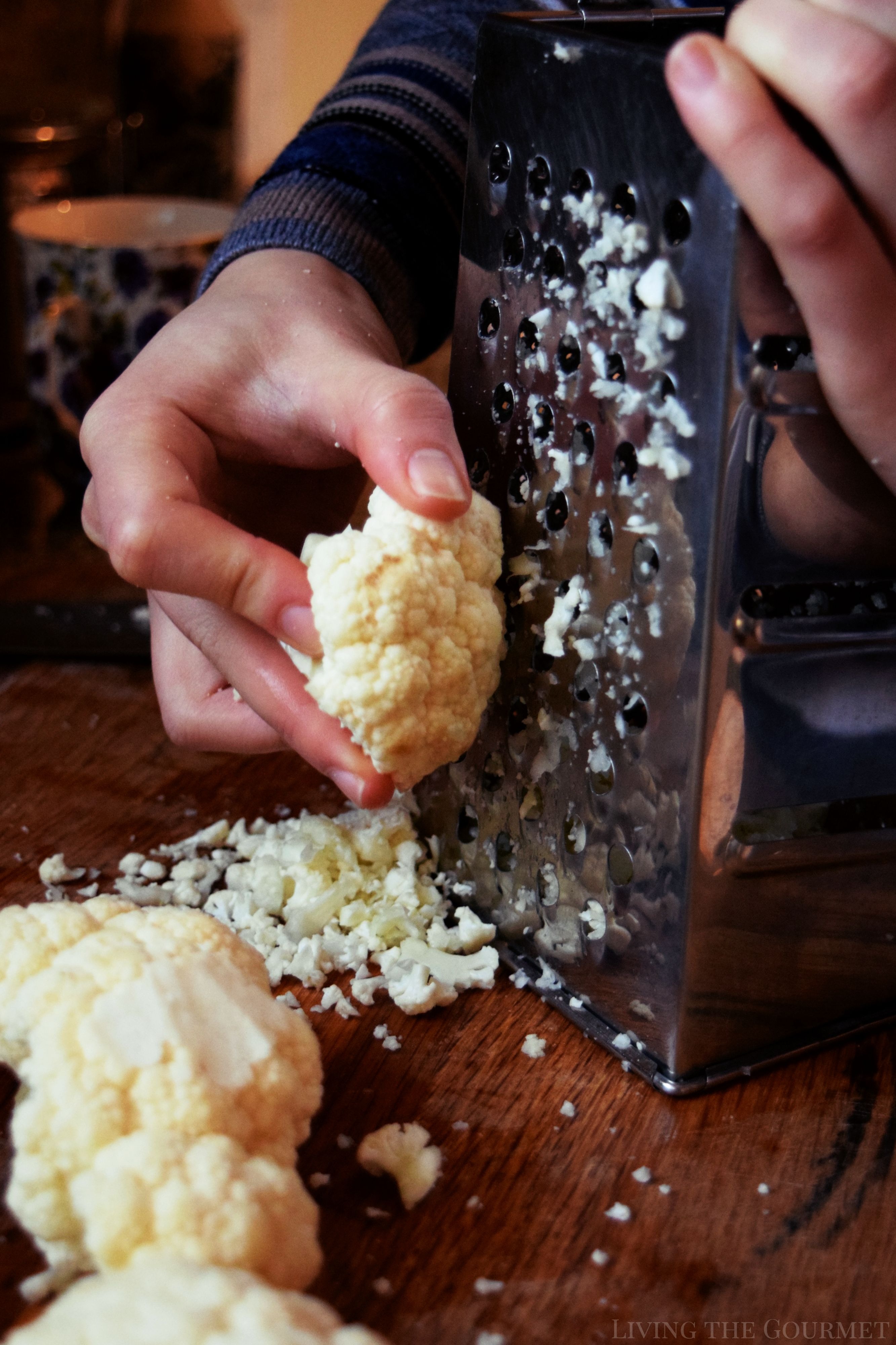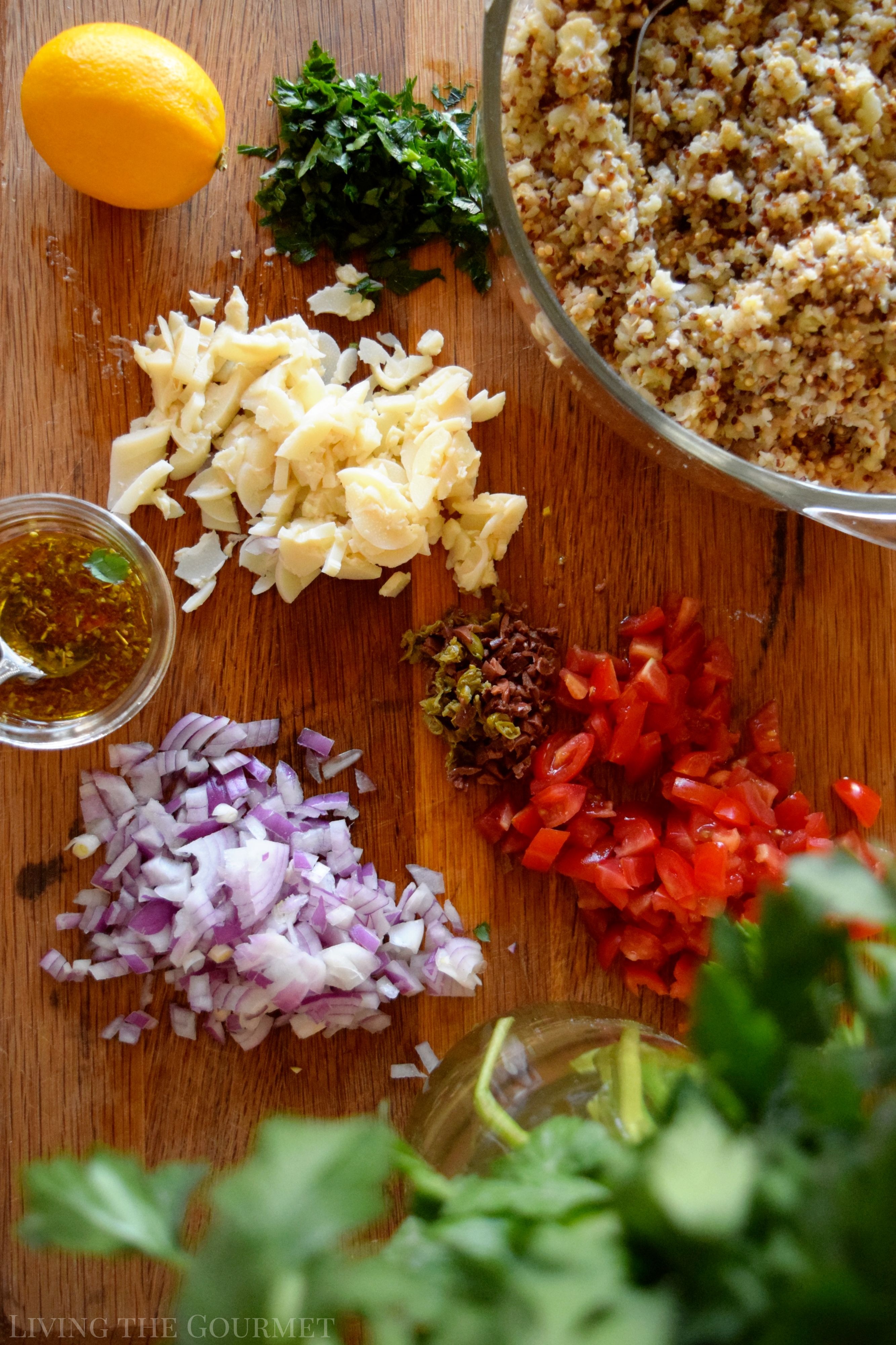 To start, we begin by grating the florets and then tossing them with quinoa, Kalamata olives, and sliced hearts of palm. Then whisk the resulting salad together with the fresh lemon vinaigrette prepared as described below – which I prepared with freshly squeezed lemon juice courtesy of Limoneira, and just like that, you've got an excellent spring themed 'rice' dish that will add a pinch of elegance to any table.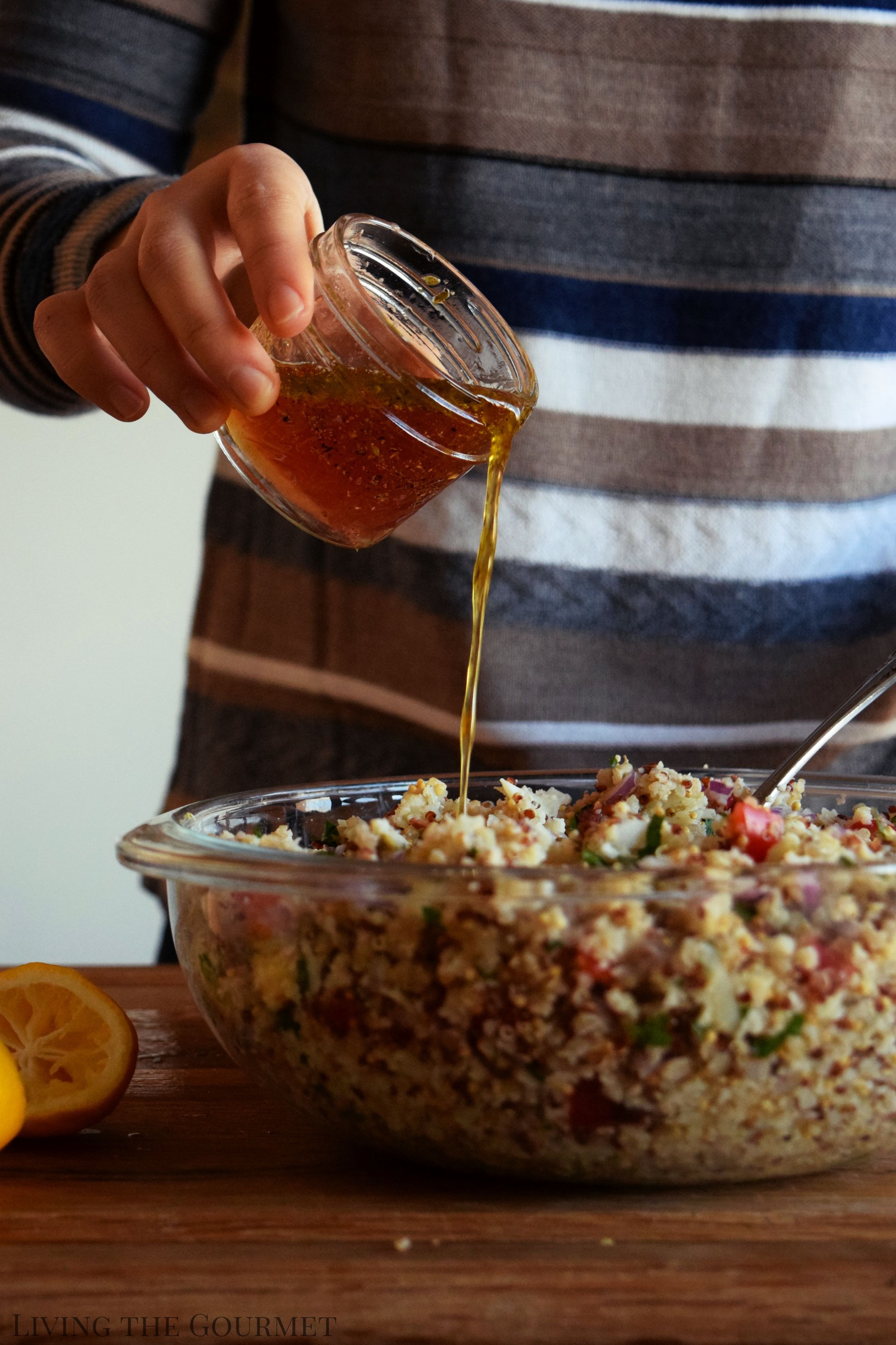 Print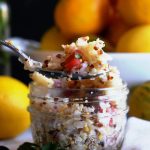 Mediterranean Cauliflower Rice
---
Author:

Total Time:

20 minutes

Yield:

4

1

x
Salad:
1

head cauliflower, cleaned and grated

1 cup

prepared quinoa

2

cloves garlic, grated

1

small red onion, chopped

1/2 cup

hearts of palm, chopped

1/4 cup

cilantro, chopped

1/2 cup

cherry tomatoes, chopped

1/4 cup

Kalamata olives, chopped

1 tablespoon

capers, chopped
Salt and Pepper to taste

2 tablespoons

Olive Oil
Dressing:
1/2 cup

olive oil

2 tablespoons

red wine vinegar

1 tablespoon

dried Italian herb mix (rosemary, basil, oregano)
Salt & Pepper to taste

2 tablespoons

raw honey
Juice of

2

lemons

1 teaspoon

lemon zest

1 tablespoon

caper juice

1 tablespoon

Kalamata olive juice
---
Instructions
In a large heated skillet with olive oil, sautee grated garlic. Add cauliflower rice and cook for about 5-8 minutes. Add in quinoa and sautee for an additional 5 minutes.
Combine all ingredients for salad in a large bowl and toss. Set aside.
Whisk all ingredients for dressing, toss with the cauliflower rice.
Serve and enjoy!
Prep Time:

10 minutes

Cook Time:

10 minutes

Category:

Side Dish
Recipe Card powered by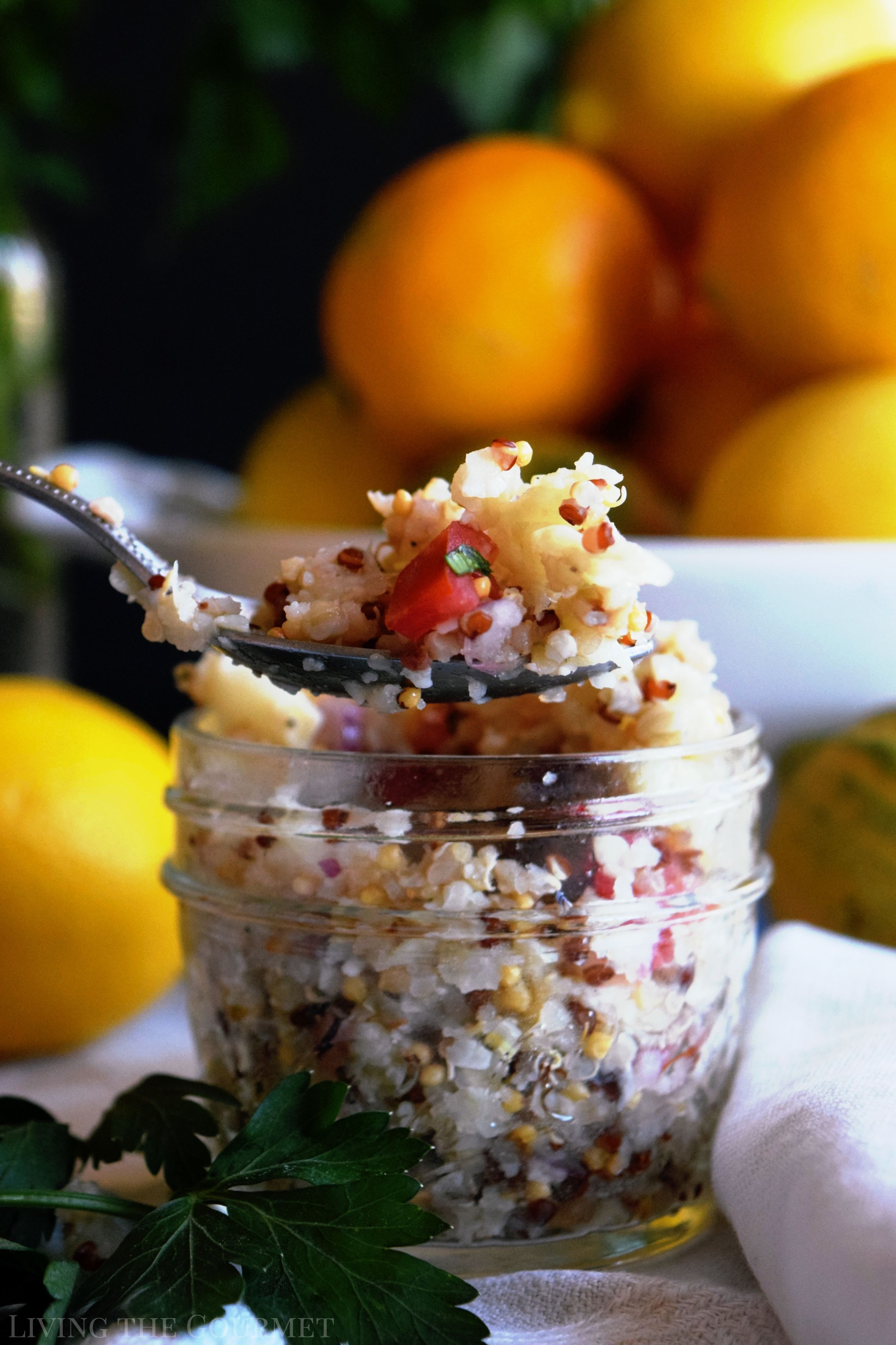 Enjoy with Love!
0