These chocolate biscotti are loaded with almonds and cranberries and rich in chocolatey goodness. The best part, however, may be that they are completely gluten-free!
This is a sponsored post written by me on behalf of Bob's Red Mill.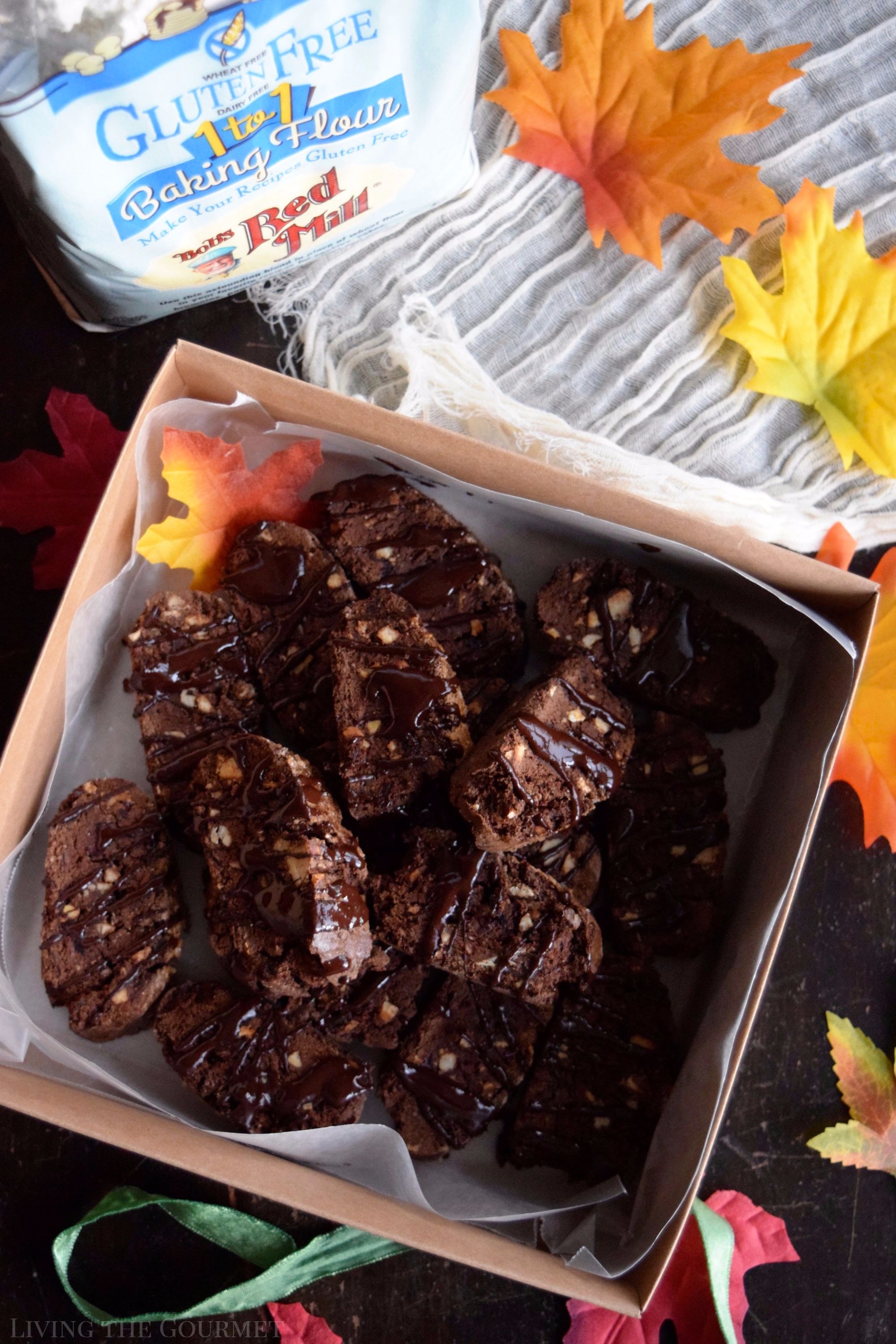 On a recent trip to a local pork store I've been frequenting on and off since my son was in a stroller, I was 'treated' to a rather disappointing surprise. To set the scene, it's a faux-quaint place, the sort of "New York Italian" theme you see in mobster movies or cop shows. Walking in, you're greeted to the quintessential brass trimmed cases, a purposefully distressed tile and wood floor that creaks beneath your steps, and a few strategically placed religious murals, with the entire scene laced in an air carrying antique Italian tunes perforated by the aroma of dried pork, aged cheese, and just a touch of butcher's wood or sawdust.
I wasn't there for anything in particular, just some essentials for a pre-holiday dinner party that my brother was hosting – fresh mozzarella, cured meats, and the crusty bread they bring in each morning from Brooklyn bakeries. After selecting my order, I asked for a pound of ricotta salata on a whim, thinking it would be a nice finishing note to the antipasto. The guy behind the counter looked at me, and asked point blank, "What's that?"
It didn't really register, and so my son asked a second time, this time explaining that it was "basically like Italian feta."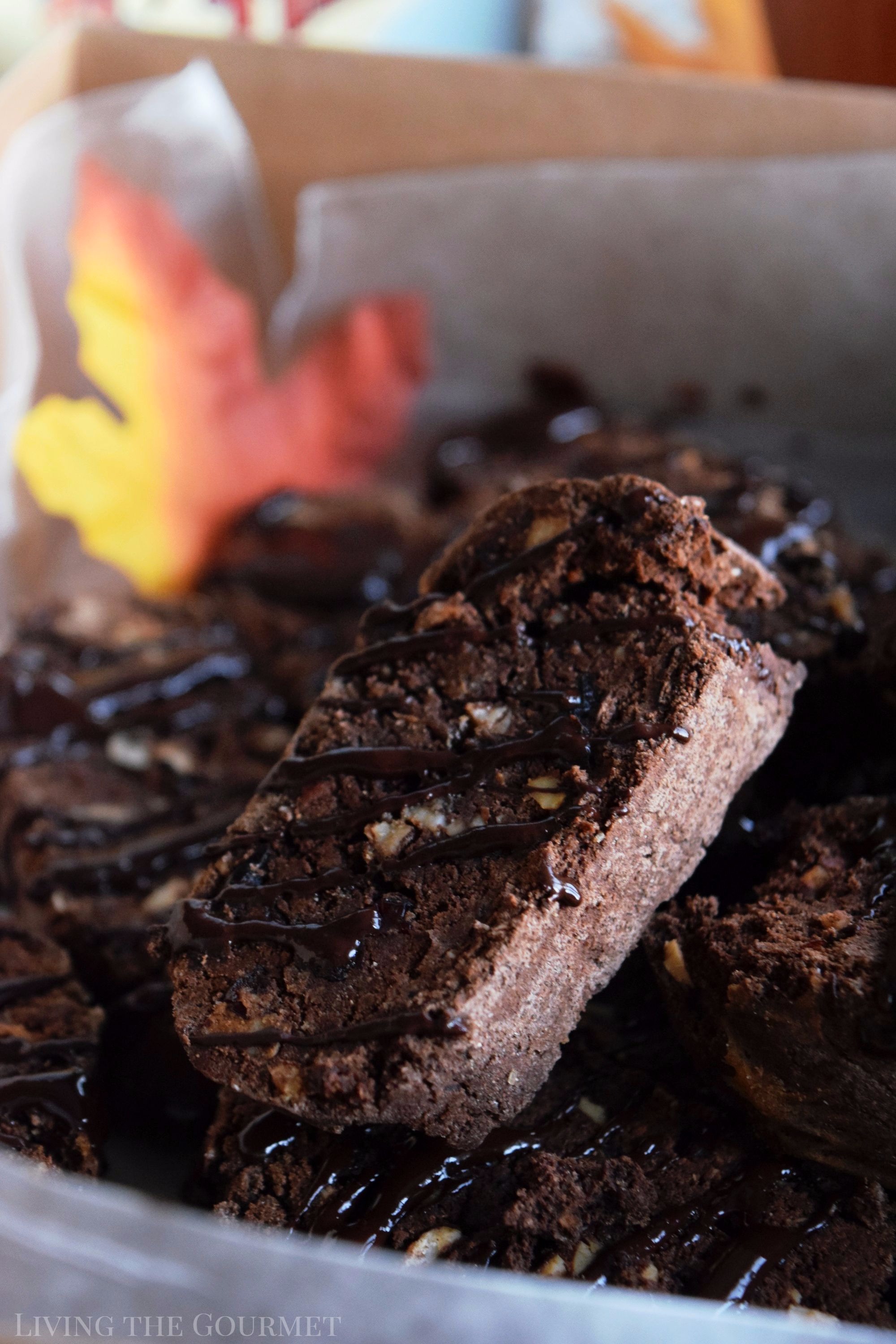 "We have feta, but maybe the boss knows what you're asking for," was his response, and he called over the owner, who's a dear longtime friend of mine, and he explained, with evident disheartenment, that "No one buys it anymore. A lot of that kind of stuff just can't carry anymore, like oxtails or chicken feet, none of that stuff," he said, almost embarrassed. "You need the clientele, and people around here, honestly…, they wouldn't know what to do with any of that. I mean look at this, look at what I have to sell," he said, motioning at a jar of plastic wrapped biscotti on the counter. "You think my father would eat this? Your father?" he said, pulling out a biscotti covered in 'artisan sprinkles' with candies baked into it. "Of course not. My father used to dip his in wine, you think he'd want sprinkles in his wine? Of course not, but the people around here, what can I say, they buy these and leave the real ones on the shelf."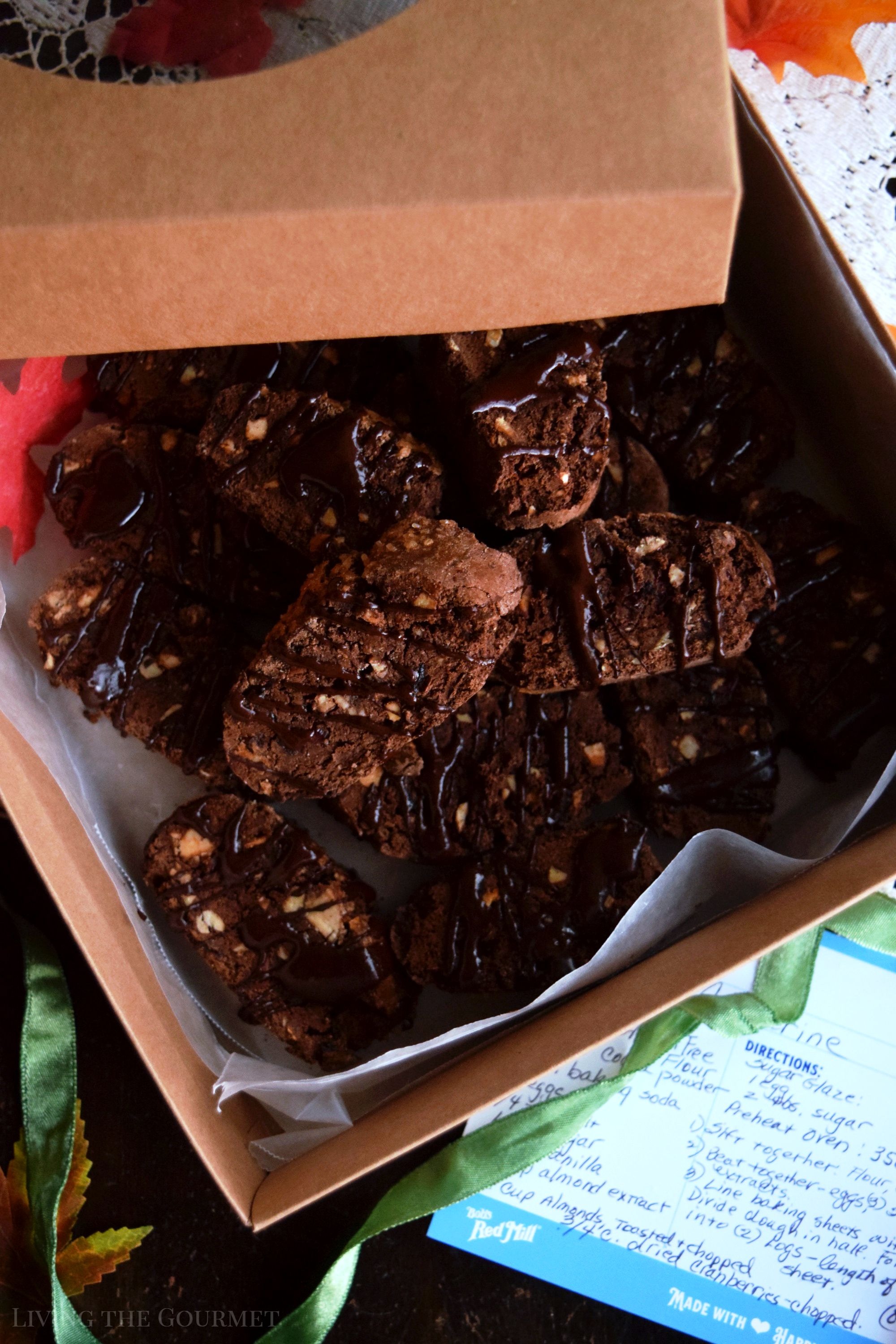 It was a candid reveal on his part, but one that I can sadly relate to. You see, my brother had recently shared exactly the same sentiment with my son – albeit in a much different context. The last time I had my brother over, he offered my son the antique typewriter that our father had worked on most of his life. It's a real-time capsule of a piece, all metal and in near pristine condition, like something you might see in a Bogart movie. After that, my brother started to tell him about 'old times,' waxing nostalgic about all of the big meals and noise that characterized our lives growing up, and became misty-eyed describing how 'quiet' everything is these days. He then went on to describe how the bakery items back then "just tasted better," and how our grandfather would – you guessed it – dip his biscotti cookies in wine. "You don't see people do that anymore," my brother mused. "Ah well, Mike, no offense but you can't appreciate what I'm talking about, you need to have lived it," he concluded.
If you hadn't guessed, thanks to my last-minute stop at the pork store, I knew exactly what I would be bringing my brother – homemade biscotti. Naturally, I would take this as my opportunity to make the sort of chocolate biscotti that we would have eaten growing up. In other words, as I've spoken about before here on Living the Gourmet, this was basically nostalgia and wellbeing through baking put to action. Yes, I live what I preach.
There was just one caveat – they would, of course, need to be gluten free for my niece.
To start things off, we begin by sifting together the flour, cocoa powder, baking soda, and salt listed below. For this recipe, to keep it gluten-free and delicious, I use Bob's Red Mill Gluten Free 1-to-1 Baking Flour, which I use for a couple reasons, the first being that it's perfectly formulated for baking, assuring a delicious taste and perfect texture. This means that no additional specialization or customized recipes are necessary when using this flour – which takes of the biggest hurdle when baking gluten-free. That aside, Bob's Red Mill products are simply of the highest quality, which really makes any baked goods produced with them truly shine.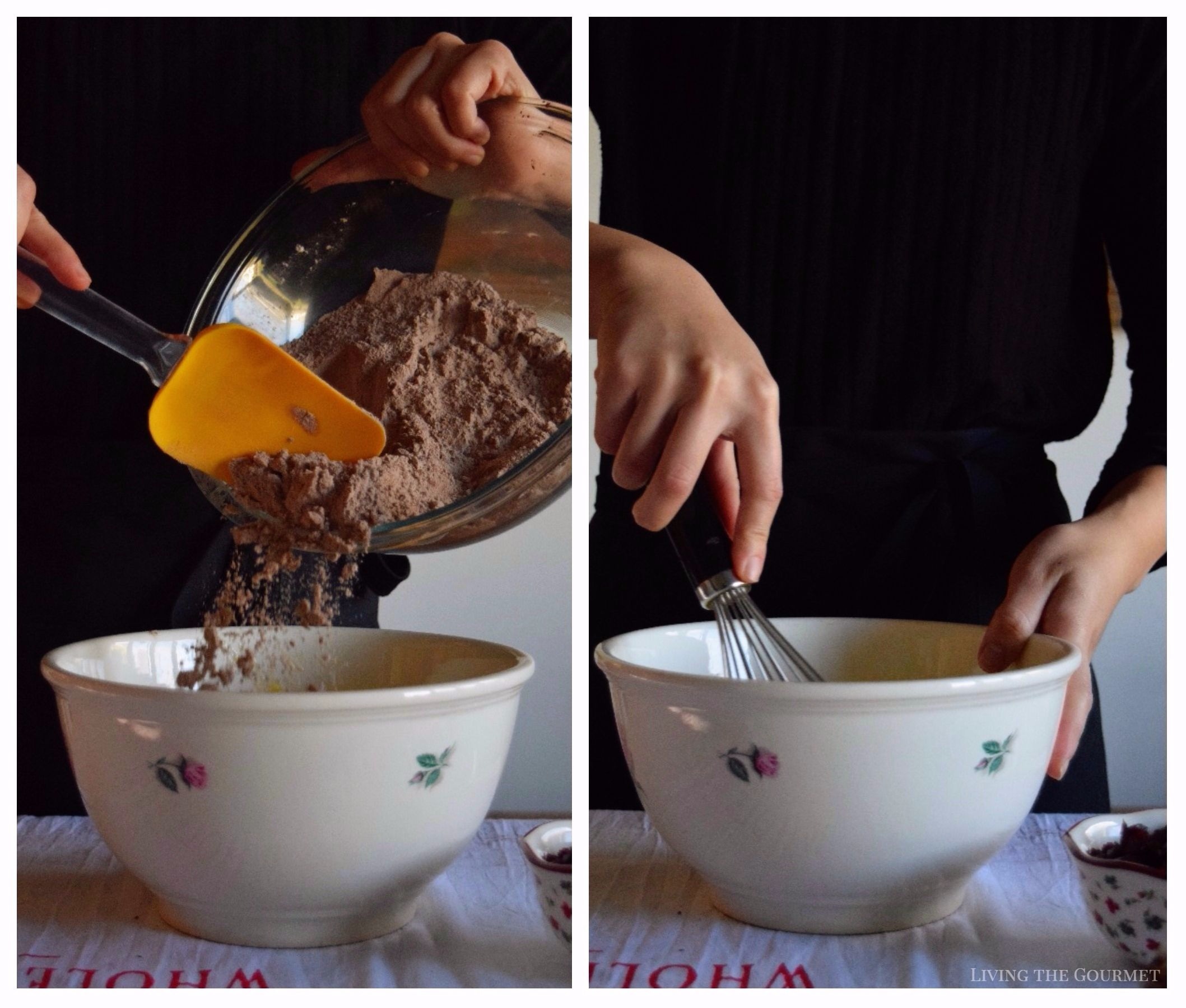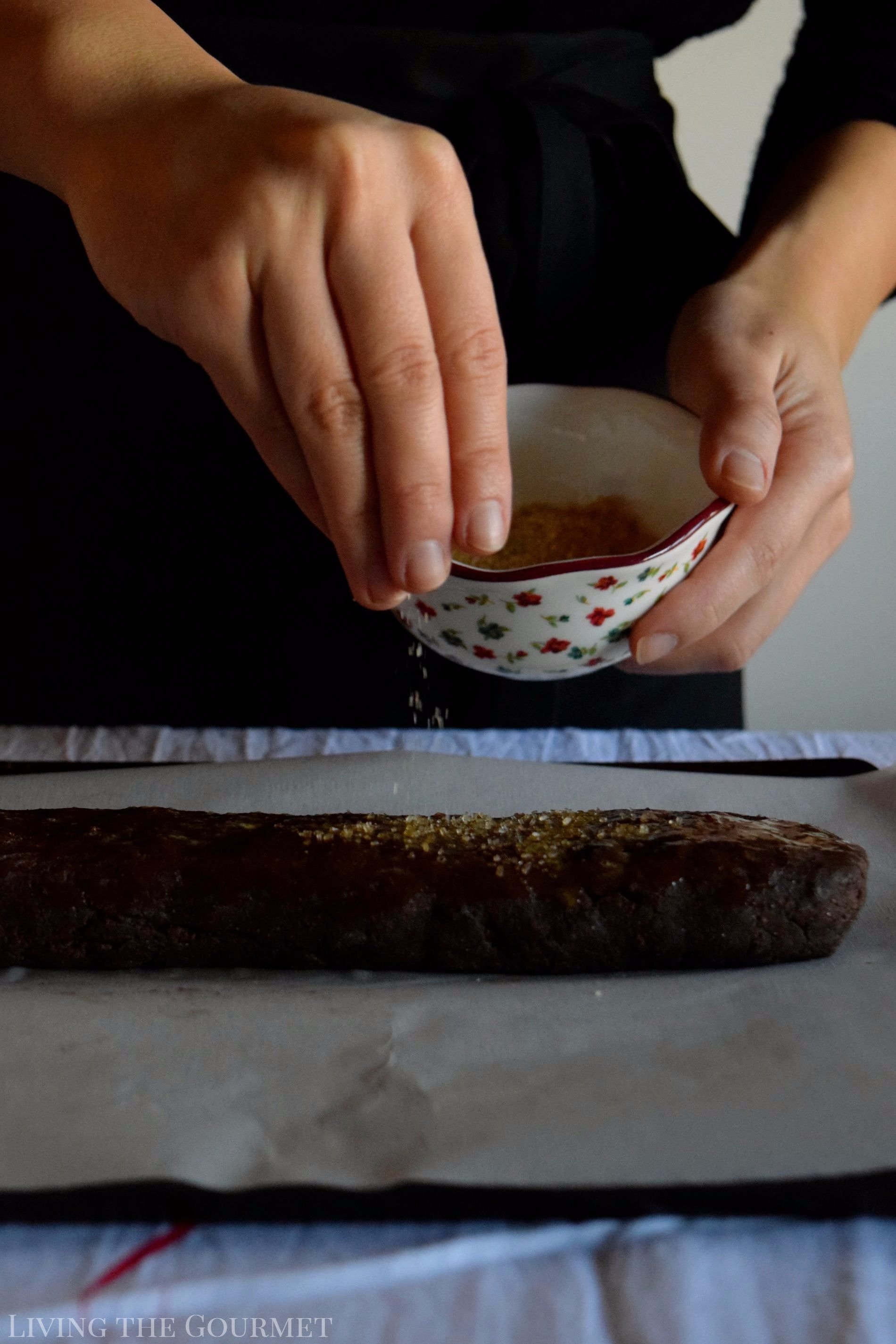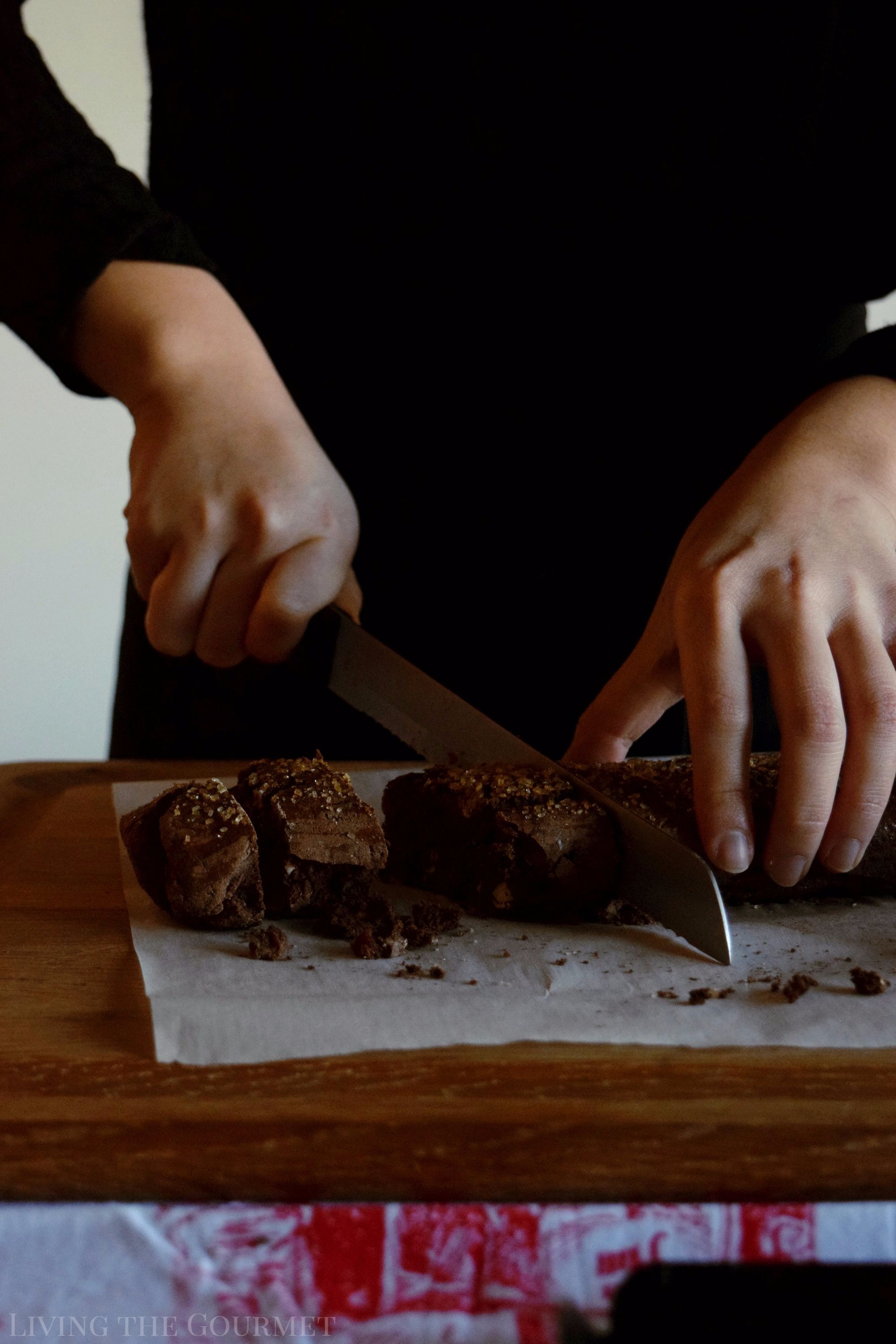 Then, in a separate bowl, beat together the eggs, sugar, vanilla, and almond extract, and then slowly stir this mixture into the dry ingredients. Then stir in the chopped nuts and dried cranberries.
Form the resulting batter into logs and place them on baking sheets lined with parchment paper and bake for about twenty-five minutes until they are slightly firm. Then cut the logs into half-inch thick biscotti as shown below. Then place the biscotti on the baking sheets and place them back in the oven for twenty to twenty-five minutes.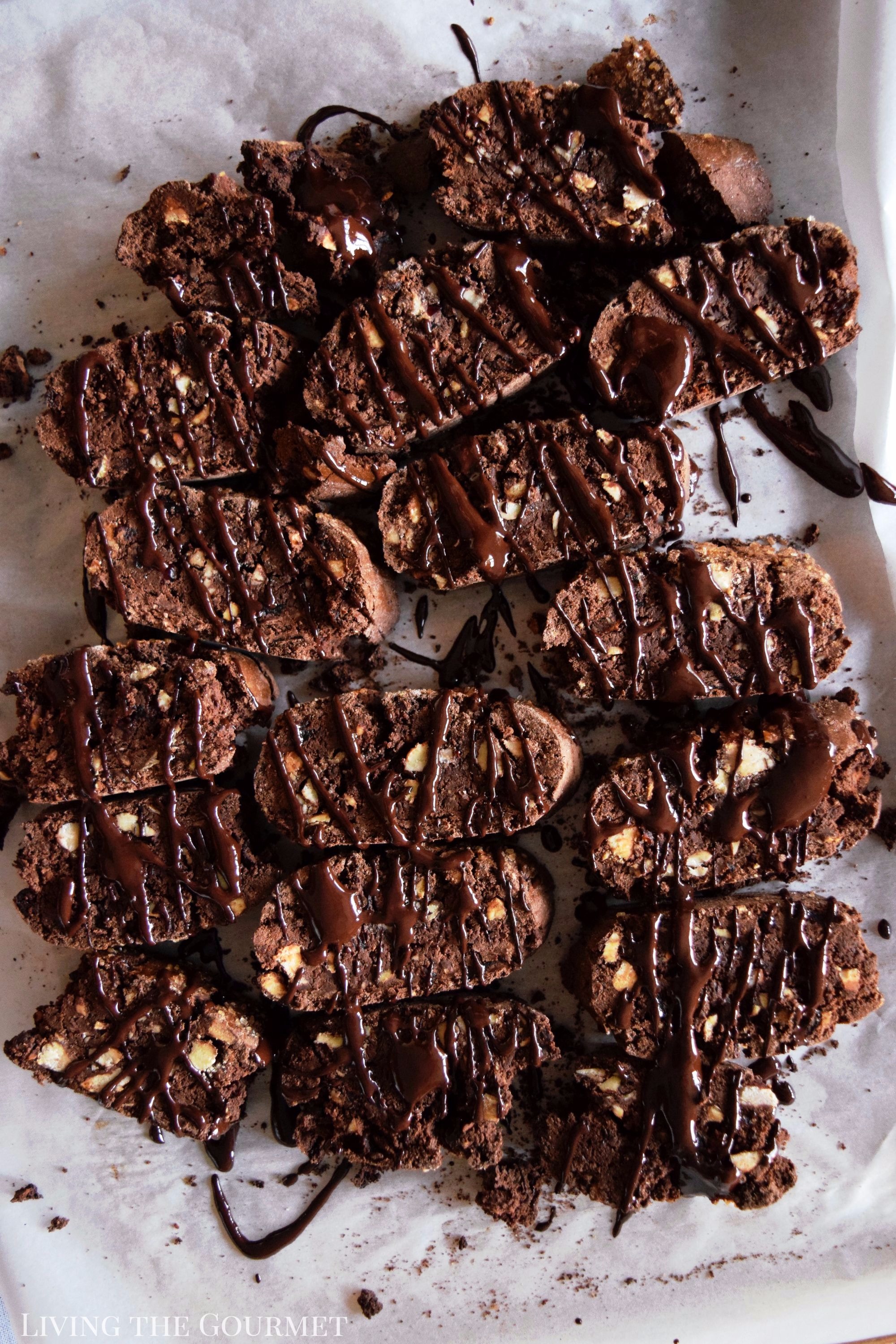 Print
Gluten Free Chocolate Cranberry and Almond Biscotti
Author:
Prep Time:

15 minutes

Cook Time:

40 minutes

Total Time:

55 minutes

Yield:

2

dozen

1

x
Category:

dessert
2

cups

Gluten Free 1-to-1 Baking Flour

3/4

cups

cocoa powder

1 tsp

. baking soda

3

eggs

1/4 tsp

. salt

2 teaspoon

flaxseed mixture* or xanthan gum

1

cup

sugar

1 tsp

. vanilla

1/2 tsp

. almond extract

1/2

cup

almonds – toasted and chopped

3/4

cups

dried cranberries – chopped
Sugar Glaze:
Instructions
Flax seed mixture:
In a small pot, combine 1 part flax seed with 2 parts water. Bring the mixture to a simmer until thickened like gelatin. Remove from heat and transfer to a glass bowl. Allow to cool.
For the Biscotti:
Preheat Oven 350 degrees F.
In a large bowl, sift together the flour coco powder, baking soda and salt.
In a smaller bowl beat together the 3 eggs, sugar, flax seed mixture vanilla extract and almond extract.
Gradually stir the wet ingredients into the dry ingredients, then stir in the nuts and chopped dried cranberries.
Line the baking with parchment paper and place the logs on the lined baking pan.
Bake 20 minutes until slightly firm, then let cool about 10 minutes before slicing on a diagonal into ½ inch thick biscotti.
Place slices side down on the baking sheet and place back in oven for 20 – 25 minutes.
Let cool. Drizzle with melted chocolate if desired. Can be stored in an air-tight container for up to two weeks.
Recipe Card powered by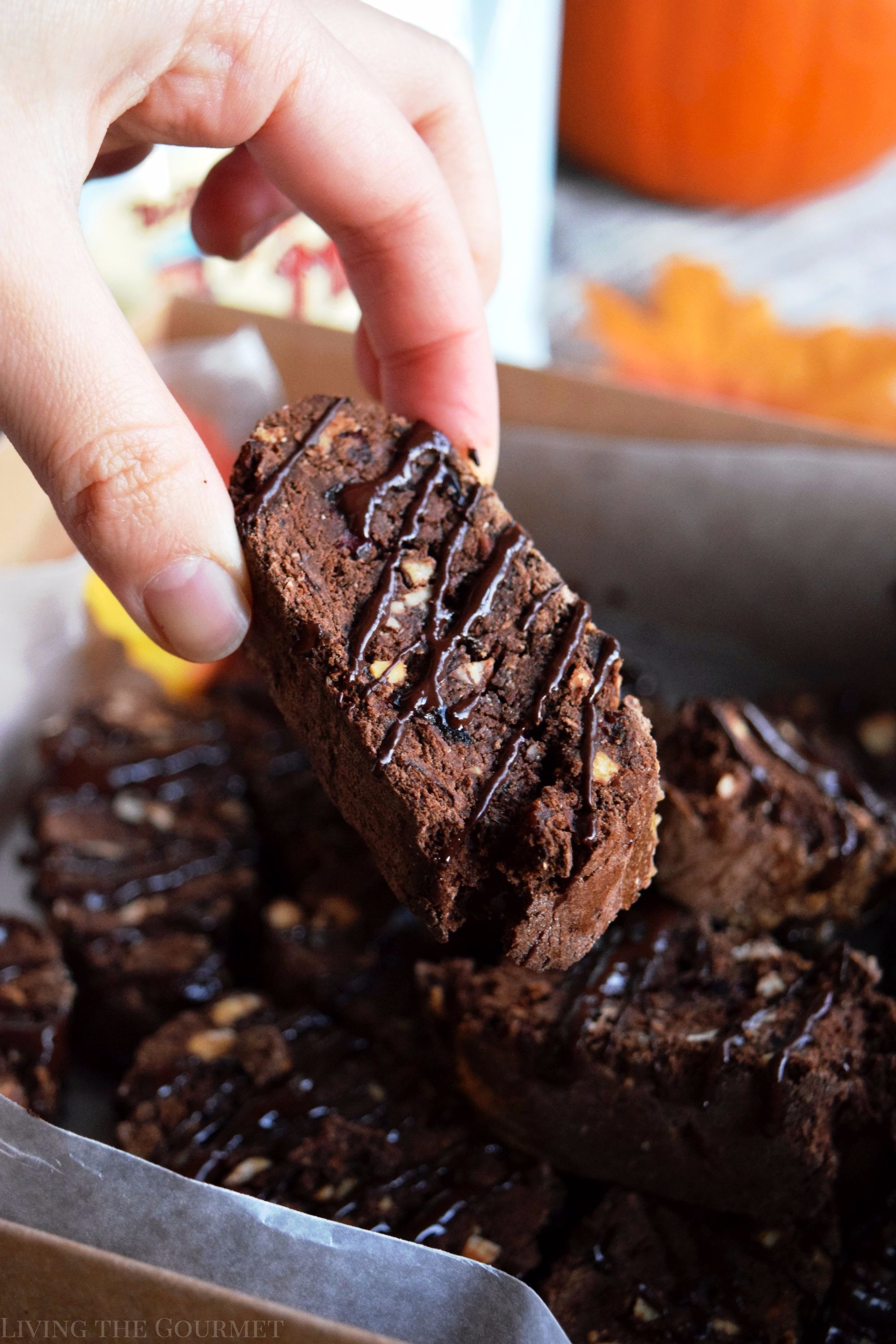 Once they've finished cooking, let them cool. These are sturdy cookies and can keep for about a week, more if you've brought to a truly firm crisp – provided you store them airtight.
For today's purposes, I set them neatly in the Bob's Red Mill gift box, and just like that, I had the perfect season's greetings for my brother and his family.
Enjoy with Love!
This is a sponsored post written by me on behalf of Bob's Red Mill.
2