This post has been sponsored by Seeds of Change® Organic Simmer Sauces. All opinions expressed are my own.
Nothing soothes the soul like chicken stew, and this simple stovetop recipe will become a seasonal staple in your home. Thanks to the new Seeds of Change Simmering Sauces, gourmet-style family dinners are only a few ingredients away!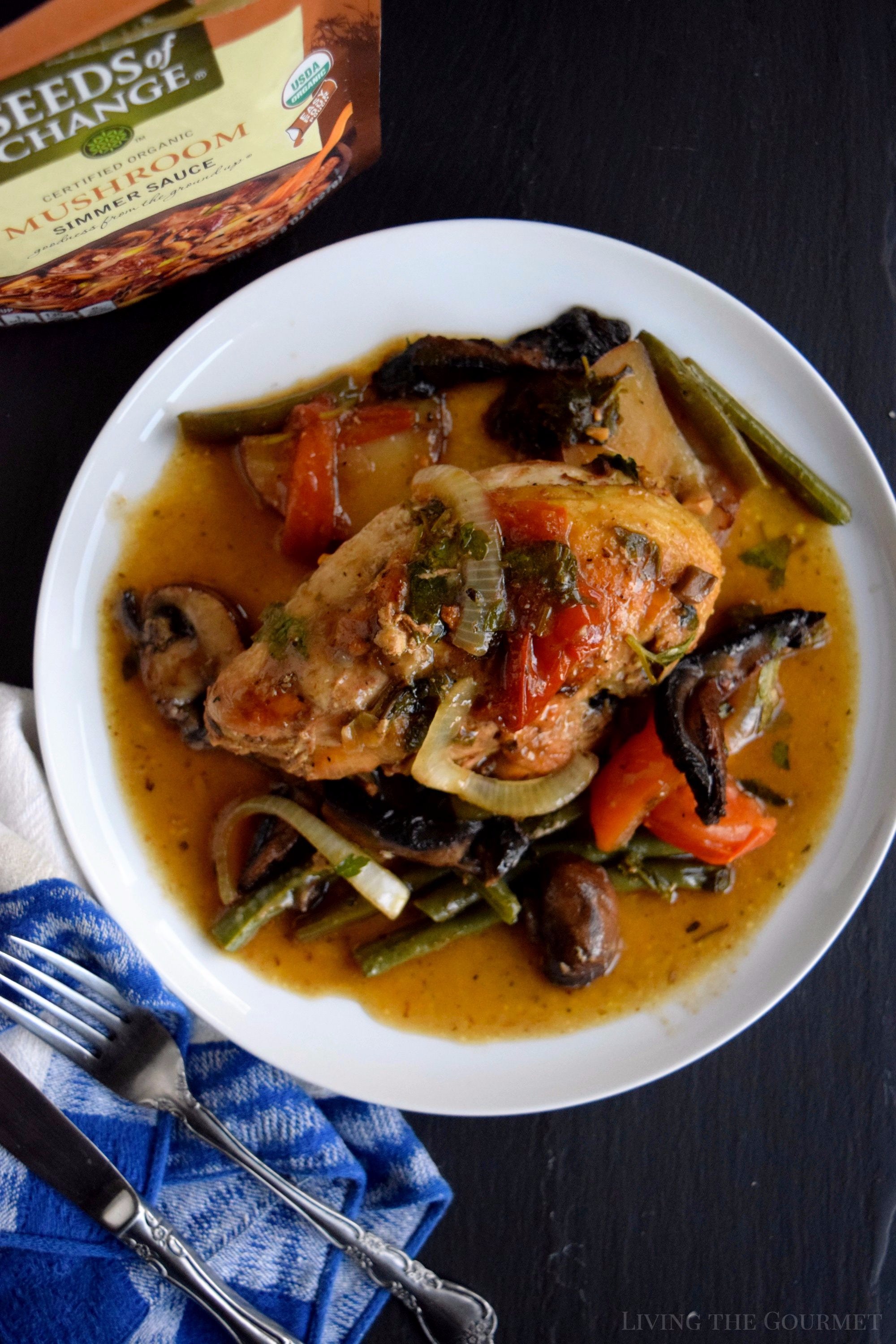 "Often times, there is a line is drawn between what is needed and what is desired. Those things that are 'needed' can be tied either to life itself or to one's ability to self-support, with all else being relegated to the realm of 'want.' Food, however, is where the line blurs. Whether it be the greasy pleasures of a cheap burger from an equally 'cheap' chain, or impossibly priced confections topped in edible gold, humanity's need to fuel itself is also its most expressive, and at times excessive, form of pleasure."
However, as with all sources of pleasure, the concept of 'conscience' is brought into the discussion. In this case, the idea of sustainability, fair trade, and whether or not we're indulging in 'natural' ways are all points of interest when it comes to food – and understandably so.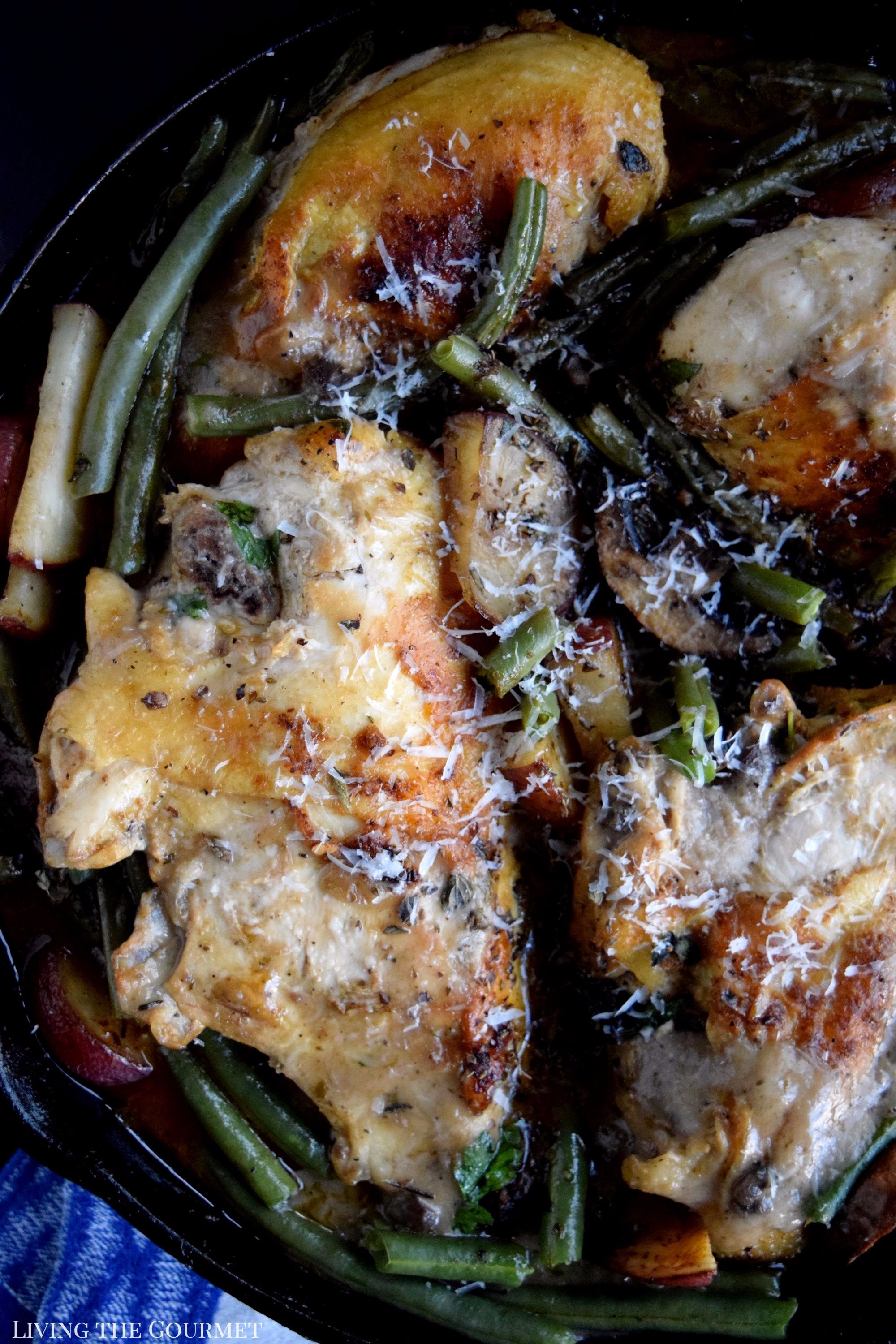 Yet, like so many of the 'good things' in life, it's not uncommon – and often not unfounded – to think of those aforementioned ideas as being hidden behind a sort of 'Great Wall of Expense.' Fair Trade products, organic produce, and sustainably sourced ingredients are, in fact, often less then…shall we say 'Fair' or 'Natural' for the average consumer's purse, while the meals prepared with such ingredients are often placed on pedestals within the lofty realm of the 'gourmet.'
That said, when I was introduced to Seeds of Change Sauces, which combine sustainability, delicious flavor, and organic ingredients into compact, reasonably priced packets, my professional curiosity was piqued. To this point, Seeds of Change uses only organic ingredients, while donating one percent of their sales to promote and support sustainable community farming and gardening programs. Readily available at Target, along with a host of other retailers, I picked up a few pouches on my last supply and decided to put them to the test.
To do this, we, of course, come to today's recipe – Oven Top Chicken Breast Stew, prepared using Seeds of Change® Mushroom Simmer Sauce.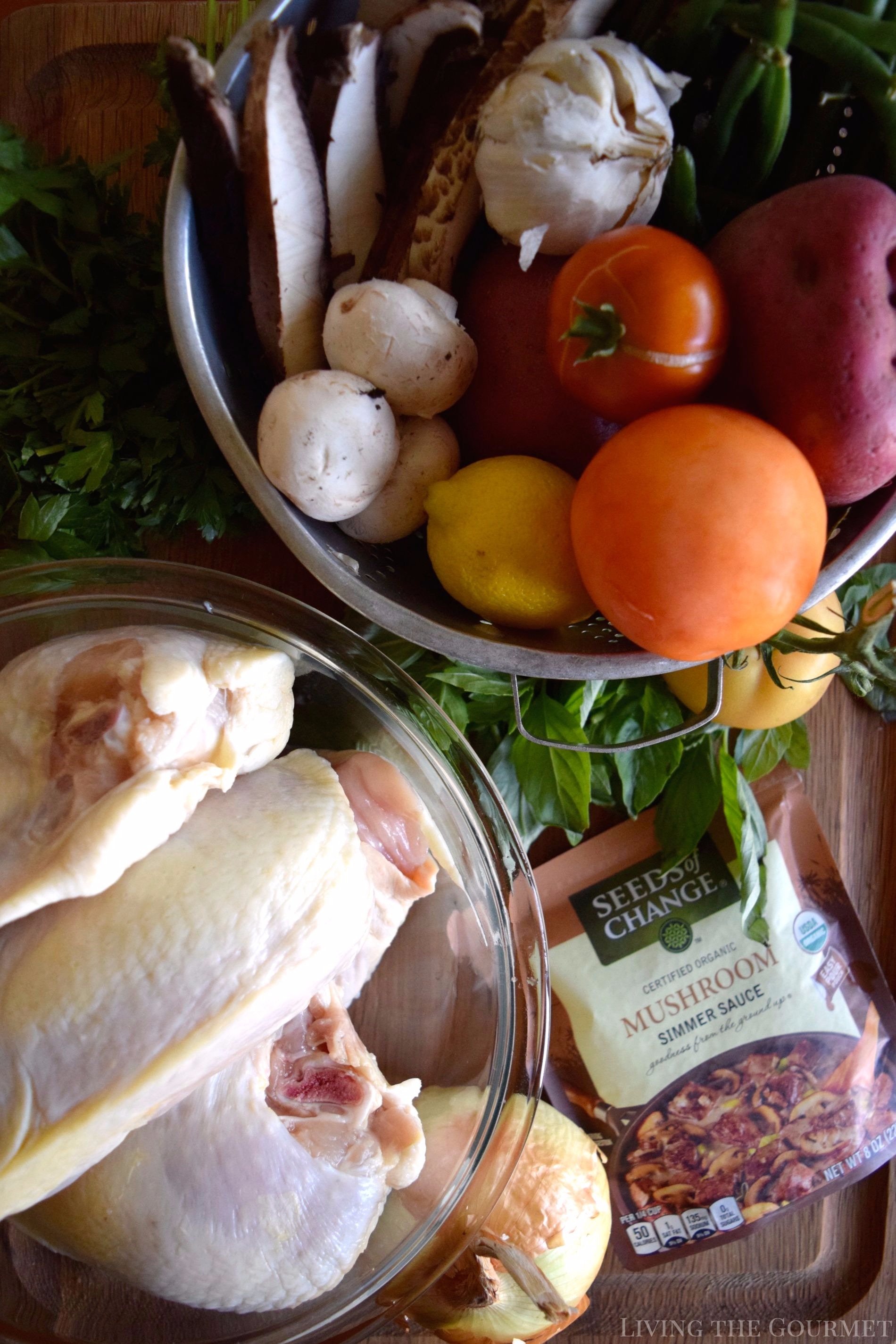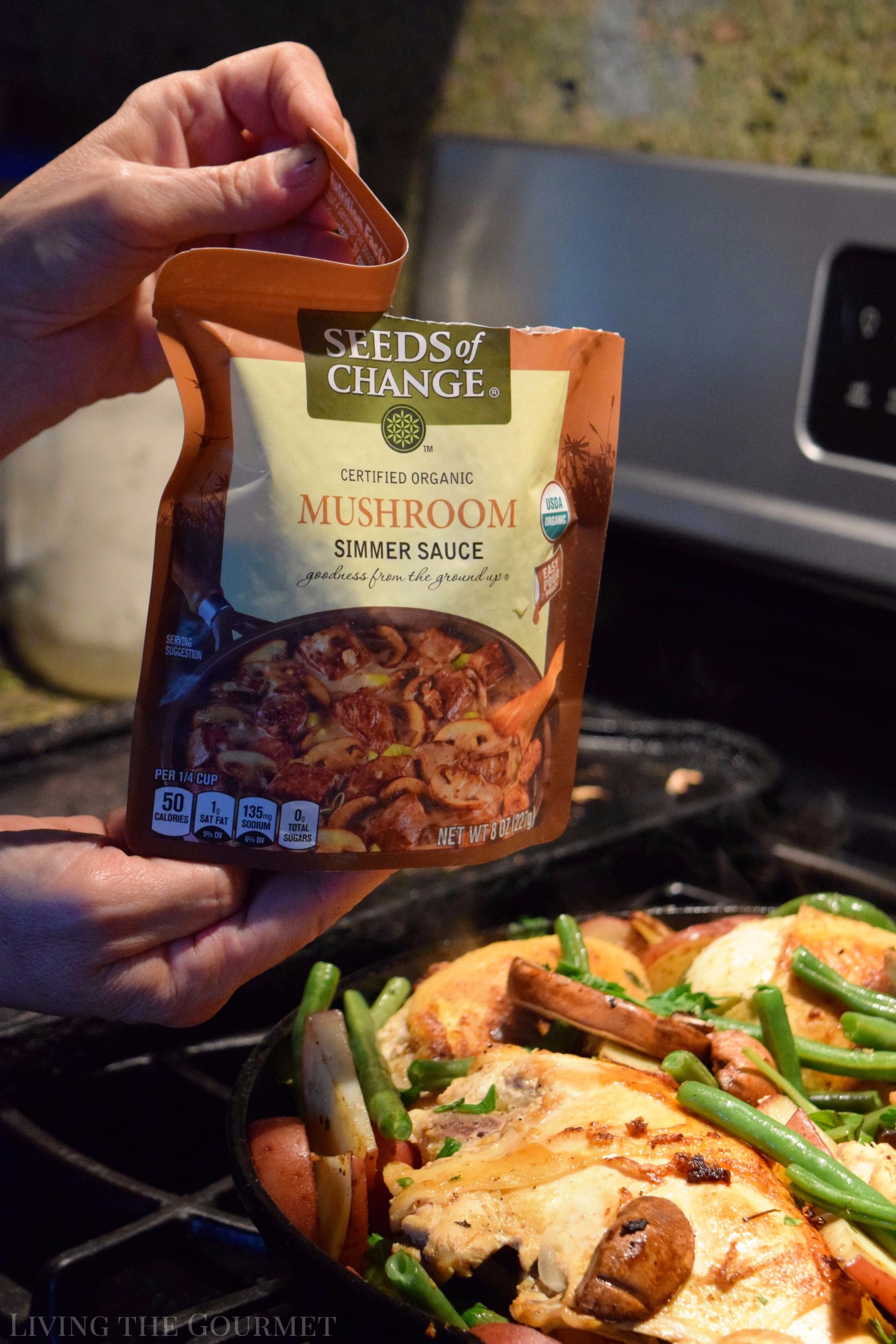 To start things off, we begin by combining the rub as directed below with some coriander, black pepper, nutmeg, lemon juice, and olive oil, and the rubbing it over the chicken breasts. Once done, we set the chicken aside, and heat a large cast iron frying pan with olive oil, and then set the chicken breasts in the pan skin side down to achieve a nice golden coloration on the skin, turning them over once during the process. This takes about ten minutes. Leave the breasts skin side up once this is done.
After that, we add in chopped fresh garlic, fresh basil leaves, sliced tomatoes, and parsley to the pan with the chicken, and allow that to continue simmering on low while we par-boil the string beans and potatoes as directed below.
Next up, you're going to need to heat a large cast iron griddle or frying pan with some olive oil, and then lay out the sliced potatoes, string beans, and sliced mushrooms to give them all nice golden coloration, and then add them into the pan with the chicken breasts.
Once that's done, add in some bay leaves, dried oregano, and the Seeds of Change Mushroom Simmer Sauce to the pan with the chicken. The Mushroom Simmer Sauce is prepared using organic mushrooms, onions, spices, and a hint of cream, and is certified free of artificial colors, preservatives, or flavorings, making it perfect for a natural recipe such as this.
After you've done that, let the stew continue to simmer for about ninety minutes, and then you're ready to serve.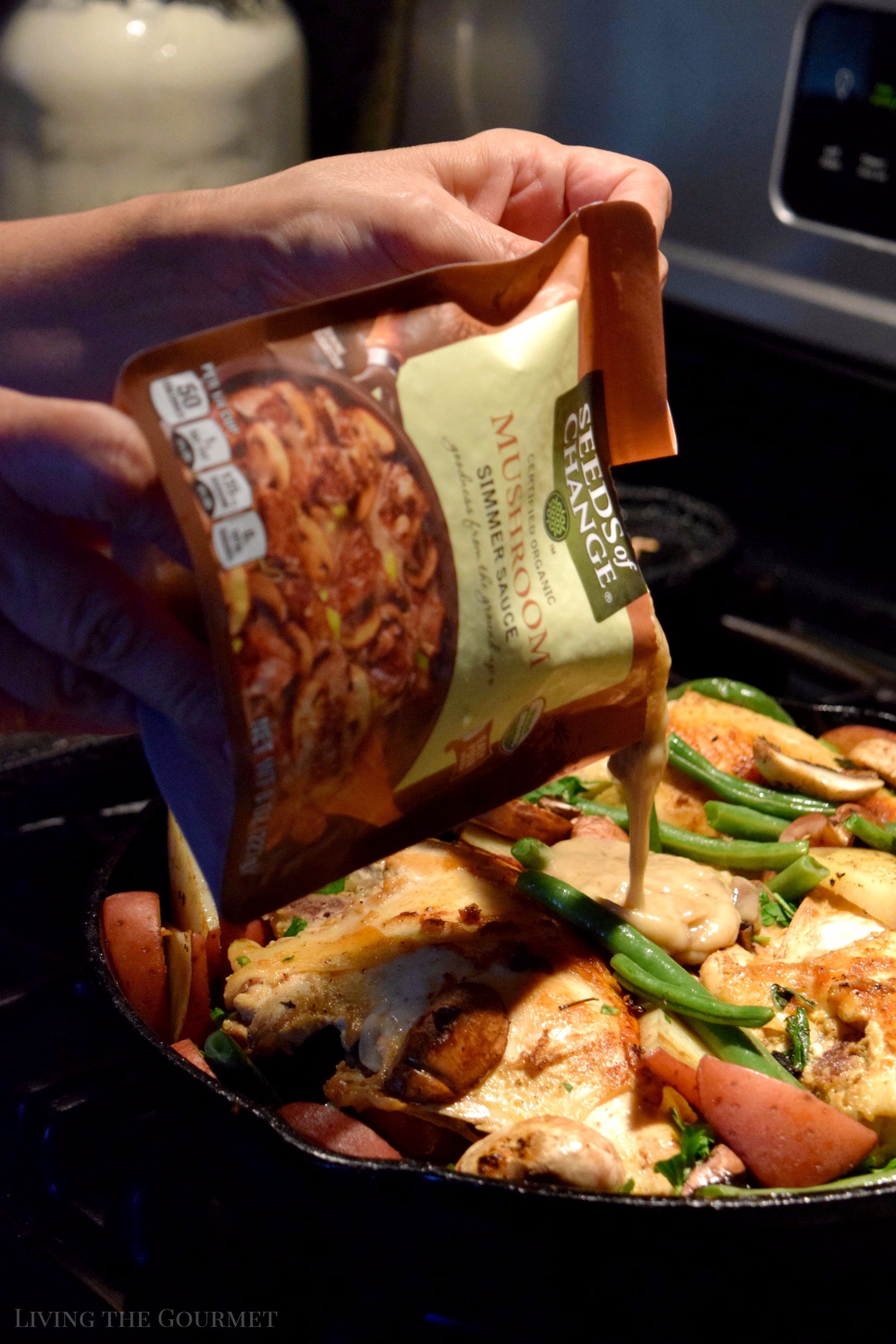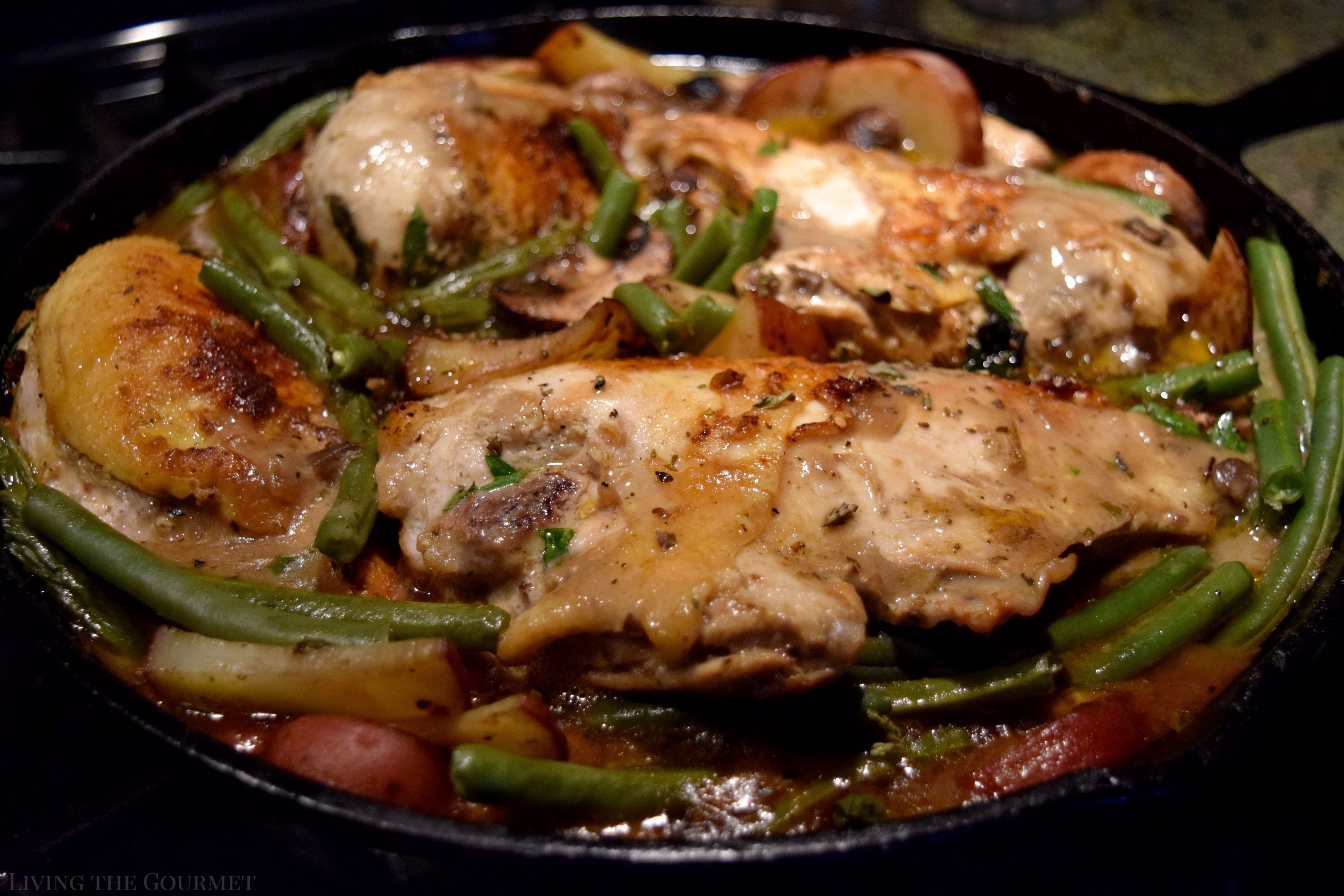 Print
Stovetop Chicken Stew
Author:
Prep Time:

10 minutes

Cook Time:

1 hour 30 minutes

Total Time:

1 hour 40 minutes

Yield:

4

-6

1

x
Category:

Main Dish
4

bone in chicken breasts with skin
Rub for the Chicken Breast:

1 tsp

. ground coriander

1/2 tsp

. black pepper
Dash of fresh ground nutmeg

1/2 tsp

. salt
Juice of

1

lemon

4

tbs. olive oil
For the Stew:
1/4

lb

. fresh string beans

2

vine ripe tomatoes – quartered

1/4

cup

fresh basil leaves

1/4

cup

fresh Italian parsley

1

large red potato

3

–

4

cloves of garlic – chopped

1

large onion – sliced thin

4

button mushrooms – sliced

4

baby bella mushrooms – sliced

1

Portobello mushroom – sliced

2

bay leaves

1 tsp

. dried oregano

1

package of Seeds of Change Organic Mushroom Simmer Sauce

2

tbs. olive oil
Parmesan or Romano cheese for grating
Instructions
For the Chicken:
Combine the coriander, black pepper, salt, nutmeg, lemon juice and olive oil in a small bowl and stir.
Rub the chicken down with this mixture.
For the Stew:
Heat a large cast iron frying pan with 2 tbs. olive oil and place the chicken breasts skin side down to give them a beautiful golden color; turning them over once. This will take about 10 minutes or so on each side. Leave the skin side up when you are finished grilling them.
Add the garlic, fresh basil, parsley and tomatoes and continue to simmer on low.
Parboil the string beans and potato. Slice the potato.
Heat a griddle or large cast iron frying pan with a tablespoon of olive oil and place the sliced potato, string beans and sliced mushrooms to give a little golden color to them and add to the pan.
Add the bay leaves and dried oregano to the pan and continue to simmer on low.
Add the mushroom simmer sauce and continue to simmer on low.
Cover the pan and let cook for about an hour and a half or so.
Serve with fresh grated Parmesan or Romano cheese.
Recipe Card powered by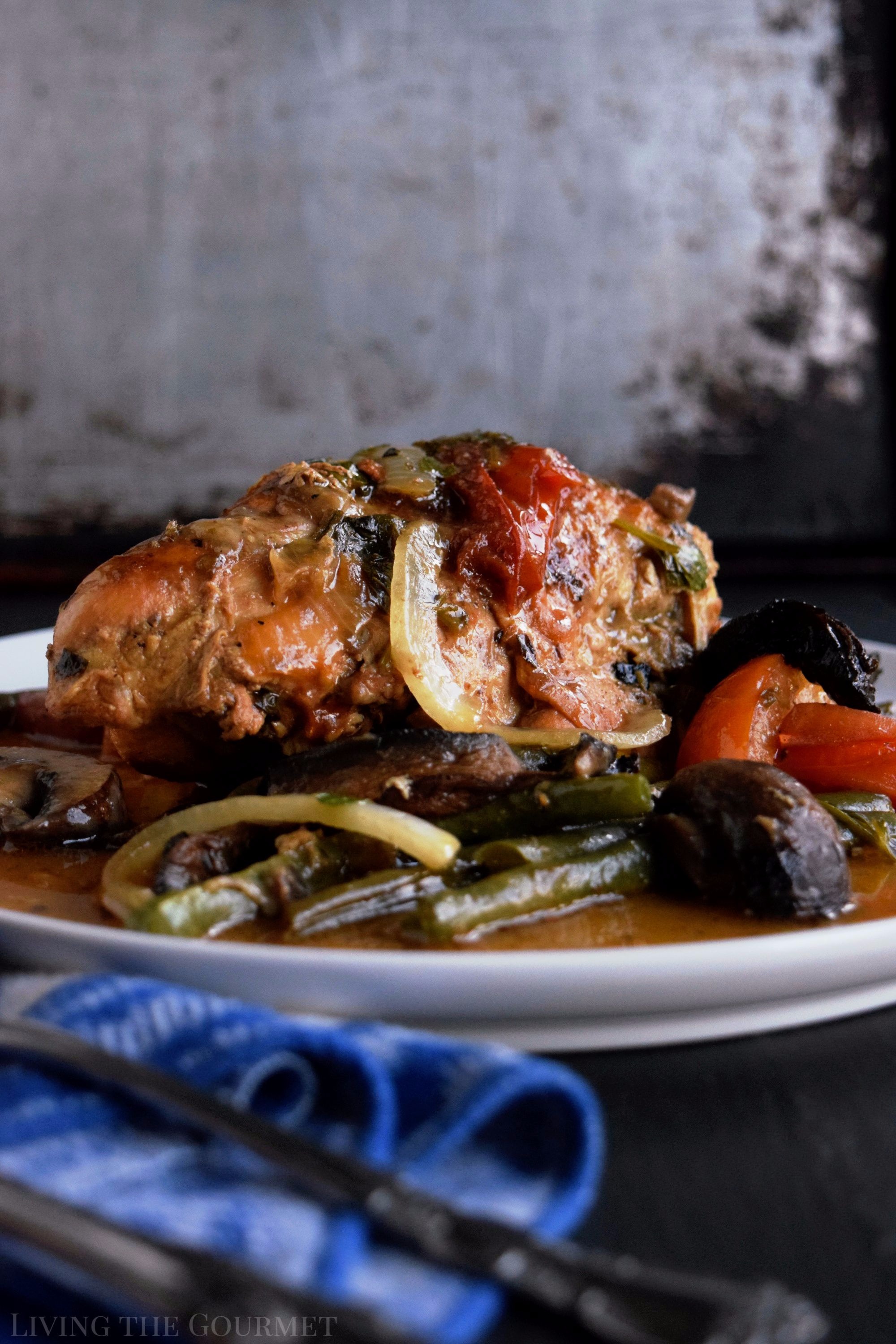 Enjoy with Love!
2