This is a sponsored post written by me on behalf of Bumble Bee® Seasoned Tuna Pouch with Spoon.
Whether you're on the go or looking for something simple and satisfying, these Spicy Thai Tuna Wraps are sure to hit the spot!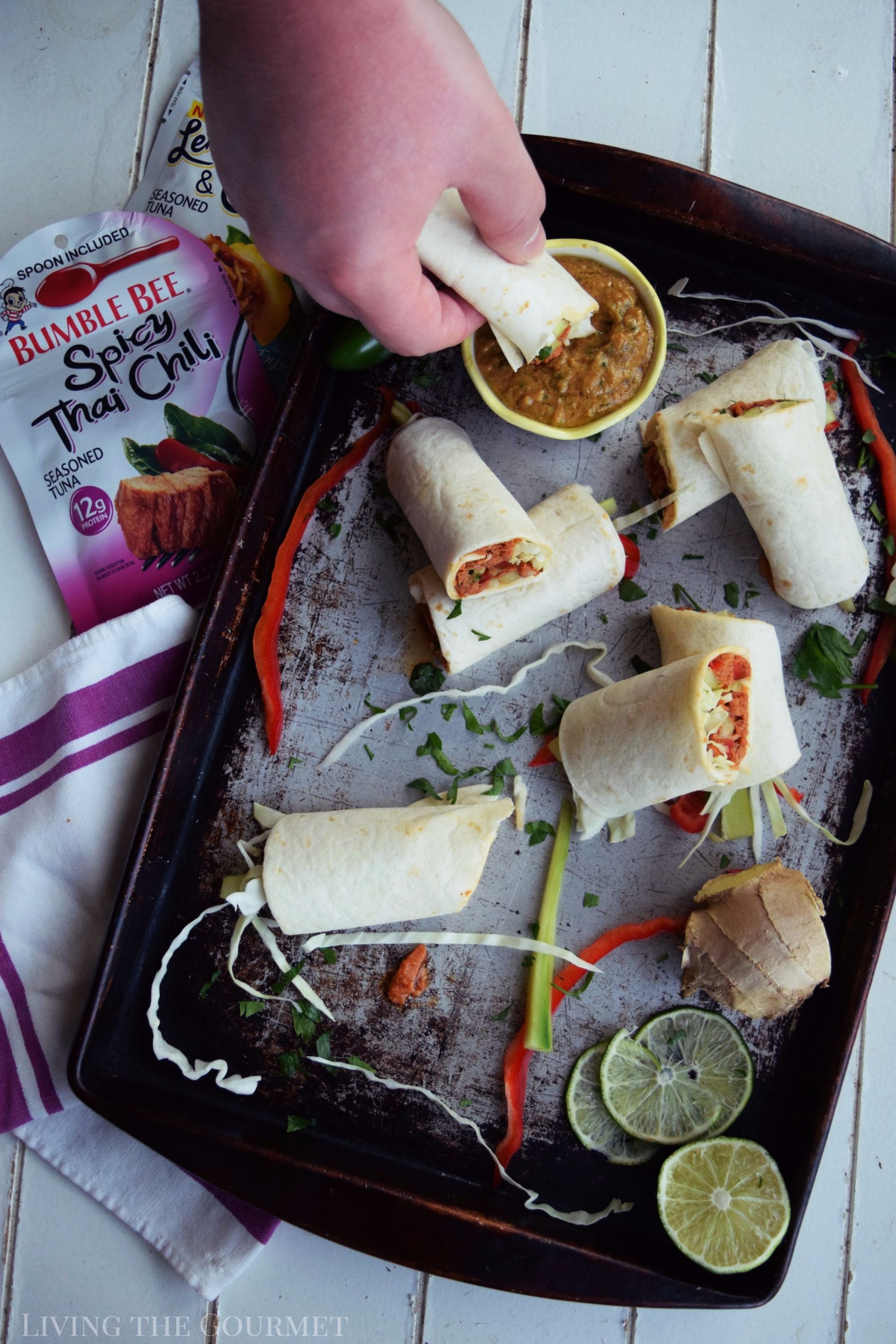 In perusing my social media feed this morning, I happened upon a certain 'meme' in which a person asks herself "Why do I feel so tired?" and her body responds "Because coffee isn't a meal." Yes, I cringed and tried to deny any empathy-by-way-of-experience.
"But why do I feel so run down all the time?" she asks.
"Because you need more vegetables."
"But why don't I have any energy?"
"Because you need more sleep."
"So you're saying there's no hope?"
The moral of the story is, well, that eating and living in ways that make sense actually make one 'feel good.' Imagine that.
Now, being who and what I am, working 'with' and 'about' food on a daily basis, the idea of 'eating well' would seem to be a given, right? Of course not. Nothing is ever that simple.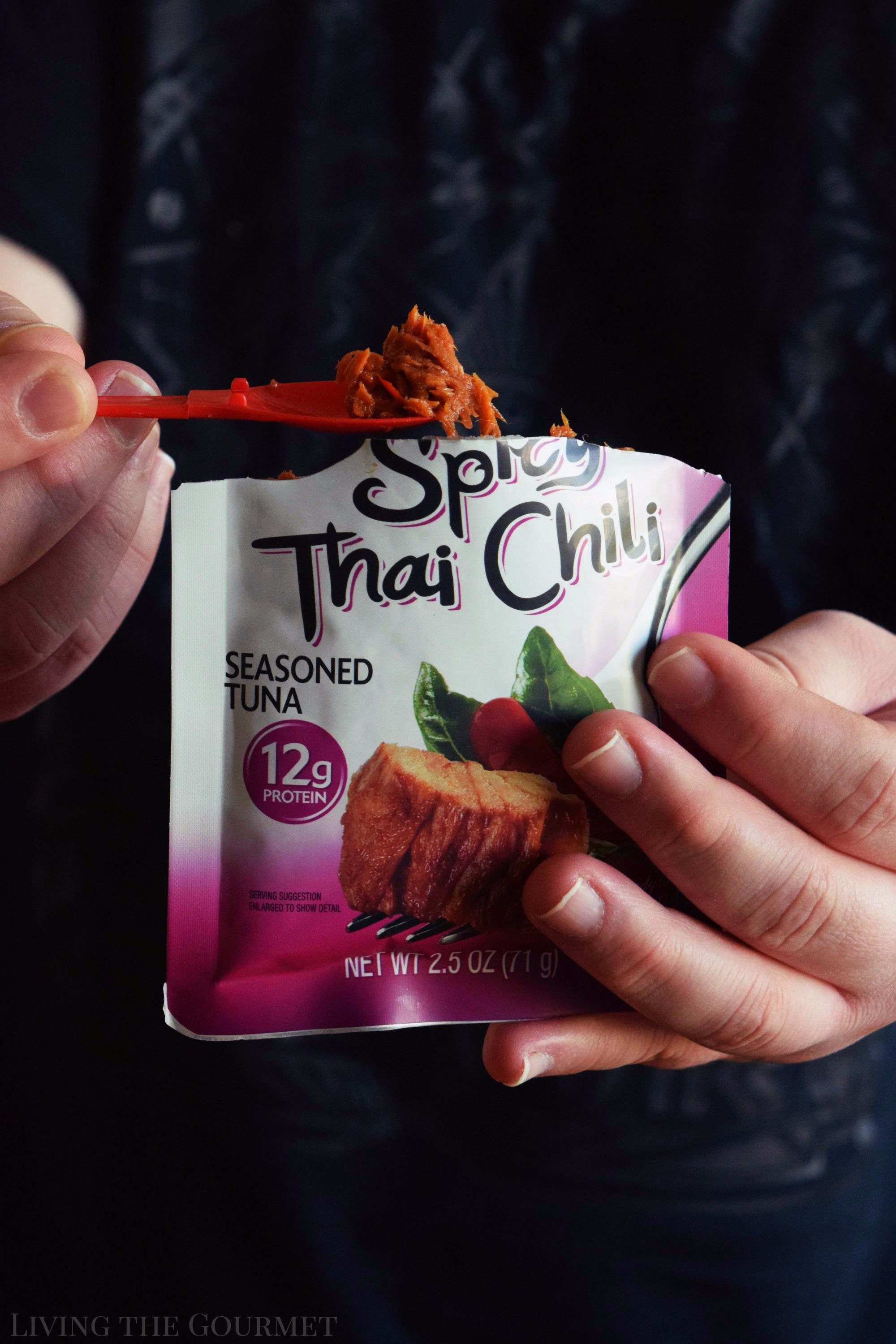 I've spoken here on Living the Gourmet quite a few times about how difficult it can be to resist the temptation for 'quick bites,' or to substitute meals with what would otherwise be considered less-than-healthy snacks, or how tempting a busy life can make the prospect of skipping meals like breakfast or lunch in favor of one's 'thoroughly modern schedule' while getting by on the fuel of yet another coffee.
If I may Wax Post-Modernist for a moment – it is an ongoing and ever evolving challenge birthed from the constant flux of life, and as such there is no single 'silver bullet' or 'cure all' for these lines of gastronomic temptation. Instead, far more often than not, eating well happens in a manner directly proportional to how convenient or practical it happens to be.
So where does that leave us?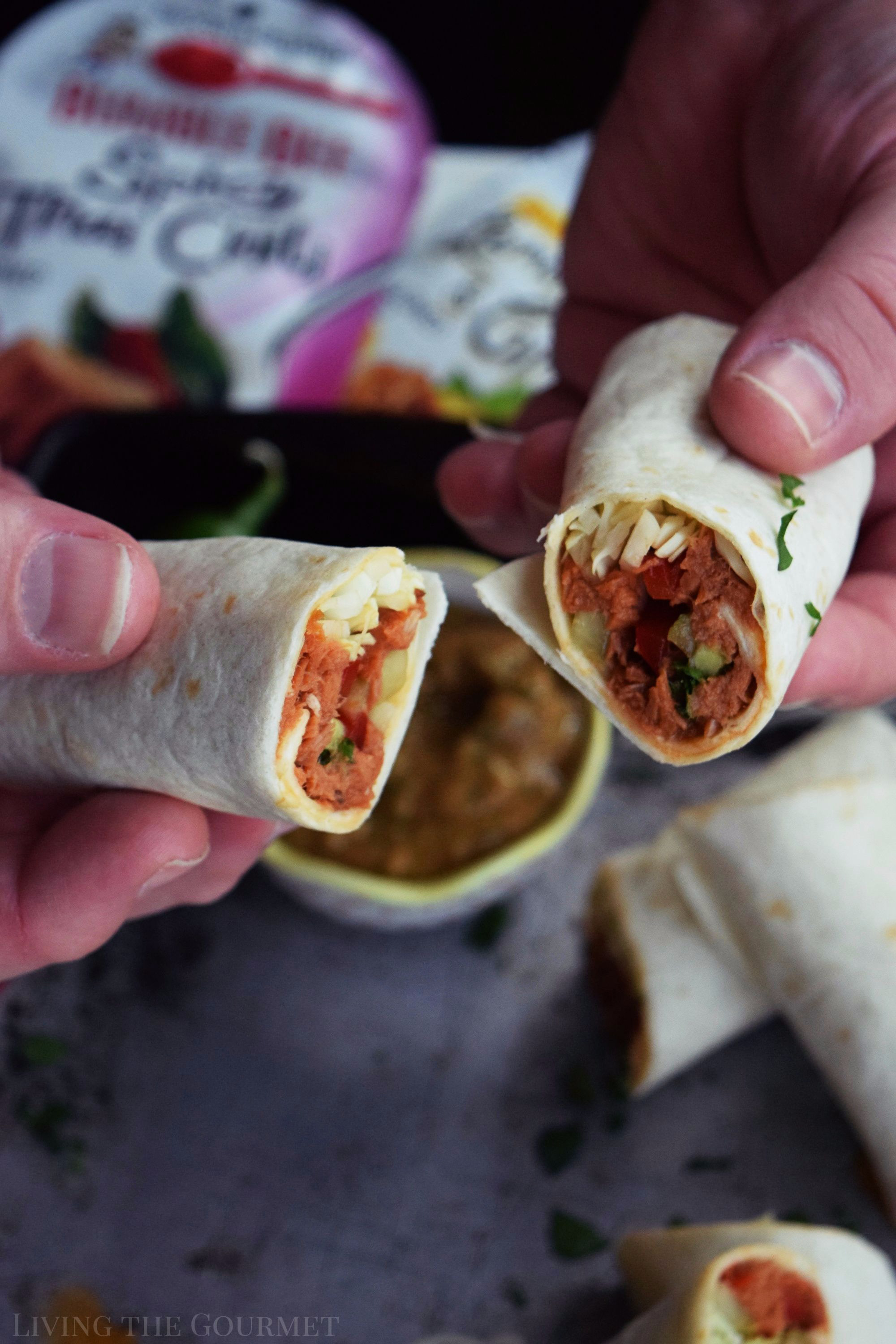 To give an example, let's say it's midday and you're going from your work to lunch. Within the spare minutes that you have, you want something that's bold of flavor, but also healthy, and of course, it simply needs to be convenient. These three things, naturally, are difficult to find in a single package – especially ones that are also reasonably priced.
However, I was recently introduced to a product that fulfills all three criteria – Bumble Bee® Seasoned Tuna Pouch with Spoon, which, as the name suggests, comes with a convenient spoon included. Aside from being a good source of lean protein, they are also extremely convenient and are ready for wherever life takes you.
Now, aside from being delicious on their own, they're also great fillers either for sandwiches or for wraps – which is where today's recipe comes in.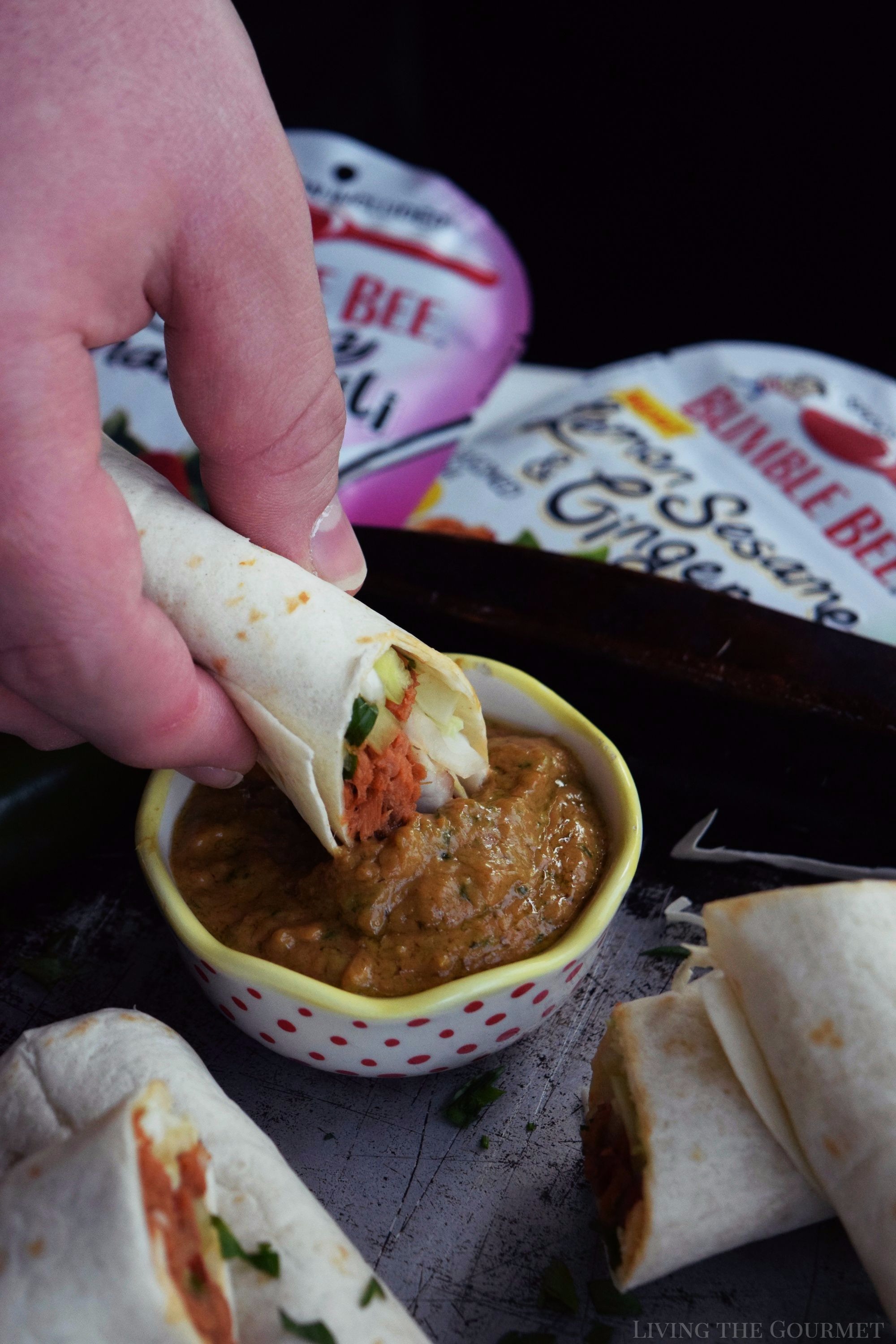 To start things off, we begin by preparing a Peanut Sauce. We simply combine in a food processor creamy peanut butter, a dash of red pepper flakes, garlic, fresh parsley, fresh ginger, and a jalapeno, either with seeds or without depending on how spicy you want the sauce – in this case seeds equal heat. To this we add soy sauce, sesame oil, fresh lime juice and honey, and then process until the mixture is thoroughly combined.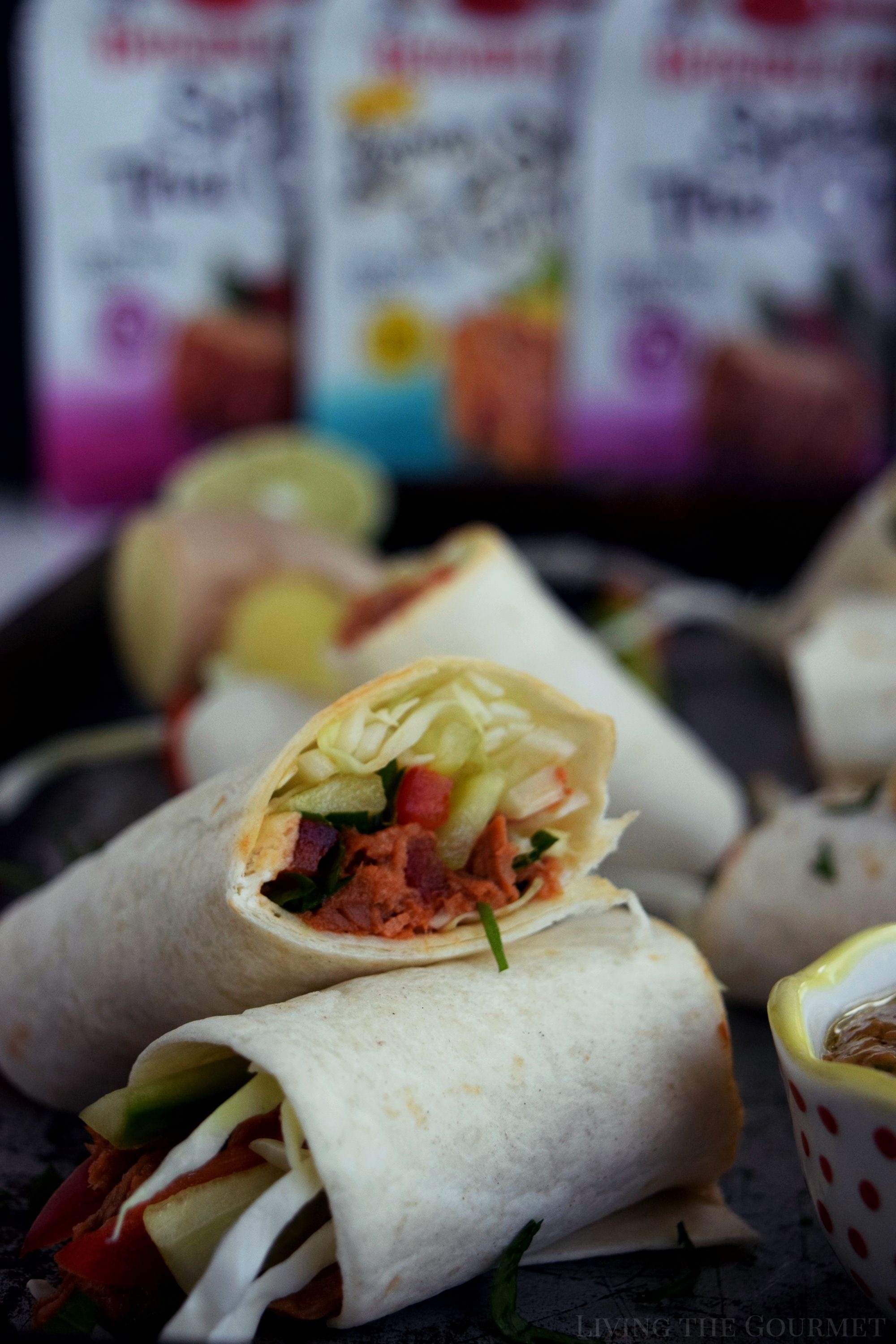 After that's done, it's time to assemble the wraps. We start off with thinly sliced red bell peppers, thinly sliced cabbage, and an English cucumber sliced into 'matchsticks' as shown below. Now, for this particular recipe store bought flatbreads work just fine, however, if you're a purist, you can always follow my recipe for homemade flatbreads – and let's be honest, the fresher the better!
Then simply lay out a flatbread, begin with a layer of cabbage topped by the peppers, the cucumbers, and then the Bumble Bee® Seasoned Tuna Pouch followed by a dusting of freshly chopped parsley. Then simply roll the wrap and serve with the peanut sauce on the side and you're done.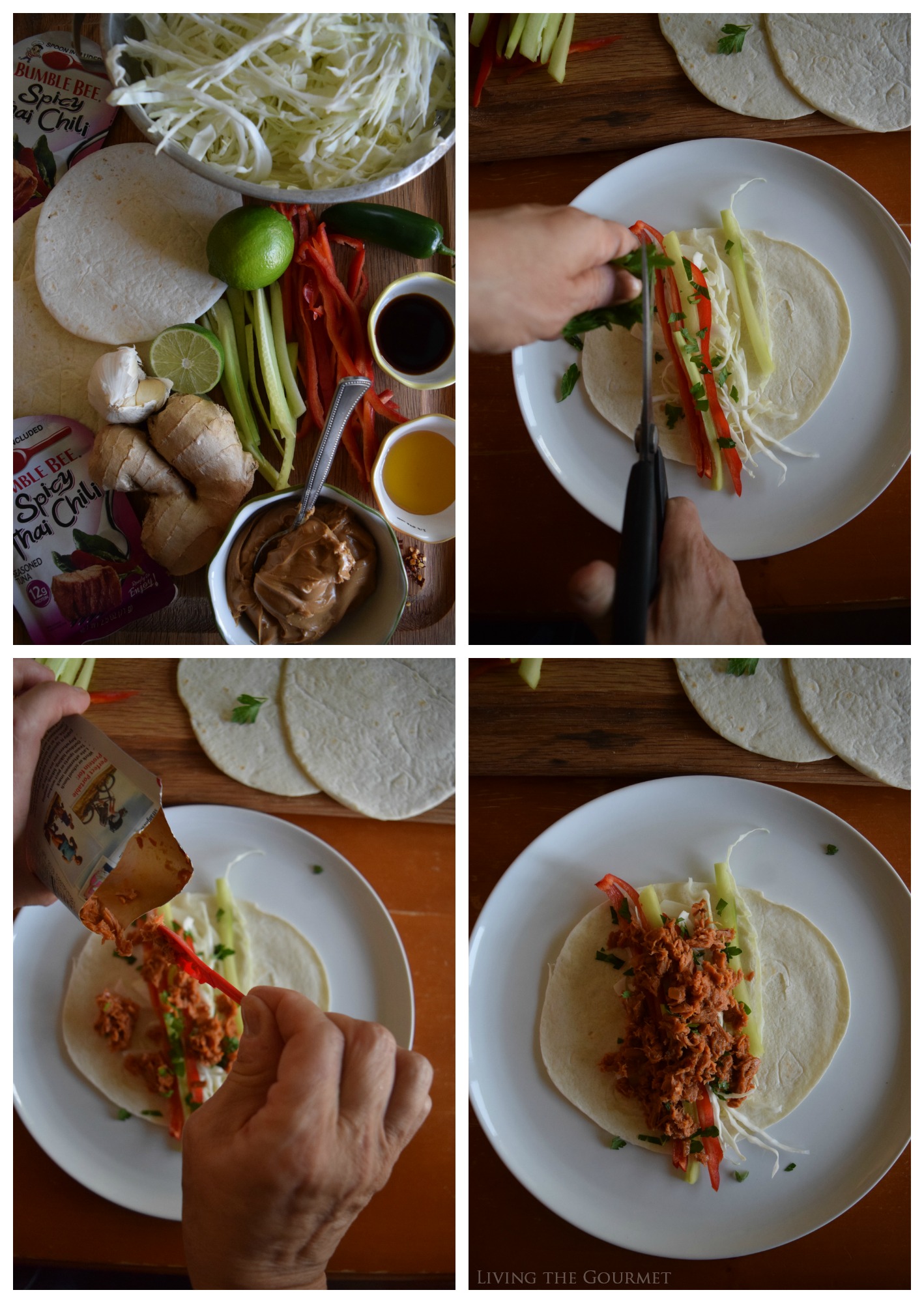 Print
Spicy Thai Tuna Wraps with Peanut Sauce
Author:
Prep Time:

10 minutes

Total Time:

10 minutes

Yield:

4

1

x
Category:

Main Dish
For Peanut Sauce:
1

cup

creamy peanut butter

2

cloves of garlic

1

-inch piece of fresh ginger – sliced thin

1

jalapeno – with or without seeds depending on whether how much heat you would like in the sauce

3

tbs. soy sauce

1 tsp

. sesame oil

1/4

cup

honey
Juice of

1 1/2

fresh limes

1/4 tsp

. red pepper flakes
For Wraps:
Bumble Bee® Seasoned Tuna Pouch – Spicy Thai Chili
English cucumber – sliced into matchsticks
Red bell pepper – sliced thin
Fresh cabbage – sliced thin
Flatbreads
Instructions
For Peanut Sauce:
Combine all the above ingredients in a food processor and process to desired consistency.
Assembly for the Wraps:
Place the tuna down the middle of the wrap, followed by red pepper strips, fresh sliced cabbage and finally the cucumber strips.
Roll the wrap tight and serve.
Recipe Card powered by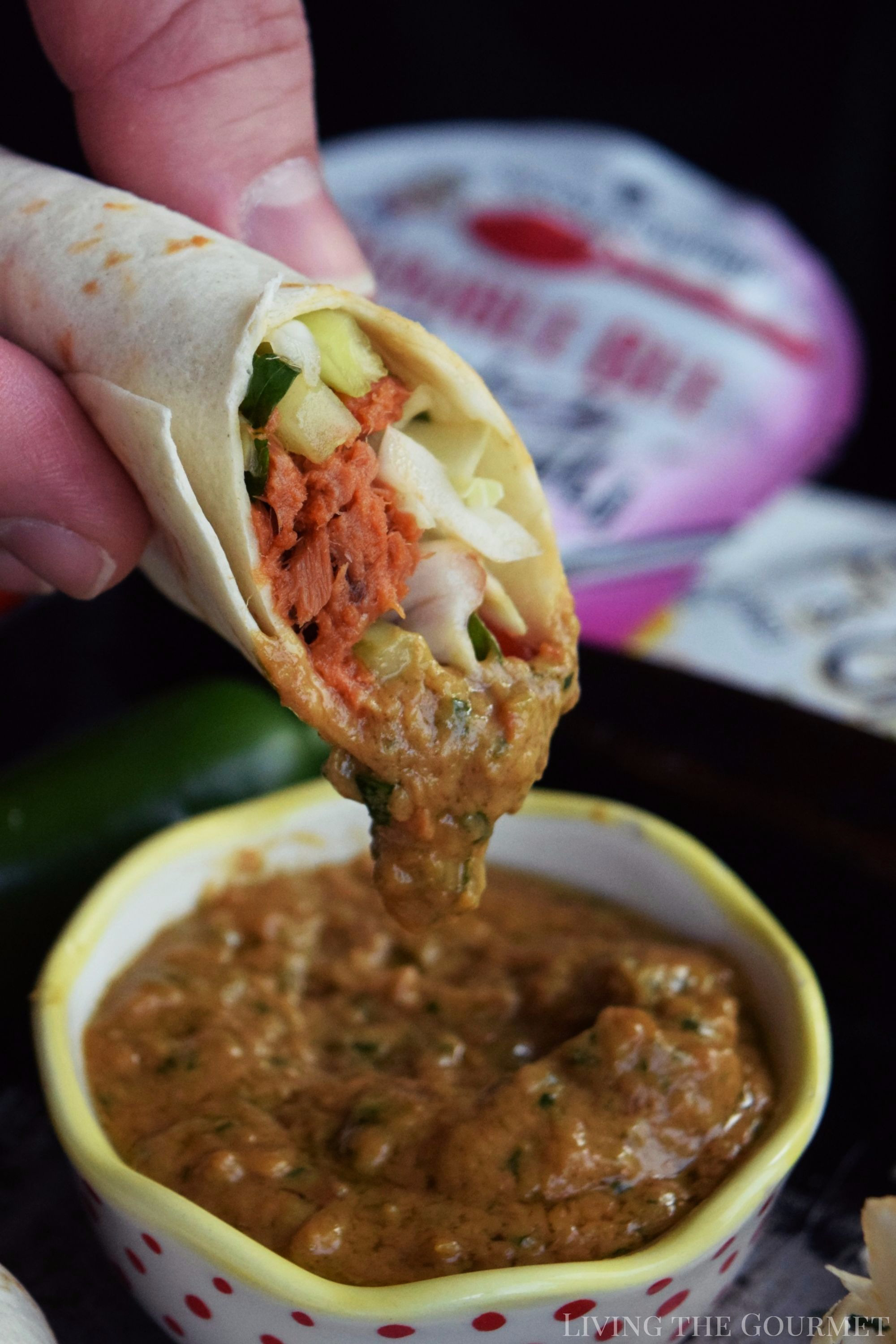 And just like that, you've combined convenience, flavor, and wellness all into a single package and recipe that couldn't be easier. Who's better than you?
This is a sponsored post written by me on behalf of Bumble Bee® Seasoned Tuna Pouch with Spoon.
Enjoy with Love!
1