Spaghetti is tossed with roasted tomatoes, fresh arugula, and crispy sausage. It's a perfect meal this season and sure to please the crowd!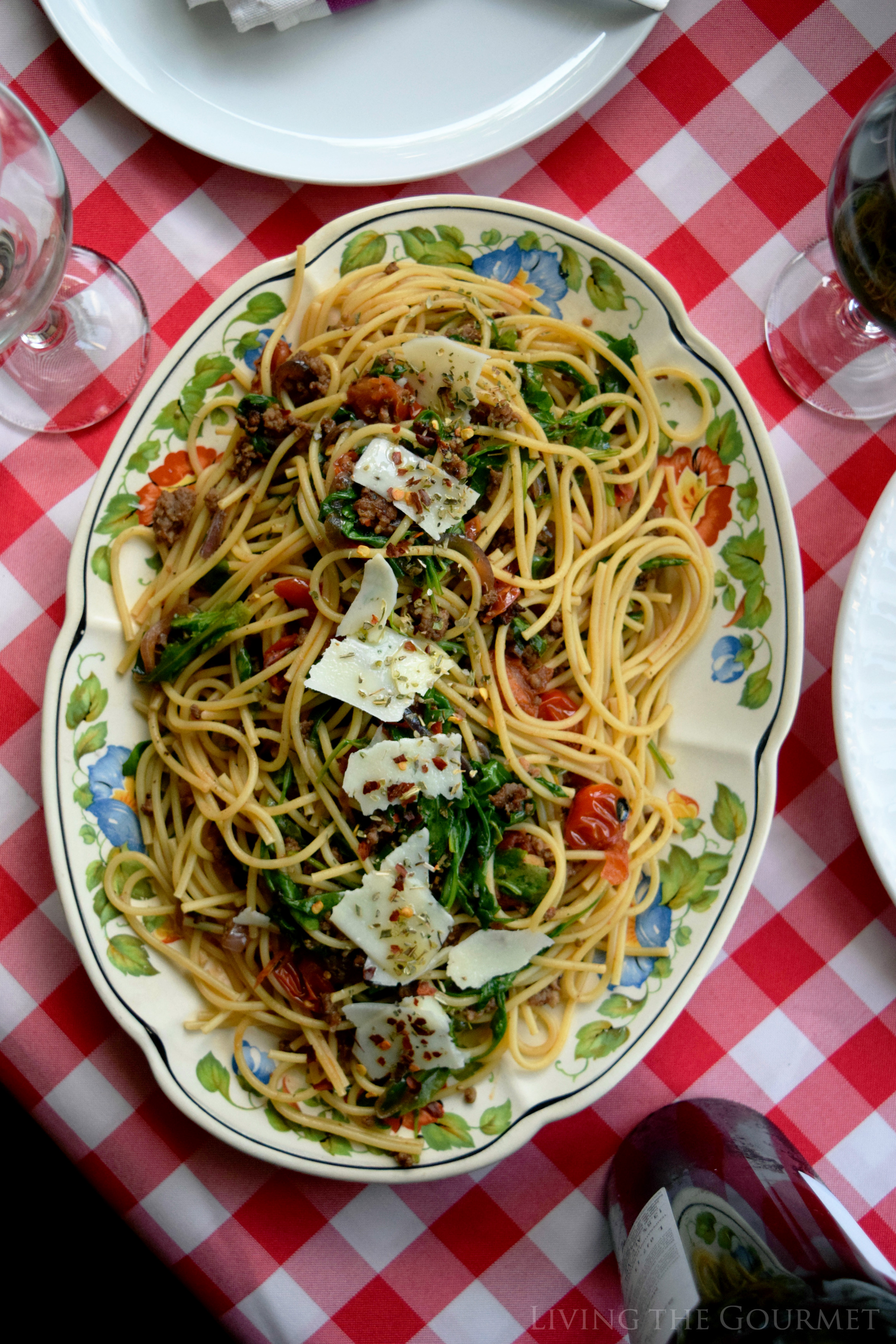 If we think of 'classics' we tend to think of silver screens, dead authors, and Doric columns. Tradition, similarly, conjures thoughts of rigidity and the antiquated rituals of past generations. 'Fun' is rarely, although far from 'never,' associated with either.
However, if we picture a clear summer afternoon with a blissful amount of 'nothing to do,' and crisp sea air to be indulged, then we have a perfect opportunity to insert 'fun' into the traditional and the classic. Of course, such settings are difficult to ruin, and a cold sangria would suffice to complete the picture, no added hassle necessary.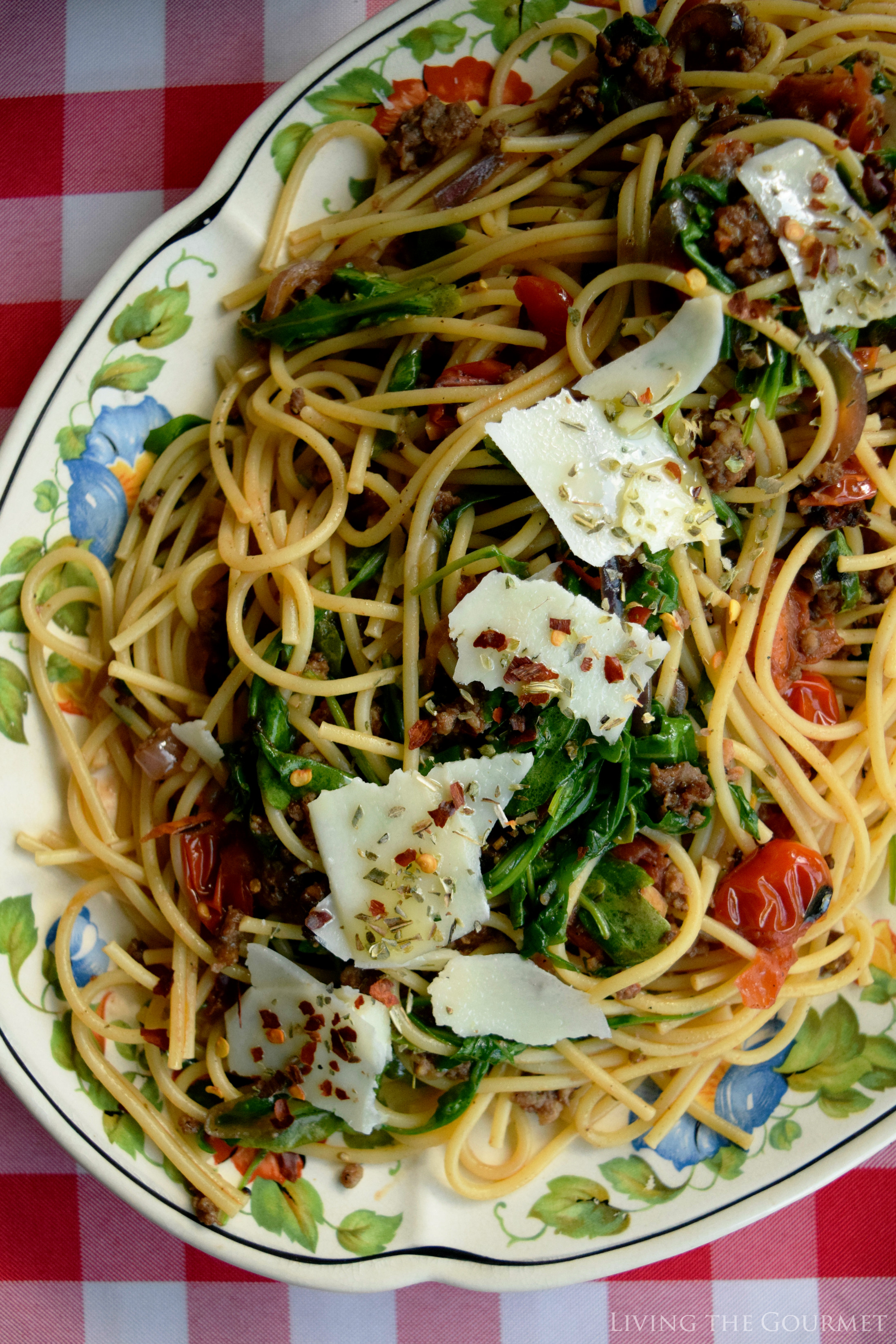 Yet, why stop there? Why not complete the setting with a meal that could have been plucked from your favorite bistro fantasy?
That's roughly where I found myself a few afternoons ago. The phone was thankfully silent, and I was on the receiving end of no texts or messages. It was a rare occasion indeed, and I had precisely two options in front of me, give into the temptation of spending the afternoon and evening 'doing nothing,' or take the mild effort necessary to treat myself as if I were my own guest.
Naturally, I chose the latter, and that, of course, is where today's recipe comes in – Spaghetti with Roasted Tomatoes and Arugula.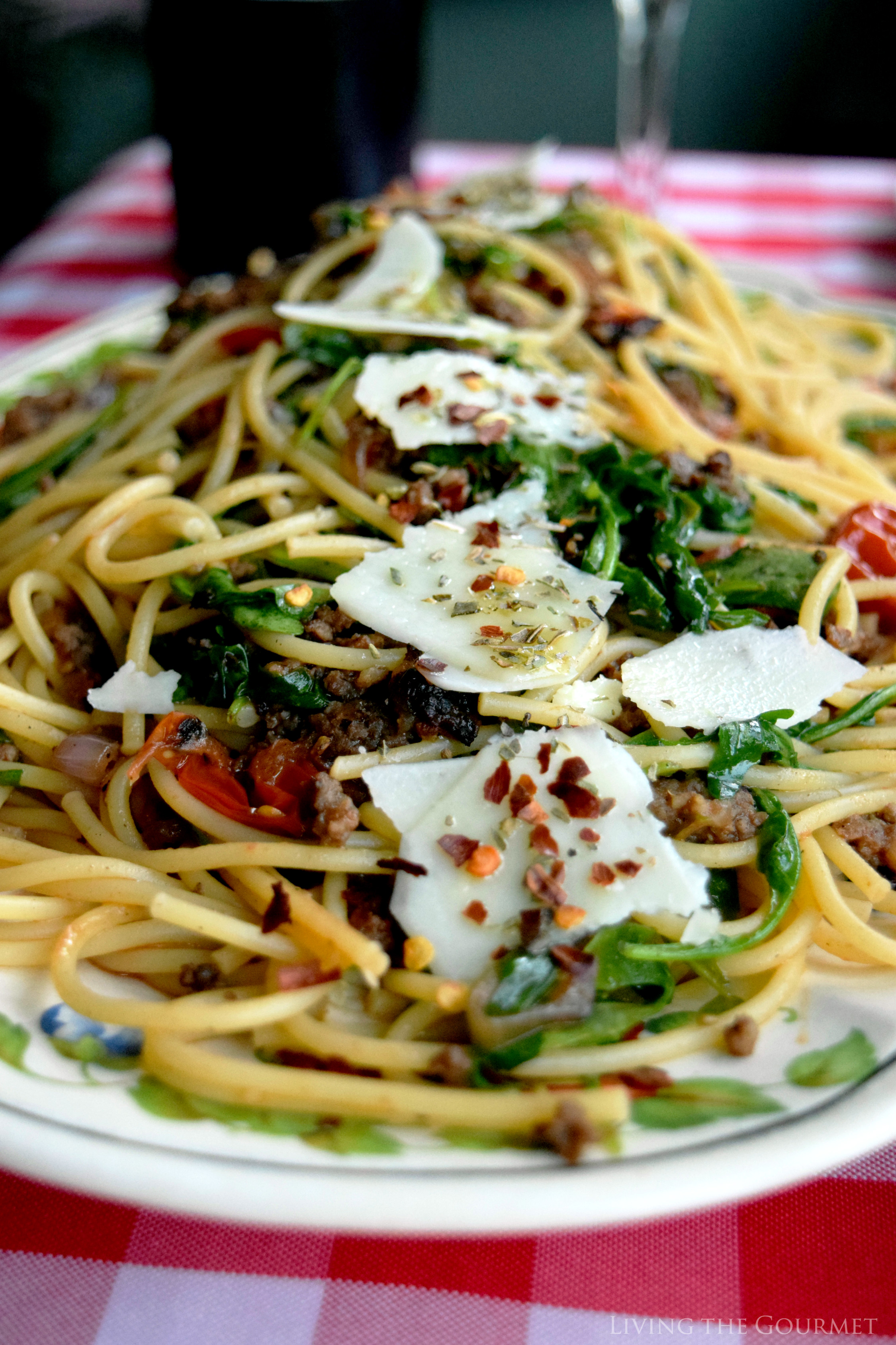 To start things off, we begin by heating a large cast iron frying pan and placing the tomatoes and onions in the pan as described below, and we let them achieve a nice char.
Meanwhile, we heat a second pan with olive oil and cook the loose sausage as described below. Once the sausage has cooked, we add in the garlic along with the grilled tomatoes and onions. Now, you're going to need to crush the tomatoes so that they open, and once you've done that add in the seasonings and the red wine.
Once that's done, it's time to prep the pasta in generously salted water. Once the pasta has finished cooking, you're going to want to take a few tablespoons of salted water and add that to the sauce.
Next, add the fresh arugula to the sauce, and toss it carefully. Yes, the giant pile of arugula is going to look…well, quite giant, but fear not it cooks down beautifully. Once the arugula has reduced, add in the pasta and toss again.
Print
Spaghetti with Roasted Tomatoes, Arugula, and Sausage
Author:
Prep Time:

10 minutes

Cook Time:

20 minutes

Total Time:

30 minutes

Yield:

4

-6

1

x
Category:

Main Dish

Cuisine:

Italian
2

lbs. of grape tomatoes – grilled

2

cups

of fresh arugula

1

red onion – sliced and grilled

4

cloves of garlic – chopped

1

lb

. of loose sausage

1/4

cup

of red wine

1/2 tsp

. salt

1/2 tsp

. black pepper

1/4 tsp

. red pepper flakes

1/2 tsp

. dried oregano

3

tbs. olive oil
Asiago cheese for grating

1

lb

. of spaghetti
Instructions
Heat a large cast iron frying pan and place the tomatoes and onion slices in the dry pan to grill and slightly char.
While doing the above heat a second large cast iron frying pan and drizzle a little olive oil in the pan. Place the loose sausage in the pan to cook and slightly char.
When the sausage is cooked add the garlic, grilled tomatoes and onion. Gently press the tomatoes to open. Add the seasonings and red wine and lower the heat to a gentle heat.
Prepare the spaghetti as directed in well salted water. Lift a tablespoon or two of the well salted water into the frying pan with the sauce.
Add the fresh arugula to the tomato sauce and gently toss to wilt the arugula.
When the spaghetti is cooked lift into the pan with the tomato sauce
Plate the spaghetti with an extra drizzle of olive oil, dashes of red pepper flakes, dried oregano and shaving of fresh Asiago cheese.
Recipe Card powered by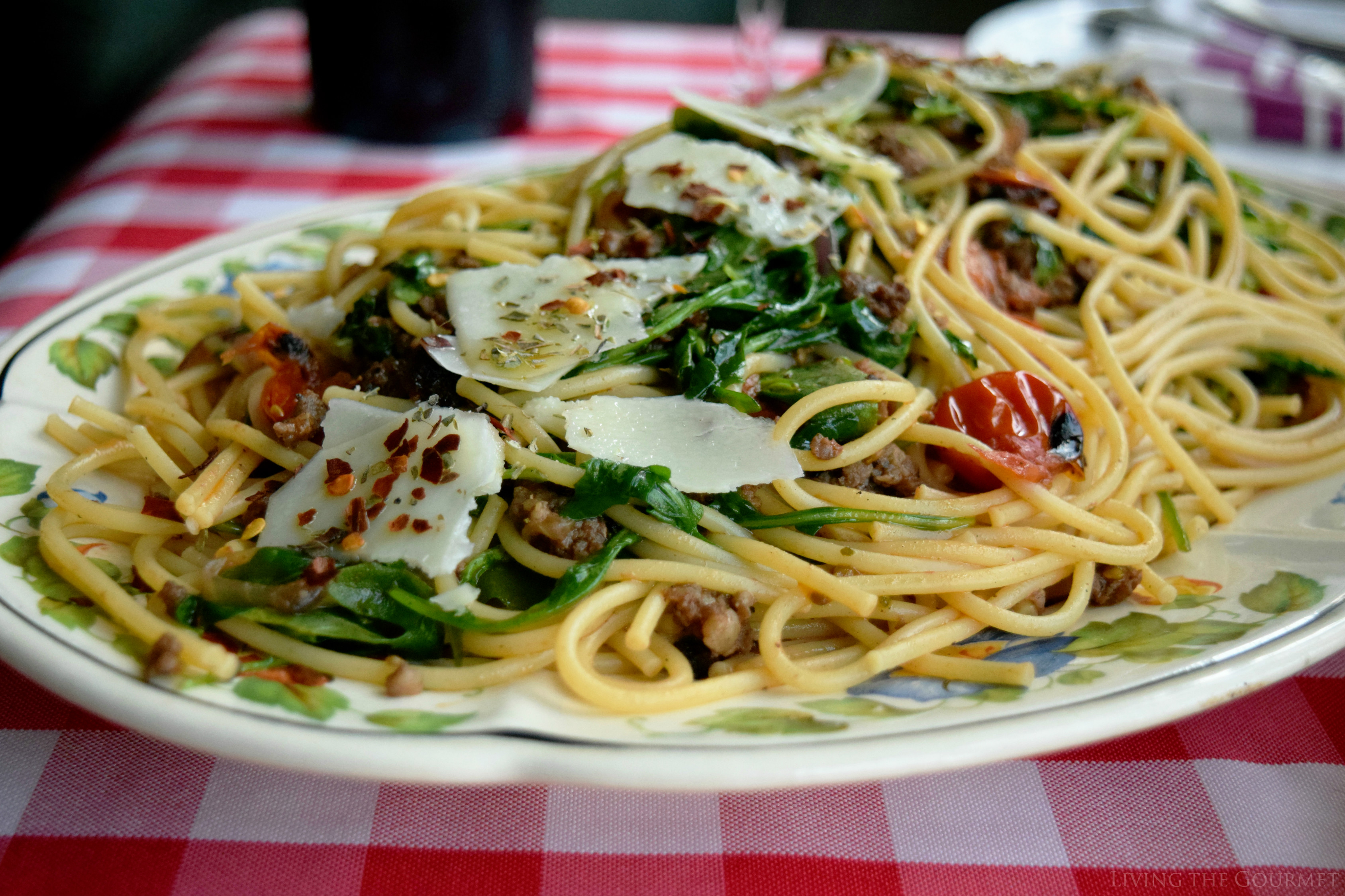 Then simply plate the spaghetti, and top it off with a drizzle of olive oil, some oregano, a few dashes of red pepper flakes, and some gratings of Asiago.
And just like that, you've got a delicious meal perfect for any summer evening.
Enjoy with Love!
0