Roasted peppers and tomatoes are tossed together with penne pasta for weeknight meal that is simple and delicious.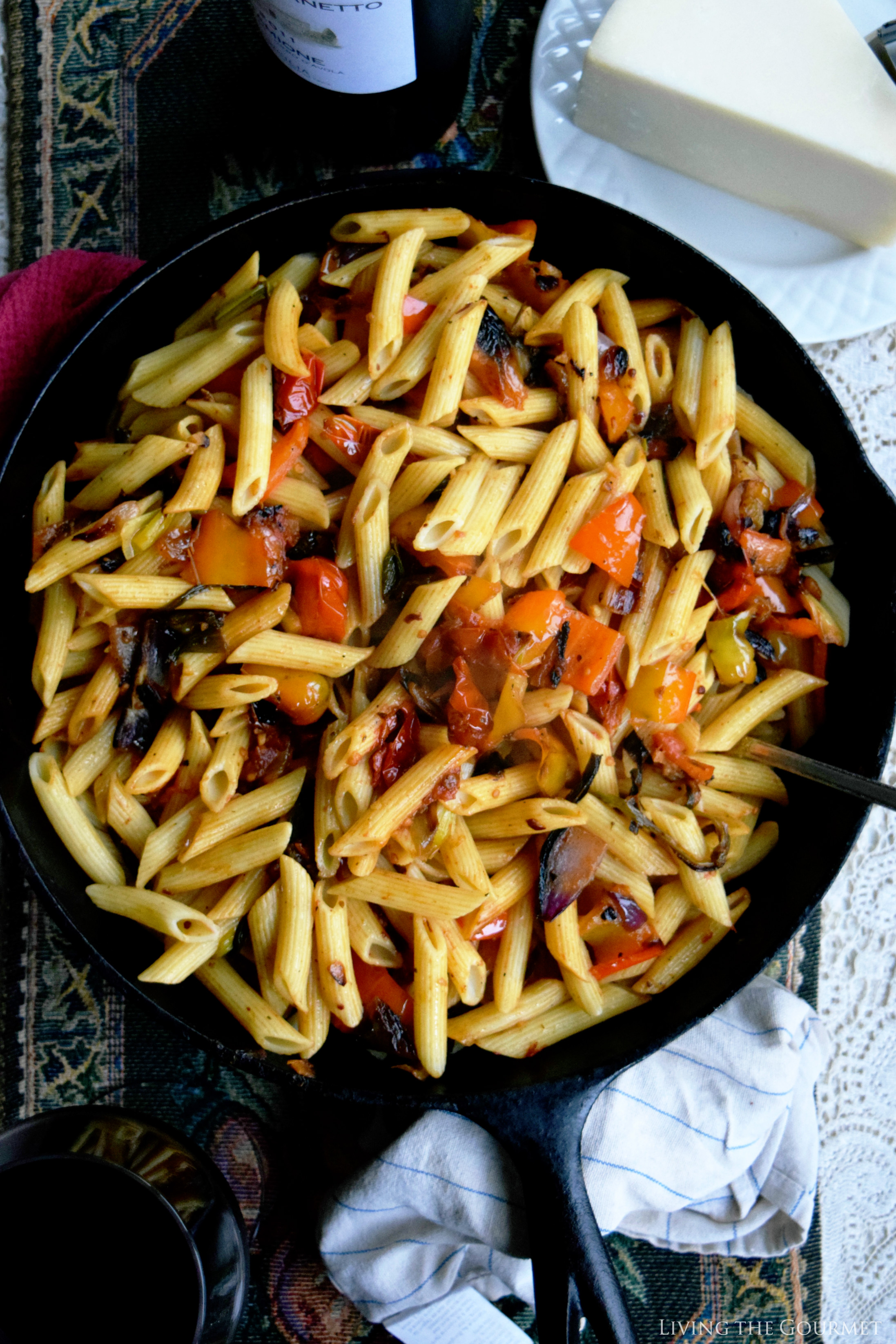 Humans have been 'acquiring tastes' for as long as we've had taste buds. Aristotle wrote on the subject in passing. Plato, too, touched on the subject, albeit indirectly so, reducing the human experience down to its most elemental quantities, which he deduced to be a struggle between "pleasure" and "pain." After much word-wrestling, he finally concluded that "The same wind blows, one man feels cold, the other comfort."
That being said, I've always found the idea of 'acquired tastes' to be a strange idea, the notion that something once 'bitter' becomes 'sweet' over the course of repeated exposure. Stranger still is something once 'unpleasant' becoming 'pleasant' over the course of repeated experiences. As a result, one might say that our perception of 'pleasure' and 'pain' is, at the very least, malleable.
Why do I bring this up?
For the simple reason that I find this being true more and more in my own life over the past few years. I once found the sight of cranes and the smell of fuel to be quite of unpleasant, and the sound of the engines the size of small cars to be absolutely grating. Similarly, that 'musty' texture left in the air by fresh construction was at one time a 'necessary evil' for the completion of projects, projects spaced few and far between throughout the years. However, since what my neighbors and myself have come to call simply 'The Storm,' all of these things have become regular parts of our day to day life, with our neighborhood under a seemingly ceaseless veil of 'reconstruction.'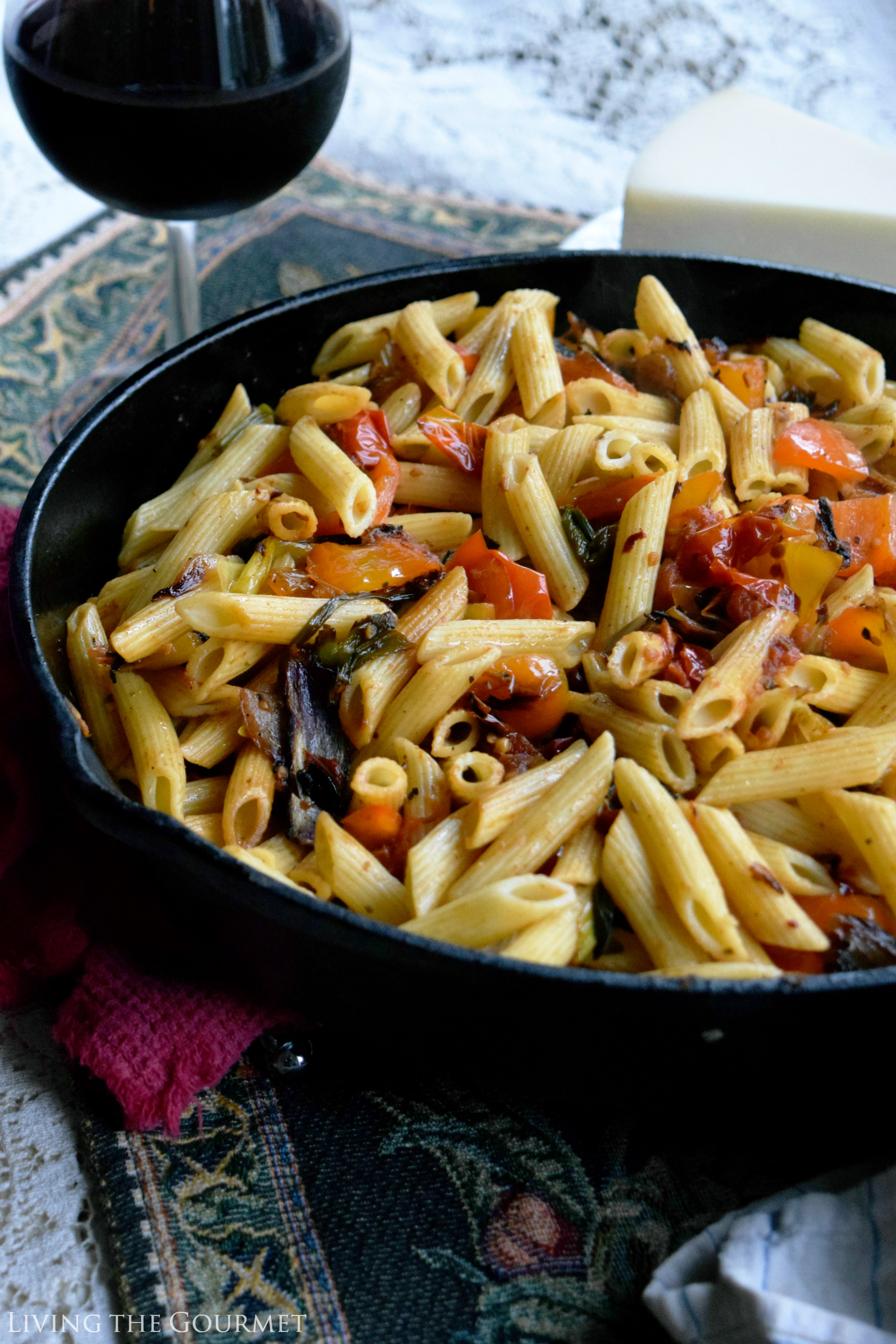 Just yesterday, for example, I was talking to a neighbor whose yard is currently host to a six-foot-wide trench deeper than I am tall, and which runs the full length of his property, the byproduct of which is a mound of dirt two and half stories tall…set right beside his home. Things like these have simply faded from notice overt the past few years, or have, oddly, chiseled out a vague fondness into our psyche.
Whether it's how these 'oddities' meld so well into the nautical scene created by life lived astride a river, or the idea that for each day they are present we take one step back towards whatever was at one time 'normalcy.'
That idea of a 'finished product' is perhaps a part of the psychology behind such an 'acquired taste.'
In that regard, it's a bit like cooking, actually. Cooking, in and of itself, is a laborious and at times tedious task. Yet, when interviewed, many chefs describe the process in artistic and therapeutic terms. Aside from creative process of cooking, there is also a view towards the 'end,' the final product that will find its way to the table, and eventually produce for our senses a feast.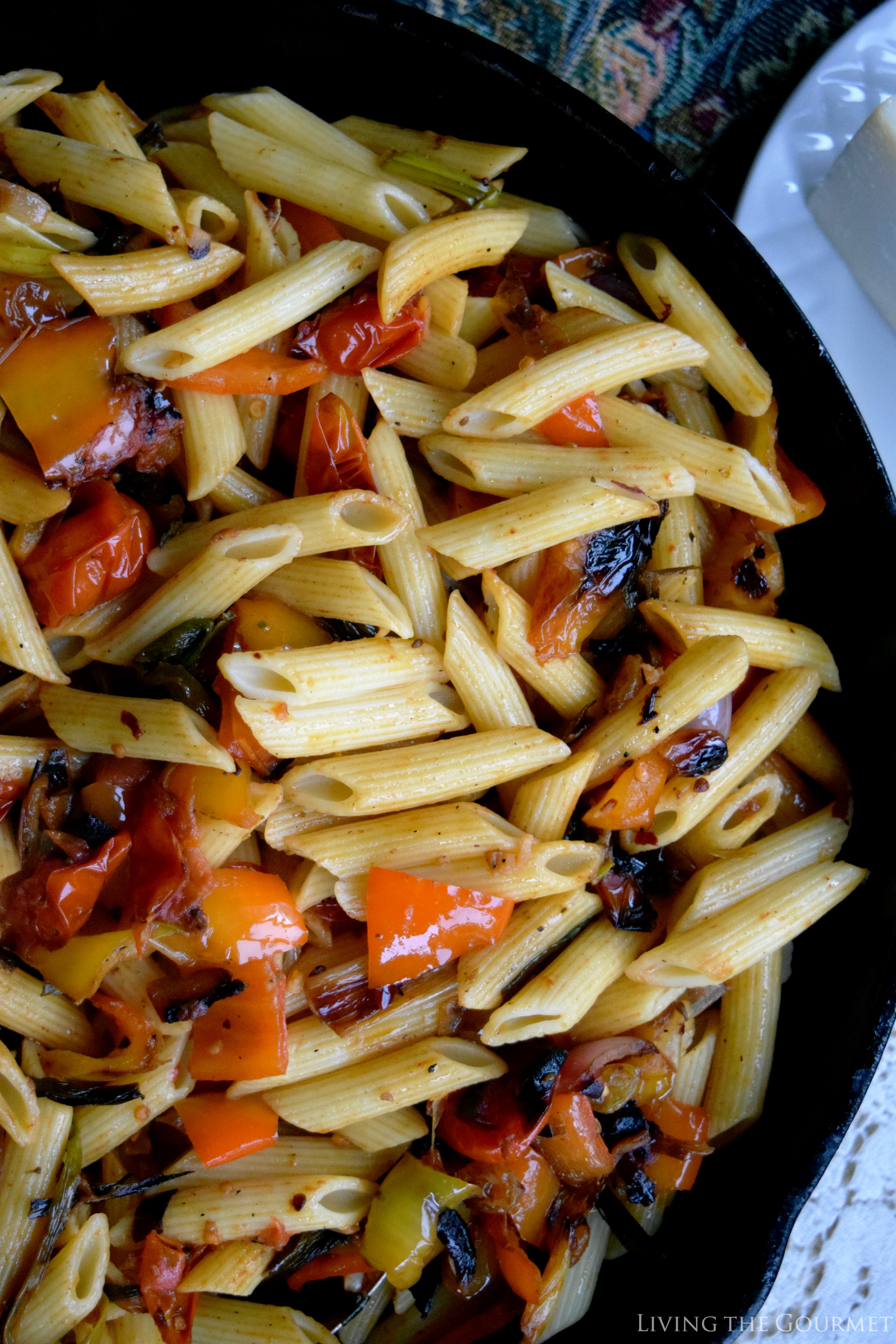 After that brief chat with my neighbor, I found myself thinking about precisely that while I prepared today's recipe – Macaroni with Grilled Vegetables.
To start things off, I began by…can you guess yet?
Precisely, by heating a large cast iron griddle, or a similarly large cast iron pan, and then setting the vegetables to roast, turning only occasionally to ensure an even char.
Meanwhile, prepare a second cast iron pan with about three tablespoons of olive oil and garlic, and then add in the grilled vegetables and the seasonings outlined below, and gently crush the tomatoes.
Once that's done, prepare the penne, add it to the vegetables, then season with a dash of olive, red pepper, and grated cheese.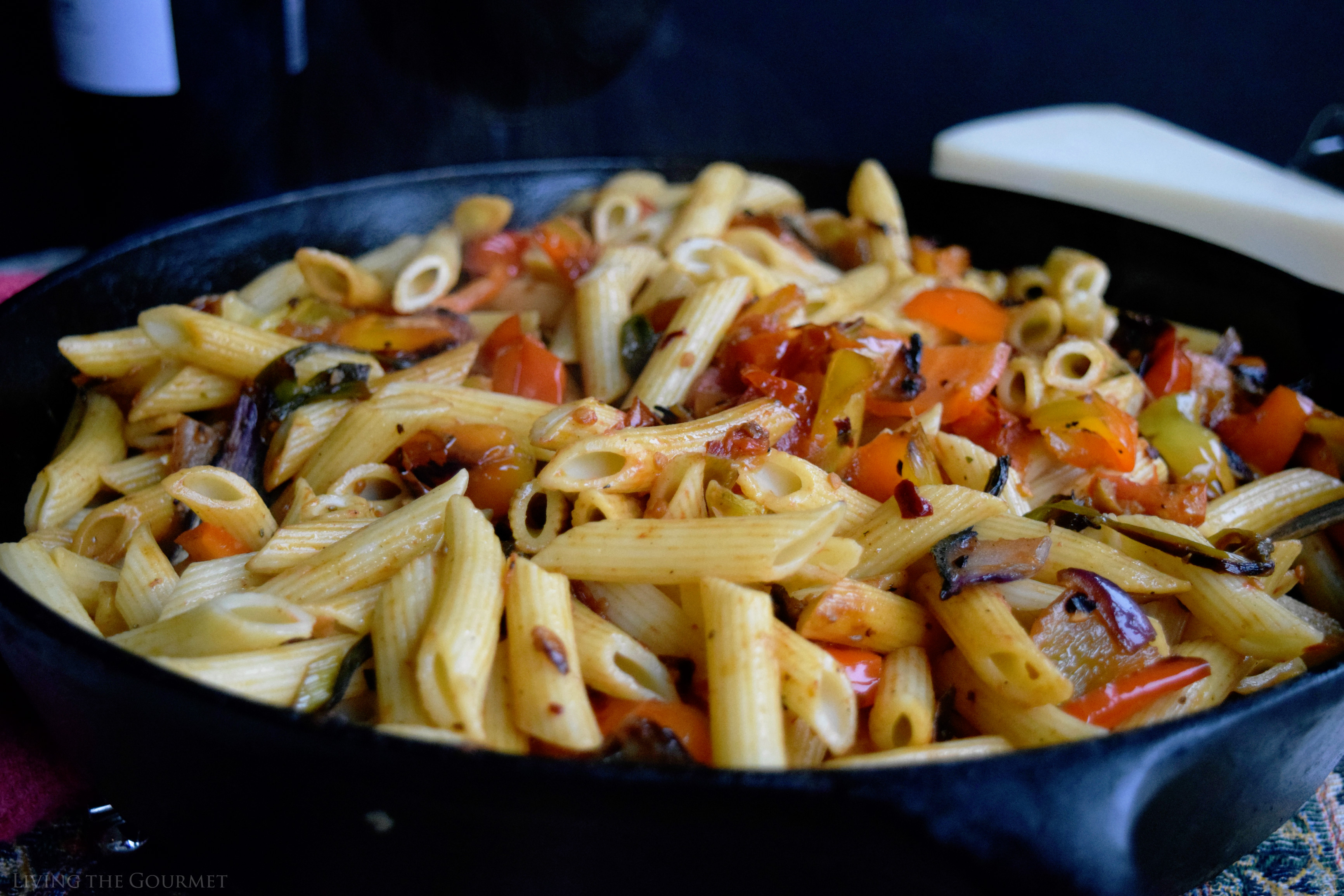 Living the Gourmet
Yields 4
Penne with Roasted Peppers and Tomatoes
5 minPrep Time
20 minCook Time
25 minTotal Time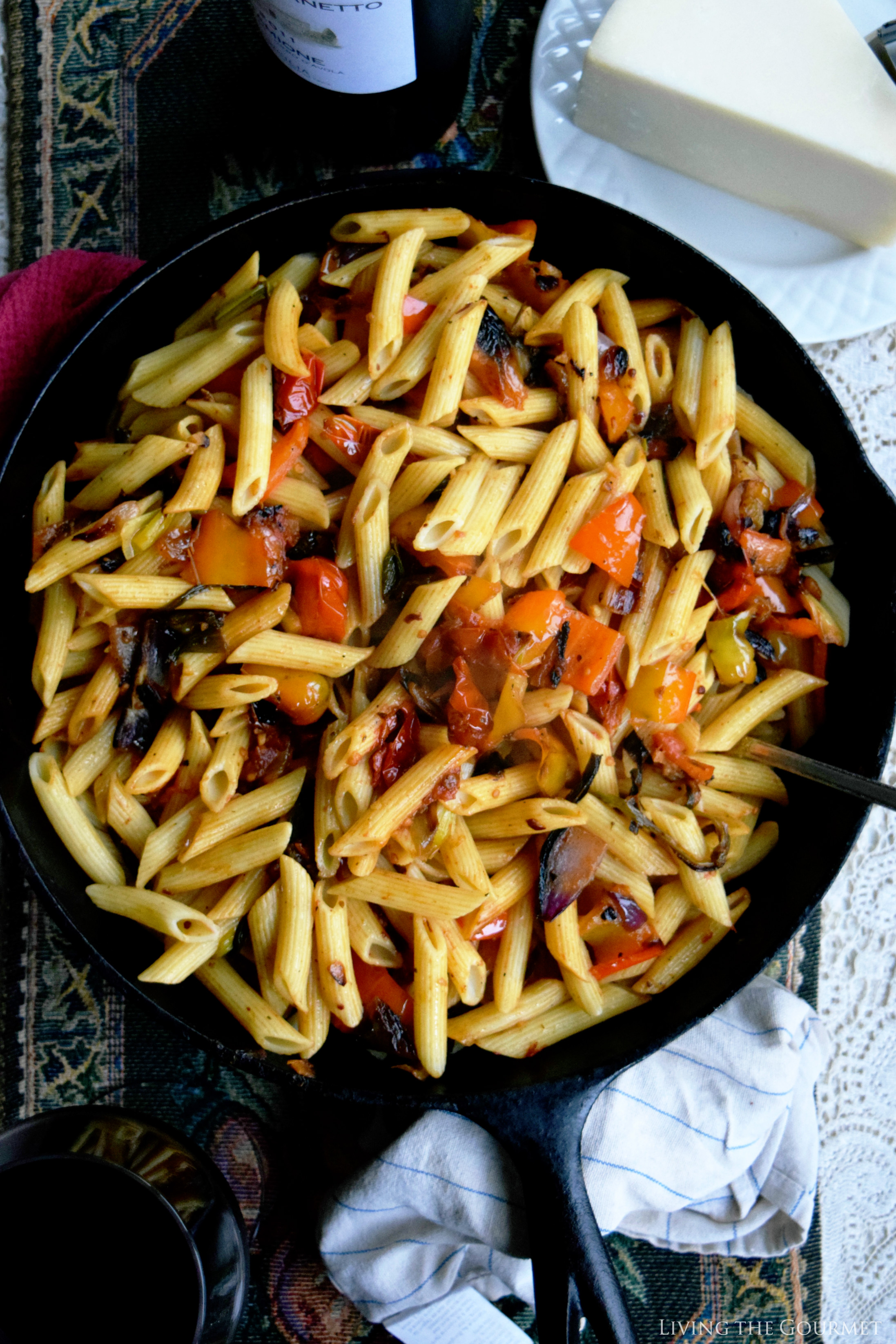 Ingredients
1 lb. penne – prepared as directed
2 cubanelle peppers – halved, seeds removed and grilled
1 red onion – coarsely chopped and grilled
2 bunches of scallions – coarsely chopped and grilled
1 pint of cherry tomatoes - grilled
4 – 5 garlic cloves – chopped
1 tsp. of dried oregano
¼ tsp. fennel seeds
¼ tsp. red pepper flakes
¼ tsp. black pepper
½ tsp. salt
2 – 3 tbs. olive oil
Fresh grated Romano cheese
Instructions
Heat a large cast iron griddle or frying pan and place the veggies on the hot pan turning occasionally until all the veggies are nicely charred.
Heat a large cast iron frying pan with 2 – 3 tbs. of olive oil. Add the chopped garlic, seasonings and the grilled veggies. Gently smash the charred tomatoes.
Prepare the macaroni as directed. When cooked lift into the veggies.
Season with a drizzle of olive oil and an extra dash of red pepper flakes and grated cheese.
7.8.1.2
498
https://livingthegourmet.com/2017/05/penne-roasted-peppers-tomatoes.html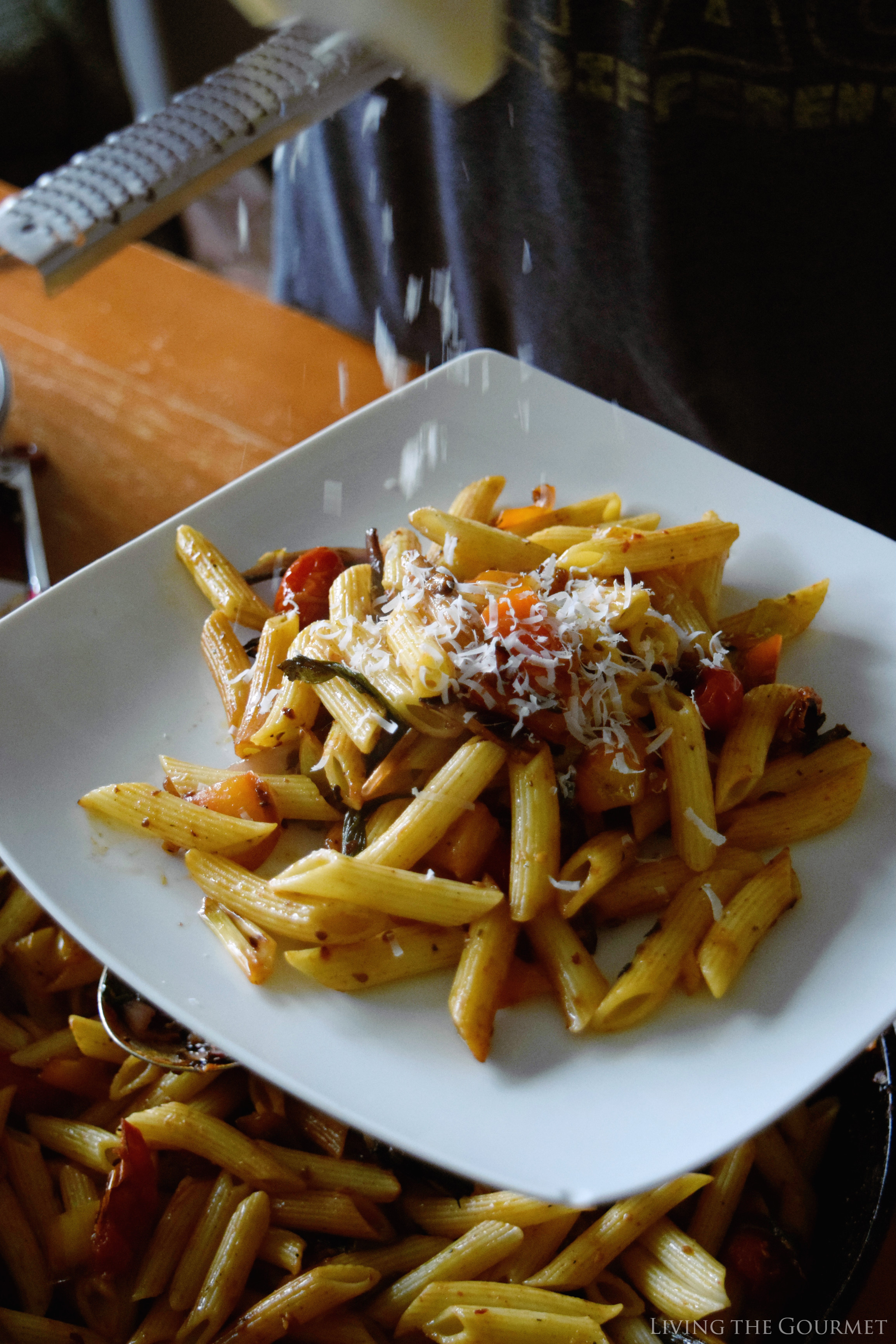 Dinner is served.
Enjoy with Love!
0