This Linguine Puttanesca is a simple and delicious meal perfect for busy weeknights and Springtime gatherings. Puttanesca is a basic sauce made of fresh tomatoes, garlic, olive oil and anchovies…there are many variations but for this recipe I used Wild Selections® Solid White Albacore Tuna in place of anchovies and dressed it up with fresh basil!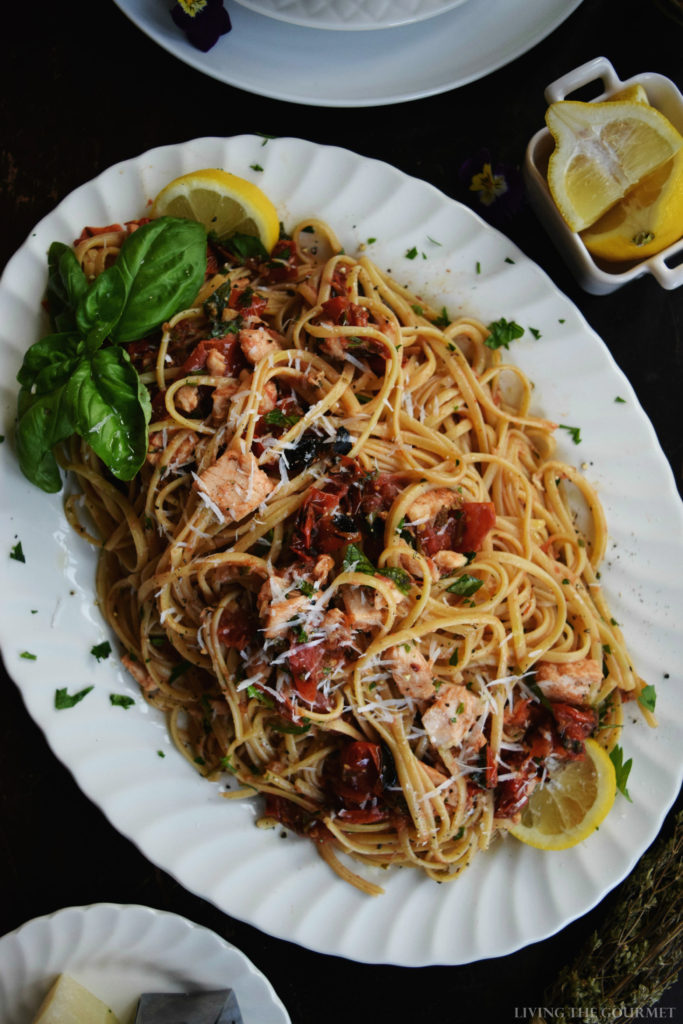 While prepping this post, someone pointed out to me that one of my favorite quotes and my one of favorite metaphors are completely at odds with one another – at least in sentiment. To make matters worse, I've used both several times here on Living the Gourmet.
Like any good classicalist, I was instantly possessed of a seemingly incurable existential crisis.
Let us deal first with the quote, and it's one your likely familiar with if you're a regular here on Living the Gourmet. It's a line delivered by Keanu Reeves in the movie Constantine, a simple bit of advice for the Angel Gabriel in regards to being mortal – "It's called pain, get used to it."
Now, the metaphor comes courtesy of the Emperor Nero, who commissioned the building of a palace of gold for himself, which he dubbed the 'Domus Aurea.' Upon the completion of this palace, he remarked "Finally, a dwelling worthy of a human being." I've often used this example as a reminder that you ought to 'remember your humanity,' since it is 'worthy' of you permitting yourself various indulgences. It's how we keep sane, fresh, and rested.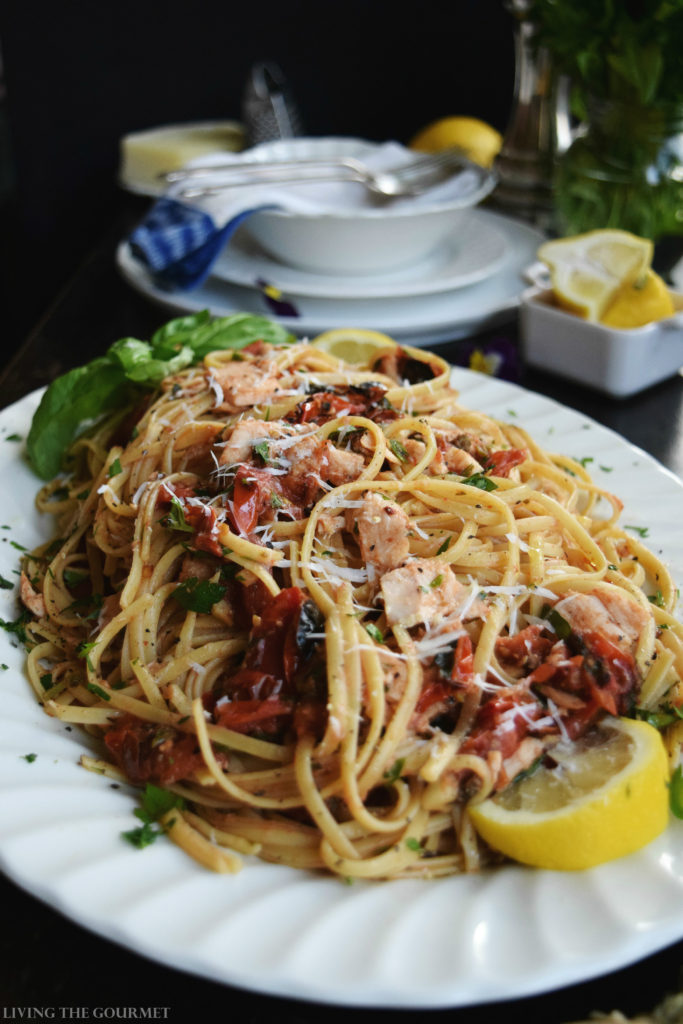 Why do I bring this up?
For the simple reason that…they're not really at odds. They are not mutually exclusive sentiments.
You see, the human condition says that after a long day you're left with the scars to prove it – even if only those left upon the psyche. If you're like me, you probably don't feel like doing much except plunging into the bliss of a well-deserved bout of nightly unconsciousness.
In such moments, I will admit that it's easy to "forget one's humanity," and give into the temptation of denying oneself such basic indulgences as, say, a home cooked dinner. After all, cooking for oneself is time consuming and tedious, right? And any modern schedule barely has time allotted for eating let alone cooking. Or so we're led to believe.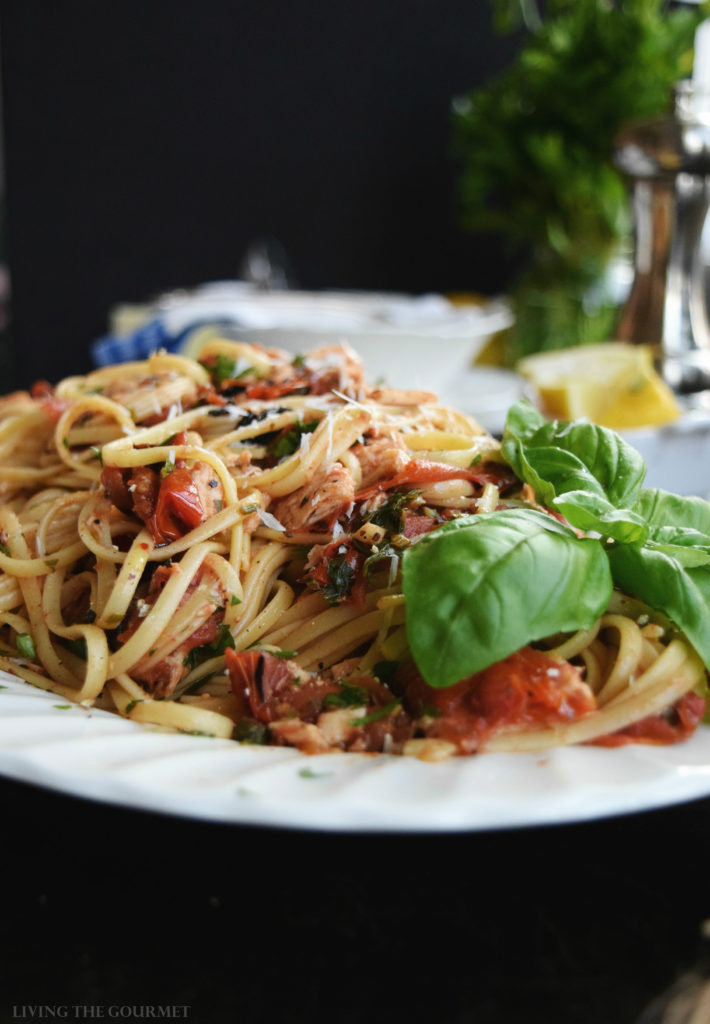 In moments such as these, I like to have a few 'fall back' recipes that I can turn to, recipes that really 'hit all the right notes' in terms of flavor, but without breaking my schedule – or being too tedious to be placed at the end of a long day. Basically, the sort of dish that wouldn't be out of place on a relaxed evening or seaside bistro, but that can still be put together on those busy weeknights.
This brings us quite nicely to today's recipe, a plate of linguine prepared with blistered tomatoes, roasted garlic, and tuna. Now, for this particular recipe, and recipes like it, I do prefer Wild Selections Tuna, since they are a premium quality, sustainably sourced fish that is entirely traceable, with the added bonus of being Non-GMO Project Verified. Beyond that, they are the only full line of seafood certified by the Marine Stewardship Council.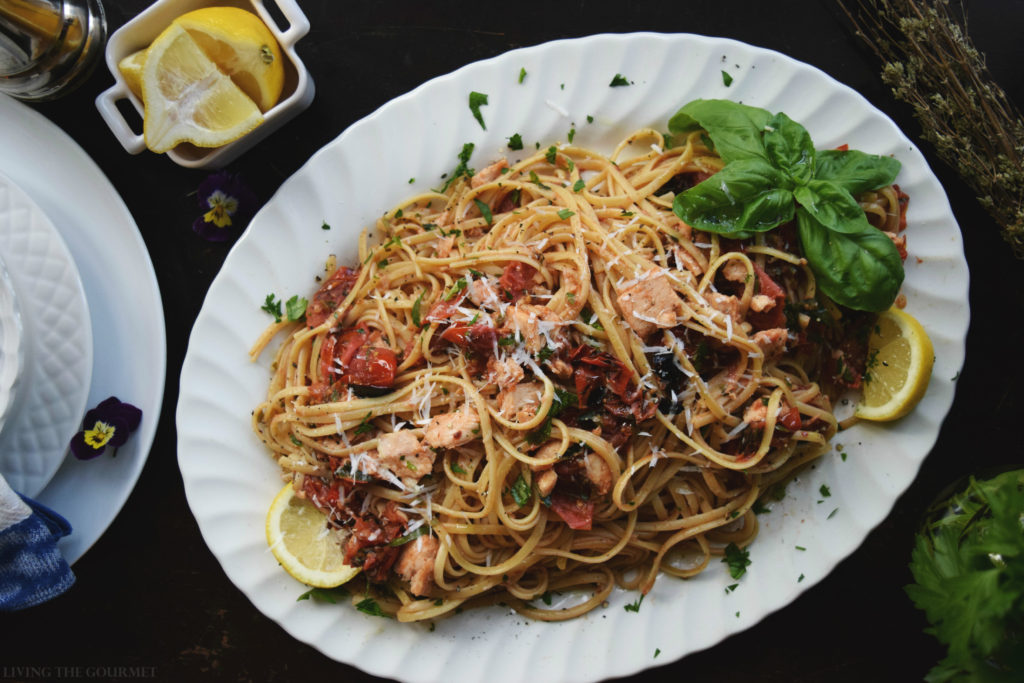 To start things off, we start by preparing the garlic with olive oil in a large cast iron pan,we then add the chopped parsley and basil, along with the seasonings as shown below. While that cooks, prepare you linguine, adding a ladle or two of the salted water to the tomatoes.
Once that's done, add the linguine into the cast iron pan, and top with a squeeze of fresh lemon juice, fresh parsley a drizzle of olive oil, fresh grated cheese and the Wild Selections Tuna.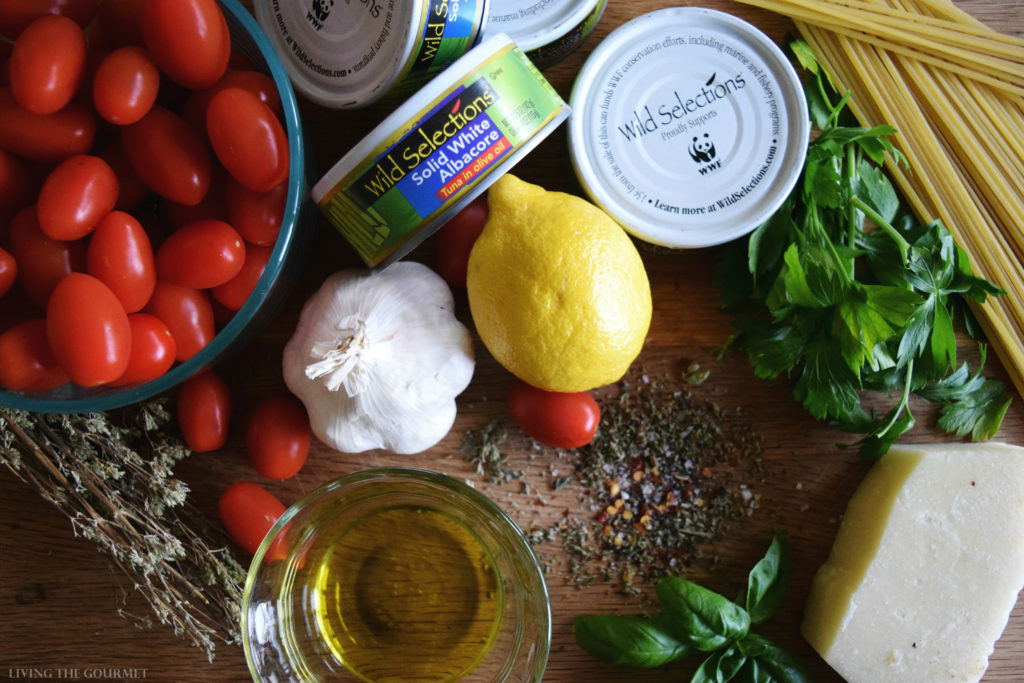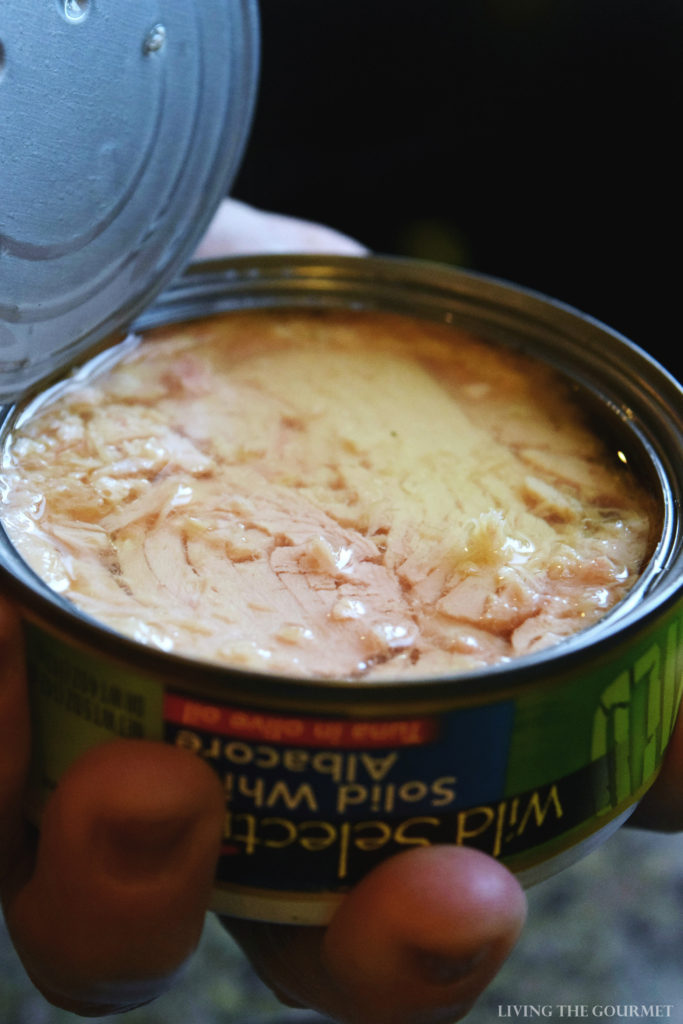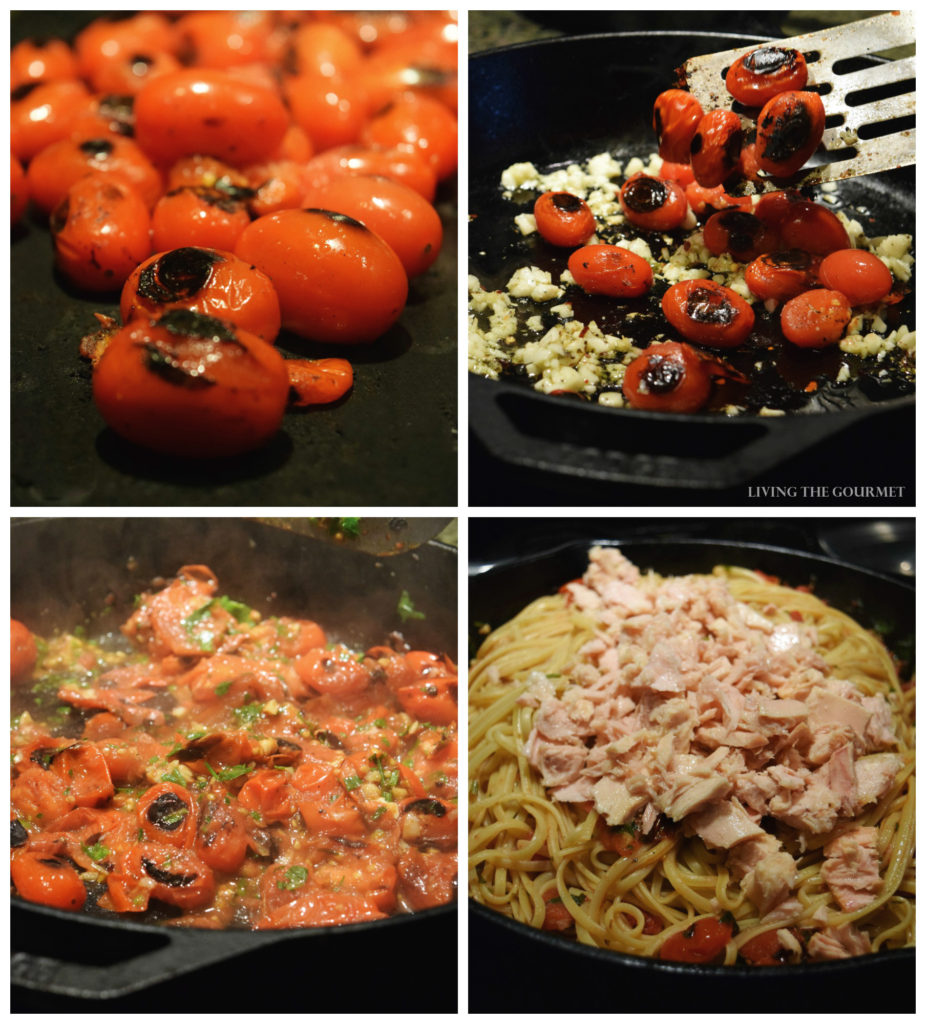 Print
Linguine Puttanesca
Author:
Prep Time:

5 minutes

Cook Time:

20 minutes

Total Time:

25 minutes

Yield:

4

1

x
Category:

Main Dish

Cuisine:

Italian
2

–

5

oz. cans Wild Selections® Solid White Albacore Tuna in Olive Oil

2

pints

of cherry tomatoes

4

–

5

cloves of garlic – chopped

1/4

cup

of Italian parsley – chopped

6

–

8

fresh basil leaves – chopped

1/2 tsp

. salt

1/2 tsp

. fresh ground black pepper

1/2 tsp

. dried oregano

1/2 tsp

. red pepper flakes

3

– Olive oil

1

fresh lemon – quartered
Freshly grated Parmesan cheese or Romano cheese

1

lb

. of linguine
Instructions
Prepare the linguine as directed in generously salted water.
Heat a griddle and place the tomatoes on the griddle to char and slightly pop open.
Heat a large cast iron frying pan with the olive oil and add the chopped garlic to the pan.
Allow the garlic to become fragrant and add fresh parsley, chopped basil and the charred tomatoes. Gently press the tomatoes down with a spatula. Cook for 8 – 10 minutes and set aside.
Add the seasonings and a ladle or two of the salted water that you are preparing for the linguine.
When the linguine is cooked lift into the tomatoes. Add the drained tuna and toss.
Serve with a drizzle of olive oil, freshly grated cheese, dash of red pepper flakes and a squeeze of fresh lemon juice and a garnish of fresh basil.
Recipe Card powered by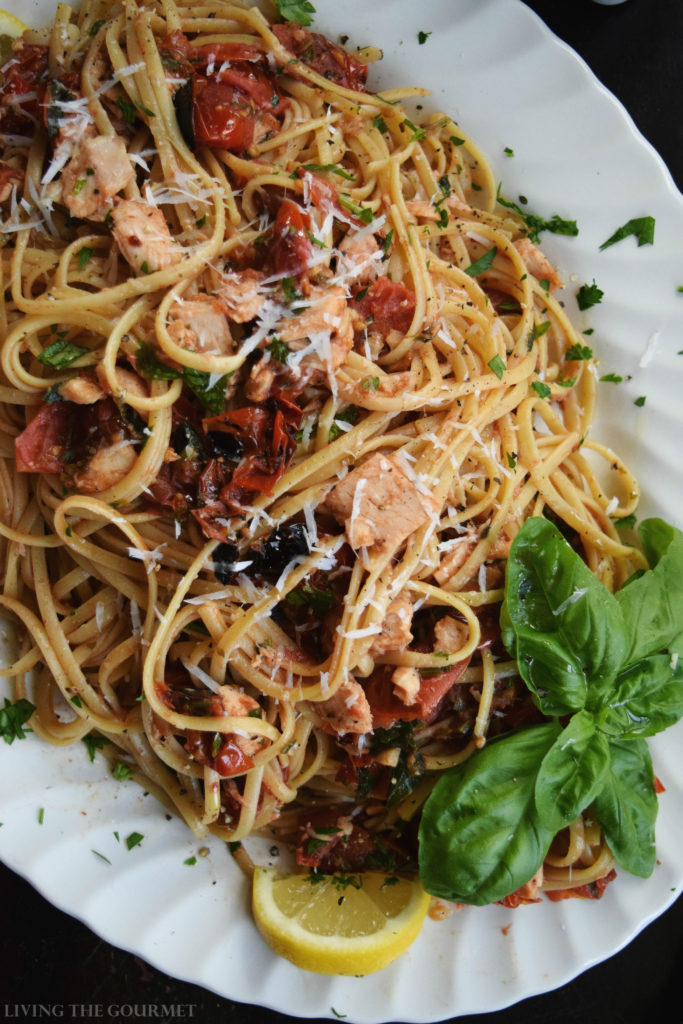 And just like that, you're done.
Aside from tasting delicious, using Wild Selections is a great way to go green for Earth Day 2017, since if you're interested in tracing where you seafood came from, you need only visit HERE.
Enjoy with Love!
1