If you're anything like me, you're probably always looking for ways to 'impress' at your gatherings. Pick up the delicious new flavors of Häagen-Dazs and make these Chocolate Chip Sandwich Cookies today. I like to think of this as my own 'Journey to the Extraordinary.'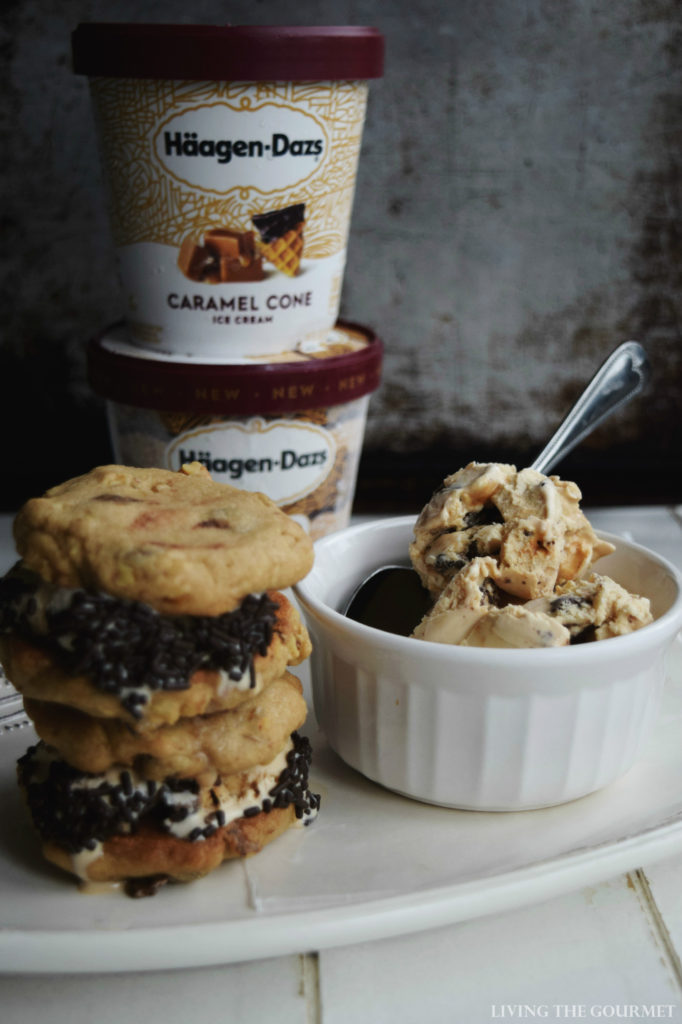 One of the best bits of advice I've ever received was that "If you aim high, you will invariably miss high." In other words, where you end up is largely proportional to where you set your sights. Naturally, this was related to me in the context of my studies, however, I've found this to be applicable to almost any part of life in which we exert even nominal control, whether its fitness, entertaining guests, or even just working on one's schedule. It's about ambition, and the effort one places behind that ambition.
Take for example our 'standard' images of summer. We might imagine basking in the sun, or drifting lazily in a crystal clear pool, or relaxed backyard gatherings – or perhaps all of these at once. After all, the depths of summer is where laziness becomes not merely acceptable, but something akin to a sign of status.
However, if you're anything like me, you're probably always looking for ways to 'impress' at your gatherings, even at so-called 'relaxed' get-togethers. I like to think of this as my own 'Journey to the Extraordinary.'
One of my favorite ways to do this is to put a bit of a 'handcrafted' twist on a summer classic. Of course, I'm talking about preparing my own Ice Cream Sandwiches, which brings us nicely to today's recipe.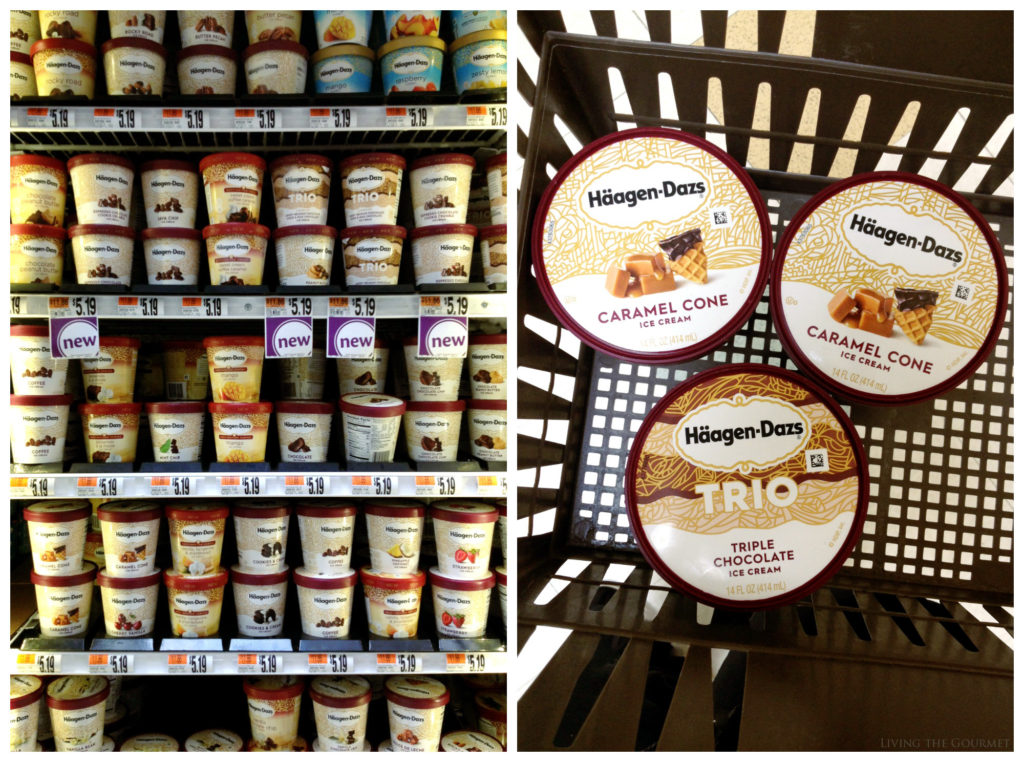 We start off with Häagen Dazs Trio Triple Chocolate 14 oz., which features layers of crispy Belgian chocolate, blended into the rich decadence of white and dark chocolate ice cream. I paired this with Häagen Dazs Caramel Cone 14 oz., which features ribbons of caramel and crunchy chocolate-covered cone bits, folded into caramel flavored ice cream. I picked both of these up on my last supply run to Stop & Shop.
I prefer Häagen Dazs for these sorts of recipes since they've been around for over 50 years, and have maintained a passion for producing an ice cream with perfectly balanced flavors and a super creamy texture. Beyond that, they use quality ingredients, turning their product into an extraordinary experience bite by bite.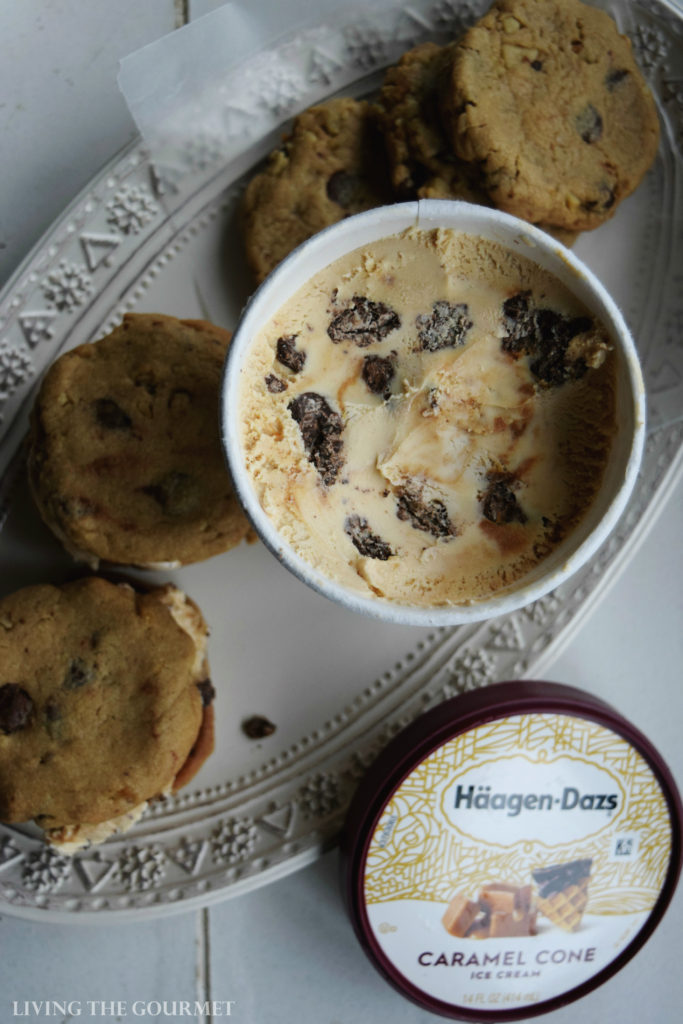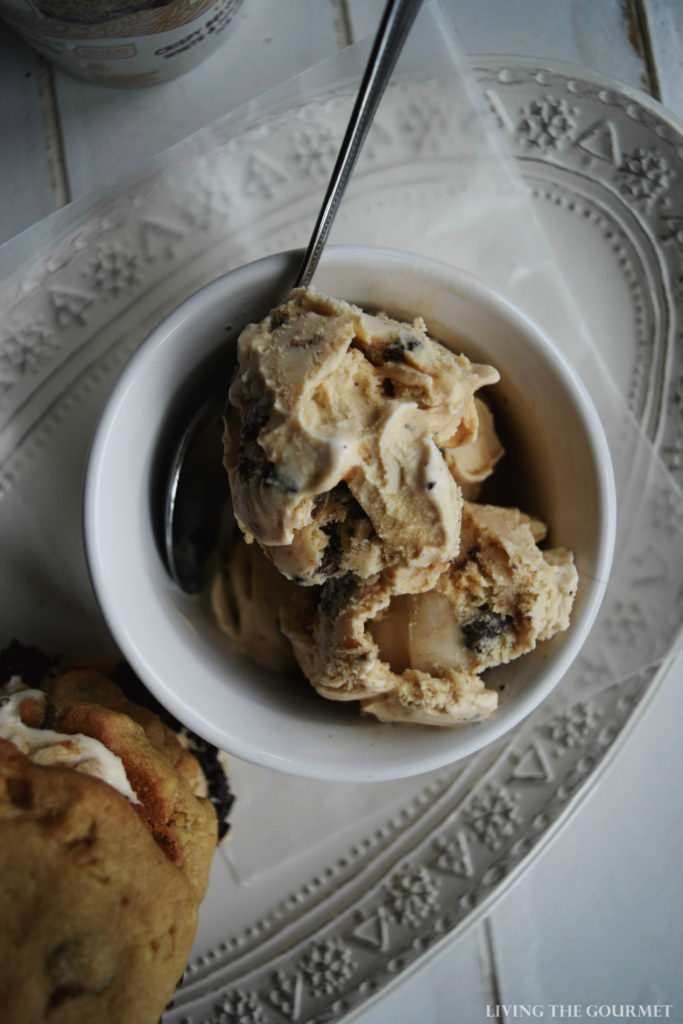 From there, we prep a batch of my signature Chocolate Chip Ice Cream Sandwich Cookies.
To do this, we begin by combining butter and sugar together in a mix master, until thoroughly whipped, and then add in an egg and a teaspoon of vanilla a directed below. Simply add in the flour, baking powder, and salt, and beat until you have a soft cookie dough. Form the dough into cookies on a parchment lined baking sheet, and bake for about ten minutes.
Once that's done, it's time for the fun part, sandwiching generous scoops of Häagen Dazs Trio Triple Chocolate and Häagen Dazs Caramel Cone between the cookies and dabbing the sides in sprinkles right before serving.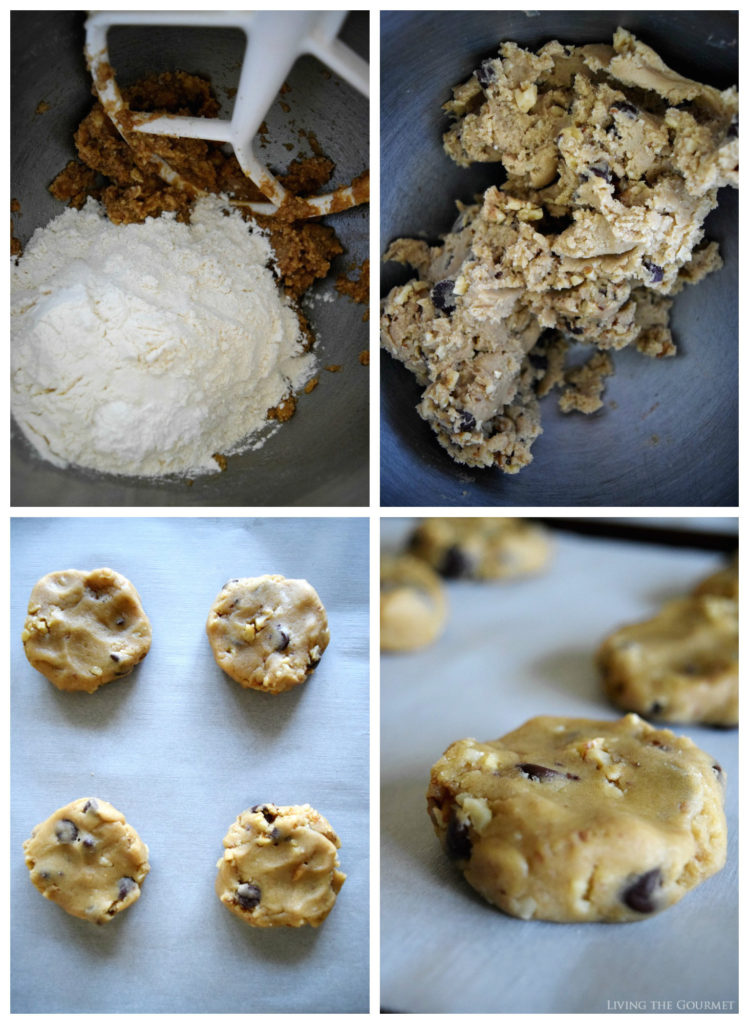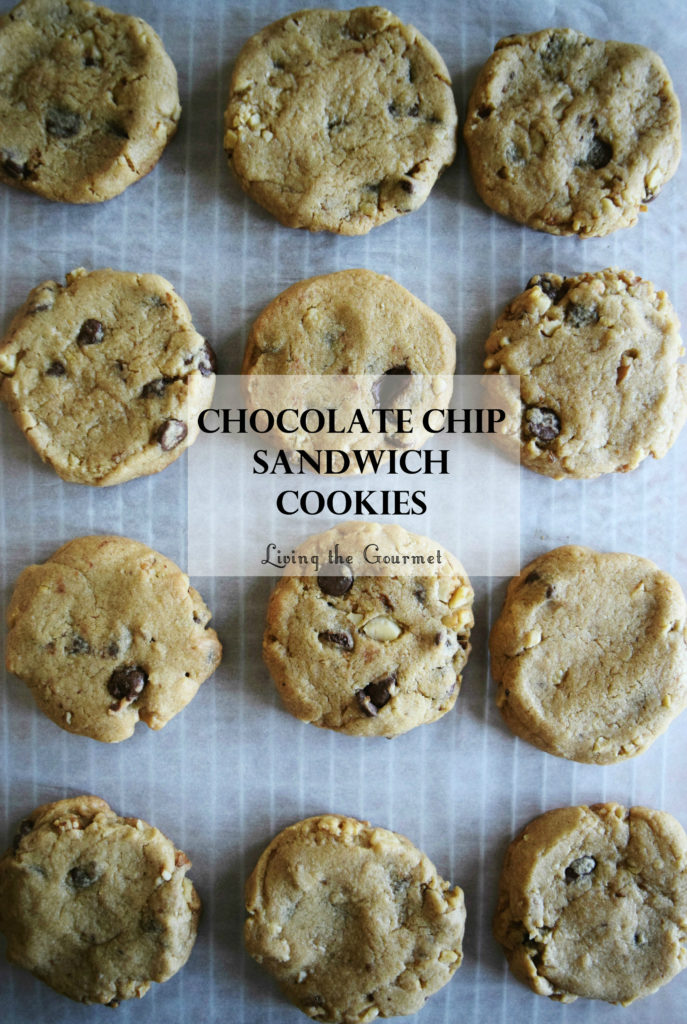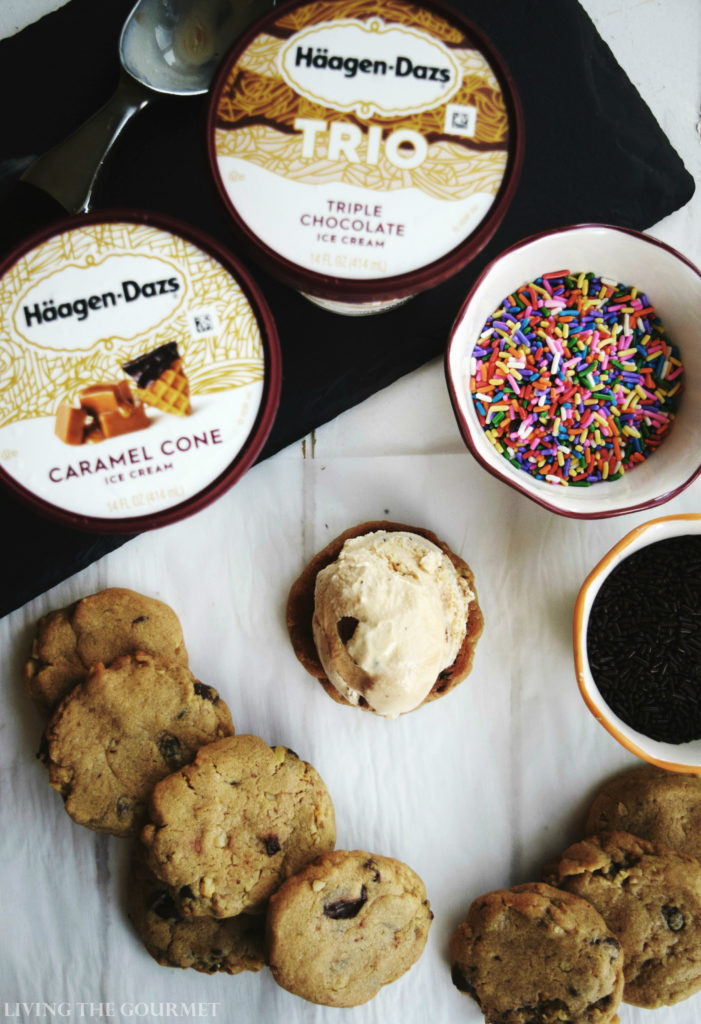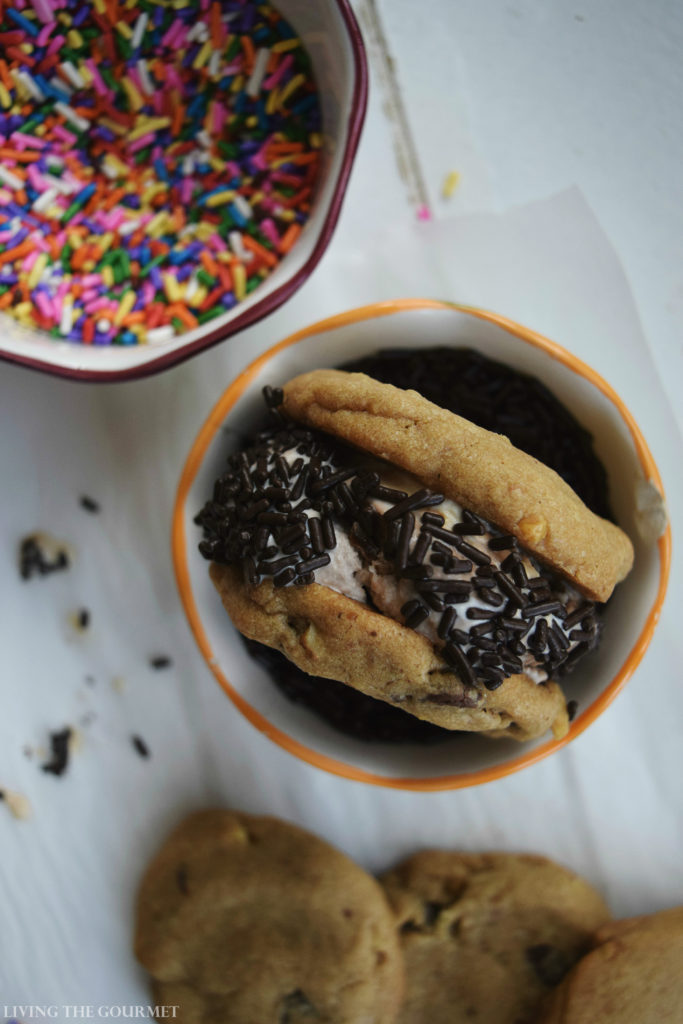 Living the Gourmet
Yields 2 dozen
Chocolate Chip Sandwich Cookies featuring Häagen Dazs
8 minPrep Time
10 minCook Time
18 minTotal Time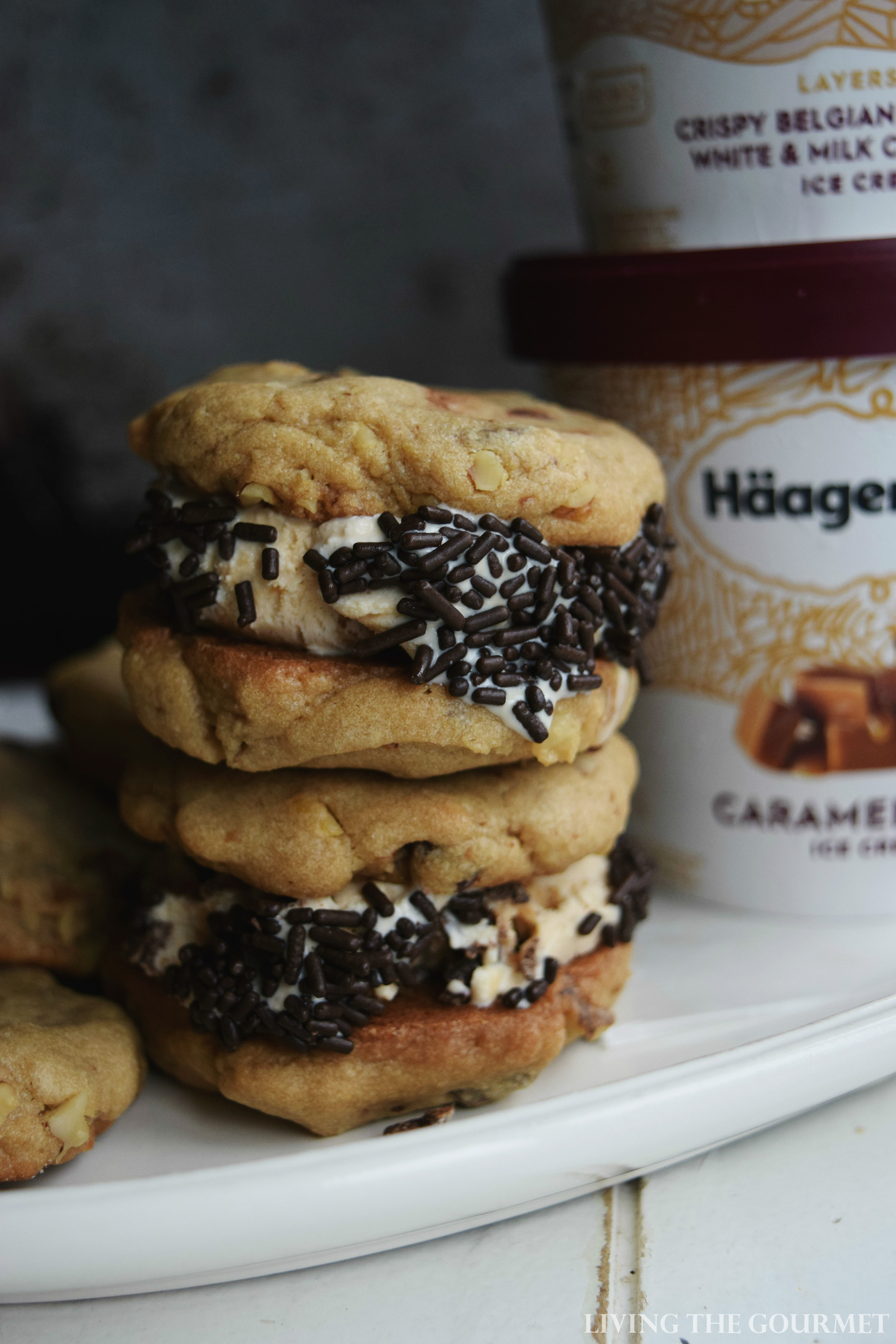 Ingredients
1½ cups AP flour
½ cup white sugar
½ cup brown sugar
½ cup unsalted butter
1 teaspoon vanilla
½ teaspoon baking powder
1 egg
Pinch of salt
½ cup chocolate chips
1/4 cup chopped walnuts
Häagen-Dazs Caramel Cone Ice Cream
Sprinkles (optional)
Instructions
Preheat oven to 350 degrees F.
In the bowl of your mix master beat butter and sugar until whipped. Add egg and vanilla.
Add the flour, baking powder, and salt to the butter mixture. Beat until a soft cookie dough forms.
Add in chocolate chips and nuts.
Scoop out 1 tablespoon amount of cookie dough on parchment lined baking sheets.
Baking the cookies for about 8-10 minutes just until the edges are golden but the center is still soft.
Transfers to a wire rack and let cool. Serve with Häagen-Dazs Caramel Cone Ice Cream or any of your favorite Häagen-Dazs ice creams! Roll each sandwich in sprinkles if so desired.
7.8.1.2
493
https://livingthegourmet.com/2017/04/chocolate-chip-sandwich-cookies-featuring-haagen-dazs.html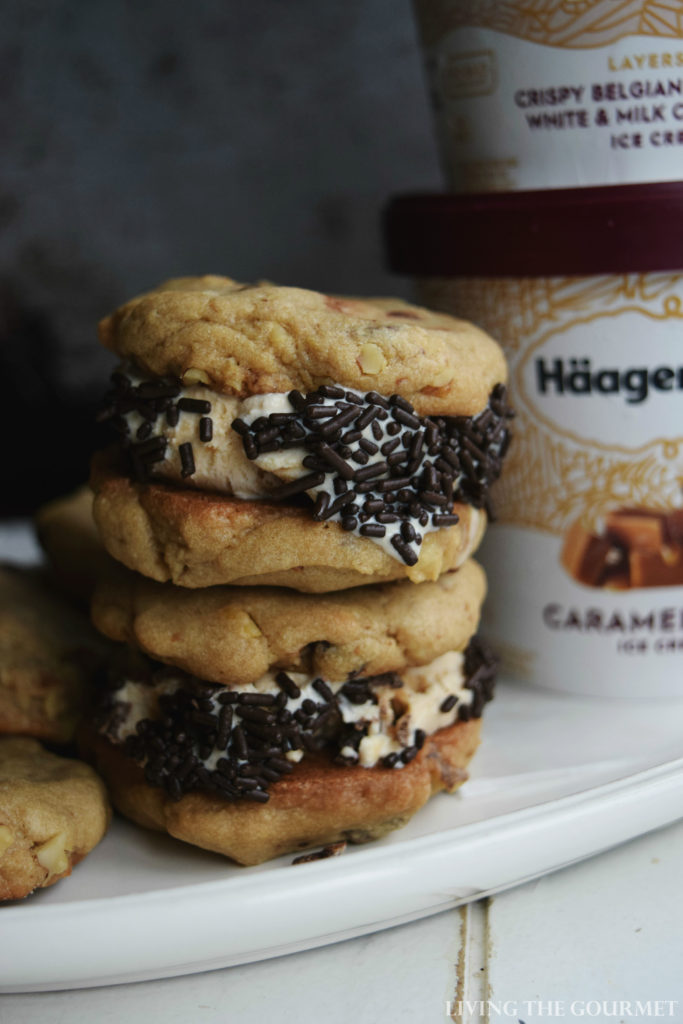 This a great 'do it yourself' recipe for the summer months, perfect for adding in that special touch to any warm weather get-together, or even 'just because.'
What are some of your favorite summer themed recipes? We would love to hear from you.
For savings off any three Häagen-Dazs 14 oz or bars, 3 ct, be sure to visit Stop & Shop log in (or create an account if you don't have one) and save!
Enjoy with Love!
0