Roasted Buckwheat groats are tossed together with chickpeas, jalapenos and a zesty lemon dressing for a light and refreshing feel-good meal.
I spoke recently about my attempts at healthier snacking, and my struggle to stay fit despite my sedentary attachment to my desk and the decadent-yet-unavoidable temptations my test kitchen. Though in the words of Puzo "This is the life I have chosen," it is, as it was for his imagined gangsters, a less then healthful occupation. While the Great Cynic would rationalize this away saying "The very act of Living is Terminal," I nevertheless fully intend on making a go at immortality.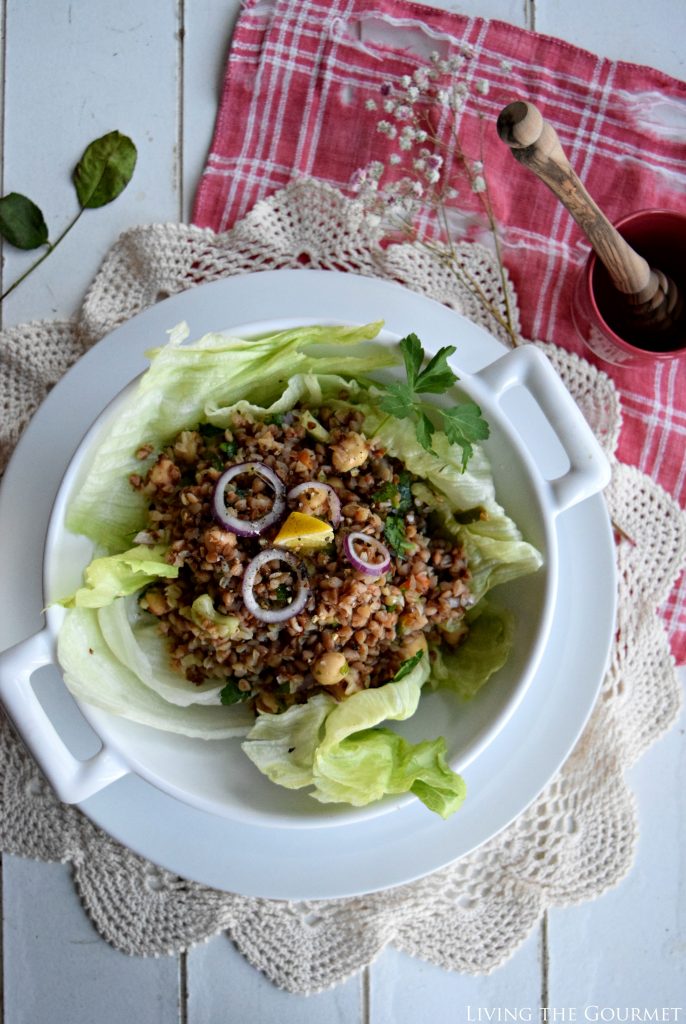 Of course, for today's purposes, immortality begins with a protein packed Buckwheat Salad…what? Is this not the Fountain of Youth you had envisioned? I'm Lady Gourmet, not Juan Ponce de León.
In this quest, I am aided by my upbringing, which, culturally, forbade a taste for mayo-based salads. Butter, and cream of most incarnations for that matter, was generally replaced by a similarly wide variety of infused oils. In fact, mayo and butter were two things you rarely saw in my house growing up- it just wasn't Italian.
However, you might say, in not so many words, "The workweek has left me standing at the Ebony Gates of Oblivion! I've not the strength to infuse oil or boil buckwheat, this damnable misadventure we call life has left me drained of life! I just want a simple tuna salad dripping in the mortality-inducing deliciousness of mayo! If Mortality be the price of simplicity, and then to my immortal soul I bid farewell!"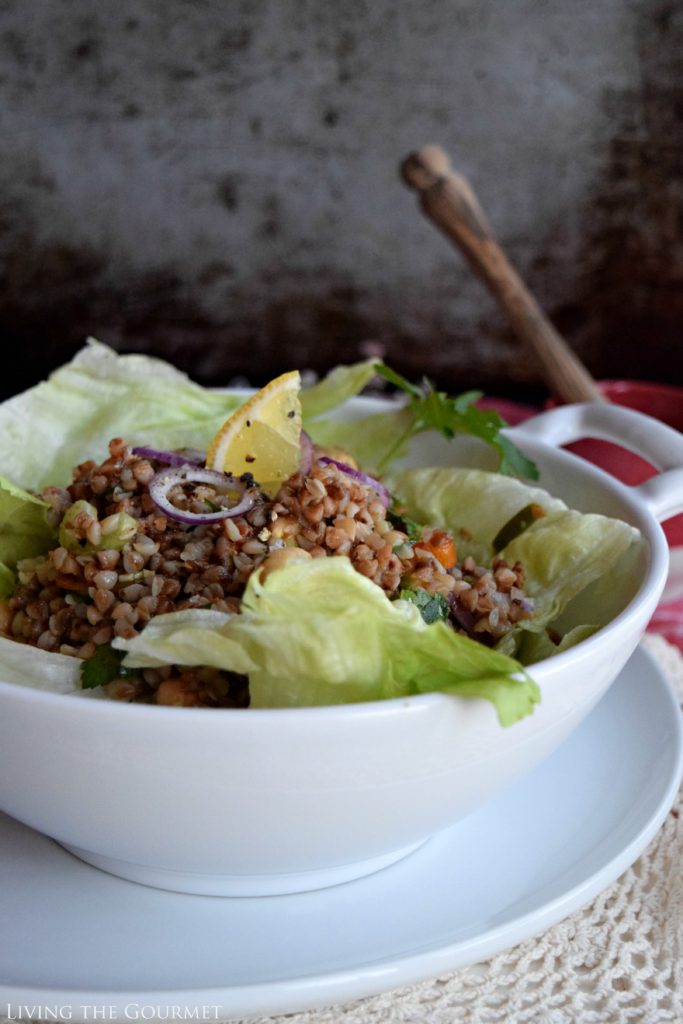 On days where you find yourself possessed of such despair, I've a secret…this healthful buckwheat salad is no more complex to produce than the aforementioned tuna salad…and won't leave your hands smelling like…well, like dead tuna. This also has the added benefit that Buckwheat is, shall we say, the Scarlet Pimpernel of 'Super Foods' – few know his secrets, but those that do reap untold benefits. Now, if you're anything like my son, you'll like respond with some variation that "Every food takes its turn being regarded as super." However, after combining the buckwheat with chickpeas, parsley, jalapenos and the zesty lemon dressing outlined below, I then served this alongside tuna for extra protein. In the end, you are left with a salad that boasts around 30 grams of protein at the cost of approximately 250 calories.
Now, being who I am, I of course need something sweet afterwards, and that's where I indulge in the Protein Banana Chocolate Chip Muffin Tops I recently just discovered which brings our lunch to a total of 38 grams of protein in one meal and a mere 380 calories.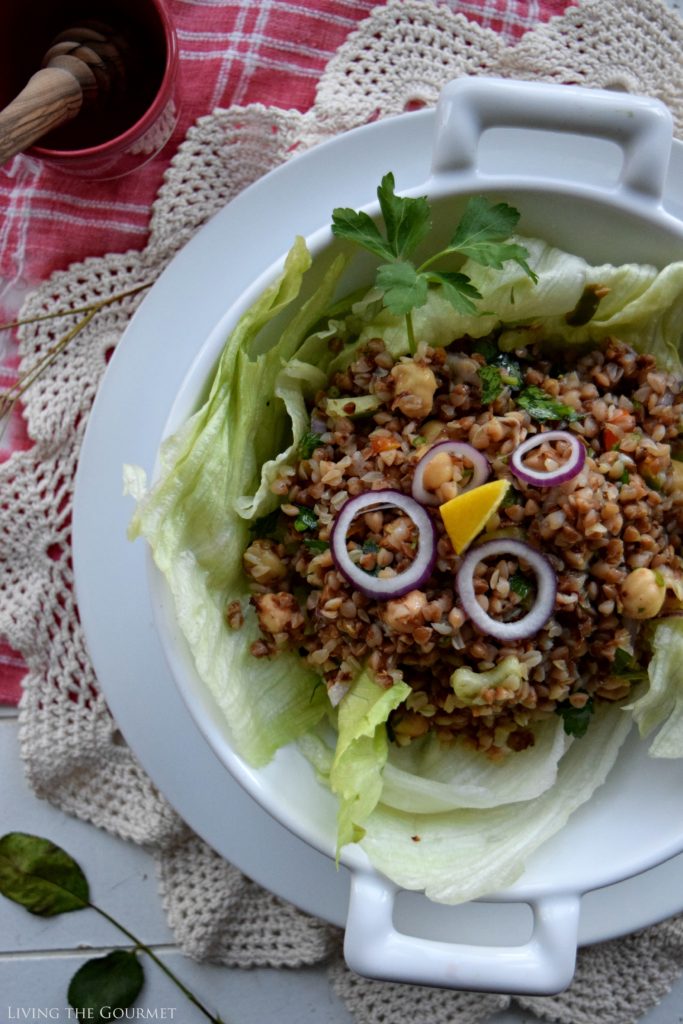 Living the Gourmet
Yields 4
Roasted Buckwheat Salad
5 minPrep Time
15 minCook Time
20 minTotal Time
Ingredients
16 oz. roasted buckwheat groats
1 medium sized red onion – sliced thin
3 stalks celery – sliced thin
29 oz. can of chickpeas – rinsed and drained
½ cup of Italian parsley – chopped
1 jalapeño – sliced thin
Salt
Black pepper
¼ cup olive oil
Juice of 2 fresh lemons
¼ cup of honey
Instructions
Prepare the roasted buckwheat as directed; then cool.
In a large bowl combine the cooled buckwheat, sliced onion, celery, chick peas, parsley and jalapeño.
Add the salt and black pepper to taste and toss.
Add the olive oil, fresh lemon juice and the honey and toss.
Serve with your favorite salad greens and tuna.
7.8.1.2
478
https://livingthegourmet.com/2017/02/roasted-buckwheat-salad.html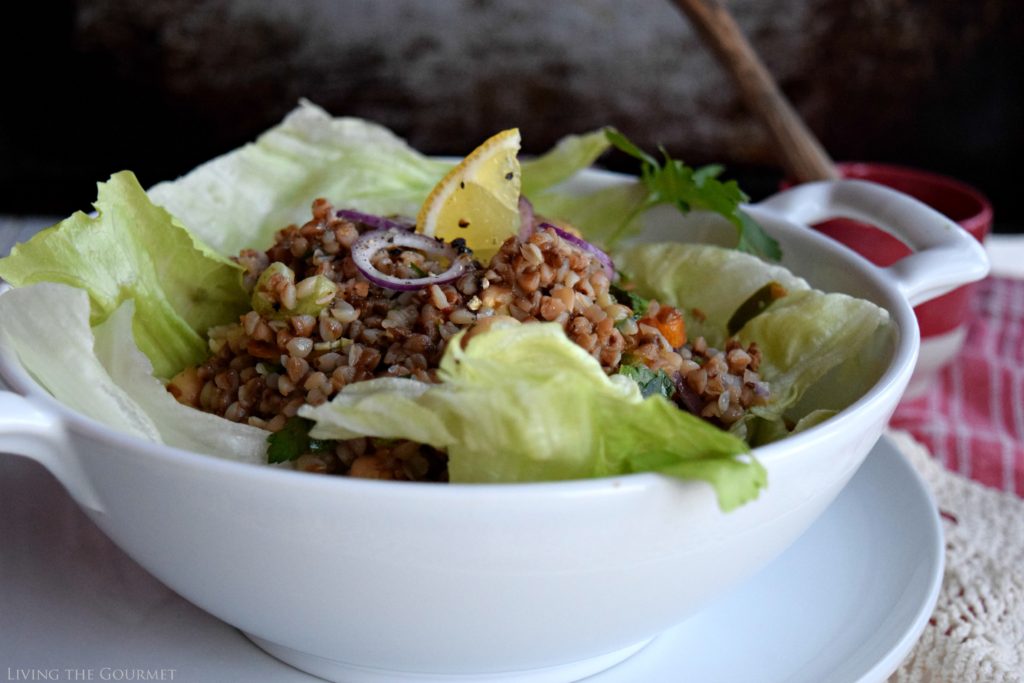 Today I am happy to be giving away a $25 Visa gift card to one lucky reader- pick up some delicious Vitatops, a new workout piece or anything to help you get motivated in your journey to getting fit!
Enjoy with Love!
0