Get Game Day ready with this spicy cream of potato soup served alongside cheddar and potato biscuits!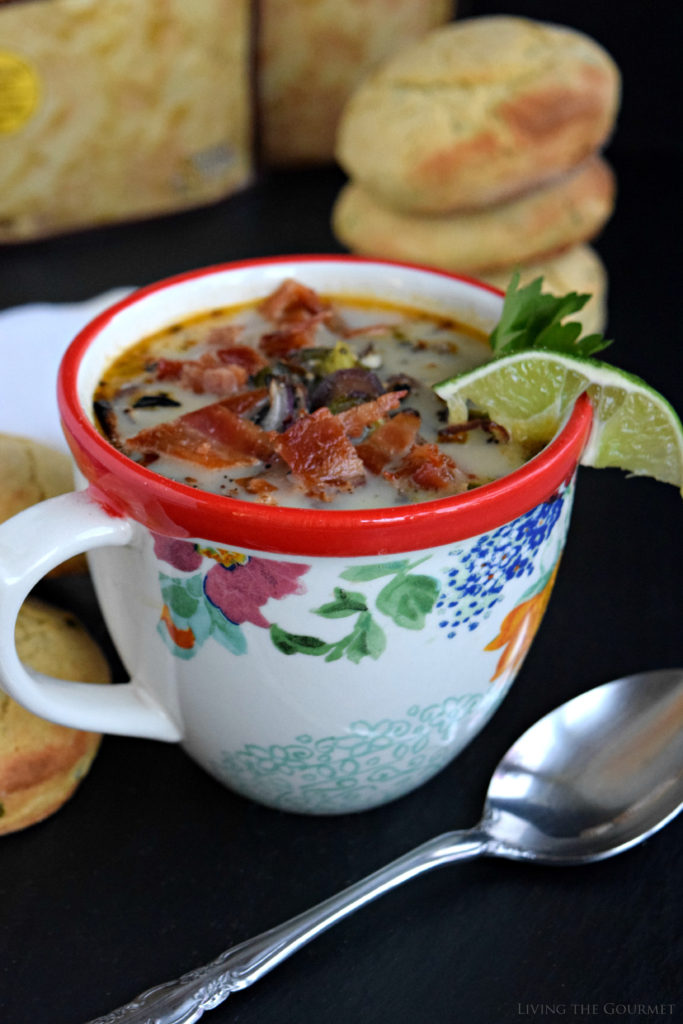 'Sorry to let you know on such short notice, but…'
We've all been there, faced with that singular phrase, or some variation thereof. Whether in the workplace, amongst friends, or even between family members, that line typically translates, "Oh wow does it hurt to be you right now."
We, or at least I, usually respond with, "Don't worry, thanks for letting me know, I'll pull something together." I'll let you imagine your own translation.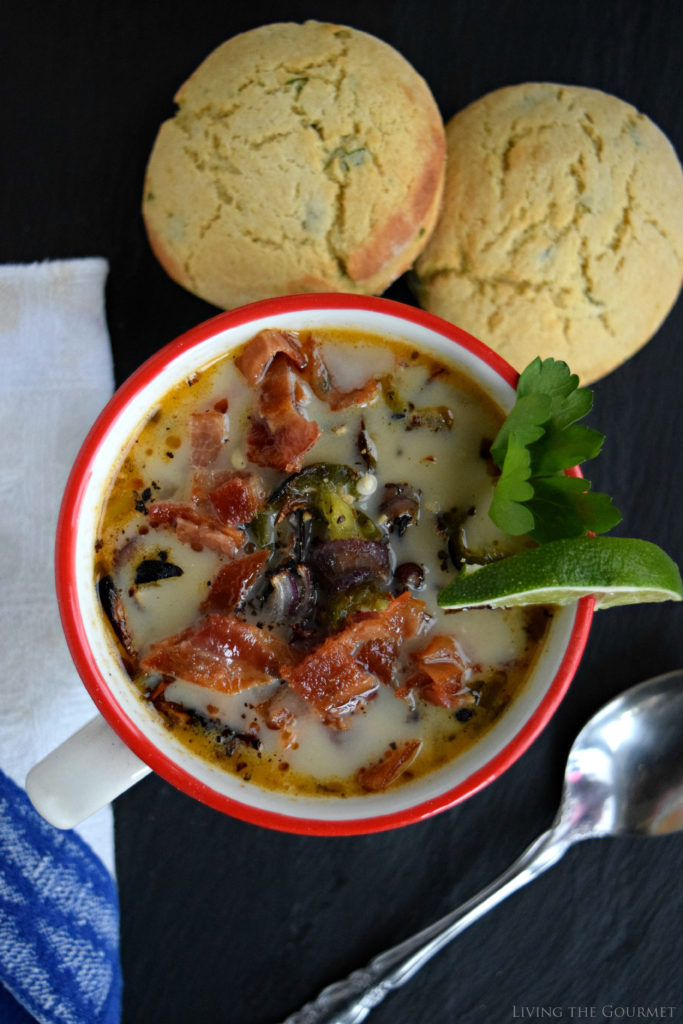 You see, when the family decided to make an impromptu event out of a recent Big Game, I, of course, was the designated hostess. In true 'no-hassle get-together' fashion, this included precisely twelve hours of notice, and twelve ravenous fans to feed. Now the unwitting, and unexpected, hostess of this 'no hassle get-together,' I decided to view this as a challenge, since I was not about to disappoint my soon-to-be-guests. They were expecting Big Flavor for the Big Game, and it was my Big Game Adventure to deliver.
Of course, being given such short notice, this would mean reverting to some tried and true family favorites, which is precisely where today's recipes come in – Three Cheese Idaho Spuds Biscuits paired with Creamy Potato Spud Soup.
Simple, delicious, and hardy for the big game – precisely the combination I was going for.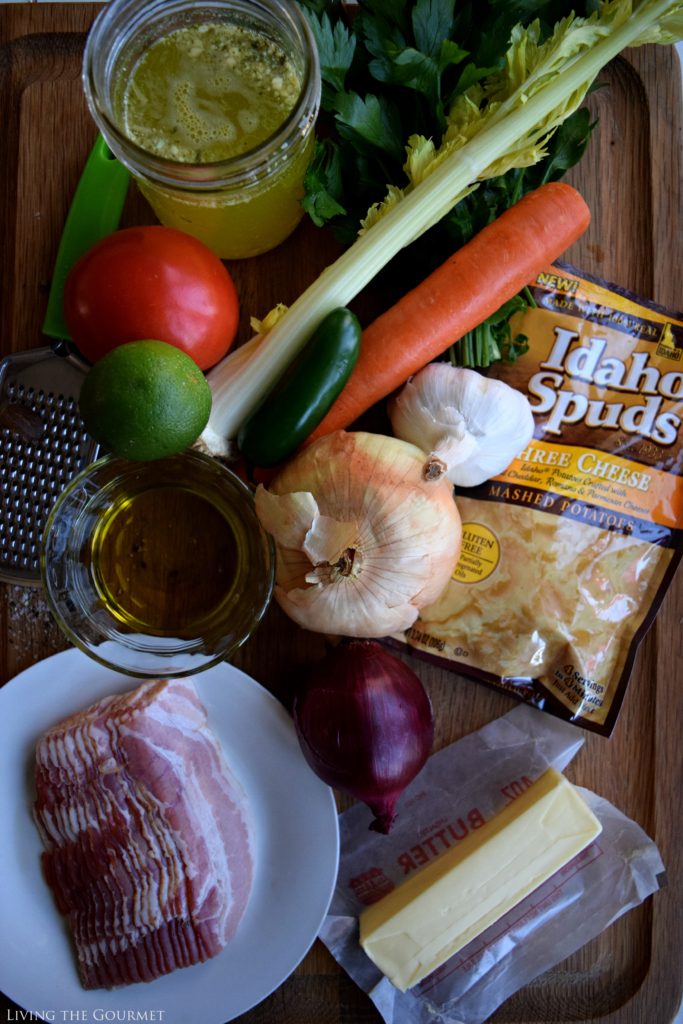 To start things off, heat a heavy sauce pot with a dash of olive oil, and add in celery, carrots, tomato, sweet onion, garlic, and Italian Parsley, all chopped as shown below. After sautéing, add in butter. Meanwhile, prepare the jalapeno as directed below, and lightly char a red onion.
Now, here comes the fun part, empty a whole packet of Three Cheese Idaho Potato Spuds into a bowl, and stir in milk as directed below, and then gently add that to the soup.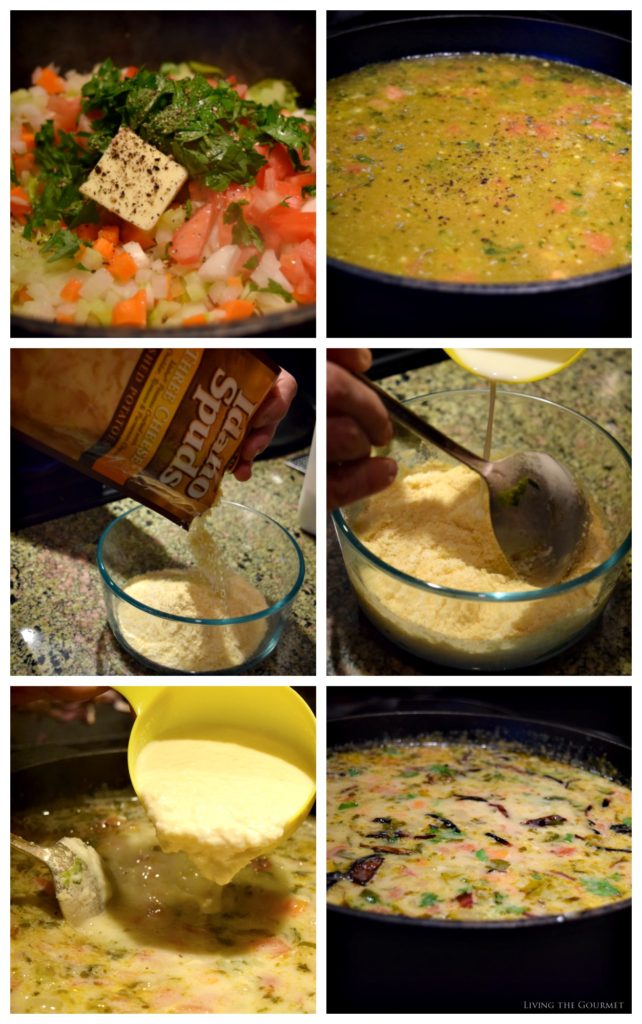 Spicy Cream of Potato Soup
Author:
Prep time:
Cook time:
Total time:
Ingredients
2 stalks celery – diced
2 carrots – diced
1 vine ripe tomato – diced
1 sweet onion – diced
½ cup fresh Italian parsley – chopped
3 cloves of garlic – chopped
2 tbs. butter
3 tbs. olive oil
2 quarts chicken broth
1 package of Idaho Spuds Three Cheese
2 cups milk
½ lb. bacon – cooked to a nice crispness
1 tsp. salt
½ tsp. black pepper
1 tsp. dried oregano
¼ tsp. red pepper flakes
1 tsp. ground cumin
1 large jalapeño – grilled
1 red onion – sliced and grilled
1 lime – sliced
Fresh Nutmeg – for grating
Instructions
Heat a heavy sauce pot with the olive oil; add the celery, carrots, tomato, sweet onion, garlic and Italian parsley. Sauté on a medium heat; until the onion is softened and the garlic is fragrant. Add the butter to the sautéed vegetables and toss to melt.
Add the chicken broth and the seasonings to the pot. Turn the heat to a gentle simmer and cover the pot loosely.
Heat a small heavy frying pan and place the jalapeño in the pan to char on all sides. When this is accomplished remove the jalapeño and set aside and slice.
Place the red onion slices in the pan to grill until a nice char is achieved and set aside.
Empty the packet of Idaho Spuds Three Cheese into a medium sized bowl. Add the milk, one cup at a time to the bowl while stirring.
Slowly add the creamy potatoes to the soup while stirring. Gently simmer the soup for a few minutes.
Serve the soup topped with the grilled jalapeño, grilled red onion, bacon pieces, a small squeeze of lime juice a dash of freshly grated nutmeg and fresh ground black pepper.
Now, while you bring the soup to a simmer, it's time to prepare the potato biscuits. First, combine the dry ingredients as directed below with some cubed butter, and then work that until it's 'crumb like.' Once that's done, it's time for another package of Three Cheese Idaho Spuds, which we're again going to mix with milk, and then add that to the flour mixture with some chives as shown below. Now it's time to get messy and prepare and knead your dough as described below.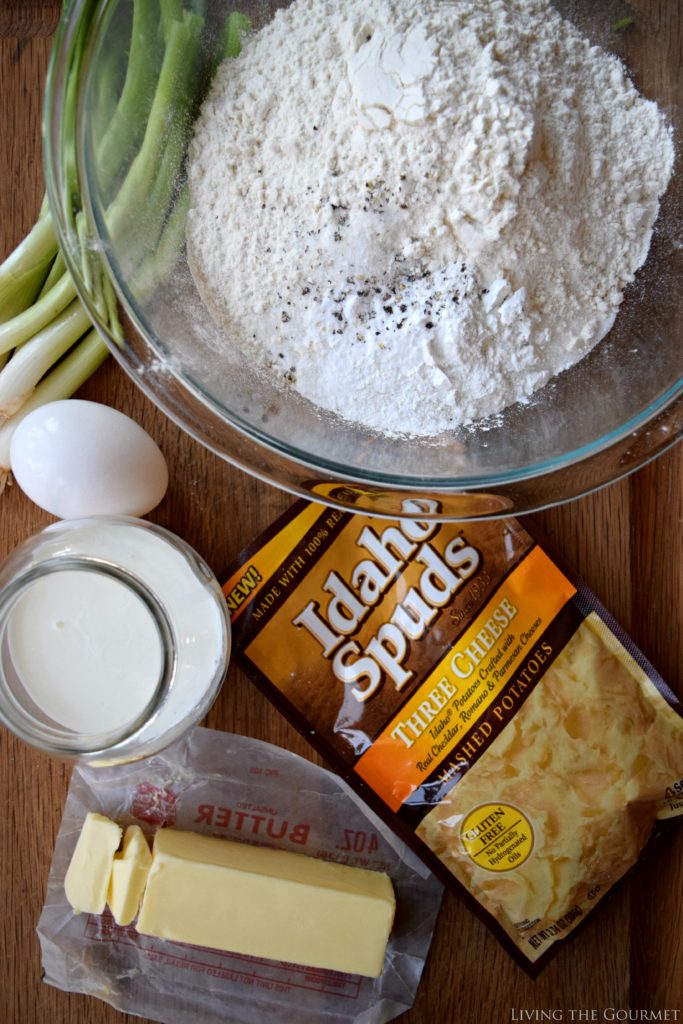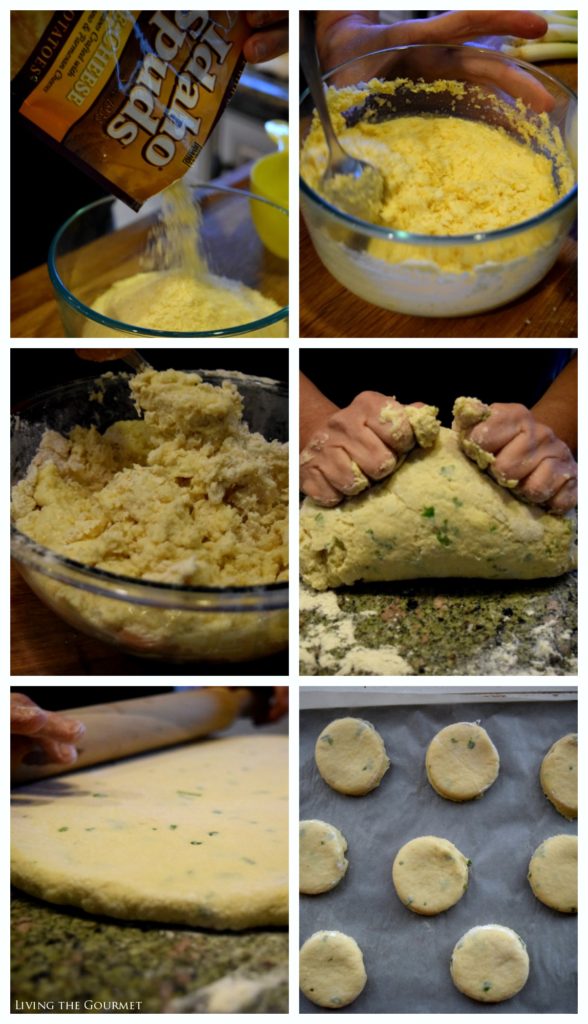 Cheddar & Potato Biscuits
Author:
Prep time:
Cook time:
Total time:
Ingredients
3 cups of all-purpose flour
2 tbs. granulated sugar
1 ½ tbs. baking powder
1 tsp. baking soda
¼ tsp. salt
¼ tsp. black pepper
½ cup of cold butter – cubed (plus 2 tbs. melted for brushing the biscuits with before baking)
½ cup buttermilk
1 large egg
1 package of Idaho Spuds Three Cheese – plus 2 cups milk (using only 1 ½ cups of the mashed potatoes for the recipe)
½ cup of chives
Instructions
Preheat Oven 425 degrees F.
Line 2 baking sheets with parchment paper.
Combine the flour, sugar, salt, pepper, baking powder and baking soda.
Place the cubed butter into the dry ingredients and work it with your clean fingers until the dry ingredients are crumb-like.
Whisk together the egg and the buttermilk.
Make a well in the center of the dry ingredients and add the buttermilk and egg mixture.
Using a fork stir the buttermilk mixture with the dry ingredients.
Empty the Idaho Spuds Three Cheese package into a medium sized bowl and add the milk one cup at a time to the bowl stirring all the while.
Add 1 ½ cups of the mashed potato mixture and the chopped chives to the flour mixture and once again stir with a fork until it is incorporated and a dough begins to form.
Place the dough on a clean lightly floured surface. Knead the dough about 10 – 12 times until it is smooth, soft, and workable and holds together.
Roll out the dough to approximately ½ inch thickness and use a biscuit cutter or glass dipped in flour to cut out the biscuit circles. Repeat this process until all of the dough is used.
Brush the tops of the biscuits with the melted butter.
Bake for 12 – 15 minutes or until a beautiful golden color is achieved.
After forming the biscuits onto a pair of cookie trays lined parchment paper, bake them for about fifteen minutes and you're ready to Go Big on Game Day.
While we're talking about games, don't forget to enter the Idaho Spuds Game Day Sweepstakes here for your chance to 'Win a Big Adventure' in Boise, ID!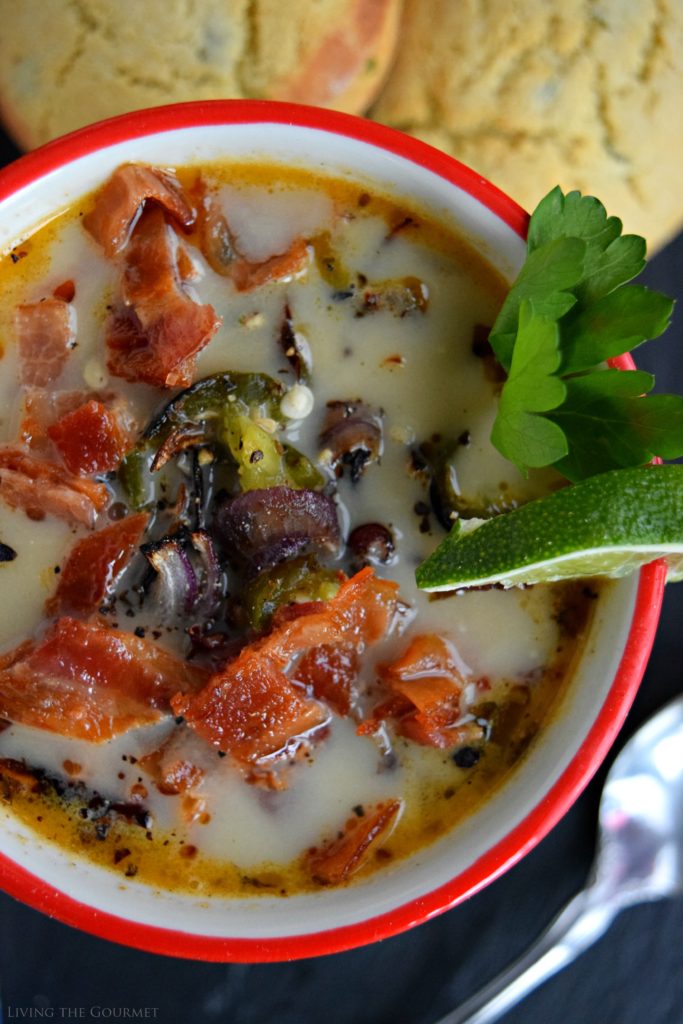 What are some of your favorite recipes for the Big Games? We would love to hear from you.
Enjoy with Love!
I was selected for this opportunity as a member of Clever Girls and the content and opinions expressed here are all my own.
0